Micro aerial vehicles

"Micro aerial vehicles" - no larger than a common house fly - are currently being developed by the US military and could enter mass production later this decade.*
These machines could be used in spying missions, recording and transmitting audio-visual information. An individual robot would serve as a literal "fly on the wall" - equipped with miniature cameras, microphones, modem and GPS. Many terrorist cells could be infiltrated thanks to this radical new technology.
One of the major technical hurdles will be creating sufficient battery power in such a small object, as well as keeping them light enough to remain airborne. Advances in nanotechnology may solve this problem. Together with improvements in computing power, this would allow circuitry and components to be packed more closely.
More sophisticated versions might be developed for assassin roles. These would have capsules in the abdomen of the insect, filled with cyanide or another lethal toxin. This would be delivered to the target via a small needle capable of piercing human skin.
Some robots might work in groups, forming networks to extend their range and abilities. Further into the future, enormous swarms of these machines might be deployed on the battlefield.
However, concerns may be raised as to how this technology affects the safety and security of citizens.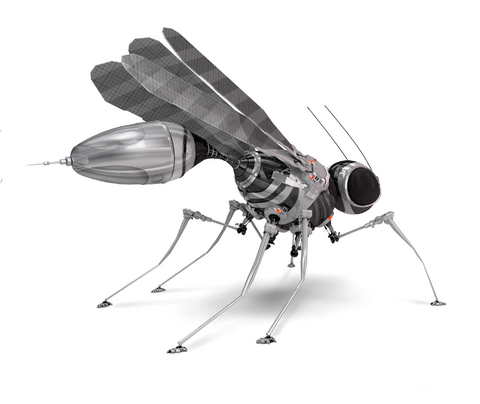 © Aleksandr Atkishkin | Dreamstime.com
---
Robotic pack mules

"BigDog" is a project funded by the Defense Advanced Research Projects Agency (DARPA) in the hopes that it will one day serve as a robotic pack mule - accompanying soldiers in terrain too rough for conventional vehicles.
Instead of wheels or treads, BigDog uses four legs for movement, allowing it to move across surfaces that would defeat wheels. The legs contain a variety of sensors, including joint position and ground contact. BigDog also features a laser gyroscope and stereo vision system.
This dynamically stable, quadruped robot could be deployed in military support roles within the next five or so years. It would be capable of running at 5 mph (8 km/h), while carrying loads up to 340 pounds (150 kg) and climbing slopes with 35° inclines. This would greatly reduce the burden of equipment for soldiers.*