Amazon rainforest

The world's biggest rainforest is threatened not only by illegal deforestation, but also the effects of drought and climate change. Under a "business as usual" scenario, nearly half of the jungle will be destroyed by 2050 and it could be almost entirely gone by 2100. More than 2,000 native tree species face extinction.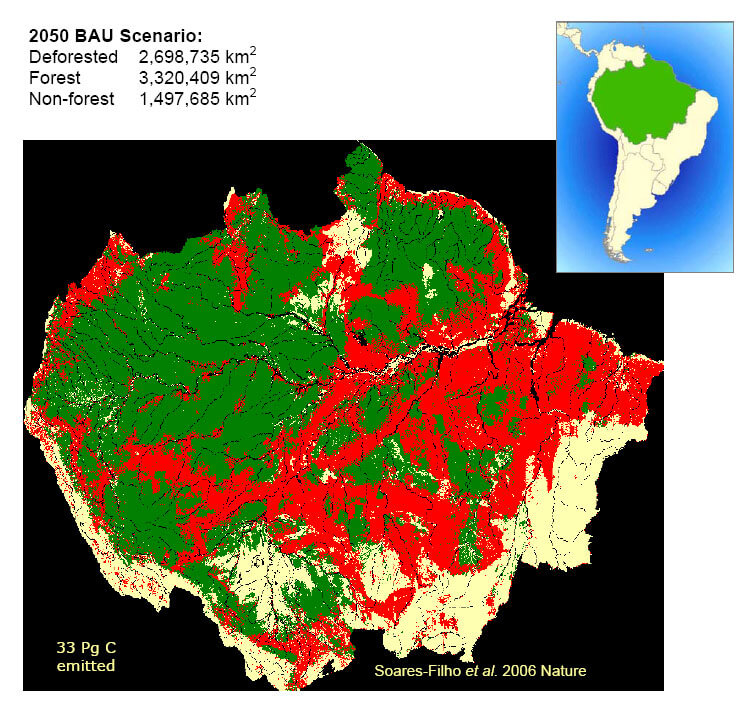 Arctic sea ice (minimum volume)

Ongoing changes in the Arctic include rising temperatures, loss of sea ice, and melting of the Greenland ice sheet. Projections of sea ice loss suggest that the minimum 1-day volume is likely to reach zero within the next few years. In other words, the Arctic ocean will have ice-free conditions for at least one day, per year. If this trend continues, the ocean may become ice-free during the entire month of September by the 2030s.
Because of the amplified response of the Arctic to global warming, it is often seen as a high-sensitivity indicator of climate change. Scientists also point to the potential for release of methane from the Arctic - especially by thawing of permafrost and methane clathrates. Data for the graph below is provided by the Polar Science Center at the University of Washington.*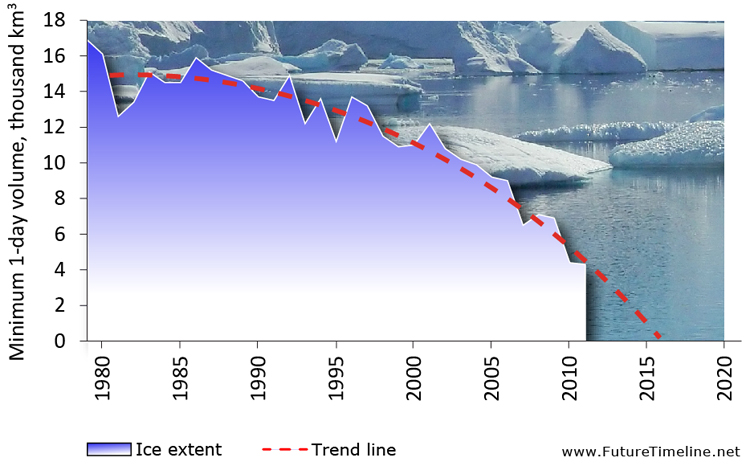 Atmospheric CO2 (current)

The chart below displays the current level of carbon dioxide, as measured by the Mauna Loa Observatory in Hawaii. This features a dataset spanning the instrument record for atmospheric CO2, which started in 1958. The chart is updated automatically, using the latest available data.*

The counter below displays the metric tons of CO2 being added to our atmosphere, in real time.
---

China

In 2010, China became the largest energy consumer in the world, overtaking the USA. Its development as an industrialised country means that this soaring energy demand will continue for some time to come. Its economic growth is spurring a massive increase in car production (15,000 being added to its roads every day), not to mention buildings and infrastructure (which includes a new power plant every week).
Despite this vast programme of industralisation, China is making huge efforts to replant trees. Since 1990 its forests have been growing by 1.2% (or 7000 square miles/18,000 square kilometres) every year - a figure claimed to be the world's highest. The government is also building a "Green Wall of China" to hold back the advancing deserts.
In 2011, China's Three Gorges Dam will become fully operational. This will remove some 100 million tonnes of CO2 and over 2 million tonnes of SO2 that would otherwise have been generated by coal-fired power stations.
In 2019, the ITER experimental fusion reactor will be switched on. China will have funded part of this project.
By 2025, much of China will be highly urbanised and densified. Its booming economy will have led to the construction of literally tens of thousands of new skyscrapers all over the country. There will be over 200 cities with more than a million inhabitants, compared to just 35 in the whole of Europe circa 2010. Even remote and isolated places will be seeing development on an unprecedented scale. Large-scale infrastructure such as maglev trains, airports, bridges and tunnels will form an extensive network to all corners of the nation, leaving few areas untouched. China will be well on its way to becoming a developed country.
Some of the largest metropolitan areas - such as Hong Kong and Shenzhen - may actually begin to overlap and form "hyper cities", rivalling Tokyo in terms of population and land area. Many of the world's tallest buildings will be found in China, including a number of kilometre-high "supertalls".
All of this will have a considerable impact on the price of steel and other materials, leading to cutbacks of many large-scale development projects in Europe, America and elsewhere. The rise of neighbouring India will add to this. The West could have a greatly reduced influence on setting the price of metals. Meanwhile, vast profits will be made by construction and mining firms, leading to many high profile takeovers and acquisitions. At the same time, record numbers of accidents during this time - as a result of so much construction activity - will lead to tighter regulations and improved safety in the industry. Better pay and working conditions for employees will be subsequently introduced.
As China booms, its power requirements will soar. The country will have prepared for this, however, by strengthening relations with Central Asian countries and importing more oil and gas from them. China's entry into Central Asia will be partly motivated by the need to reduce its dependency on (a) the Middle East, and (b) the Malacca Strait for shipping oil from the Persian Gulf and Africa; a stretch of water that will be increasingly vulnerable to pirate attacks, and the subject of ongoing political tensions regarding its control.
As well as strengthening its oil imports, China will make substantial gains from energy efficiency and conservation programmes, along with greatly increased use of nuclear power. By 2025 its nuclear power generating capacity will be nearly 150 billion kilowatthours (khwh), passing that of Canada and Russia. In the 2030s, this will increase still further, as 4th generation nuclear power plants become available. Demands for environmental protection will also lead to increased solar, wind and hydro-electric power.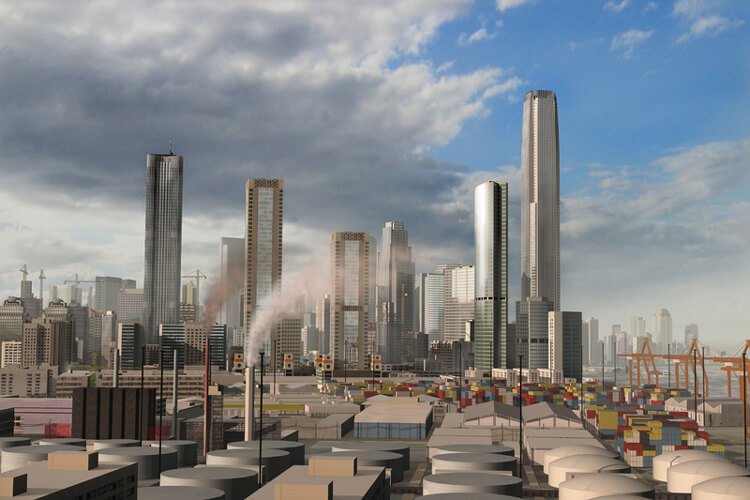 © Chris Jewiss | Dreamstime.com
By 2030, lung disease will have killed over 80 million people due to the long term effects of pollution. China is home to 20 of the 30 most polluted cities in the world. The widespread practice of burning wood or coal at home will be a major contributory factor, with over 65% of the population engaged in this activity.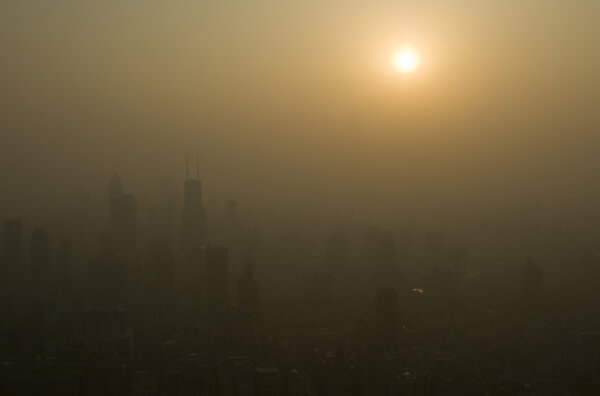 © Craig Hanson | Dreamstime.com
By the middle of the 21st century, millions of Chinese may be forced to resettle, as climate change makes large parts of the country uninhabitable. Shanghai and other cities will be inundated by rising sea levels - unless adequate sea defences can be erected.
In 2074, the so-called "Green Wall of China" is expected to be finished. This may succeed in halting the advance of the Gobi Desert.
---

Extinctions

As a result of human influences, the rate of species extinctions at present is between 100 and 1000 times the natural "background" or average extinction rates seen in the evolutionary record on Earth. This is often referred to as the Holocene extinction event. Extinctions are expected to peak by 2060, with 0.5% of the world's animal and plant species disappearing every year.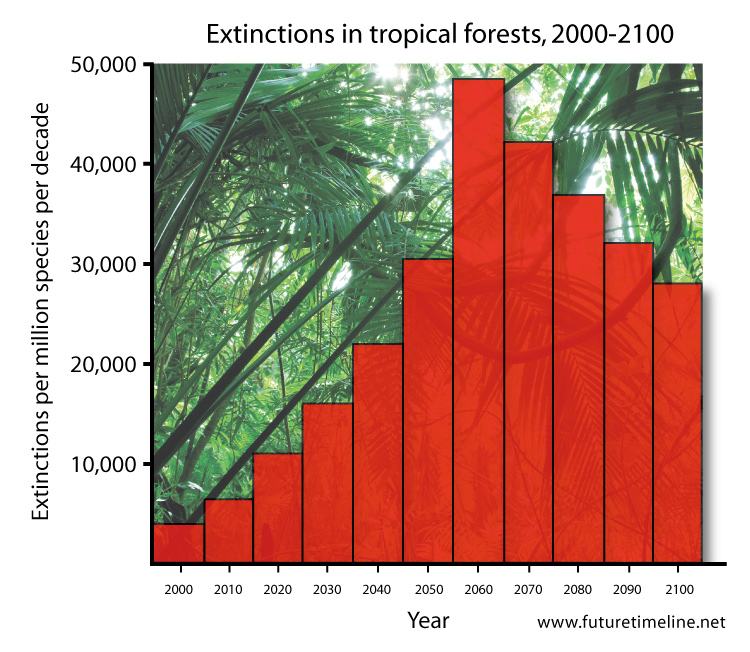 African Elephants
Despite efforts to curtail the ivory trade, huge numbers of elephants continue to be poached throughout Africa. As of 2010 their population stands at 600,000 but is declining by nearly 40,000 each year. By the mid-2020s, only a handful may remain. These could be saved from outright extinction if zoos and safari parks around the globe work to maintain viable populations for future rewilding.

© Paul Hampton | Dreamstime.com
Amphibians
Based on current trends, half of all amphibians in Europe will be extinct by 2050, including many previously common species of frogs, toads, salamanders, newts and caecilians. The main threats are pollution, disease, loss of natural habitat and droughts caused by climate change.
Birds
Due to climate change and food scarcity, up to 30% of bird species may go extinct by 2100. This includes the Emperor Penguin, among the best-loved and most recognised symbols of Antarctica.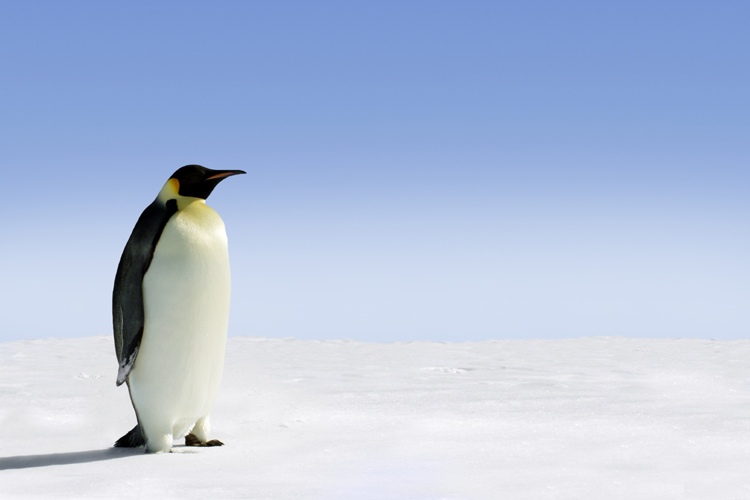 © Jan Martin Will | Dreamstime.com
Black Rhino
There are four subspecies of black rhino. The World Conservation Union (IUCN) announced in 2006 that one of the four subspecies, the West African Black Rhinoceros (Diceros bicornis longipes), had been tentatively declared as extinct. Despite an exhaustive survey across Africa, none could be found, and there are none being held in captivity. The remaining three subspecies are critically endangered.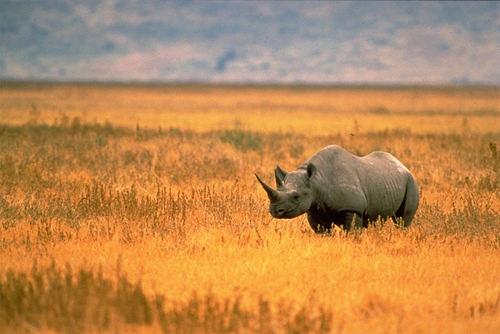 Borneo
At current rates of deforestation, Borneo's rainforests will be completely gone by 2023. Among the many species likely to disappear around this time is the Orangutan - one of the most intelligent of the great apes.
Butterflies
At current rates of environmental degradation, more than half of butterfly species will be extinct within 50 years.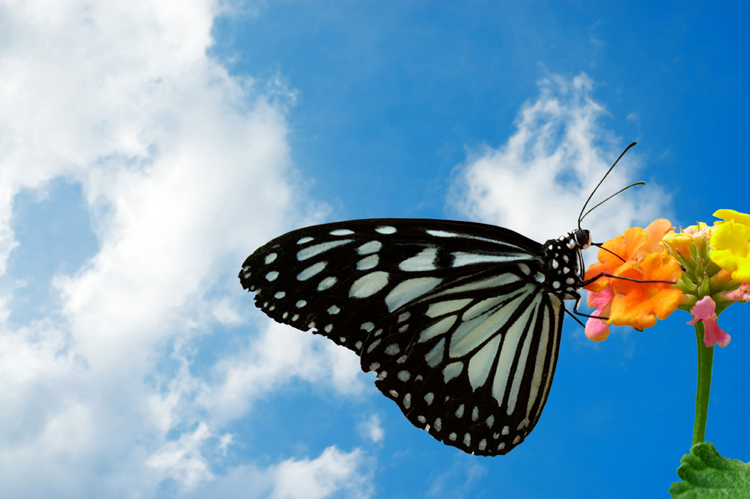 © Michael Shake | Dreamstime.com
Great Barrier Reef
One of the world's most beautiful natural wonders, the Great Barrier Reef is likely to disappear by 2050. Rising levels of greenhouse gases are making seawater too acidic for calcium-based organisms to grow. Most of the colourful fish for which the reef is famous will also go extinct.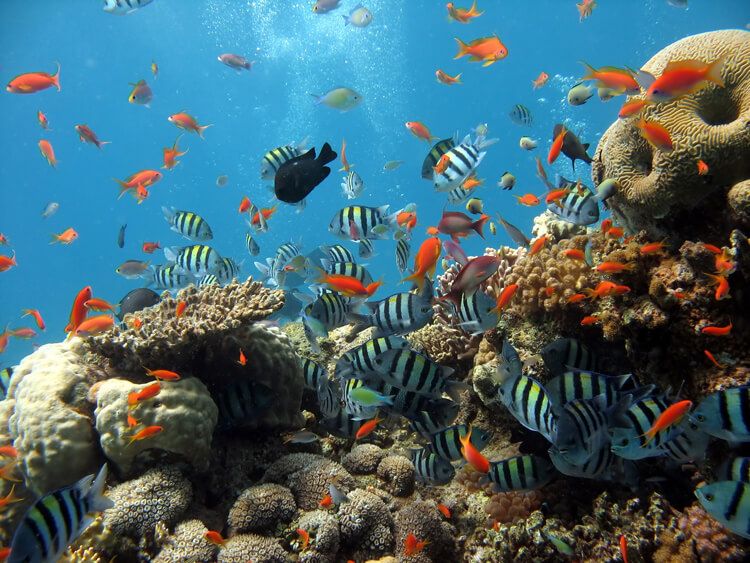 Credit: Elisei Shafer
Koalas
By 2040, koalas may go extinct - due to the combined effects of drought, disease, climate change and loss of natural habitat. The koala is one of Australia's national symbols.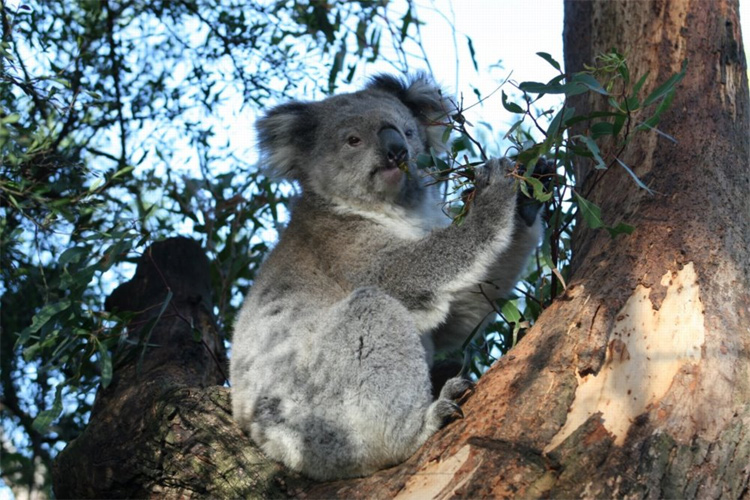 Credit: Sklmsta
Lizards
As a result of global warming, one in five lizard species will be extinct by 2080. Lizards are being forced to spend more and more time resting and regulating their body temperature, leaving them unable to spend sufficient time foraging for food.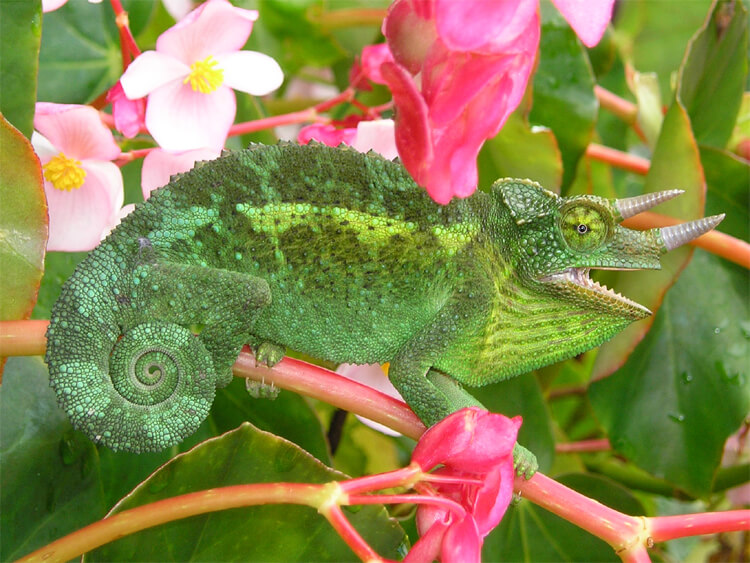 Polar Bears
By 2050, some 70% of polar bears will have disappeared due to the shrinking of Arctic ice caused by global warming. They will disappear from Greenland entirely by 2080, and from Northern Canada, leaving only dwindling numbers in the interior Arctic archipelago. Of those few which remain, ice breaking up earlier in the year will mean they are forced ashore before they have time to build up sufficient fat stores. Others will be forced to swim huge distances, leading to exhaustion and drowning. The effects of global warming will lead to thinner, stressed bears, decreased reproduction and lower juvenile survival rates - possibly leading to their extinction by 2100.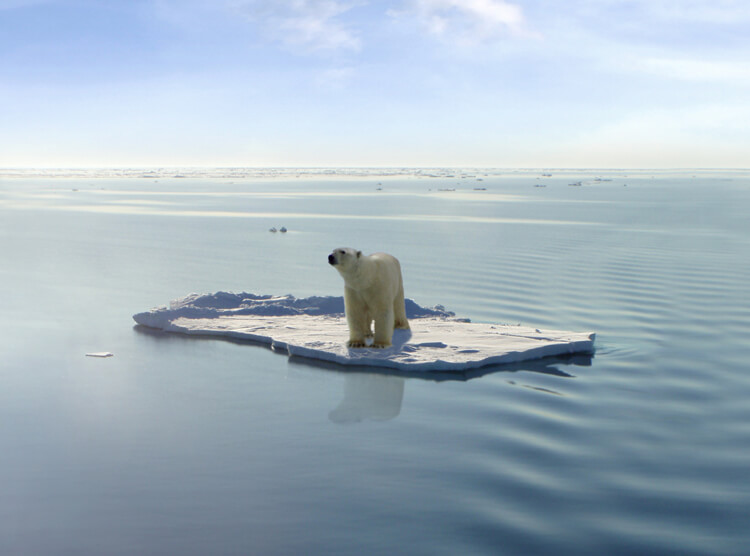 © Jan Martin Will | Dreamstime.com
Tigers
The 20th century saw tiger numbers plunge by over 95% worldwide. By the 1970s, they had disappeared from Central Asia, by the 1980s from Java and by the 1990s from South China. Three of the nine subspecies – Bali, Javan and Caspian tigers – were extinct by the 1980s.
Tiger numbers continue to decline into the 21st century. As of 2010, it is estimated that India – once a stronghold for these animals – has less than 800 left in the wild, while some of the rarer subspecies have only 30 individuals. Poaching remains a serious problem, with tiger skins fetching up to $20,000 in China. Habitat loss is accelerating, with farmers encroaching into tigers' territory and forests being cleared to make way for palm oil plantations.
Within 5-10 years, there may no longer be any viable breeding populations of tigers, setting them on the path to irreversible decline. Once the most recognisable and popular of the world's megafauna, this animal could soon go the way of the dodo, with only small numbers remaining in zoos and private collections.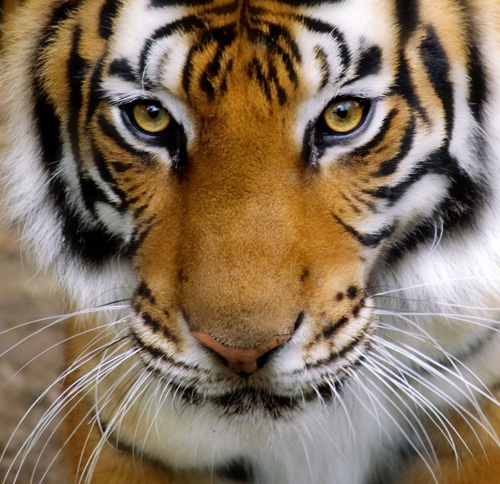 © Justin Black | Dreamstime.com

Fusion power

Human-engineered fusion has already been demonstrated on a small scale. The problem has been finding ways of scaling it up to commercial levels in an efficient, economical, and environmentally benign way.
ITER - previously known as the International Thermonuclear Experimental Reactor - aims to be the first project to achieve this. Built in southern France at a cost of €20 billion, it will take over a decade to construct and be one of the largest scientific projects ever undertaken, second only to the International Space Station. This joint research experiment is funded by the US, EU, Japan, Russia, China, India and South Korea.
To demonstrate net fusion power on a large scale, ITER's reactor must simulate conditions at the heart of the Sun. For this, it will use a magnetic confinement device called a tokamak. This doughnut-shaped vacuum chamber generates a powerful magnetic field and will prevent heat from touching the reactor's walls. Tiny quantities of fuel, injected into and trapped within the chamber, will be heated to 100 million degrees, forming a plasma. At such high temperatures, the light atomic nuclei of hydrogen will become fused together, creating heavier forms of hydrogen such as deuterium and tritium. This will release neutrons and huge amounts of energy.
Following its operational activation in 2019, it is hoped that ITER will eventually produce more than 500 megawatts of power, in bursts of 400 seconds or more. This compares with 16 MW for the Joint European Torus (JET) in 1997, the previous world record peak fusion power, which lasted only a few seconds.
ITER will require another few decades before its reactor has been sufficiently perfected. To generate the sort of continuous levels of power required for commercial operation, it will need a way of holding the plasma in place at the critical densities and temperatures. This will need refinements in the design of the chamber, such as better superconducting magnets and advances in vacuum systems.
However, it could ultimately lead to a revolution in energy. If this project were to succeed, humanity would gain a virtually unlimited supply of clean, green electricity.*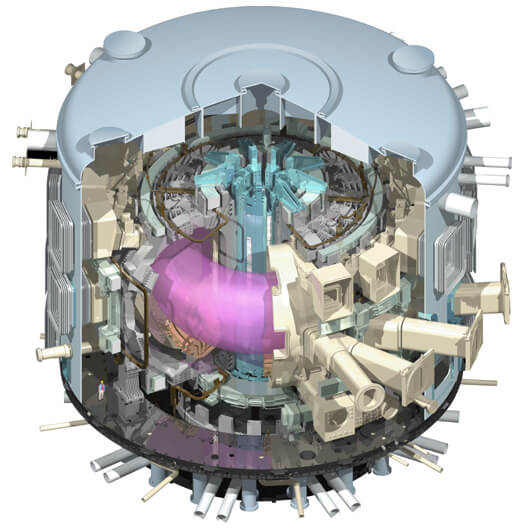 Source: ITER
---

Global temperature

Based on current trends, a global average temperature rise of 6°C (10°F) by 2100 is almost inevitable.** This was the worst-case scenario envisaged by the Intergovernmental Panel on Climate Change (IPCC) in its latest report. Carbon dioxide concentrations could reach 1000 parts per million (ppm), compared with 390ppm for 2011 and just 280ppm for pre-industrial times.* Given the feedback processes in the climate system, this would have devastating consequences for humanity and the environment. The causes and mechanisms of global warming shall be discussed in detail elsewhere on FutureTimeline. This section is concerned simply with the temperatures and their likely trajectory based on the latest science.* The graph below ignores possible technological miracles that may slow or reverse the trend. It should also be noted that even if crude oil production peaks, substantial warming is still likely. This is due to the delayed reaction of emissions from previous decades,* the continued use of other hydrocarbons such as coal and "unconventional" oil, and the tipping points that are subsequently passed (releasing vast stores of methane, a much more potent greenhouse gas).*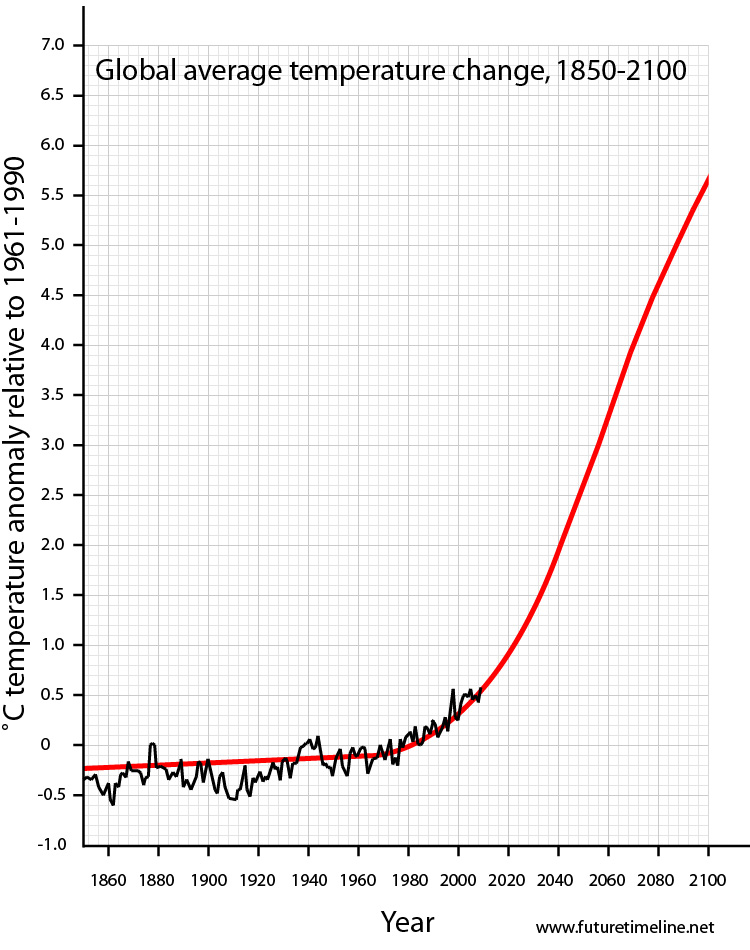 ---

Maglev wind power

This technology is already being developed in the USA and China.* In the future, it could have big advantages over conventional wind turbines.
Currently, the largest conventional wind turbines produce only five megawatts of power. However, a single large maglev turbine could generate up to two gigawatts - enough to supply energy to 1.5 million homes - and would require far less land space (0.16%) than hundreds of conventional turbines. This would also reduce construction, maintenance and operational costs substantially.
Due to the system of magnets they used, maglev turbines could be effective in wind speeds as low as 1.5 m/s. They would be vastly more efficient than today's wind turbines and could deliver electricity for less than one cent per kilowatt hour.
---

Nuclear power

4th generation nuclear power is expected to become available in the early 2030s. These new power plants will utilise a system of balls, rather than large fuel rods. They will be a major improvement over previous generations:
It will be physically impossible for them to have a runaway chain reaction. No error, human or otherwise, will ever produce a meltdown.
The uranium fuel will be only 9% enriched. This will make it impossible to be used in terrorist nuclear weapons.
The nuclear waste will be much easier to dispose of.
They will be highly economical. Electricity will be generated more cheaply than oil or gas power, even when the decommissioning costs of the stations are taken into account.
For these reasons, nuclear power may become a lucrative industry from the 2030s onwards. Solar and wind power will have greater long term potential, however, due to the finite supply of uranium.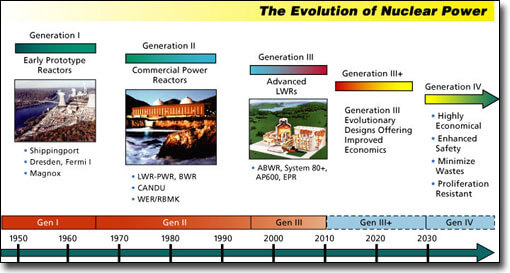 ---

Oil prices

The first commercial oil wells appeared in the mid-19th century, during which costs of this valuable commodity were extremely high. Following a major boom, the prices fell sharply and remained relatively stable through much of the 20th century. In the 1970s, however, petroleum shortages caused prices to rocket. This was followed by an oil "glut" in the 1980s which saw prices fall again, a trend which continued until the end of the century.*
The 21st century has brought fresh concerns that supply may soon be unable to match demand. From around 2005 onwards, global production of conventional crude oil appeared to be reaching a plateau. This caused prices to jump dramatically in 2008, which may have been a partial factor in the economic crisis of the time. Prices fell back down in 2009, before rising again, following the same trend line as before and remaining stubbornly high. Unlike the 1970s, many experts believe this current volatility may represent a new, permanent condition. Oil is a finite commodity and has already peaked in many countries, with production invariably following a bell curve that is highly predictable.* There are indications that we may reach this peak on a global basis, in the near future, with a terminal decline thereafter.*
Although unconventional sources are now being exploited – such as tar sands, offshore deep drilling, and so on – none of these have the energy density of conventional crude oil. Because the energy return on energy invested (EROEI) is lower, their prices are therefore going to be higher. Renewable energy alternatives like wind and solar have been growing fast, along with hybrid/electric vehicles, but these are yet to become fully mature industries. Likewise, there are countless other products and processes that will need to be adapted – from agriculture to manufacturing, medicine, plastics and everyday household items. Since we are so dependent on oil, this has important implications for the global economy, particularly with demand from China and other emerging nations. Some period of disruption appears likely in the 2020s and possibly even sooner. The graph below is based on recent estimates from the Organisation for Economic Co-operation and Development (OECD).*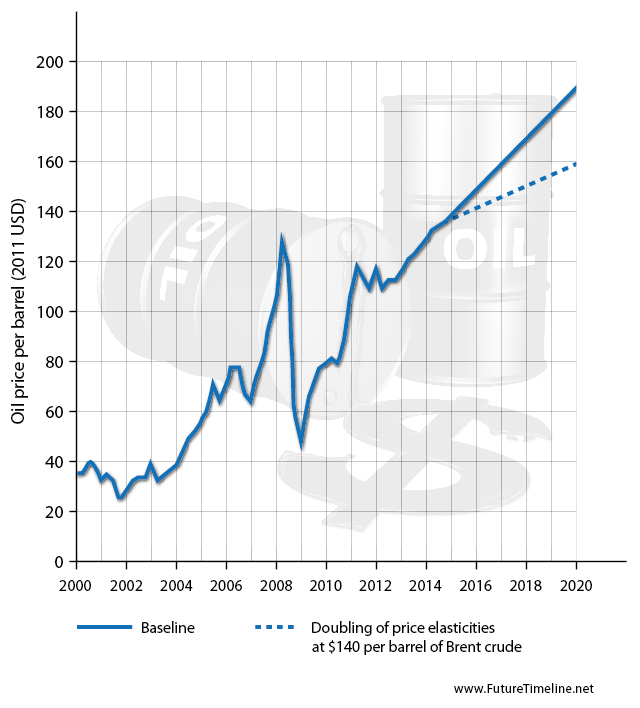 Sea levels

Sea level rise according to the IPCC report of 2013. Shown is the past history of sea level since the year 1700 from proxy data (sediments, purple) and multiple records from tide gauge measurements. Light blue are the satellite data (from 1993). The two future scenarios mentioned in the text (RCP8.5 and RCP2.6) are shown in red and blue, with their "likely" uncertainty range according to the IPCC (meaning a 66% probability to remain inside this range). Source: IPCC AR5 Fig. 13.27.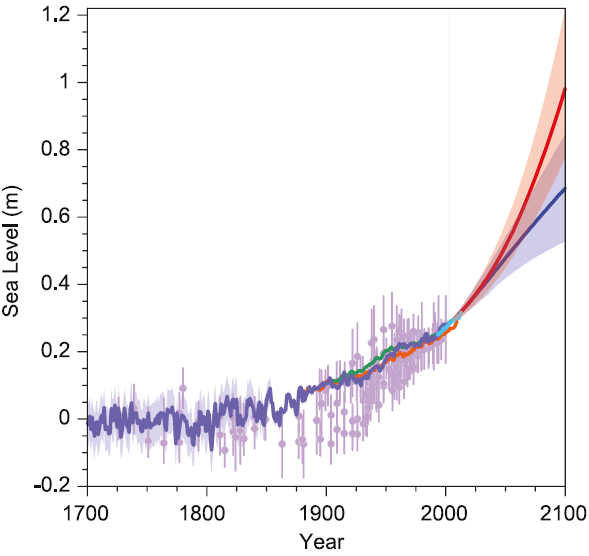 Solar islands

As demand for solar power continues to soar, new and larger methods of capturing the sun's energy will be needed. Floating solar islands are one such concept that could eventually provide gigawatts of electricity.
These circular platforms would be 5 kilometres in radius. Rather than solar panels, a concentrator would be used to heat water running through pipes; the steam generated would then produce electricity.
To be cost-effective, they would be deployed only in locations with over 350 days of sunlight, such as the equator. Since the power stations would be floating, it would be easy to rotate them - keeping them facing the sun all day for maximum efficiency.
A small prototype has already been tested in the United Arab Emirates and substantially larger versions may see commercial operation in the future.*

Solar updraft towers

Solar updraft towers, also known as solar chimneys, are a relatively new concept of renewable energy power plant that may become widespread in the future. They would combine three old and proven technologies: the chimney effect, the greenhouse effect, and the wind turbine. Air would be heated by sunshine and contained in a very large greenhouse-like structure around the base of a tall chimney; the resulting convection would cause air to rise up the updraft tower. This airflow would drive turbines, producing electricity.
A first research prototype operated in Spain in the 1980s. Many modelling studies have since been published as to their optimisation, scale and economic feasibility. Some proposals have involved mega-structures reaching up to a kilometre in height.* A small operating plant is reported to have been built in Jinshawan, China, as of 2011.*