30th October 2016
Tesla unveils solar roof tiles and Powerwall 2
By combining solar roof tiles, battery storage, and electric vehicles, Tesla hopes to create the opportunity for a zero emission lifestyle.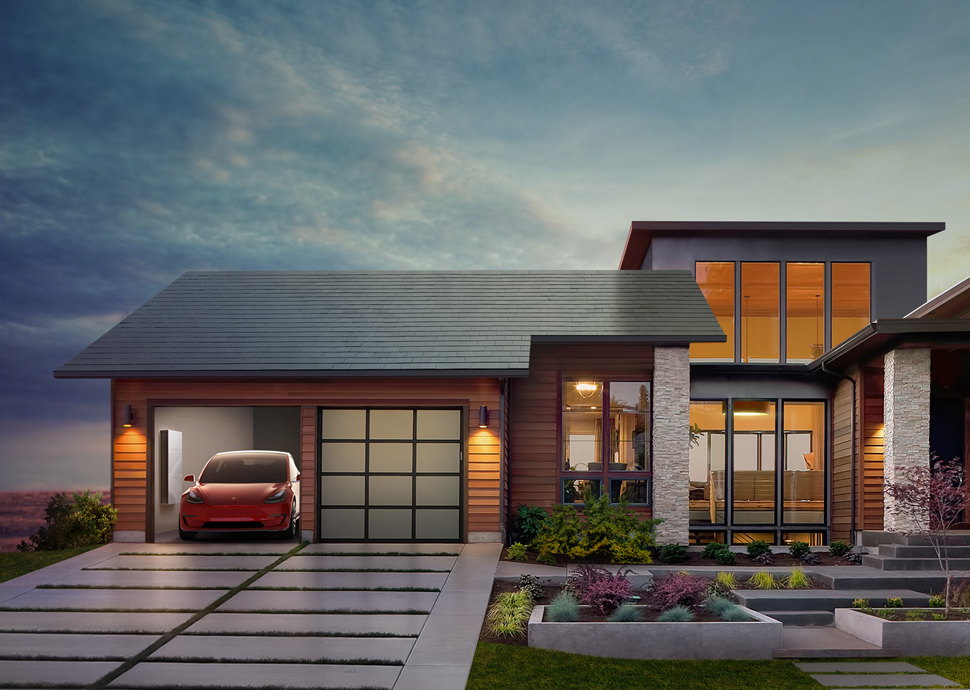 Last year, Tesla revealed the "Powerwall" – a revolutionary new energy storage system for homes and businesses. The company has now taken this concept a step further by unveiling a new range of solar-powered roof tiles, able to blend seamlessly into an existing building's appearance. In addition, Tesla has doubled the energy capacity of the original Powerwall, now released as a version 2. By combining the solar roof tiles, the Powerwall 2, and an electric vehicle, Tesla hopes to create the opportunity for a zero emission lifestyle.
The solar roof tiles will be available in four distinct styles: "Textured Glass Tile," "Slate Glass Tile," "Tuscan Glass Tile," and "Smooth Glass Tile." They can be integrated into both new homes, as well as older buildings whose existing roofs need replacing.
"The goal is to have solar roofs that look better than a normal roof, generate electricity, last longer, have better insulation, and actually have an installed cost that is less than a normal roof plus the cost of electricity," said Elon Musk, Tesla CEO. "So why would you buy anything else?" At his presentation in Los Angeles on Friday, the tiles were showcased on homes once used as the set for US drama Desperate Housewives.
The potential market for solar roof tiles is huge. In the US alone, up to five million new homes are built each year. Globally, the figure is 20 times higher. Musk is hoping Tesla/Solar City can supply at least 10% of new homes in the US with energy-generating solar roof tiles by 2020. Tesla expects the growth rate of energy products around the world to be far greater than that of electric vehicles alone.
The tiles are currently about 98% as efficient as traditional solar panels. However, Tesla is now working alongside 3M to develop an improved coating, which will not only restore the lost 2%, but could possibly even go above normal efficiency by "trapping" more light inside.
The first installations are expected to begin by summer next year. Since they are made from quartz glass, they should last much longer than a typical asphalt tile – at least two or three times longer, according to Musk.
Musk's presentation moved on to the Powerwall 2. This compact, wall-mounted battery unit stores 14kW/hour of energy from the roof tiles in daylight and has 7kW peak power output – twice the amount of the previous version and enough for a family to live comfortably off the grid. The Powerwall makes solar energy available as a power source 24/7. In the event of a grid outage, it can serve as back-up power. If necessary, multiple units can be stacked to combine even greater energy storage. Each device will retail at $5500.
In addition to the Powerwall 2 for homes and small businesses, Tesla offers the utility-scale Powerpack, now also launched as a version 2. Once again, this will provide twice the energy of its predecessor: 210kW/hour of storage and a peak output of 50kW. It has unlimited scalability, meaning it could power an entire town or city. Tesla recently announced the world's biggest utility-scale battery installation for Southern California Edison, an 80MWh project that is already under construction right now. To date, nearly 300MWh of Tesla batteries have been deployed in 18 countries around the world.
The Powerpack 2 is also matched with a new inverter, designed by Tesla and manufactured at the company's new Gigafactory, which started limited production in the first quarter of 2016. It is the lowest cost, highest efficiency and highest power density utility-scale inverter on the market. It also significantly simplifies the installation process of the entire Powerpack system by integrating a number of previously independent components into the inverter itself.
In his presentation, Musk was keen to emphasise that larger utility-scale energy will be just as important as localised power generation in the future – the two should not have to compete with each other, and the future is bright for both. He believes localised systems will account for about one-third of power generation and utilities about two-thirds.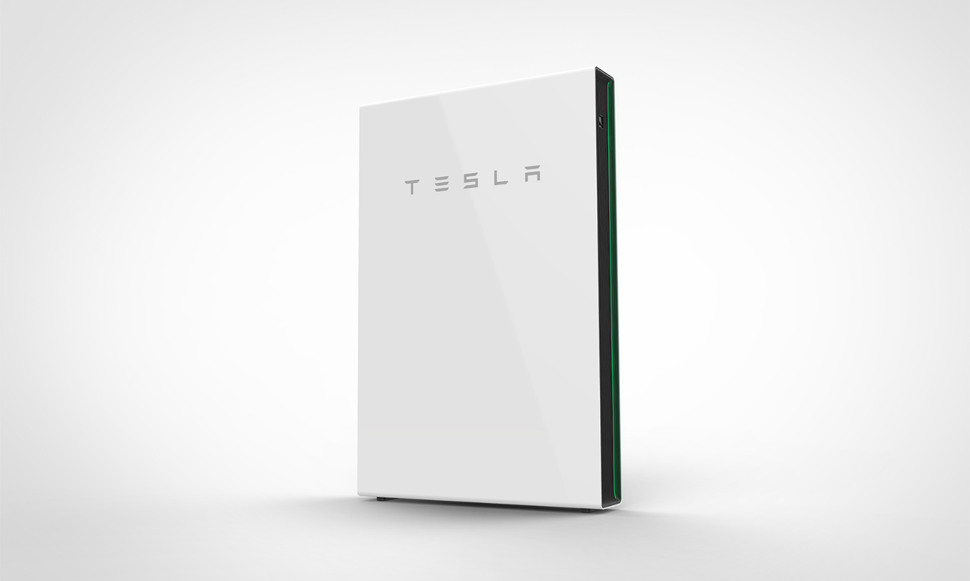 The Powerwall 2, for homes and small businesses.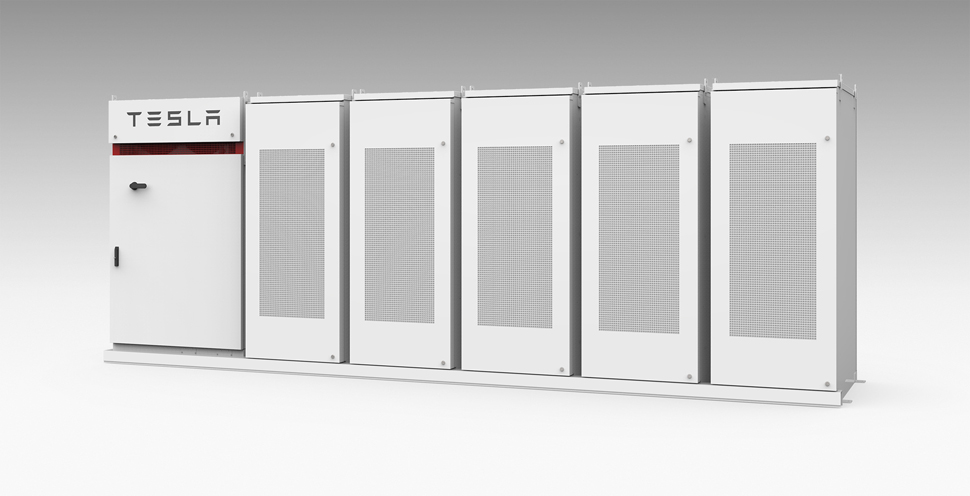 The Powerpack 2, for utility-scale applications.
The costs of solar power, batteries/energy storage and electric vehicles have been falling in recent years and will continue falling. In the near future, systems like that presented by Musk will become affordable to many more people and businesses. Solar-powered windows will emerge too, thanks to advances in transparent, light-harvesting materials. Combined with nationwide smart grids, to provide the optimal balancing of demand and production, this offers the prospect of a global clean energy revolution by 2030.
Full details of the solar roof tiles, Powerwall 2 and Powerpack 2 can be seen in the 20 minute presentation by Musk below. You can also visit the Tesla website at: https://www.tesla.com/energy
---
• Follow us on Twitter
• Follow us on Facebook
• Subscribe to us on YouTube
Comments »