3rd September 2016
DNA is sequenced in outer space for the first time
DNA has been sequenced in space for the first time, with astronaut Kate Rubins using a MinION device aboard the International Space Station.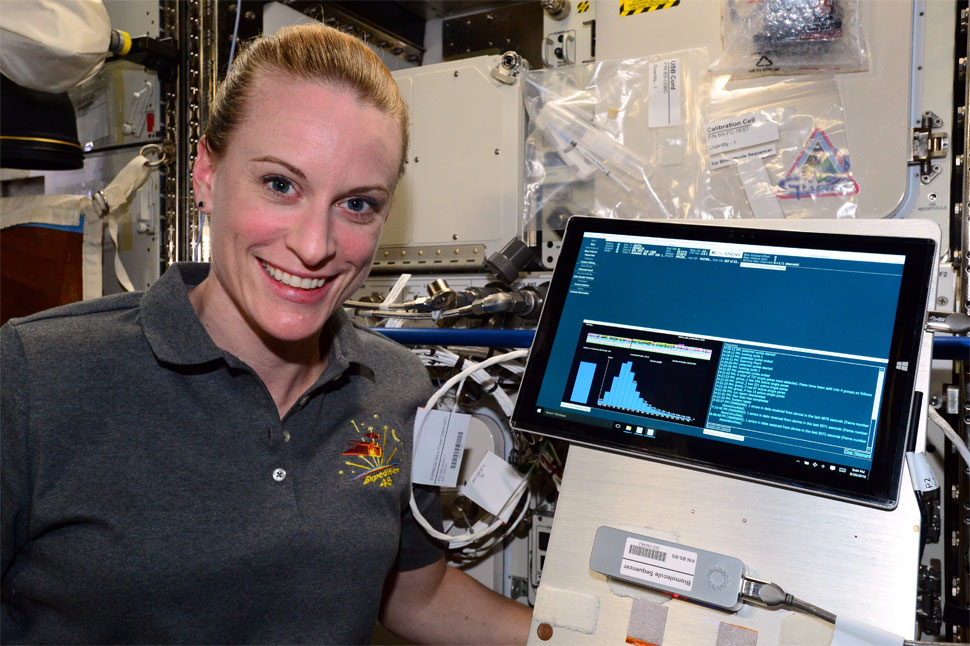 Credit: NASA
High above the Earth, at an altitude of 330 km (205 mi), NASA has conducted the first ever space-based genome sequencing. This was made possible by a handheld device called a MinION, used aboard the International Space Station (ISS) by astronaut Kate Rubins.
Genetics have come a long way since 1953, when James Watson and Francis Crick published their famous discovery, which identified the double helical structure of DNA, the molecular instructions used in the development and functioning of all known living organisms. By the 1970s, gene expression could be controlled and manipulated through genetic engineering, which led to the first genetically modified animals and plants. During the final decades of the 20th century, teams of biologists attempted large-scale genetics projects, sequencing entire genomes, which culminated in the Human Genome Project. The latter was a $2.7 billion endeavour that involved hundreds of scientists from laboratories around the world.
Today, in the 21st century, the costs of sequencing DNA and the time required to do so have fallen at unprecedented rates – thanks to exponential advances in technology progressing faster than Moore's Law. Hundreds of thousands of human genomes have now been sequenced, with a billion likely to be read by 2025, alongside those of many more animals, plants and other lifeforms. Given the increasing portability of the hardware and its relative ease of use, it was only a matter of time before this technology found its way into space. This follows a similar milestone in November 2014 when the first 3D printer was used on the ISS.
The MinION device used by Rubins is small and light enough to carry in your palm and is easily attached to a laptop with a USB port. It was tested by researchers last year who sequenced the full genome of the bacteria Escherichia Coli. Developed by UK-based company Oxford Nanopore Technologies, the MinION works by a system of tiny protein "nanopores" dotted across an electrically-resistant membrane. A current is applied and flows through the aperture of the nanopore only. Individual molecules are identified based on a distinctive signature they reveal as they pass by and disrupt the current. Intact strands of DNA can be processed in real time and catalogued according to each of the four nucleobases – guanine (G), adenine (A), thymine (T), and cytosine (C) – as explained in this video.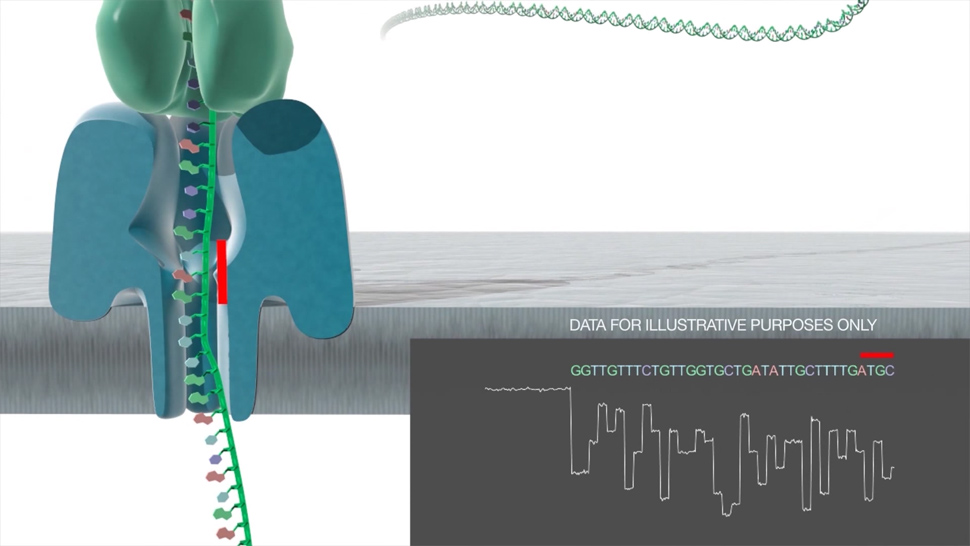 Credit: Oxford Nanopore Technologies Limited
Dr. Rubins, who has been aboard the ISS since 6th July, sequenced the DNA of bacteria, viruses and rodents. A team back on the ground then analysed the data and compared it to identical samples processed in their laboratory. The microgravity environment and other conditions on the space station appeared to have little or no effect in terms of harming the results.
"Until recently, technology for sequencing in space hasn't been available because sequencers are generally large bulky instruments," said Charles Chiu, director of the Abbott Viral Diagnostics and Discovery Centre at the University of California, who led the study. "It didn't turn out to be a huge problem. We essentially got equivalent data, and it's of very high quality, probably within the top 20% of nanopore runs that we do routinely here on Earth."
In future missions, the sequencing of DNA could enable crew members to rapidly diagnose an illness, or identify microbes growing aboard the station and what health threat is present. This would be particularly important to help protect astronauts on long-duration missions to Mars, for example.
"Onboard sequencing makes it possible for the crew to know what is in their environment at any time," said Sarah Castro-Wallace, NASA microbiologist and ISS project manager. "That allows us on the ground to take appropriate action – do we need to clean this up right away, or will taking antibiotics help or not? We can resupply the station with disinfectants and antibiotics now; but once crews move beyond the station's low Earth orbit, we need to know when to save those precious resources and when to use them."
In addition, the MinION and other sequencers can become a tool for more advanced science investigations in space. Researchers could use them to examine changes in genetic material or gene expression while in orbit, for example, rather than waiting for samples to be returned to Earth for testing. The ability to read genomes in space may also help in the detection of DNA-based life elsewhere in the universe. Maybe in the far future, similar devices will be routinely used on Earth-like planetary surfaces to catalogue alien species.
"Welcome to systems biology in space," said Rubins after sequencing the DNA samples, thanking the ground team for their efforts. "It is very exciting to be with you guys together at the dawn of genomics biology and systems biology in space."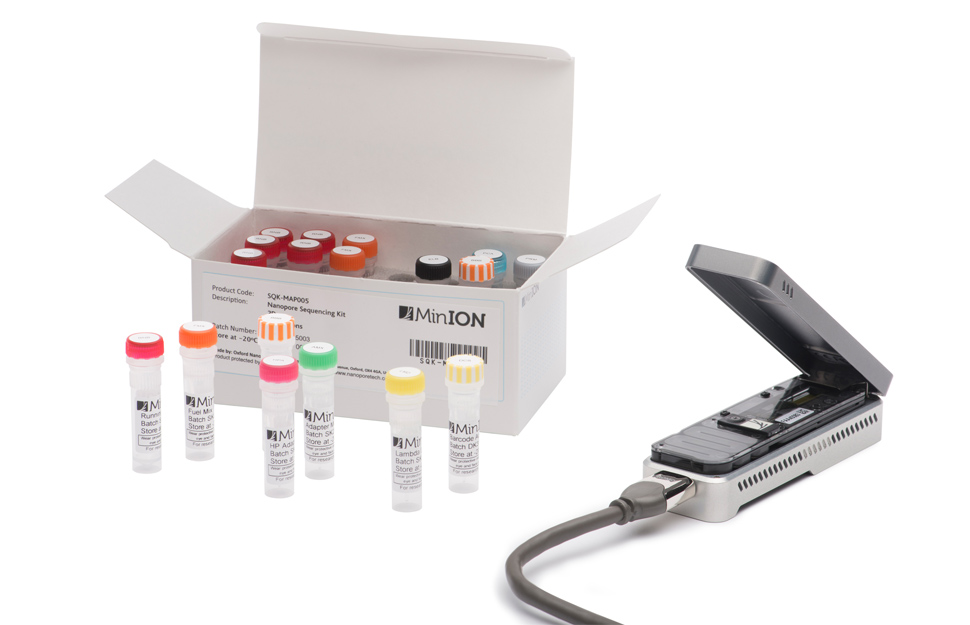 ---
• Follow us on Twitter
• Follow us on Facebook
• Subscribe to us on YouTube
Comments »