2035
Economic decline in the Middle East
Crude oil, an essential driver of the world economy, has been undergoing major falls in production.* Following years of disruption and a race to avert catastrophe, viable alternatives for humanity's energy needs have thankfully become a realistic prospect. Algae biofuel is leading the way.** Solar, wind and other forms of renewable energy have also borne fruit. With nanotechnology being applied to panels and other surfaces, together with falling costs, solar energy has seen exponential uptake.*
Energy storage systems have made progress alongside this - allowing solar to be used at night time, for example.* Electric cars are becoming widespread too, accounting for over half of new vehicles on American roads.*
No longer funded by the West's limitless demand for oil, the Middle East is collapsing into a largely poverty-ridden, internally feuding region. A "brain drain" is pushing it back into relative insignificance. Several countries have been engaged in a nuclear arms race that has further destabilised the region.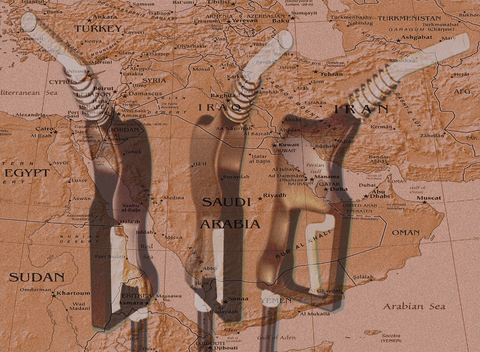 © Petar Zigich | Dreamstime.com
World tin reserves are running out
Tin is a silvery-white metal that is soft, ductile and malleable. Among the oldest metals known to mankind, it was discovered around 3000 BC during the bronze age, which is in fact named for an alloy of tin and copper. Its role in casting as an alloy created a valuable trade network that linked ancient civilisation for thousands of years.*
Tin does not occur naturally in pure form, so it must be extracted from other ores. Because of tin dioxide's high specific gravity, tin is often mined downstream of a primary deposit - along river banks, in valleys, or at the bottom of the ocean. Therefore, the most economical extraction methods are dredging, open-pit and hydraulic mining. Historically, the largest producers of tin have been China, Indonesia, Malaysia, Peru, Brazil and Bolivia.
Tin is primarily used in soldering, metal plating, a wide range of alloys, superconducting magnets and PVC plastics. As China and other emerging nations continue to demand resources beyond what the earth can provide, tin is among the metals now in critical decline. By the mid-2030s, most of the large economically recoverable deposits have been completely exhausted.**
Local, individual and small-scale mines - not reporting their reserves in the manner of large mining corporations - have continued to supply the markets. Recent new discoveries in Columbia* have also provided some temporary relief to demand. However, an adequate long-term solution can only be found with a complete replacement for tin.* Recycling has increased sharply as the market trends away from mineral sources.
The Arctic is becoming ice-free during September
Due to global warming, the Arctic is now free of ice during the whole of September. A dramatic decline in coverage was observed during 2007 and this trend continued over the subsequent decades. The process was accelerated by the increasing surface area of water - being darker, this absorbed more of the Sun's heat than reflective white ice.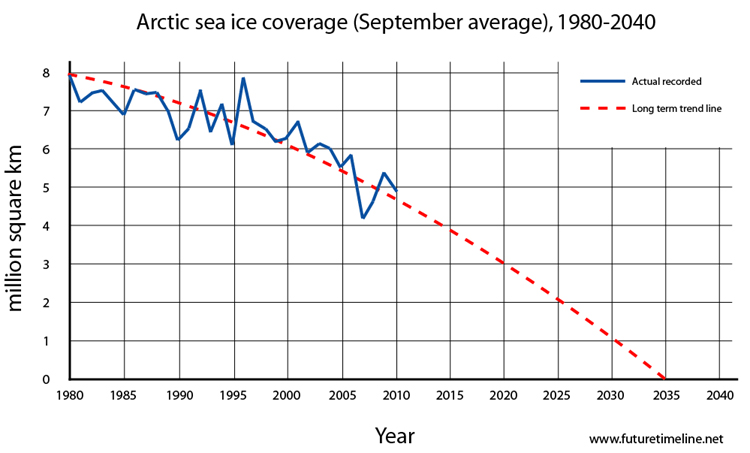 Source: NASA
Self-driving vehicles are widespread
In many developed countries, a new generation of self-driving vehicles is emerging. These use a combination of advanced GPS, AI and lane-changing technology to carry passengers to their destination automatically. As well as improving road safety, most of these cars are electric, or hybrid electric, reducing their impact on the environment.
Holographic recreations of dead people
Throughout this time many dead celebrities, presidents and historical figures from the past are "resurrected" online, via the immense AI and supercomputing powers now available. This phenomenon is aided by the recent human brain simulations that have been made possible. Data mining of every single word ever spoken, written, or otherwise recorded by the person is undertaken, then analysed to recreate their character traits and emotions. This allows the construction of a highly accurate "shell" personality, surrounding a generic "core" program, run as an entirely independent AI simulation.
The project sparks much controversy when first announced (especially among the religious community) but soon gains momentum, as a whole host of actors, musicians, artists, scientists, politicians and other individuals from the past are made available.* Advanced holographic techniques - combined with real-time audio-visual interaction - make them appear as lifelike as any other person alive in the world today.
This form of computerised resurrection is soon extended and made possible for ordinary citizens wishing to preserve a loved one in digital form; though once again, it is more popular among the non-religious (and the process is generally less accurate, since the average person tends to leave behind less data, written words, video recordings and other information for use in constructing the programs). The technology involved is also expensive. It is used only by the rich for now - or in certain public locations such as museums, galleries and other venues.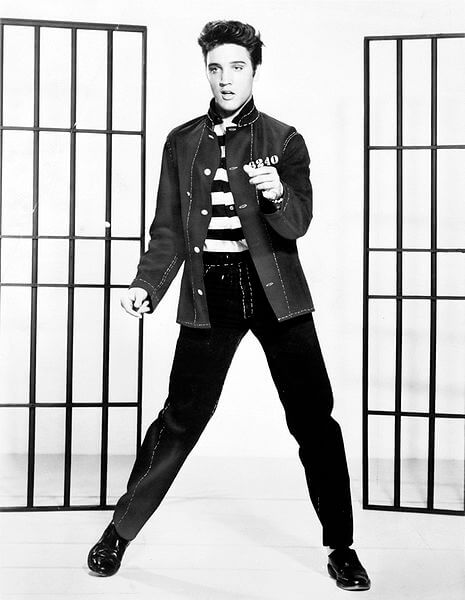 Robots are dominating the battlefield*
Highly mobile, autonomous fighting machines are appearing on the battlefield now. Guided by advanced AI, they can aim with inhuman precision and come equipped with powerful sensors, GPS and thermal vision. They can be deployed for weeks or months at a time if necessary, without need for rest or maintenance. They have other advantages too - such as a complete lack of remorse or fear; no need for training, or retirement payments, or other such costs. These machines are being used in a wide variety of conflicts (especially food/energy/resource-related) where they spread terror and confusion through the ranks of their enemies.
In fact, only the poorest or most desperate enemies are fielding human troops against this new and deadly force. This is giving the US an advantage in battlefield situations, allowing the country to regain some of the power and influence it has lost in previous decades - at least with regards to armed conflicts.
The most advanced robot models come with self-repairing nanobot systems and immunity to EMP attacks. Some can even turn themselves invisible through the use of metamaterials.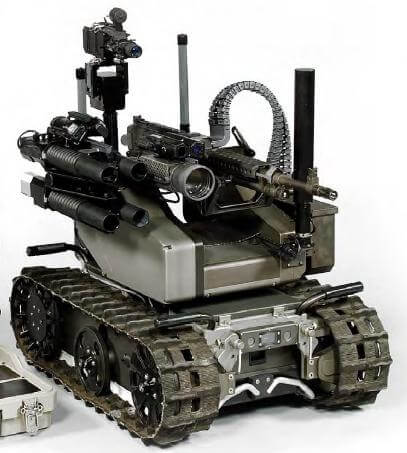 Credit: Qinetiq
---
2035-2040
The final collapse of the European Union
Rising global temperatures have begun to markedly increase both the frequency and severity of climate disasters. Europe is now experiencing a wave of unrest, the already fragile alliance having split along north-south lines.
Britain has withdrawn from the EU completely, focussing on its own domestic issues which include self-sufficiency in food production: a goal that has now been largely achieved. The EU has been reconfigured as a "Northern Union" – which includes France, Benelux, Germany, Scandinavia and Poland. This has split away from the southern nations, closing its borders to them after struggling to contain a surge in migration.
The famine-stricken Mediterranean has been overrun by refugees from even harder-hit countries in North Africa.* Russia, meanwhile, is benefiting from this situation due to its new-found status as a food superpower.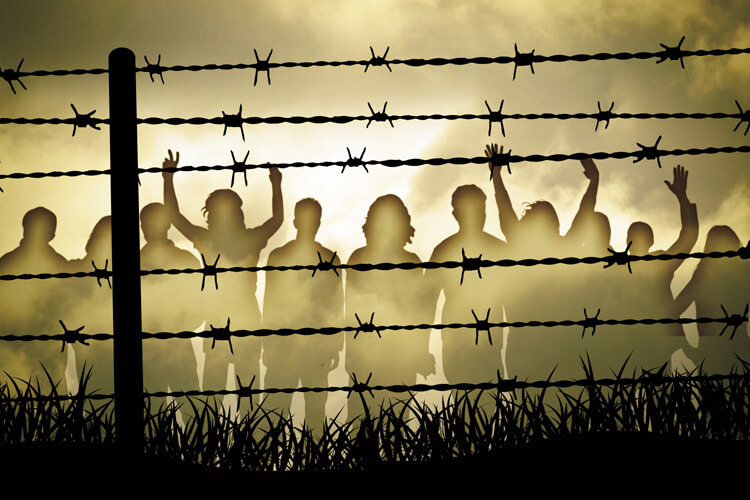 © Benjamin Haas | Dreamstime.com
Russia is a global food superpower
With a population inching towards 9 billion, the world now requires over 50% more food than it did at the beginning of the century.* At the same time, however, farming around the planet is in crisis. As well as peak phosphorous,* the effects of climate change are beginning to accelerate.*
Africa's Sahel region - which transitions between the Sahara in the north and the Sudanian Savannas in the south - is threatened by ever-worsening droughts and desertification. Indian and Southeast Asian crop yields, meanwhile, are being hit by increasingly violent and irregular monsoons. Pakistan is experiencing shortfalls of water due to receding snowcaps that are the main source of its rivers. Farms in South America, too, are being badly affected by ice loss. The once fertile plains of the American Midwest have been ravaged by dust-bowlification, while European nations in the Mediterranean are struggling with chronic drought.
A number of regions, however, are actually prospering at this time - these include Canada, Russia and Scandinavia. Melting permafrost and a retreating polar icecap have opened up vast tracts of land in the north. Russia is benefiting the most of all, now that seemingly endless stretches of arable land are appearing in Siberia. The country is taking full advantage of this, with areas being quickly bought up and divided for farms.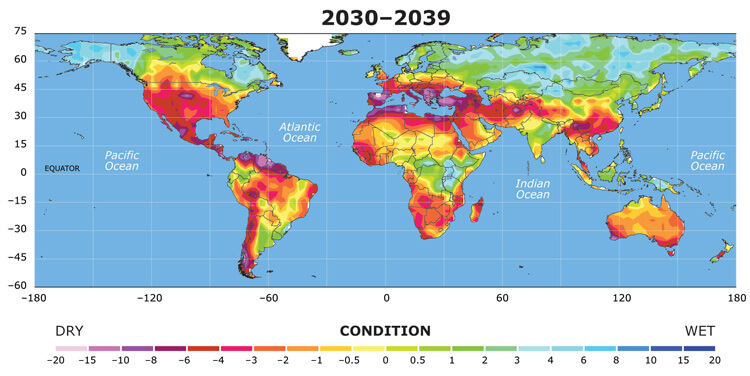 Credit: University Corporation for Atmospheric Research
In previous decades, genetic engineering was viewed with suspicion. In today's world of increasing food stress, nations are readily adopting this and other methods. Russia is no exception, with GM crops being widely used throughout the country. Vertical farms, too, are being deployed more rapidly in response to the warmer climate. Third-generation biofuels - such as genetically-engineered algae and halophyte plants - have also emerged. Aquaculture is being expanded all along Russia's northern coast, due to rapid warming and melting of the Arctic. Climate change is having another benefit here, since it is increasing the stock of herring, cod, capelin, and mackerel in the region, allowing the expansion of traditional wild-catch fishing. Changing currents and warming seas have resulted in a more north-eastward distribution of the fish stock located in the Barents Sea, at great benefit to the Russian exclusive economic zone. With the Barents Sea largely free of ice for many months,* cod production alone has jumped by over 50%.*
Besides food, Russia is now also secure in terms of fresh water. With much of Brazil affected by chronic droughts, Russia along with Canada holds an increasingly large percentage of the world's available fresh water. Now that it is able to support itself, Russian food is in great demand, especially in Europe and Central Asia. Russia's influence on the world stage grows considerably during the 2030s.*
In light of the unfolding crisis in Europe, this constitutes a significant shift in power and resources, which inevitably results in friction with the other superpowers. One side effect of this, however, is the increasing flow of immigrants and refugees attracted by Russia's new-found abundance and wealth. Many are fleeing resource conflicts throughout Eurasia. Because of its sheer size, it is virtually impossible for Russia to fully close its borders. This is a particular issue with those fleeing the drought-stricken Tibetan Plateau of Western China.
As a result of all this, Russia's population begins to stabilise - having recently been undergoing a decline. This trend is due to both domestic food security and the growing numbers of immigrants fleeing disasters at lower latitudes.