4th June 2017
Intel reveals Core i9 – the next generation of high-end processors
Chipmaker Intel has announced a new generation of processors, including the Core i9 series, its first teraflop desktop CPUs.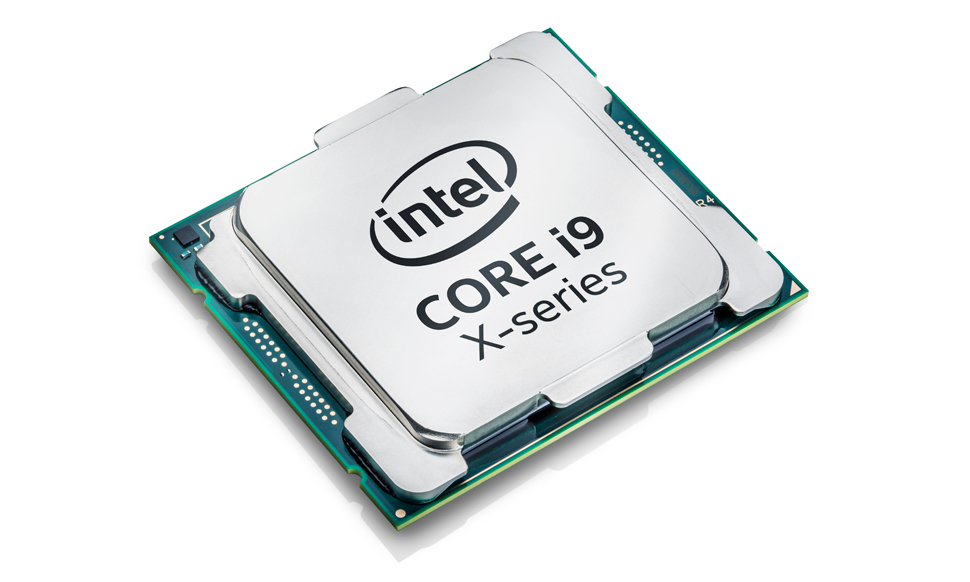 Intel has this week introduced a new family of microprocessors – the Core X-series – which the company describes as the most scalable, accessible and powerful desktop platform ever developed. This includes a new Core i9 brand and Core i9 Extreme Edition, the first consumer desktop CPU with 18 cores and 36 threads. The company is also launching the Intel X299, which adds even more I/O and overclocking capabilities.
Given their extreme power and speed, this family of processors is being pitched at gamers, content creators, and overclocking enthusiasts. Intel expects to increase its presence in high-end desktop markets and believes that customers will pay premiums in exchange for higher performance. Prices for the i9 line-up will range from $999 to $1999.
Prior to this announcement, Intel's high-end desktop processors (known as Broadwell-E) came with six, eight or 10 core options. The Core X-series will include five Core i9 chips, with a minimum of 10 cores and the top-end i9-7980 featuring a massive 18 cores. A major update has also been announced for Intel's Turbo Boost Max Technology 3.0, which will identify the two top cores and direct critical workloads to those, for a big jump on single or multithreaded performance.
The Core i9-7980 will be the first Intel consumer processor to exceed a teraflop of computing power, meaning it can perform a trillion computational operations every second. To put this in perspective, that is equal to the ASCI Red, which reigned as the world's most powerful supercomputer from 1997 until the year 2000. All Core i9 chips will have 3.3GHz base clock speeds, with up to 4.5GHz using Turbo Boost 3.0, and up to 44 PCIe lanes.
"The possibilities with this type of performance are endless," says Gregory Bryant, a senior vice president, in a blog post. "Content creators can have fast image rendering, video encoding, audio production and real-time preview – all running in parallel seamlessly so they spend less time waiting and more time creating. Gamers can play their favourite game, while they also stream, record and encode their gameplay, and share on social media – all while surrounded by multiple screens for a 12K experience with up to four discrete graphics cards."
In addition to Core i9, there are also three new i7 chips and an i5, including the quad-core i5-7640X and i7 models in 4, 6 and 8-core variants. Prices will range from $242 for the i5, to $599 for the i7-7820X.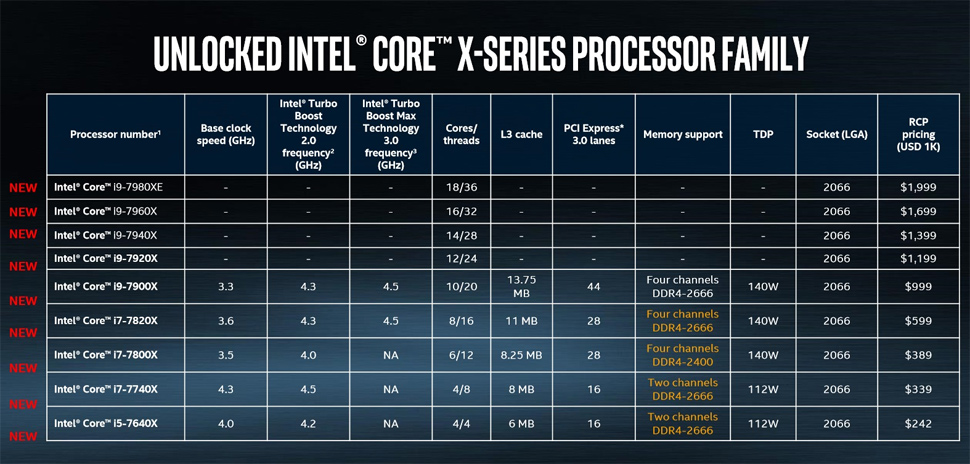 ---
• Follow us on Twitter
• Follow us on Facebook
• Subscribe to us on YouTube
Comments »