5th December 2016
Hydrogen-powered truck with 1,200 mile range to be launched by 2020
American hybrid truck design company, Nikola Motors, has unveiled a class 8 truck powered by a hydrogen fuel cell that will have an operational range of up to 1,200 miles (1,900 km) when launched by 2020.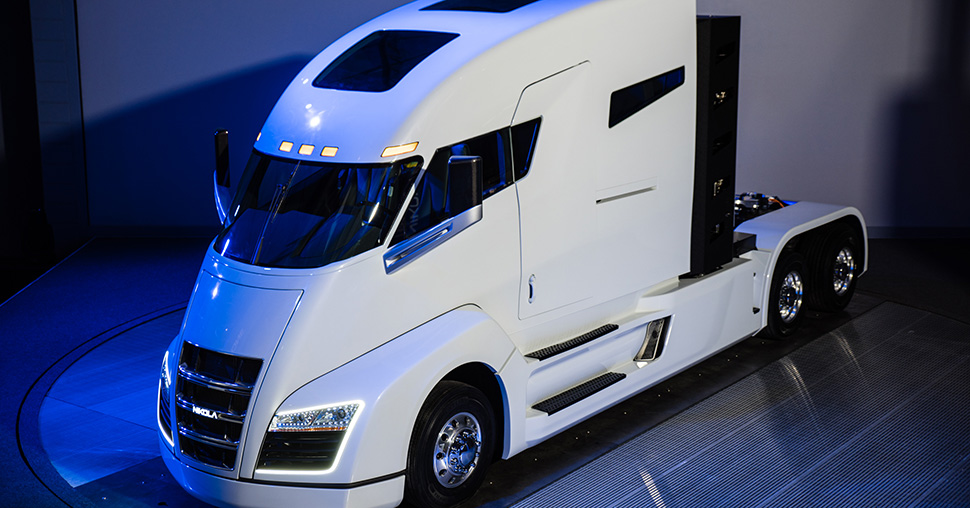 Credit: Nikola Motors
Class 8 trucks are the largest trucks in the United States and the type most commonly used for long-haul routes, with 3.6 million delivering about 70% of the country's freight. They are the largest CO2 emitters and fuel users. The trucking industry, as a whole, consumed approximately 54.3 billion gallons of diesel fuel and gasoline in 2015.
However, in yet another boost for clean technology, Nikola Motor Company has unveiled a highly anticipated electric semi-truck – the Nikola One – at an event held in its Salt Lake City headquarters.
The Nikola One utilises a fully electric drivetrain, powered by high-density lithium batteries. Energy is supplied on-the-go by a hydrogen fuel cell providing a range of 800-1,200 miles, while delivering 2,000 ft. lbs. of torque and 1,000 horsepower – nearly double that of any semi-truck on the road. Never has a production model class 8 truck achieved best-in-class fuel efficiency while also dramatically improving performance over its diesel competition – all with zero emissions.

The Nikola One leasing program will include unlimited hydrogen fuel, warranty and scheduled maintenance during a 72-month term. The company has accepted reservations totalling nearly three billion dollars in future orders.
"Nikola will build a world-class advanced manufacturing facility which will create thousands of new jobs," said Nikola Founder and CEO Trevor Milton. Nikola is currently in discussions with several states to decide who to partner with in its effort to reduce America's dependence on fossil fuels, advance green energy and revolutionise the trucking industry. The company is developing multiple 100-megawatt solar farms to make hydrogen from electrolysis. The location of the manufacturing facility will be determined in the first half of 2017. During the event, plans were also revealed for a network of 364 hydrogen fuelling stations across the US and Canada. Nikola will begin construction of these in January 2018.
Each vehicle will include a smart dashboard to calculate the most cost-efficient route for drivers. Inside the spacious cab will be one or two full-size beds, a 40-inch curved 4K TV with Apple TV, Wi-Fi, and 4G LTE connectivity, and a refrigerator, freezer, and microwave. Several high definition cameras around the vehicle will provide backing and 360° views while driving, optimising visibility and safety.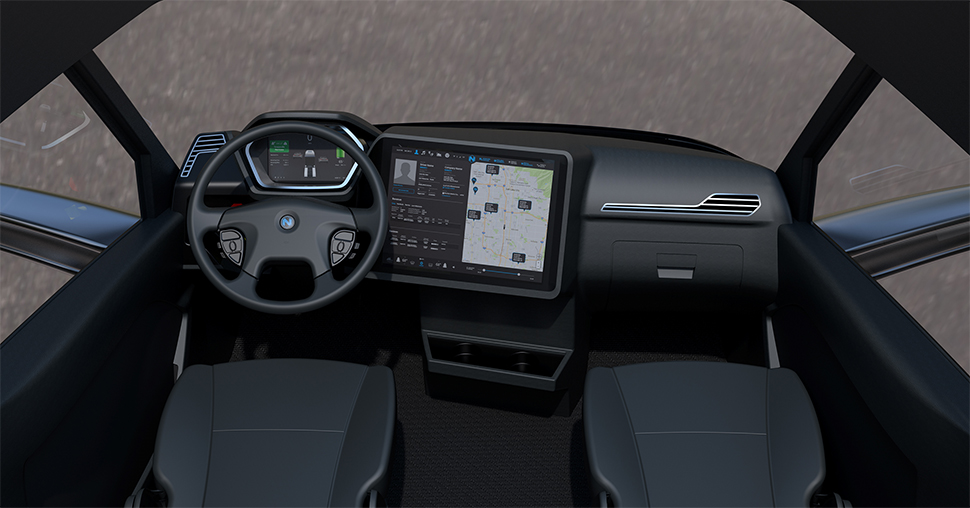 Nikola announced Ryder System, Inc. as its exclusive nationwide distribution and maintenance provider. Ryder has a network of over 800 service locations in North America today.
"We are extremely excited to finally show off the Nikola One to the public for the first time," said Milton. "There are many out there that wondered if we would deliver, but today we proudly show off the most advanced semi-truck ever built. We couldn't be more thrilled to have one of the best brands in America, Ryder, as our trusted partner providing nationwide sales, service and warranty."
Commenting on the new strategic partnership, Ryder's President of Global Fleet Management Solutions, Dennis Cooke said, "We commend Nikola for its leadership in zero emission vehicles, and for its decision to partner with Ryder as their exclusive nationwide distribution and maintenance provider. This relationship is key to expanding our advanced vehicle technology portfolio of innovative solutions. Ryder continually monitors emerging fleet technologies and seeks to establish relationships with companies that are leading innovation within the commercial transportation industry."
---
• Follow us on Twitter
• Follow us on Facebook
• Subscribe to us on YouTube
Comments »