25th November 2016
North America's largest tidal turbine array begins generating power
A massive new tidal turbine has been deployed on the coast of Nova Scotia, Canada, and is now connected to the electrical grid.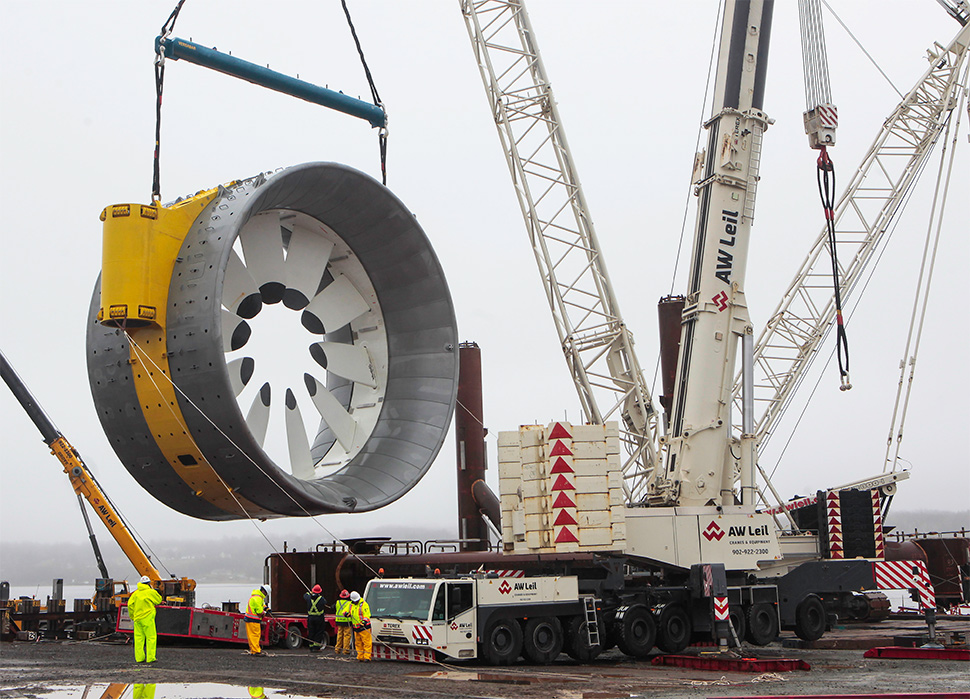 Cape Sharp Tidal, a joint venture between Emera and OpenHydro, is now lighting up homes in Nova Scotia, Canada, after being successfully connected to the grid. North America's largest tidal turbine array, this 2 megawatt (MW) machine weighs 1,000 tons and is the height of a five-storey building when fitted on its base. Following deployment in the Bay of Fundy, a marine operations team safely connected its subsea cable to an onshore substation and then thoroughly tested the entire system, including all monitors and communications links. More than 300 people have been employed on the project in areas such as fabrication, environmental monitoring, engineering, health and safety and marine services.
"This is a huge achievement for Cape Sharp Tidal, a company combining DCNS, OpenHydro and our partners Emera," said Thierry Kalanquin, Chairman of OpenHydro and Senior Vice President of Energy and Marine Infrastructure at DCNS. "Last week, the Open-Centre Turbine supported the most powerful tidal stream of the year without any stress to the system. The successful delivery of this turbine, the most powerful in North America, also represents a significant milestone for the global tidal industry."
The Cape Sharp Tidal project has a simple design with four key components: a horizontal axis rotor, a magnet generator, a hydrodynamic duct and a subsea gravity base foundation. The turbine base sits directly on the seabed floor, out of the way of ships, and without drilling. Nova Scotia's tides are some of the most powerful in the world. All operational surfaces are treated with anti-fouling protection, to minimise growth from algae and zooplankton which could affect the generator and drag co-efficients of the structure.
The machine will be joined by another turbine next year, the pair together producing 4MW from the strength of the tides. Each will displace the need to burn 1,000 tonnes of coal, and eliminate 3,000 tonnes of greenhouse gas (GHG) CO2 emissions. Subject to regulatory approval, the array will grow to an output of 16MW in 2017, 50MW in 2019, and up to 300MW of energy in the 2020s, generating power for nearly 75,000 customers.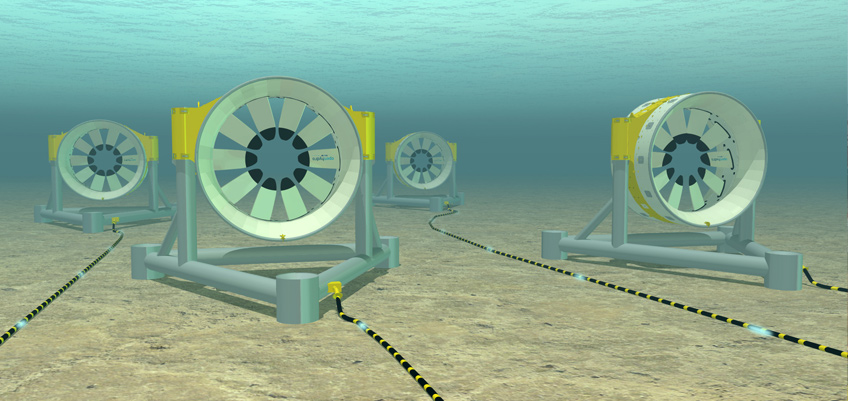 "Cape Sharp Tidal will be one of the largest generating, in-stream tidal energy arrays anywhere in the world," Kalanquin added. "The project is providing us with unique insights into what is required to build commercial-scale arrays. It will help us accelerate delivery of the pipeline of ocean energy projects we have secured across the globe and grow our position at the forefront of the tidal power industry."
Data is being collected from a number of monitoring devices mounted on the turbine to collect information on fish and mammal interactions with the structure. Monitoring reports will contribute to a growing international body of research. The turbine makes about six to eight rotations per minute – similar to walking speed – with fish and mammals able to swim through the 4.5-metre centre.
"We know from other turbine installations around the world that fish and marine mammals are not colliding with turbines," said Sarah Dawson, spokesperson for Cape Sharp Tidal. "With ten years of similar devices we've installed in Scotland, there hasn't been a single incident where any marine mammal, dolphin or whale, has collided."
Cape Sharp Tidal is an important part of Nova Scotia's energy future. By 2020, 40% of the region's energy must be generated from renewable sources. Clean and efficient tidal power can be a part of the solution, while also creating an entire new industry and jobs.
Seawater is 832 times denser than air, so a 5 knot ocean current has more kinetic energy than a 220 mph wind. Therefore, ocean currents have extremely high energy density and require smaller devices to harness than wind power. Since oceans cover 70% of Earth's surface, ocean energy (including wave power, tidal current power and ocean thermal energy conversion) is a vast untapped resource, estimated at 3,000 terawatt hours (TWh) per year. For comparison, this is greater than all of the nuclear power generation in the world (2,500 TWh during 2011).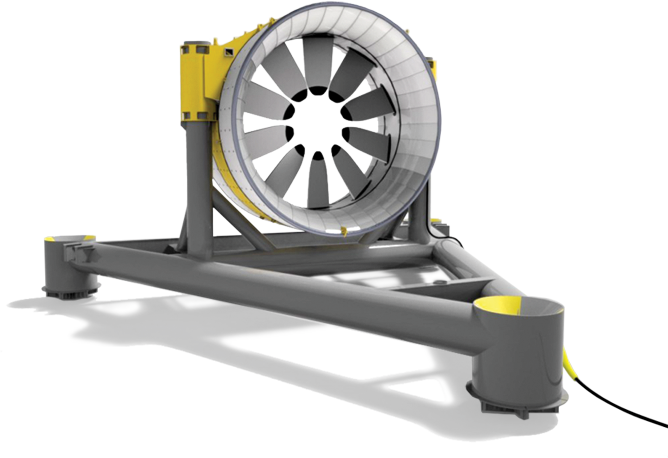 ---
• Follow us on Twitter
• Follow us on Facebook
Comments »