18th June 2017
Drones with defibrillators could speed response times for heart emergencies
In a study involving simulated out-of-hospital cardiac arrests, drones carrying an automated external defibrillator arrived in less time than emergency medical services.
Drones carrying an automated external defibrillator could dramatically improve the response time for heart emergencies – potentially saving many thousands of lives each year – according to a study published by the Journal of the American Medical Association (JAMA).
Out-of-hospital cardiac arrest (OHCA) in the United States has a low survival rate (less than 10%), with reducing time to defibrillation as the most important factor for increasing survival. Drones can be activated by a dispatcher and sent to an address provided by a 911 caller and may carry an automated external defibrillator (AED) to the location so that a bystander can use it. Whether drones could actually reduce response times in a real-life situation is unknown. Researchers from the Karolinska Institutet in Stockholm, Sweden, compared the time to delivery of an AED using fully autonomous drones for simulated OHCAs vs emergency medical services (EMS).
A drone was developed and certified by the Swedish Transportation Agency and equipped with an AED weighing 771 grams (1.7 lbs), then placed at a fire station in a municipality north of Stockholm. The drone was equipped with a global positioning system (GPS) and high-definition camera and integrated with an autopilot software system. It was dispatched to locations where cardiac arrests within a 10 km (6.2 mile) radius of the fire station had previously occurred.
A total of 18 remotely operated flights were performed with a median flight distance of about two miles. The median time from call to dispatch of the EMS was 3:00 minutes, while the median time from dispatch to drone launch was three seconds. The median time from dispatch to arrival of the drone was 5:21 minutes vs 22:00 minutes for EMS. The drone arrived more quickly than EMS in all cases with a median reduction in response time of 16:39 minutes.
"Saving 16 minutes is likely to be clinically important," the authors write. "Nonetheless, further test flights, technological development, and evaluation of integration with dispatch centers and aviation administrators are needed. The outcomes of OHCA using the drone-delivered AED by bystanders vs resuscitation by EMS should be studied."
---
• Follow us on Twitter
• Follow us on Facebook
• Subscribe to us on YouTube
30th May 2017
World's first autonomous and zero emissions container ship to launch by 2020
The vessel "YARA Birkeland" will be the world's first fully electric and autonomous container ship, with zero emissions. Operation is planned to start in Norway during the latter half of 2018, with fully autonomous journeys from 2020.
"YARA Birkeland" will be the world's most advanced container feeder ship – integrating sensor, control, communications and power into a fully autonomous and 100% electric system.
Named after the company YARA's founder – the scientist and innovator Kristian Birkeland – it will be the world's first fully electric container feeder, reducing NOx and CO2 emissions and improving road safety by removing the need for up to 40,000 truck journeys in populated urban areas.
YARA Birkeland will initially operate as a manned vessel, shifting to remote operations in 2019 and performing fully autonomous operations from 2020. This new zero-emission ship could be a game-changer for global maritime transport, helping to meet the UN sustainability goals for 2030 and beyond. Shipping is currently responsible for 2.5% of global human-made CO2 emissions, but this could rise to 17% by 2050 if no action is taken. There are now over 100,000 transport ships at sea, of which about 6,000 are large container ships.
"As a leading global fertiliser company with a mission to feed the world and protect the planet, investing in this zero emission vessel to transport our crop nutrition solutions fits our strategy well. We are proud to work with KONGSBERG to realise the world's first autonomous, all-electric vessel to enter commercial operation," says Svein Tore Holsether, President and CEO of YARA.
"Every day, more than 100 diesel truck journeys are needed to transport products from YARA's Porsgrunn plant to ports in Brevik and Larvik where we ship products to customers around the world. With this new autonomous battery-driven container vessel, we move transport from road to sea and thereby reduce noise and dust emissions, improve the safety of local roads, and reduce NOx and CO2 emissions," says Holsether.
KONGSBERG is responsible for development and delivery of all key enabling technologies on the YARA Birkeland, including the sensors and integration required for remote and autonomous operations, in addition to the electric drive, battery and propulsion control systems.
"By moving container transport from land to sea, YARA Birkeland is the start of a major contribution to fulfilling national and international environmental impact goals. The new concept is also a giant step forward towards increased seaborne transportation in general," says Geir Håøy, CEO of KONGSBERG.
As a leading global maritime technology company, KONGSBERG's integrated control and monitoring systems are already capable of facilitating remote and unmanned operations. YARA Birkeland will benefit from competence and new technologies developed across KONGSBERG. In addition to being autonomous and fully electric, it will also be ballast-free, to further reduce its impact on the marine environment. This lack of water discharge will help in preventing the spread of non-native, nuisance, or exotic species of plants, animals, viruses and bacteria, which can often cause extensive ecological and economic damage.
"Developing systems for autonomous operations is a major opening and natural step for KONGSBERG, considering our decades of expertise in the development and integration of advanced sensors, control and communication systems for all areas of ship operations," says Håøy. "YARA Birkeland will set the benchmark for the application of innovative maritime technology for more efficient and environmentally friendly shipping."
---
• Follow us on Twitter
• Follow us on Facebook
• Subscribe to us on YouTube
4th May 2017
India will make every new car electric by 2030
India has set itself the goal of making every new car in the country electric by 2030, according to an energy minister.
"We are going to introduce electric vehicles in a very big way," explained Piyush Goyal at the Confederation of Indian Industry Annual Session 2017 in New Delhi. "We are going to make electric vehicles self-sufficient. The idea is that by 2030, not a single petrol or diesel car should be sold in the country."
India's electric car industry will need up to three years of government assistance, Mr Goyal believes, but production of the vehicles would be "driven by demand and not subsidy" after that. Improvements in technology, falling costs of batteries and wider availability of charging stations could achieve this.
"The cost of electric vehicles will start to pay for itself for consumers," he said. "We would love to see the electric vehicle industry run on its own."
India's goal may sound overly ambitious and unrealistic – but electric vehicle sales are growing exponentially worldwide, similar to the rapid trends in solar and wind power that are also being observed. Electric car ownership passed the 1 million mark in 2015. European countries have recently announced similar goals: the Netherlands and Norway, for instance, intend to ban all petrol and diesel cars by 2025.
Mr Goyal said the electric car scheme would first target "larger consumer centres, where pollution is at an all-time high", such as Delhi, which has concentrations of particulate matter 13 times the annual limit set by the World Health Organisation.
The latest available figures show that 2.3 million deaths occur in India each year due to air pollution – almost the same as deaths from tobacco use – with 3% of the country's Gross Domestic Product (GDP) being lost due to this problem, making it a public health and economic crisis. India recently overtook China in number of deaths due to outdoor air pollution.
---
• Follow us on Twitter
• Follow us on Facebook
22nd April 2017
World's first electric VTOL jet completes maiden flight
Lilium Jet, the first zero-emission electric plane capable of Vertical Take-Off and Landing (VTOL), has completed a series of rigorous flight tests in the skies above Germany.
A two-seater prototype, as seen in the video below, executed a range of complex manoeuvres, including its signature mid-air transition from hover mode into wing-borne forward flight. Lilium is now developing a larger, five-seater version – designed for on-demand air taxi and ride-sharing services.
Celebrating the landmark moment, Lilium co-founder and CEO Daniel Wiegand said: "Seeing the Lilium Jet take to the sky and performing sophisticated manoeuvres with apparent ease is testament to the skill and perseverance of our amazing team. We have solved some of the toughest engineering challenges in aviation to get to this point.
"The successful test flight programme shows that our ground-breaking technical design works exactly as we envisioned. We can now turn our focus to designing the five-seater production aircraft."
The Lilium Jet is 100% electrically powered, so creates no harmful emissions, making it a potential solution to deteriorating air quality in towns and cities caused by road traffic. It is also the only electric aircraft capable of both VTOL and jet-powered flight, using wings for lift, similar to a conventional plane. Its advanced capabilities mean the Lilium Jet consumes around 90% less energy than drone-style aircraft, allowing it to achieve a range of greater than 300 km (186 miles) with a maximum cruising speed of 300 km/h (186 mph). In flight, the Jet's power consumption per kilometre will be comparable to an electric car.
Take-off and landing requires only a small open space or landing pad on a building, alleviating pressure on congested roads. In the future, Lilium claims that this combination of energy-efficient flight and minimal ground infrastructure will enable passenger flights to be made with pricing comparable to normal car taxis over the same distance. A typical journey by Lilium Jet will be at least 5x faster than by car, with even greater efficiencies in busy cities. For example, a flight from Manhattan to New York's JFK Airport will take around five minutes, compared to 55 minutes driving.
The ability of the Lilium Jet to travel long distances, quickly and at low cost, will also open new opportunities for people to live much further away from their place of work. Lilium describes this new phenomenon as "increasing the radius of living by 5x."
How the Lilium Jet Works
The Lilium Jet is a lightweight aircraft powered by 36 electric jet engines mounted to its wings via 12 moveable flaps. It is unique in combining the benefits of VTOL offered by helicopters and drones, with the speed and range of a jet aircraft. At take-off, the Lilium Jet's flaps are pointed downwards to provide vertical lift.
Once airborne, the flaps gradually tilt in to a horizontal position, providing forward thrust. When the wing flaps are horizontal, all of the lift required to keep the Lilium Jet in the air is provided by air passing over the wings – as with a conventional airplane.
Safety is of primary concern with Lilium, and the Jet is designed along the principle of "ultra-redundancy": the aircraft's engines are individually shielded, so the failure of a single unit cannot affect adjacent engines. Similarly, the Lilium Jet's power cells are designed to continue delivering sufficient power for continued flight and a safe landing in the unlikely event that part of the battery configuration fails. Lilium's Flight Envelope Protection System also prevents the pilot from performing manoeuvres that would take the aircraft beyond safe flight parameters.
Lilium's development team brings together more than 40 international world-class engineers and designers. The group shares the vision of a completely new type of individual transportation system. The company's mission statement is "to enable a world where everybody can fly anywhere, anytime."
---
• Follow us on Twitter
• Follow us on Facebook
9th April 2017
Hyperloop track ready for first trial run
Hyperloop One, a transport company based in Los Angeles, California, is working to commercialise the Hyperloop concept, for moving passengers and/or cargo at airline speeds at a fraction of the cost of air travel. This week, the company announced that it has completed a tube installation at Las Vegas DevLoop, the world's first full-system test track.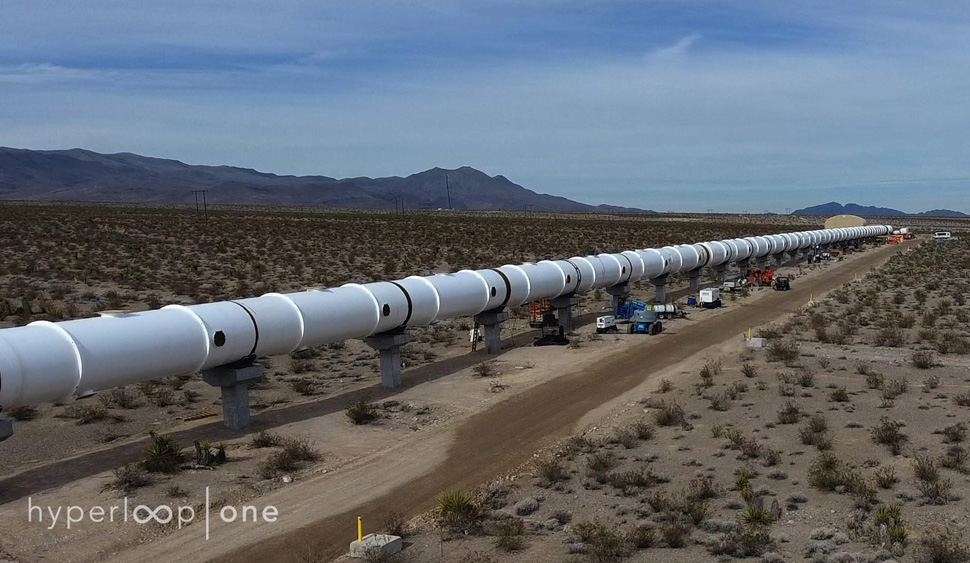 This week, executives from Hyperloop One joined experts and policymakers to reveal details of planned Hyperloop routes in the United States and to initiate a nationwide conversation about the future of American transportation.
Of more than 2,600 participants in the Hyperloop One Global Challenge, 11 teams presented routes, linking 35 cities and covering more than 2,800 miles. They join 24 other teams from around the globe, each vying to be among 12 finalists. Three eventual winners will work closely with Hyperloop One engineering and business teams to explore funding and development.
"Hyperloop One is the only company in the world building an operational commercial Hyperloop system," said Rob Lloyd, chief executive officer of Hyperloop One. "This disruptive technology – conceived, developed and built in the U.S. – will move passengers and cargo faster, cleaner and more efficiently. It will transform transportation as we know it and create a more connected world."
By year's end, the company will have a team of 500 engineers, fabricators, scientists and other employees devoted to bringing this revolutionary new technology to life. Hyperloop One, said Lloyd, can provide broad benefits across communities and markets, support sustainable manufacturing and supplier chains, ease the strain on existing infrastructure and improve the way millions live and work.
In the Hyperloop system, passengers and cargo are loaded into a pod and accelerated gradually, via electric propulsion through a low-pressure tube. The pod quickly lifts above the track using magnetic levitation and glides at airline speeds (620 mph, or 1,000 km/h) for long distances due to ultra-low aerodynamic drag. This week, the company finalised the tube installation of its 500m (1,640 ft) long "DevLoop", located in a desert outside Las Vegas; this facility serves as an outdoor lab for its proprietary levitation, propulsion, vacuum and control technologies.
"The U.S. has always been a global innovation vanguard – driving advancements in computing, communication and media to rail, automobiles and aeronautics," said Shervin Pishevar, executive chairman. "Now, with Hyperloop One, we are on the brink of the first great breakthrough in transportation technology of the 21st century, eliminating the barriers of time and distance and unlocking vast economic opportunities."
"Hyperloop One is the American Dream, and it's fast becoming an American reality," he added.
Proposed routes that would greatly reduce travel times across some of the country's most heavily trafficked regions include Los Angeles-San Diego, Miami-Orlando and Seattle-Portland. The longest distance proposal, Cheyenne-Houston, would run 1,152 miles across four states, reducing to 1 hour and 45 minutes a journey that currently takes 17 hours by car or truck. Hyperloop One's panel of experts includes Peter Diamandis, Executive Chairman of the XPRIZE Foundation. The full list of route proposals being considered is as follows (click to enlarge).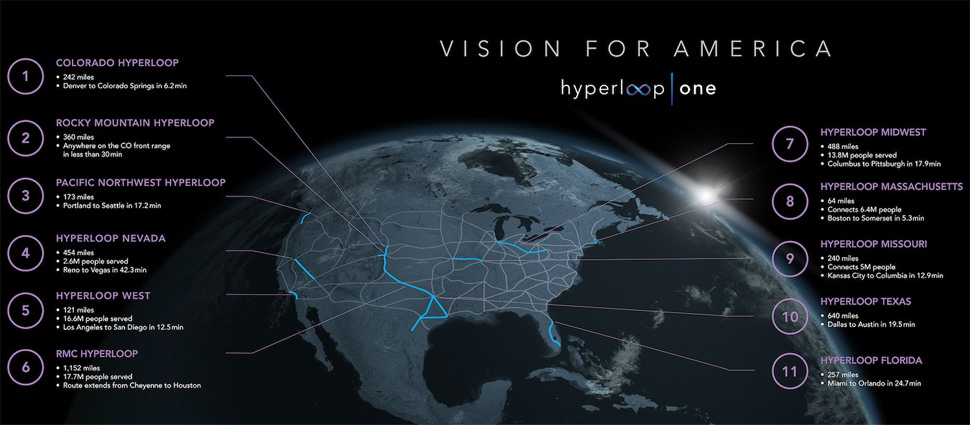 In addition to new details on the U.S. routes, the Washington, D.C. event featured a roundtable of speakers discussing the future of transportation.
"The U.S. is challenged to meet the growing demands on our transportation infrastructure, with congestion costing the economy more than $160 billion per year due to wasted time and fuel," said Tyler Duvall, a partner at McKinsey & Company. "However, new technologies are poised to drive efficiency, increase capacity, and help spur social and economic growth. To seize this opportunity, the approach to infrastructure planning must keep pace by integrating new technologies and taking long-term views of what mobility will look like in the future."
You can vote for your favourite Hyperloop route on Facebook at the following link: https://www.facebook.com/HyperloopOne/app/126231547426086/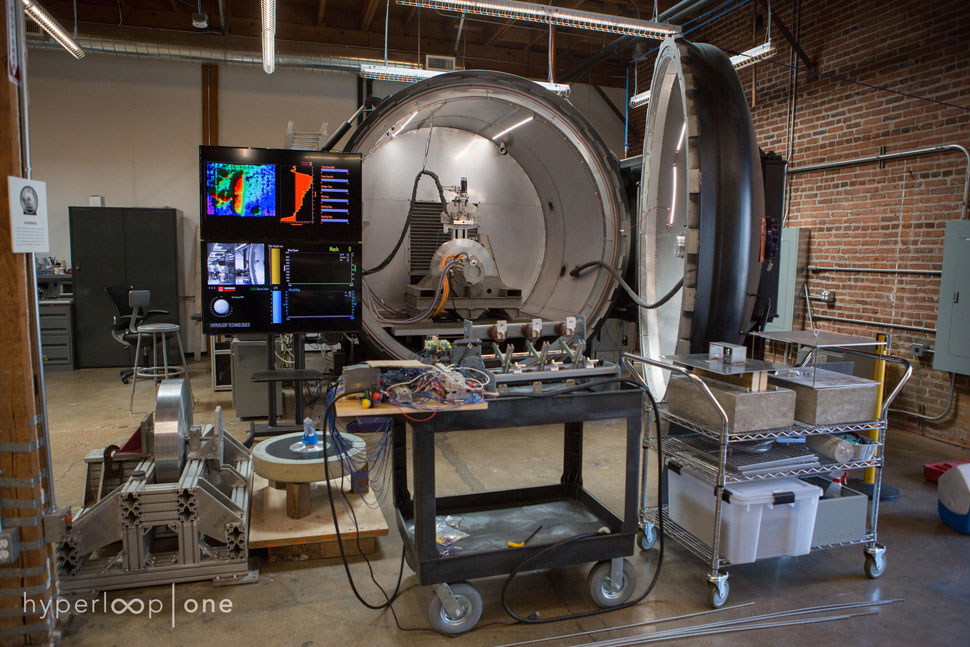 ---
• Follow us on Twitter
• Follow us on Facebook
19th January 2017
World's first "floating city" moves a step forward
The world's first "floating city" has moved a step closer to reality after the French Polynesian government signed a historic agreement with the nonprofit Seasteading Institute.
The French Polynesian government has signed a historic agreement with nonprofit The Seasteading Institute to cooperate on creating a legal framework to allow for the development of the Floating Island Project. This legislation will give the Floating Island Project its own "special governing framework" creating an "innovative special economic zone."
The Seasteading Institute has announced the formation of a new company, Blue Frontiers, to construct the ocean-based city. The project will help to advance French Polynesia's "Blue Economy" initiative – providing an opportunity to adapt to rising sea levels, while creating a fresh space for pioneering social and technological innovation.
Jean Christophe Bouissou, Minister of Housing and the government's official spokesperson, arrived in San Francisco to sign the agreement on behalf of President Edouard Fritch in the company of Silicon Valley luminaries, members of the press, and supporters of The Seasteading Institute.
"The Memorandum of Understanding I'm sure will greatly help and facilitate our future cooperation on this innovative project," said Fritch, addressing the group from French Polynesia by video call.
"Our seasteading collaboration with French Polynesia was initiated by the Tahitians themselves and will bring jobs, economic growth, and environmental resiliency to the region," said Randolph Hencken, Executive Director of the Seasteading Institute. "Signing the MOU with French Polynesia is an important first step, and a huge milestone for seasteading."
In September, President Fritch invited an international delegation from The Seasteading Institute to examine several potential sites near the French Polynesian islands of Tahiti, Tupai, and Raiatea. The MOU obligates the Institute to conduct an economic analysis to demonstrate the economic benefits for French Polynesia – as well as an environmental assessment, to assure the health of the ocean and seabed. As soon as these studies are complete, French Polynesia will collaborate with The Seasteading Institute to develop a "special governing framework" to construct sustainable floating islands.
"The Seasteading Institute and the government of French Polynesia will draw from the best practices of more than 4000 existing Special Economic Zones around the world to create a 'Special Economic SeaZone,'" explained Hencken. "The SeaZone will combine the advantages of French Polynesia's geopolitical location with unique regulatory opportunities, specifically designed to attract investors."
Seasteading investors will self-fund the initial studies and the construction of the floating islands. The pilot project is expected to cost between US$10 million and US$50 million. Subsequent future versions will include self-sufficient food and water, healthcare, clean energy and other features. They will be interlocking like jigsaw puzzles to facilitate expansion. It is also hoped that protection from devastating storms could be offered by giving each city the ability to be disassembled into separate sections and temporarily moved elsewhere.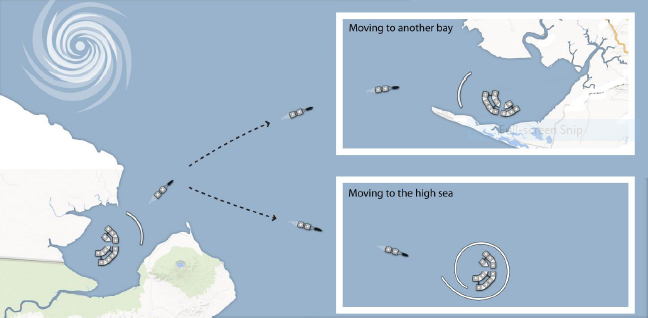 "After many long years of work by our staff and global network of advocates, I'm incredibly excited for the chance to work with French Polynesia, which as an archipelago is uniquely suited to seasteading," said Patri Friedman, Founder and Chairman of The Seasteading Institute's Board of Directors.
The former Minister of Tourism for French Polynesia, Marc Collins, is enthusiastic about the Institute's vision: "Polynesian culture has a long history of seafaring across the Pacific Ocean that will contribute to this ambitious project. More than most nations, our islands are impacted by rising sea levels, and resilient floating islands could be one tangible solution for us to maintain our populations anchored to their islands. For many Polynesians, leaving our islands is not an option."
If all goes according to plan, the first floating city will start construction off the island of Tahiti in the Pacific Ocean in 2019. The first residents will number only a few dozen, but there is potential for expanding this to many millions later in the century, as other nations realise the benefits. Each city will float just off-shore of a host country, but could have a substantial degree of political independence.
The Institute says: "Our in-property team is now actively engaged in diplomacy with host nations, making the case that hosting an autonomous seastead city in their territorial waters would generate substantial financial, social and environmental rewards for their citizens."
Peter Thiel, who co-founded The Seasteading Institute, said in 2008: "Decades from now, those searching back at the beginning of the century will realise that seasteading was an obvious step towards encouraging the improvement of far more efficient, practical public sector models about the globe. We are at a fascinating juncture: the nature of government is about to alter at an extremely fundamental level."
Below is a video of "Artisanopolis", one of the design concepts proposed in 2015 by CGI artists at Roark 3D (Gabriel Scheare, Luke and Lourdes Crowley, and Patrick White). The final plans will be unveiled later this year. You can follow the progress of the Floating Island Project at twitter.com/Seasteading
---
• Follow us on Twitter
• Follow us on Facebook
13th December 2016
Direct flights from Europe to Australia starting in 2018
Airline operator Qantas will begin offering the first non-stop flights between Europe and Australia using the 787-9 Dreamliner.
Qantas has announced it will operate non-stop flights between London and Perth using the 787-9 Dreamliner. The 9,008 mile (14,498 km) service will be the first regular passenger service to directly link Australia with Europe when it begins in March 2018.
Qantas Group CEO, Alan Joyce, said the history-making route would be a watershed for travel, tourism and trade: "When Qantas created the Kangaroo Route to London in 1947, it took four days and nine stops. Now, it will take just 17 hours from Perth non-stop. This is a game-changing route flown by a game-changing aircraft. Australians have never had a direct link to Europe before, so the opportunities this opens up are huge. It's great news for travellers because it will make it easier to get to London. It's great news for Western Australia because it will bring jobs and tourism. And it's great news for the nation, because it will bring us closer to one of our biggest trade partners and sources of visitors."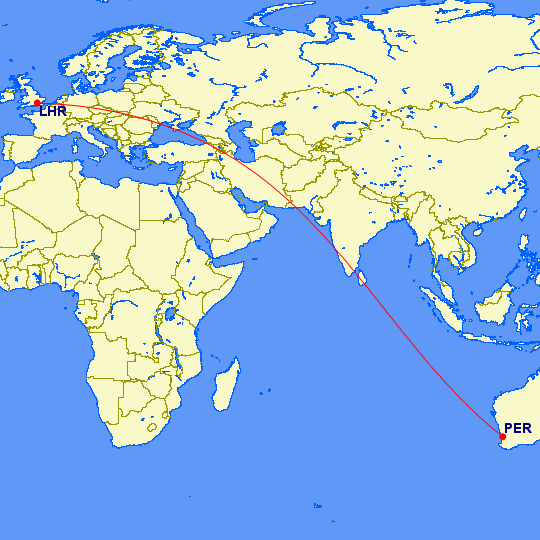 On such a long duration flight, passenger comfort was a key consideration, said Mr Joyce: "When we designed the interior of our 787s, we wanted to make sure passengers would be comfortable on the extended missions the aircraft was capable of. That's why we have features in our Economy seats that other airlines reserve for Premium Economy. Our Business Suite has been nicknamed 'mini First class' by many of our frequent flyers. And we're redesigning our onboard service to help reduce jetlag," he added.
In addition to enhanced cabin and seating design, other comfort factors include better air quality, a lower cabin noise and state-of-the-art technology to help reduce turbulence, providing a smoother flight. Passengers have instant access to thousands of hours of entertainment onboard, along with larger baggage lockers and bigger windows. The windows in the Dreamliner are 65% larger than comparable aircraft windows, allowing passengers to see more of the world.
Thanks to a lighter carbon fibre body, pioneering GEnx engines and other advanced onboard systems, the Dreamliner also uses less fuel – an impressive 20% less than a similarly-sized aircraft.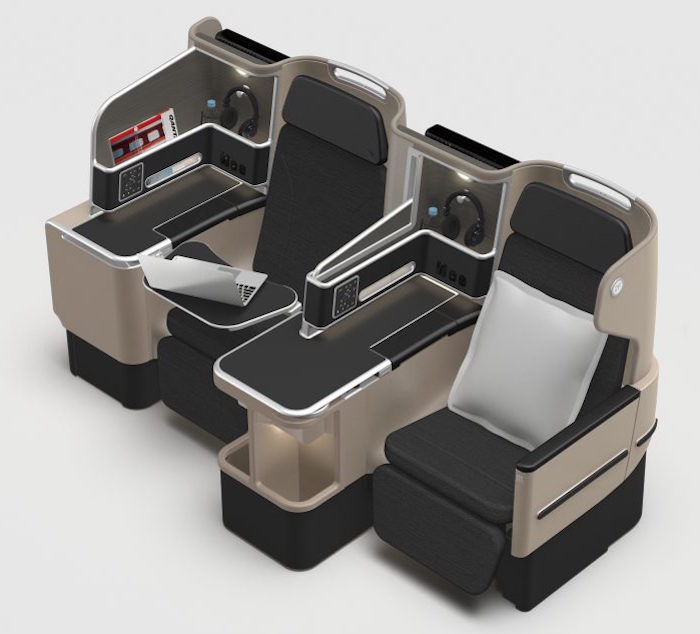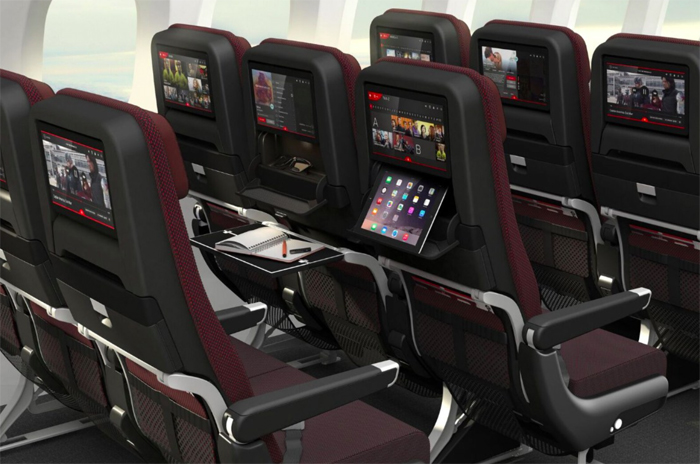 The direct route will appeal to travellers on the East Coast, as well as West Australians, helping to deliver a tourism boost, said Mr Joyce: "A direct flight makes travelling to Australia a much more attractive proposition to millions of people. We expect many travellers from Europe will start their time in Australia with a visit to Perth before going on to see other parts of the country. Our modelling shows that people from the East Coast – as well as Southern Australia – would fly domestically to Perth to connect to our non-stop London service. Some will take the opportunity to break their journey, whether it's for business meetings in Perth, to holiday or to visit family."
The new flight will operate through Qantas' existing domestic terminals (T3/4), which will be upgraded to accommodate international flights. The airline's current international services from Perth (to Singapore and to Auckland) will also move to this terminal, helping to simplify the journey for thousands of people every year. Qantas will move its operations to an expanded Terminal 1 at Perth Airport by 2025.
Seats on the Perth-London flights will go on sale in April 2017 for the first services in March 2018. The Boeing 787-9 Dreamliners used on this route will carry 236 passengers across Business, Premium Economy and Economy cabins.
---
• Follow us on Twitter
• Follow us on Facebook
8th December 2016
Earth's 'technosphere' now weighs 30 trillion tons, research finds
Researchers have calculated the weight of Earth's technosphere as 30 trillion tons, a mass greater than 50 kilos for every square metre of the planet's surface.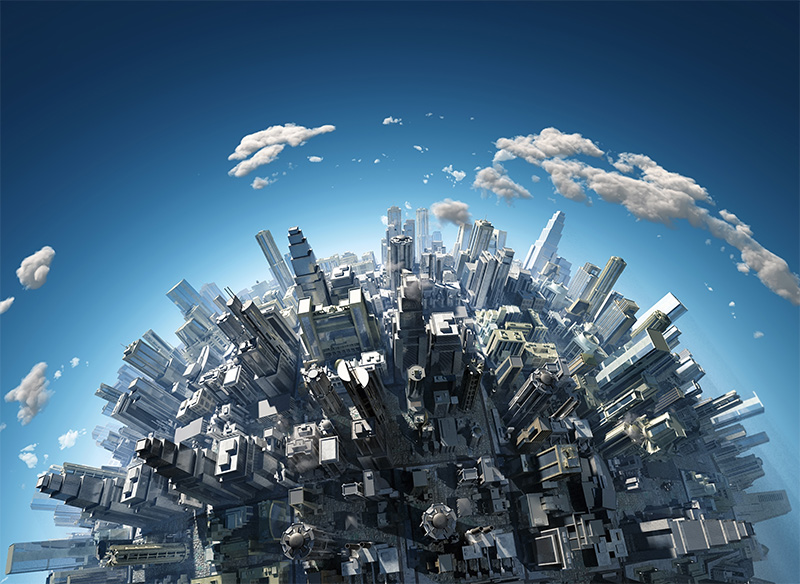 A team led by the University of Leicester has, for the first time, estimated the sheer size of the physical structure that forms our planet's "technosphere" – suggesting that its mass approximates to an enormous 30 trillion tons.
The technosphere is comprised of all the structures and objects that humans have created to keep them alive on the planet – from houses, factories and farms to computer systems, smartphones and CDs, to the waste in landfills and spoil heaps.
Professors Jan Zalasiewicz, Mark Williams and Colin Waters from the University of Leicester Department of Geology led an international team suggesting that the bulk of our planet's technosphere is staggering in scale, with a mass greater than 50 kilos for every square metre of Earth's surface. This is supporting a human biomass around five orders of magnitude smaller.
Professor Zalasiewicz explained: "The technosphere is the brainchild of USA scientist Peter Haff – also one of the co-authors of this paper. It is all of the structures that humans have constructed to keep them alive, in very large numbers now, on the planet: houses, factories, farms, mines, roads, airports and shipping ports, computer systems, together with its discarded waste.
"Humans and human organisations form part of it, too – although we are not always as much in control as we think we are, as the technosphere is a system, with its own dynamics and energy flows – and humans have to help keep it going to survive."
The Anthropocene – a proposed new geological epoch – highlights the impact humans have made and provides an understanding that we have greatly changed the Earth. In March 2015, a paper published in Nature suggested the year 1610 as the beginning of the Anthropocene or the "Age of Man", marking a fundamental change in the relationship between humans and the Earth system.
"The technosphere can be said to have budded off the biosphere and arguably is now at least partly parasitic on it," says Professor Williams. "At its current scale, the technosphere is a major new phenomenon of this planet, and one that is evolving extraordinarily rapidly. Compared with the biosphere, though, it is remarkably poor at recycling its own materials, as our burgeoning landfill sites show. This might be a barrier to its further success – or halt it altogether."
"There is more to the technosphere than just its mass," observes Professor Waters. "It has enabled the production of an enormous array of material objects, from simple tools and coins, to ballpoint pens, books and CDs, to the most sophisticated computers and smartphones. Many of these, if entombed in strata, can be preserved into the distant geological future as 'technofossils' that will help characterise and date the Anthropocene."
If technofossils were to be classified in the same way palaeontologists classify normal fossils – based on their shape, form and texture – the study suggests that the number of individual types of 'technofossil' now likely reaches a billion or more, far outnumbering the two million or so known biotic species that have been described and catalogued.
The research suggests that – like the Anthropocene – the technosphere is another measure of the extraordinary human-driven changes affecting Earth. Zalasiewicz adds: "The technosphere may be geologically young, but it is evolving with furious speed, and has already left a deep imprint on our planet."
The team's study is published by the journal The Anthropocene Review.
---
• Follow us on Twitter
• Follow us on Facebook
5th December 2016
Hydrogen-powered truck with 1,200 mile range to be launched by 2020
American hybrid truck design company, Nikola Motors, has unveiled a class 8 truck powered by a hydrogen fuel cell that will have an operational range of up to 1,200 miles (1,900 km) when launched by 2020.
Class 8 trucks are the largest trucks in the United States and the type most commonly used for long-haul routes, with 3.6 million delivering about 70% of the country's freight. They are the largest CO2 emitters and fuel users. The trucking industry, as a whole, consumed approximately 54.3 billion gallons of diesel fuel and gasoline in 2015.
However, in yet another boost for clean technology, Nikola Motor Company has unveiled a highly anticipated electric semi-truck – the Nikola One – at an event held in its Salt Lake City headquarters.
The Nikola One utilises a fully electric drivetrain, powered by high-density lithium batteries. Energy is supplied on-the-go by a hydrogen fuel cell providing a range of 800-1,200 miles, while delivering 2,000 ft. lbs. of torque and 1,000 horsepower – nearly double that of any semi-truck on the road. Never has a production model class 8 truck achieved best-in-class fuel efficiency while also dramatically improving performance over its diesel competition – all with zero emissions.
The Nikola One leasing program will include unlimited hydrogen fuel, warranty and scheduled maintenance during a 72-month term. The company has accepted reservations totalling nearly three billion dollars in future orders.
"Nikola will build a world-class advanced manufacturing facility which will create thousands of new jobs," said Nikola Founder and CEO Trevor Milton. Nikola is currently in discussions with several states to decide who to partner with in its effort to reduce America's dependence on fossil fuels, advance green energy and revolutionise the trucking industry. The company is developing multiple 100-megawatt solar farms to make hydrogen from electrolysis. The location of the manufacturing facility will be determined in the first half of 2017. During the event, plans were also revealed for a network of 364 hydrogen fuelling stations across the US and Canada. Nikola will begin construction of these in January 2018.
Each vehicle will include a smart dashboard to calculate the most cost-efficient route for drivers. Inside the spacious cab will be one or two full-size beds, a 40-inch curved 4K TV with Apple TV, Wi-Fi, and 4G LTE connectivity, and a refrigerator, freezer, and microwave. Several high definition cameras around the vehicle will provide backing and 360° views while driving, optimising visibility and safety.
Nikola announced Ryder System, Inc. as its exclusive nationwide distribution and maintenance provider. Ryder has a network of over 800 service locations in North America today.
"We are extremely excited to finally show off the Nikola One to the public for the first time," said Milton. "There are many out there that wondered if we would deliver, but today we proudly show off the most advanced semi-truck ever built. We couldn't be more thrilled to have one of the best brands in America, Ryder, as our trusted partner providing nationwide sales, service and warranty."
Commenting on the new strategic partnership, Ryder's President of Global Fleet Management Solutions, Dennis Cooke said, "We commend Nikola for its leadership in zero emission vehicles, and for its decision to partner with Ryder as their exclusive nationwide distribution and maintenance provider. This relationship is key to expanding our advanced vehicle technology portfolio of innovative solutions. Ryder continually monitors emerging fleet technologies and seeks to establish relationships with companies that are leading innovation within the commercial transportation industry."
---
• Follow us on Twitter
• Follow us on Facebook
25th November 2016
Tesla demonstrates its self-driving car technology
Innovative American car company, Tesla, has released a video showcasing its self-driving car technology that would be included in all forthcoming vehicles that it manufactures.
The video above demonstrates just how advanced Tesla's Enhanced Autopilot hardware is. The time-lapse footage follows the car on its journey as it correctly follows the rules of the road by identifying road signs, traffic management systems and other road users. A person is seen sat in the car but the video makes clear that this is purely for legal reasons.
The automated system comes equipped with eight cameras, providing full 360° visibility around the vehicle at up to 250 metres' range. A dozen updated ultrasonic sensors detect both hard and soft objects at nearly twice the distance of Tesla's previous hardware. A forward-facing radar gives additional data about the driving environment on a redundant wavelength that is able to see through heavy rain, fog, dust and even the car ahead.
Tesla's Chief Executive Elon Musk certainly has faith in the technology and has predicted that by the end of 2017 a Tesla will be able to drive itself from one US coast to the other. Drivers wanting to adopt this new technology will have to be patient, however, as in addition to legal legislation, Tesla plans to conduct millions of miles of testing to ensure the safety of operating the system.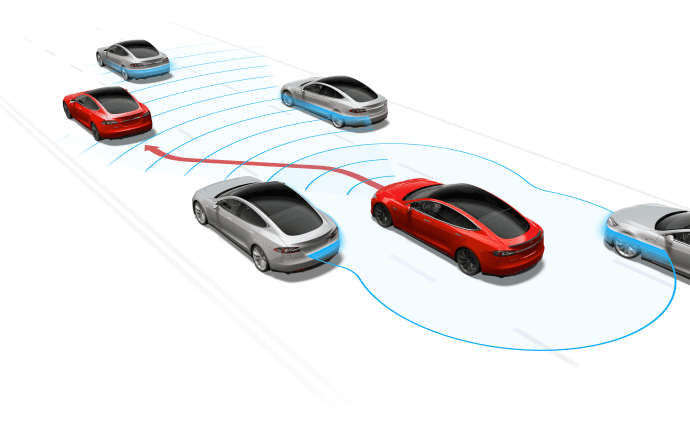 Earlier this month, Tesla agreed a deal to buy German automated car specialists, Grohmann Engineering, in a bid to accelerate production. The firm's founder Klaus Grohmann will also be joining Tesla to head a new division within the automaker, called Tesla Advanced Automation Germany.
"Because automation is such a vital part of the future of Tesla, the phrase I've used before is that it's about building the machine that's building the machine," Musk commented. "That actually becomes more important than the machine itself as the volume increases. We think it's important to bring in world-class engineering talent and our first choice was Grohmann."
---
• Follow us on Twitter
• Follow us on Facebook
30th September 2016
NVIDIA and TomTom develop mapping system for self-driving cars
NVIDIA and TomTom (TOM2), the Dutch mapping and navigation group, have announced they are partnering to develop artificial intelligence to create a cloud-to-car mapping system for self-driving cars.
This research combines TomTom's extensive HD map coverage, which already spans more than 120,000 km of highways and freeways, with NVIDIA's DRIVE PX 2 computing platform. Together, the solution accelerates support for real-time in-vehicle localisation and mapping for driving on highways.
NVIDIA co-founder and CEO Jen-Hsun Huang announced the collaboration at the company's inaugural GTC Europe, a regional version of its annual GPU Technology Conference in Silicon Valley, now in its seventh year.
"Self-driving cars require a highly accurate HD mapping system that can generate an always up-to-date HD map in the cloud," said vice president and manager of Automotive at NVIDIA, Rob Csongor. "DRIVE PX 2 for AutoCruise provides TomTom with a real-time, in-vehicle source for HD map updates."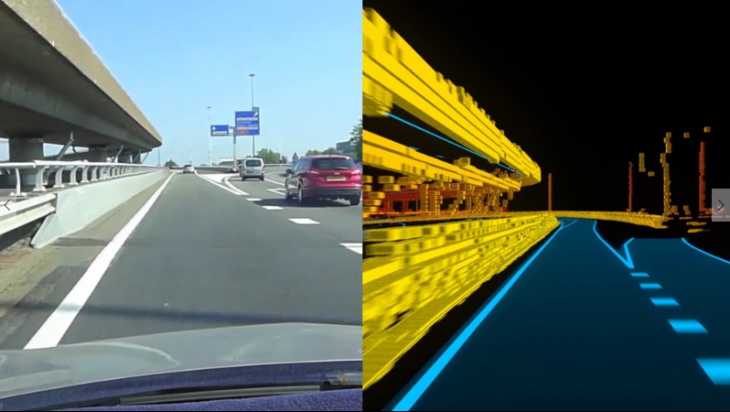 The NVIDIA DriveWorks software development kit now integrates support for TomTom's HD mapping environment. The open solution is available for all automakers and tier 1 suppliers developing autonomous vehicles.
"This collaboration is an important step for TomTom," said Willem Strijbosch, head of Autonomous Driving at TomTom. "Combining our highly accurate HD maps with NVIDIA's self-driving car platform will enable us to propose new features to automakers faster, and therefore to make autonomous driving a commercial reality sooner."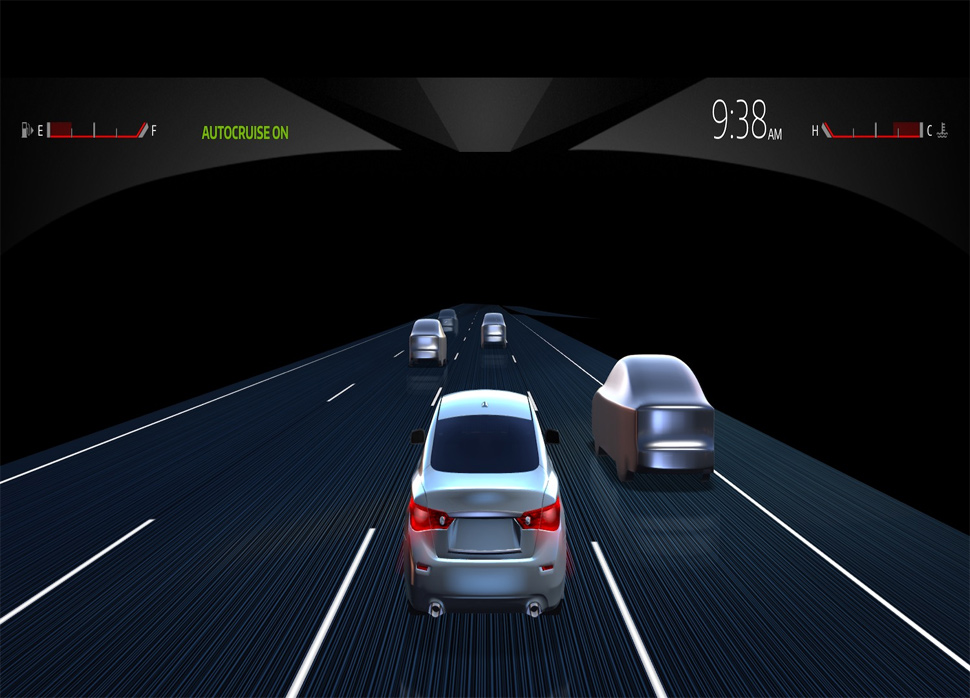 ---
• Follow us on Twitter
• Follow us on Facebook
26th August 2016
World's first commercial drone delivery service
Domino's Pizza Enterprises Limited has joined forces with a global leader in drone deliveries, Flirtey, to launch the first commercial drone delivery service in the world.
Domino's Pizza Enterprises Limited (Domino's) has joined forces with a global leader in drone deliveries, Flirtey to launch the first commercial drone delivery service in the world. The two companies exhibited the first stage of their partnership with a demonstration of pizza delivery by drone yesterday in Auckland, New Zealand. The successful demonstration was also attended by the Civil Aviation Authority (CAA) and Minister of Transport Simon Bridges.
The test was conducted under Civil Aviation Rules Part 101 and marks a final step in Flirtey's approval process – following which, the partnership will aim to connect people with pizza via CAA-approved trial store-to-door drone deliveries from a selected Domino's New Zealand store with flights to customer homes later this year.
New Zealand was selected as the launch market given that its current regulations allow for businesses to embrace unmanned aircraft opportunities, which enable the gradual testing of new and innovative technologies. Domino's Group CEO and Managing Director, Don Meij said the company's growth in recent years had led to a significant increase in the number of deliveries and that Domino's is constantly looking for innovative and futuristic ways to improve its service.
"With the increased number of deliveries we make each year, we were faced with the challenge of ensuring our delivery times continue to decrease and that we strive to offer our customers new and progressive ways of ordering from us," he said. "Research into different delivery methods led us to Flirtey. Their success within the airborne delivery space has been impressive and it's something we have wanted to offer our customers."
The use of drones as a delivery method is designed to work alongside Domino's current delivery fleet and will be fully integrated into online ordering and GPS systems.
"Domino's is all about providing customers with choice and making customer's lives easier. Adding innovation such as drone deliveries means customers can experience cutting-edge technology and the convenience of having their Supreme pizza delivered via air to their door. This is the future. We have invested heavily to provide our stores with different delivery fleet options – such as electric scooters, e-bikes and even the Domino's Robotic Unit - DRU that we launched earlier this year.
"We've always said that it doesn't make sense to have a 2-tonne machine delivering a 2-kilogram order. DRU DRONE is the next stage of the company's expansion into the artificial intelligence space and gives us the ability to learn and adopt new technologies in the business."
The Flirtey delivery drone is constructed from carbon fibre, aluminium and 3D printed components. It is a lightweight, autonomous and electrically driven unmanned aerial vehicle. It lowers its cargo via tether and has built-in safety features such as low battery return to safe location and auto-return home in case of low GPS signal or communication loss.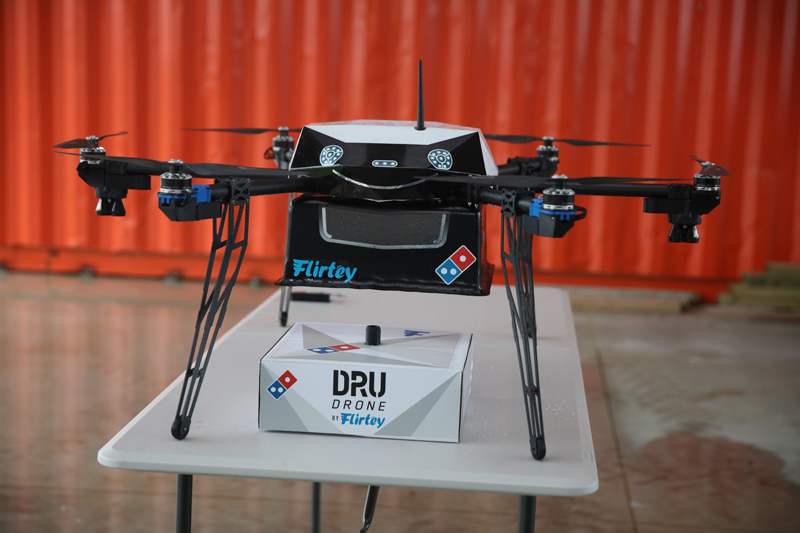 The reach that a drone offers is greater than other current options which are restricted by traffic, roads and distance. Domino's will look to the results of the trial to determine where drones are implemented further.
"What drones allow us to do is to extend that delivery area by removing barriers such as traffic and access, as well as offering a much faster, safer delivery option, which means we can deliver further afield than we currently do to our rural customers while reaching our urban customers in a much more efficient time."
The trial flights are set to commence later this year following the beginning of daylight savings in New Zealand. Domino's will offer Drone Delivery Specials at the launch of the trial with plans to extend the dimensions, weight and distance of deliveries, based on results and customer feedback.
"These trial deliveries will help provide the insight we need to extend the weight carried by the drone and distance travelled," said Meij. "It is this insight that we hope will lead to being able to consider a drone delivery option for the majority of our orders. We are planning a phased trial approach which is based on the CAA granting approval, as both Domino's and Flirtey are learning what is possible with the drone delivery for our products – but this isn't a pie in the sky idea. It's about working with the regulators and Flirtey to make this a reality."
Flirtey CEO Matt Sweeny said: "Launching the first commercial drone delivery service in the world is a landmark achievement for Flirtey and Domino's, heralding a new frontier of on-demand delivery for customers across New Zealand and around the globe. New Zealand has the most forward-thinking aviation regulations in the world, and with our new partnership, we are uniquely positioned to bring the same revolutionary drone delivery service to customers globally. We are getting closer to the time where you can push a button on your smartphone and have Domino's delivered by drone to your home."
Domino's is looking at opportunities for drone delivery trials in its six other markets – Australia, Belgium, France, The Netherlands, Japan and Germany.
---
• Follow us on Twitter
• Follow us on Facebook
25th August 2016
World's first public trial of self-driving taxi
A company in Singapore is conducting the world's first public trial of a self-driving taxi. If successful, the service will be launched in 2018.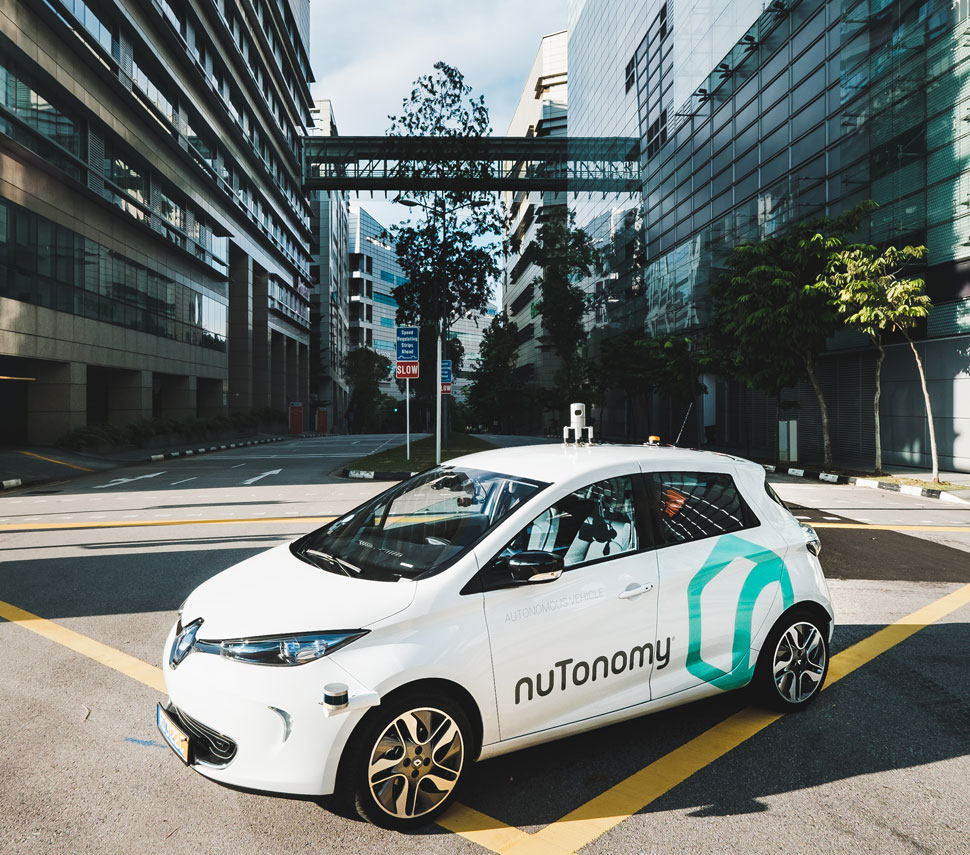 nuTonomy, a company developing state-of-the art software for self-driving cars, today launched the first-ever public trial of a robo-taxi service. The trial, which will continue on an on-going basis, is being held within Singapore's "one-north", a 2.5-square-mile business district where nuTonomy has been conducting daily autonomous vehicle (AV) testing since April.
Beginning today, select Singapore residents will be invited to use nuTonomy's ride-hailing smartphone app to book a no-cost ride in a nuTonomy self-driving car that employs the company's sophisticated software, which has been integrated with high-performance sensing and computing components. Rides will be provided in a Renault Zoe or Mitsubishi i-MiEV electric vehicle that nuTonomy has specially configured for autonomous driving. An engineer will ride in the vehicle to observe system performance and assume control if needed to ensure passenger comfort and safety.
Throughout the trial, nuTonomy will collect and evaluate valuable data related to software system performance, vehicle routing efficiency, the vehicle booking process, and the overall passenger experience. This data will enable nuTonomy to refine its software in preparation for the launch of a widely-available commercial robo-taxi service in Singapore from 2018.
Earlier this month, nuTonomy was selected by the Singapore Land Transport Authority (LTA) as an R&D partner, to support the development of a commercial AV service in Singapore. This trial represents the first, rapid result of that partnership. nuTonomy is the first, and to date only, private enterprise approved by the Singapore government to test AVs on public roads.
CEO and co-founder of nuTonomy, Karl Iagnemma, said: "nuTonomy's first-in-the-world public trial is a direct reflection of the level of maturity that we have achieved with our AV software system. The trial represents an extraordinary opportunity to collect feedback from riders in a real-world setting, and this feedback will give nuTonomy a unique advantage as we work toward deployment of a self-driving vehicle fleet in 2018."
Autonomous taxis could eventually reduce the number of cars on Singapore's roads from 900,000 to 300,000, according to Doug Parker, the firm's chief operating officer: "When you are able to take that many cars off the road, it creates a lot of possibilities. You can create smaller roads, you can create much smaller car parks. I think it will change how people interact with the city going forward."
In May of this year, nuTonomy completed a $16m Series A funding led by Highland Capital Partners that included participation from Fontinalis Partners, Signal Ventures, Samsung Ventures, and EDBI, the dedicated corporate investment arm of the Singapore Economic Development Board.
In addition to Singapore, nuTonomy is operating self-driving cars in Michigan and the United Kingdom, where it tests software in partnership with major automotive manufacturers such as Jaguar Land Rover.
---
• Follow us on Twitter
• Follow us on Facebook
27th July 2016
The first solar-powered aircraft to circumnavigate the Earth
Solar Impulse 2 has become the first solar-powered aircraft to circumnavigate the Earth – a journey of 43,000 kilometres (26,700 miles) – proving that clean technologies can achieve the impossible.
Taking turns at the controls of Solar Impulse 2 (Si2) – their zero-emission electric and solar airplane, capable of flying through day and night without fuel – Bertrand Piccard and André Borschberg have succeeded in their crazy dream of achieving the first ever round-the-world solar flight. By landing back in Abu Dhabi after 23 days of flight and 43,041 km travelled in a 17 leg journey, Si2 has proven that clean technologies can achieve the impossible.
Coming from Egypt, the aircraft landed back in Abu Dhabi yesterday morning at 4:05am local time (UTC+4) completing the final leg of an endeavour that began on 9th March 2015 when Si2 set off from Abu Dhabi with André Borschberg at the controls. Taking turns in the single-seater cockpit, Piccard and Borschberg flew across Asia, the Pacific Ocean, the USA, the Atlantic Ocean, the Mediterranean and the Middle East. A total of 19 world records were set or are still pending by the World Air Sports Federation (FAI). Of particular note were Borschberg's flying five consecutive days and nights over the Pacific from Japan to Hawaii in the longest duration a solo airplane of any kind has ever flown, and when Piccard achieved the historic first crossing of the Atlantic Ocean in a solar airplane.
For the two Swiss pioneers, it's the accomplishment of a dream that was considered impossible by many experts and demonstrates that clean energies and efficient technologies offer tangible solutions for sustainable air travel.
Bertrand Piccard had the vision of an airplane of perpetual endurance after his non-stop round the world balloon flight in 1999, when he made the promise to circumnavigate the Earth again, but this time without any fuel. In 2004, he began bringing together partners who provided funds and technology for this adventure and partnered with André Borschberg. An entrepreneur and skilled aviator, Borschberg took on the technical challenge of developing the solar airplane and making it fly. More than taking turns at the controls of Si2 in the air, the first ever round-the-world solar flight is also a tandem achievement on the ground: while Piccard developed the project outreach to promote clean technologies, Borschberg pulled together the team that designed and constructed Si2 as well as organised the flight missions.
"This is not only a first in the history of aviation – it's before all, a first in the history of energy. I'm sure that within 10 years, we'll see electric airplanes transporting 50 passengers on short to medium haul flights." said Piccard, addressing the crowds after exiting the cockpit of Si2. "But it's not enough. The same clean technologies used on Solar Impulse could be implemented on the ground, in our daily life."
"Flying one leg with a completely new type of airplane is difficult enough, but flying around the world is a real challenge," said his partner Borschberg. "More than a demonstration, it's the confirmation that these technologies are truly dependable and reliable. There is so much potential for the aeronautical world: while one hundred percent solar powered airplanes might take longer to materialise, electric planes will develop in the near future because of their tremendous advantages, such as energy efficiency."
UN Secretary-General Ban Ki-moon spoke to Bertrand Piccard, live from the Si2 cockpit, a few hours before the landing in Abu Dhabi: "Solar Impulse has flown more than 40,000 kilometres without fuel, but with an inexhaustible supply of energy and inspiration. This is a historic day for Captain Piccard and the Solar Impulse team, but it is also a historic day for humanity," said the UN leader. "You may be ending your around the world flight today – but the journey to a more sustainable world is just beginning. The Solar Impulse team is helping to pilot us to that future."
Looking forward, Bertrand Piccard and André Borschberg will continue to actively promote the use of modern clean technologies as a way to improve the quality of life on Earth. Firstly, through the already announced creation of the International Committee for Clean Technologies that will build on the #futureisclean initiative to bring independent and credible guidance on energy policy to governments and businesses. Secondly, by carrying on the work initiated by the engineering team on unmanned and high endurance electric aircrafts, which could fly at high altitude for months – offering services with exponential added value and complementing the work done by satellites today, in a flexible and sustainable way.
"Solar Impulse is very well positioned to contribute to the next generations of manned or unmanned electric aircrafts. By capitalising on the engineering skills and expertise gained over the past decade, we will continue to work to encourage concrete innovations and disruptive solutions," said Borschberg.
"We are pleased to welcome back Bertrand Piccard and Andre Borschberg after their outstanding success in circumnavigating the world using only the power of the Sun," said Sultan Ahmed Al Jaber, minister of state in the United Arab Emirates and chairman of Masdar, a company located in Abu Dhabi and specialising in clean technology, renewable energy, and sustainable development.
"As a leader in developing innovative renewable energy projects and technologies, Masdar is committed to supporting groundbreaking initiatives like Solar Impulse which will inspire and deliver a more sustainable future. Solar Impulse has proven just how practical the application of solar energy can be. It will also provide valuable data that will lead to critical improvements in two key areas, energy storage and efficiency. Masdar is truly excited about the endless possibilities of solar energy and we will be part of taking such technologies to the next level," Dr. Al Jaber concluded.
As stated in Bertrand Piccard's manifesto for clean technologies written in 2004, Solar Impulse's ambition is "for the worlds of exploration and innovation to make a contribution to the cause of renewable energies; to demonstrate the importance of clean technologies for sustainable development; and to place dreams and emotions back at the heart of scientific adventure." There is still much to be done to make the world we live in more energy efficient, but through innovation and pioneering spirit, the first ever round-the-world solar flight is credible proof that change is possible and that there is reason to hope for a more sustainable world.
---
• Follow us on Twitter
• Follow us on Facebook