11th October 2017
Futuristic pedestrian crossing unveiled in London
A prototype "smart crossing" has been demonstrated in London, which automatically differentiates between vehicles, pedestrians and cyclists – adapting its markings and signals to their needs in real-time, ensuring a safer experience for all users.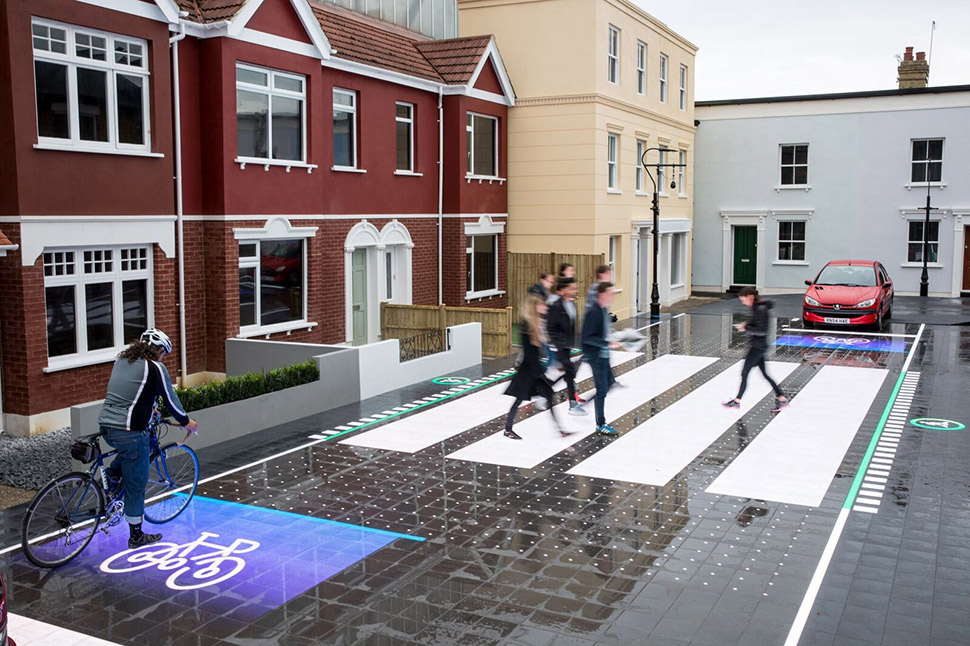 The world's first responsive road crossing is being showcased in London this week, aimed at tackling the 7,000+ incidents recorded each year at UK crossings between vehicles, cyclists and pedestrians. Urban design technologists Umbrellium created the crossing for insurer Direct Line, in response to research by Transport Research Lab (TRL), which unearthed the dangers faced at pedestrian crossings.
Many factors were identified by TRL that affect the safety of pedestrians on road crossings. The pedestrian's position and route as they cross the road, the influence of other pedestrians dangerously crossing the road and the impact of overcrowding at crossing facilities, are all potentially hazardous occurrences that shaped the design of this new technology.
The Smart Crossing, which spans 22m (72 ft) of responsive road surface, uses computer vision technology to "see" exactly what's happening around it, and an LED road surface to change its markings dynamically to keep users safe, without manual input. It can pre-empt pedestrians' movement and where their eyeline is most likely to be, helping to ensure it grabs attention to limit danger.
The project has received backing from road safety charity, Brake and The Parliamentary Advisory Council for Transport Safety (PACTS) – who stated that the Smart Crossing "could offer an innovative solution across the UK and especially in London where the problem is most prevalent."
The Smart Crossing has a number of other features:
• It can widen to accommodate large groups, which could help in preventing crowd-related incidents outside schools or sporting events
• It can instantly adapt in emergency situations, such as a child chasing a ball into the path of oncoming traffic
• It can provide warning signals for pedestrians walking across the road, to ensure they're not hidden by high-sided vehicles that can cause a blind spot for other road users
• It can use dynamic road and pavement patterns to grab the attention of "smombies" (i.e. pedestrians engrossed in their mobile phones), urging them to "look up" and focus on crossing the road safely and to make life safer for the 'head down' generation
Usman Haque, founding partner of Umbrellium, said: "This is a genuine problem and we've developed a genuine solution. The Smarter Crossing dynamically responds in real-time, using technology which has been designed with colours that we know and understand and practical designs that help those on the crossing feel comfortable, confident and safe.
This is about bringing pedestrian crossings up to speed with the rest of a modern-day city. Pedestrian crossings as we know them were made for a different age, when the human relationship with the city was completely different.
Our prototype is waterproof, can hold the weight of vehicles and can recognise the difference between pedestrians, vehicles and cyclists – it's ready to change the future of how we cross the road."
Rachael Lynch, Brand Activation Marketing Manager at Direct Line, said: "Direct Line develops high performance solutions to everyday challenges and our Smart Crossing is the latest example of this. We've developed a world first piece of technology to address the problems that arise when pedestrians, cyclists and vehicles meet; at a pedestrian crossing.

"Cities across the world are future proofing and we believe our model could be an essential part of everyday life. In a world where we are immersed in mobile technology, the Smart Crossing can pre-empt danger and urge pedestrians to look up before crossing a road."
---
• Follow us on Twitter
• Follow us on Facebook
• Subscribe to us on YouTube
21st September 2017
Electric bus goes 1,100 miles on a single charge
Proterra, a leading innovator in heavy-duty electric transportation, has announced a new world record for the longest distance ever travelled by an electric vehicle on a single charge at the Navistar Proving Grounds in New Carlisle, Indiana, US.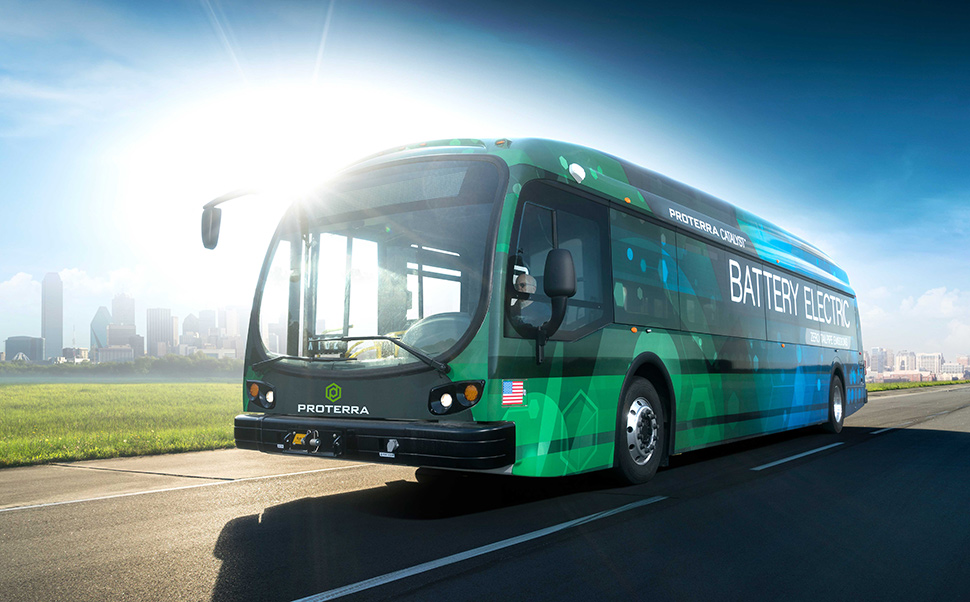 Proterra's 40-foot Catalyst E2 max, pictured above, travelled 1,101.2 miles (1,772.2 km) this month with 660 kWh of energy storage capacity. For the last three consecutive years, Proterra has demonstrated improved range and battery performance. Last September, Proterra drove 603 miles with 440kWh of energy storage, and in 2015, Proterra drove 258 miles with 257kWh of energy storage on a single charge. This year's range marks exceptional performance improvements over prior years, and underscores Proterra's commitment to innovation and accelerating the mass adoption of heavy-duty electric vehicles.
"For our heavy-duty electric bus to break the previous world record of 1,013.76 miles – which was set by a light-duty passenger EV, 46 times lighter than the Catalyst E2 max – is a major feat," said Matt Horton, Proterra's chief commercial officer. "This record achievement is a testament to Proterra's purpose-built electric bus design, energy-dense batteries and efficient drivetrain."
Beyond meeting transit agencies' range requirements, the Catalyst E2 max is poised to make a significant impact on the transit market because of its low operational cost per mile compared to conventional fossil fuel-powered buses. According to Bloomberg New Energy Finance, lithium-ion battery prices have dropped by roughly 72 percent since 2010, and the economics for batteries continue to improve. Between li-ion battery cost savings and improving vehicle efficiency, electric vehicles represent the most disruptive mode of transport today.
"Driven by the best cost savings-per-mile, we believe the business case for heavy-duty electric buses is superior to all other applications, and that the transit market will be the first to transition completely to battery-electric powered vehicles," said Ryan Popple, Proterra CEO. "Early electric bus adopters like our first customer, Foothill Transit, have paved the way for future heavy-duty applications, like motor coaches and commercial trucks. As we see incumbents and more companies enter the heavy-duty EV market, it's become very apparent that the future is all-electric, and the sun is setting on combustion engine technology."
---
• Follow us on Twitter
• Follow us on Facebook
• Subscribe to us on YouTube
3rd August 2017
Hyperloop One completes phase 2 of testing
Hyperloop One – a new transportation system that could revolutionise how people and cargo move around the world – has completed its second phase of testing, with a 2.7 times faster speed.
As the only company in the world that has built an operational Hyperloop system, Hyperloop One continues to make history with the successful completion of its second phase of testing. On 29th July, they completed Phase 2, achieving higher test speeds and travelling nearly the full distance of the 500-metre DevLoop track in the Nevada desert. The XP-1, the company's first-generation pod, accelerated for 300 metres and glided above the track using magnetic levitation before braking and coming to a gradual stop.
"This is the beginning, and the dawn of a new era of transportation," said Shervin Pishevar, Executive Chairman and Co-founder of Hyperloop One. "We've reached historic speeds of 310 km an hour, and we're excited to finally show the world the XP-1 going into the Hyperloop One tube. When you hear the sound of the Hyperloop One, you hear the sound of the future."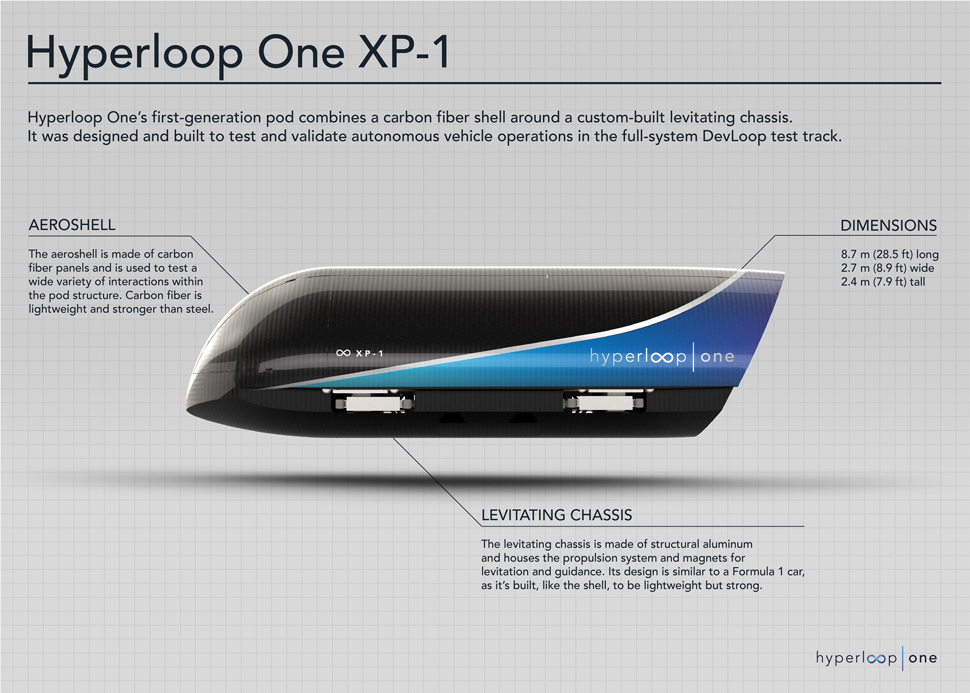 During phase 2, Hyperloop One achieved record speeds, in a tube depressurised down to the equivalent of air at 38 miles (61 km) above sea level. All components of the system were successfully tested – including the highly efficient electric motor, advanced controls and power electronics, custom magnetic levitation and guidance, pod suspension and vacuum system.
With Hyperloop One, passengers and cargo are loaded into a pod, and accelerate gradually via electric propulsion through a low-pressure tube. The pod quickly lifts above the track using magnetic levitation and glides at airline speeds for long distances due to ultra-low aerodynamic drag.
This latest test reached 192 mph (310 km/h), using only 300 metres of stator for propulsion. With an additional 2,000 metres of stator, the team believes it will eventually be possible to reach 700 mph (1,126 km/h). For comparison, the fastest passenger trains currently operational in the United States are the Acela Express (reaching 150 mph) and the Northeast Regional (125 mph).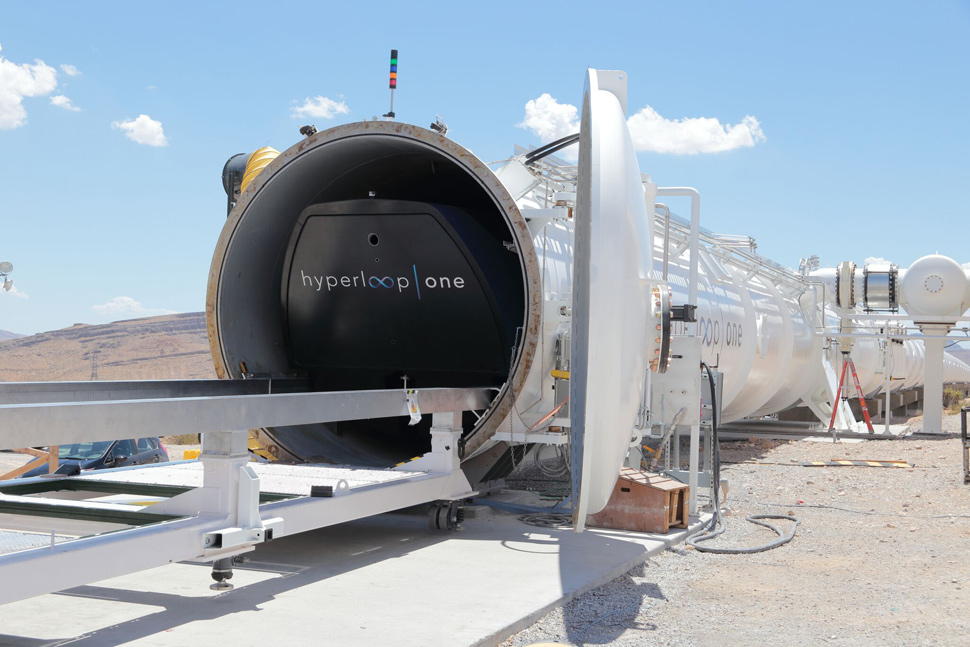 "We've proven that our technology works, and we're now ready to enter into discussions with partners, customers and governments around the world about the full commercialisation of our Hyperloop technology," said Hyperloop One CEO Rob Lloyd. "We're excited about the prospects and the reception we've received from governments around the world to help solve their mass transportation and infrastructure challenges."
"Our team of engineers continues to make history at DevLoop. Only a handful of teams would have attempted something so audacious, while far less could have achieved it," said Josh Giegel, President of Engineering and Co-founder of Hyperloop One. "Through tireless preparation, dedication and hard work, we successfully completed Phase 1, proving that Hyperloop One technology works and that Hyperloop is real. Phase 2 was far more difficult as we built upon everything we learned from our initial test and accomplished faster speeds at a farther distance. We're now one step closer to deploying Hyperloop around the world."
Phase 2 vs. Phase 1
Achieved 2.7x faster speed (192 mph vs. 69 mph)
Went 4.5x farther distance (1,433 feet vs. 315 feet)
10x longer propulsion segment (300m vs. 30m)
3.5x more power to the pod (3,151hp vs. 891hp)
---
• Follow us on Twitter
• Follow us on Facebook
• Subscribe to us on YouTube
9th July 2017
China to build first "forest city" in 2020
The masterplan for an eco-friendly "forest city" in China has been revealed by Italian architecture firm, Stefano Boeri Architetti.
Known as Liuzhou Forest City, the project will be built north of Liuzhou, in a mountainous part of Guangxi Province, in an area that covers 175 hectares along the Liujiang River. The new green city, initially hosting 30,000 people, will feature various residential areas, commercial and recreational spaces, along with two schools and a hospital. It will include electric cars and a connection to Liuzhou through a fast rail line.
Liuzhou Forest City will be self-sufficient in clean energy, utilising geothermal and rooftop solar power. While this may seem impressive enough, an even greater innovation is the widespread use of vegetation covering every building, of all sizes and functions. A total of 40,000 trees (1.3 for every person) and almost a million plants of more than 100 different species will make this a true "forest city".
The diffusion of plants – not only in parks, gardens and along streets, but also over building facades – will greatly improve the air quality, decrease the average air temperature, and create barriers for reducing noise, while improving the biodiversity of living species, generating new habitats for birds, insects and other small animals that inhabit the Liuzhou territory. According to Stefano Boeri Architetti, the city will absorb 57 tons of dust and other pollutants each year, generate 900 tons of oxygen and sequester almost 10,000 tons of CO2 annually. For the residents, being surrounded by so much vegetation may have yet another benefit: studies have repeatedly shown that the presence of trees and plants can significantly improve mental health.
The architects hope that Liuzhou Forest City could serve as a model or template for other cities, both in China and around the world. Given the challenges faced by humanity, perhaps this style of architecture may become necessary, rather than optional, in the not-too-distant future. It would be interesting to see major world cities like New York, London and Paris being transformed into much larger forest cities.
Images credit: Stefano Boeri Architetti
---
• Follow us on Twitter
• Follow us on Facebook
• Subscribe to us on YouTube
6th July 2017
Volvo Cars has announced that every car it launches from 2019 will be either electric or hybrid, marking the historic end of cars that only have an internal combustion engine (ICE) and placing electrification at the core of its future business.
This announcement represents one of the most significant moves by any car maker to embrace electrification. It underscores how, more than a century after the invention of the internal combustion engine, electrification is paving the way for a new chapter in automotive history.
"This is about the customer," said Håkan Samuelsson, president and chief executive. "People increasingly demand electrified cars and we want to respond to our customers' current and future needs. You can now pick and choose whichever electrified Volvo you wish."
Volvo will introduce a portfolio of electrified cars across its model range, embracing fully electric cars, plug-in hybrids and mild hybrid cars. It will launch five fully electric cars between 2019 and 2021, three of which will be Volvo models and two of which will be high performance electrified cars from its performance car arm, Polestar. Full details of these models will be announced at a later date.
These five cars will be supplemented by a range of petrol and diesel plug-in hybrid and mild hybrid 48-volt options on all models – one of the broadest electrified car offerings of any car maker. This means that there will, in the future, be no Volvo cars without an electric motor, as pure ICE cars are gradually phased out and replaced by ICE cars that are enhanced with electrified options.
"This announcement marks the end of the solely combustion engine-powered car," said Mr Samuelsson. "Volvo Cars has stated that it plans to have sold a total of one million electrified cars by 2025. When we said it, we meant it. This is how we are going to do it."
The announcement underlines Volvo's commitment to minimising its environmental impact and making cities of the future cleaner. Volvo is focused on reducing the carbon emissions of both its products as well as its operations. It aims to have carbon neutral manufacturing operations by 2025.
---
• Follow us on Twitter
• Follow us on Facebook
• Subscribe to us on YouTube
5th July 2017
Future pavements could generate electricity from footsteps
Imagine a city where simply walking on pavements and other flat surfaces can produce usable power. One company has demonstrated just such a concept in London's West End.
PaveGen was founded in 2009 by Laurence Kemball-Cook, a graduate in Industrial Technology and Design from Loughborough University. For the last several years, his company has been developing a tile that converts kinetic energy from pedestrian footsteps into electricity, while collecting data about walking traffic patterns. The exact technology is being kept a trade secret, but is said to involve electromagnetic induction by copper coils and magnets.
For its latest project, PaveGen has worked alongside other tech companies to help transform Bird Street in central London. This has been turned from a previously underutilised outdoor space located off Oxford Street, into a haven of calm where visitors can relax and experience a high street of the future.
PaveGen installed a 10 sq m (107 sq ft) array of tiles at this location. Each footstep is able to produce an average of three joules – enough to play recordings of bird sounds during the day, while providing ambient lighting in the evening, for an immersive visitor experience. Bluetooth transmitters are also incorporated on the walkway, enabling passers-by to interact with branded apps – for example, rewarding users with discounts, vouchers and education resources for their steps on the PaveGen system. A data feed on the hourly footfall and power generation is available too.
Laurence Kemball-Cook, CEO and founder of PaveGen, commented: "With installations in Washington DC and vital transport hubs including Heathrow, being able to demonstrate how our technology can bring to life the retail shopping experience is a vital step for us. As retailers compete with online, technologies like ours make being in the busy high street more exciting and rewarding for people and brands alike."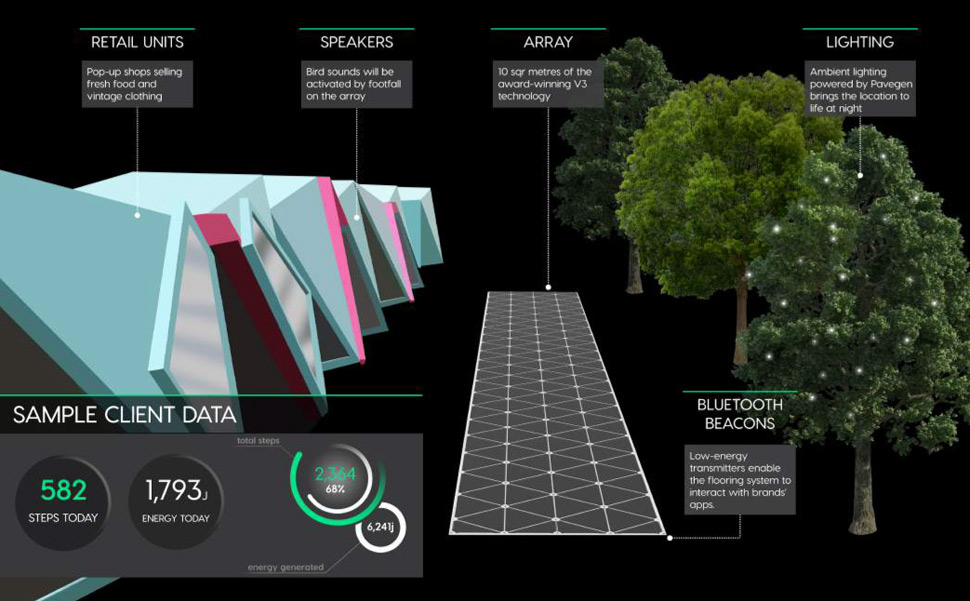 Joining PaveGen at Bird Street is Airlabs' ClearAir bench (pictured below), which removes nitrogen dioxide to create a large "bubble" of clean air. According to the Airlabs website, the volume of air filtered by this bench every day is enough to fill more than 100 double decker buses, yet only a small amount of energy is required to do this. The Airlabs clean air system has previously been demonstrated at three bus stop shelters in central London.
Also featured in the new-look Bird Street is coatings company Airlite, who created a paint that purifies the air from nitrogen dioxide, bacteria and other particulate matter. This reduces overall pollution by almost 90% and removes 99.9% of germs, moulds and odours. This coating was applied to the surfaces of the retail units.
With the integration of these green technologies, Bird Street demonstrates the potential for more sustainable destinations in busy urban environments. Pollution is currently a major problem in London, with levels of NO2 near Oxford Street at almost 60 µg/m3, compared to the World Health Organisation's recommended safe exposure limit of 40 µg/m3.
Steven Medway, Managing Director of Trading Environment, New West End Company, said: "Visitors to London's West End expect the ultimate shopping and dining experience and they won't be disappointed. Transforming Bird Street will bring a world first offer to the West End, a space where fashion meets technology with brands set to transform the future of retail as we know it."
Alex Williams, Director of City Planning at Transport for London, said: "It's great to see an innovative 'smart street' scheme delivered on Bird Street, the concepts and ideas of which could easily be adapted across London. I hope we can see further examples of this innovative 21st Century thinking in the future as we work to transform Oxford Street and the surrounding area to make it a world-class public space for all."
---
• Follow us on Twitter
• Follow us on Facebook
• Subscribe to us on YouTube
18th June 2017
Drones with defibrillators could speed response times for heart emergencies
In a study involving simulated out-of-hospital cardiac arrests, drones carrying an automated external defibrillator arrived in less time than emergency medical services.
Drones carrying an automated external defibrillator could dramatically improve the response time for heart emergencies – potentially saving many thousands of lives each year – according to a study published by the Journal of the American Medical Association (JAMA).
Out-of-hospital cardiac arrest (OHCA) in the United States has a low survival rate (less than 10%), with reducing time to defibrillation as the most important factor for increasing survival. Drones can be activated by a dispatcher and sent to an address provided by a 911 caller and may carry an automated external defibrillator (AED) to the location so that a bystander can use it. Whether drones could actually reduce response times in a real-life situation is unknown. Researchers from the Karolinska Institutet in Stockholm, Sweden, compared the time to delivery of an AED using fully autonomous drones for simulated OHCAs vs emergency medical services (EMS).
A drone was developed and certified by the Swedish Transportation Agency and equipped with an AED weighing 771 grams (1.7 lbs), then placed at a fire station in a municipality north of Stockholm. The drone was equipped with a global positioning system (GPS) and high-definition camera and integrated with an autopilot software system. It was dispatched to locations where cardiac arrests within a 10 km (6.2 mile) radius of the fire station had previously occurred.
A total of 18 remotely operated flights were performed with a median flight distance of about two miles. The median time from call to dispatch of the EMS was 3:00 minutes, while the median time from dispatch to drone launch was three seconds. The median time from dispatch to arrival of the drone was 5:21 minutes vs 22:00 minutes for EMS. The drone arrived more quickly than EMS in all cases with a median reduction in response time of 16:39 minutes.
"Saving 16 minutes is likely to be clinically important," the authors write. "Nonetheless, further test flights, technological development, and evaluation of integration with dispatch centers and aviation administrators are needed. The outcomes of OHCA using the drone-delivered AED by bystanders vs resuscitation by EMS should be studied."
---
• Follow us on Twitter
• Follow us on Facebook
• Subscribe to us on YouTube