20th May 2013
Global Estimates 2012: People displaced by disasters
We tend to think of climate change as being decades into the future, but climate disasters are already displacing millions of people worldwide.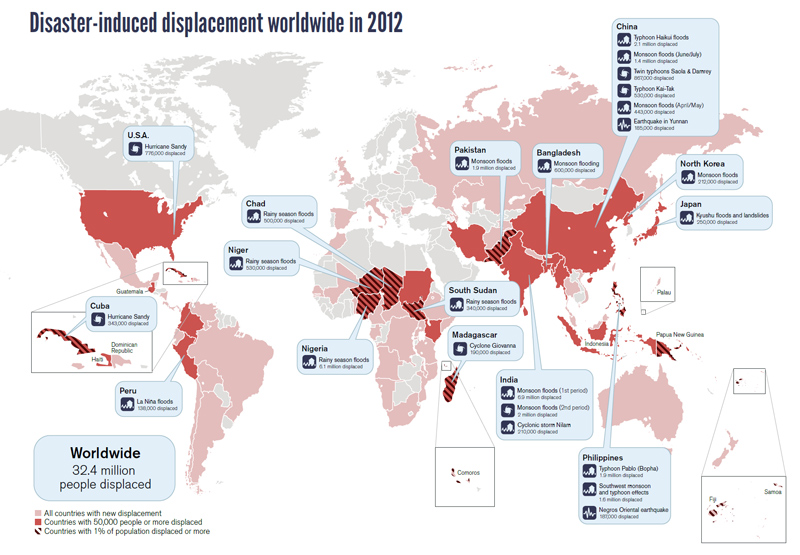 The Internal Displacement Monitoring Centre (IDMC) has released its Global Estimates 2012 report. This reveals that over 32.4 million people were forced to flee their homes in 2012 by disasters such as floods, storms and earthquakes. While Asia and west and central Africa bore the brunt, 1.3 million were displaced in rich countries, with the USA particularly affected.
98% of all displacement in 2012 was related to climate and weather events, with flood disasters in India and Nigeria accounting for 41% of the total. In India, monsoon floods displaced 6.9 million, and in Nigeria 6.1 million people were newly displaced. While over the past five years 81% of global displacement has occurred in Asia, in 2012 Africa had a record high for the region of 8.2 million people newly displaced – over four times more than in any of the previous four years.
"In countries already facing the effects of conflict and food insecurity such as in Nigeria, Pakistan, and South Sudan, we observe a common theme," says Clare Spurrell, Chief Spokesperson for IDMC. "Here, vulnerability to disaster triggered by floods is frequently further compounded by hunger, poverty and violence; resulting in a 'perfect storm' of risk factors that lead to displacement."
There is also increasing scientific evidence that climate change will become a factor. A 2012 Special Report from the Intergovernmental Panel on Climate Change (IPCC) found that there is evidence to support the claim that "[d]isasters associated with climate extremes influence population mobility and relocation, affecting host and origin communities."
IDMC's report highlights how disaster-induced displacement takes a toll in both rich and poor countries with the USA appearing among the top ten countries with the highest levels of new displacement, with over 900,000 people being forced to flee their homes in 2012. People in poorer countries, however, remain disproportionately affected and make up 98% of the global five year total.
"In the US following Hurricane Sandy, most of those displaced were able to find refuge in adequate temporary shelter while displaced from their own homes," says Spurrell. "Compare this to communities in Haiti, where hundreds of thousands are still living in makeshift tents over three years after the 2010 earthquake mega-disaster, and you see a very different picture."
According to the IDMC report, a critical component to improving community resilience and government responses to disasters is better data collection on people who have been displaced. "Currently, the information available is biased, often only focusing on the most visible people who take shelter in official evacuation sites or camps," says Spurrell. "We need to know more about those who seek refuge with families and friends, people who are repeatedly displaced by smaller disasters, or those who are stuck in prolonged displacement following a disaster – not just those that make headlines."
10th April 2013
Below is the trailer for an upcoming sci-fi movie, Elysium. It is directed by Neill Blomkamp, whose previous work includes the critically-acclaimed District 9. Set in the 22nd century, Elysium portrays two groups of people: a hyper-rich overclass who live in the utopian paradise of an orbiting space habitat; and the billions of others, who struggle in the crime-ridden, overpopulated and ruined environment of Earth. For more information, visit the official website.
1st April 2013
There are more than 200 types of cancer. In 2007, they caused about 13% of all human deaths worldwide (7.9 million). Below is a graph showing 15 of the most common cancers in the USA, their five year survival rates, and current trends extrapolated into the future. This ignores possible major events or breakthroughs that could radically alter these trends, such as a technological singularity, or global disaster. It is simply intended to provide a general overview of progress and a visual representation that combines all of the major cancer types in one single, long-term graph.
As can be seen, there is considerable variation in survival rates. However, the next few decades are likely to see cures emerging for a number of cancers, with potentially every cancer eradicated by 2200 AD. With information technology becoming an ever larger part of medicine, researchers are gaining the ability to literally rewrite the software of biology. More targeted therapies, DNA sequencing, nano-medicine, robotic surgery and various other techniques may lead to a Moore's Law-style effect with exponential improvements in survival rates.
Some of these individual cancer types have already been covered in more detail on our timeline, and more will be added in the coming weeks. This graph is based on the latest data from the National Cancer Institute, with 2008 being the most recent year available for five-year survival rates. Click on the graph to view a larger version.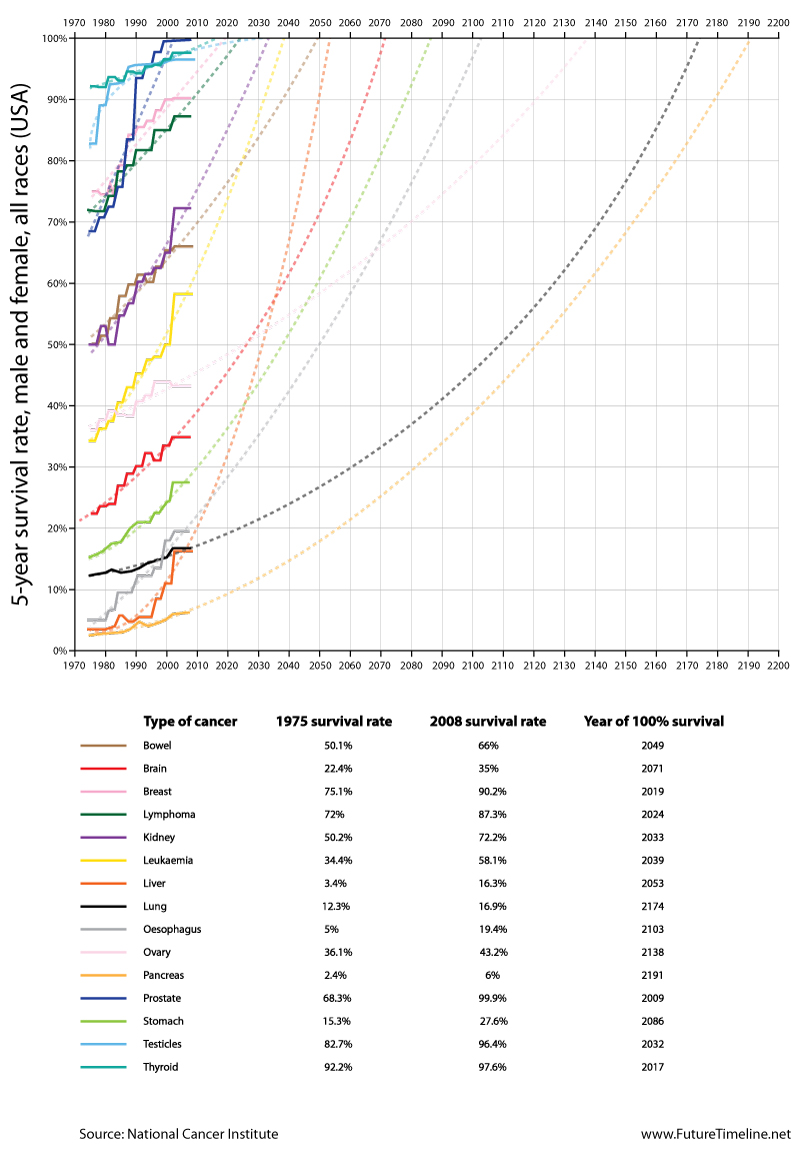 28th March 2013
Brain scans might predict future criminal behaviour
A new study conducted by the Mind Research Network in Albuquerque, shows that neuroimaging data can predict the likelihood of whether a criminal will reoffend following release from prison.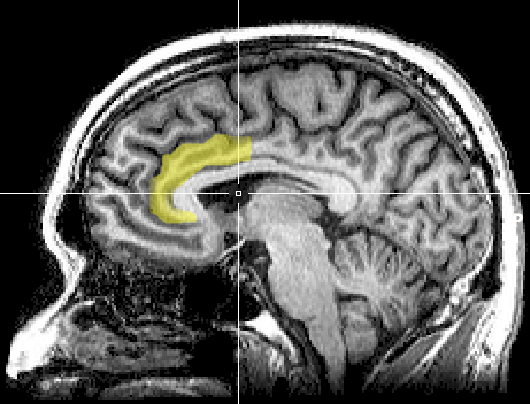 The paper, which appears in the Proceedings of the National Academy of Sciences, studied impulsive and antisocial behaviour and centred on the anterior cingulate cortex (ACC). Pictured above, this region of the brain deals with rational cognitive functions, such as reward anticipation, decision-making, empathy, impulse control and emotion. It also regulates blood pressure and heart rate.
The study demonstrated that inmates with relatively low anterior cingulate activity were twice as likely to reoffend as inmates with high-brain activity in this region.
"These findings have incredibly significant ramifications for the future of how our society deals with criminal justice and offenders," said Dr. Kent Kiehl, senior author of the study. "Not only does this study give us a tool to predict which criminals may reoffend and which ones will not reoffend, it also provides a path forward for steering offenders into more effective targeted therapies to reduce the risk of future criminal activity."
The study looked at 96 adult male criminal offenders aged 20-52 who volunteered to participate in research studies. This study population was followed over a period of up to four years after inmates were released from prison.
"These results point the way toward a promising method of neuroprediction with great practical potential in the legal system," said Dr. Walter Sinnott-Armstrong, who collaborated on the study. "Much more work needs to be done, but this line of research could help to make our criminal justice system more effective."
The study used a mobile Magnetic Resonance Imaging (MRI) system to collect neuroimaging data as the inmate volunteers completed a series of mental tests.
"People who reoffended were much more likely to have lower activity in the anterior cingulate cortices than those who had higher functioning ACCs," Kiehl said. "This means we can see on an MRI a part of the brain that isn't working correctly, giving us a look into who is more likely to demonstrate impulsive and anti-social behaviour that leads to re-arrest."
The anterior cingulate cortex of the brain is "associated with error processing, conflict monitoring, response selection, and avoidance learning," according to the paper. People who have this area of the brain damaged have been "shown to produce changes in disinhibition, apathy, and aggressiveness. Indeed, ACC-damaged patients have been classed in the 'acquired psychopathic personality' genre."
Kiehl says he is working on developing treatments that increase activity within the ACC to attempt to treat the high-risk offenders.
21st March 2013
Hitachi reveals self-driving mobility support vehicle
Japanese electronics firm Hitachi has unveiled "ROPITS" – Robot for Personal Intelligent Transportation System.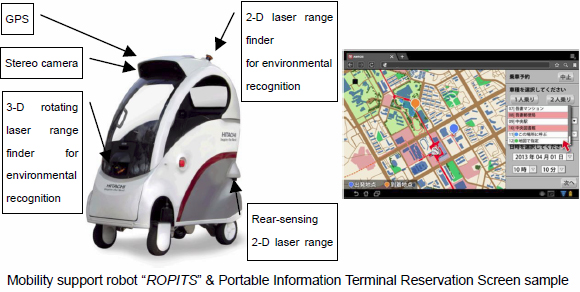 ROPITS is designed to aid the short-distance transportation of the elderly, or those with walking difficulties. The vehicle is equipped with a "specified arbitrary point autonomous pick-up and drop-off function" which can navigate to locations specified on a tablet or mobile device. Thanks to its small size and slow speed (3.7 mph, or 5.9 km/h), it can move safely across pavements, squares and open areas without being restricted to roads. On-board sensors provide a 360° view of the surrounding environment, allowing it to sense and react to pedestrians. Actuators and shock absorbers keep the body constantly maintained in a level position (horizontal state), so uneven surfaces can be handled without losing balance.
This and other such vehicles may be needed to support future societies with a higher proportion of old people than today. Japan faces a particular problem in this regard, having the largest proportion of elderly citizens in the world. The nation's elderly population, aged 65+, comprised 20% of its population in 2006, a figure that is forecast to reach 40% by 2060.
Hitachi claims that ROPITS could also be used as an autonomous delivery vehicle for a variety of services. The company intends to continue testing its vehicle and will present further details at the Robotics and Mechatronics Conference 2013, ROBOMEC 2013, to be held in the Tsukuba Special District from 22nd-25th May.
5th March 2013
We are evolving into meta-intelligence group-minds
Peter Diamandis is the founder and chairman of X PRIZE Foundation, co-founder and chairman of Singularity University and the co-author of Abundance: The Future Is Better Than You Think. He is also co-founder of the asteroid mining company, Planetary Resources. In this video, he discusses the future of humans evolving into meta-intelligence group-minds and invites participants to the second international Global Future 2045 congress (June 2013).
20th January 2013
Income of richest 100 people enough to end poverty four times over
An explosion in extreme wealth is exacerbating inequality and hindering the world's ability to tackle poverty, Oxfam has warned, in a briefing published ahead of the World Economic Forum in Davos next week.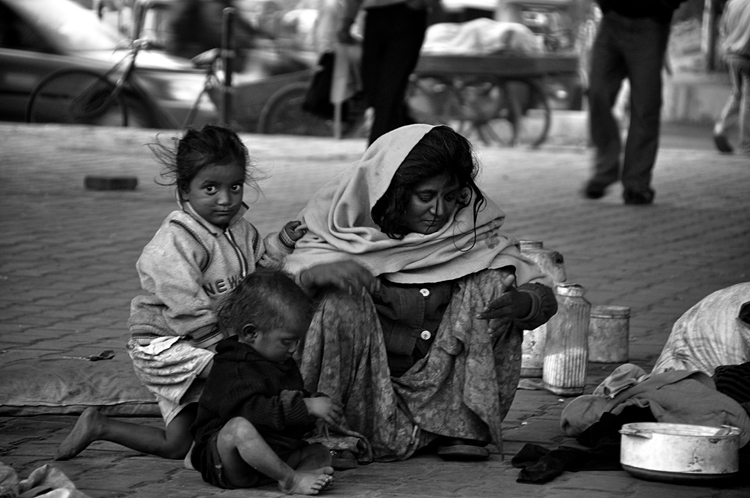 Credit: joeborg / Shutterstock
The $240 billion net income in 2012 of the richest 100 billionaires would be enough to make extreme poverty history four times over, according to "The cost of inequality: how wealth and income extremes hurt us all". The agency is calling on world leaders to curb today's income extremes and commit to reducing inequality to at least 1990 levels.

The richest one per cent has increased its income by 60 per cent in the last 20 years, with the financial crisis accelerating rather than slowing this trend.

In its report, Oxfam warns that extreme wealth is economically inefficient, politically corrosive, socially divisive and environmentally destructive. This is corroborated by evidence from past studies by organisations like the Equality Trust, showing a clear correlation between inequality and social problems.

Barbara Stocking, Oxfam Chief Executive: "We can no longer pretend that the creation of wealth for a few will inevitably benefit the many – too often the reverse is true. Concentration of resources in the hands of the top one per cent depresses economic activity and makes life harder for everyone else – particularly those at the bottom of the economic ladder. In a world where even basic resources such as land and water are increasingly scarce, we cannot afford to concentrate assets in the hands of a few and leave the many to struggle over what's left."

Members of the richest one per cent are estimated to use as much as 10,000 times more carbon than the average US citizen.


Oxfam said world leaders should learn from the current success of countries such as Brazil, which has grown rapidly while reducing inequality – as well as the historical success such as the United States in the 1930s when President Roosevelt's New Deal helped bring down inequality and tackle vested interests. Roosevelt famously warned: "the political equality we once had won is meaningless in the face of economic inequality."

Stocking added: "We need a global new deal to reverse decades of increasing inequality. As a first step, world leaders should formally commit themselves to reducing inequality to the levels seen in 1990. From tax havens to weak employment laws, the richest benefit from a global economic system which is rigged in their favour. It is time our leaders reformed the system so that it works in the interests of the whole of humanity rather than a global elite."

Closing tax havens – which hold as much as $32 trillion (£20tr), or a third of all global wealth – could yield an additional $189bn (£118bn) in additional tax revenues.

In addition to a tax haven crackdown, elements of a global new deal could include:
a reversal of the trend towards more regressive forms of taxation;
a global minimum corporation tax rate;
measures to boost wages compared with returns available to capital;
increased investment in free public services and safety nets.
You can download a copy of the briefing here.
13th January 2013
Cyberpunk 2077 is a role-playing video game, based on the Cyberpunk series of pen-and-paper games. It is being produced by CD Projekt RED, developers of The Witcher and The Witcher 2: Assassins of Kings. Cyberpunk 2077 will feature a decadent futuristic world, in which ultra-modern technology co-exists with a degenerated human society.
The game aims to be a mature, ambitious title with character customisation being strongly tied to the plot. It will have a non-linear story with different character classes. The developers say that it won't be ready until 2015, but a trailer was released this week, which you can see below. For more info, visit the official website. If you're into sci-fi, check out the Fictional Future section of our forum.
Star Trek classroom: the next generation of school desk
23rd November 2012
Researchers designing and testing the 'classroom of the future' have found that multi-touch, multi-user desks can boost skills in mathematics.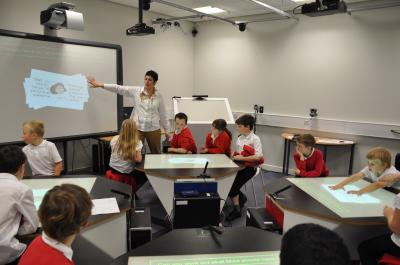 New results from a 3-year project working with over 400 pupils, mostly 8-10 year olds, show that collaborative learning increases both fluency and flexibility in maths. It also shows that using an interactive 'smart' desk can have benefits over doing mathematics on paper.
Using multi-touch desks in the new classroom, the children were able to work together in new ways to solve and answer questions and problems using inventive solutions. Seeing what your friends are doing, and being able to fully participate in group activities, offers new ways of working in class, the researchers say. The 'Star Trek classroom' could also help learning and teaching in other subjects.
The findings published in the journal Learning and Instruction, show that children who use a collaborative maths activity in the SynergyNet classroom improve in both mathematical flexibility and fluency, while children working on traditional paper-based activities only improve in flexibility.
During the project, the team found that 45% of students who used NumberNet increased in the number of unique mathematical expressions they created after using NumberNet, compared to 16% of students in the traditional paper-based activity.
Lead researcher, Professor Liz Burd, School of Education, Durham University, said: "Our aim was to encourage far higher levels of active student engagement, where knowledge is obtained by sharing, problem-solving and creating, rather than by passive listening. This classroom enables both active engagement and equal access.
"We found our tables encouraged students to collaborate more effectively. We were delighted to observe groups of students enhancing others' understanding of mathematical concepts. Such collaboration just did not happen when students used paper-based approaches."
The Durham University team designed software and desks that recognise multiple touches on the desktop using vision systems that see infrared light. The project called SynergyNet set out to integrate a fully collaborative system of desks, building it into the fabric and furniture of the classroom. The new desks with a 'multi-touch' surface are the central component, and these are networked and linked to a main smartboard.
In terms of current teaching, the new system means that the 'move-to-use' whiteboard is by-passed and the new desks can be both screen and keyboard. The desks act like multi-touch whiteboards and several students can use any one desk at once.
The technology allows all students to take part as opposed to one individual dominating.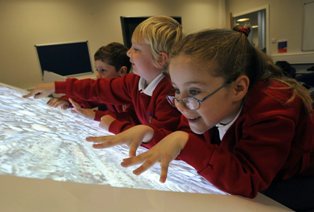 Researcher, Emma Mercier, School of Education, Durham University, said: "Cooperative learning works very well in the new classroom because the pupils interact and learn in a different way. The children really enjoy doing maths in this way and are always disappointed when you turn the desks off!
"We can achieve fluency in maths through practice. However, boosting a pupil's ability to find a range of solutions to arithmetic questions is harder to teach. This classroom can help teachers to use collaborative learning to improve their pupils' flexibility in maths."
The teacher plays a key role in the classroom and can send tasks to different tables to individuals and groups. The teacher can also send one group's answers on to the next group to work on and add to, or to the board for a class discussion. A live feed of the desks goes directly to the teacher who can intervene quickly to help an individual while allowing the group work to continue.
Professor Steve Higgins said: "Technology like this has enormous potential for teaching as it can help the teacher to manage and to orchestrate the learning of individuals and groups of learners to ensure they are both challenged and supported so that they can learn effectively."
Such a classroom may be some way off being a regular feature of schools across the world due to the costs in setting it up, and the level of support needed to make it work. However, in just 3 years the project team have noted major improvements in the technology and a reduction in costs.
The researchers also recognise that task management in the class environment is an issue requiring thought and planning, but the overall potential of the new classroom for improved numeracy, learning, and on-going assessment is very good.
The project has worked with 12 different schools in the North East of England. SynergyNet is one of eight technology-enhanced learning research projects funded by the ESRC and EPSRC as part of the £12m Teaching and Learning Research Programme into Technology Enhanced Learning.
Speech recognition breakthrough for the spoken, translated word
10th November 2012
In this video from Microsoft, Rick Rashid demonstrates a speech recognition breakthrough via machine translation that converts his spoken English words into computer-generated Chinese language. The software can even preserve intonation and cadence so the translated speech resembles the voice of the original speaker. This breakthrough is patterned after deep neural networks, significantly reducing errors in spoken as well as written translation.
Leisure-time physical activity extends life expectancy as much as 4.5 years
9th November 2012
Leisure-time physical activity is associated with longer life expectancy, even at relatively low levels of activity and regardless of body weight, according to a study by a team of researchers led by the National Cancer Institute (NCI), part of the National Institutes of Health.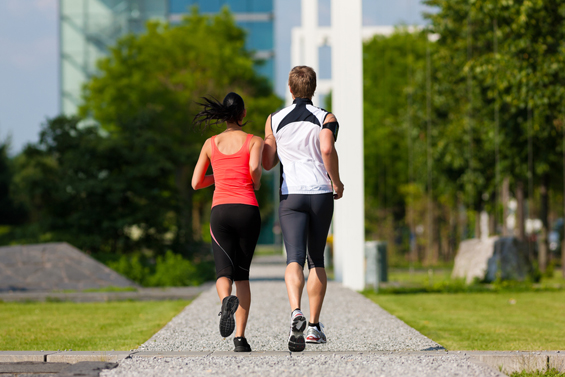 The study, which found that people who engaged in leisure-time physical activity had life expectancy gains of as much as 4.5 years, appeared this week in PLoS Medicine.
In order to determine the number of years of life gained from leisure-time physical activity in adulthood, which translates directly to an increase in life expectancy, researchers examined data on more than 650,000 adults. These people, mostly aged 40 and older, took part in one of six population-based studies that were designed to evaluate various aspects of cancer risk.
Most governments recommend that adults ages 18 to 64 should engage in regular aerobic physical activity for 2.5 hours at moderate intensity – or 1.25 hours at vigorous intensity – each week. Moderate activities are those during which a person could talk but not sing. Vigorous activities are those during which a person could say only a few words without stopping for breath.
After accounting for other factors that could affect life expectancy, the researchers found that life expectancy was 3.4 years longer for people who got the recommended level of physical activity. People who reported leisure-time physical activity at twice the recommended level gained 4.2 years of life. In general, more physical activity corresponded to longer life expectancy.
The researchers even saw benefit at low levels of activity. For example, people who said they got half the recommended amount of exercise still added 1.8 years to their life. Physical activity was categorised by "metabolic equivalent hours per week" (MET-h/wk). Brisk walking for up to 75 min/week, for example, was equivalent to 0.1–3.74 MET-h/wk.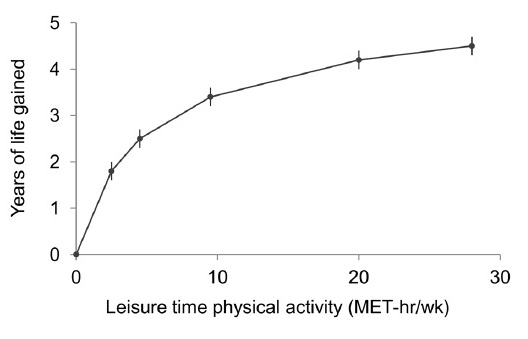 "Our findings highlight the important contribution that leisure-time physical activity in adulthood can make to longevity," said lead author of the study Steven Moore, Ph.D. "Regular exercise extended the lives in every group that we examined in our study – normal weight, overweight, or obese."
The researchers found that the association between physical activity and life expectancy was similar between men and women, and blacks gained more years of life expectancy than whites. The relationship between life expectancy and physical activity was stronger among those with a history of cancer or heart disease than among people with no history of cancer or heart disease.
The researchers also examined how life expectancy changed with the combination of both activity and obesity. Obesity was associated with a shorter life expectancy, but physical activity helped to mitigate some of the harm. People who were obese and inactive had a life expectancy that was between five to seven years shorter (depending on their level of obesity) than people who were normal weight and moderately active.
Physical activity has been shown to help maintain a healthy body weight, maintain healthy bones, muscles and joints, promote psychological well-being, and reduce the risk of certain diseases, including some cancers.
"We must not underestimate how important physical activity is for health – even modest amounts can add years to our life," said I-Min Lee, a senior author on the study.
Public health pandemics that could strike in the future
A guest blog by Charlotte Kellogg
7th November 2012
Although public health officials may suggest that pandemics are at worst manageable – and at best, things of the past – the world is not too far from experiencing its next public health crisis. In today's guest post, Charlotte Kellogg explores five of the most serious disease threats which have, and still could, decimate the world's population.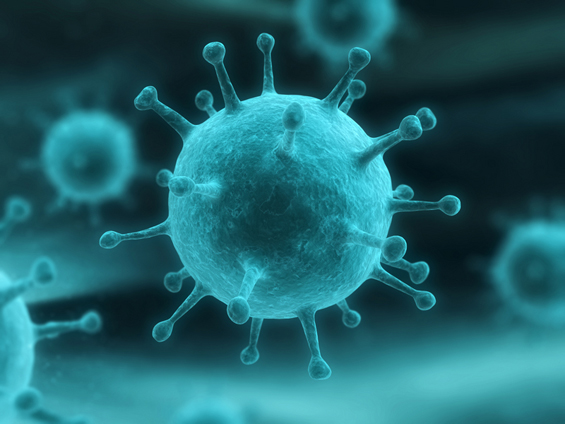 Since the H1N1 scare, many people feel duped by the massive amount of media hype that went along with the virus and the seeming overreaction. However, the containment of one virus does not make the threat of another outbreak any less real.
Pandemics deserve a decent amount of fear and caution. A pandemic normally occurs when a new, deadly disease forms or mutates and spreads quickly throughout populations. If and when this happens, physicians may find it difficult to create a vaccine or find a cure, allowing the virus to spread freely, leaving untold casualties in its wake. Here are some of the most recent examples, some of which could return at any time.
The Spanish Flu
In the last century alone, a number of pandemics have caused innumerable fatalities, even in the developed world. Unlike many others, the Spanish Flu did not spread due to a lack of sanitation, making it a threat to industrialised nations.
Virologists estimate that as many as 50 million people died (3% of the global population at the time) before the virus was finally contained. Some 500 million were infected. Spanish Flu rose to prominence in the last years of World War I. More recently, it has been identified as a strain of H1N1. While the virus, itself, does not pose a direct threat, virologists constantly look for signs of a mutation, which could be far more difficult to treat and inoculate for.
For researchers, the flu is one of the most intimidating illnesses because of its ability to evolve and continually reinvent itself. For this reason, it never really goes away, it just changes. This is why public health officials fear a widespread flu pandemic is likely to occur again in the future, wreaking havoc in many nations.
According to the Centers for Disease Control and Prevention (CDC), the best methods of flu prevention are vaccinations, diligent hand washing and, if someone comes down with the illness, taking the prescribed antiviral drugs.
Cholera
Cholera did most of its damage through seven pandemics in the 19th and early 20th centuries. Spread through commonly shared water sources, it can affect whole communities very quickly. Most frequently occurring in crowded places lacking sanitation, cholera remains an active threat, particularly in areas that have recently suffered a natural disaster, such as Haiti after its 2010 earthquake. In a future world of collapsing economies and deteriorating infrastructure, this deadly disease could strike again.
According to the National Center for Biotechnology, the best method of prevention is to take precautions and ensure food and water are sanitary. One promising new concept beginning to emerge is nano-filtration technology, such as the LifeSaver bottle. This has already been used to fight cholera in Sierra Leone and could be in widespread use within a few years. It can filter out objects just 15 nanometres in size. It is relatively expensive, however, at $150 per unit.
Typhus
Typhus is a bacterial disease that is quickly spread by lice and fleas, which are often carried by stray dogs and rats. This pandemic has historically occurred along the front lines of large-scale wars, where sanitation and public health measures are lacking. Napoleon's army suffered from it during the failed invasion of Russia. It affected millions of German people during the Thirty Years' War, and caused many deaths in the Nazi concentration camps of World War II.
Since then, epidemics have occurred in Eastern Europe, Asia, the Middle East and parts of Africa. In 2012, Travis County in the state of Texas reported its first typhus-related death. Presently, a typhus vaccine exists, thus mitigating the spread of typhus in areas where inoculation is likely, but it nevertheless remains a threat.
Bubonic Plague
Bubonic Plague – also known as the Black Death – is the most recognised pandemic in human history. It wiped out between 30-60% of Europe's population in the 1300s. Sanitation was a primary facilitator of its deadly swathe, as it was spread by fleas and most European cities at that time lacked proper drainage and waste systems. The last major outbreak occurred in London during the 1660s.
Bubonic plague is unlikely to recur naturally. It could, however, be used as a man-made bio-weapon in a future terrorist attack. The destruction it caused in the past continues to serve as an important warning.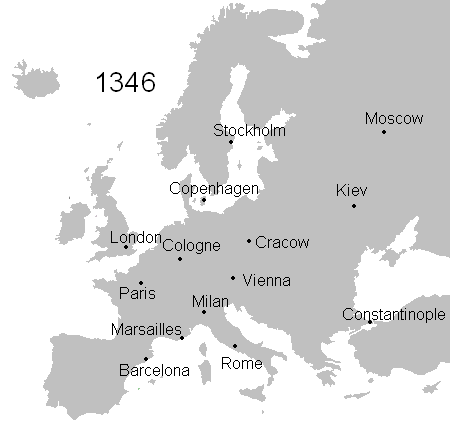 Smallpox

Another Medieval disease, smallpox, was largely responsible for European victories over the 'untamed' Americas. European explorers and settlers – who were more or less immune to the disease they carried – spread smallpox to native populations. Before then, Spanish soldiers who sailed with Cortés spread the disease to Aztecs and Incas in both Central and South America.
Historians estimate that before the arrival of Cortés, up to 18 million indigenous peoples were living in the region. Less than 530,000 remained by 1900. Within four centuries, smallpox, war, and other diseases literally decimated the Native American populations.
During the 20th century, smallpox caused an estimated 300-500 million deaths globally. Though the virus was declared eradicated in 1979, many fear that – like bubonic plague – it could return in the future as a biological weapon. Since the disease is easily spread through bed sheets and saliva, the speed and scale of its effects could be devastating, especially in regions with insufficient vaccine supplies.

As the world becomes ever more connected and globalised, the threat from these kinds of pandemics is feared partly for the swiftness with which they can spread. The damage a new outbreak could wreak is magnified by increased rates of travel. Genetic modification of viruses could make them deadlier still. During the next major pandemic, instead of hundreds of millions, the number of fatalities could potentially reach the billions before it is stopped.
One in five U.S. adults have no religious affiliation
9th October 2012
The number of Americans who do not identify with any religion continues to grow at a rapid pace.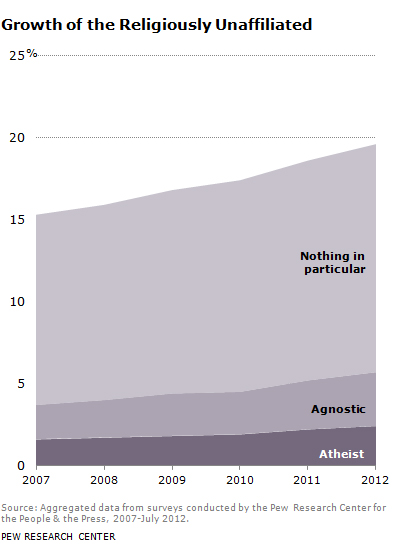 One-fifth of the U.S. public – and a third of adults under 30 – are religiously unaffiliated today, the highest percentages ever recorded in Pew Research Center polling. In the last five years alone, the unaffiliated have increased from just over 15% to just under 20% of all U.S. adults. Their ranks now include more than 13 million self-described atheists and agnostics (nearly 6% of the U.S. public), as well as nearly 33 million people who say they have no particular religious affiliation (14%).
This large and growing group of Americans is less religious than the public at large on many conventional measures, including frequency of attendance at religious services and the degree of importance they attach to religion in their lives.
However, the new survey by the Pew Research Center's Forum on Religion & Public Life, conducted jointly with the PBS television program Religion & Ethics NewsWeekly, finds that many of the country's 46 million unaffiliated adults are still religious or spiritual in some way. Two-thirds of them say they believe in God (68%). More than half say they often feel a deep connection with nature and the Earth (58%), while more than a third classify themselves as "spiritual" but not "religious" (37%), and one-in-five (21%) say they pray every day. In addition, most religiously unaffiliated Americans think that churches and other religious institutions benefit society by strengthening community bonds and aiding the poor.
With few exceptions, though, the unaffiliated say they are not looking for a religion that would be right for them. Overwhelmingly, they think that religious organisations are too concerned with money and power, too focused on rules and too involved in politics.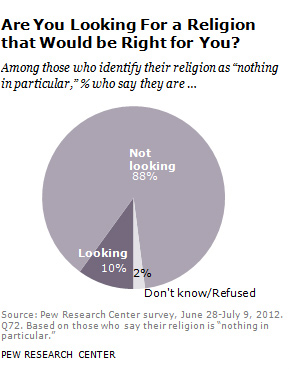 The growth in the number of religiously unaffiliated Americans – sometimes called the rise of the "nones" – is largely driven by generational replacement, the gradual supplanting of older generations by newer ones. A third of adults under 30 have no religious affiliation (32%), compared with just one-in-ten who are 65 and older (9%). And young adults today are much more likely to be unaffiliated than previous generations were at a similar stage in their lives.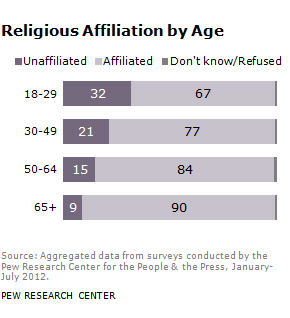 While the ranks of the unaffiliated have grown significantly over the past five years, the Protestant share of the population has shrunk. In 2007, 53% of adults in Pew Research Center surveys described themselves as Protestants. In surveys conducted in 2012, less than half of American adults say they are Protestant (48%). This marks the first time in Pew Research Center surveys that the Protestant share of the population has dipped significantly below 50%.
Rapid urban expansion threatens biodiversity
24th September 2012
A brief window of opportunity exists to shape the development of cities globally before an infrastructure boom transforms urban land cover, according to a study in the Proceedings of the National Academy of Sciences.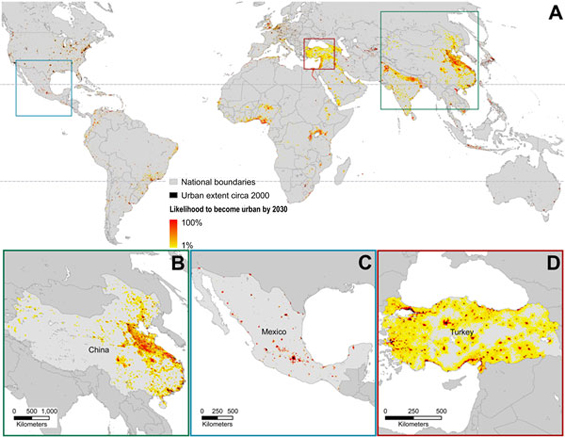 Researchers at Yale, Texas A&M and Boston University predict that by 2030, urban areas will expand by more than 463,000 square miles, or 1.2 million square kilometres. That is equivalent to 20,000 football fields becoming urban every day for the first three decades of this century.

The growth in urban areas will coincide with the construction of new roads and buildings, water and sanitation facilities, energy and transport systems — transforming land cover and cities globally. Recent estimates suggest that between $25 trillion and $30 trillion will be spent on infrastructure worldwide by 2030, with $100 billion a year in China alone.

"Given the long life and near-irreversibility of infrastructure investments, it will be critical for current urbanisation-related policies to consider their lasting impacts," said Karen Seto, lead author of the study and associate professor in the urban environment at the Yale School of Forestry & Environmental Studies. "We have a huge opportunity to shape how cities develop and their environmental impacts."

Nearly half of the increase in high-probability (defined as greater than 75%) expansion is forecast to occur in Asia, with China and India absorbing 55 percent of the regional total. In China, urban expansion is expected to create a 1,100-mile coastal urban corridor from Hangzhou to Shenyang. In India, urban expansion will be clustered around seven state capital cities, with large areas of low-probability growth forecast for the Himalaya region where many small villages and towns currently exist.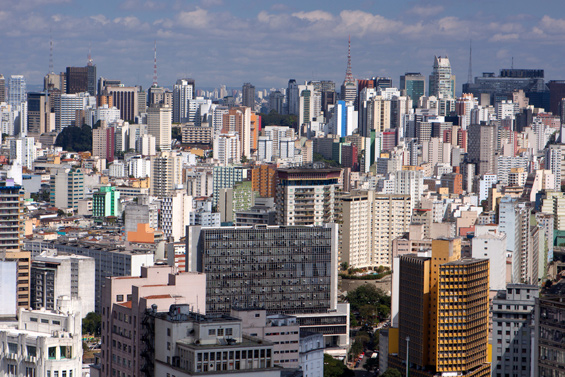 Africa's urban land cover will grow the fastest, at 590 percent above the 2000 level of 16,000 square miles. Urban expansion will be concentrated in the continent's five regions: the Nile River in Egypt; the coast of West Africa on the Gulf of Guinea; the northern shores of Lake Victoria in Kenya and Uganda and extending into Rwanda and Burundi; the Kano region in northern Nigeria; and greater Addis Ababa, Ethiopia.

"Urban expansion is concentrated in only a few areas where there are large cities and industry," said Seto. "From the northern shore of Lake Victoria down to Rwanda is also a major hotspot of urban expansion."

In North America, where 78 percent of the total population currently lives in urban areas, urban land cover will nearly double by 96,000 square miles by 2030.
Only 48 of the 221 countries in the study will experience negligible amounts of expansion.

The researchers examined historical patterns of urban population growth and expansion, and used forecasts from the Intergovernmental Panel on Climate Change on gross domestic product and projections by the United Nations on urban population growth for their analysis.

Urban expansion will have significant impacts on biodiversity hotspots around the world. "We need to rethink conservation policies and what it means to be a sustainable city," said Burak Güneralp, the study's second author and research assistant professor at Texas A&M University. "It's not all about carbon footprint, which is what mayors and planners typically think about now, but we need to consider how urban expansion will have implications for other, nonhuman species and the value of these species for present and future generations."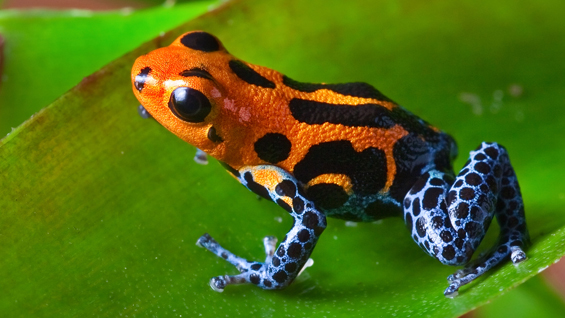 Moreover, urban expansion will encroach on or destroy habitats for 139 amphibian species, 41 mammalian species and 25 bird species that are either on the Critically Endangered or Endangered Lists of the International Union for Conservation of Nature (IUCN). In addition, based on independent space-borne GLAS LiDAR measurements, the researchers estimate the aboveground, biomass carbon losses associated with land-clearing from new urban areas in the pan-tropics to be 5 percent of the tropical deforestation and land-use-change emissions.

"Urbanisation is often considered a local issue. However, our analysis shows that the direct impacts of future urban expansion on global biodiversity hotspots and carbon pools are significant," said Seto. "The world will experience an unprecedented era of urban expansion and city-building over the next few decades. The associated environmental and social challenges will be enormous, but so are the opportunities."

The other co-author of the study is Lucy Hutyra of Boston University's Department of Geography and Environment. The study, "Global Forecasts of Urban Expansion to 2030 and Direct Impacts on Biodiversity and Carbon Pools," can be viewed at: http://www.pnas.org/cgi/doi/10.1073/pnas.1211658109.
| | | |
| --- | --- | --- |
| | | |