10th April 2013
Below is the trailer for an upcoming sci-fi movie, Elysium. It is directed by Neill Blomkamp, whose previous work includes the critically-acclaimed District 9. Set in the 22nd century, Elysium portrays two groups of people: a hyper-rich overclass who live in the utopian paradise of an orbiting space habitat; and the billions of others, who struggle in the crime-ridden, overpopulated and ruined environment of Earth. For more information, visit the official website.
6th April 2013
Back in October 2011, Boston Dynamics released a video of PETMAN – a surprisingly realistic humanoid robot. This was intended for eventual use in testing protective clothing worn by the military. The machine has since been redesigned with a head and other upgrades. These include sensors to detect leaks within a suit, along with artificial perspiration to simulate the micro-climate experienced by a real person. With its added clothing, PETMAN has been undergoing validation experiments and will soon be tested inside an exposure chamber with sarin, mustard gas and other deadly chemicals.
2nd March 2013
BigDog robot gains new abilities
Boston Dynamics, creators of BigDog, have released a new video. The robot is shown handling heavy objects, using the strength of its legs and torso to power the motions of a front arm attachment. The main purpose of this extra limb is to help soldiers pick up and carry heavy loads, but there's much potential for other uses. Chris Melhuish, director of Bristol Robotics Laboratory, told the BBC: "I think the potential is enormous: from pets, to robots that are going to help you move your shopping, to robots on building sites that move bricks from one place to another, following a bricklayer around."
22nd February 2013
Jetpack "anyone can fly" launched at Abu Dhabi exhibition
A jetpack costing $100,000 has been unveiled at the International Defence Exhibition and Conference (IDEX) in the United Arab Emirates. Its makers, California-based Martin Aircraft Company, say it could be used by emergency services, the military and also for leisure. The 140kg aircraft, which took 10 years to develop, can fly up to a mile high, reach a speed of 62mph and take off from a small space. It has an automated hover function, making it easy to operate.
13th February 2013
New book reveals human cost of climate change
A new book – Overheated: The Human Cost of Climate Change – predicts a grim future for billions of people in this century. It is a factual account of a staggering human toll, based on hard data. Author Andrew Guzman, an authority on international law and economics, is a professor and associate dean at UC Berkeley School of Law.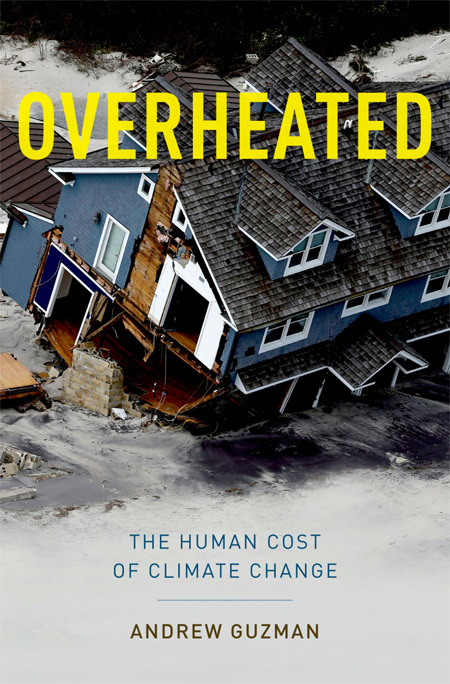 Guzman has studied intractable economic problems – such as poverty, recessions, and trade wars. But, in recent years, one problem loomed larger than all the rest: climate change. It became impossible to fathom the economic impact of state actions without including global warming in the equation.
"Climate change is the most important problem facing the international community in the 21st century," Guzman said. "It's a problem that no country alone can solve, but a solution is imperative."
Countless books exist on the scientific aspects of climate change, but not one on why people should care, said Guzman. So he decided to write for a popular audience, to engage them, to capture their imaginations in a way that would communicate the depth of the problem.
Guzman adopted the predictions of scientists who expect a minimum warming of two degrees Celcius. But even such a modest calculation will mean unprecedented migrations, flooding, famine, and war. It will decimate infrastructures we take for granted, crippling roadways, sewers, and irrigation systems. Social services we rely on (sanitation, transportation, heath care) will cease working normally, and humans will find themselves competing for ever more scarce resources.
"Climate change is going to damage the very foundations upon which we've built our civilization. I don't think people understand how pervasive this problem is," Guzman said.
Examples of the impact of climate change include:
• Flooding and forced migration will push citizens to crowded cities or refugee camps, creating ripe conditions for the spread of infectious diseases. It could lead to a global pandemic similar to the 1918 Spanish Flu that killed 3 percent of the world's population. In the U.S. today, that would mean nine-ten million deaths.
• California's Sierra Snowpack, its most important water source, will have shrunk by a third by 2050. No plan exists for how the state will find enough water for its projected 50 million residents.
• Rising seas will displace populations, ruin farmland, and destroy infrastructure. Bangladesh alone will lose 17 percent of its land mass, the equivalent of the U.S. losing Alabama, Tennessee, Kentucky, Ohio, and every inch of land to the East.
• Rainfall-dependent crop production in Nigeria may fall by 50 percent. Social chaos and the fight over dwindling oil resources could lead to the creation of a terrorist breeding ground.
• Water flow to the Indus River will drop by 35 percent, as glaciers melt. India and Pakistan, which have had four wars since the 1940s, will have to share this shrinking resource. At issue is life and death for tens of millions on both sides of the border – and both countries have nuclear weapons.
Guzman acknowledges that it is tempting to ignore the problem or deny its very existence. The harsh reality, however, is that we have to do something now to stem a full-blown disaster in our lifetime. One of the biggest hurdles: political opposition.
"Solving this problem is not going to be free. But as long as politicians are punished for imposing economic costs now in exchange for larger economic gains later, it will be an impossible problem to solve," he said.
In fact, the world's largest emitters of the greenhouse gases (GHG) that cause global warming – the U.S., the E.U., China, India, and Brazil – have failed to come to a substantive agreement to reduce carbon output. Carbon dioxide is one of the most damaging of the GHG emissions. Guzman is convinced that U.S. will balk at signing any international accord until its people demand it.
"People have to accept the fact that, as with social security, public education, or military expenditures, we have to pay now for benefits later," he said.
As an economist, Guzman suggests a simple policy solution for the United States: a carbon tax. Taxing carbon up the supply chain as far as possible would raise the price of fossil fuels – and encourage the development of alternative energy.
Guzman isn't promoting one particular solution; he says a Cap-and-Trade program to regulate GHG emissions could be just as viable. Most important is that we take action. Raise the price of carbon sufficiently to keep the planet from overheating and "prevent human tragedy on a scale the world has never seen." It's a scenario that haunts him daily.
"I'm terrified for my children – for everybody's children," he said. "The world they are going to inhabit when they're my age in 2050 is not a pretty place. If I have grandchildren, it'll be even worse. One of the features of this problem, which is chilling, is that if you just decide to live with it, it doesn't stabilize. It gets worse and worse with every passing year or decade that we fail to act."
23rd December 2012
DARPA's latest hi-tech military robot
For the past 10 years, the Defense Advanced Research Projects Agency (DARPA) has been developing a series of new military robots. One of these – a four-legged machine known as the Legged Squad Support System (L3) – recently showed off its capabilities during field testing.
L3 is designed to accompany soldiers over terrain too difficult for conventional vehicles. It will carry up to 400 lbs of gear and enough fuel for missions covering 20 miles and lasting 24 hours. Due to enter service in 2014, it should greatly reduce the burden of equipment for soldiers. This latest version, seen in the video below, features new advances in control, stability and maneuverability – including "Leader Follow" decision making, enhanced roll recovery, exact foot placement over rough terrain, the ability to maneuver in an urban environment, and verbal command capability.
The robot would also be able to maneuver at night and serve as a mobile auxiliary power source to the squad, so troops could recharge batteries for radios and handheld devices while on patrol. The DARPA platform developer for the LS3 is engineering company Boston Dynamics, whose other work includes PETMAN and the Cheetah robot.
Pull the plug on killer robots, say Human Rights Watch
20th November 2012
Machines are starting to take the place of human soldiers on the battlefield, as reported by Human Rights Watch. Some military and robotics experts predict that "killer robots" – fully autonomous weapons that could select and engage targets – could be developed within 20-30 years.
Public health pandemics that could strike in the future
A guest blog by Charlotte Kellogg
7th November 2012
Although public health officials may suggest that pandemics are at worst manageable – and at best, things of the past – the world is not too far from experiencing its next public health crisis. In today's guest post, Charlotte Kellogg explores five of the most serious disease threats which have, and still could, decimate the world's population.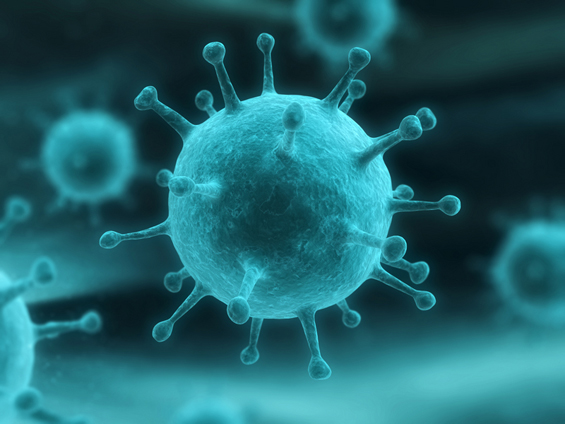 Since the H1N1 scare, many people feel duped by the massive amount of media hype that went along with the virus and the seeming overreaction. However, the containment of one virus does not make the threat of another outbreak any less real.
Pandemics deserve a decent amount of fear and caution. A pandemic normally occurs when a new, deadly disease forms or mutates and spreads quickly throughout populations. If and when this happens, physicians may find it difficult to create a vaccine or find a cure, allowing the virus to spread freely, leaving untold casualties in its wake. Here are some of the most recent examples, some of which could return at any time.
The Spanish Flu
In the last century alone, a number of pandemics have caused innumerable fatalities, even in the developed world. Unlike many others, the Spanish Flu did not spread due to a lack of sanitation, making it a threat to industrialised nations.
Virologists estimate that as many as 50 million people died (3% of the global population at the time) before the virus was finally contained. Some 500 million were infected. Spanish Flu rose to prominence in the last years of World War I. More recently, it has been identified as a strain of H1N1. While the virus, itself, does not pose a direct threat, virologists constantly look for signs of a mutation, which could be far more difficult to treat and inoculate for.
For researchers, the flu is one of the most intimidating illnesses because of its ability to evolve and continually reinvent itself. For this reason, it never really goes away, it just changes. This is why public health officials fear a widespread flu pandemic is likely to occur again in the future, wreaking havoc in many nations.
According to the Centers for Disease Control and Prevention (CDC), the best methods of flu prevention are vaccinations, diligent hand washing and, if someone comes down with the illness, taking the prescribed antiviral drugs.
Cholera
Cholera did most of its damage through seven pandemics in the 19th and early 20th centuries. Spread through commonly shared water sources, it can affect whole communities very quickly. Most frequently occurring in crowded places lacking sanitation, cholera remains an active threat, particularly in areas that have recently suffered a natural disaster, such as Haiti after its 2010 earthquake. In a future world of collapsing economies and deteriorating infrastructure, this deadly disease could strike again.
According to the National Center for Biotechnology, the best method of prevention is to take precautions and ensure food and water are sanitary. One promising new concept beginning to emerge is nano-filtration technology, such as the LifeSaver bottle. This has already been used to fight cholera in Sierra Leone and could be in widespread use within a few years. It can filter out objects just 15 nanometres in size. It is relatively expensive, however, at $150 per unit.
Typhus
Typhus is a bacterial disease that is quickly spread by lice and fleas, which are often carried by stray dogs and rats. This pandemic has historically occurred along the front lines of large-scale wars, where sanitation and public health measures are lacking. Napoleon's army suffered from it during the failed invasion of Russia. It affected millions of German people during the Thirty Years' War, and caused many deaths in the Nazi concentration camps of World War II.
Since then, epidemics have occurred in Eastern Europe, Asia, the Middle East and parts of Africa. In 2012, Travis County in the state of Texas reported its first typhus-related death. Presently, a typhus vaccine exists, thus mitigating the spread of typhus in areas where inoculation is likely, but it nevertheless remains a threat.
Bubonic Plague
Bubonic Plague – also known as the Black Death – is the most recognised pandemic in human history. It wiped out between 30-60% of Europe's population in the 1300s. Sanitation was a primary facilitator of its deadly swathe, as it was spread by fleas and most European cities at that time lacked proper drainage and waste systems. The last major outbreak occurred in London during the 1660s.
Bubonic plague is unlikely to recur naturally. It could, however, be used as a man-made bio-weapon in a future terrorist attack. The destruction it caused in the past continues to serve as an important warning.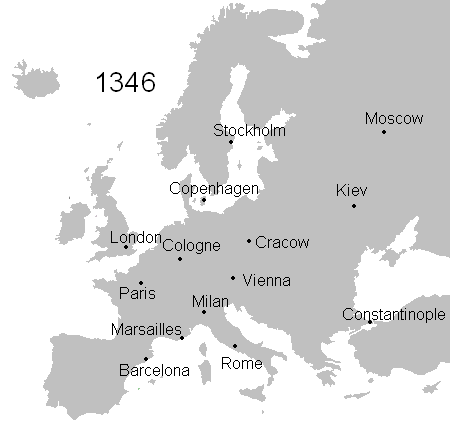 Smallpox

Another Medieval disease, smallpox, was largely responsible for European victories over the 'untamed' Americas. European explorers and settlers – who were more or less immune to the disease they carried – spread smallpox to native populations. Before then, Spanish soldiers who sailed with Cortés spread the disease to Aztecs and Incas in both Central and South America.
Historians estimate that before the arrival of Cortés, up to 18 million indigenous peoples were living in the region. Less than 530,000 remained by 1900. Within four centuries, smallpox, war, and other diseases literally decimated the Native American populations.
During the 20th century, smallpox caused an estimated 300-500 million deaths globally. Though the virus was declared eradicated in 1979, many fear that – like bubonic plague – it could return in the future as a biological weapon. Since the disease is easily spread through bed sheets and saliva, the speed and scale of its effects could be devastating, especially in regions with insufficient vaccine supplies.

As the world becomes ever more connected and globalised, the threat from these kinds of pandemics is feared partly for the swiftness with which they can spread. The damage a new outbreak could wreak is magnified by increased rates of travel. Genetic modification of viruses could make them deadlier still. During the next major pandemic, instead of hundreds of millions, the number of fatalities could potentially reach the billions before it is stopped.
11th October 2012
With a new grant, researchers aim to create a 'MacGyver' robot.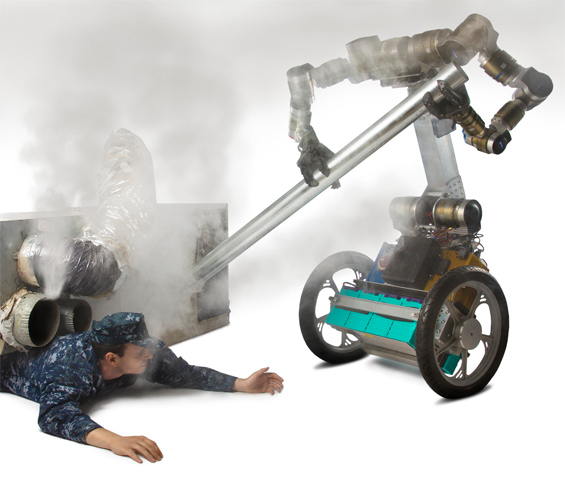 Robots are increasingly being used in place of humans to explore hazardous and difficult-to-access environments, but they aren't yet able to interact with their environments as well as humans. If today's most sophisticated robot was trapped in a burning room by a jammed door, it would probably not know how to locate and use objects in the room to climb over any debris, pry open the door, and escape the building.
A research team led by Professor Mike Stilman at the Georgia Institute of Technology hopes to change that by giving robots the ability to use objects in their environments to accomplish high-level tasks. The team recently received a three-year, $900,000 grant from the Office of Naval Research to work on this project.
"Our goal is to develop a robot that behaves like MacGyver, the television character from the 1980s who solved complex problems and escaped dangerous situations by using everyday objects and materials he found at hand," said Stilman, an assistant professor in the School of Interactive Computing at Georgia Tech. "We want to understand the basic cognitive processes that allow humans to take advantage of arbitrary objects in their environments as tools. We will achieve this by designing algorithms for robots that make tasks that are impossible for a robot alone possible for a robot with tools."
The research will build on Stilman's previous work on navigation among movable obstacles that enabled robots to autonomously recognise and move obstacles that were in the way of their getting from point A to point B.
"This project is challenging because there is a critical difference between moving objects out of the way and using objects to make a way," explained Stilman. "Researchers in the robot motion planning field have traditionally used computerised vision systems to locate objects in a cluttered environment to plan collision-free paths, but these systems have not provided any information about the objects' functions."
To create a robot capable of using objects in its environment to accomplish a task, Stilman plans to develop an algorithm that will allow a robot to identify an arbitrary object in a room, determine the object's potential function, and turn that object into a simple machine that can be used to complete an action. Actions could include using a chair to reach something high, bracing a ladder against a bookshelf, stacking boxes to climb over something, and building levers or bridges from random debris.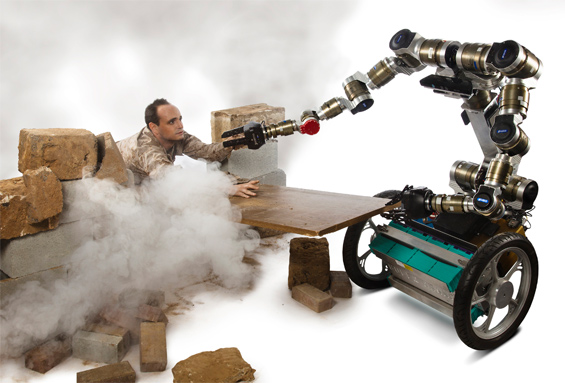 By providing the robot with basic knowledge of rigid body mechanics and simple machines, the robot should be able to autonomously determine the mechanical force properties of an object and construct motion plans for using the object to perform high-level tasks.
For example, exiting a burning room with a jammed door would require a robot to travel around any fire, use an object in the room to apply sufficient force to open the stuck door, and locate an object in the room that will support its weight while it moves to get out of the room.
Such skills could be extremely valuable in the future as robots work side-by-side with military personnel to accomplish challenging missions.
"The Navy prides itself on recruiting, training and deploying our country's most resourceful and intelligent men and women," said Paul Bello, director of the cognitive science program in the Office of Naval Research (ONR). "Now that robotic systems are becoming more pervasive as teammates for warfighters in military operations, we must ensure that they are both intelligent and resourceful. Professor Stilman's work on the 'MacGyver-bot' is the first of its kind, and is already beginning to deliver on the promise of mechanical teammates able to creatively perform in high-stakes situations."
To address the complexity of the human-like reasoning required for this type of scenario, Stilman is collaborating with researchers Pat Langley and Dongkyu Choi. Langley is the director of the Institute for the Study of Learning and Expertise (ISLE), and is recognised as a co-founder of the field of machine learning, where he championed both experimental studies of learning algorithms and their application to real-world problems. Choi is an assistant professor in the Department of Aerospace Engineering at the University of Kansas.
Langley and Choi will expand the cognitive architecture they developed, called ICARUS, which provides an infrastructure for modeling various human capabilities like perception, inference, performance and learning in robots.
"We believe a hybrid reasoning system that embeds our physics-based algorithms within a cognitive architecture will create a more general, efficient and structured control system for our robot that will accrue more benefits than if we used one approach alone," said Stilman.
After the researchers develop and optimize the hybrid reasoning system using computer simulations, they plan to test the software using Golem Krang, a humanoid robot designed and built in Stilman's laboratory to study whole-body robotic planning and control.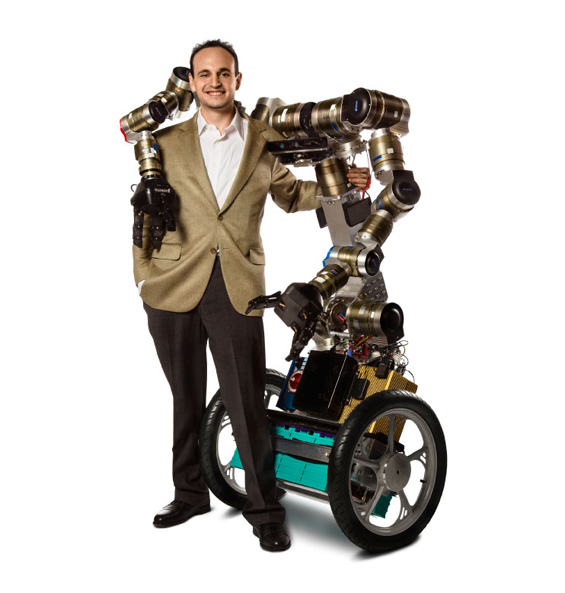 Fully autonomous high-altitude refuelling
9th October 2012
DARPA has completed close-proximity flight tests of two unmanned aerial vehicles (UAVs), demonstrating technology for autonomous aerial refueling.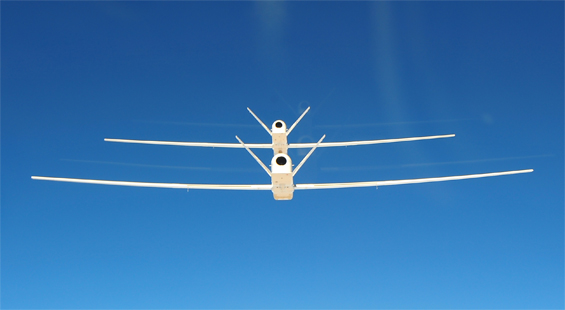 Global military aviation relies on a key enabler – aerial refueling. Fighters, bombers, reconnaissance and transport aircraft use "flying gas stations" to go the extra mile. Increasingly, UAVs are conducting combat and ISR operations, but UAVs aren't designed to be refueled in flight.
In 2007, DARPA teamed up with NASA to show that high-performance aircraft can easily perform automated refueling from conventional tankers, yet many unmanned aircraft can't match the speed, altitude and performance of the current tanker fleet. The 2007 demonstration also required a pilot on board, to set conditions and monitor safety during autonomous refueling operations.
Now, DARPA has addressed this capability gap. Its two-year Autonomous High-Altitude Refueling (AHR) program, which concluded on 30th September, explored the ability to conduct fully autonomous refueling of UAVs in challenging high-altitude flight conditions. During the final test flight, two Global Hawk aircraft flew in close formation, with less than 100 feet between refueling probe and receiver drogue, for the majority of a 2.5-hour engagement at 44,800ft (13,655m). This demonstrated for the first time that High Altitude Long Endurance (HALE) class aircraft can safely and autonomously operate under in-flight refueling conditions.
Multiple autonomous breakaway contingencies were successfully triggered well in advance of potentially hazardous conditions. Fuel systems were fully integrated and ground tested, demonstrating a novel "reverse-flow" approach with the tanker in trail.
"The goal of this demonstration was to create the expectation that future HALE aircraft will be refueled in flight," said Jim McCormick, DARPA Program Manager. "Such designs should be more affordable to own and operate across a range of mission profiles than systems built to satisfy the most stressing case without refueling. The lessons from AHR certainly extend beyond the HALE flight regime, and insights into non-traditional tanker concepts may offer further operational advantages."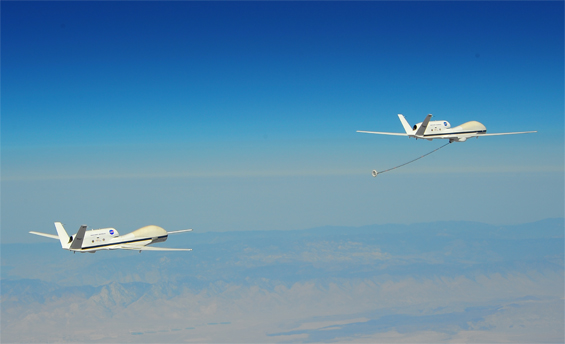 Credit: DARPA
Are we building Gods or Terminators?
19th September 2012
Hugo de Garis is the past director of the Artificial Brain Lab at Xiamen University in China. He is best known for his doomsday book, The Artilect War (abstract follows below):
This paper claims that the "species dominance" issue will dominate our global politics later this century. Humanity will be bitterly divided over the question of whether to build godlike, massively intelligent machines, called "artilects" (artificial intellects) which with 21st century technologies will have mental capacities trillions of trillions of times above the human level. Humanity will split into 3 major camps, the "Cosmists" (in favor of building artilects), the "Terrans" (opposed to building artilects), and the "Cyborgs" (who want to become artilects themselves by adding components to their own human brains). A major "artilect war" between the Cosmists and the Terrans, late in the 21st century will kill not millions but billions of people.
In this recent interview with Singularity 1 on 1, he talks about how and why he got interested in artificial intelligence; Moore's Law and the laws of physics; the hardware and software requirements for artificial intelligence; why cutting-edge experts are often missing the writing on the wall; emerging intelligence and other approaches to AI; Dr. Henry Markram's Blue Brain Project; the stakes in building AI and his concepts of ArtIlects, Cosmists and Terrans; cosmology, the Fermi Paradox and the Drake equation; the advance of robotics and the political, ethical, legal and existential implications thereof; species dominance as the major issue of the 21st century; the technological singularity and our chances of surviving it in the context of fast and slow take-off:
Cheetah robot can run faster than humans
6th September 2012
Earlier this year, DARPA's Cheetah robot was shown running at speeds of up to 18 mph (29 km/h), setting a new land speed record for legged robots.
The machine has now been upgraded to achieve an astonishing 28.3 mph (45.28 km/h), demonstrated in the video below. By comparison, Usain Bolt's fastest speed during the 100-metre sprint was 27.78 mph (44.44 km/h).
For now, the Cheetah machine is tethered to an external power supply, and runs on an indoor treadmill. Next year, however, a new "Wildcat" robot will be developed that can run outdoors untethered:-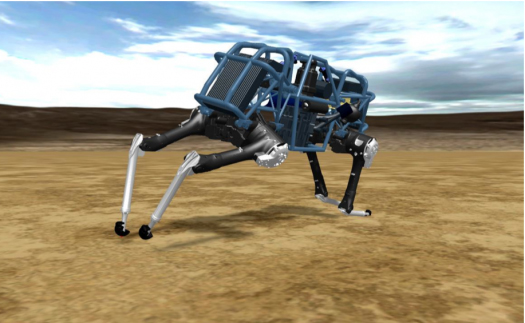 WildCat. Credit: Boston Dynamics / DARPA