14th July 2017
Luxembourg becomes the first European country to pass space mining law
Luxembourg yesterday passed a draft law on the exploration and use of space resources. The Grand Duchy is thus the first European country to offer a legal framework ensuring that private operators can be confident about their rights on resources they extract in space.
The new law – approved by a majority of 55 votes against two – will come into force on 1st August 2017. Its first article provides that space resources are capable of being owned. It also establishes the procedures for authorising and supervising space exploration missions.
This legal and regulatory framework is a key part of the SpaceResources.lu initiative, whose goal is to support the long-term economic development of new, innovative activities in the space industry. Within this strategy, Luxembourg has already begun to support research and development projects of leading players in the space mining industry that have set up their European operations in Luxembourg. For example, US firms Deep Space Industries and Planetary Resources both have subsidiaries there now; the latter finalised a 25 million euro agreement last year to accelerate the company's technical advancements, with the aim of launching a first commercial asteroid mission by 2020.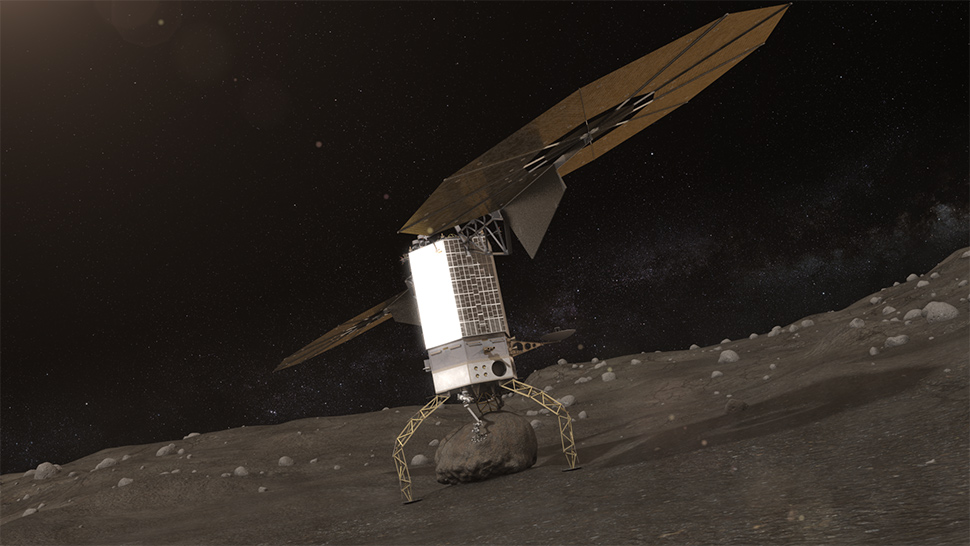 It is hoped that the SpaceResources.lu initiative can build on the experience Luxembourg has gained in sectors that are closely related to space mining, and in particular on its strong track record in the satellite sector. In 1985, a public-private partnership effort launched Société Européenne des Satellites, today known as the largest global satellite operator SES with its headquarters in Luxembourg. This now controls more than 50 satellites.
Deputy Prime Minister, Étienne Schneider, said: "Luxembourg is the first adopter in Europe of a legal and regulatory framework recognising that space resources are capable of being owned by private companies. The Grand Duchy thus reinforces its position as a European hub for the exploration and use of space resources. The legal framework is part of the expertise ecosystem and the business-friendly, innovation-nurturing environment that Luxembourg is offering to space industry companies. By adopting almost unanimously the respective draft law, the Luxembourg Parliament confirmed the strong political cross-party and national commitment to the SpaceResources.lu initiative."
"Luxembourg continues to be a strong partner and a global leader," said Chris Lewicki, Planetary Resources CEO. "They are genuinely forward thinking, have a proven record in the satellite industry, and are making their mark on the space mining industry. The passage of this law is further proof of that."
Alongside steps taken on the national level within the SpaceResources.lu initiative, Luxembourg continues to promote international cooperation in order to make progress on a future governance scheme and a global regulatory framework for space mining. In line with this, the Grand Duchy recently signed a joint statement with the European Space Agency (ESA) on future activities concerning missions to asteroids, related technologies and space resources exploration and utilisation. Luxembourg and the ESA agreed on the opportunity to further study technical and scientific aspects of space resources.
In April, a report by Goldman Sachs revealed that asteroid mining is "more realistic than perceived" – thanks to the falling costs of access to space – and is likely to bring enormous rewards to companies able to develop the necessary technologies for extraction. A single 500-metre-wide asteroid could contain nearly 175 times the global output of platinum.
---
• Follow us on Twitter
• Follow us on Facebook
• Subscribe to us on YouTube
1st July 2017
Climate change will increase inequality in the USA
Unmitigated climate change will exacerbate inequality in the USA, with southern states losing up to 20% of their income by century's end.
Unmitigated climate change will make the USA poorer and more unequal, according to a study published yesterday in the journal Science. The poorest third of counties could sustain economic damage costing as much as 20 percent of their income if warming proceeds unabated.
States in the South and lower Midwest, which tend to be poor and hot already, will lose the most, with economic opportunity traveling northward and westward. Colder and richer counties along the northern border and in the Rockies could benefit the most as health, agriculture and energy costs are projected to improve.
Overall, the study – led by Solomon Hsiang of the University of California, Berkeley, Robert Kopp of Rutgers University-New Brunswick, Amir Jina of the University of Chicago, and James Rising, also of UC Berkeley – projects losses, economic restructuring and widening inequality.
"Unmitigated climate change will be very expensive for huge regions of the United States," said Hsiang. "If we continue on the current path, our analysis indicates it may result in the largest transfer of wealth from the poor to the rich in the country's history."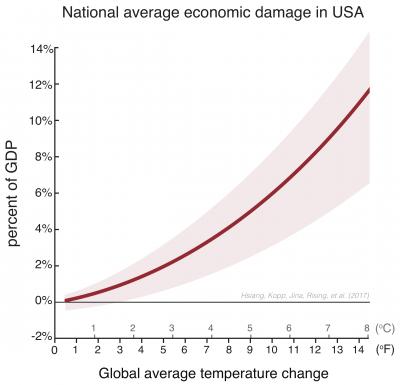 The pioneering study used state-of-the-art statistical methods and 116 climate projections developed by scientists around the world to price the impacts of climate change the way the insurance industry or an investor would – comparing risks and rewards. A team of economists and climate scientists computed the real-world costs and benefits: how agriculture, crime, health, energy demand, labour and coastal communities are likely to be affected by higher temperatures, changing rainfall, rising seas and intensifying hurricanes.
"In the absence of major efforts to reduce emissions and strengthen resilience, the Gulf Coast will take a massive hit," said Kopp, a professor of Earth and Planetary Sciences at Rutgers. "Its exposure to sea-level rise, made worse by potentially stronger hurricanes, poses a major risk to its communities. Increasingly extreme heat will drive up violent crime, slow down workers, amp up air-conditioning costs, and threaten people's lives."
By 2100, economic damage in the poorest regions could be "many times larger" than the Great Recession and be permanent, according to the study, based on a projected rise of 3-5°C (6-10°F) above pre-industrial temperatures.
"The 'hidden costs' of carbon dioxide emissions are no longer hidden, since now we can see them clearly in the data," said Jina, a postdoctoral scholar in the department of economics at the University of Chicago. "The emissions coming out of our cars and power plants are reshaping the American economy. Here in the Midwest, we may see agricultural losses similar to the Dustbowl of the 1930s."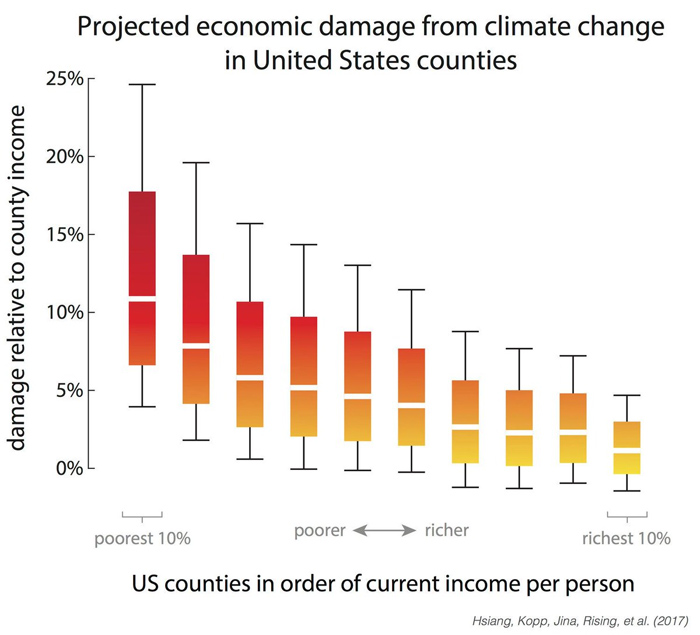 The study is the first of its kind to price warming using data and evidence accumulated by the research community over decades. From this data, the team estimates that for each one degree Fahrenheit (0.55°C) increase in global temperatures, the U.S. economy loses about 0.7 percent of Gross Domestic Product, with each degree of warming costing more than the last. This metric can help the country manage climate change as it does other systematic economic risks – for example, the way the Federal Reserve uses interest rates to manage the risk of recession.
"We could not have done this study without the ongoing revolution in big data and computing," said Rising, a Postdoctoral Fellow at UC Berkeley, describing the 29,000 simulations of the economy run for the project. "For the first time in history, we can use these tools to peer ahead into the future. We are making decisions today about the kinds of lives we and our children want to lead. Had the computing revolution come twenty years later, we wouldn't be able to see the economic hole we're digging for ourselves."
---
• Follow us on Twitter
• Follow us on Facebook
• Subscribe to us on YouTube
27th June 2017
World population forecast to reach 9.8 billion in 2050, and 11.2 billion in 2100
The current world population of 7.6 billion is expected to reach 8.6 billion in 2030, 9.8 billion in 2050 and 11.2 billion in 2100, according to the latest population forecast released by the United Nations (UN). With around 83 million people being added to the world's population annually – equivalent to the entire population of Germany – the upward trend is expected to continue well into the future, even as fertility levels decline.
World Population Prospects: The 2017 Revision, published by the UN Department of Economic and Social Affairs, provides a comprehensive review of global demographic trends and prospects for the long term. The information it contains will guide policies aimed at achieving the Sustainable Development Goals for 2030 and beyond.
The new projections include some notable findings at the country level. China (with 1.4 billion inhabitants) and India (1.3 billion inhabitants) remain the two most populous countries, comprising 19 and 18% of the total global population. In roughly seven years, or around 2024, the population of India is expected to surpass that of China.
Among the ten largest countries worldwide, Nigeria is growing the most rapidly. Consequently, its population, currently the 7th largest, is projected to surpass that of the United States and become the third largest country in the world shortly before 2050.
From 2017 to 2050, it is predicted that half of the world's population growth will be concentrated in just nine countries: India, Nigeria, the Democratic Republic of the Congo, Pakistan, Ethiopia, the United Republic of Tanzania, the United States of America, Uganda and Indonesia (ordered by their expected contribution to total growth).
The group of 47 least developed countries (LDCs) continues to have a relatively high level of fertility, which stood at 4.3 births per woman in 2010-2015. As a result, the population of these countries has been growing rapidly, at around 2.4% per year. Although this rate of increase is expected to slow significantly over the coming decades, the combined population of the LDCs, roughly one billion in 2017, is projected to increase by 33% between 2017 and 2030, and to reach about 1.9 billion by 2050.
Similarly, Africa continues to experience high rates of population growth. Between 2017 and 2050, the populations of 26 African countries are projected to expand to at least double their current size.
The concentration of global population growth in the poorest countries presents a considerable challenge to governments in implementing the 2030 Agenda for Sustainable Development, which seeks to end poverty and hunger, expand and update health and education systems, achieve gender equality and women's empowerment, reduce inequality and ensure that no one is left behind.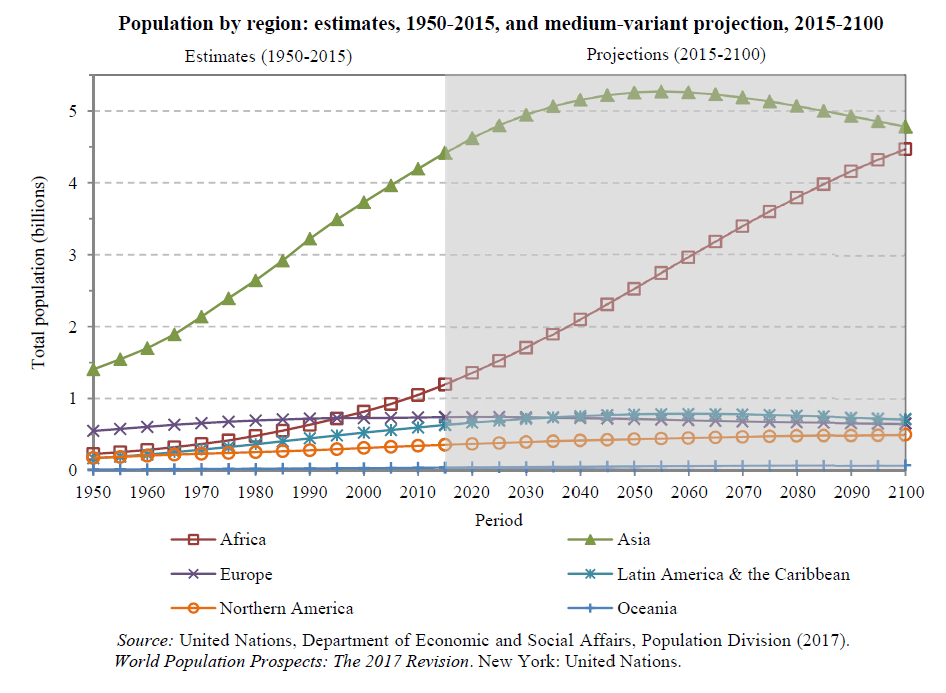 In recent years, fertility has declined in nearly all regions of the world. Even in Africa – where fertility levels are the highest of any region – total fertility has fallen from 5.1 births per woman in 2000-2005 to 4.7 in 2010-2015.
Europe has been an exception to this trend in recent years, with total fertility increasing from 1.4 births per woman in 2000-2005 to 1.6 in 2010-2015.
More and more countries now have fertility rates below the level required for the replacement of successive generations (roughly 2.1 births per woman), and some have been in this situation for several decades. During 2010-2015, fertility was below the replacement level in 83 countries comprising 46% of the world's population. The ten most populous countries in this group are China, the United States of America, Brazil, the Russian Federation, Japan, Vietnam, Germany, Iran, Thailand, and the United Kingdom (in order of population size).
The report highlights that a drop in the fertility level results not only in a slower population growth, but also in an older population. Compared to 2017, the number of persons aged 60 or above is expected to more than double by 2050 and more than triple by 2100, rising from 962 million globally today to 2.1 billion in 2050 and 3.1 billion in 2100.
In Europe, 25% of the population is already aged 60 years or over. That proportion is projected to reach 35% in 2050 and to remain around that level in the second half of the century. Populations in other regions are also projected to age significantly over the next several decades and through 2100. Africa, which has the youngest age distribution of any region, is projected to experience a rapid aging of its population. Although the African population will remain relatively young for several more decades, the percentage of its population aged 60 or over is expected to rise from 5% in 2017 to around 9% in 2050, and then to nearly 20% by the end of the century.
Globally, the number of persons aged 80 or over is projected to triple by 2050, from 137 million to 425 million. By 2100, that figure is expected to increase to 909 million, nearly seven times its value today.
Aging populations are expected to have a profound effect on societies, underscoring the fiscal and political pressures that health care, old-age pension and social protection systems of many countries are likely to face in the coming decades.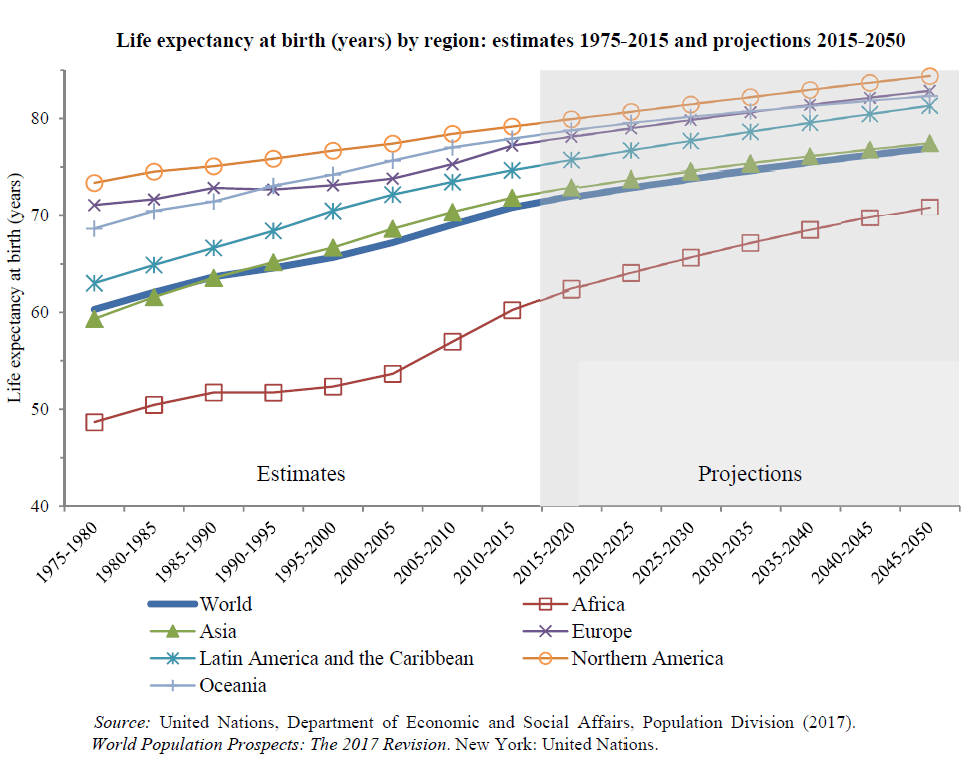 Substantial improvements in life expectancy have occurred in recent years. Globally, life expectancy at birth has risen from 65 years for men and 69 years for women in 2000-2005, to 69 years for men and 73 years for women in 2010-2015. Nevertheless, large disparities across countries remain.
Although all regions shared in the recent rise of life expectancy, the greatest gains were for Africa, where life expectancy rose by 6.6 years between 2000-2005 and 2010-2015 after rising by less than 2 years over the previous decade.
The gap in life expectancy at birth between the least developed countries and other developing countries narrowed from 11 years in 2000-2005 to 8 years in 2010-2015. Although differences in life expectancy across regions and income groups are projected to persist in future years, such differences are expected to diminish significantly by 2045-2050.
The increased level and reduced variability in life expectancy have been due to many factors, including a lower under-five mortality rate, which fell by more than 30% in 89 countries between 2000-2005 and 2010-2015. Other factors include continuing reductions in fatalities due to HIV/AIDS and progress in combating other infectious as well as non-communicable diseases.
There continue to be large movements of migrants between regions, often from low- and middle-income countries toward high-income countries. However, the volume of the net inflow of migrants to high-income countries in 2010-2015 (3.2 million per year) represented a decline from a peak attained in 2005-2010 (about 4.5 million per year). Although migration at or around current levels will be insufficient to compensate fully for the expected loss of population tied to lower levels of fertility, especially in Europe, movement of people between countries can help attenuate some of the adverse effects of population aging.
The report observes that the Syrian refugee crisis has had a major impact on levels and patterns of international migration in recent years, affecting several countries. The estimated net outflow from the Syrian Arab Republic was 4.2 million persons in 2010-2015. Most of these refugees went to Syria's neighbouring countries, contributing to a substantial increase in the net inflow of migrants especially to Turkey, Lebanon and Jordan.
---
• Follow us on Twitter
• Follow us on Facebook
• Subscribe to us on YouTube
10th June 2017
Record-breaking year for renewable energy
As the price of installation continues to fall, renewable power has set another new record, with 161 gigawatts (GW) being added in 2016 – increasing total global capacity to more than 2 terawatts (TW).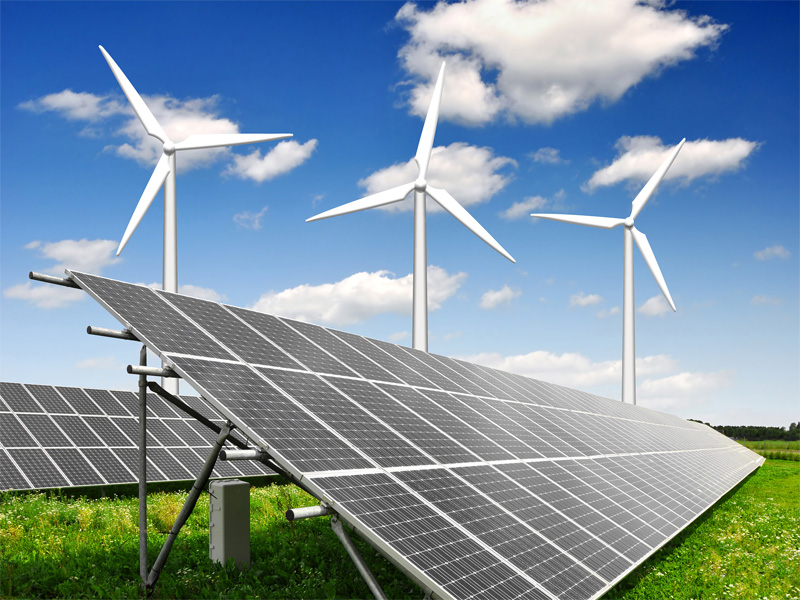 Renewable Energy Policy Network for the 21st Century (REN21) this week published its Renewables 2017 Global Status Report (GSR), the most comprehensive annual overview of the state of renewable energy.
The report finds that additions of installed renewable power capacity set new records in 2016, with 161 gigawatts (GW) added, increasing total global capacity by almost 9% over 2015, to nearly 2,017 GW. Solar PV accounted for about 47% of capacity added, followed by wind power at 34% and hydropower at 16%.
In a growing number of countries, renewables are becoming the least cost option. Recent deals in Denmark, Egypt, India, Mexico, Peru and the UAE saw renewable electricity being supplied at $0.05 per kilowatt-hour or less. This is well below equivalent costs for fossil fuel and nuclear generating capacity in each of these countries. Auctions are increasingly able to rely only on the wholesale price of power, without the need for government subsidies.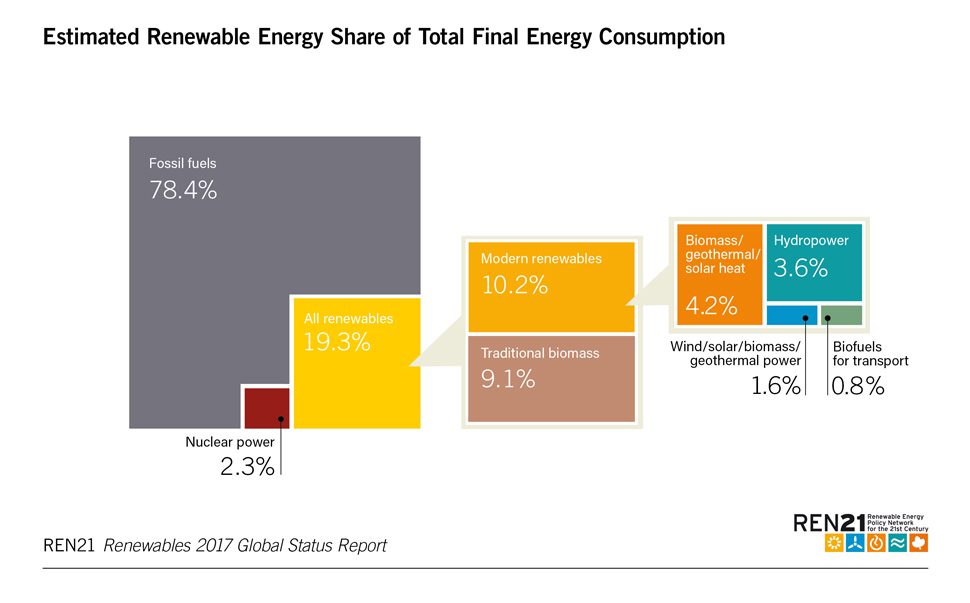 The inherent need for "baseload" is a myth, according to the report. Integrating large shares of variable renewable generation can be done without fossil fuel and nuclear baseload with sufficient flexibility in the power system – through grid interconnections, sector coupling and enabling technologies such as ICT, storage systems, electric vehicles and heat pumps. This sort of flexibility not only balances variable generation, it also optimises the system and reduces generation costs overall. It should come as no surprise, therefore, that the number of countries successfully managing peaks approaching or exceeding 100% electricity generation from renewable sources is on the rise. In 2016, Denmark and Germany, for example, successfully managed peaks of renewables-based electricity of 140% and 86.3%, respectively.
Global CO2 emissions from fossil fuels and industry remained stable for a third year in a row, despite 3% growth in the global economy and an increased demand for energy. This can be attributed mainly to the decline of coal, but also to the rapid growth in renewable energy capacity and improvements in energy efficiency.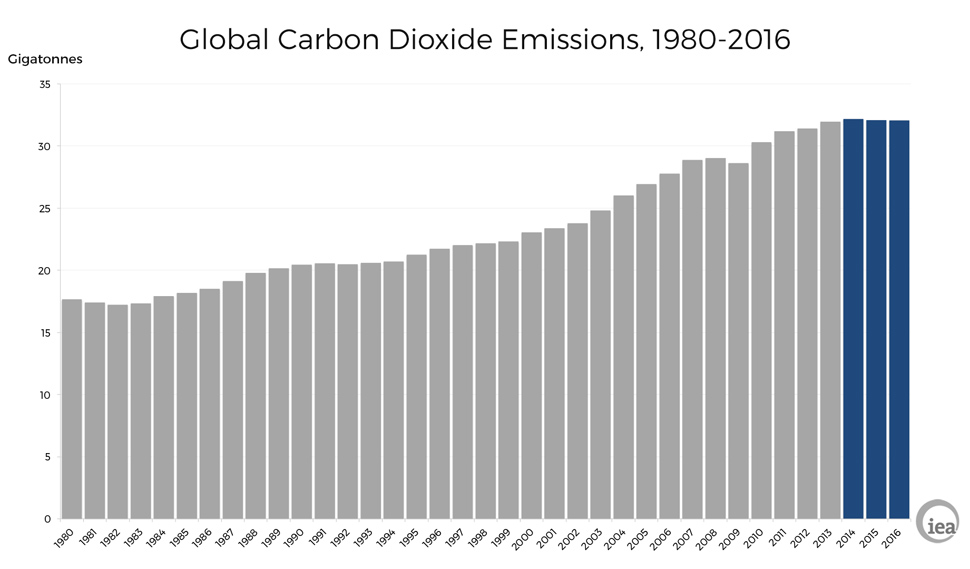 Other positive trends include:
• Innovations and breakthroughs in storage technology, which increasingly provide additional flexibility to the power system. In 2016, around 0.8 GW of new advanced energy storage became operational, bringing the year-end total to 6.4 GW. As shown in the graph below, grid-connected battery storage grew by 50% to over 1.7 GW.

• Markets for mini-grids and stand-alone systems are evolving rapidly, and Pay-As-You-Go (PAYG) business models, supported by mobile technology, are now exploding. In 2012, investments in PAYG solar companies amounted to only $3 million; by 2016 that figure had risen to over $223 million (up from $158 million during 2015).
"The world is now adding more renewable power capacity each year than it adds in new capacity from all fossil fuels combined," says Arthouros Zervos, Chair of the REN21. "One of the most important findings of this year's GSR, is that holistic, systemic approaches are key and should become the rule rather than the exception. As the share of renewables grows, we will need investment in infrastructure as well as a comprehensive set of tools: integrated and interconnected transmission and distribution networks, measures to balance supply and demand, sector coupling (for example the integration of power and transport networks); and deployment of a wide range of enabling technologies."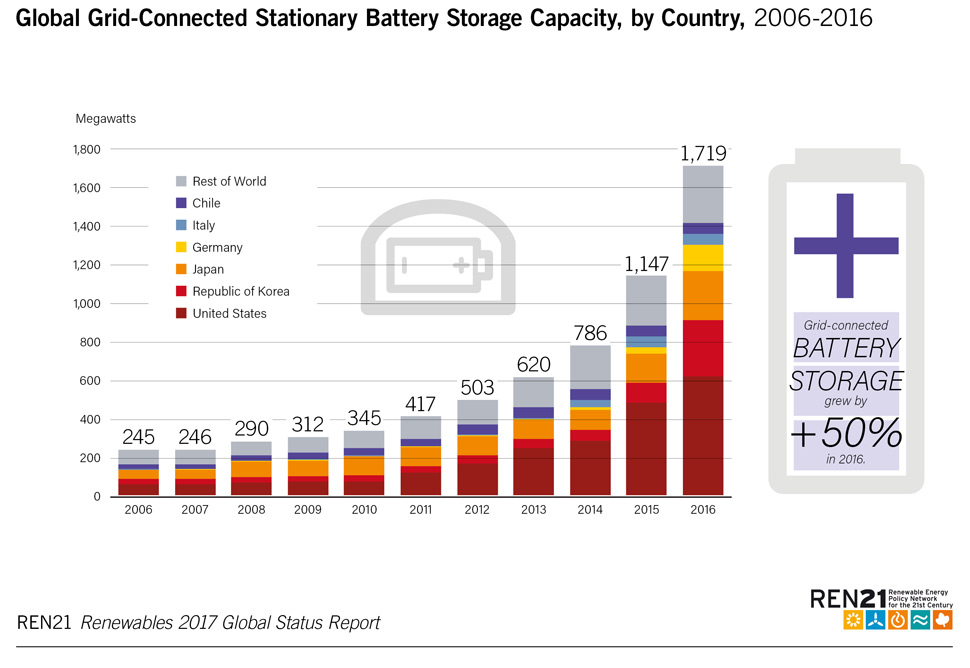 Despite these encouraging trends, however, the energy transition is not happening fast enough. To achieve the goals of the Paris Agreement, an even greater acceleration of clean tech will be required. Investment continues to be heavily focused on wind and solar PV – however, all renewable energy technologies need to be deployed in order to keep global warming below 2°C.
Transport, heating and cooling sectors continue to lag behind the power sector. The deployment of renewable technologies in the heating and cooling sector remains a challenge in light of the unique and distributed nature of this market. Renewables-based decarbonisation of the transport sector is not yet being seriously considered, or seen as a priority. Despite a significant expansion in the sales of electric vehicles, primarily due to the declining cost of battery technology, much more needs to be done to ensure that sufficient infrastructure is in place and that they are powered by renewable electricity. While the shipping and aviation sectors present the greatest challenges, government policies or commercial disruption have not sufficiently stimulated the development of solutions.
Fossil fuel subsidies continue to impede progress. Globally, subsidies for fossil fuels and nuclear power continue to dramatically exceed those for renewable technologies. By the end of 2016, more than 50 countries had committed to phasing out fossil fuel subsidies, and some reforms have occurred – but not enough. The ratio of fossil fuel subsidies to renewable energy subsidies is 4:1. For every $1 spent on renewables, governments spend $4 perpetuating our dependence on fossil fuels.
Christine Lins, Executive Secretary of REN21, explains: "The world is in a race against time. The single most important thing we could do to reduce CO2 emissions quickly and cost-effectively, is phase-out coal and speed up investments in energy efficiency and renewables. When China announced in January that it was cancelling over 100 coal plants currently in development, they set an example for governments everywhere: change happens quickly when governments act by establishing clear, long-term policy and financial signals and incentives."
---
• Follow us on Twitter
• Follow us on Facebook
• Subscribe to us on YouTube
30th May 2017
World's first autonomous and zero emissions container ship to launch by 2020
The vessel "YARA Birkeland" will be the world's first fully electric and autonomous container ship, with zero emissions. Operation is planned to start in Norway during the latter half of 2018, with fully autonomous journeys from 2020.
"YARA Birkeland" will be the world's most advanced container feeder ship – integrating sensor, control, communications and power into a fully autonomous and 100% electric system.
Named after the company YARA's founder – the scientist and innovator Kristian Birkeland – it will be the world's first fully electric container feeder, reducing NOx and CO2 emissions and improving road safety by removing the need for up to 40,000 truck journeys in populated urban areas.
YARA Birkeland will initially operate as a manned vessel, shifting to remote operations in 2019 and performing fully autonomous operations from 2020. This new zero-emission ship could be a game-changer for global maritime transport, helping to meet the UN sustainability goals for 2030 and beyond. Shipping is currently responsible for 2.5% of global human-made CO2 emissions, but this could rise to 17% by 2050 if no action is taken. There are now over 100,000 transport ships at sea, of which about 6,000 are large container ships.
"As a leading global fertiliser company with a mission to feed the world and protect the planet, investing in this zero emission vessel to transport our crop nutrition solutions fits our strategy well. We are proud to work with KONGSBERG to realise the world's first autonomous, all-electric vessel to enter commercial operation," says Svein Tore Holsether, President and CEO of YARA.
"Every day, more than 100 diesel truck journeys are needed to transport products from YARA's Porsgrunn plant to ports in Brevik and Larvik where we ship products to customers around the world. With this new autonomous battery-driven container vessel, we move transport from road to sea and thereby reduce noise and dust emissions, improve the safety of local roads, and reduce NOx and CO2 emissions," says Holsether.
KONGSBERG is responsible for development and delivery of all key enabling technologies on the YARA Birkeland, including the sensors and integration required for remote and autonomous operations, in addition to the electric drive, battery and propulsion control systems.
"By moving container transport from land to sea, YARA Birkeland is the start of a major contribution to fulfilling national and international environmental impact goals. The new concept is also a giant step forward towards increased seaborne transportation in general," says Geir Håøy, CEO of KONGSBERG.
As a leading global maritime technology company, KONGSBERG's integrated control and monitoring systems are already capable of facilitating remote and unmanned operations. YARA Birkeland will benefit from competence and new technologies developed across KONGSBERG. In addition to being autonomous and fully electric, it will also be ballast-free, to further reduce its impact on the marine environment. This lack of water discharge will help in preventing the spread of non-native, nuisance, or exotic species of plants, animals, viruses and bacteria, which can often cause extensive ecological and economic damage.
"Developing systems for autonomous operations is a major opening and natural step for KONGSBERG, considering our decades of expertise in the development and integration of advanced sensors, control and communication systems for all areas of ship operations," says Håøy. "YARA Birkeland will set the benchmark for the application of innovative maritime technology for more efficient and environmentally friendly shipping."
---
• Follow us on Twitter
• Follow us on Facebook
• Subscribe to us on YouTube
20th May 2017
Solar power is now cheaper than coal in India
The price of clean energy continues to plummet. In India, electricity from solar is now cheaper than electricity from coal.
At a recent auction held in Rajasthan, northern India, clean energy supplier Phelan Energy and Aaada Power offered to charge just 2.62 rupees per kilowatt-hour (kWh) of solar-generated electricity. That is well below a previous record low bid of 3.15 rupees per kWh, set last month, and far below the 4.34 rupees per kWh offered last year. For comparison, the average charged by India's largest coal firm is currently around 3.20 rupees per kWh.
In recent years, the writing has been on the wall for the coal industry. In May 2014, the Institute for Energy Economics and Financial Analysis (IEEFA) warned that international coal projects relying on imports to India – such as Australia's Galilee Basin – faced major financial risks. Meanwhile, a draft report was issued by India's electricity agency in December last year, predicting that the country was unlikely to need any new coal plants for at least the next decade besides those already in the pipeline. The 50 GW of coal projects being planned would be "largely stranded" under the forecast.
In related news, a 4,000 MW coal "ultra-mega power project" (UMPP) planned for Gujarat, India's westernmost state, has been scrapped this month: "Our focus is now on renewable energy," said energy minister Chimanbhai Sapariya. "The government will encourage solar power."
Like many countries around the world, the cumulative capacity of India's solar grid is following an exponential curve, as costs continue to plummet and technology improves – from 2.65 GW in May 2014, to 6.7 GW in March 2016 and 12.28 GW in April 2017. The Indian government believes that 57% of its electricity capacity will come from non-fossil fuels by 2027. The Paris climate accord target is 40% by 2030. In that same timeframe, it is also hoped that every new car will be an electric car.
In addition to its large-scale, grid-connected solar PV initiatives, India is developing off-grid solar power for local energy needs. The country has a poor rural electrification rate – in 2015, only 55% of all rural households had access to electricity. Solar products are increasingly helping to meet rural needs and reducing the demand for kerosene.
Last year, Prime Minister Modi laid the foundation stone for the headquarters of the International Solar Alliance (ISA) in Gurgaon, just outside New Delhi. This will focus on promoting and developing solar for countries between the Tropic of Cancer and Tropic of Capricorn, reducing the costs and increasing the deployment of these technologies to poor and remote regions. India is particularly well-placed for solar energy with its high solar irradiance.
Alan Fotheringham, a director from energy services company Wood Group, commenting on the auction bid in Rajasthan province, said that India was "demonstrating that when the conditions allow, it is possible to move very quickly to transition the energy mix."
"We have seen strong and steady growth of the solar energy market in India," he said, explaining that it has become "one of the largest and strongest markets. With a huge population and a huge demand for energy, growing investments and political willingness, all the ingredients are there for the transition to happen."
The picture is similar in China, where coal production has been in a downward spiral for several years now, with major efforts being undertaken to accelerate the switch to clean tech. Some Chinese provinces and cities are on a path to reach peak emissions as early as 2020.
Meanwhile, in the USA, President Trump is taking a wrecking ball to most of the progress achieved by his predecessor – gutting the EPA and its power to regulate the fossil fuel industry, scrapping fuel efficiency standards, and withdrawing protections for many areas of land, in order to ramp-up the use of coal, oil and gas. Currently, it is not yet known whether Trump will officially withdraw the USA from the Paris treaty, but he has repeatedly stated his objection to it, his intention to cancel all funding for climate-related efforts, and his denial of the basic science.
---
• Follow us on Twitter
• Follow us on Facebook
• Subscribe to us on YouTube
8th May 2017
Nearly half of jobs in Scotland at risk of automation by 2030
Urgent reform is needed to deal with the rapid rise of automation, a leading Scottish think-tank has said.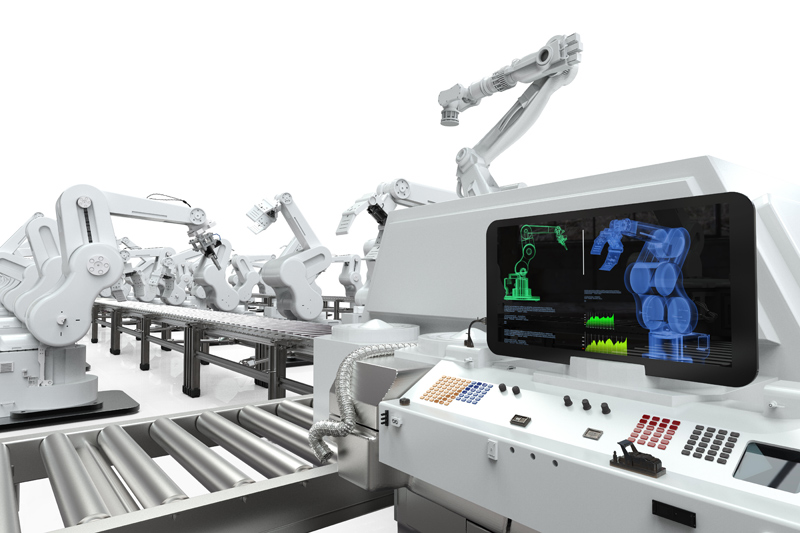 Urgent reform is needed to deal with the rapid rise of automation, which threatens nearly half of Scottish jobs by 2030, a leading think-tank has said. The stark warning comes in a new report published by the Institute for Public Policy Research (IPPR) in Scotland, a leading progressive think tank, and supported by the JPMorgan Chase Foundation.
The report, Scotland's Skills 2030, outlines the need to reskill Scotland's workforce for the world of work in the coming decades. With greater numbers of workers working for longer, due to demographic change, and in multiple jobs, multiple careers and for multiple employers, due to technological change, Scotland will need to retrofit the workforce with the skills required to compete in the future.
There are 2.5m working age adults today (78%) that have left compulsory education, that will still be of the working age by 2030, the study notes – adding they are likely to experience significant changes to the economy over this time, and will need support to learn new skills, retrain and upskill.
Meanwhile, just under half (46.1%) of jobs in Scotland, about 1.2m jobs, are at "high risk" of automation over the next couple of decades. The sectors most likely to be affected are transport, manufacturing and retail, the report states. This brings the need for a skills system that is able to work with people in jobs, throughout their careers, rather than solely at the start or before their careers have begun, the researchers warn.
Scotland has a clear gap in training and learning for people who have already started their careers, with a greater focus on younger people, and full-time provision in recent years. Employers are not plugging this gap, and too often pursue a low-skill business model. IPPR Scotland is calling for a new mid-career learning route, called the Open Institute of Technology, to sit alongside apprenticeships and further education, to help train the current workforce to be ready for the future challenges Scotland's economy faces, the report concludes.
Russell Gunson, Director of IPPR Scotland, said: "There are more than 2.5 million people already in the workforce today that will still be working by 2030. There are also 1.2m jobs in Scotland at risk of automation over the same time. Scotland urgently needs to design a skills system better able to work with people already into their careers to help them to retrain, reskill and respond to world of work of 2030.
"Scotland has a really strong record on skills in many ways, and in this report we find that Scotland is the highest skilled nation in the UK. However, our system has a clear gap in that we don't have enough provision for people who have already started their careers, and employers are not investing to fill this gap. To respond to the huge changes facing Scotland around demographic, technological and climate change – and of course Brexit – we're going to have to focus on retrofitting the current workforce to provide them with the skills they need, to deliver the inclusive economic growth we wish to see.
"Our report makes a number of recommendations to help Scotland plot a path through these challenges, to reform the skills system in Scotland, to help to secure an economy that delivers fairness and reduces inequality. Without reform of the skills system we could see changes to the economy harm whole sections of population, and whole communities, leaving many behind."
---
• Follow us on Twitter
• Follow us on Facebook
• Subscribe to us on YouTube