27th June 2017
World population forecast to reach 9.8 billion in 2050, and 11.2 billion in 2100
The current world population of 7.6 billion is expected to reach 8.6 billion in 2030, 9.8 billion in 2050 and 11.2 billion in 2100, according to the latest population forecast released by the United Nations (UN). With around 83 million people being added to the world's population annually – equivalent to the entire population of Germany – the upward trend is expected to continue well into the future, even as fertility levels decline.
World Population Prospects: The 2017 Revision, published by the UN Department of Economic and Social Affairs, provides a comprehensive review of global demographic trends and prospects for the long term. The information it contains will guide policies aimed at achieving the Sustainable Development Goals for 2030 and beyond.
The new projections include some notable findings at the country level. China (with 1.4 billion inhabitants) and India (1.3 billion inhabitants) remain the two most populous countries, comprising 19 and 18% of the total global population. In roughly seven years, or around 2024, the population of India is expected to surpass that of China.
Among the ten largest countries worldwide, Nigeria is growing the most rapidly. Consequently, its population, currently the 7th largest, is projected to surpass that of the United States and become the third largest country in the world shortly before 2050.
From 2017 to 2050, it is predicted that half of the world's population growth will be concentrated in just nine countries: India, Nigeria, the Democratic Republic of the Congo, Pakistan, Ethiopia, the United Republic of Tanzania, the United States of America, Uganda and Indonesia (ordered by their expected contribution to total growth).
The group of 47 least developed countries (LDCs) continues to have a relatively high level of fertility, which stood at 4.3 births per woman in 2010-2015. As a result, the population of these countries has been growing rapidly, at around 2.4% per year. Although this rate of increase is expected to slow significantly over the coming decades, the combined population of the LDCs, roughly one billion in 2017, is projected to increase by 33% between 2017 and 2030, and to reach about 1.9 billion by 2050.
Similarly, Africa continues to experience high rates of population growth. Between 2017 and 2050, the populations of 26 African countries are projected to expand to at least double their current size.
The concentration of global population growth in the poorest countries presents a considerable challenge to governments in implementing the 2030 Agenda for Sustainable Development, which seeks to end poverty and hunger, expand and update health and education systems, achieve gender equality and women's empowerment, reduce inequality and ensure that no one is left behind.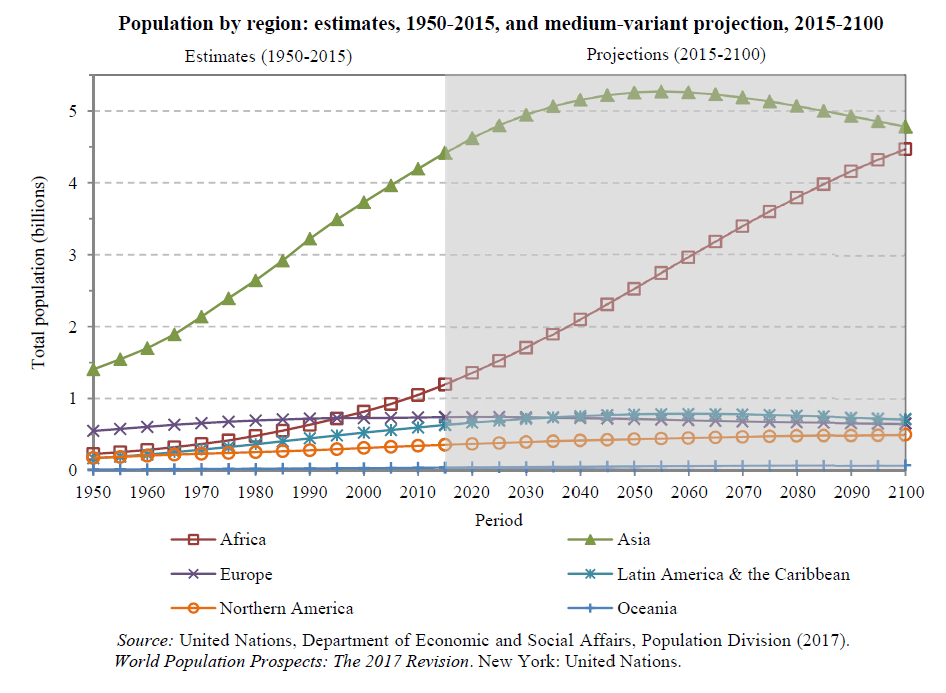 In recent years, fertility has declined in nearly all regions of the world. Even in Africa – where fertility levels are the highest of any region – total fertility has fallen from 5.1 births per woman in 2000-2005 to 4.7 in 2010-2015.
Europe has been an exception to this trend in recent years, with total fertility increasing from 1.4 births per woman in 2000-2005 to 1.6 in 2010-2015.
More and more countries now have fertility rates below the level required for the replacement of successive generations (roughly 2.1 births per woman), and some have been in this situation for several decades. During 2010-2015, fertility was below the replacement level in 83 countries comprising 46% of the world's population. The ten most populous countries in this group are China, the United States of America, Brazil, the Russian Federation, Japan, Vietnam, Germany, Iran, Thailand, and the United Kingdom (in order of population size).
The report highlights that a drop in the fertility level results not only in a slower population growth, but also in an older population. Compared to 2017, the number of persons aged 60 or above is expected to more than double by 2050 and more than triple by 2100, rising from 962 million globally today to 2.1 billion in 2050 and 3.1 billion in 2100.
In Europe, 25% of the population is already aged 60 years or over. That proportion is projected to reach 35% in 2050 and to remain around that level in the second half of the century. Populations in other regions are also projected to age significantly over the next several decades and through 2100. Africa, which has the youngest age distribution of any region, is projected to experience a rapid aging of its population. Although the African population will remain relatively young for several more decades, the percentage of its population aged 60 or over is expected to rise from 5% in 2017 to around 9% in 2050, and then to nearly 20% by the end of the century.
Globally, the number of persons aged 80 or over is projected to triple by 2050, from 137 million to 425 million. By 2100, that figure is expected to increase to 909 million, nearly seven times its value today.
Aging populations are expected to have a profound effect on societies, underscoring the fiscal and political pressures that health care, old-age pension and social protection systems of many countries are likely to face in the coming decades.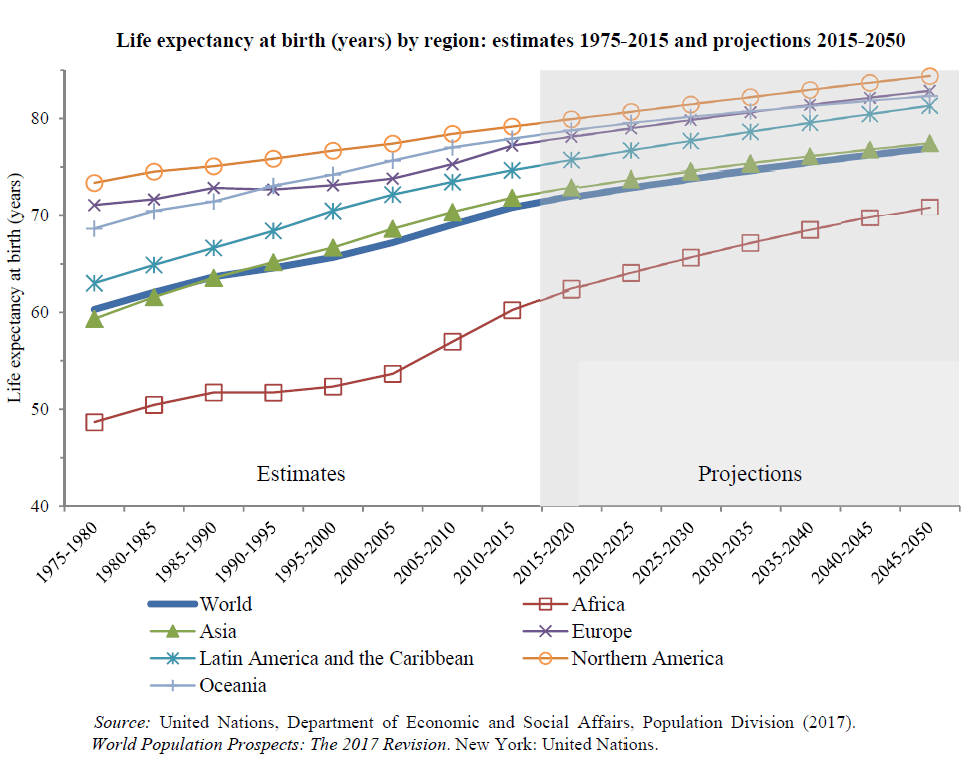 Substantial improvements in life expectancy have occurred in recent years. Globally, life expectancy at birth has risen from 65 years for men and 69 years for women in 2000-2005, to 69 years for men and 73 years for women in 2010-2015. Nevertheless, large disparities across countries remain.
Although all regions shared in the recent rise of life expectancy, the greatest gains were for Africa, where life expectancy rose by 6.6 years between 2000-2005 and 2010-2015 after rising by less than 2 years over the previous decade.
The gap in life expectancy at birth between the least developed countries and other developing countries narrowed from 11 years in 2000-2005 to 8 years in 2010-2015. Although differences in life expectancy across regions and income groups are projected to persist in future years, such differences are expected to diminish significantly by 2045-2050.
The increased level and reduced variability in life expectancy have been due to many factors, including a lower under-five mortality rate, which fell by more than 30% in 89 countries between 2000-2005 and 2010-2015. Other factors include continuing reductions in fatalities due to HIV/AIDS and progress in combating other infectious as well as non-communicable diseases.
There continue to be large movements of migrants between regions, often from low- and middle-income countries toward high-income countries. However, the volume of the net inflow of migrants to high-income countries in 2010-2015 (3.2 million per year) represented a decline from a peak attained in 2005-2010 (about 4.5 million per year). Although migration at or around current levels will be insufficient to compensate fully for the expected loss of population tied to lower levels of fertility, especially in Europe, movement of people between countries can help attenuate some of the adverse effects of population aging.
The report observes that the Syrian refugee crisis has had a major impact on levels and patterns of international migration in recent years, affecting several countries. The estimated net outflow from the Syrian Arab Republic was 4.2 million persons in 2010-2015. Most of these refugees went to Syria's neighbouring countries, contributing to a substantial increase in the net inflow of migrants especially to Turkey, Lebanon and Jordan.
---
• Follow us on Twitter
• Follow us on Facebook
• Subscribe to us on YouTube
8th May 2017
Nearly half of jobs in Scotland at risk of automation by 2030
Urgent reform is needed to deal with the rapid rise of automation, a leading Scottish think-tank has said.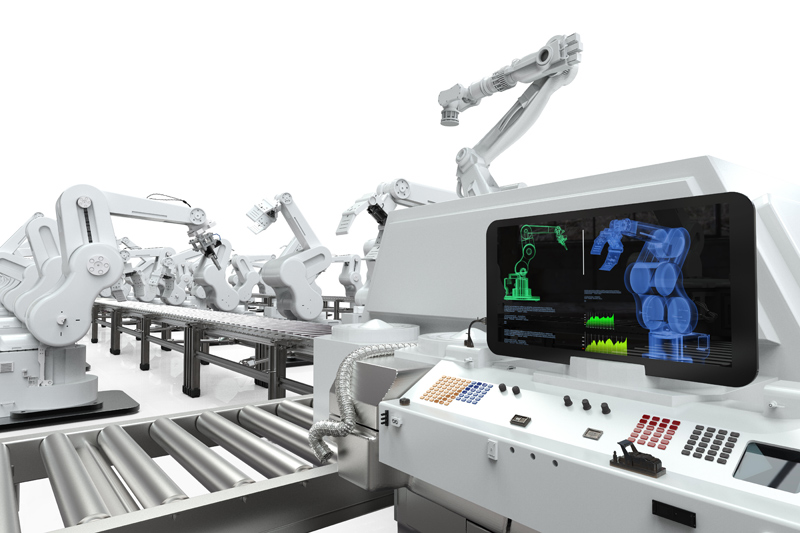 Urgent reform is needed to deal with the rapid rise of automation, which threatens nearly half of Scottish jobs by 2030, a leading think-tank has said. The stark warning comes in a new report published by the Institute for Public Policy Research (IPPR) in Scotland, a leading progressive think tank, and supported by the JPMorgan Chase Foundation.
The report, Scotland's Skills 2030, outlines the need to reskill Scotland's workforce for the world of work in the coming decades. With greater numbers of workers working for longer, due to demographic change, and in multiple jobs, multiple careers and for multiple employers, due to technological change, Scotland will need to retrofit the workforce with the skills required to compete in the future.
There are 2.5m working age adults today (78%) that have left compulsory education, that will still be of the working age by 2030, the study notes – adding they are likely to experience significant changes to the economy over this time, and will need support to learn new skills, retrain and upskill.
Meanwhile, just under half (46.1%) of jobs in Scotland, about 1.2m jobs, are at "high risk" of automation over the next couple of decades. The sectors most likely to be affected are transport, manufacturing and retail, the report states. This brings the need for a skills system that is able to work with people in jobs, throughout their careers, rather than solely at the start or before their careers have begun, the researchers warn.
Scotland has a clear gap in training and learning for people who have already started their careers, with a greater focus on younger people, and full-time provision in recent years. Employers are not plugging this gap, and too often pursue a low-skill business model. IPPR Scotland is calling for a new mid-career learning route, called the Open Institute of Technology, to sit alongside apprenticeships and further education, to help train the current workforce to be ready for the future challenges Scotland's economy faces, the report concludes.
Russell Gunson, Director of IPPR Scotland, said: "There are more than 2.5 million people already in the workforce today that will still be working by 2030. There are also 1.2m jobs in Scotland at risk of automation over the same time. Scotland urgently needs to design a skills system better able to work with people already into their careers to help them to retrain, reskill and respond to world of work of 2030.
"Scotland has a really strong record on skills in many ways, and in this report we find that Scotland is the highest skilled nation in the UK. However, our system has a clear gap in that we don't have enough provision for people who have already started their careers, and employers are not investing to fill this gap. To respond to the huge changes facing Scotland around demographic, technological and climate change – and of course Brexit – we're going to have to focus on retrofitting the current workforce to provide them with the skills they need, to deliver the inclusive economic growth we wish to see.
"Our report makes a number of recommendations to help Scotland plot a path through these challenges, to reform the skills system in Scotland, to help to secure an economy that delivers fairness and reduces inequality. Without reform of the skills system we could see changes to the economy harm whole sections of population, and whole communities, leaving many behind."
---
• Follow us on Twitter
• Follow us on Facebook
• Subscribe to us on YouTube
2nd May 2017
A neurotech future will require new human rights laws
New human rights laws are needed to prepare for advances in neurotechnology that may put the 'freedom of the mind' at risk, according to a paper from the Institute for Biomedical Ethics in Switzerland.
New human rights laws to prepare for advances in neurotechnology that may put the 'freedom of the mind' at risk have been proposed in the open access journal Life Sciences, Society and Policy. The authors of the study suggest four new human rights laws could emerge in the near future to protect against exploitation and loss of privacy. The four laws are:
1. The right to cognitive liberty
2. The right to mental privacy
3. The right to mental integrity, and
4. The right to psychological continuity.
Marcello Ienca, lead author and PhD student at the Institute for Biomedical Ethics at the University of Basel, said: "The mind is considered to be the last refuge of personal freedom and self-determination, but advances in neural engineering, brain imaging and neurotechnology put the freedom of the mind at risk. Our proposed laws would give people the right to refuse coercive and invasive neurotechnology, protect the privacy of data collected by neurotechnology, and protect the physical and psychological aspects of the mind from damage by the misuse of neurotechnology."
Advances in neurotechnology, such as sophisticated brain imaging and the development of brain-computer interfaces, have led to these technologies moving away from a clinical setting and into the consumer domain. While these advances may be beneficial for individuals and society, there is a risk that the technology could be misused and create unprecedented threats to personal freedom.
Professor Roberto Andorno, co-author of the research, explained: "Brain imaging technology has already reached a point where there is discussion over its legitimacy in criminal court; for example as a tool for assessing criminal responsibility or even the risk of reoffending. Consumer companies are using brain imaging for 'neuromarketing', to understand consumer behaviour and elicit desired responses from customers. There are also tools such as 'brain decoders' which can turn brain imaging data into images, text or sound. All of these could pose a threat to personal freedom, which we sought to address with the development of four new human rights laws."
The authors explain that as neurotechnology improves and becomes commonplace, there is a risk that the technology could be hacked, allowing a third-party to 'eavesdrop' on someone's mind. In the future, a brain-computer interface used to control consumer technology could put the user at risk of physical and psychological damage caused by a third-party attack on the technology. There are also ethical and legal concerns over the protection of data generated by these devices that need to be considered.
International human rights laws make no specific mention to neuroscience, although advances in biomedicine have become intertwined with laws, such as those concerning human genetic data. Similar to the historical trajectory of the genetic revolution, the authors state that the on-going neurorevolution will force a reconceptualisation of human rights laws and even the creation of new ones.
Marcello Ienca added: "Science fiction can teach us a lot about the potential threat of technology. Neurotechnology featured in famous stories has in some cases already become a reality, while others are inching ever closer, or exist as military and commercial prototypes. We need to be prepared to deal with the impact these technologies will have on our personal freedom."
---
• Follow us on Twitter
• Follow us on Facebook
22nd February 2017
Life expectancy to reach 90 for the first time
A study published by The Lancet shows that in many countries, average life expectancy will increase significantly by 2030, exceeding 90 for the first time in South Korea. This trend will be slower in the USA, however – due to obesity, homicides and lack of equal access to healthcare.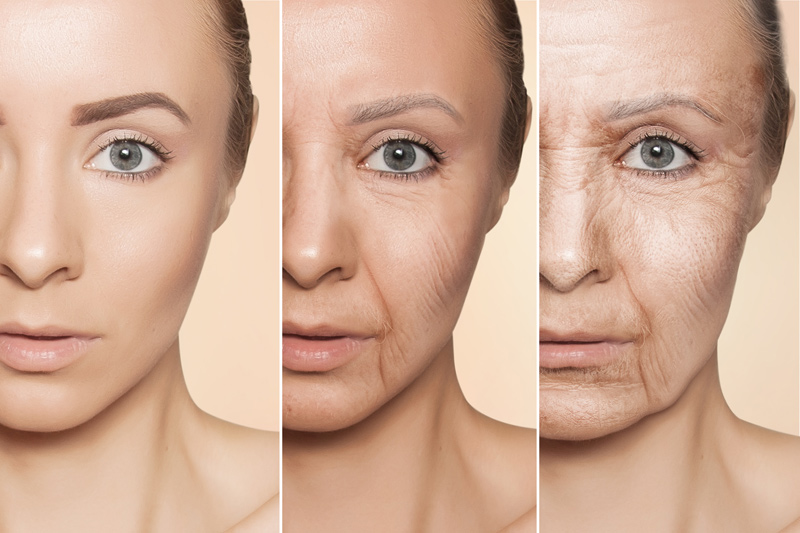 Life expectancies in developed countries are projected to continue increasing, with women's life expectancy surpassing 90 in South Korea by 2030, according to a study published in The Lancet.
The study predicts life expectancy is likely to be highest in South Korea (90.8), France (88.6) and Japan (88.4) for women, and in South Korea (84.1), Australia (84.0) and Switzerland (84.0) for men.
The researchers emphasise that people living longer will have major implications for health and social services. Countries will need to adapt and have policies to support healthy aging, increase investment in health and social care, and possibly change their retirement ages.
"As recently as the turn of the century, many researchers believed that life expectancy would never surpass 90 years," said Professor Majid Ezzati from Imperial College London, the study's lead author. "Our predictions of increasing lifespans highlight our public health and healthcare successes. However, it is important that policies to support the growing older population are in place. In particular, we will need to both strengthen our health and social care systems and to establish alternative models of care, such as technology-assisted home care."
Although life expectancy is predicted to increase for all 35 countries in the study, the extent of the increase varies from place to place. Comparing 2010 and 2030, female life expectancy will increase most in South Korea, Slovenia and Portugal (6.6, 4.7 and 4.4 years, respectively). For men, life expectancy will increase most in Hungary, South Korea and Slovenia (7.5, 7.0 and 6.4 years).
Life expectancy is predicted to increase least in Macedonia, Bulgaria, Japan and the USA (1.4, 1.5, 1.8 and 2.1 years) for women, and in Macedonia, Greece, Sweden and the USA (2.4, 2.7, 3.0 and 3.0 years) for men.
The USA is predicted to see relatively small improvements (from 81.2 in 2010, to 83.3 in 2030 for women; and 76.5 to 79.5 for men). Its life expectancy is already lower than most other high-income nations, and is expected to fall further behind in 2030 – mainly a result of its large inequalities, absence of universal health care and having the highest homicide rate, body mass index (BMI) and death rates for children and mothers of all high-income nations.
Conversely, South Korea's projected gains will be the result of continued improvements in economic status, improved nutrition for children, access to healthcare and medical technology across the whole population. This results in fewer deaths from infections and better prevention and treatment for chronic diseases, in a way that is more equitable than some Western countries.
The research also indicates that the gap in life expectancy between men and women is closing, as Professor Ezzati explains: "Men traditionally had unhealthier lifestyles, and so shorter life expectancies. They smoked and drank more, and had more road traffic accidents and homicides. However as lifestyles become more similar between men and women, so does their longevity."
"We repeatedly hear that improvements in human longevity are about to come to an end," he continues. "Many people used to believe that 90 years is the upper limit for life expectancy – but this research suggests we will break the 90 year barrier. I don't believe we're anywhere near the upper limit of life expectancy, if there even is one."
The researchers explain that the next step of their research will be to extend their model to specific diseases, as well as to all countries to provide more accurate predictions of life expectancy globally. They are careful to note that their study cannot take into account unprecedented events – such as revolutionary advances in medicine, the potentially disastrous effects of climate change, or political upheaval that may affect social and health systems.
---
• Follow us on Twitter
• Follow us on Facebook
9th February 2017
World economy predicted to double in size by 2042
A new report by PricewaterhouseCoopers (PwC) forecasts the global economic changes between now and 2050.
The long-term power shift away from the established advanced economies is set to continue over the period to 2050, as emerging market countries boost their share of world GDP in future decades, despite recent mixed performance in some of these economies.
This is one of the key findings from the latest report by PwC economists, The long view: how will the global economic order change by 2050? This presents forecasts of GDP growth up to 2050 for 32 of the largest economies in the world, which together account for 85% of global GDP. The projections are based on an update of a detailed, long-term, global growth model, first developed by PwC in 2006.
PwC predicts that the world economy will double in size by 2042, growing at an average real rate of 2.5% annually from 2017 to 2050. This growth will be driven largely by emerging market and developing countries, with the E7 economies of Brazil, China, India, Indonesia, Mexico, Russia and Turkey growing at an annual average rate of 3.5% over the next 33 years, compared to only 1.6% for the advanced G7 nations of Canada, France, Germany, Italy, Japan, the UK and the US.
As shown in Figure 1, the E7 could comprise almost 50% of world GDP by 2050, while the G7's share declines to only just over 20%.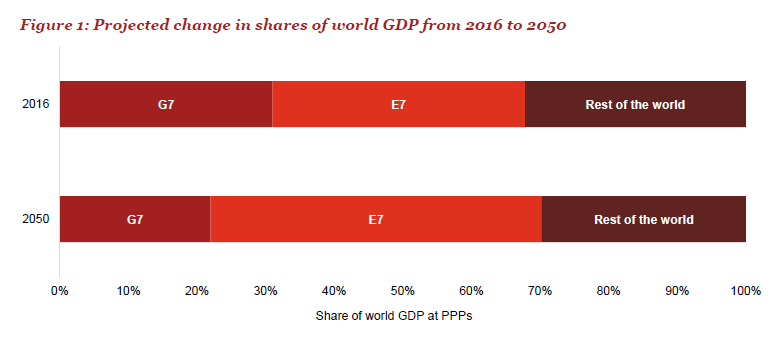 When looking at GDP measured at market exchange rates (MER), there is not quite such a radical shift in global economic power. But China still emerges as the largest economy in the world before 2030 and India is still clearly the third largest in the world by 2050.
But the spotlight will certainly be on the newer emerging markets as they take centre stage. By 2050, Indonesia and Mexico are projected to be larger than Japan, Germany, the UK or France, while Turkey could overtake Italy. In terms of growth, Vietnam, India and Bangladesh could be the fastest growing economies over the period to 2050, averaging growth of around 5% per year.
Nigeria has the potential to move eight places up the GDP rankings to 14th by 2050, but it will only realise this potential if it can diversify its economy away from oil and strengthen its institutions and infrastructure.
Colombia and Poland also exhibit great potential, and are projected to be the fastest growing large economies in their respective regions, Latin America and the EU (though Turkey is projected to grow faster if we consider a wider definition of Europe).
"Growth in many emerging economies will be supported by relatively fast-growing populations, boosting domestic demand and the size of the workforce," comments John Hawksworth, PwC Chief Economist and co-author of the report. "This will need, however, to be complemented with investments in education and improvement in macroeconomic fundamentals to ensure there are sufficient jobs for the growing number of young people in these countries."
One piece of good news for today's advanced economies is that they will continue to enjoy higher average incomes. With the possible exception of Italy, all of the G7 continue to sit above the E7 in the rankings of GDP per capita in 2050. Emerging markets will close this gap gradually over time, but full convergence of income levels across the world is likely to take until well beyond 2050.
China achieves a middling average income level by 2050, while India remains in the lower half of the income range given its starting point, despite relative high projected growth over time. This illustrates that while strong population growth can be a key driver of total GDP growth, it will take much longer to eliminate differences in average income levels.
"Average income gaps between countries will reduce over time, but this process will still be far from complete by 2050," explains Hawksworth. "In 2016, US GDP per capita was almost four times that of China's and almost nine times that of India's. By 2050, these gaps are projected to narrow so that average US income levels may be around double China's and around three times India's – but it is also possible that income inequality within countries will continue to rise, driven in particular by technological change that favours higher skilled workers and the owners of capital."
PwC expects global economic growth to average 3.5% per annum over the years to 2020, slowing to around 2.7% in the 2020s, 2.5% in the 2030s, and 2.4% in the 2040s. This will occur as many advanced economies (and eventually also some emerging markets like China) experience a marked decline in their working-age populations. At the same time, emerging market growth rates will moderate as these economies mature and the scope for rapid catch-up growth declines. These effects are projected to outweigh the impact of emerging economies having a progressively higher weight in world GDP, which would otherwise tend to boost average global growth.
To realise their potential, emerging economies must undertake sustained and effective investment in education, infrastructure and technology. The fall in oil prices from mid-2014 to early 2016 highlighted the importance of more diversified emerging economies for long-term sustainable growth. Underlying all of this is the need to develop the political, economic, legal and social institutions within emerging economies to generate incentives for innovation and entrepreneurship, creating secure and stable economies in which to do business.
Hawksworth continues: "Policymakers across the world face a number of challenges if they are to achieve sustainable long-term economic growth of the kind we project in this report. Structural developments – such as aging populations and climate change – require forward-thinking policy which equips the workforce to continue to make societal contributions later on in life and promotes low carbon technologies.
"Falling global trade growth, rising income inequality within many countries and increasing global geopolitical uncertainties are intensifying the need to create diversified economies which create opportunities for everyone in a broad variety of industries."
Emerging market development will create many opportunities for business. These will arise as these economies progress into new industries, open up to world markets and as their relatively youthful populations get richer. They will become more desirable places to work and live, attracting new investment and talent.
Emerging economies are rapidly evolving and often relatively volatile, however, so companies will need operating strategies that have the right mix of flexibility and patience to succeed in these markets. Case studies in the PwC report illustrate how businesses should be prepared to adjust their brand and market positions to suit differing and often more nuanced local preferences. An in-depth understanding of the local market and consumers will be crucial, which will often involve working with local partners.
John Hawksworth concludes: "Businesses need to be patient enough to ride out the short-term economic and political storms that will inevitably occur from time to time in these emerging markets as they move towards maturity. But the numbers in our report make clear that failure to engage with these emerging markets means missing out on the bulk of the economic growth we expect to see in the world economy between now and 2050."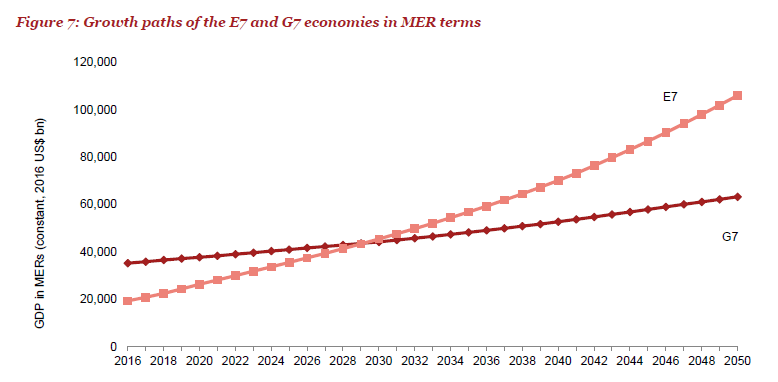 ---
• Follow us on Twitter
• Follow us on Facebook