24th September 2016
UK: Gender pay gap to remain until 2069
The gender pay gap in the UK will not close until 2069 based on current salary progression, according to research by accountancy firm Deloitte.
Deloitte's analysis shows that the difference in hourly pay gap between men and women is closing at a rate of just 2.5 pence per annum. For certain occupations such as skilled trades and education, the gap is actually widening. Even in female-dominated occupations – such as teaching and caring – men receive considerably higher average pay. At this rate, the gender pay gap will not close for another 53 years.
Significantly, however, the gap in starting salaries between men and women who have studied Science, Technology, Engineering and Mathematics (STEM) subjects, and who go on to take jobs in these sectors, is far smaller. There is no difference in the median starting salary between men and women who studied engineering, technology, medicine and dentistry.
Women currently make up just 14 percent of employees working in STEM occupations in the UK, and data from the Labour Market Survey shows that as many as 70 percent of women with STEM qualifications are not working in STEM-related industries. Raising this participation rate would give women a more balanced portfolio of skills and narrow the gender pay gap.
"There are many factors that contribute to the gender pay gap," said Emma Codd, Managing Partner for Talent at Deloitte. "One of these occurs before entering the workforce, when boys and girls decide what to study at school and university. Starting at GCSE level, where three times more boys than girls take computing and 50 percent more boys than girls study design and technology, these early decisions drive fundamental skill differences between the genders for those entering the workplace. The trend is likely to continue, unless it is addressed now."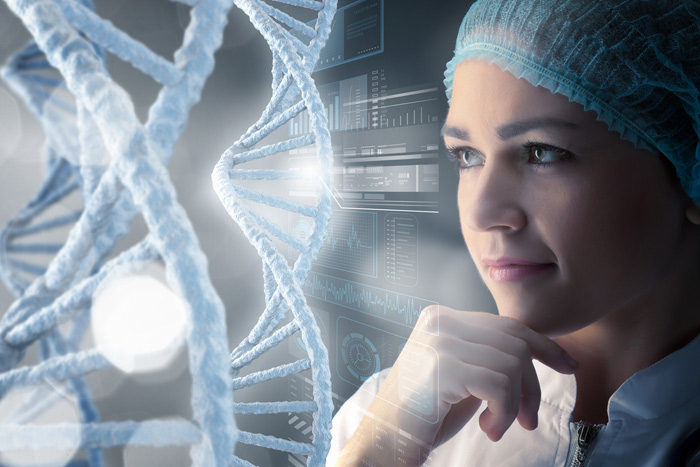 "We know that the pay gap is far smaller for those women starting their careers in STEM related roles," said Codd. "We also know that high-skilled jobs demanding a blend of cognitive, social and technical skills are typically among the most highly-paid. Therefore, if more women study STEM subjects and pursue related careers, they will increase their earnings potential in the early years of their working lives and – should they remain in their careers – the later ones. This in turn should serve to reduce the gender pay gap."
Emma Codd concludes: "More must be done to encourage girls from an early age to understand the impact that their choice of studies can have on their career options; girls must be encouraged to consider a full range of STEM career options and to have access to role models who can provide an insight into such careers. Similarly, with many of those women who study STEM subjects opting for careers in non-STEM professions, businesses in STEM related professions must show that they can offer attractive career options for women. Without these efforts, businesses – and the economy as a whole – will miss out on a hugely valuable pool of potential talent."
"While educators and policy makers will need to focus on tackling this challenge, the impact that employers can make should not be under-estimated. Whether it is providing educators and policymakers with practical insights into career requirements, giving students access to mentors in the STEM professions, or ensuring that the workplace is an environment where women can build successful careers, each business has a part to play. A great deal of progress has been made in the past half century, but we should not wait another 53 years for full parity."
---
• Follow us on Twitter
• Follow us on Facebook
7th September 2016
Global population to reach 10 billion by 2053
The world's population will surpass 10 billion by 2053, according to the latest forecast from the Population Reference Bureau.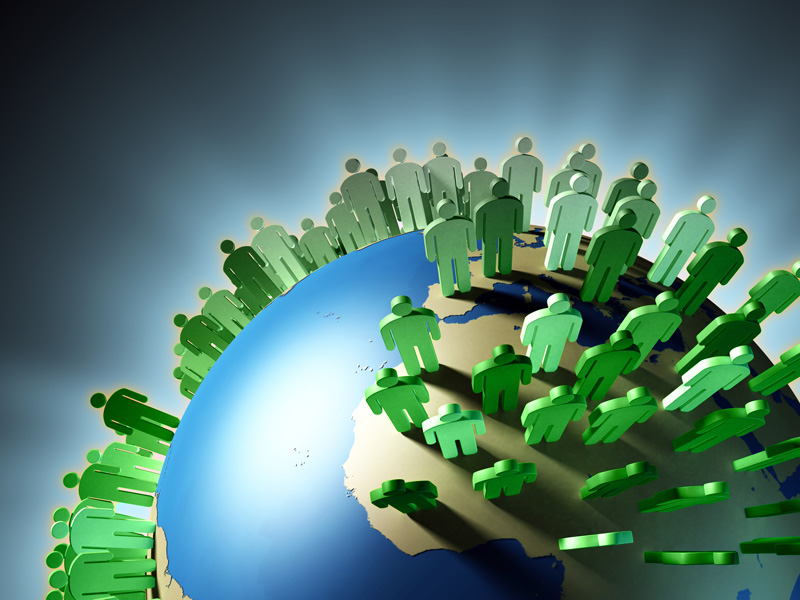 The number of humans on the planet – which currently stands at 7.4 billion – will increase by over one-third to reach 9.9 billion by 2050, according to the latest forecast from the Population Reference Bureau (PRB), a U.S. non-profit organisation based in Washington, DC. If the assumptions underlying this projection are applied to subsequent years, the figure will reach 10 billion by 2053.
Jeffrey Jordan, president and CEO of the PRB, comments on these findings: "Despite declines in fertility rates around the world, we expect population gains to remain strong enough to take us toward a global population of 10 billion. Significant regional differences remain, though. For example, very low birth rates in Europe will mean population declines there, while Africa's population is expected to double."
The PRB's estimate is slightly higher than the United Nation's World Population Prospects: 2015 Revision, which envisions a world of 9.7 billion people by the middle of the century and 9.8 billion by 2053. It is even greater still than the U.S. Census Bureau's estimate of 9.3 billion by 2050.
The data in this report shows that Africa's population will grow from 1.2 billion in 2016, to 1.6 billion in 2030, and 2.5 billion by 2050. The total population of the Americas will see only a small change, rising from 998 million in 2016 to 1.2 billion in 2050. Asia will gain 890 million to reach 5.3 billion by 2050, while Europe registers a decline from 740 million to 728 million. Oceania (which includes Australia and New Zealand) will rise from 40 million to 66 million.
The PRB's widely referenced Data Sheet has been published annually since 1962. This year's edition presents the latest data on 19 key population, health and environment indicators for the world, major regions, and over 200 countries. They have also added six indicators and analytical graphics that explore the balance between providing for human needs and sustainably managing the natural resources on which people depend.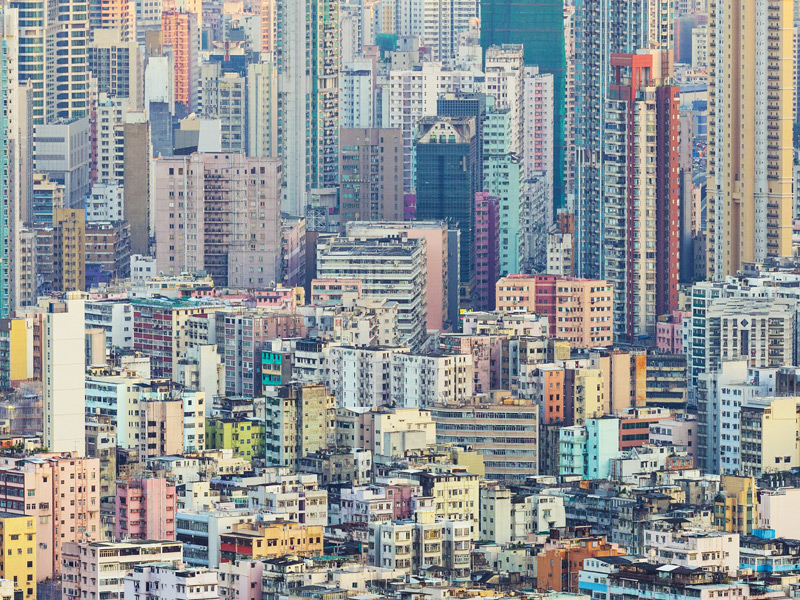 Other findings in the report include:
• The combined population of the least developed countries will double to 1.9 billion by 2050. There are 48 of these countries, based on U.N. criteria – most of them in Africa.
• Niger, the country with the highest birth rate, will see its population more than triple – from 19.7 million in 2016, to 68.9 million in 2050.
• India will be the most populous country in the world by 2050, with 1.7 billion people. China will have fallen to second place with 1.3 billion.
• The United States will remain in third place. Its population will increase by 23 percent – from 324 million today to 398.3 million in 2050.
• Nigeria will leap from seventh into fourth place. Its population will more than double to 397.5 million by 2050, just 800,000 below the United States.
• A total of 42 countries will see their populations fall. These are scattered throughout Asia, Latin America, and Europe. Some European nations will experience major declines, such as Romania, which is projected to go from 20 million today, to only 14 million in 2050.
For more information, visit worldpopdata.org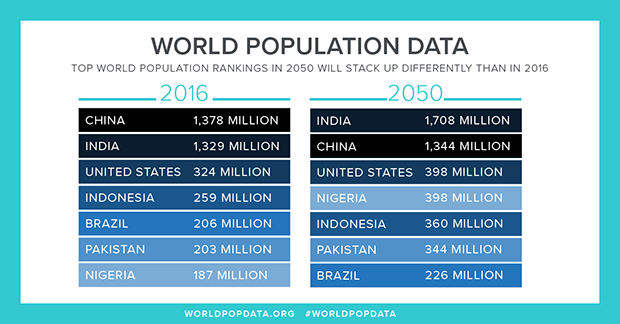 ---
• Follow us on Twitter
• Follow us on Facebook
19th June 2016
The world has become less peaceful in 2016
The world has become less peaceful this year – reinforcing an underlying, decade-long deterioration in world peacefulness, driven primarily by increased terrorism and higher levels of political instability.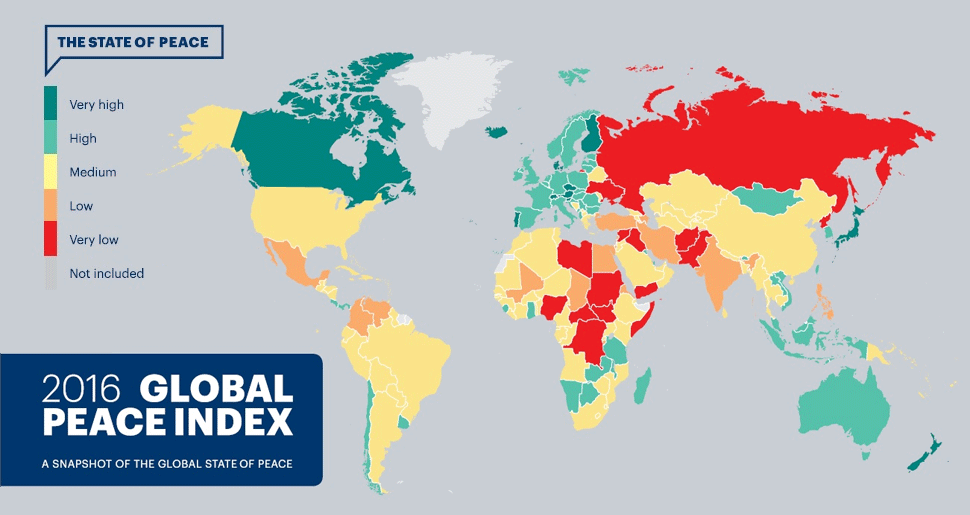 The tenth edition of the Global Peace Index, published this month, highlights a stark and growing inequality in global levels of peacefulness as the gap between the most and least peaceful countries continues to widen. The study, by international think-tank the Institute for Economics and Peace (IEP), finds that, while 81 countries improved, the deterioration in another 79 outweighed these gains, meaning that overall peace declined at a faster rate than in the previous year. Despite this, some of the most peaceful countries are now recording historically high levels of peace.
The score for the Middle East and Africa (MENA) – the least peaceful region in the world last year – dropped further, as regional conflicts intensified, dragging down global peacefulness. So intense is the current concentration of violence and conflict in MENA that, when considered separately, the rest of the world's average peace levels improved. Three of the five biggest declines in peace occurred in the region including Yemen, Libya and Bahrain.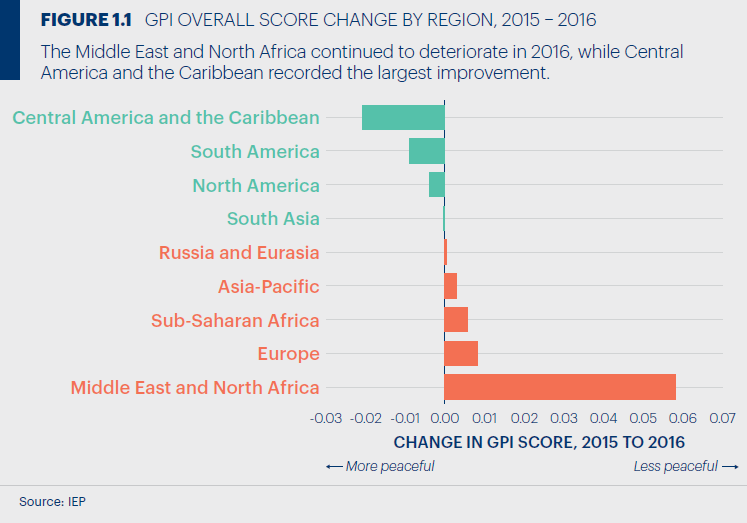 Steve Killelea, Founder and Executive Chairman of the IEP, commented: "As internal conflicts in MENA become more entrenched, external parties are increasingly becoming more involved and the potential for indirect or 'war by proxy' between nation states is rising. This was already evident in Syria with the conflict between the Assad regime and multiple non-state actors, and is now spilling into countries such as Yemen. There is a broader proxy conflict between Saudi Arabia and Iran, and more recently both US and Russia have increased their level of involvement."
The global deterioration of peace in 2015 was driven by increased terrorism and higher levels of political instability. While the majority of terrorist activity is highly concentrated in five countries – Syria, Iraq, Nigeria, Afghanistan and Pakistan – the breadth of terrorism is spreading, with just 23% of countries in the Index not experiencing a terrorist incident. Europe, although still the most peaceful region, saw its average score deteriorate in this year's report, following terrorist attacks in Paris and Brussels. Deaths from terrorism in Europe have more than doubled over the last five years.
The number of refugees and displaced persons has risen dramatically over the last decade, doubling to approximately 60 million people between 2007 and 2016, nearly 1% of the world's population. There are now nine countries with over 10% of their population displaced in some form; 20% of Somalia and South Sudan's population respectively, and over 60% of Syria's.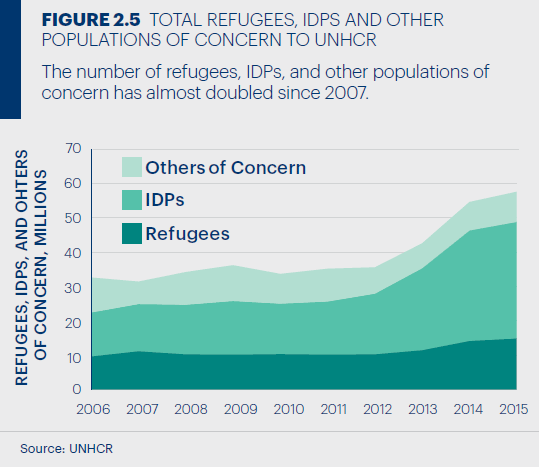 While the global economic impact of violence dropped by 2% compared to last year's report, it was still a staggering $13.6 trillion in 2015 – equivalent to 11 times the size of global foreign direct investment (FDI), or about 700 times the annual budget of NASA. This represents 13.3% of world GDP, or $1,876 per person. Over the last ten years, the cumulative total impact of violence was $137 trillion; greater than global GDP in 2015.
Steve Killelea remarked, "The increasing internationalisation of internal conflicts has coincided with UN peacekeeping funds reaching record highs in 2016 – it was the largest improved indicator in this year's report, with more deployed peacekeepers and more countries being up-to-date with their UN peacekeeping dues. However, peacebuilding and peacekeeping spending remains proportionately small compared to the economic impact of violence, representing just 2% of global losses from armed conflict. Addressing the global disparity in peace and achieving an overall 10% decrease in the economic impact of violence would produce a peace dividend of $1.36 trillion. This is approximately equivalent to the size of world food exports."
Of particular concern is Yemen. Its long-standing political crisis exploded into outright civil war in early 2015. This country has witnessed a major decline in the level of peace, as shown in the diagram below – driven by the rising casualty rate, a large increase in the number of refugees and internally displaced people, and higher levels of terrorist attacks by both al-Qaeda and ISIL. Adding to Yemen's troubles is an emerging water crisis that is likely to worsen from 2017-2025.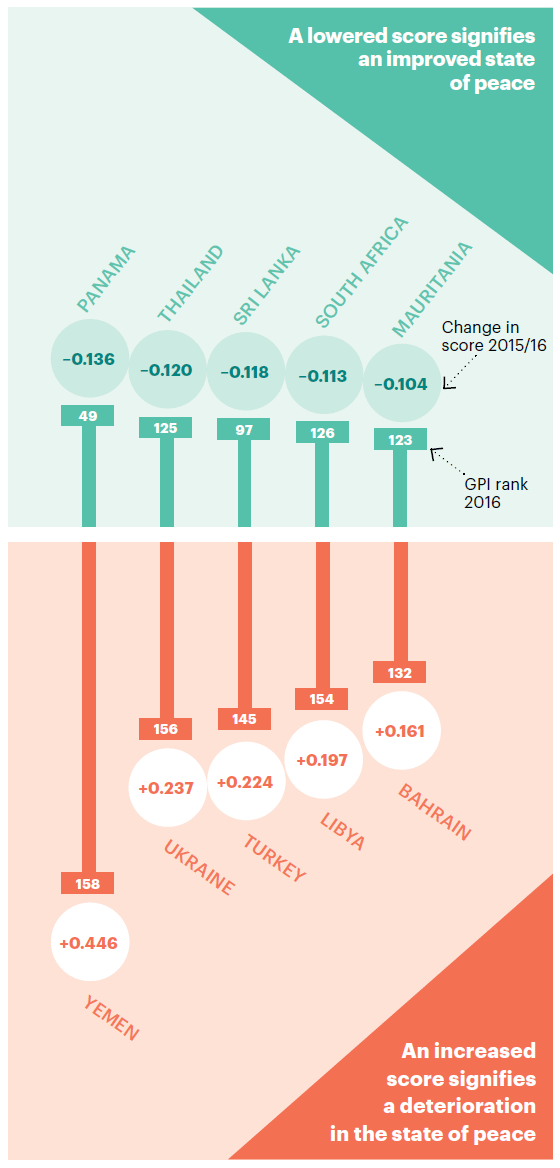 The report also provides an audit of available data to measure Goal 16 of the Sustainable Development Goals for 2030 (successor to the Millennium Development Goals of 2015). This new goal – formally agreed last year by UN member states – recognises the critical importance of peace, justice and strong institutions for advancing global development. It finds that, while there is some existing data to track progress and hold member states accountable to meeting their targets, serious investment will be needed to measure the goals.
The report concludes with new research into resilience and what the IEP identifies as "Positive Peace" – the attitudes, institutions and structures which can best achieve and sustain global peace. Among those listed are: a well-functioning government with low levels of corruption, good relations with neighbouring countries, the free flow of information, an equitable distribution of resources, investment in education, gender equality and worker's rights.
---
• Follow us on Twitter
• Follow us on Facebook
22nd February 2016
Half the world to be short-sighted by 2050
By 2050, half the world's population (nearly 5 billion) will be short-sighted (myopic), with up to one-fifth of them (1 billion) at significantly increased risk of blindness if current trends continue, says a new study.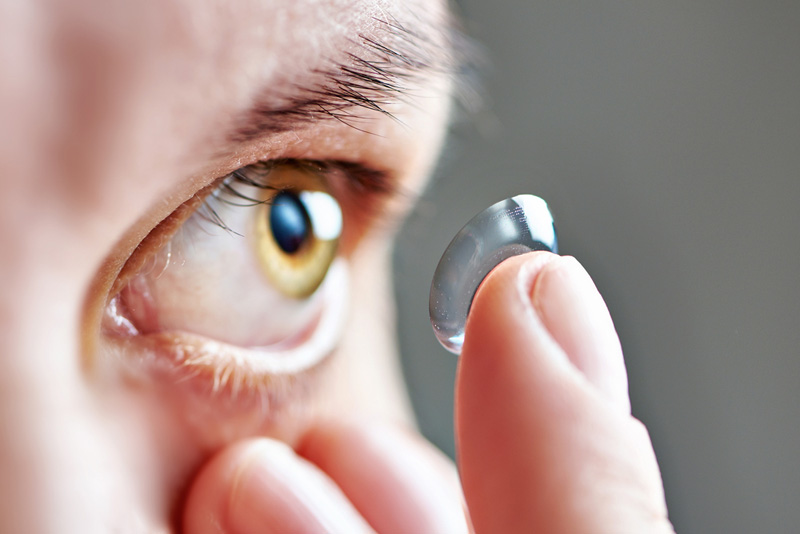 The number of people with vision loss from high myopia is expected to increase seven-fold from 2000 to 2050, with myopia to become a leading cause of permanent blindness worldwide.
The rapid increase in the prevalence of myopia globally is attributed to, "environmental factors (nurture), principally lifestyle changes resulting from a combination of decreased time outdoors and increased near work activities, among other factors," say study authors from Brien Holden Vision Institute, University of New South Wales Australia and the Singapore Eye Research Institute.
Their findings – published in the journal Ophthalmology – point to a major public health problem. The authors suggest that planning for comprehensive eye care services are needed to manage the rapid increase in high myopes (a five-fold increase from 2000), along with the development of treatments to control the progression of myopia and prevent people from becoming highly myopic.
| | |
| --- | --- |
| | Graph showing the number of people estimated to have myopia and high myopia for each decade from 2000 through 2050. Error bars represent the 95% confidence intervals. |
"We also need to ensure our children receive a regular eye examination from an optometrist or ophthalmologist, preferably each year, so that preventative strategies can be employed if they are at risk," said co-author Professor Kovin Naidoo, CEO of Brien Holden Vision Institute. "These strategies may include increased time outdoors and reduced time spent on near based activities including electronic devices that require constant focussing up close.
"Furthermore, there are other options such as specially designed spectacle lenses and contact lenses or drug interventions, but increased investment in research is needed to improve the efficacy and access of such interventions."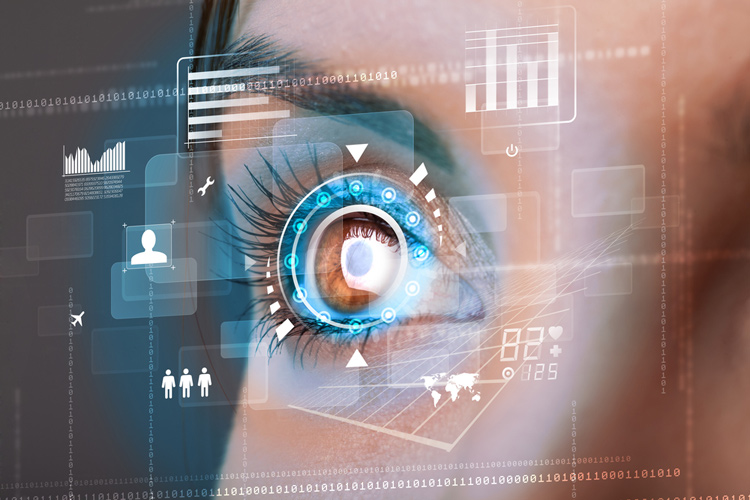 18th January 2016
62 people own same as half the world
Runaway inequality has created a world where 62 people own as much as the poorest half of the global population, according to an Oxfam report published today ahead of the annual gathering of the world's financial and political elites in Davos. This number has fallen dramatically from 388 as recently as 2010 and 80 last year.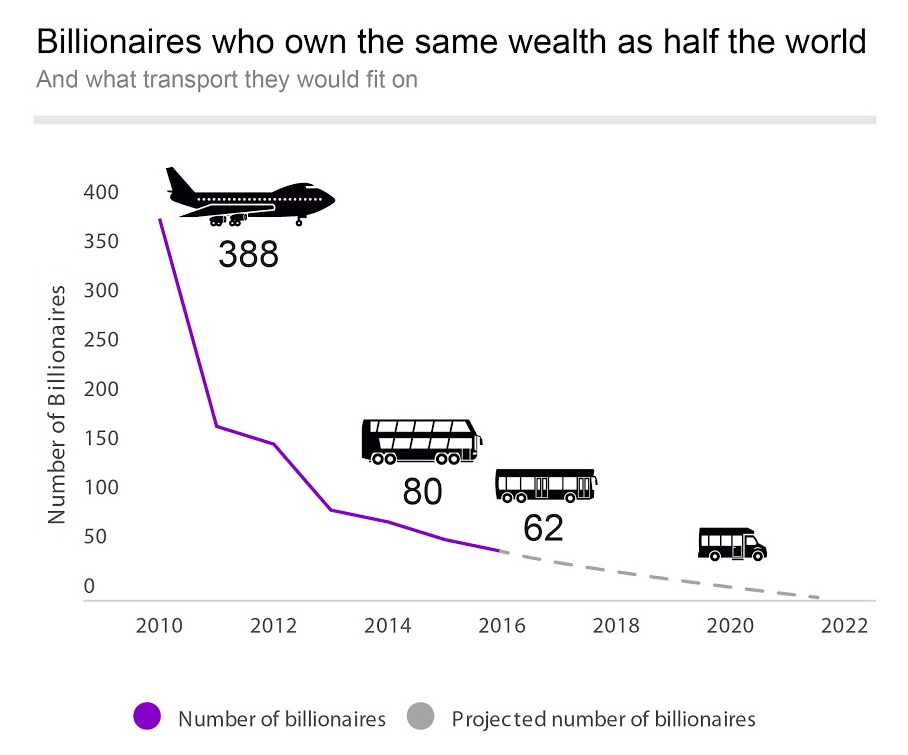 Oxfam's new report, An Economy for the 1%, shows that the wealth of the poorest half of the global population – 3.6 billion people – has fallen by a trillion dollars since 2010. This 41 per cent drop has occurred despite the world's population increasing by around 400 million people during that period. Meanwhile, the wealth of the richest 62 has increased by more than half a trillion dollars to $1.76tr. Just nine of the "62" are women.
Although world leaders have increasingly talked about the need to tackle inequality, the gap between the richest and the rest has widened dramatically in the past 12 months. Oxfam's prediction – made ahead of last year's Davos – that the 1% would soon own more than the rest of us by 2016, actually came true in 2015, earlier than expected.
Oxfam is calling for urgent action to tackle the inequality crisis and reverse the dramatic fall in wealth of the poorest half of the world. It is urging world leaders to adopt a three-pronged approach – cracking down on tax dodging; increased investment in public services; and action to boost the income of the lowest paid. As a main priority, it is calling for an end to the era of tax havens, which has seen increasing use of offshore centres by rich individuals and companies to avoid paying their fair share to society. This has denied governments valuable resources needed to tackle poverty and inequality.
It is three years since British PM David Cameron told Davos he would lead a global effort against aggressive avoidance in the UK and in poor countries. However, promised measures to increase transparency in British Overseas Territories and Crown Dependencies, such as the Cayman Islands and the British Virgin Islands, have not yet been implemented.
Mark Goldring, Oxfam Chief Executive, said: "It is simply unacceptable that the poorest half of the world population owns no more than a small group of the global super-rich – so few, you could fit them all on a single coach. World leaders' concern about the escalating inequality crisis has so far not translated into concrete action to ensure that those at the bottom get their fair share of economic growth. In a world where one in nine people go to bed hungry every night, we cannot afford to carry on giving the richest an ever bigger slice of the cake.
"We need to end the era of tax havens which has allowed rich individuals and multinational companies to avoid their responsibilities to society by hiding ever increasing amounts of money offshore. Tackling the veil of secrecy surrounding the network of tax havens would be a big step towards ending extreme inequality."
Globally, it is estimated that super-rich individuals have stashed a total of $7.6tr in offshore accounts. If tax were paid on the income that this wealth generates, an extra $190bn would be available to governments every year.
As much as 30 per cent of all African financial wealth is estimated to be held offshore, costing an estimated $14bn in lost tax revenue every year. This is enough to pay healthcare for mothers and children that could save four million children's lives a year and employ enough teachers to get every African child into school.
Allowing governments to collect the taxes they are owed from companies and rich individuals will be vital if world leaders are to meet the new UN Sustainable Development Goals (successor to the Millennium Development Goals), agreed last year, which aim to eliminate extreme poverty by 2030.
Although the number of people living in extreme poverty halved between 1990 and 2010, the average annual income of the poorest 10 per cent has risen by less than $3 a year in the past quarter of a century. That equates to an increase in daily income of less than a single cent a year. Had inequality within countries not grown between 1990 and 2010, an extra 200 million people would have escaped poverty.
One of the other key trends behind rising inequality, seen in Oxfam's report, is the falling share of national income going to workers in almost all developed and most developing countries and a widening gap between pay at the top and bottom of the income scale. This particularly affects women, who make up the majority of low paid workers around the world.
By contrast, the already wealthy have benefited from a rate of return on capital via interest payments, dividends, etc. that has been consistently higher than the rate of economic growth. This advantage has been compounded by the use of tax havens, which are perhaps the most glaring example set out in the report of how the rules of the economic game have been rigged in a manner that has supercharged the ability of the rich and powerful to entrench their wealth.
Action to recover the missing billions lost to tax havens needs to be accompanied by a commitment on the part of governments to invest in healthcare, schools and other vital public services that make such a big difference to the lives of the poorest people. Governments should also ensure that work delivers an acceptable standard of living for those at the bottom, by moving minimum wage rates towards a living wage and tackling the pay gap between men and women.
"Ending extreme poverty requires world leaders to tackle the growing gap between the richest and the rest, which has trapped hundreds of millions of people in a life of poverty, hunger and sickness," Goldring added. "It is no longer good enough for the richest to pretend that their wealth benefits the rest of us when the facts show that the recent explosion in the wealth of the super-rich has come at the expense of the poorest."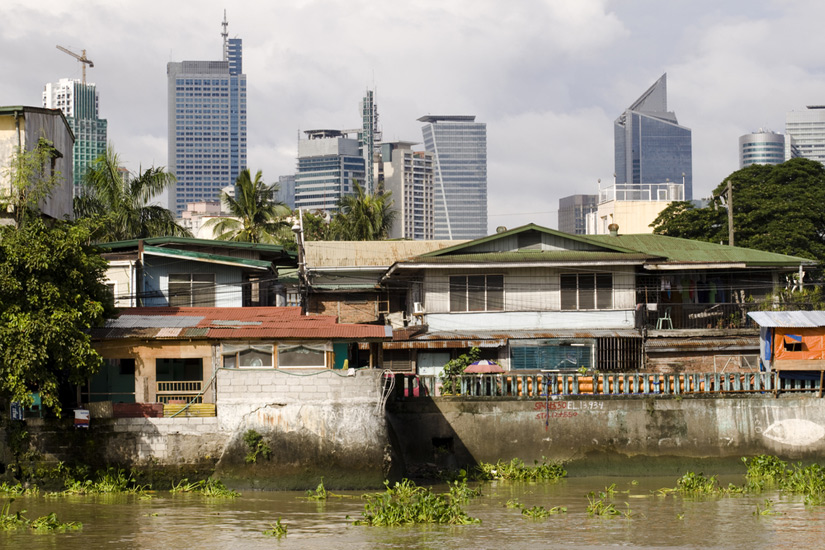 30th October 2015
China ends one-child policy after 35 years
35 years after it formally enacted its one-child policy (more accurately known as the "family planning policy"), China's Communist Party has announced that it will allow all couples to have two children.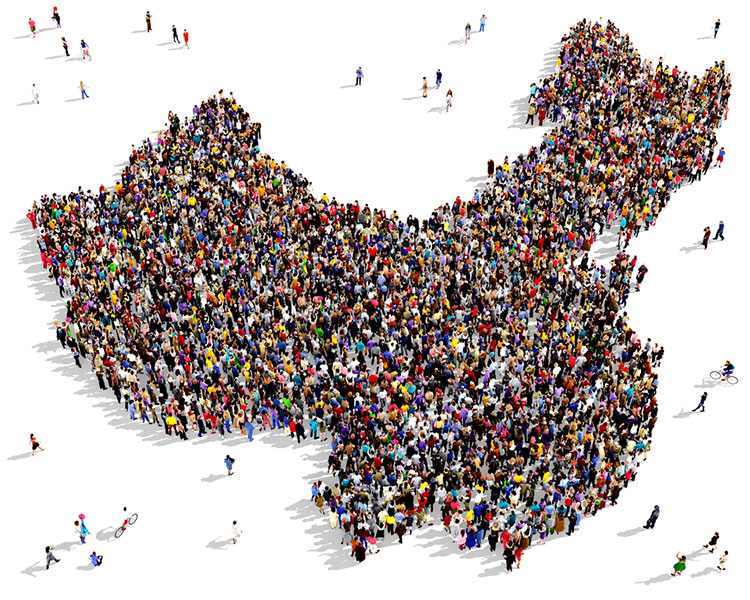 In response to fears about an impending population explosion, China's government began draconian birth control measures in 1980. These were later credited with having prevented up to 400 million births. However, the law was extremely controversial and often brutally enforced with grave violations of human rights, forced sterilisations, abortions and infanticide. It was later relaxed to allow parents to have a second child if they themselves were both only children. A further change was made in 2013 when couples become eligible to have two children if only one of the parents was an only child.
Following the success of its decades-long policy, China is now faced with a much bigger demographic challenge: a rapidly aging population with fewer people of working age to support the older generations. Today, the ratio of workers to retirees is approximately 5:1. However, the nation's workforce is already shrinking, with 2.4 million employees being lost each year. By 2030, China's ratio of workers to pensioners will fall to roughly 2:1, leading to serious economic, political and social problems. By mid-century, the situation could be even worse, as the population enters a long period of decline.
The new "two-child" policy to be introduced from March 2016 may help to slow this trend. State-run news service, Xinhua, quotes Li Bin, head of the National Health and Family Planning Commission, as saying it will "optimise the demographic structure, increase labour supply, ease pressure from the aging population and help improve the health of the economy."
However, the policy change does not go far enough, according to human rights activists, concerned that the Communist Party continues to control the size of Chinese families: "The state has no business regulating how many children people have," said William Nee, a Hong Kong-based activist for Amnesty International. "If China is serious about respecting human rights, the government should immediately end such invasive and punitive controls over people's decisions to plan families and have children."
Some researchers are sceptical that it will make a difference, as one-child families have become the social norm. Furthermore, China's rapid urbanisation means that more and more people are living in city centres, and the cost of raising kids has been skyrocketing. The new law "will probably come with a small bump" in child births "in the next two or three years, but after that, its fertility rate will stay at its current level," says Cai Yong, a population analyst at the University of North Carolina who is an expert on the Chinese one-child policy. "They should actually have abolished this long ago. China missed its best opportunity to relax the policy when people were still willing to have a second or even third child."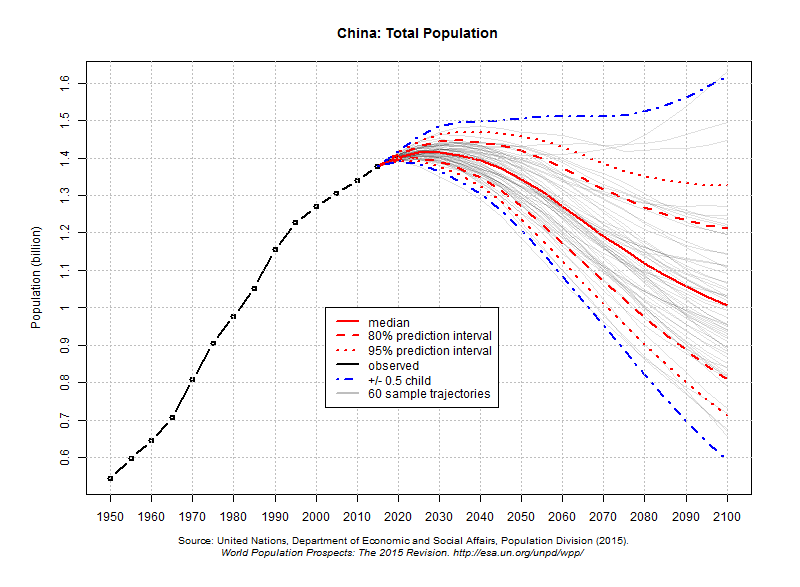 Stuart Gietel-Basten, a demographer at the University of Oxford, comments in the Guardian: "In the short term probably there will be a little baby boom, particularly in some of the poorer provinces where the rules have been very strict, like in Sichuan or in parts of the south. But in the long term, I don't think it's going to make an enormous amount of difference."
"Society is 'greying' much faster than they had anticipated," states Willy Lam – an expert on China from the Jamestown Foundation in Washington, D.C. "So the tax burden on workers and employees in the coming 10, 20 years will be very high."
"This population imbalance is very dangerous for the long-term development of the country," says Ma Size, grandson of Ma Yinchu, known in China as the father of the one-child policy.
China's fertility rate peaked at 6.16 in 1965, before dropping to 2.71 in 1980. Today it stands at just 1.67, one of the lowest in the world and well below the replacement rate of 2.1 needed to sustain a country in the long term. Experts predict that over a quarter of China's population will be aged over 65 by 2050 – slowing down the economy and putting a huge burden on the younger generations. Many other countries around the world will experience a similar trend in the decades ahead. As the ratio between taxpayers and pensioners continues to drop, a new economic system may need to evolve.
5th August 2015
An interview with aging and longevity expert Aubrey de Grey
Aubrey de Grey is Chief Science Officer of the SENS Research Foundation, which is working to find a solution to aging. He believes that the first humans who will live to be 1,000 years old could already be alive today. Yesterday, he appeared on a Reddit AMA (Ask Me Anything) session to answer questions posed by futurology enthusiasts. Some of the responses are reproduced below.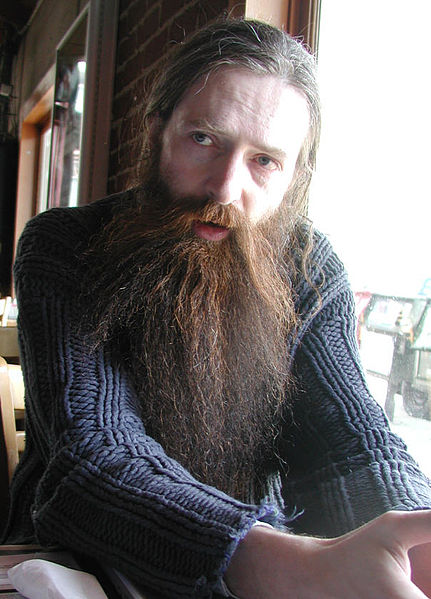 Reddit: I'm curious about how the advent of CRISPR affects the development of SENS therapies?
Aubrey de Grey: It's huge. It will be central to the delivery of the many SENS components that involve somatic gene therapy.
Reddit: Does it speed up the development timeline at all?
Aubrey de Grey: A lot, yes.
Reddit: Are you familiar with the current and/or potential scalability of CRISPR, i.e. it's one thing to edit a single cell in vitro, and a whole other to be able to reprogram every cellular gene expression of Huntington's disease in vivo? I'm really curious where we are on that scale because of the massive ramifications this technology has and it looks like a lot of progress is being made on the error rate.
Aubrey de Grey: It's going extremely well. Fidelity is key – i.e., minimising off-target modifications – and as you say, progress is rapid.
Reddit: What is the likelihood that someone who is 40 today will have their life significantly extended to the point of practical immortality? 30? 20? 10?
Is it a slow, but rapidly rising collusion of things that are going to cause this, or is it something that is going to kind of snap into effect one day?
Will the technology be accessible to everyone, or will it be reserved for the rich?
What are your thoughts on cryonics?
What is your personal preferred method of achieving practical immortality? Nanotechnology? Cyborgs? Something else?
Aubrey de Grey: I'd put it at 60, 70, 80, 90% respectively.
Kind of snap, in that we will reach longevity escape velocity.
For everyone, absolutely for certain.
Cryonics (not cryogenics) is a totally reasonable and valid research area and I am signed up with Alcor.
Anything that works! – but I expect SENS to get there first.
Reddit: Is it fair for me to be telling my friends and others I tell about this stuff, that considering the $25 a month I donate to SENS and the many dozens of people I have educated about SENS and curing aging in general, many quite successfully educated, that I may have personally saved the lives of 100,000 people at this point?
Along that line is this something it would be good for you and your people to really emphasize during talks? To tell people that they can feel good about themselves for going out and advocating and donating even a meagre amount of money because doing so means they are very truthfully saving the lives of tens or hundreds of thousands of people?
Aubrey de Grey: This is by far the best question yet on this AMA. Thank you!
First: I think you can say something like that (depending on how long it's been that you've been sending us $25). I believe that $1B right now would hasten the achievement of LEV by about 10 years; you can do the rest of the maths, but it comes out to about $2 per life – and of course "saving" means a great deal more in terms of extra years than it does for other ways of saving lives, so arguably it's more like a few cents per life.
And yes, I think I should emphasise this more. I probably will.
Reddit: On the topic of money, why do you think so much of the super rich, do so little with their hordes of money, when they could put it towards research of various types, including longevity? That's one thing I have trouble understanding it, my brain defaults towards conspiracy theory type theories. E.g. they are hoarding the money to keep others poorer, to keep themselves more powerful.
Aubrey de Grey: The super-rich are just as afraid of getting their hopes up as anyone else.
Reddit: What do you think of the efforts like Human Longevity Inc. that seem to be focused on DNA/genetic markers of aging, rather than the damage focus of SENS? Is their work helpful do you think?
Aubrey de Grey: It's definitely helpful in the short term, as a way to optimise what we can already do. It has very little longer-term relevance, because once SENS works, it will work the same for everyone.
Reddit: I watched a video from you back in 2013 where you commented on the announcement from Larry Page about Calico. You mentioned that Calico – if they're focused on early stage research – might highly benefit the battle against aging. What is your comment regarding Calico's research now that a couple of years have passed? More/less excited about their potential?
Aubrey de Grey: Cautious. They are structured perfectly: they are doing a bunch of highly lucrative irrelevant short-term stuff that lets them get on with unlucrative critical long-term stuff without distraction. But the latter may be getting too curiosity-driven and insufficiently translational. We'll see.
Reddit: Care to elaborate? "Highly lucrative irrelevant stuff" seems contradictory, likewise "unlucrative critical stuff" :)
Aubrey de Grey:
"Highly lucrative irrelevant stuff" = drugs for specific diseases of aging
"Unlucrative critical stuff" = work leading to actual LEV
Reddit: How difficult would it be maintaining/repairing the brain itself? While we can reasonably access almost every other part of the body, the brain always seems like this elusive bastion that we can't quite reach into for one reason or another.
Aubrey de Grey: With SENS, there's not so much difference between the brain and the rest of the body. It's the same seven types of damage.
Reddit: There has been a lot of noise lately about alternative models for mitochondrial aging and therapies for them. Do you still stand for the hypotheses your book defended, or has SENS changed the way it views mitochondrial aging?
Aubrey de Grey: No change.
Reddit: How much of SENS research involves experimentation on animals, if any? If this does happen, is the sacrifice of animal lives necessary to achieve the foundation's goals, or does it just make things easier or faster? Are there pathways to achieving LEV that don't involve experimentation on animals?
Aubrey de Grey: Quite a bit involves animals, like all biomedical research, but you jump too quickly to the word "sacrifice". How is it a sacrifice if we do things to animals that let them stay healthy longer?
Reddit: Do you think the regulatory pipeline for new therapies in the US and/or EU is adequate? What changes would you make to speed up/slow down/otherwise streamline the process from discovery research to clinical implementation and commercialization?
Aubrey de Grey: There's a lot happening to streamline it. The editorial in the next issue of Rejuvenation Research will discuss the 21st Century Cures Act from our angle. Bottom line: things are improving.
Reddit: Back in the days, what motivated you to decide to cure aging? Like, what was your motivation in the first place?
Aubrey de Grey: The correct question is, what the hell is wrong with everyone else that stops them from being motivated to cure aging? It's responsible for the overwhelming majority of global suffering. WTF?
Reddit: Any tips on not being afraid of death? Even though I'm at the moment 21 years old and my odds of reaching longevity escape velocity are decent, sometimes thinking about not-existing keeps me awake at night. The anti-aging research is kinda the only reason I'm not struggling with it so much anymore, but I don't think that's the correct way of coping with it.
Aubrey de Grey: I hear you. I have a close friend who is so scared of this that she is clinically depressed, and she's only 22. Actually I think getting involved in the anti-aging crusade is indeed the best way.
Reddit: I'm wondering how much time you spend thinking about what a post-death future would look like – is the day-to-day life of an immortal something you spend much time considering, or are you exclusively focused on making it happen at this point? Are there any people you'd recommend who are seriously considering the question?
If you have spent time considering it, what do you think are some major problems an immortal society would face that people DON'T typically talk about? (Rather than normal fears of overpopulation, lack of resources, etc.)
Aubrey de Grey: See the paper from Denver arising from work we funded:
http://www.sciencedirect.com/science/article/pii/S0040162515001985
The abstract sounds a bit pessimistic but only as a wake-up call.
Reddit: What do you think about the singularity in general? I think that if we achieved a singularity, it could help us achieve negligible senescence and potentially even immortality in a significantly shorter timeframe, and of course also all other technological wonders that it could bring.
Aubrey de Grey: Some people are working on AI for just that reason. I think we'll reach the Methuselarity first, but I could be wrong.