18th April 2017
Device pulls water from dry air, powered only by Sun
The University of California, Berkeley, has created a device that pulls water from dry air, powered only by the Sun. Even under conditions of relatively low (20-30%) humidity, it can produce 2.8 litres of water over a 12-hour period.
Imagine a future in which every home has an appliance that pulls all the water the household needs out of the air, even in dry or desert climates, using only the power of the Sun. That future may be just around the corner, with the demonstration of a water harvester that uses only ambient sunlight to pull litres of water out of the air each day in conditions as low as 20 percent humidity, a level common in arid areas.
The solar-powered harvester, reported in the journal Science, was constructed at the Massachusetts Institute of Technology using a special material called a metal-organic framework – or MOF – produced at the University of California, Berkeley.
"This is a major breakthrough in the long-standing challenge of harvesting water from the air at low humidity," said Omar Yaghi from UC Berkeley, one of two senior authors of the paper. "There is no other way to do that right now, except by using extra energy. Your electric dehumidifier at home 'produces' very expensive water."
The prototype, under conditions of 20-30 percent humidity, was able to pull 2.8 litres (3 quarts) of water from the air over a 12-hour period, using one kilogram (2.2 pounds) of MOF. Rooftop tests at MIT confirmed that the device works in real-world conditions.
"One vision for the future is to have water off-grid, where you have a device at home running on ambient solar for delivering water that satisfies the needs of a household," said Yaghi, who is the founding director of the Berkeley Global Science Institute, a co-director of the Kavli Energy NanoSciences Institute and the California Research Alliance by BASF. "To me, that will be made possible because of this experiment. I call it personalised water."
Yaghi worked with Evelyn Wang, a mechanical engineer at MIT, alongside students at the university. The system they designed consists of approximately two pounds of dust-sized MOF crystals compressed between a solar absorber and a condenser plate, inside a chamber open to the air. As ambient air diffuses through the porous MOF, water molecules preferentially attach to the interior surfaces. X-ray diffraction studies have shown that the water vapour molecules often gather in groups of eight to form cubes.
Sunlight entering through a window heats up the MOF and drives the bound water toward the condenser, which is at the temperature of the outside air. The vapour condenses as liquid water and drips into a collector.
"This work offers a new way to harvest water from air that does not require high relative humidity conditions and is much more energy efficient than other existing technologies," said Wang.
This proof of concept harvester leaves much room for improvement, Yaghi said. The current MOF can absorb only 20 percent of its weight in water, but other MOF materials could possibly absorb 40 percent or more. The material could also be tweaked to be more effective at higher or lower humidity.
"It's not just that we made a passive device that sits there collecting water; we have now laid both the experimental and theoretical foundations so that we can screen other MOFs, thousands of which could be made, to find even better materials," he said. "There is a lot of potential for scaling up the amount of water that is being harvested. It is just a matter of further engineering now."
Yaghi and his team are working to improve their MOFs, while Wang continues to improve the harvesting system to produce more water.
"To have water running all the time, you could design a system that absorbs the humidity during the night and evolves it during the day," he said. "Or design the solar collector to allow for this at a much faster rate, where more air is pushed in. We wanted to demonstrate that if you are cut off somewhere in the desert, you could survive because of this device. A person needs about a Coke can of water per day. That is something one could collect in less than an hour with this system."
---
• Follow us on Twitter
• Follow us on Facebook
10th March 2017
IBM unveils roadmap for quantum computers
IBM has announced "IBM Q", an initiative to build commercially available universal quantum computing systems.
IBM has announced an industry-first initiative to build commercially available universal quantum computing systems. "IBM Q" systems and services will be delivered via the IBM Cloud platform. Current technologies that run on classical computers, such as Watson, can help to identify patterns and insights buried in vast amounts of existing data. By contrast, quantum computers will deliver solutions to important problems where patterns cannot be seen because the data doesn't exist and the calculations needed to answer questions are too enormous to ever be processed by classical computers.
IBM is also launching a new Application Program Interface (API) for the "IBM Quantum Experience" enabling anyone with an Internet connection to use the quantum processor (via the Cloud) for running algorithms and experiments, working with individual quantum bits, and exploring tutorials and simulations of what might be possible with quantum computing. In the first half of 2017, IBM plans to release a full Software Development Kit (SDK) for users to build simple quantum applications and software programs.
"IBM has invested over decades to growing the field of quantum computing and we are committed to expanding access to quantum systems and their powerful capabilities for the science and business communities," said Arvind Krishna, senior vice president of Hybrid Cloud and director for IBM Research. "Following Watson and blockchain, we believe that quantum computing will provide the next powerful set of services delivered via the IBM Cloud platform, and promises to be the next major technology that has the potential to drive a new era of innovation across industries."
IBM intends to build IBM Q systems to expand the application domain of quantum computing. A key metric will be the power of a quantum computer expressed by the "Quantum Volume" – which includes the number of qubits, quality of operations, connectivity and parallelism. As a first step to increase Quantum Volume, IBM aims to build commercial IBM Q systems with around 50 qubits in the next few years to demonstrate capabilities beyond today's classical systems, and plans to collaborate with key industry partners to develop applications that exploit the quantum speedup of the systems.
IBM Q systems will be designed to tackle problems that are currently too complex and exponential in nature for classical computing systems to handle. One of the first and most promising applications will be in the area of chemistry. Even for simple molecules like caffeine, the number of quantum states in the molecule can be astoundingly large; so complex that all the conventional computing memory and processing power scientists could ever build could not handle the problem.
IBM's scientists have recently developed new techniques to efficiently explore the simulation of chemistry problems on quantum processors and experimental demonstrations of various molecules are in progress. In the future, the goal will be to scale to even more complex molecules and try to predict chemical properties with higher precision than possible with classical computers.
Future applications of quantum computing may include:
• Artificial Intelligence: Making facets of artificial intelligence such as machine learning much more powerful when data sets can be too big such as searching images or video
• Cloud Security: Making cloud computing more secure by using the laws of quantum physics to enhance private data safety
• Drug & Materials Discovery: Untangling the complexity of molecular and chemical interactions leading to the discovery of new medicines and materials
• Financial Services: Finding new ways to model financial data and isolating key global risk factors to make better investments
• Supply Chain & Logistics: Finding the optimal path across global systems of systems for ultra-efficient logistics and supply chains, such as optimising fleet operations for deliveries during the holiday season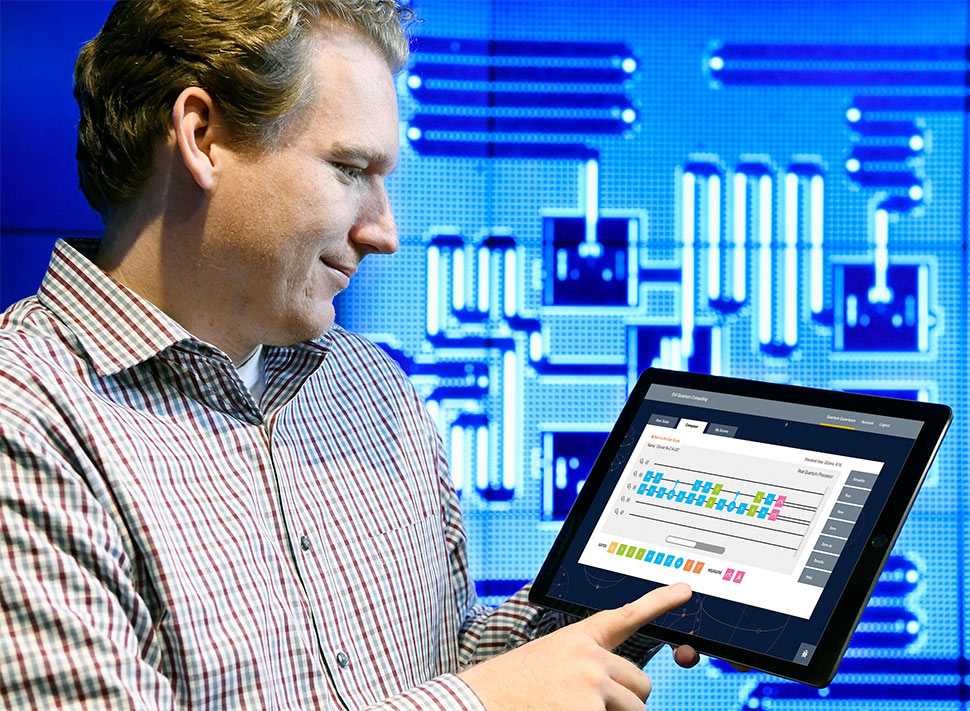 "Classical computers are extraordinarily powerful and will continue to advance and underpin everything we do in business and society," said Tom Rosamilia, senior vice president of IBM Systems. "But there are many problems that will never be penetrated by a classical computer. To create knowledge from much greater depths of complexity, we need a quantum computer. We envision IBM Q systems working in concert with our portfolio of classical high-performance systems to address problems that are currently unsolvable, but hold tremendous untapped value."
IBM's roadmap for scaling to practical quantum computers is based on a holistic approach to advancing all parts of the system. The company will leverage its deep expertise in superconducting qubits, complex high performance system integration, and scalable nanofabrication processes from the semiconductor industry to help advance the quantum mechanical capabilities. The developed software tools and environment will also leverage IBM's world-class mathematicians, computer scientists, and software and system engineers.
"As Richard Feynman said in 1981, '…if you want to make a simulation of nature, you'd better make it quantum mechanical, and by golly it's a wonderful problem, because it doesn't look so easy.' This breakthrough technology has the potential to achieve transformational advancements in basic science, materials development, environmental and energy research, which are central to the missions of the Department of Energy (DOE)," said Steve Binkley, deputy director of science, US Department of Energy. "The DOE National Labs have always been at the forefront of new innovation, and we look forward to working with IBM to explore applications of their new quantum systems."
---
• Follow us on Twitter
• Follow us on Facebook
7th February 2017
New technology could triple sharpness of displays
Researchers have developed a new blue-phase liquid crystal that could triple the sharpness of TVs, computer screens, and other displays while also reducing the power needed to run the device.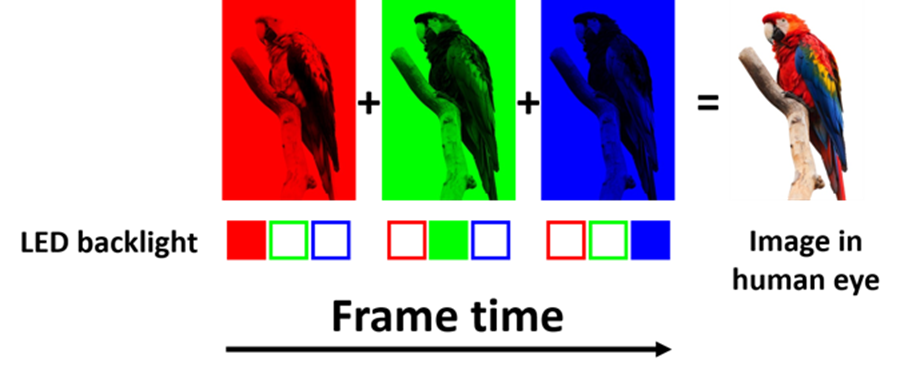 An international team of researchers has developed a new blue-phase liquid crystal that could enable televisions, computer screens and other displays that pack more pixels into the same space while also reducing the power needed to run the device. The new liquid crystal is optimised for field-sequential colour liquid crystal displays (LCDs), a promising technology for next-generation displays.
"Today's Apple Retina displays have a resolution density of about 500 pixels per inch," said Shin-Tson Wu, who led the research team at the University of Central Florida's College of Optics and Photonics (CREOL). "With our new technology, a resolution density of 1500 pixels per inch could be achieved on the same sized screen. This is especially attractive for virtual reality headsets or augmented reality technology, which must achieve high resolution in a small screen to look sharp when placed close to our eyes."
Although the first blue-phase LCD prototype was demonstrated by Samsung in 2008, the technology still hasn't moved into production, because of problems with high operation voltage and slow capacitor charging time. To tackle these problems, Wu's research team worked with collaborators from liquid crystal manufacturer JNC Petrochemical Corporation in Japan and display manufacturer AU Optronics Corporation in Taiwan.
In the journal Optical Materials Express, the team explains how combining the new liquid crystal with a special performance-enhancing electrode structure can achieve light transmittance of 74 percent, with 15 volts per pixel – operational levels that could finally be practical for commercial applications.
"Field-sequential colour displays can be used to achieve the smaller pixels needed to increase resolution density," explains Yuge Huang, first author of the paper. "This is important, because the resolution density of today's technology is almost at its limit."
Today's LCD screens contain a thin layer of nematic liquid crystal through which the incoming white LED backlight is modulated. Thin-film transistors deliver the required voltage that controls light transmission in each pixel. The LCD subpixels contain red, green and blue filters that are used in combination to produce different colours to the human eye. The colour white is created by combining all three colours.

Blue-phase liquid crystal can be switched, or controlled, about 10 times faster than the nematic type. This sub-millisecond response time allows each LED colour (red, green and blue) to be sent through the liquid crystal at different times and eliminates the need for colour filters. The LED colours are switched so quickly that our eyes can integrate red, green and blue to form white.
"With colour filters, the red, green and blue light are all generated at the same time," said Wu. "However, with blue-phase liquid crystal, we can use one subpixel to make all three colours – but at different times. This converts space into time, a space-saving configuration of two-thirds, which triples the resolution density."
The blue-phase liquid crystal also triples the optical efficiency because the light doesn't have to pass through colour filters, which limit transmittance to about 30 percent. Another big advantage is that the displayed colour is more vivid because it comes directly from red, green and blue LEDs, which eliminates the colour crosstalk that occurs with conventional filters.
Wu's team worked with JNC to reduce the blue-phase liquid crystal's dielectric constant to a minimally acceptable range, to reduce the transistor charging time and get submillisecond optical response time. However, each pixel still needed slightly higher voltage than a single transistor could provide. To overcome this problem, the researchers implemented a protruded electrode structure that lets the electric field penetrate the liquid crystal more deeply. This lowered the voltage needed to drive each pixel while maintaining a high light transmittance.

"We achieved an operational voltage low enough to allow each pixel to be driven by a single transistor while also achieving a response time of less than a millisecond," said Haiwei Chen, a doctoral student in Wu's lab. "This delicate balance between operational voltage and response time is key for enabling field sequential colour displays."
Wu predicts that a working prototype could be available in the next year.
---
• Follow us on Twitter
• Follow us on Facebook
6th February 2017
Directed energy atmospheric lens could revolutionise future battlefields
Within the next 50 years, scientists at BAE Systems believe that battlefield commanders could deploy a new type of directed energy laser and lens system called a Laser Developed Atmospheric Lens. This would enhance commanders' ability to observe adversaries' activities over much greater distances than existing sensors.
At the same time, the lens could be used as a form of 'deflector shield' to protect friendly aircraft, ships, land vehicles and troops from incoming attacks by high power laser weapons that could also become a reality in the same time period.
The Laser Developed Atmospheric Lens (LDAL) concept, developed by researchers at the company's military aircraft facility in Lancashire, UK, has been evaluated by the Science and Technology Facilities Council (STFC) Rutherford Appleton Laboratory and specialist optical sensors company LumOptica and is based on known science. It works by simulating naturally occurring phenomena and temporarily – and reversibly – changes the Earth's atmosphere into lens-like structures to magnify or change the path of electromagnetic waves, such as light and radio signals.
LDAL is a powerful concept that mimics two existing effects in nature – the reflective properties of the ionosphere; and desert mirages. The ionosphere occurs at very high altitude and is a naturally occurring layer of Earth's atmosphere which can be reflective to radio waves. For example, it results in listeners being able to tune in to radio stations many thousands of miles away. Radio signals bounce off the ionosphere, allowing them to travel very long distances through the air and over the Earth's surface. The desert mirage provides the illusion of a distant lake in the hot desert. This is because the light from the blue sky is 'bent' or refracted by the hot air near the surface and into the vision of the person looking into the distance.
LDAL would simulate both of these effects by using a high pulsed power laser system and exploiting a physics phenomenon called the 'Kerr effect' to temporarily ionise or heat a small region of atmosphere in a structured way. Mirrors, glass lenses, and structures like Fresnel zone plates could all be replicated using the atmosphere, allowing the physics of refraction, reflection, and diffraction to be exploited.
"Working with some of the best scientific minds in the UK, we're able to incorporate emerging and disruptive technologies and evolve the landscape of potential military technologies in ways that, five or ten years ago, many would never have dreamed possible," said Nick Colosimo, BAE Systems' Futurist.
Professor Bryan Edwards, Leader of STFC's Defence, Security and Resilience Futures Programme, said of the work: "For this evaluation project, STFC's Central Laser Facility team worked closely with colleagues at BAE Systems. By harnessing our collective expertise and capabilities, we have been able to identify new ways in which cutting edge technology – and our understanding of fundamental physical processes and phenomena – has the potential to contribute to enhancing the safety and security of the UK."
Craig Stacey, CEO at LumOptica added: "This is a tremendously exciting time in laser physics. Emerging technologies will allow us to enter new scientific territories and explore ever new applications. We are delighted to be working with BAE Systems on the application of such game-changing technologies, evaluating concepts which are approaching the limits of what is physically possible and what might be achieved in the future."
---
• Follow us on Twitter
• Follow us on Facebook
3rd February 2017
Quantum computer blueprint published
Researchers led by the University of Sussex have published the first practical blueprint for how to build a large-scale quantum computer.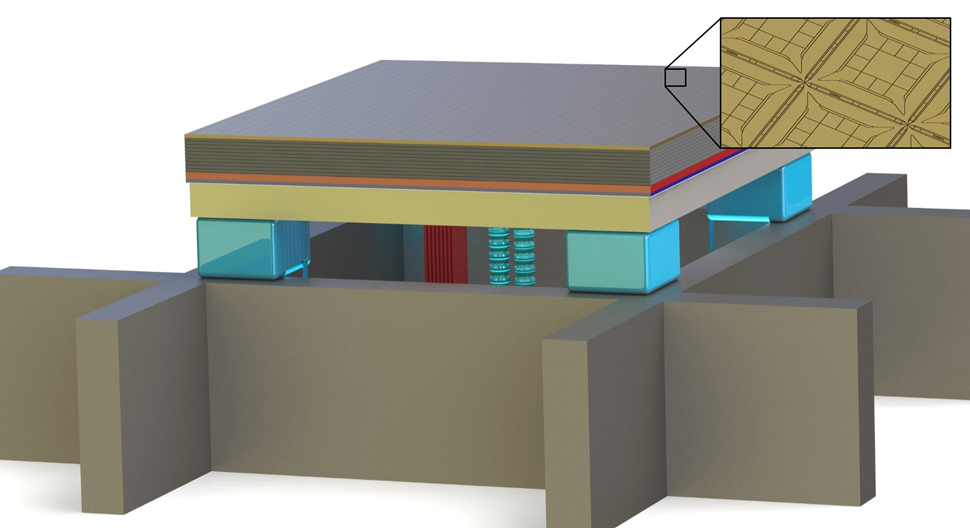 An international team, led by a scientist from the University of Sussex, has published the first practical blueprint for how to build a quantum computer – the most powerful computer in the world. This huge leap forward towards creating a universal quantum computer is detailed in the influential journal Science Advances.
It has long been known that such a computer would revolutionise industry, science and commerce on a similar scale as the invention of ordinary computers. But this new work features the actual industrial blueprint to construct such a large-scale machine, more powerful in solving certain problems than any computer ever built before.
Once operational, the computer's capabilities mean it would have the potential to answer many questions in science; solve the most mind-boggling scientific and mathematical problems; unravel some of the deepest mysteries of space; create revolutionary new medicines; and solve problems that an ordinary computer would take billions of years to compute.
The work features a new invention permitting actual quantum bits to be transmitted between individual quantum computing modules, in order to obtain a fully modular large-scale machine reaching nearly arbitrary large computational processing powers.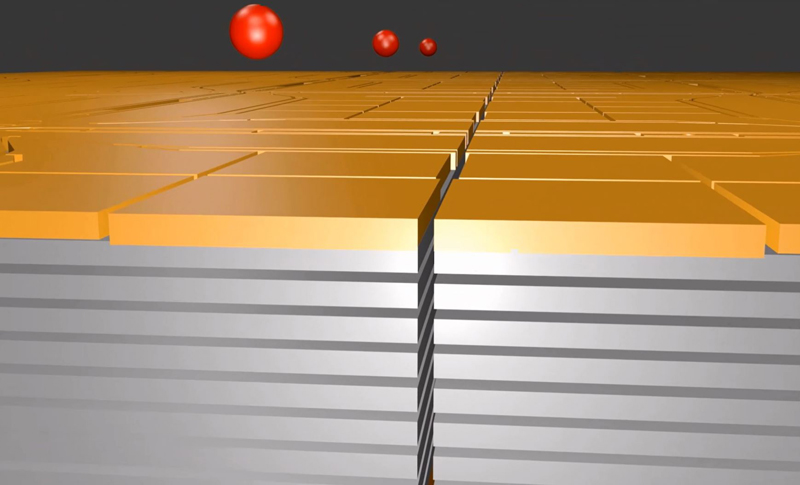 Previously, scientists had proposed using fibre optic connections to connect individual computer modules. The new invention introduces connections created by electric fields that allow charged atoms (ions) to be transported from one module to another. This new approach allows 100,000 times faster connection speeds between individual quantum computing modules compared to current state-of-the-art fibre link technology.
The new blueprint is the work of an international team of scientists from the University of Sussex (UK), Google (USA), Aarhus University (Denmark), RIKEN (Japan) and Siegen University (Germany).
Professor Winfried Hensinger, head of the Ion Quantum Technology Group at the University of Sussex, who has been leading this research, said: "For many years, people said that it was completely impossible to construct an actual quantum computer. With our work, we have not only shown that it can be done, but now we are delivering a nuts and bolts construction plan to build an actual large-scale machine."
Lead author Dr Bjoern Lekitsch, also from the University of Sussex, explains: "It was most important to us to highlight the substantial technical challenges as well as to provide practical engineering solutions."
As a next step, the team will construct a prototype quantum computer, based on this design, at the University.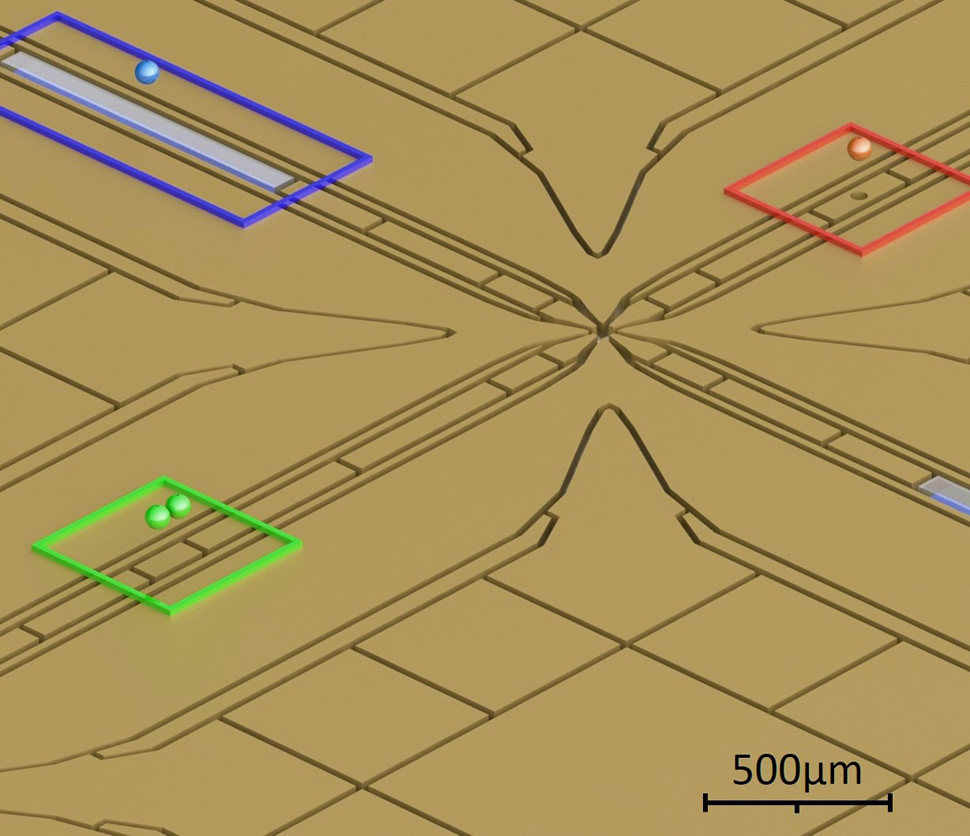 This effort is part of the UK Government's £270m ($337m) plan to accelerate the introduction of quantum technologies into the marketplace. It makes use of a recent invention by the Sussex team that can replace billions of laser beams required for large-scale quantum computer operations with the simple application of voltages to a microchip.
"The availability of a universal quantum computer may have a fundamental impact on society as a whole," said Professor Hensinger. "Without doubt it is still challenging to build a large-scale machine, but now is the time to translate academic excellence into actual application building on the UK's strengths in this ground-breaking technology. I am very excited to work with industry and government to make this happen."
The computer's possibilities for solving, explaining or developing could be endless. However, its size will be anything but small. The machine is expected to fill a large building, consisting of sophisticated vacuum apparatus featuring integrated quantum computing silicon microchips that hold individual charged atoms (ions) using electric fields.
The blueprint to develop such computers has been made public to ensure scientists throughout the world can collaborate and further develop this awesome technology as well as to encourage industrial exploitation.
Note: All images courtesy of the University of Sussex
---
• Follow us on Twitter
• Follow us on Facebook
27th January 2017
Metallic hydrogen created for the first time
Scientists at Harvard have created a small amount of metallic hydrogen for the first time, a century after it was theorised. This material is thought to be present in the depths of gas giants like Jupiter.

Photographs of hydrogen at different stages of compression: Transparent molecular hydrogen (left) at about 200 GPa, which is converted into black molecular hydrogen at 415 GPa (middle), and finally reflective atomic metallic hydrogen at 495 GPa (right).
Credit: Isaac Silvera / Harvard
Nearly a century after it was theorised, Harvard scientists claim to have succeeded in creating the rarest – and potentially one of the most valuable – materials on the planet.
The material – atomic metallic hydrogen – was created by Professor of Natural Sciences, Isaac Silvera; and his colleague, post-doctoral fellow Ranga Dias. As well as helping scientists answer fundamental questions about the nature of matter, this material is theorised to have a wide range of applications, including as a room-temperature superconductor. The breakthrough is described in a paper published yesterday by the journal Science.
"This is the holy grail of high-pressure physics," Silvera said. "It's the first-ever sample of metallic hydrogen on Earth, so when you're looking at it, you're looking at something that's never existed before."
To create it, Silvera and Dias squeezed a tiny hydrogen sample at 495 gigapascal (GPa), or more than 71 million pounds-per-square inch – greater than the pressure at the centre of the Earth. At those extreme pressures, Silvera explained, solid molecular hydrogen – which consists of molecules on the lattice sites of the solid – breaks down, and the tightly bound molecules dissociate to transforms into atomic hydrogen, which is a metal.
While the work offers an important new window into understanding the general properties of hydrogen, it also offers tantalising hints at potentially revolutionary new materials.
"One prediction that's very important is metallic hydrogen is predicted to be meta-stable," Silvera said. "That means if you take the pressure off, it will stay metallic, similar to how diamonds form from graphite under intense heat and pressure, but remain diamond when pressure and heat is removed."
Understanding whether the material is stable is important, Silvera said, because predictions suggest metallic hydrogen could act as a superconductor at room temperatures.
"That would be revolutionary," he said. "As much as 15 percent of energy is lost to dissipation during transmission, so if you could make wires from this material and use them in the electrical grid, it could change that story."
Among the holy grails of physics, a room temperature superconductor, Dias said, could radically change our transportation system, making magnetic levitation of high-speed trains possible, as well as ultra-efficient electric cars and improving the performance of many electronic devices. It could also provide major improvements in energy production and storage, because superconductors have zero resistance energy that could be stored by maintaining currents in superconducting coils, and then used when needed.
In addition to transforming life on Earth, metallic hydrogen could also play a key role in helping humans explore the far reaches of space, as the most powerful rocket propellant yet discovered.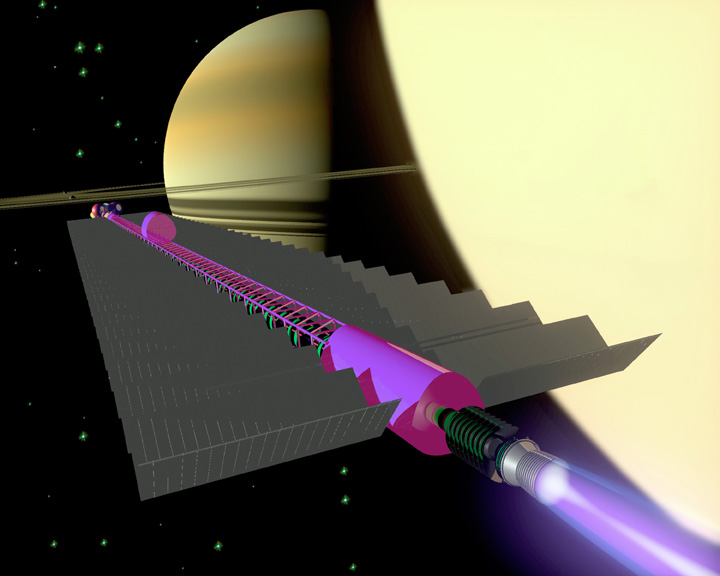 "It takes a tremendous amount of energy to make metallic hydrogen," Silvera explained. "And if you convert it back to molecular hydrogen, all that stored energy is released, so it would make it the most powerful rocket propellant known to man, and could revolutionise rocketry."
The most powerful fuels in use today have a "specific impulse" of 450 seconds – a measure, in seconds, of how fast a propellant is fired from the back of a rocket. In other words, a typical chemical rocket engine can produce one pound of thrust from one pound of fuel for 450 seconds. By comparison, the specific impulse for metallic hydrogen is theorised to be 1,700 seconds.
"That would easily allow you to explore the outer planets," Silvera said. "We would be able to put rockets into orbit with only one stage, versus two, and could send up larger payloads. So it could be very important."
To create the new material, Silvera and Dias turned to one of the hardest materials on Earth – diamond. But rather than natural diamond, Silvera and Dias used two small pieces of carefully polished synthetic diamond which were then treated to make them even tougher and then mounted opposite each other in a device known as a diamond anvil cell.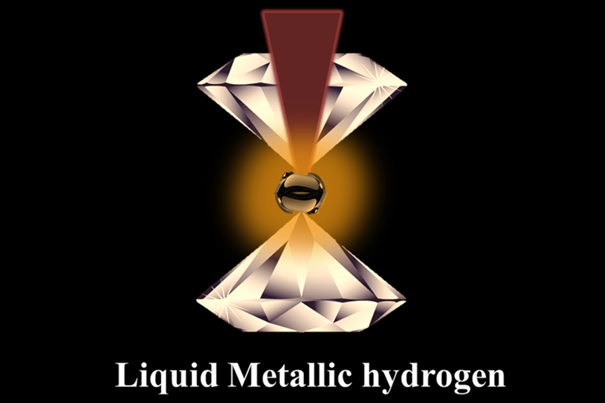 "Diamonds are polished with diamond powder, and that can gouge out carbon from the surface," Silvera said. "When we looked at the diamond using atomic force microscopy, we found defects, which could cause it to weaken and break."
The solution, he said, was to use a reactive ion etching process to shave a tiny layer – just five microns thick, or about one-tenth of a human hair – from the diamond's surface. The diamonds were then coated with a thin layer of alumina to prevent the hydrogen from diffusing into their crystal structure and embrittling them.
After more than four decades of work on metallic hydrogen, and nearly a century after it was first theorised, seeing the material for the first time, Silvera said, was thrilling.
"It was really exciting," he said. "Ranga was running the experiment, and we thought we might get there, but when he called me and said, 'The sample is shining,' I went running down there, and it was metallic hydrogen. I immediately said we have to make the measurements to confirm it, so we rearranged the lab... and that's what we did. It's a tremendous achievement – and even if it only exists in this diamond anvil cell at high pressure, it's a very fundamental and transformative discovery."
---
• Follow us on Twitter
• Follow us on Facebook
26th January 2017
Sci-fi holograms a step closer
Scientists at the Australian National University have invented a tiny device that creates the highest quality holographic images ever achieved, opening the door to 3D imaging technologies like those seen in Star Wars.
Lead researcher, Lei Wang, said the team created complex holographic images in infrared with the invention that could be developed with industry.
"As a child, I learned about the concept of holographic imaging from the Star Wars movies. It's really cool to be working on an invention that uses the principles of holography depicted in those movies," said Mr Wang, a PhD student at the ANU Research School of Physics and Engineering.
Holograms perform the most complex manipulations of light. They enable the storing and reproduction of all information carried by light in 3D. In contrast, standard photographs and computer monitors capture and display only a portion of 2D information.
"While research in holography plays an important role in the development of futuristic displays and augmented reality devices, today we are working on many other applications such as ultra-thin and light-weight optical devices for cameras and satellites," said Wang.
Mr Wang explained that the device could replace bulky components to miniaturise cameras and save costs in astronomical missions by reducing the size and weight of optical systems on spacecraft. Co-lead researcher, Dr Sergey Kruk, said the device consisted of millions of tiny silicon "pillars", each up to 500 times thinner than a human hair.
"This new material is transparent, which means it loses minimal energy from the light, and it also does complex manipulations with light," said Dr Kruk from the ANU Research School of Physics and Engineering. "Our ability to structure materials at the nanoscale allows the device to achieve new optical properties that go beyond the properties of natural materials. The holograms we made demonstrate the strong potential of this technology to be used in a range of applications."
---
• Follow us on Twitter
• Follow us on Facebook
5th December 2016
Construction of practical quantum computers radically simplified
Scientists at the University of Sussex have invented a ground-breaking new method that puts the construction of large-scale quantum computers within reach of current technology.
Quantum computers could solve certain problems – that would take the fastest supercomputer millions of years to calculate – in just a few milliseconds. They have the potential to create new materials and medicines, as well as solve long-standing scientific and financial problems.
Universal quantum computers can be built in principle, but the technological challenges are tremendous. The engineering required to build one is considered more difficult than manned space travel to Mars – until now.
Quantum computing experiments on a small scale using trapped ions (charged atoms) are carried out by aligning individual laser beams onto individual ions with each ion forming a quantum bit. However, a large-scale quantum computer would need billions of quantum bits, therefore requiring billions of precisely aligned lasers, one for each ion.
Instead, scientists at the University of Sussex have invented a simple method where voltages are applied to a quantum computer microchip (without having to align laser beams) – to the same effect. The team also succeeded in demonstrating the core building block of this new method with an impressively low error rate.
"This development is a game changer for quantum computing making it accessible for industrial and government use," said Professor Winfried Hensinger, who heads the Ion Quantum Technology Group at the university and is director of the Sussex Centre for Quantum Technologies. "We will construct a large-scale quantum computer at Sussex making full use of this exciting new technology."
Quantum computers may revolutionise society in a similar way as the emergence of classical computers. "Developing this step-changing new technology has been a great adventure and it is absolutely amazing observing it actually work in the laboratory," said Hensinger's colleague, Dr Seb Weidt.
The Ion Quantum Technology Group forms part of the UK's National Quantum Technology Programme, a £270 million investment by the government to accelerate the introduction of quantum technologies into the marketplace.
A paper on this latest research, 'Trapped-ion quantum logic with global radiation fields', is published in the journal Physical Review Letters.
---
• Follow us on Twitter
• Follow us on Facebook
29th November 2016
The speed of light could be variable, say researchers
Scientists behind a theory that the speed of light is variable – and not constant as Einstein suggested – have produced a model with an exact figure on the spectral index, which they say is testable.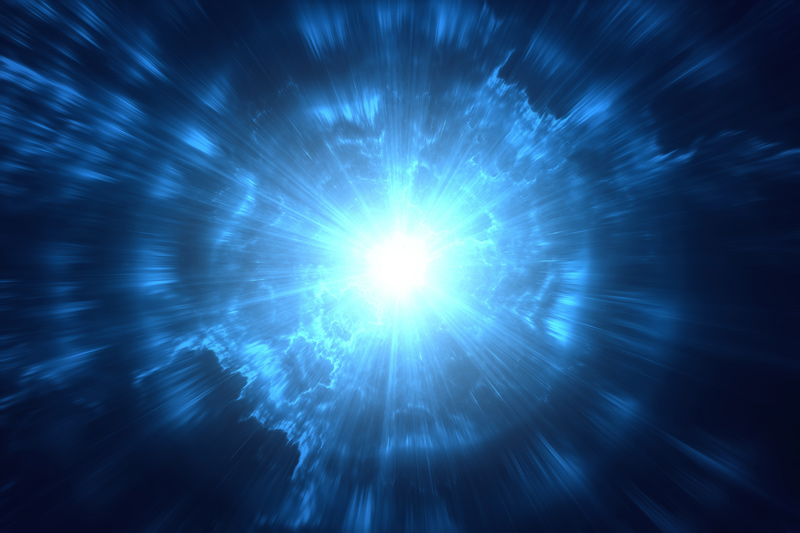 Scientists behind a theory that the speed of light is variable – and not constant as Einstein suggested – have made a prediction that could be tested.
Einstein observed that the speed of light remains the same in any situation, and this meant that space and time could be different in different situations.
The assumption that the speed of light is fixed, and always has been, underpins many theories in physics, such as Einstein's theory of general relativity. It plays an especially important role in models of what happened during the very early universe, seconds after the Big Bang.
But some researchers have suggested that the speed of light could have been much higher in this early universe. Now, one of this theory's originators, Professor João Magueijo from Imperial College London, working with Dr Niayesh Afshordi at the Perimeter Institute in Canada, has made a prediction that could be used to test the theory's validity.
Large structures, such as galaxies, all formed from fluctuations in the early universe – tiny differences in density from one region to another. A record of these early fluctuations is imprinted on the cosmic microwave background – a map of the oldest light in the universe – in the form of a 'spectral index'.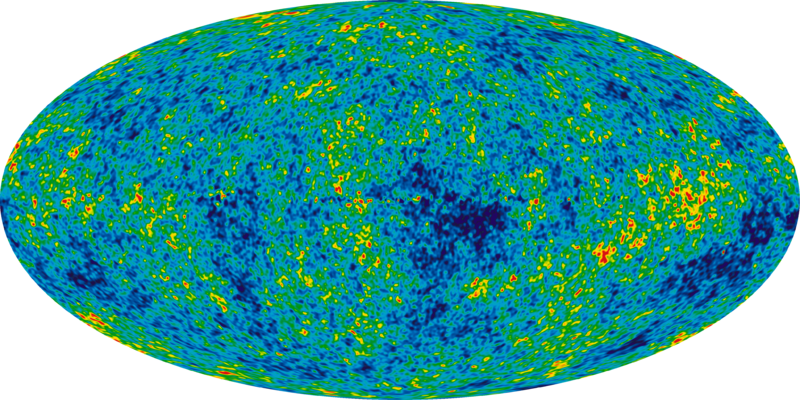 Working with their theory that the fluctuations were influenced by a varying speed of light in the early universe, Professor Magueijo and Dr Afshordi have now used a model to put an exact figure on the spectral index. The predicted figure and model it is based on are published this month in the peer-reviewed journal Physical Review D.
Cosmologists have been getting ever more precise readings of this figure, so the prediction could soon be tested – either confirming or ruling out the team's model of the early universe. Their figure is a very precise 0.96478. This is close to the current estimate of readings of the cosmic microwave background, which puts it around 0.968, with some margin of error.
"The theory, which we first proposed in the late-1990s, has now reached a maturity point – it has produced a testable prediction. If observations in the near future do find this number to be accurate, it could lead to a modification of Einstein's theory of gravity," explains Professor Magueijo. "The idea that the speed of light could be variable was radical when first proposed – but with a numerical prediction, it becomes something physicists can actually test. If true, it would mean that the laws of nature were not always the same as they are today."
The testability of the varying speed of light theory sets it apart from the more mainstream rival theory: inflation. Inflation says that the early universe went through an extremely rapid expansion phase, much faster than the current rate of expansion of the universe.
These theories are necessary to overcome what physicists call the 'horizon problem'. The universe as we see it today appears to be everywhere broadly the same. For example, it has a relatively homogenous density.
This could only be true if all regions of the universe were able to influence each other. However, if the speed of light has always been the same, then not enough time has passed for light to have travelled to the edge of the universe, and 'even out' the energy.
As an analogy, to heat up a room evenly, the warm air from radiators at either end has to travel across the room and mix fully. The problem for the universe is that the 'room' – the observed size of the universe – appears to be too large for this to have happened in the time since it was formed.
The varying speed of light theory suggests that the speed of light was much higher in the early universe, allowing the distant edges to be connected as the universe expanded. The speed of light would have then dropped in a predictable way as the density of the universe changed. This variability led the team to their prediction published this month.
The alternative theory is inflation, which attempts to solve this problem by saying that the very early universe "evened out" while incredibly small, and then suddenly expanded, with the uniformity already imprinted on it. While this means the speed of light and the other laws of physics as we know them are preserved, it requires the invention of an 'inflation field' – a set of conditions that only existed at the time.
---
• Follow us on Twitter
• Follow us on Facebook
3rd November 2016
1,000-fold increase in 3-D scanning speed
Researchers at Penn State University report a 1,000-fold increase in the scanning speed for 3-D printing, using a space-charge-controlled KTN beam deflector with a large electro-optic effect.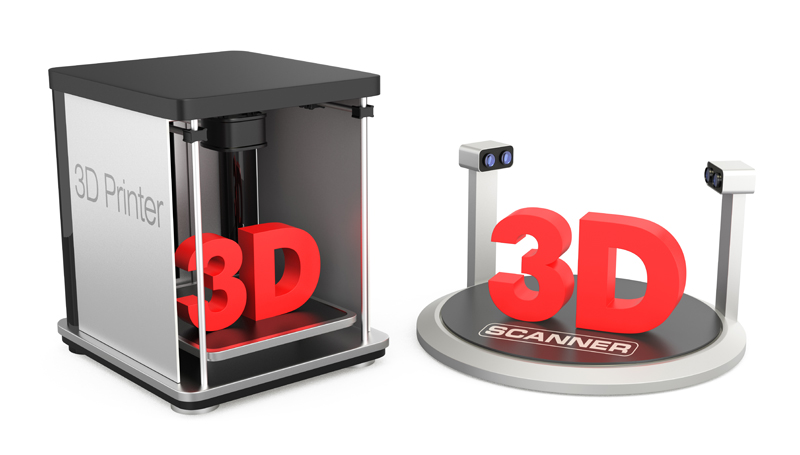 A major technological advance in the field of high-speed beam-scanning devices has resulted in a speed boost of up to 1000 times, according to researchers in Penn State's College of Engineering. Using a space-charge-controlled KTN beam deflector – a kind of crystal made of potassium tantalate and potassium niobate – with a large electro-optic effect, researchers have found that scanning at a much higher speed is possible.
"When the crystal materials are applied to an electric field, they generate uniform reflecting distributions, that can deflect an incoming light beam," said Professor Shizhuo Yin, from the School of Electrical Engineering and Computer Science. "We conducted a systematic study on indications of speed and found out the phase transition of the electric field is one of the limiting factors."
To overcome this issue, Yin and his team of researchers eliminated the electric field-induced phase transition in a nanodisordered KTN crystal by making it work at a higher temperature. They not only went beyond the Curie temperature (at which certain materials lose their magnetic properties, replaced by induced magnetism), they went beyond the critical end point (in which a liquid and its vapour can co-exist).
This increased the scanning speed from the microsecond range to the nanosecond range, and led to improved high-speed imaging, broadband optical communications and ultrafast laser display and printing. The researchers believe this could lead to a new generation of 3-D printers, with objects that once took an hour to print now taking a matter of seconds.
Yin said technology like this would be especially useful in the medical industry – high-speed imaging will now be possible in real-time. For example, optometrists who use a non-invasive test that uses light waves to take cross-section pictures of a person's retina, would be able to have a 3-D image of their patients' retinas as they are performing the surgery, so they can see what needs to be corrected during the procedure.
The group's findings are published in the journal Nature Scientific Reports.
---
• Follow us on Twitter
• Follow us on Facebook