18th July 2016
Graphene-infused packaging is a million times better at blocking moisture
Plastic packaging might seem impenetrable – and sometimes nearly impossible to remove – but water molecules can still pass through. And this permeability to moisture can limit the lifespan of a product. To better protect goods such as electronics and medicines, U.S. and Indian scientists have developed a new kind of packaging that incorporates a single layer of graphene. They report their material, which reduces by a million-fold how much water can get through, in the journal ACS Nano.
These days, packaging is everywhere, sometimes even on individual fruits or vegetables. Wrapping products from food to electronics in plastic films can protect against dust, bacteria and to some extent water. But to maximise the lifetime of moisture-sensitive devices such as organic light-emitting diodes (OLED) for more than a year, for example, the packaging must restrict water vapour from entering at a rate of less than 0.000001 (10-6) grams per square metre every day, according to study author Praveen C. Ramamurthy. Today's typical packaging is far from achieving that goal. Ramamurthy and colleagues wanted to see whether adding graphene to flexible polymer films would help.
The researchers synthesised a layer of graphene by chemical vapour deposition and using a simple and scalable process, transferred the graphene to a polymer film. Water vapour permeated the material at the target rate of less than 10-6 grams per square metre per day. An accelerated aging test showed that an organic photovoltaic device wrapped in the graphene-infused film would have a lifetime of more than a year compared to less than half an hour if packaged in the polymer without the graphene.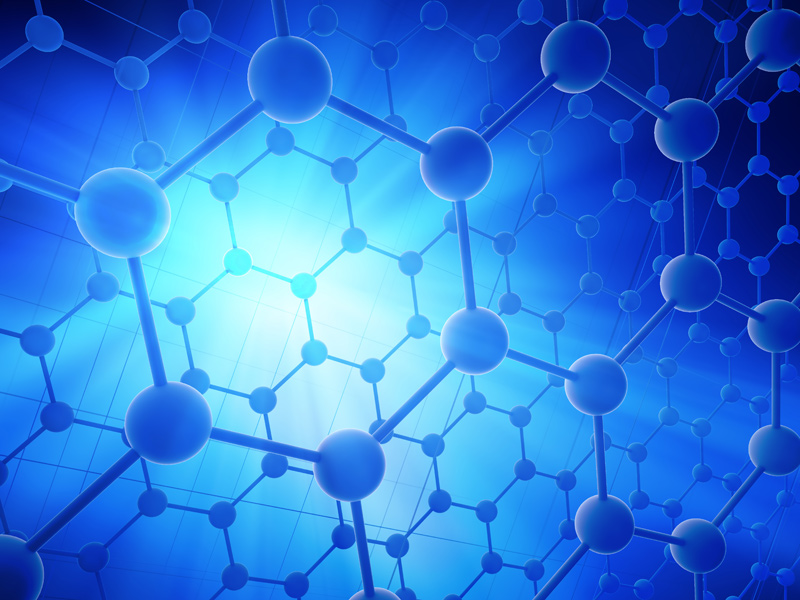 ---
• Follow us on Twitter
• Follow us on Facebook
22nd April 2016
Ultra-long carbyne stronger than graphene is synthesised for the first time
An international team of scientists reports synthesising ultra-long carbyne inside double-walled nanotubes. This exotic form of carbon is even stronger than graphene.
European researchers have successfully stabilised chains of more than 6,400 carbon atoms, using double-walled nanotubes. In a study, published by the journal Nature Materials, they demonstrate a new route for the production of carbyne – infinitely long carbon chains whose mechanical properties surpass those of diamond and graphene. Their method involved using double-walled carbon nanotubes, as shown in these illustrations, to protect the carbon chain from extreme instability in ambient conditions.
Elemental carbon appears in many different forms, some of which are very well-known and have been thoroughly studied: diamond, graphite, graphene, fullerenes, nanotubes and carbyne. Within this "carbon family", carbyne (a truly one-dimensional carbon structure) is the only one that has not been synthesised until now, despite having been studied for more than 50 years. Chemists across the world had been trying to synthesise increasingly longer carbyne chains by using stabilising agents, but the longest chain obtained so far (achieved in 2010) was only 44 carbon atoms.
Now, a research group at the University of Vienna, led by Prof Thomas Pichler, has presented a new, simple means for stabilising these carbon chains with a record-breaking length of more than 6,400 carbon atoms. The previous record has therefore been broken by two orders of magnitude. To do this, they used the confined space inside a double-walled carbon nanotube as a "nano-reactor" to make the ultra-long carbon chains grow, while providing the chains great stability. This could be tremendously important for future applications.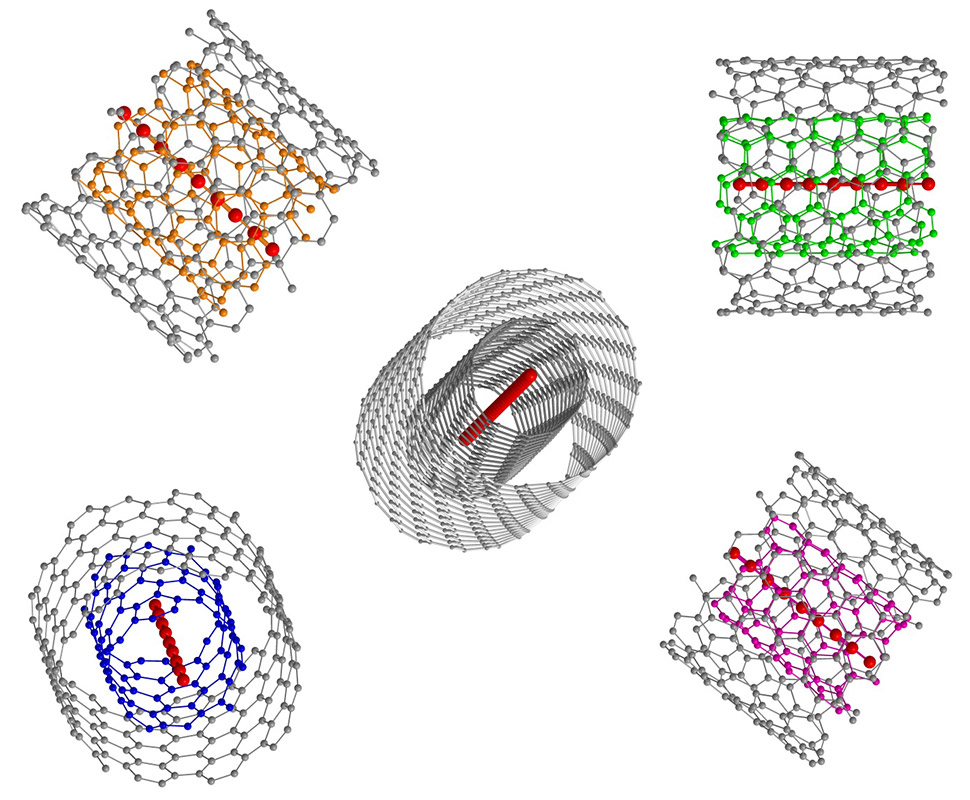 The researchers unambiguously confirmed the existence of these chains by means of structural and optical probes. This direct experimental proof can be seen as a promising step towards obtaining perfectly linear carbon chains, the researchers' final objective. Theoretical studies have shown that after having linear chains grow inside a carbon nanotube, the hybrid system could have a metallic nature – making it possible to control electronic properties. In other words, this new system is not only interesting from a chemical point of view, it could also be very important in the field of nano devices.
According to theoretical models, carbyne has mechanical properties unmatched by any known material. It has twice the tensile stiffness of graphene and nearly three times that of diamond. Furthermore, its electronic properties point towards new nano-electronic applications, such as the development of new magnetic semiconductors, high power density batteries, or in quantum spin transport electronics (spintronics). However, the researchers point out that to achieve this would require extracting these ultra-long, linear carbon chains from the double-walled nanotube containing them and stabilising them in a liquid environment.
---
• Follow us on Twitter
• Follow us on Facebook
11th April 2016
The first high-res 3D images of DNA segments
First-of-their-kind images by researchers at Berkeley Lab could aid in the use of DNA to build nanoscale devices.
An international team working at the Department of Energy's Lawrence Berkeley National Laboratory (Berkeley Lab) has captured the first high-resolution 3-D images from individual double-helix DNA segments, attached at either end of gold nanoparticles. The images detail the flexible structure of the DNA segments, which appear as nanoscale "jump ropes".
This unique imaging capability, pioneered by Berkeley Lab scientists, could aid in the use of DNA segments as building blocks for molecular devices that function as nanoscale drug-delivery systems, markers for biological research, and components for computer memory and electronic devices. It could also lead to images of disease-relevant proteins that have proven elusive for other imaging techniques, and of the assembly process that forms DNA from separate, individual strands.
The shapes of the coiled DNA strands, which were sandwiched between polygon-shaped gold nanoparticles, were reconstructed in 3-D using a cutting-edge electron microscope technique called individual-particle electron tomography (IPET). This was combined with a protein-staining process and sophisticated software that provided structural details down to a scale of just 2 nanometres (nm), or about two billionths of a metre.
"We had no idea about what the double-strand DNA would look like between the nanogold particles," said Gang Ren, a Berkeley Lab scientist who led the research. "This is the first time for directly visualising an individual double-strand DNA segment in 3-D."
While the 3-D reconstructions show the basic nanoscale structure of the samples, Ren said the next step will be to improve the resolution to the sub-nanometre scale: "Even in this current state, we begin to see 3-D structures at 1- to 2-nanometre resolution," he said. "Through better instrumentation and improved computational algorithms, it would be promising to push the resolution to that visualising a single DNA helix within an individual protein."
The technique, he said, has already excited interest among some prominent pharmaceutical companies and nanotechnology researchers, and his science team already has dozens of related research projects being planned. In future studies, they could attempt to improve the imaging resolution for complex structures that incorporate more DNA segments as a sort of "DNA origami," Ren said. Researchers hope to build and better characterise nanoscale molecular devices using DNA segments that can, for example, store and deliver drugs to targeted areas in the body.
"DNA is easy to program, synthesise and replicate, so it can be used as a special material to quickly self-assemble into nanostructures and to guide the operation of molecular-scale devices," he said. "Our current study is just a proof of concept for imaging these kinds of molecular devices' structures."
His team's work is published in the journal Nature Communications.
---
• Follow us on Twitter
• Follow us on Facebook