30th January 2017
First 3-D observation of protein complexes working inside cells
Researchers have combined genetic engineering, super-resolution microscopy and biocomputation to witness in 3-D the protein machinery inside living cells. Their method unveils key functional features of protein assemblies that are vital for life, and will make it possible to study cellular protein machinery in health and in disease.
Scientists at the Institute for Research in Biomedicine (IRB Barcelona) have published a study in which they observed protein nanomachines (also called protein complexes) – the structures responsible for performing cell functions – for the first time in living cells and in 3-D. This work was done in collaboration with researchers at the University of Geneva in Switzerland and the Centro Andaluz de Biología del Desarrollo in Seville.
Currently, biologists who study the function of protein nanomachines isolate these complexes in test tubes, divorced from the cell, and then apply in vitro techniques that allow them to observe their structure up to the atomic level. Alternatively, they use techniques that allow the analysis of these complexes within the living cell, but that give little structural information. In this latest study, however, the scientists have managed to directly observe the structure of the protein machinery in living cells while it is executing its function.
"In vitro techniques allow us to make observations at the atomic level, but the information provided is limited," explains Oriol Gallego, IRB Barcelona researcher and study coordinator. "We will not know how an engine works if we disassemble it and only look at the individual parts. We need to see the engine assembled in the car and running. In biology, we still do not have the tools to observe the inner workings of a living cell, but the technique that we have developed is a step in the right direction. We can now see, in 3-D, how the protein complexes carry out their functions."
The new technique combines super-resolution microscopy – a discovery that was recognised with the 2014 Nobel Prize in Chemistry – cell engineering, and computational modelling. This enables the observation of protein complexes with a precision of 5 nanometres (nm), a resolution "four times better than that offered by super-resolution and that allows us to perform cell biology studies that were previously unfeasible," explains Gallego (*a nm is a millionth of a mm. Human hairs have a width of 100,000 nm).
Cells were genetically modified by the researchers to build artificial supports inside, onto which they could anchor protein complexes. The supports were designed in such a way as to allow them to regulate the angle from which the immobilised nanomachinery was viewed. The 3-D structure of protein complexes was then determined by using super-resolution techniques to measure distances between the different components, then integrating them in a process similar to that used by GPS.
Gallego used this method to study exocytosis, a mechanism that the cell uses to communicate with the cell exterior. For instance, neurons communicate with each other by releasing neurotransmitters via exocytosis. Their study allowed the scientists to reveal the entire structure of a key nanomachine in exocytosis that until now was an enigma: "We now know how this machinery, which is formed by eight proteins, works and what each protein is important for," said Gallego. "This knowledge will help us to better understand the involvement of exocytosis in cancer and metastasis – processes in which this nanomachinery is altered."
The study is published in the journal Cell.
---
• Follow us on Twitter
• Follow us on Facebook
12th January 2017
Researchers design one of the strongest and lightest materials known
A team at MIT has designed one of the strongest lightweight materials known, by compressing and fusing flakes of graphene. Tests show it could lead to materials with a density just 5% that of steel, but 10 times stronger.
In its two-dimensional form, graphene is thought to be the strongest of all known materials. But until now, researchers have had a difficult time translating that two-dimensional strength into useful three-dimensional materials.
New findings show that the crucial aspect of these 3-D forms is more to do with their unusual geometrical configuration than the material itself, suggesting that similar strong, lightweight materials could be made from a variety of materials, by creating similar geometric features. The research is published by the journal Science Advances, in a paper led by Markus Buehler, head of MIT's Department of Civil and Environmental Engineering (CEE).
Other groups had suggested the possibility of such lightweight structures – but lab experiments so far had failed to match predictions, with some results exhibiting orders of magnitude less strength than expected. The MIT team decided to solve the mystery by analysing the material's behaviour down to the level of individual atoms. They were able to produce a mathematical framework that very closely matched their experimental observations.
Two-dimensional materials like graphene are basically flat sheets, just one atom in thickness, but able to be indefinitely large in the other dimensions. They have exceptional strength, as well as unique electrical properties. But because of their flatness, "they are not very useful for making 3-D materials that could be used in vehicles, buildings, or devices," Buehler says. "What we've done is to realise the wish of translating these 2-D materials into three-dimensional structures."
The team was able to compress small flakes of graphene using a combination of heat and pressure. This process produced a strong, stable structure whose form resembles that of some corals and microscopic creatures called diatoms. These shapes, which have an enormous surface area in proportion to their volume, proved to be remarkably strong.
"Once we created these 3-D structures, we wanted to see what's the limit – what's the strongest possible material we can produce," said his colleague and Professor of Engineering, Zhao Qin. To do that, they created a variety of 3-D models and subjected them to various tests. In computer simulations, which mimic loading conditions in tensile and compression tests performed in a tensile loading machine, "one of our samples has five percent the density of steel, but 10 times the strength," Qin says.
Buehler says that what happens to their 3-D graphene material, which is composed of curved surfaces under deformation, resembles what would happen with sheets of paper. Paper has little strength along its length and width, and can be easily crumpled up. But when made into certain shapes – for example, rolled up into a tube – suddenly the strength along the length of the tube is much greater and can support substantially more weight. Similarly, the geometric arrangement of the graphene flakes after treatment naturally forms a very strong configuration.
The team demonstrated their new configurations in the lab using a high-resolution, multimaterial 3-D printer. They were mechanically tested for their tensile and compressive properties, and their mechanical response under loading was simulated using the team's theoretical models. The results from these experiments and simulations matched accurately.
Many applications of the material could eventually be feasible, the team explains, for uses needing a combination of extreme strength and light weight. "You could either use the real graphene material, or use the geometry we discovered with other materials like polymers or metals," says Buehler, to gain similar advantages of strength combined with advantages in cost, processing methods, or other properties like transparency or electrical conductivity. "You can replace the material itself with anything. The geometry is the dominant factor. It's something that has the potential to transfer to many things."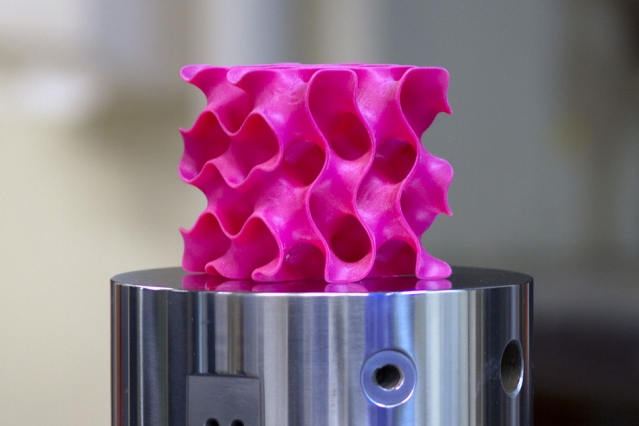 ---
• Follow us on Twitter
• Follow us on Facebook
6th January 2017
IBM predicts five innovations for the next five years
IBM has unveiled its annual "5 in 5" – a list of ground-breaking innovations that will change the way people work, live, and interact during the next five years.
In 1609, Galileo invented the telescope and saw our cosmos in an entirely new way. He proved the theory that the Earth and other planets in our Solar System revolve around the Sun, which until then was impossible to observe. IBM Research continues this work through the pursuit of new scientific instruments – whether physical devices or advanced software tools – designed to make what's invisible in our world visible, from the macroscopic level down to the nanoscale.
"The scientific community has a wonderful tradition of creating instruments to help us see the world in entirely new ways. For example, the microscope helped us see objects too small for the naked eye, and the thermometer helped us understand the temperature of the Earth and human body," said Dario Gil, vice president of science & solutions at IBM Research. "With advances in artificial intelligence and nanotechnology, we aim to invent a new generation of scientific instruments that will make the complex invisible systems in our world today visible over the next five years."
Innovation in this area could dramatically improve farming, enhance energy efficiency, spot harmful pollution before it's too late, and prevent premature physical and mental decline. IBM's global team of scientists and researchers is steadily bringing these inventions from laboratories into the real world.
The IBM 5 in 5 is based on market and societal trends, as well as emerging technologies from research labs around the world that can make these transformations possible. Below are the five scientific instruments that will make the invisible visible in the next five years.
---
With AI, our words will open a window into our mental health
In five years, what we say and write will be used as indicators of our mental health and physical well-being. Patterns in our speech and writing analysed by new cognitive systems – including meaning, syntax and intonation – will provide tell-tale signs of early-stage developmental disorders, mental illness and degenerative neurological diseases to help doctors and patients better predict, monitor and track these conditions. What were once invisible signs will become clear signals of patients' likelihood of entering a certain mental state, or how well their treatment plan is working, complementing regular clinical visits with daily assessments from the comfort of their homes.
Hyperimaging and AI will give us superhero vision
In five years, new imaging devices using hyperimaging technology and AI will help us "see" beyond visible light, by combining multiple bands of the electromagnetic spectrum. This will reveal valuable insights or potential dangers that may otherwise be unknown or hidden from view. Most importantly, these devices will be portable, affordable and widely accessible in our daily lives, giving us the ability to perceive or see through objects and opaque environmental conditions anytime, anywhere.
A view of invisible, or vaguely visible objects around us, could help make road and traffic conditions clearer for drivers and self-driving cars. For example, by using millimetre wave imaging, a camera and other electromagnetic sensors, hyperimaging technology could help a vehicle see through fog or rain, detect hazardous and hard-to-see road conditions such as black ice, or tell us if there is some object up ahead – as well as its distance and size. Cognitive computing technologies will reason about this data and recognise what might be a tipped over garbage can versus a deer crossing the road or a pot hole that could result in a flat tire.
Macroscopes will help us understand Earth's complexity in infinite detail
Instrumenting and collecting masses of data from every source in the physical world, big and small, and bringing it together will reveal comprehensive solutions for our food, water and energy needs. Today, the physical world only gives us a glimpse into our highly interconnected and complex ecosystem. We collect exabytes of data – but most of it is unorganised. In fact, an estimated 80 percent of a data scientist's time is spent scrubbing data instead of analysing and understanding what that data is trying to tell us.
Thanks to the Internet of Things (IoT), new sources of data are pouring in from millions of connected objects – from refrigerators, light bulbs and heart rate monitors, to remote sensors such as drones, cameras, weather stations, satellites and telescope arrays. There are already more than six billion connected devices generating tens of exabytes of data per month, with a growth rate of over 30% each year. After successfully digitising information, business transactions and social interactions, we are now in the process of digitising the physical world.
By 2022, we will use machine learning algorithms and software to organise the information about the physical world, bringing the vast and complex data gathered by billions of devices within the range of our vision and understanding. IBM calls this idea a "macroscope" – but unlike microscopes to see the very small, or telescopes that can see far away, this will be a system to gather all of Earth's complex data together to analyse it for meaning.
By aggregating, organising and analysing data on climate, soil conditions, water levels and their relationship to irrigation practices, for example, a new generation of farmers will have insights that help them determine the right crop choices, where to plant them and how to produce optimal yields while conserving precious water supplies.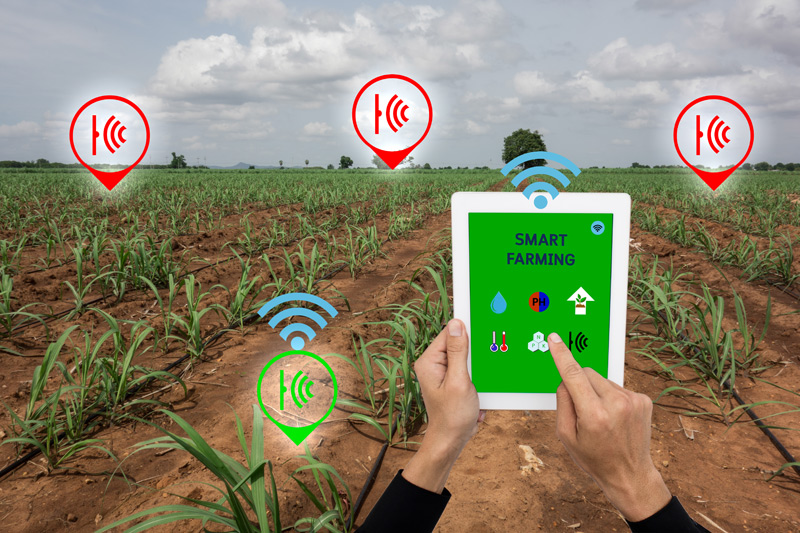 Medical labs "on a chip" will serve as health detectives for tracing disease at the nanoscale
In five years, new medical labs on a chip will serve as nanotechnology health detectives – tracing invisible clues in our bodily fluids and letting us know immediately if we have reason to see a doctor. The goal is to shrink down to a single silicon chip all of the processes necessary to analyse a disease that would normally be carried out in a full-scale biochemistry lab.
Lab-on-a-chip technology will eventually be packaged in a handheld device. This will allow people to quickly and regularly measure the presence of biomarkers found in small amounts of bodily fluids – such as saliva, tears, blood and sweat – sending this information securely into the cloud from the comfort of their home. There it will be combined with real-time health data from other IoT-enabled devices, like sleep monitors and smart watches, and analysed by AI systems for insights. Taken together, this data will give an in-depth view of our health, alerting us to the first signs of trouble – helping to stop disease before it progresses.
IBM scientists are developing nanotechnology that can separate and isolate bioparticles down to 20 nanometres in diameter, a scale that gives access to DNA, viruses, and exosomes. These particles could be analysed to potentially reveal the presence of disease even before we have symptoms.
Smart sensors will detect environmental pollution at the speed of light
In five years, new sensing technologies deployed near natural gas extraction wells, around storage facilities, and along distribution pipelines will enable the industry to pinpoint invisible leaks in real-time. Networks of IoT sensors wirelessly connected to the cloud will provide continuous monitoring of natural gas infrastructure, allowing leaks to be found in a matter of minutes instead of weeks, reducing pollution and waste and the likelihood of catastrophic events.
IBM is researching silicon photonics – an emerging technology that transfers data by light, for computing literally at the speed of light. These chips could be embedded in a network of sensors on the ground or within infrastructure, or even fly on autonomous drones; generating insights that, combined with real-time wind data, satellite data, and other historical sources, will produce complex environmental models to detect the origin and quantity of pollutants as they occur.
---
• Follow us on Twitter
• Follow us on Facebook
16th November 2016
Solar nanotech clothing could revolutionise wearable technology
Scientists at the University of Central Florida are researching and developing solar nanotech-powered clothing.
Scientists have developed filaments that harvest and store the Sun's energy – and can be woven into textiles. The breakthrough would essentially turn jackets and other clothing into wearable, solar-powered batteries that never need to be plugged in. It could one day revolutionise wearable technology, helping everyone from soldiers who now carry heavy loads of batteries, to smartphone users who could charge a device while on the move by simply placing it in their pocket.
"The idea came to me: we make energy storage devices and we make solar cells in the labs. Why not combine these two devices together?" said Associate Professor Jayan Thomas, a nanotechnology scientist at the University of Central Florida's NanoScience Technology Centre.
Thomas has already been lauded for earlier ground-breaking research. Last year, he received an R&D 100 Award – given to the top inventions of the year worldwide – for his development of a cable that not only transmits energy like a normal cable, but can also store energy like a battery. He's also developing a semi-transparent solar cell that can be applied to windows, allowing some light to pass through, while simultaneously harvesting energy. This new work builds on that research.
Thomas was inspired by the clothing worn by Marty McFly in 80s sci-fi classic, Back to the Future Part II: "That movie was the motivation," he says. "If you can develop self-charging clothes or textiles, you can realise those cinematic fantasies – that's the cool thing."
His research team developed filaments in the form of copper ribbons that are thin, flexible and lightweight. The ribbons have a solar cell on one side and energy-storing layers on the other. Using a small, tabletop loom, the ribbons were woven into a square of yarn.
The proof-of-concept shows that the filaments could be laced throughout jackets or other outwear to harvest and store energy to power phones, personal health sensors and other tech gadgets. It's an advancement that overcomes the main shortcoming of solar cells: the energy they produce must flow into the power grid or be stored in a battery that limits their portability.
"A major application could be with our military," Thomas explains. "When you think about our soldiers in Iraq or Afghanistan, they're walking in the Sun. Some of them are carrying over 30 pounds of batteries on their bodies. It's hard for the military to deliver batteries to these soldiers in this hostile environment. A garment like this can harvest and store energy at the same time if sunlight is available."
There are a host of other potential uses, including electric cars that could generate and store energy whenever they're in the Sun.
"That's the future. What we've done is demonstrate that it can be made," Thomas said. "It's going to be very useful for the general public and the military and many other applications."
His team's research is published in the academic journal Nature Communications.

---
• Follow us on Twitter
• Follow us on Facebook
20th October 2016
Quantum computers: 10-fold boost in stability achieved
A team at Australia's University of New South Wales has created a new quantum bit that remains in a stable superposition for 10 times longer than previously achieved.
Australian engineers have created a new quantum bit which remains in a stable superposition for 10 times longer than previously achieved, dramatically expanding the time during which calculations could be performed in a silicon quantum computer.
The new quantum bit, consisting of the spin of a single atom in silicon and merged with an electromagnetic field – known as 'dressed qubit' – retains quantum information for much longer than 'undressed' atoms, opening up new avenues to build and operate the superpowerful quantum computers of the future.
"We have created a new quantum bit where the spin of a single electron is merged together with a strong electromagnetic field," comments Arne Laucht from the School of Electrical Engineering & Telecommunications at University of New South Wales (UNSW), lead author of the paper. "This quantum bit is more versatile and more long-lived than the electron alone, and will allow us to build more reliable quantum computers."
Building a quantum computer is a difficult and ambitious challenge, but has potential to deliver revolutionary tools for otherwise impossible calculations – such as the design of complex drugs and advanced materials, or the rapid search of massive, unsorted databases. Its speed and power lie in the fact that quantum systems can host multiple 'superpositions' of different initial states, which in a computer are treated as inputs which, in turn, all get processed at the same time.
"The greatest hurdle in using quantum objects for computing is to preserve their delicate superpositions long enough to allow us to perform useful calculations," said Andrea Morello, Program Manager in the Centre for Quantum Computation & Communication Technology at UNSW. "Our decade-long research program had already established the most long-lived quantum bit in the solid state, by encoding quantum information in the spin of a single phosphorus atom inside a silicon chip placed in a static magnetic field," he said.
What Laucht and colleagues did was push this further: "We have now implemented a new way to encode the information: we have subjected the atom to a very strong, continuously oscillating electromagnetic field at microwave frequencies, and thus we have 'redefined' the quantum bit as the orientation of the spin with respect to the microwave field."
The results are striking: since the electromagnetic field steadily oscillates at a very high frequency, any noise or disturbance at a different frequency results in a zero net effect. The UNSW researchers achieved an improvement by a factor of 10 in the time span during which a quantum superposition can be preserved, with a dephasing time of T2*=2.4 milliseconds.
"This new 'dressed qubit' can be controlled in a variety of ways that would be impractical with an 'undressed qubit'," adds Morello. "For example, it can be controlled by simply modulating the frequency of the microwave field, just like an FM radio. The 'undressed qubit' instead requires turning the amplitude of the control fields on and off, like an AM radio. In some sense, this is why the dressed qubit is more immune to noise: the quantum information is controlled by the frequency, which is rock-solid, whereas the amplitude can be more easily affected by external noise."
Since the device is built upon standard silicon technology, this result paves the way to the construction of powerful and reliable quantum processors based on the same fabrication process already used for today's computers. The UNSW team leads the world in developing silicon quantum computing and Morello's team is part of a consortium who have struck a A$70 million deal between UNSW, researchers, business, and the Australian government to develop a prototype silicon quantum integrated circuit – a major step in building the world's first quantum computer in silicon.
A functional quantum computer would allow massive increases in speed and efficiency for certain computing tasks – even when compared with today's fastest silicon-based 'classical' computers. In a number of key areas – such as searching enormous databases, solving complicated sets of equations, and modelling atomic systems such as biological molecules or drugs – they would far surpass today's computers. They would also be extremely useful in the finance and healthcare industries, and for government, security and defence organisations.
Quantum computers could identify and develop new medicines by vastly accelerating the computer-aided design of pharmaceutical compounds (minimising lengthy trial and error testing), and develop new, lighter and stronger materials spanning consumer electronics to aircraft. They would also make possible new types of computing applications and solutions that are beyond our ability to foresee.
The UNSW study appears this week in the peer-reviewed journal, Nature Nanotechnology.
---
• Follow us on Twitter
• Follow us on Facebook
12th October 2016
Scientists create the smallest ever transistor – just a single nanometre long
Researchers at the Department of Energy's Lawrence Berkeley National Laboratory have demonstrated a working 1 nanometre (nm) transistor.
For more than a decade, engineers have been eyeing the finish line in the race to shrink the size of components in integrated circuits. They knew that the laws of physics had set a 5-nanometre threshold on the size of transistor gates among conventional semiconductors, about one-third the size of high-end 14-nanometre-gate transistors currently on the market.
However, some laws are made to be broken, or at least challenged.
A research team led by faculty scientist Ali Javey at the Department of Energy's Lawrence Berkeley National Laboratory (Berkeley Lab) has done just that by creating a transistor with a functioning 1-nanometre gate. For comparison, a strand of human hair is about 50,000 nanometres thick.
"We made the smallest transistor reported to date," said Javey, lead principal investigator of the Electronic Materials program in Berkeley Lab's Materials Science Division. "The gate length is considered a defining dimension of the transistor. We demonstrated a 1-nanometre-gate transistor, showing that with the choice of proper materials, there is a lot more room to shrink our electronics."
The key was to use carbon nanotubes and molybdenum disulfide (MoS2), an engine lubricant commonly sold in auto parts shops. MoS2 is part of a family of materials with immense potential for applications in LEDs, lasers, nanoscale transistors, solar cells, and more.
This breakthrough could help in keeping alive Intel co-founder Gordon Moore's prediction that the density of transistors on integrated circuits would double every two years, enabling the increased performance of our laptops, mobile phones, televisions, and other electronics.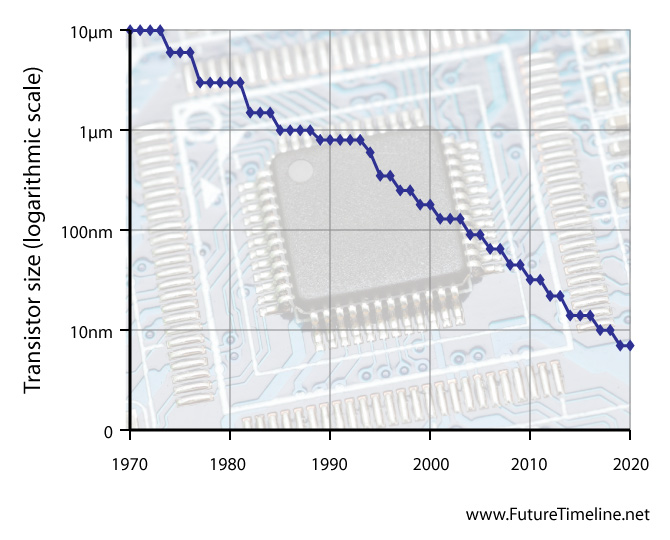 "The semiconductor industry has long assumed that any gate below 5 nanometres wouldn't work – so anything below that was not even considered," said study lead author Sujay Desai, a graduate student in Javey's lab. "This research shows that sub-5-nanometre gates should not be discounted. Industry has been squeezing every last bit of capability out of silicon. By changing the material from silicon to MoS2, we can make a transistor with a gate that is just 1 nanometre in length, and operate it like a switch."
"This work demonstrated the shortest transistor ever," said Javey, who is also a UC Berkeley professor of electrical engineering and computer sciences. "However, it's a proof of concept. We have not yet packed these transistors onto a chip, and we haven't done this billions of times over. We also have not developed self-aligned fabrication schemes for reducing parasitic resistances in the device. But this work is important to show that we are no longer limited to a 5-nanometre gate for our transistors. Moore's Law can continue a while longer by proper engineering of the semiconductor material and device architecture."
His team's research is published this month in the peer-reviewed journal Science.
---
• Follow us on Twitter
• Follow us on Facebook
3rd September 2016
DNA is sequenced in outer space for the first time
DNA has been sequenced in space for the first time, with astronaut Kate Rubins using a MinION device aboard the International Space Station.
High above the Earth, at an altitude of 330 km (205 mi), NASA has conducted the first ever space-based genome sequencing. This was made possible by a handheld device called a MinION, used aboard the International Space Station (ISS) by astronaut Kate Rubins.
Genetics have come a long way since 1953, when James Watson and Francis Crick published their famous discovery, which identified the double helical structure of DNA, the molecular instructions used in the development and functioning of all known living organisms. By the 1970s, gene expression could be controlled and manipulated through genetic engineering, which led to the first genetically modified animals and plants. During the final decades of the 20th century, teams of biologists attempted large-scale genetics projects, sequencing entire genomes, which culminated in the Human Genome Project. The latter was a $2.7 billion endeavour that involved hundreds of scientists from laboratories around the world.
Today, in the 21st century, the costs of sequencing DNA and the time required to do so have fallen at unprecedented rates – thanks to exponential advances in technology progressing faster than Moore's Law. Hundreds of thousands of human genomes have now been sequenced, with a billion likely to be read by 2025, alongside those of many more animals, plants and other lifeforms. Given the increasing portability of the hardware and its relative ease of use, it was only a matter of time before this technology found its way into space. This follows a similar milestone in November 2014 when the first 3D printer was used on the ISS.
The MinION device used by Rubins is small and light enough to carry in your palm and is easily attached to a laptop with a USB port. It was tested by researchers last year who sequenced the full genome of the bacteria Escherichia Coli. Developed by UK-based company Oxford Nanopore Technologies, the MinION works by a system of tiny protein "nanopores" dotted across an electrically-resistant membrane. A current is applied and flows through the aperture of the nanopore only. Individual molecules are identified based on a distinctive signature they reveal as they pass by and disrupt the current. Intact strands of DNA can be processed in real time and catalogued according to each of the four nucleobases – guanine (G), adenine (A), thymine (T), and cytosine (C) – as explained in this video.
Dr. Rubins, who has been aboard the ISS since 6th July, sequenced the DNA of bacteria, viruses and rodents. A team back on the ground then analysed the data and compared it to identical samples processed in their laboratory. The microgravity environment and other conditions on the space station appeared to have little or no effect in terms of harming the results.
"Until recently, technology for sequencing in space hasn't been available because sequencers are generally large bulky instruments," said Charles Chiu, director of the Abbott Viral Diagnostics and Discovery Centre at the University of California, who led the study. "It didn't turn out to be a huge problem. We essentially got equivalent data, and it's of very high quality, probably within the top 20% of nanopore runs that we do routinely here on Earth."
In future missions, the sequencing of DNA could enable crew members to rapidly diagnose an illness, or identify microbes growing aboard the station and what health threat is present. This would be particularly important to help protect astronauts on long-duration missions to Mars, for example.
"Onboard sequencing makes it possible for the crew to know what is in their environment at any time," said Sarah Castro-Wallace, NASA microbiologist and ISS project manager. "That allows us on the ground to take appropriate action – do we need to clean this up right away, or will taking antibiotics help or not? We can resupply the station with disinfectants and antibiotics now; but once crews move beyond the station's low Earth orbit, we need to know when to save those precious resources and when to use them."
In addition, the MinION and other sequencers can become a tool for more advanced science investigations in space. Researchers could use them to examine changes in genetic material or gene expression while in orbit, for example, rather than waiting for samples to be returned to Earth for testing. The ability to read genomes in space may also help in the detection of DNA-based life elsewhere in the universe. Maybe in the far future, similar devices will be routinely used on Earth-like planetary surfaces to catalogue alien species.
"Welcome to systems biology in space," said Rubins after sequencing the DNA samples, thanking the ground team for their efforts. "It is very exciting to be with you guys together at the dawn of genomics biology and systems biology in space."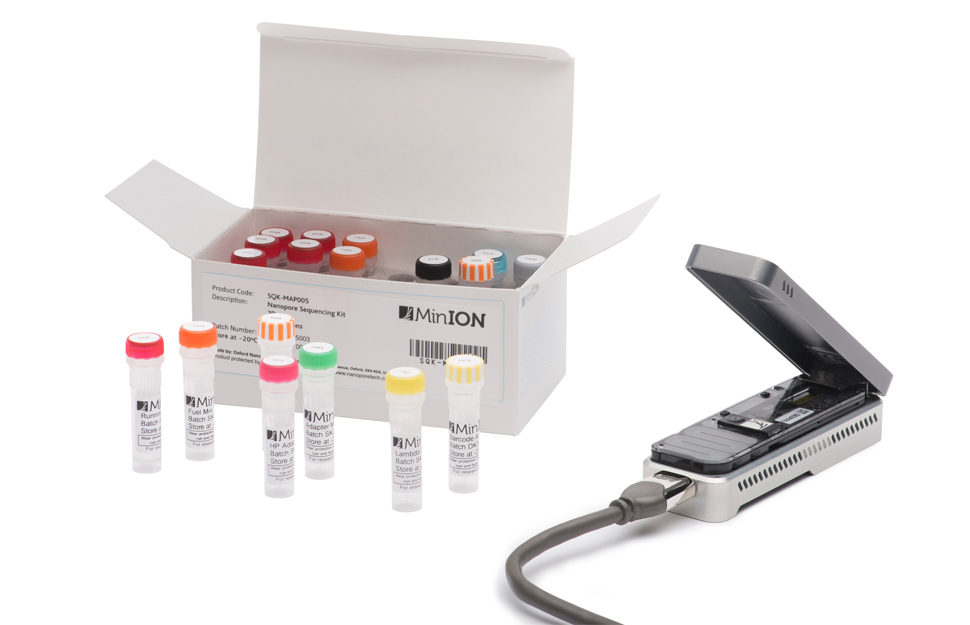 ---
• Follow us on Twitter
• Follow us on Facebook
19th July 2016
Smallest ever hard disk writes information atom by atom
Scientists in the Netherlands, working at the limits of miniaturisation, have used one bit per atom to create 1 kilobyte of data storage.
Every day, modern society creates more than a billion gigabytes of new data. To store all this information, it is increasingly important that each single bit occupies as little space as possible. A team of scientists at the Kavli Institute of Nanoscience at Delft University, Netherlands, managed to bring this reduction to the ultimate limit: they built a memory of 1 kilobyte (8,000 bits), where each bit is represented by the position of one single chlorine atom.
"In theory, this storage density would allow all books ever created by humans to be written on a single post stamp", says lead scientist Sander Otte. They reached a storage density of 500 Terabits per square inch (Tbpsi), 500 times better than the best commercial hard disk currently available. His team reports on this breakthrough in Nature Nanotechnology.
In 1959, physicist Richard Feynman challenged his colleagues to engineer the world at the smallest possible scale. In his famous lecture, There's Plenty of Room at the Bottom, he speculated that a platform allowing us to arrange individual atoms, in an exact orderly pattern, would make it possible to store one piece of information per atom. To honour the visionary Feynman, Otte and his team have now coded a section of Feynman's lecture on an area 100 nanometres wide.
The team used a scanning tunnelling microscope (STM), in which a sharp needle probes the atoms of a surface, one by one. Using these probes, scientists not only see the atoms, but can also push them around: "You could compare it to a sliding puzzle", Otte explains. "Every bit consists of two positions on a surface of copper atoms, and one chlorine atom that we can slide back and forth between these two positions. If the chlorine atom is in the top position, there is a hole beneath it – we call this a 1. If the hole is in the top position and the chlorine atom is therefore on the bottom, then the bit is a 0." Because the chlorine atoms are surrounded by other chlorine atoms, except near the holes, they keep each other in place. That is why this method with holes is much more stable than methods with loose atoms and more suitable for data storage.
The researchers from Delft organised their memory in blocks of 8 bytes (64 bits). Each block has a marker, made of the same type of 'holes' as the raster of chlorine atoms. Inspired by the pixelated square barcodes (QR codes) often used to scan tickets for airplanes and concerts, these markers work like miniature QR codes that carry information about the precise location of the block on the copper layer. The code will also indicate if a block has been damaged, for instance due to some local contaminant or an error in the surface. This allows memory to be scaled up easily to very big sizes, even if the copper surface is not entirely perfect.
The new method offers excellent prospects in terms of stability and scalability. Still, this type of memory should not be expected in commercial use anytime soon: "In its current form, the memory can operate only in very clean vacuum conditions and at liquid nitrogen temperature (77 K), so the actual storage of data on an atomic scale is still some way off," explains Otte. "But through this achievement, we have certainly come a big step closer".
---
• Follow us on Twitter
• Follow us on Facebook