16th November 2016
Solar nanotech clothing could revolutionise wearable technology
Scientists at the University of Central Florida are researching and developing solar nanotech-powered clothing.
Scientists have developed filaments that harvest and store the Sun's energy – and can be woven into textiles. The breakthrough would essentially turn jackets and other clothing into wearable, solar-powered batteries that never need to be plugged in. It could one day revolutionise wearable technology, helping everyone from soldiers who now carry heavy loads of batteries, to smartphone users who could charge a device while on the move by simply placing it in their pocket.
"The idea came to me: we make energy storage devices and we make solar cells in the labs. Why not combine these two devices together?" said Associate Professor Jayan Thomas, a nanotechnology scientist at the University of Central Florida's NanoScience Technology Centre.
Thomas has already been lauded for earlier ground-breaking research. Last year, he received an R&D 100 Award – given to the top inventions of the year worldwide – for his development of a cable that not only transmits energy like a normal cable, but can also store energy like a battery. He's also developing a semi-transparent solar cell that can be applied to windows, allowing some light to pass through, while simultaneously harvesting energy. This new work builds on that research.
Thomas was inspired by the clothing worn by Marty McFly in 80s sci-fi classic, Back to the Future Part II: "That movie was the motivation," he says. "If you can develop self-charging clothes or textiles, you can realise those cinematic fantasies – that's the cool thing."
His research team developed filaments in the form of copper ribbons that are thin, flexible and lightweight. The ribbons have a solar cell on one side and energy-storing layers on the other. Using a small, tabletop loom, the ribbons were woven into a square of yarn.
The proof-of-concept shows that the filaments could be laced throughout jackets or other outwear to harvest and store energy to power phones, personal health sensors and other tech gadgets. It's an advancement that overcomes the main shortcoming of solar cells: the energy they produce must flow into the power grid or be stored in a battery that limits their portability.
"A major application could be with our military," Thomas explains. "When you think about our soldiers in Iraq or Afghanistan, they're walking in the Sun. Some of them are carrying over 30 pounds of batteries on their bodies. It's hard for the military to deliver batteries to these soldiers in this hostile environment. A garment like this can harvest and store energy at the same time if sunlight is available."
There are a host of other potential uses, including electric cars that could generate and store energy whenever they're in the Sun.
"That's the future. What we've done is demonstrate that it can be made," Thomas said. "It's going to be very useful for the general public and the military and many other applications."
His team's research is published in the academic journal Nature Communications.

---
• Follow us on Twitter
• Follow us on Facebook
19th October 2016
Large-scale deployment of body-worn cameras for London police
The Metropolitan Police Service (MPS) is taking a global lead with what is believed to be the largest rollout of body-worn cameras by police anywhere in the world to enhance the service it gives to London.
This week sees the beginning of a large-scale deployment of Body Worn Video (BWV) which is being issued to more than 22,000 frontline police officers in the British capital. The Met Commissioner, Sir Bernard Hogan-Howe, was joined in Lewisham by the London Mayor, Sadiq Khan, to witness the rollout of the cameras, which follows a successful trial and wide-ranging public consultation and academic evaluation. Over the coming months, cameras will be issued to all 32 London boroughs and a number of frontline specialist roles, including overt firearms officers.
The devices have already shown they can bring speedier justice for victims. This has proved particularly successful in domestic abuse cases, which have seen an increase in earlier guilty pleas from offenders who know their actions have been recorded. The technology offers greater transparency for those in front of the camera as well as behind it. Londoners can feel reassured during their interactions with police, whilst allowing officers to demonstrate professionalism in many challenging and contentious interactions, such as the use of stop and search.
All footage recorded on BWV is subject to legal safeguards and guidance. Footage from the Axon Body Camera is automatically uploaded to secure servers once the device has been docked, and flagged for use as evidence at court or other proceedings. Video not retained as evidence or for a policing purpose is automatically deleted within 31 days. If the public wish to view footage taken of them they can request, in writing, to obtain it under freedom of information laws. It must be within 31 days, unless it has been marked as policing evidence and therefore retained.
The cameras will be worn attached to the officer's uniform and will not be permanently recording. This ensures that officers' interactions with the public are not unnecessarily impeded. Members of the public will be informed as soon as practical that they are being recorded. It is highly visible in any case, with a flashing red circle in the centre of the camera and a frequent beeping noise when the device is activated.
The interactive graphic below explains how body worn video will be used.
Mayor of London, Sadiq Khan, said: "Body Worn Video is a huge step forward in bringing our capital's police force into the 21st century and encouraging trust and confidence in community policing. This technology is already helping drive down complaints against officers and making them more accountable, as well as helping to gather better evidence for swifter justice."
Metropolitan Police Commissioner, Sir Bernard Hogan-Howe: "Body Worn Video will support our officers in the many challenging situations they have to deal with, at the same time as building the public's confidence. Our experience of using cameras already shows that people are more likely to plead guilty when they know we have captured the incident on a camera. That then speeds up justice, puts offenders behind bars more quickly and most importantly protects potential victims. Video captures events in a way that can't be represented on paper in the same detail – a picture paints a thousand words, and it has been shown the mere presence of this type of video can often defuse potentially violent situations without the need for force to be used."
Last month, a study published by the University of Cambridge found that body-worn cameras led to a 93% drop in complaints made against police by the UK and US public, suggesting the cameras result in behavioural changes that 'cool down' potentially volatile encounters. A similar study in 2014 found that officers wearing cameras witnessed a 59% drop in their use-of-force, while complaints against them fell by 87% compared to the previous year.
The deployment of all 22,000 cameras in London will be managed in a phased approach and is expected to be complete by next summer.
---
• Follow us on Twitter
• Follow us on Facebook
16th October 2016
The world's first nation state in space
At a press conference in Paris this week, plans were announced for the creation of 'Asgardia' – the first nation state in outer space.
Named after the city of the skies in Norse mythology, Asgardia is a space-based nation proposed by Dr Igor Ashurbeyli, founder of the Aerospace International Research Centre (Vienna), and Chairman of UNESCO's Science of Space committee. The concept is aimed at creating a new framework for how space activities are regulated and owned, ensuring that "the future of space is peaceful and done for the benefit of humankind."
Dr Ashurbeyli, one of the Russian Federation's most distinguished scientists, has consulted globally renowned scientists, engineers, entrepreneurs and legal experts on the development of the concept. The project's official website is currently requesting people to register for "citizenship" with the aim of applying to the United Nations for official recognition as a nation state. Already, hundreds of thousands have signed up.
As a first step, the organisation plans to crowd-source a satellite for launch in 2017, sixty years after Sputnik 1, the first ever satellite. This will mark a new era in the space age, the organisation claims, as the satellite will be independent of any current nation state on Earth: the satellite will comprise the nation itself – creating its own legal system, flag and other symbols of nationhood.
"The project's concept comprises three parts – philosophical, legal and scientific/technological," Dr Ashburbeyli explained. "Asgardia is a fully-fledged and independent nation, and a future member of the United Nations – with all the attributes this status entails. The essence of Asgardia is 'Peace in Space', and the prevention of Earth's conflicts being transferred into space.
"Asgardia is also unique from a philosophical aspect: to serve entire humanity and each and everyone, regardless of his or her personal welfare and the prosperity of the country where they happened to be born. The scientific and technological component of the project can be explained in just three words – peace, access and protection. The scientific and technological envelope of Asgardia is a space arena for the scientific creativity of its citizens and companies in developing a broad range of future space technologies, products and services for humanity on Earth and humanity in space."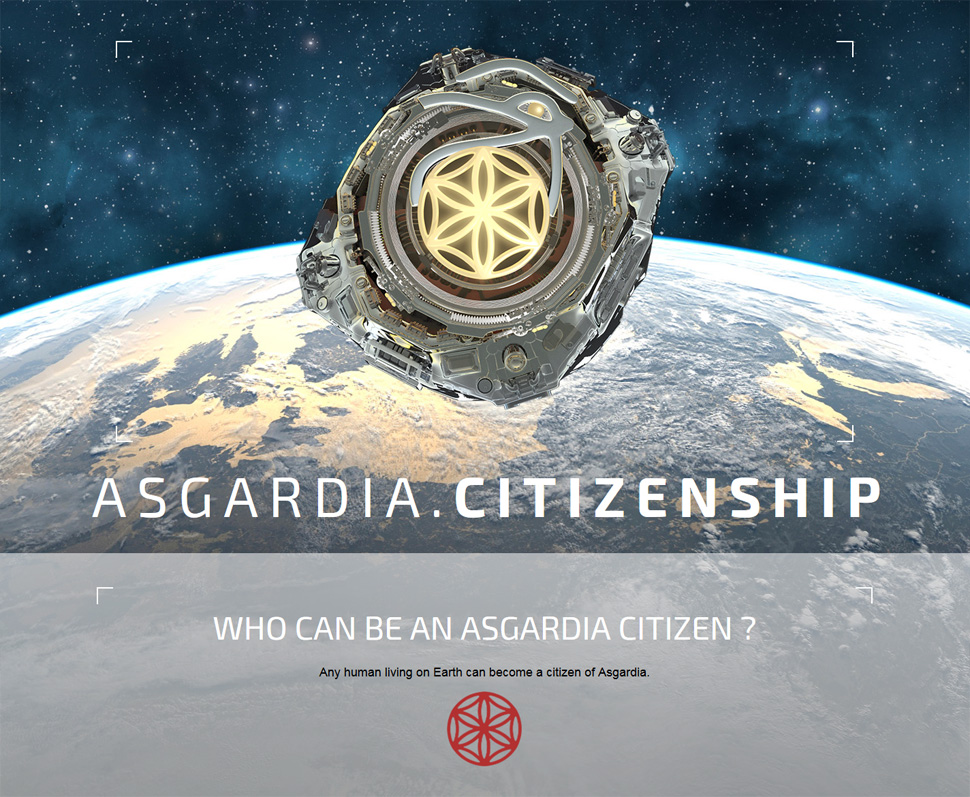 In recent years, access to space has been opening up, but the process remains slow and is tightly controlled by states on Earth, restricting commerce and scientific developments by private enterprise. Of the 196 nation states, just thirteen (China, France, India, Iran, Israel, Japan, North Korea, Russia/former USSR, South Korea, UK, Ukraine, USA) and one regional organisation (the European Space Agency, ESA) have independently launched satellites on their own indigenously developed launch vehicles.
Professor David Alexander, Director of the Rice Space Institute at Rice University in Texas: "As low-Earth orbit becomes more accessible, what's often called the 'democratisation' of space, a pathway is opening up to new ideas and approaches from a rich diversity of participants. The mission of Asgardia to create opportunities for broader access to space, enabling non-traditional space nations to realise their scientific aspirations is exciting."
Under current international space law, including the widely adopted Outer Space Treaty, states are required to authorise and supervise national space activities, including the activities of commercial and not-for-profit organisations. Objects launched into space are subject to their nation of belonging and if a nation launches an object into space, that nation is responsible for any damage that occurs internationally and in outer space.
Asgardia aims to create a new framework for ownership and nationhood in space, adapting current laws governing responsibility, private ownership and enterprise so they are fit for purpose in the new era of space exploration. By creating a new "space nation", private enterprise, innovation and the further development of space technology to support humanity could flourish, free from the tight restrictions of state control that currently exist.
Professor Ram Jakhu, Director, Institute of Air and Space Law at McGill University, Montreal, Canada: "An appropriate and unique global space legal regime is indispensable for governing outer space in order to ensure it is explored on a sustainable basis, for exclusively peaceful purposes and to the benefit of all humanity – including future generations living on planet Earth and in outer space. The development of foundational principles of such a legal regime ought to take place at the same time as technological progress is being made."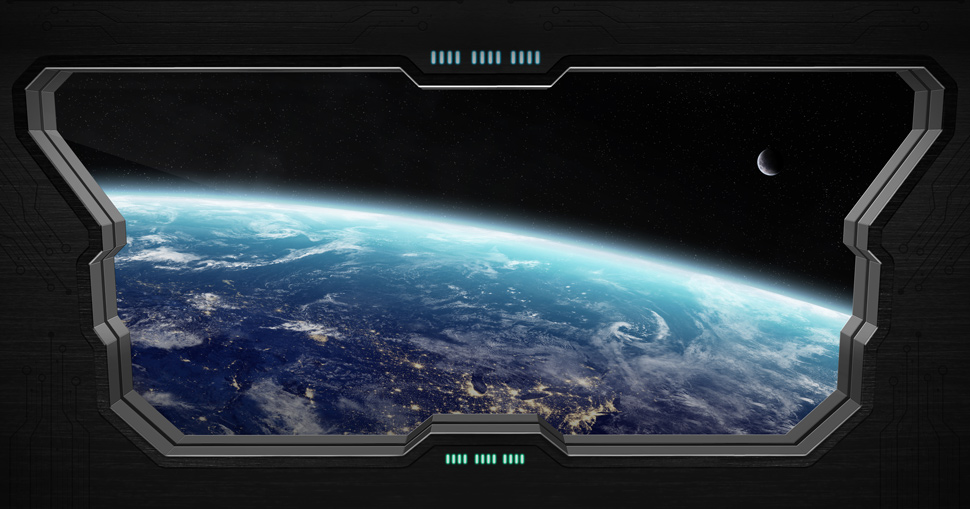 One of the early developments planned by Asgardia's team will be the creation of a state-of-the-art protective shield for all humankind from cosmic manmade and natural threats to life on Earth such as space debris, coronal mass ejections and asteroid collisions.
There are estimated to be more than 20,000 traceable objects of man-made space debris (MSD) including non-active spacecraft, upper-stage rockets and final stage vehicles, as well as fragments of craft that potentially pose a danger in near-Earth orbits. The impact of the Chelyabinsk meteorite which crashed over a Russian town as recently as 2013, injuring 1,100 people and damaging 4,000 buildings, is a reminder of the threat that natural objects pose to life on our planet.
Whilst steps have already been taken by the UN and the Space Mission Planning Advisory Group (SMPAG) to identify potentially hazardous scenarios, Asgardia will build on these developments to offer a more comprehensive mechanism.
Dr. Joseph N. Pelton, former Dean of the International Space University in Strasbourg, France: "The Asgardia project, among other things, may help prepare better answers to the future governance of outer space – a topic of major concern to the United Nations. The exciting aspect of this initiative is its three phase approach to providing broader access to space; promoting peace in outer space; and addressing cosmic hazards and planetary defence."
The Asgardia Project Team will comprise a collaborative, multi-disciplinary effort from leading experts around the globe which it is envisaged will grow over time as the project evolves. But as well as expert involvement in the project, Asgardia is looking to capture the wider public imagination by crowd-sourcing key aspects of the missions and involving members of the public in competitions – for example, to help design the nation's flag, insignia and other symbols of nationhood.
To coincide with the press conference, a website with further details was launched at www.asgardia.space. The project can also be followed on Twitter where updates will be provided, along with interaction between the Asgardia team and members of the public.
---
• Follow us on Twitter
• Follow us on Facebook
19th June 2016
The world has become less peaceful in 2016
The world has become less peaceful this year – reinforcing an underlying, decade-long deterioration in world peacefulness, driven primarily by increased terrorism and higher levels of political instability.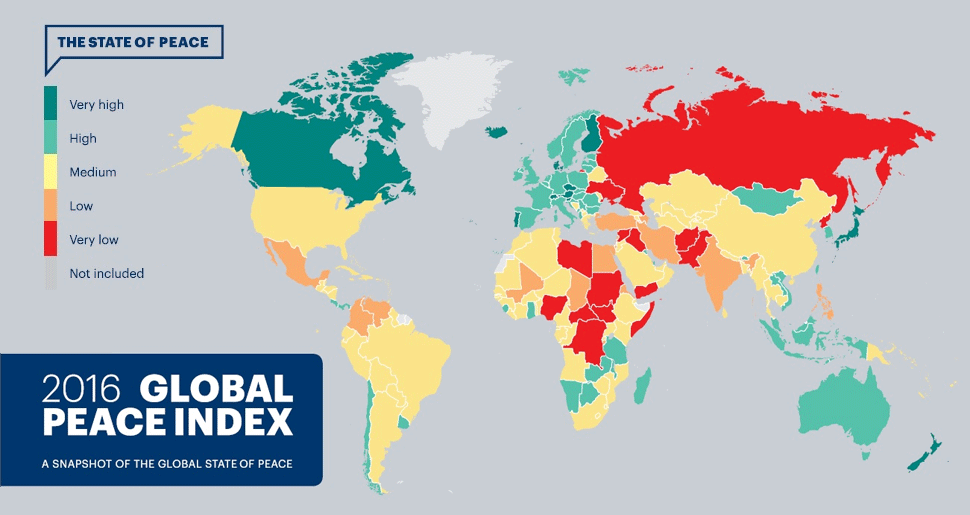 The tenth edition of the Global Peace Index, published this month, highlights a stark and growing inequality in global levels of peacefulness as the gap between the most and least peaceful countries continues to widen. The study, by international think-tank the Institute for Economics and Peace (IEP), finds that, while 81 countries improved, the deterioration in another 79 outweighed these gains, meaning that overall peace declined at a faster rate than in the previous year. Despite this, some of the most peaceful countries are now recording historically high levels of peace.
The score for the Middle East and Africa (MENA) – the least peaceful region in the world last year – dropped further, as regional conflicts intensified, dragging down global peacefulness. So intense is the current concentration of violence and conflict in MENA that, when considered separately, the rest of the world's average peace levels improved. Three of the five biggest declines in peace occurred in the region including Yemen, Libya and Bahrain.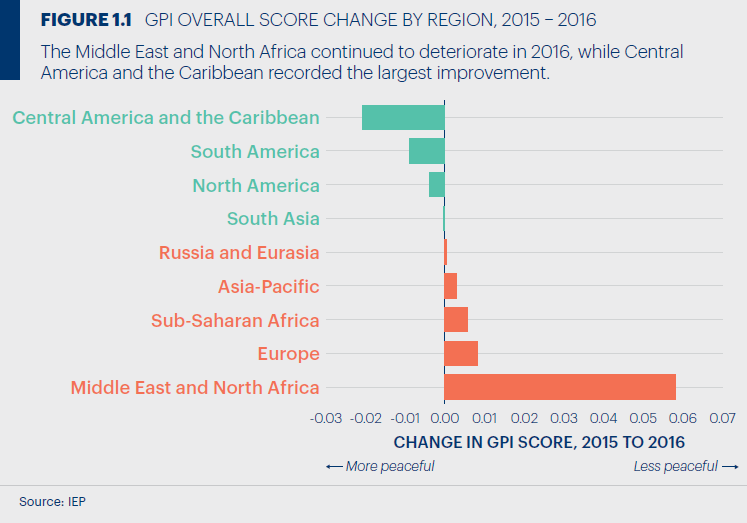 Steve Killelea, Founder and Executive Chairman of the IEP, commented: "As internal conflicts in MENA become more entrenched, external parties are increasingly becoming more involved and the potential for indirect or 'war by proxy' between nation states is rising. This was already evident in Syria with the conflict between the Assad regime and multiple non-state actors, and is now spilling into countries such as Yemen. There is a broader proxy conflict between Saudi Arabia and Iran, and more recently both US and Russia have increased their level of involvement."
The global deterioration of peace in 2015 was driven by increased terrorism and higher levels of political instability. While the majority of terrorist activity is highly concentrated in five countries – Syria, Iraq, Nigeria, Afghanistan and Pakistan – the breadth of terrorism is spreading, with just 23% of countries in the Index not experiencing a terrorist incident. Europe, although still the most peaceful region, saw its average score deteriorate in this year's report, following terrorist attacks in Paris and Brussels. Deaths from terrorism in Europe have more than doubled over the last five years.
The number of refugees and displaced persons has risen dramatically over the last decade, doubling to approximately 60 million people between 2007 and 2016, nearly 1% of the world's population. There are now nine countries with over 10% of their population displaced in some form; 20% of Somalia and South Sudan's population respectively, and over 60% of Syria's.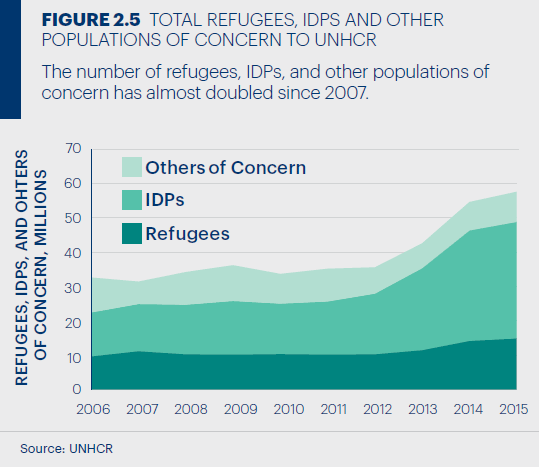 While the global economic impact of violence dropped by 2% compared to last year's report, it was still a staggering $13.6 trillion in 2015 – equivalent to 11 times the size of global foreign direct investment (FDI), or about 700 times the annual budget of NASA. This represents 13.3% of world GDP, or $1,876 per person. Over the last ten years, the cumulative total impact of violence was $137 trillion; greater than global GDP in 2015.
Steve Killelea remarked, "The increasing internationalisation of internal conflicts has coincided with UN peacekeeping funds reaching record highs in 2016 – it was the largest improved indicator in this year's report, with more deployed peacekeepers and more countries being up-to-date with their UN peacekeeping dues. However, peacebuilding and peacekeeping spending remains proportionately small compared to the economic impact of violence, representing just 2% of global losses from armed conflict. Addressing the global disparity in peace and achieving an overall 10% decrease in the economic impact of violence would produce a peace dividend of $1.36 trillion. This is approximately equivalent to the size of world food exports."
Of particular concern is Yemen. Its long-standing political crisis exploded into outright civil war in early 2015. This country has witnessed a major decline in the level of peace, as shown in the diagram below – driven by the rising casualty rate, a large increase in the number of refugees and internally displaced people, and higher levels of terrorist attacks by both al-Qaeda and ISIL. Adding to Yemen's troubles is an emerging water crisis that is likely to worsen from 2017-2025.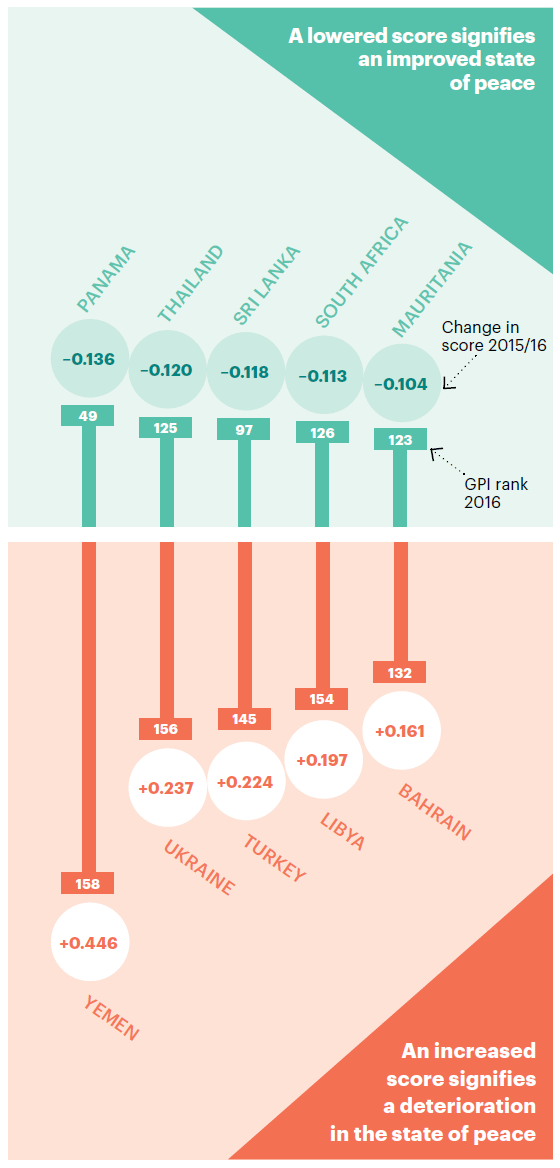 The report also provides an audit of available data to measure Goal 16 of the Sustainable Development Goals for 2030 (successor to the Millennium Development Goals of 2015). This new goal – formally agreed last year by UN member states – recognises the critical importance of peace, justice and strong institutions for advancing global development. It finds that, while there is some existing data to track progress and hold member states accountable to meeting their targets, serious investment will be needed to measure the goals.
The report concludes with new research into resilience and what the IEP identifies as "Positive Peace" – the attitudes, institutions and structures which can best achieve and sustain global peace. Among those listed are: a well-functioning government with low levels of corruption, good relations with neighbouring countries, the free flow of information, an equitable distribution of resources, investment in education, gender equality and worker's rights.
---
• Follow us on Twitter
• Follow us on Facebook
24th February 2016
"Next generation" humanoid robot revealed
Boston Dynamics has revealed the latest version of its Atlas humanoid robot, featuring eerily lifelike movements and reactions.
This new generation of the Atlas robot – designed to operate both outdoors and inside – is specialised for mobile manipulation. Electrically powered and hydraulically actuated, it uses sensors in its body and legs to balance, with LIDAR and stereo sensors in its head to avoid obstacles, assess the terrain, help with navigation and manipulate objects. This machine is 5' 9" tall (about a head shorter than the DRC Atlas) and weighs 180 lbs (81 kg), which is much lighter than its 330 lb (150 kg) predecessor from a couple of years ago.
28th January 2016
Doomsday Clock stays at three minutes to midnight
The Bulletin of the Atomic Scientists Science and Security Board has announced that their closely monitored "Doomsday Clock" will remain at three minutes to midnight.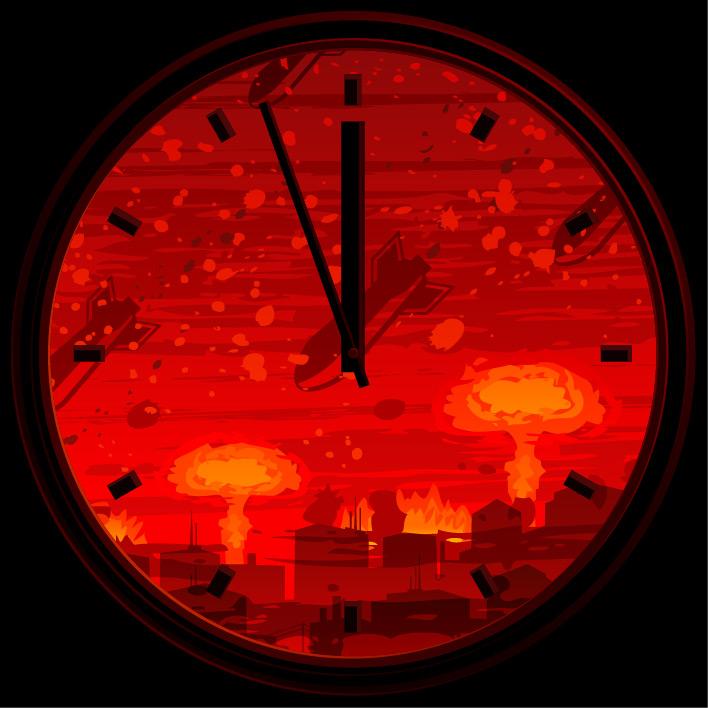 The Doomsday Clock is a symbolic clock face, representing a countdown to possible global catastrophe (e.g. nuclear war or climate change). It has been maintained since 1947 by the Science and Security Board of the Bulletin of the Atomic Scientists, which includes 18 Nobel Laureates. The closer they set the Clock to midnight, the closer the scientists believe the world is to global disaster.
The position of the Clock hands in the past has ranged from two minutes to midnight in 1953 (after the U.S. began testing hydrogen bombs, which was followed by Soviet tests shortly after), to 17 minutes to midnight in 1991 (when the Cold War ended and deep cuts were made to nuclear arsenals).
Last year, the Clock hands were moved from five to three minutes to midnight, with the Bulletin stating: "Unchecked climate change, global nuclear weapons modernisations, and outsized nuclear weapons arsenals pose extraordinary and undeniable threats to the continued existence of humanity, and world leaders have failed to act with the speed or on the scale required to protect citizens from potential catastrophe. These failures of political leadership endanger every person on Earth."
This week, it was announced that the Doomsday Clock will remain at three minutes to midnight, since recent progress in the Iran nuclear agreement and the Paris climate accord "constitute only small bright spots in a darker world situation full of potential for catastrophe."

The statement accompanying the Doomsday Clock decision opens with the following words: "Three minutes (to midnight) is too close. Far too close. We, the members of the Science and Security Board of the Bulletin of the Atomic Scientists, want to be clear about our decision not to move the hands of the Doomsday Clock in 2016: That decision is not good news, but an expression of dismay that world leaders continue to fail to focus their efforts and the world's attention on reducing the extreme danger posed by nuclear weapons and climate change. When we call these dangers existential, that is exactly what we mean: They threaten the very existence of civilization and therefore should be the first order of business for leaders who care about their constituents and their countries."
While recognising the important progress of the Iran nuclear deal and the Paris climate accord, the Bulletin cautions that these positive steps have been offset in large part by foreboding developments: "Even as the Iran agreement was hammered out, tensions between the United States and Russia rose to levels reminiscent of the worst periods of the Cold War. Conflict in Ukraine and Syria continued, accompanied by dangerous bluster and brinkmanship, with Turkey, a NATO member, shooting down a Russian warplane involved in Syria, the director of a state-run Russian news agency making statements about turning the United States to radioactive ash, and NATO and Russia repositioning military assets and conducting significant exercises with them. Washington and Moscow continue to adhere to most existing nuclear arms control agreements, but the United States, Russia, and other nuclear weapons countries are engaged in programs to modernise their nuclear arsenals, suggesting that they plan to keep and maintain the readiness of their nuclear weapons for decades, at least — despite their pledges, codified in the Nuclear Non-Proliferation Treaty, to pursue nuclear disarmament."
On the climate front, the Bulletin statement points out: "Promising though it may be, the Paris climate agreement came toward the end of Earth's warmest year on record, with the increase in global temperature over pre-industrial levels surpassing one degree Celsius."
Other more positive climate developments cited in the statement include the Papal encyclical related to climate change, the movement among investors toward divestment of fossil fuels, new advances in sustainable energy systems, more climate-friendly governments in Canada and Australia. However, the statement cautions that even these developments must be seen "against the steady backtracking of the United Kingdom's present government on climate policies and the continued intransigence of the Republican Party in the U.S., which stands alone in the world in failing to acknowledge even that human-caused climate change is a problem."
The Bulletin also reflects concerns about "the nuclear power vacuum" around the globe: "The international community has not developed coordinated plans to meet cost, safety, radioactive waste management, and proliferation challenges that large-scale nuclear expansion poses ... Because of such problems, in the United States and in other countries, nuclear power's attractiveness as an alternative to fossil fuels has decreased, despite the clear need for carbon-emissions-free energy in the age of climate change."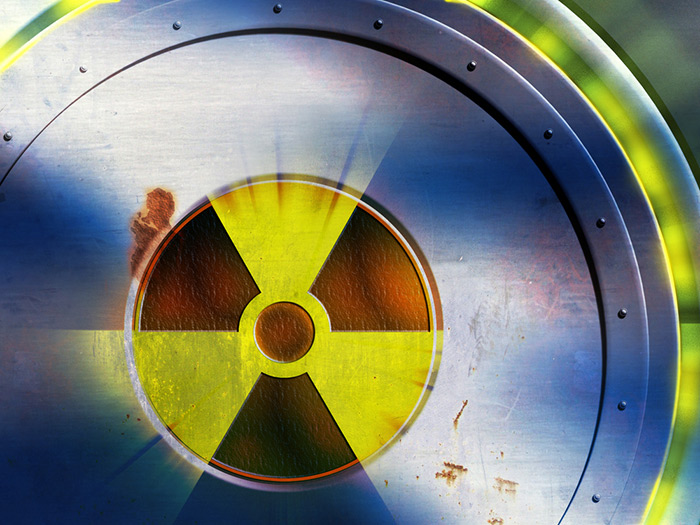 Rachel Bronson, executive director of the Bulletin, comments: "Last year, the Bulletin's Science and Security Board moved the Doomsday Clock forward to three minutes to midnight, noting: 'The probability of global catastrophe is very high, and the actions needed to reduce the risks of disaster must be taken very soon.' That probability has not been reduced. The Clock ticks. Global danger looms. Wise leaders should act — immediately."
Lawrence Krauss, chair of the Bulletin's Board of Sponsors: "Developments have been mixed since we moved the clock forward a year ago. In spite of some positive news, the major challenges the Bulletin laid out for governments then have not been addressed, even as the overall global challenges we need to face become more urgent. The clock reflects our estimate that the world is as close to the brink as it was in 1983 when US-Russian tensions were at their iciest in decades."
Sharon Squassoni, Bulletin Science and Security Board member, and a director of the Proliferation Prevention Program at the Centre for Strategic & International Studies (CSIS) in Washington, DC, said: "North Korea's recent nuclear test illustrates the very real danger of life in a proliferated world. Nuclear proliferation isn't a potential threat — we still have few controls over the kinds of capabilities that Iran succeeded in acquiring. In addition, regional tensions and conflict increase the risk of theft or use of these weapons."
Sivan Kartha, Bulletin Science and Security Board member, senior scientist and climate change expert, states: "The voluntary pledges made in Paris to limit greenhouse gas emissions are insufficient to the task of averting drastic climate change. These incremental steps must somehow evolve into the fundamental change in world energy systems needed if climate change is to ultimately be arrested."
So, what steps need to be taken?
The Bulletin statement accompanying the Doomsday Clock announcement identifies the following as the most urgently needed:
• Dramatically reduce proposed spending on nuclear weapons modernisation programs.
• Re-energise the disarmament process, with a focus on results.
• Engage North Korea to reduce nuclear risks.
• Follow up on the Paris accord with actions to sharply reduce greenhouse gas emissions and fulfil the global agreement to keep warming below 2°C.
• Deal now with the commercial nuclear waste problem.
• Create institutions specifically assigned to explore and address potentially catastrophic misuses of new technologies.
22nd January 2016
Brain implant will connect a million neurons with superfast bandwidth
A neural interface being created by the United States military aims to greatly improve the resolution and connection speed between biological and non-biological matter.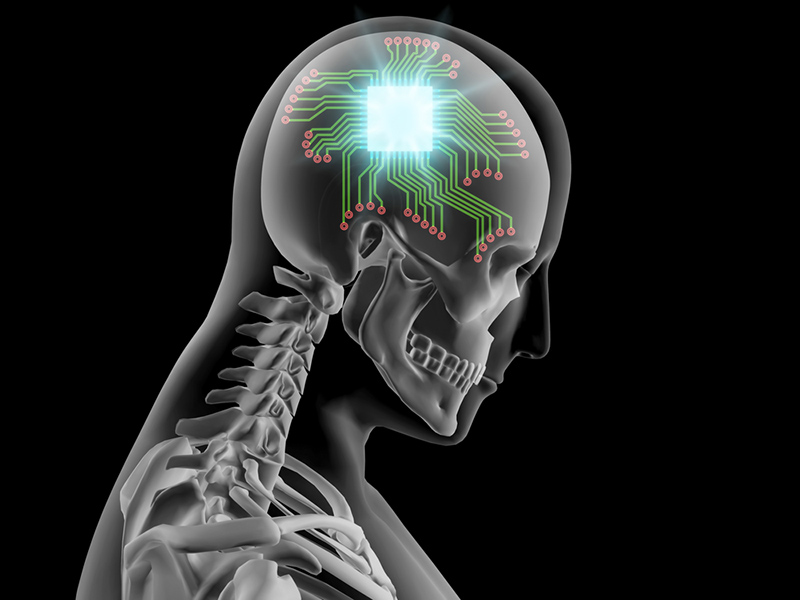 The Defence Advanced Research Projects Agency (DARPA) – a branch of the U.S. military – has announced a new research and development program known as Neural Engineering System Design (NESD). This aims to create a fully implantable neural interface able to provide unprecedented signal resolution and data-transfer bandwidth between the human brain and the digital world.
The interface would serve as a translator, converting between the electrochemical language used by neurons in the brain and the ones and zeros that constitute the language of information technology. A communications link would be achieved in a biocompatible device no larger than a cubic centimetre. This could lead to breakthrough treatments for a number of brain-related illnesses, as well as providing new insights into possible future upgrades for aspiring transhumanists.
"Today's best brain-computer interface systems are like two supercomputers trying to talk to each other using an old 300-baud modem," says Phillip Alvelda, program manager. "Imagine what will become possible when we upgrade our tools to really open the channel between the human brain and modern electronics."
Among NESD's potential applications are devices that could help restore sight or hearing, by feeding digital auditory or visual information into the brain at a resolution and experiential quality far higher than is possible with current technology.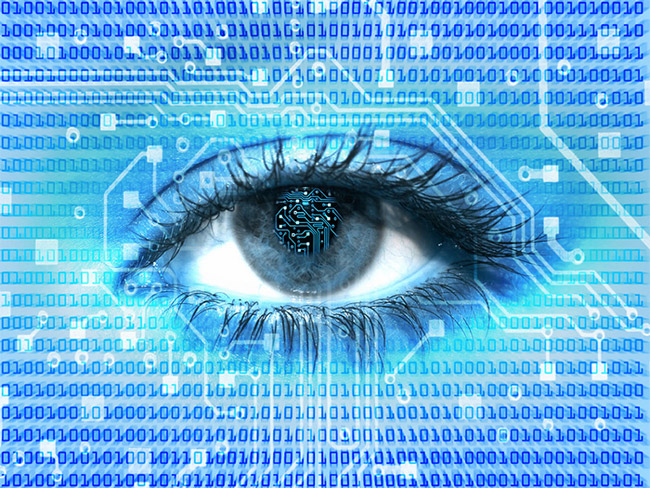 Neural interfaces currently approved for human use squeeze a tremendous amount of information through just 100 channels, with each channel aggregating signals from tens of thousands of neurons at a time. The result is noisy and imprecise. In contrast, the NESD program aims to develop systems that communicate clearly and individually with any of up to one million neurons in a given region of the brain.
To achieve these ambitious goals and ensure the technology is practical outside of a research setting, DARPA will integrate and work in parallel with numerous areas of science and technology – including neuroscience, synthetic biology, low-power electronics, photonics, medical device packaging and manufacturing, systems engineering, and clinical testing. In addition to the program's hardware challenges, NESD researchers will be required to develop advanced mathematical and neuro-computation techniques, to transcode high-definition sensory information between electronic and cortical neuron representations and then compress and represent the data with minimal loss.
The NESD program aims to recruit a diverse roster of leading industry stakeholders willing to offer state-of-the-art prototyping, manufacturing services and intellectual property. In later phases of the program, these partners could help transition the resulting technologies into commercial applications. DARPA will invest up to $60 million in the NESD program between now and 2020.
8th June 2015
New mobile app could revolutionise human rights justice
The International Bar Association (IBA) today launched the eyeWitness app – a new tool for documenting and reporting human rights atrocities in a secure and verifiable way, so the information can be used as evidence in a court of law.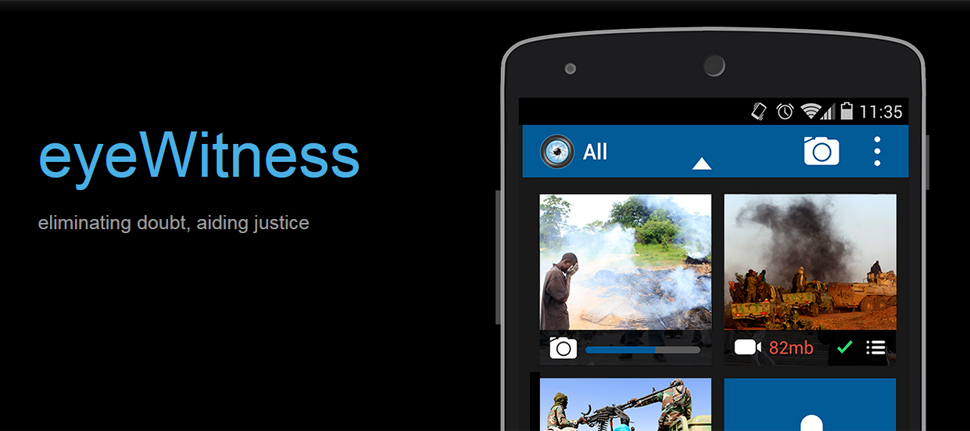 With social media increasingly the forum for communicating human rights, many online images have raised awareness of atrocities around the world but typically lack the attribution or information necessary to be used as evidence in a court of law. Now anyone with an Android-enabled smart phone – including human right defenders, journalists, and investigators – can download the eyeWitness to Atrocities app and help hold accountable the perpetrators of atrocity crimes, such as genocide, crimes against humanity, torture and war crimes.
"The eyeWitness to Atrocities app will be a transformational tool in the fight for human rights, providing a solution to the evidentiary challenges surrounding mobile phone footage," said IBA Executive Director Mark Ellis. "Until now, it has been extremely difficult to verify the authenticity of these images and to protect the safety of those brave enough to record them. As an advocate for the voiceless, the International Bar Association is dedicated to empowering activists on the ground who are witnessing these atrocities with the ability to bring criminals to justice."
The app design is based on extensive research on the rules of evidence in international, regional and national courts and tribunals. It includes several features to guarantee authenticity, facilitate verification and protect confidentiality by allowing the user to decide whether or not to be anonymous.
"Putting information and technology in the hands of citizens worldwide has a powerful role to play in advancing the rule of law," said Ian McDougall, EVP and General Counsel of LexisNexis Legal & Professional, which partnered with the IBA. "LexisNexis Legal & Professional's world class data hosting capabilities will provide the eyeWitness programme with the same technology that we use to safeguard sensitive and confidential material for our clients every day. It's all part of our company's broader commitment to advancing the rule of law around the world, as we believe every business has a role to play in building a safer, more just global society."
How the App Works
When a user records an atrocity, the app automatically collects and embeds into the video file GPS coordinates, date and time, device sensor data and surrounding objects, such as Bluetooth and Wi-Fi networks. The user has the option of adding any additional identifying information about the image. This metadata will provide information integral to verifying and contextualising the footage. The images and accompanying data are encrypted and securely stored within the app. The app also embeds a chain of custody record to verify that the footage has not been edited or digitally manipulated. The user then submits this information directly from the app to a database maintained by the eyeWitness organisation.
Once the video is transmitted, it is stored in a secure repository that functions as a virtual evidence locker safeguarding the original, encrypted footage for future investigations and legal proceedings. The submitted footage is only accessible by a group of legal experts at eyeWitness who will analyse the footage and identify the appropriate authorities, including international, regional or national courts, to pursue relevant cases.
"The IBA is proud to be spearheading the project and allocating $1 million of IBA reserves as part of its efforts to promote, protect and enforce human rights under a just rule of law," said David Rivkin, IBA President. The IBA is working in partnership with LexisNexis Legal & Professional, a part of RELX Group, which is hosting the secure repository, database and backup system to store and analyse data collected via the app. The IBA is also partnering with human rights organisations to put the app in the hands of those working in some of the world's most severe conflict zones.
"The eyeWitness app promises to revolutionise the effectiveness of ground-level human rights reporting," said Deirdre Collings, Executive Director of the SecDev Foundation, a Canadian research organisation. "We also see the app's usefulness for media activists in conflict and authoritarian environments who undertake vital but high-risk reporting. We're proud to include eyeWitness in our training programme for our partners in Syria and will be rolling it out across our projects in the CIS region and Vietnam."
Established in 1947 and headquartered in London, the IBA is the world's leading organisation of international legal practitioners, bar associations and law societies. Through its global membership of individual lawyers, law firms, bar associations and law societies, it influences the development of international law reform and shapes the future of the legal profession throughout the world.
30th May 2015
Cheetah robot can jump over obstacles
Engineers at the Massachusetts Institute of Technology (MIT) have developed a new version of the Cheetah robot, which is able to leap over obstacles while running at high speed. The eerily lifelike machine uses a laser distance sensor and real-time algorithms to perceive its environment. In this demonstration video, it is shown hurdling objects up to 40cm (16") in height, and performing multiple jumps without a safety harness.
"A running jump is a truly dynamic behaviour," says Sangbae Kim, assistant professor of mechanical engineering, in a press release. "You have to manage balance and energy, and be able to handle impact after landing. Our robot is specifically designed for those highly dynamic behaviours."
In the future, this robot – and others like it – may serve important functions in the military. They could scout ahead of soldiers to provide real-time information on the battlefield, for example, or relieve troops of the burden of carrying ammunition, food, medical supplies, batteries and other equipment. These machines could also be useful in search and rescue operations, able to access difficult or remote terrain that would defeat other types of vehicle.
1st February 2015
U.S. Navy announces progress with railgun technology
The Electromagnetic Railgun – a weapon that will play a major role in the future of the U.S. Navy – will be shown to the public for the first time on 4th-5th February at a technology expo in Washington DC, the Office of Naval Research (ONR) has announced.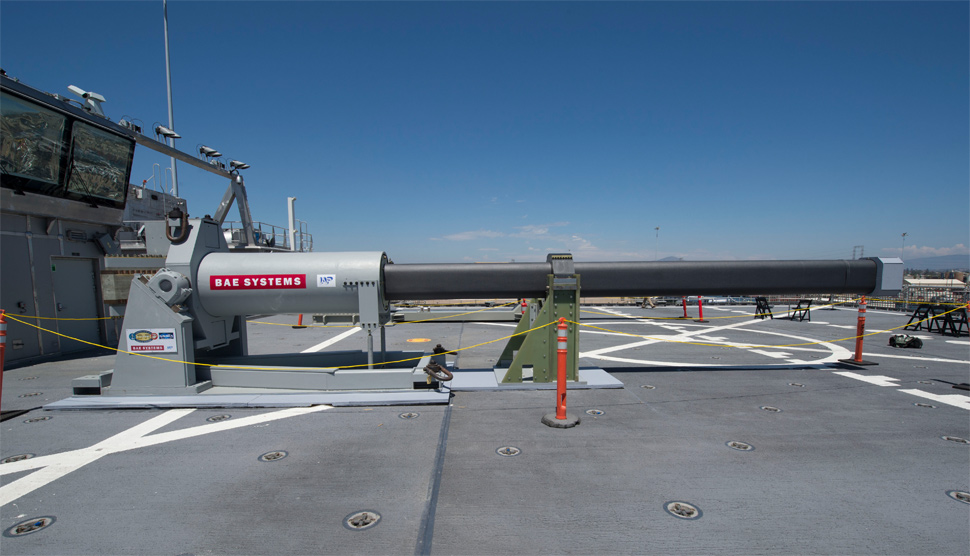 The EM Railgun is a long-range weapon that fires projectiles using electricity instead of chemical propellants. Magnetic fields created by high electrical currents accelerate a sliding metal conductor, or armature, between two rails to launch projectiles at 4,500 mph – nearly six times the speed of sound. Unlike traditional artillery that destroy targets using explosive materials, the railgun inflicts damage by the extreme speed of impact. The kinetic energy of the warhead also eliminates the hazards of storing high explosives in the ship and leaving unexploded ordnance on the battlefield. Its pinpoint accuracy and phenomenal range (over 100 miles) will be a "game-changing and disruptive technology" according to the U.S. Navy. Each 18-inch projectile will cost about $25,000, compared to $500,000 to $1.5 million for conventional missiles.
A prototype program was started in 2005 and demonstrated proof-of-concept at 32 megajoules of energy. Phase II, which began in 2012, has been focussed on rep-rate fire capability and thermal management techniques required for sustained use. This program continues to make progress and is now scheduled for at-sea testing aboard a Joint High Speed Vessel – USNS Millinocket – in 2016. When perfected, it is hoped that the final version of the railgun will achieve 64 megajoules of energy, with an even longer range.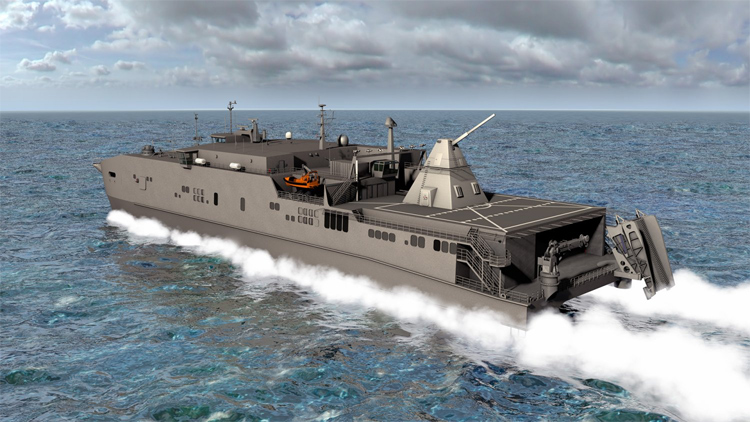 Experts from the ONR, Naval Sea Systems Command and BAE Systems will showcase the railgun to the public, for the first time, on 4th-5th February at the Naval Future Force S&T EXPO, the Navy's premier event to share information, discuss research opportunities and build science and technology partnerships between the Navy and Marine Corps, industry and academia.
"This year's Expo will showcase the naval portfolio of innovative breakthrough technologies that are shaping our warfighting tactics today and changing the way our Sailors and Marines will operate in the future," says Rear Admiral, Mat Winter. "The Electromagnetic Railgun is among several disruptive capabilities that the Naval Research Enterprise is championing to ensure a dominant, capable and relevant naval force for the future."
"The Electromagnetic Railgun brings significant technological advances to our Sailors and Marines," says Roger Ellis, program manager at ONR. "As the system moves forward along its planned schedule from the laboratory launcher, we've achieved breakthroughs in compact power and gun design, and will test the next phase of prototype at both sea- and land-based sites in 2016 and 2017."
The video below is of some earlier testing conducted in 2012. Further advances in reducing the mass, size and cost of the required power supplies could lead to railguns becoming practical and used routinely on U.S. Navy ships by 2025.