30th May 2016
MasterCard unveils the first commerce application for humanoid robot Pepper
Customers at Pizza Hut restaurants in Asia will soon get the chance to have their order taken by a robot.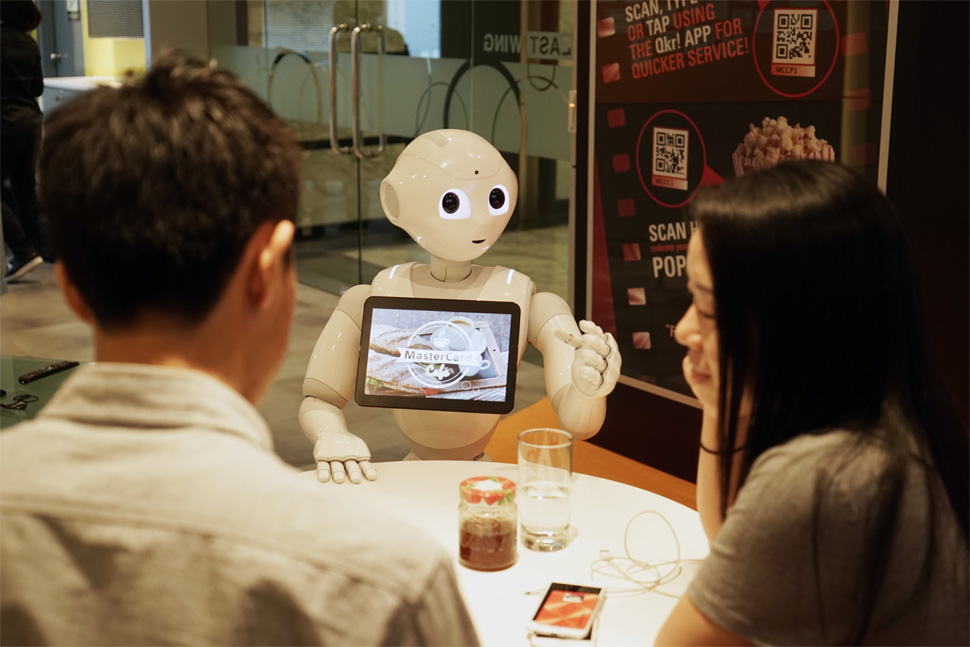 MasterCard has unveiled the first commerce application for SoftBank Robotics' humanoid robot Pepper. The application will be powered by MasterPass, the global digital payment service from MasterCard that connects consumers with merchants, enabling them to make fast, simple, and secure digital payments across channels and devices. Pizza Hut Restaurants Asia P/L will be the inaugural launch partner working together with MasterCard to create innovative customer engagement with Pepper.
A major first step in bringing conversational commerce experiences to merchants and consumers, this new app will extend the robot's ability to integrate customer service, access to information and sales into a seamless and consistent user experience. Pizza Hut Asia will be piloting the Pepper robot for order-taking and personalised engagement in its stores by the end of 2016.
"Consumers have come to expect personalised service, customised offers, and simple and seamless processes both in-store and online," said Tobias Puehse, Vice President for Innovation Management, Digital Payments & Labs at MasterCard. "The app's goal is to provide consumers with a more memorable and personalised shopping experience beyond today's self-serve machines and kiosks, by combining Pepper's intelligence with a secure digital payment experience via MasterPass."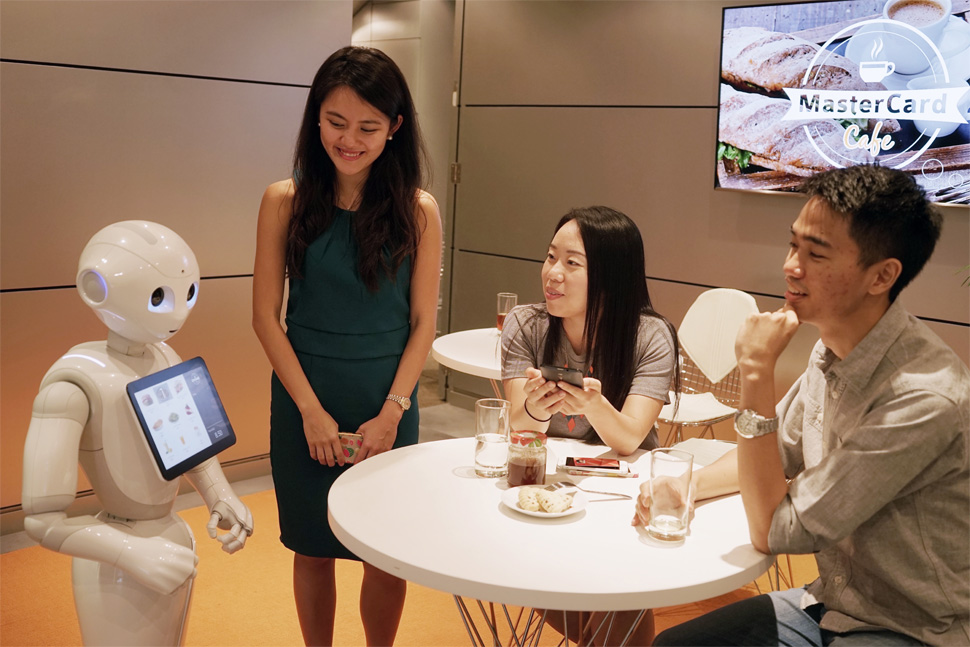 The robot will be installed in "between six and ten stores in Asia this year," said John Sheldon, Global SVP, Innovation Management, MasterCard Labs. Pepper can speak 19 languages and will "add more intelligence to kiosk ordering. Pepper guides you through the process of placing the order and can answer nutritional questions and communicate any specials."
A customer will be able to initiate an engagement by simply greeting Pepper and pairing their MasterPass account by either tapping the Pepper icon within the wallet or by scanning a QR code on the tablet that the robot holds. After pairing with MasterPass, Pepper can assist cardholders by providing personalised recommendations and offers, additional information on products, or assistance in checking out and paying for items. Pepper will initiate, approve and complete a transaction by connecting to MasterPass via a Wi-Fi connection and the entire transaction happens within the wallet.
Pepper has a number of human-like features. The robots "are intentionally designed to convey emotion," using sensors and cameras "to interpret the emotional state of the person they are interacting with and the cameras that it's using are evaluating the behaviour." For example, if the customer is excited and animated, so, too, would be Pepper. If the customer's movements are more muted, "then it would instead respond with a lot calmer and smaller gestures, so as to put that person at ease." If the customer gives his or her permission, the robot can remember their order history and ask if they want the same food or drink this time.
"We are excited to welcome Pepper to the Pizza Hut family," said Vipul Chawla, Managing Director of Pizza Hut Restaurants Asia. "Core to our digital transformation journey is the ability to make it easier for customers to engage, connect and transact with Pizza Hut. With an order-and-payment-enabled Pepper, customers can now come to expect personalised ordering, reduce wait time for carryout, and have a fun, frictionless user experience."
---
• Follow us on Twitter
• Follow us on Facebook
25th March 2016
Future autonomous cars may include windshield movie displays
Ford Motor Company has filed a patent for what it calls an "Autonomous Vehicle Entertainment System" to be used in self-driving cars. If successfully developed and commercialised, this would enable the interior side of a windshield to be turned into a 50-inch movie screen.
The patent describes a dual-screen system, which consists of a projector, along with a large and small screen. The larger screen can be automatically deployed at the front of the vehicle's interior – completely replacing the window view – while the seat layout can also be adjusted to provide additional comfort and leg room, offering a more "theatre"-like experience. The projector is mounted to the ceiling, aimed at the large screen, playing a variety of media content that may include movies, television shows, games, music and so on.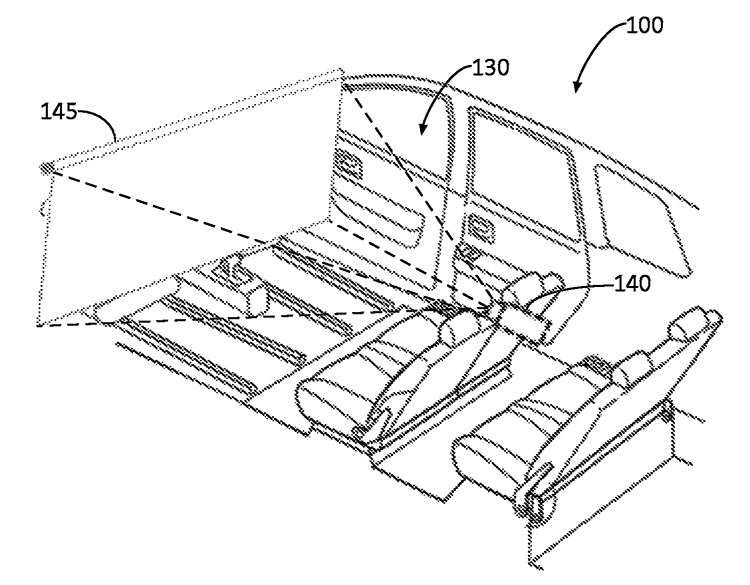 This large cinematic screen is only intended for deployment in fully autonomous mode, i.e. when the vehicle is driving itself. It retracts back into the ceiling when a human driver is needed at the wheel. If entering non-autonomous mode, Ford states the media content might continue to be viewable on a smaller screen elsewhere – such as the dashboard, instrument cluster, or rear-view mirror: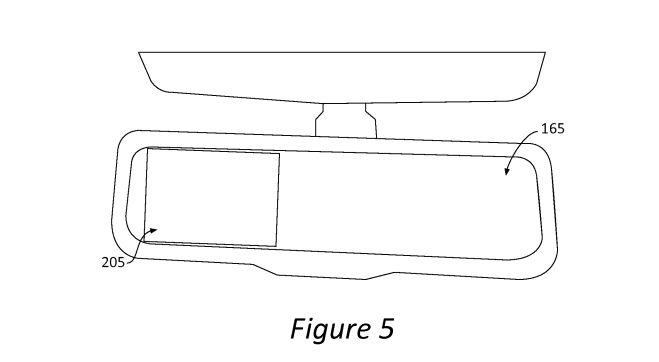 At this stage, the Autonomous Vehicle Entertainment System is only a concept, without a prototype or demonstration in the works: "We submit patents on innovative ideas as a normal course of business," says company spokesman Allan Hall, in an interview with Forbes magazine. "Patent applications are intended to protect new ideas, but aren't necessarily an indication of new business or product plans."
However, Ford has been investing heavily in autonomous vehicle research. At the Consumer Electronics Show in Las Vegas earlier this year, it was revealed that the company is tripling its fleet of fully autonomous Fusion Hybrid models – making it the largest in the industry – with about 30 vehicles being tested on roads in California, Arizona and Michigan. Ford is also using a lightweight, next-generation sensor technology featuring higher resolution and a longer range of 200 metres, capable of handling a greater variety of driving scenarios.
Given the massive cost savings, improved safety, reduced congestion and other benefits, it seems almost inevitable that self-driving cars will be commonplace in the not-too-distant future and will revolutionise the world of transport. A large majority (75%) of new cars will be autonomous by 2035, according to a forecast by Navigant Research. The market for in-car entertainment systems like that seen in Ford's patent could be huge. Perhaps their idea could be further refined to remove the need for a ceiling projector – instead using a flexible, roll-up electronic display (pictured below). Either way, long distance journeys could become a lot less boring in the future.
---
• Follow us on Twitter
• Follow us on Facebook
19th March 2016
The world's first autonomous pizza delivery vehicle
Domino's Pizza Enterprises in Australia has unveiled the world's first autonomous pizza delivery vehicle.
Domino's Pizza Enterprises in Australia has revealed plans for an autonomous delivery vehicle, named the DRU (Domino's Robotic Unit). While still at the prototype stage, the company says it demonstrates just how serious they are about informing regulation in this space.
The machine is designed with sleek, refined forms combined with a friendly persona and lighting to help customers identify and interact with it. DRU is a four wheeled vehicle with compartments built to keep the customer's order piping hot and drinks cold, whilst travelling on the footpath at a safe speed from the store to the customer's door. It can select the best path of travel, with on-board sensors enabling it to perceive obstacles along the way and avoid them if necessary. The pizza is kept in a locked storage compartment, accessible through use of a security code sent to the customer's phone.
Domino's Group CEO and Managing Director, Don Meij said that autonomous vehicles would open up new opportunities and create an impetus for innovation both in Australia and around the world: "This highlights what can happen when disruptive thinking is fostered – it turns into a commercially viable and revolutionary product. It allows Domino's to explore new concepts and push the boundaries of what is possible for our customers. The DRU prototype is only the first step in our research and development as we continue to develop a range of innovations set to revolutionise the entire pizza ordering experience."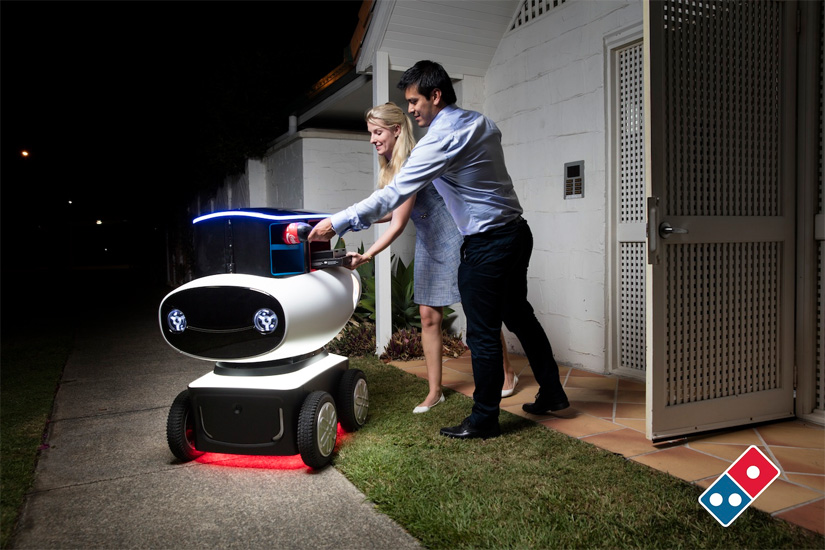 Meij confirmed the idea for DRU came from within the company's internal innovation sessions and has been developed in Domino's own DLAB, a purpose built lab to help budding entrepreneurs commercialise their ideas: "With a dedicated innovation lab, this project has been accelerated much faster than normal projects, without losing any of the quality control," he said.
DRU is powered by technology from Australian start-up company, Marathon Robotics.
"To launch DRU from concept through to development of a prototype highlights the extraordinary talent and resources available on our doorstep – both with excellent external talent such as Marathon and the knowledge and experience of our internal team at Domino's."
Domino's has been working with the Queensland Department of Transport and Main Roads, along with other global partners to ensure the delivery droid concept meets relevant legislative requirements as it is trialled and tested.
"We are also working with Government agencies on the project to ensure all legal requirements are met. The agencies have been very supportive in the process to date and we're all excited about what this technology can lead to."
While autonomous drones and cars still need to pass a number of regulatory hurdles and challenges before they're delivering pizza on Australian streets, DRU shows that Domino's is actively engaged in the field and working with regulators on the future commercialisation of such technology. The machine has already been involved in a number of customer deliveries in restricted streets identified by the Department under a special permit and is currently operated in semi-autonomous mode. These early trials are a big step forward in commercialising fully autonomous delivery vehicles.
"With autonomous vehicles opening up possibilities for saving lives, saving time and moving goods more efficiently, we look forward to continuing our work in this field and leading the commercial trials so that our customers can reap the benefits," Mr Meij said. He confirmed that DRU will one day fit into and enhance the existing team of delivery personnel, and when he does will be a welcome addition to the team: "DRU is cheeky and endearing and we are confident that one day, he will become an integral part of the Domino's family. He's a road to the future and one that we are very excited about exploring further."
The global service robotics market is forecast to be worth $18 billion USD by 2020, according to analyst firm Research and Markets. This value will most likely be higher if DRU proves successful, influencing other fast-food suppliers to implement robotic technology in their delivery services.
---
• Follow us on Twitter
• Follow us on Facebook
17th March 2016
Sony reveals price and release date for PlayStation VR
Sony has announced that PlayStation VR, a virtual reality system for the PlayStation 4, will launch from October 2016 in North America, Japan, Europe and Asia, at a suggested retail price of $399 USD, 44,980 yen, €399 and £349.
"Ever since we unveiled PS VR during the 2014 Game Developers Conference, we've received a tremendous response from gamers and developers alike," said Andrew House, President and Global CEO of Sony Computer Entertainment Inc. "To make sure that we are able to prepare and deliver enough units of PS VR and a wide variety of software titles to consumers worldwide, we have decided to launch PS VR in October 2016. For those who are looking forward to its launch, we would like to thank everyone for their patience and continued support. We are beyond excited to deliver to consumers the amazing experience that PS VR offers."
Currently, more than 230 developers and publishers are working on PS VR software – from smaller independent teams, to larger studios at the industry's top publishers such as Ubisoft and 2K Games. In addition to gaming, the system also has a Cinematic mode, which lets users enjoy a variety of content in a large virtual screen while wearing the headset. Supported content for the Cinematic mode includes standard PS4 games and videos, as well as a variety of PS4 features including Share Play and Live from PlayStation. Users will also be able to enjoy 360 degree photos and videos that are captured by devices such as omnidirectional cameras on PS VR, via PS4 Media Player, allowing them to feel as if they are physically "inside" the captured scene.
PS VR features a panel resolution of 1920×1080 (960×1080 per eye), refresh rates of 120Hz/90Hz, a 100° field of view and 3D audio processing. Although somewhat less technically advanced than its rivals, the PS VR is considerably cheaper. It costs $200 less than the Oculus Rift and $400 less than HTC's Vive. The global market for head-mounted VR is set to explode over the next few years, according to forecasts.
"When Oculus and HTC announced their relative headset pricing, Sony was offered an open goal opportunity to take an early lead in the consumer VR market, which it has taken with aplomb," said IHS analyst Piers Harding-Rolls. "Sony's walled garden approach to the PS4 platform means it is well placed to provide a better controlled and consistent VR experience to consumers. This will be important in driving adoption and positive word of mouth."
---
• Follow us on Twitter
• Follow us on Facebook
14th March 2016
Viessmann launches the UK's first WiFi-enabled boiler
Leading international heating systems manufacturer Viessmann has announced it is introducing the first domestic heating boilers with WiFi and Internet connectivity.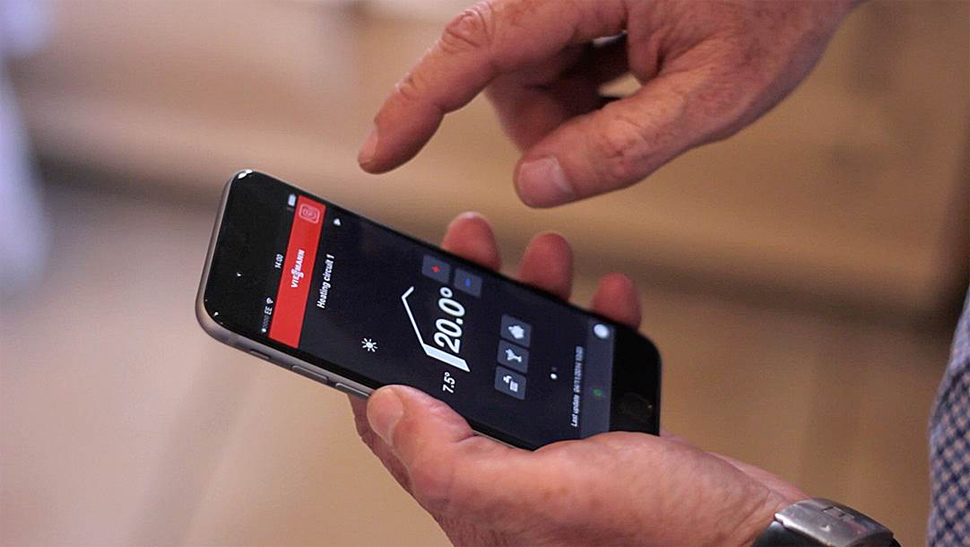 At the EcoBuild exhibition and conference in London, international heating systems manufacturer Viessmann announced it is introducing the first domestic heating boilers with WiFi and Internet connectivity. This new technology will enable homeowners to control their heating and hot water settings from anywhere in the world that has a mobile phone or Internet connection, simply by using the new, free Viessmann Vicare app.
The app – available for Apple and Android smartphones, as well as the iPad, iPod touch and Android tablets – allows homeowners to set the boiler's daily programme and to adjust the boiler's functions, improving heating comfort and convenience and saving unnecessary energy costs. The app will also remind the homeowner and the homeowner's chosen registered gas engineer when the boiler's annual service is due.
Unlike other apps for domestic boilers, which communicate only with thermostats, Viessmann's is the first to connect with the boiler and to continually monitor its performance. If a technical fault should develop, the app will automatically inform the gas engineer, with a diagnosis of the problem and list of the parts needed for rectification.
All new Viessmann Vitodens 100 and 200 gas condensing boilers, which go on sale in September, can be WiFi enabled. All 100 and 200 range models installed since 2007 can also be WiFi enabled retrospectively, with a £60 control accessory. Internet connectivity is achieved via Viessmann's Vitocom 100 system, which connects to the homeowners' WiFi.
Viessmann's marketing director, Darren McMahon commented: "We're living in an increasingly connected world where we expect to have all information at our fingertips, and the health and servicing needs of our domestic heating and hot water boilers should be no different. Internet-enabled boilers are a big step forward in boiler development and Viessmann is proud to be the first manufacturer to make this available.
"We've given homeowners increased security and the potential to save money and reduce their carbon footprint, whilst increasing peace of mind."
---
• Follow us on Twitter
• Follow us on Facebook
24th February 2016
Samsung predicts the world 100 years from now
Hyper-tall skyscrapers, underwater bubble cities, personal home "medi-pods" and civilian colonies on the Moon are all likely to be a reality in a hundred years' time, according to a report commissioned by Samsung.
A new study commissioned by Samsung paints a vivid picture of our future lives; suggesting the way we live, work and play will change beyond recognition over the course of the next century. The SmartThings Future Living Report was authored by a team of leading academics – including TV presenter and space scientist, Dr Maggie Aderin-Pocock, award-winning futurist architects and lecturers at the University of Westminster, Arthur Mamou-Mani and Toby Burgess, as well as pioneering urbanists Linda Aitken and Els Leclerq.
The report was released to promote SmartThings, a system which allows people to make their home smarter, meaning that at any time and from anywhere it is possible to switch on lights, turn up the thermostat or unlock the back door, all via a simple app or automatically through daily routines – something that might have seemed like science fiction as little as 10 years ago, but today is a reality.
The predictions for how we will live in the future have been brought to life via detailed animated renders, showing a futuristic London where high rise apartments dwarf the Shard, and drone transportation is ubiquitous.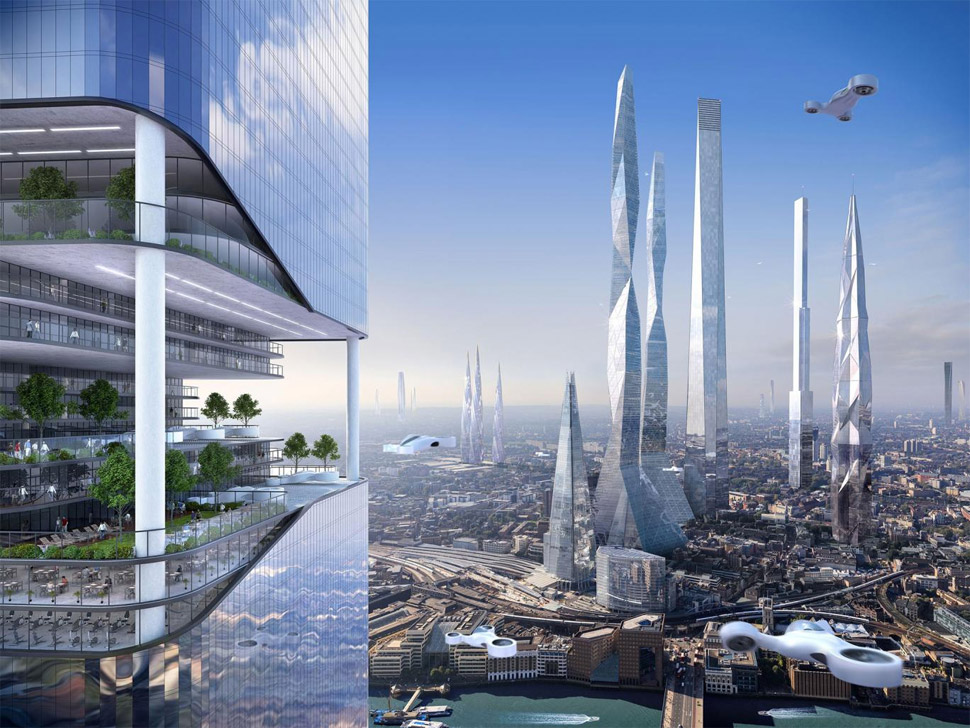 Many of the predictions were influenced by environmental conditions, with growing populations leading to the development of structures better able to cope with space constraints and diminishing resources. As city space becomes ever more squeezed, we will burrow deeper and build higher with the creation of:
Super skyscrapers: carbon nanotubes and diamond nano-threads will help us create towering megastructures that dwarf today's skyscrapers
Earth-scrapers: just as we build up, we will also dig down – huge structures will tunnel 25 storeys deep, or more
Underwater cities: using the water itself to create breathable atmospheres and generating hydrogen fuel in the process
Personal flying drones replacing cars: we will travel through "skyways" with our own personal flying drones, some big enough to carry entire homes around the world for holidays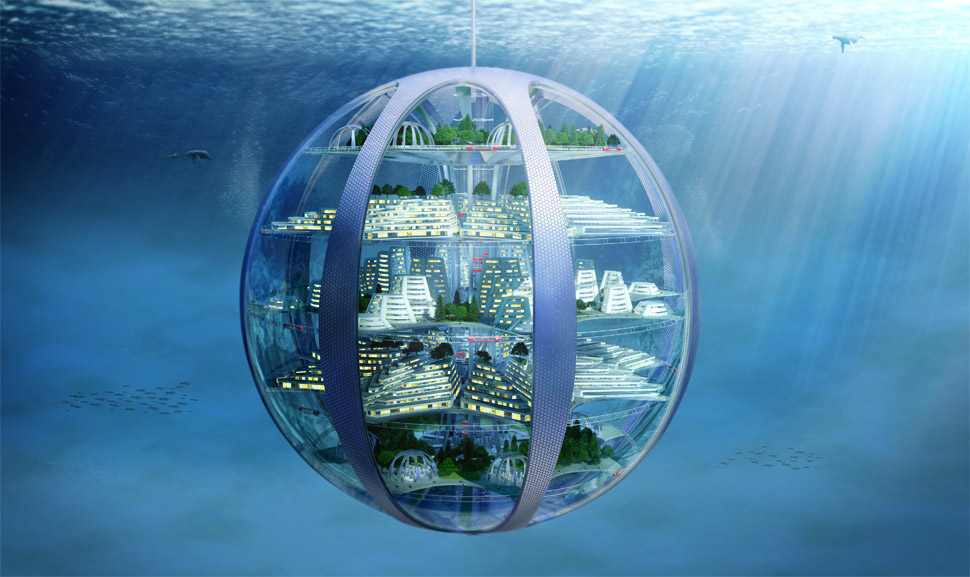 As technology develops, Samsung predicts:
3D printing of houses and furniture: we will be able to print exact replicas of large scale structures like houses out of local, recyclable materials so that we really can have all the comforts of home while we are away
Flexible, smart walls and 3D printed Michelin starred meals: smart walls will mean you won't need to decorate your home – room surfaces will adapt to suit your mood. When it comes to entertaining, there will be no more botched recipes or pizza deliveries – instead we will be downloading dishes from famous chefs that we will tailor to our personal needs. We will be able to 3D-print a banquet or a favourite cake in minutes
Virtual meetings: our working lives will be transformed with the use of holograms which will allow us to attend meetings virtually, without leaving the comfort of our homes
Home medi-pods: stepping into these will confirm if you really are ill, providing a digital diagnosis and supplying medicine or a remote surgeon if needed
Colonisation of space: first the Moon, then Mars, then far beyond into the galaxy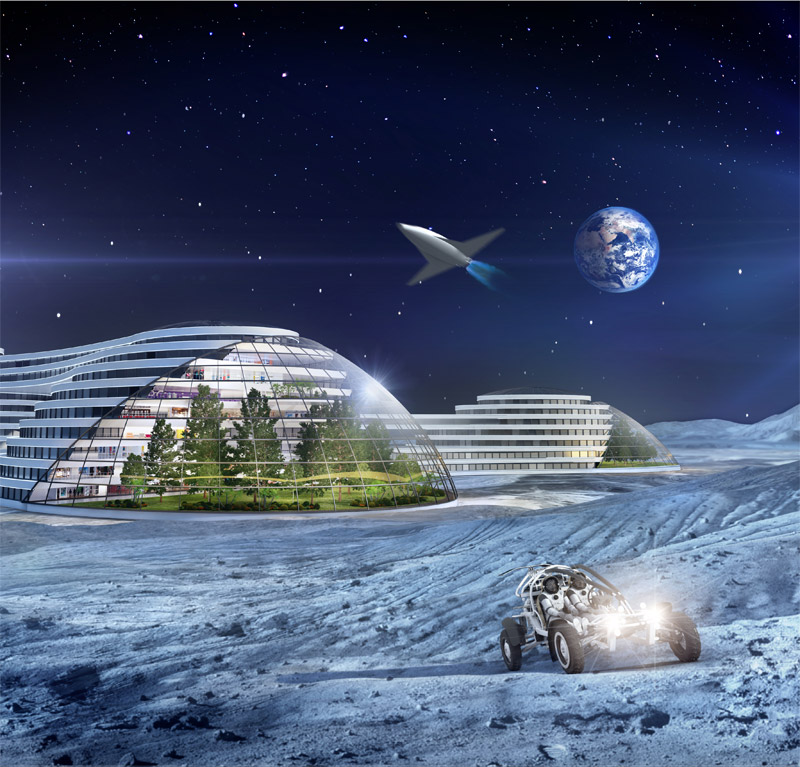 In addition to looking at how we will live in 100 years' time, the SmartThings team surveyed 2,000 British adults to pinpoint the predictions the nation thought were the most likely to become a reality in the future. This survey shines a spotlight on the public perception of the future and suggests that building further into the sky, and colonising oceans are believed to be the biggest future trends, as space and resources become scarce. The top ten predictions for future living:
| | | |
| --- | --- | --- |
| 1 | Virtual work meetings – the ability to work from anywhere and attend meetings remotely via avatars/holograms | 48% |
| 2 | Commercial flights into space | 41% |
| 3 | Virtual interior decoration to program your surroundings/LED walls that adapt surroundings to your mood | 26% |
| 4 | 3D printed houses/furniture/food – you can instantly download and print these things at home | 25% |
| 5 | At-home scanning capsules/pods that can diagnose health problems and administer medicines/treatments | 24% |
| 6 | Colonising other planets as we use up resources on Earth | 19% |
| 7 | AI becoming a normal part of daily life – taking over from humans in many industries | 18% |
| 8 | Giant skyscrapers that house entire cities, built with new super-strong materials | 18% |
| 9 | At-home hydroponic farms (that don't require soil) where you can grow your own food | 17% |
| 10 | Earth-scrapers – parts of cities becoming subterranean, due to space constraints and also to provide further shelter | 16% |
Space Scientist Maggie Aderin-Pocock, who co-authored the report, commented: "Our lives today are almost unrecognisable from those a century ago. The Internet has revolutionised the way we communicate, learn and control our lives. Just 25 years ago, technology like SmartThings would have been inconceivable, yet today, developments like this let us monitor, control and secure our living spaces with the touch of a smartphone. Over the next century we will witness further seismic shifts in the way we live and interact with our surroundings – working on the SmartThings Future Living Report, with a panel of industry experts, has allowed me to explore what these could be.
"We are likely to see the emergence of towering megastructures, as well as sub-aquatic cities and transportation via advanced flying drones – some of which could be strong enough to transport entire houses on holiday."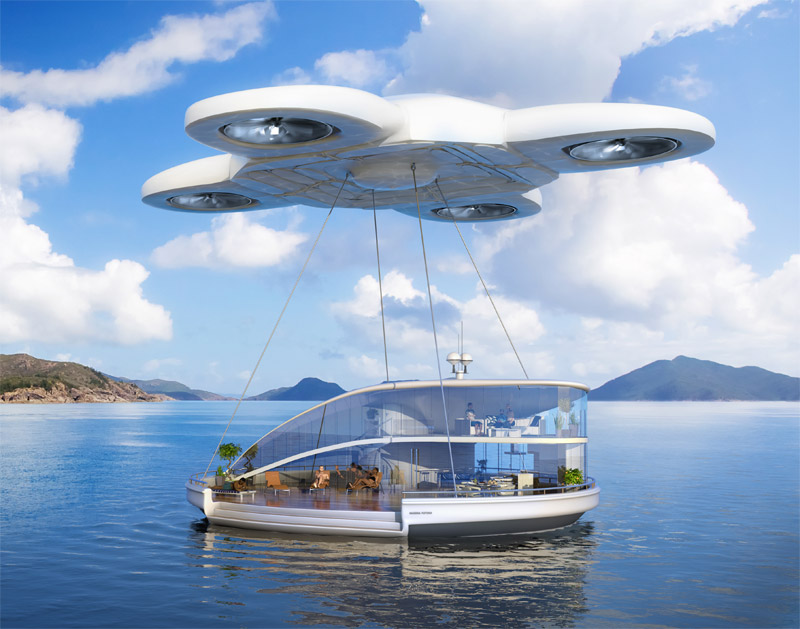 James Monighan, UK Managing Director of Samsung SmartThings, comments as follows: "The smart home revolution will have massively positive implications on how we live. Our homes are becoming smarter – they can now detect the presence of things like people, pets, smoke, humidity, lighting and moisture. And this is just the beginning.
"Just as the technology driving the Internet has spread to smartphones and smart homes, the smart home revolution is destined to spread to larger communities and countries. By simply turning lights and heating off when we don't use them, we can reduce emissions. By being able to better monitor and secure our homes, we can reduce crime. By better monitoring the habits of aging relatives, we help them to achieve greater independence and a higher quality of life."
The report has been published to coincide with the announcement that SmartThings will work with hundreds of products, from a wide range of brands – as well as working with all of Samsung's TVs, refrigerators, washer machines, ovens, and robot vacuum cleaners.
12th January 2016
World's first virtual reality rollercoaster
In a groundbreaking move that could revolutionise the world of theme parks, the UK's Alton Towers Resort announces today it is launching a rollercoaster entirely dedicated to virtual reality.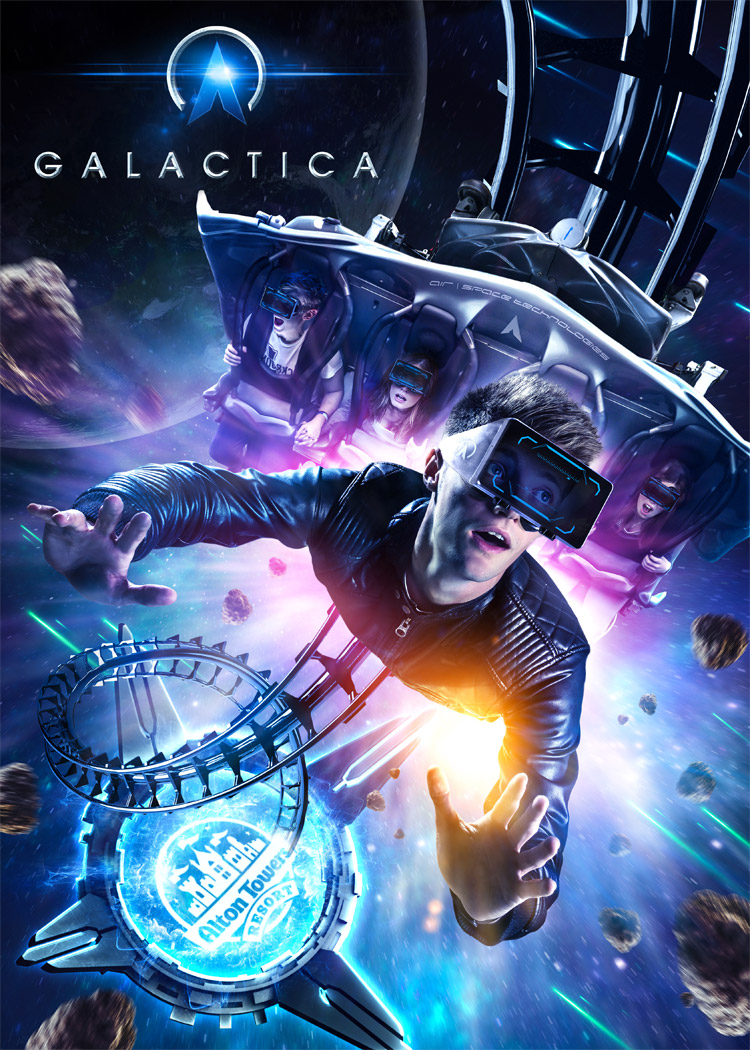 Set to open in April, Galactica is the world's first rollercoaster entirely customised for the full virtual reality experience, transforming riders into astronauts and plunging them into outer space with a G force of 3.5, which is more powerful than the 3G of a real rocket launch.
The exhilarating new ride will combine the physical exertion and adrenaline rush of Alton Towers' iconic flying rollercoaster, with the breathtaking sensation of travelling through space. Cutting edge technology launches riders into a different world, complete with virtual space suits, stunning visuals and an exciting adventure. The visuals have been perfectly synchronised to the thrilling twists, turns and loops of the rollercoaster to recreate the sensation of hurtling through space. Visitors will ride in a prone position along the 840-metre long (2,760 ft) track, to recreate the feeling of flying.
Galactica's epic space theme is set to be hugely popular following Tim Peake's maiden voyage into space in December 2015. Stunning, high-quality visuals deliver an immersive experience that its designers claim is breathtakingly realistic. Each rider wears a modified Samsung Gear VR headset. Through this, an on-board artificial intelligence guides them from the launch pad up into space – flying and looping beyond the stars, banking through wormholes and speeding across distant galaxies, revealing the wonders of the cosmos in stunning clarity.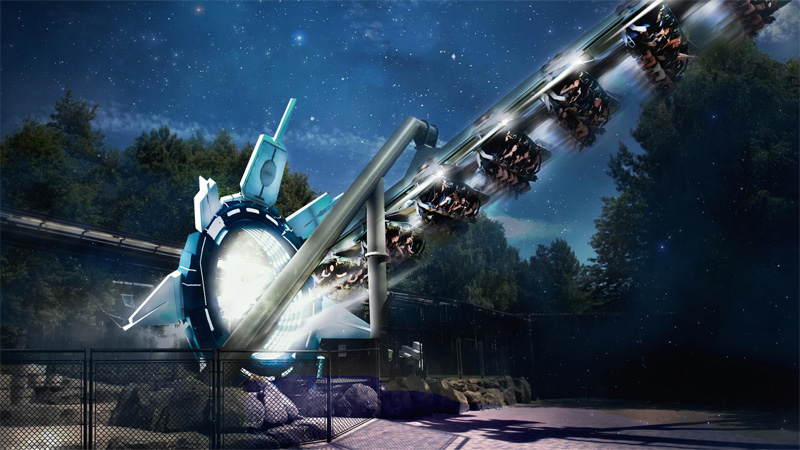 Commenting on the new attraction, Marketing Director Gill Riley says: "Galactica uses groundbreaking technology to give riders a breathtaking and completely unique rollercoaster experience. Tim Peake captured the imagination of millions of Brits last year when he set off on his mission to the International Space Station – and now our visitors can become astronauts too.
"There is nowhere else in the world that people can experience the feeling of a flying rollercoaster combined with soaring through the universe. For two minutes, our guests will be transported into space and we believe Galactica showcases the future for theme parks around the world – it's a complete game changer!"
30th November 2015
Bitcoin debit card introduced in USA
Coinbase has unveiled the first US-issued Bitcoin debit card, accepted at over 38 million merchants worldwide. It is predicted that Bitcoin will become the world's sixth largest reserve currency by 2030.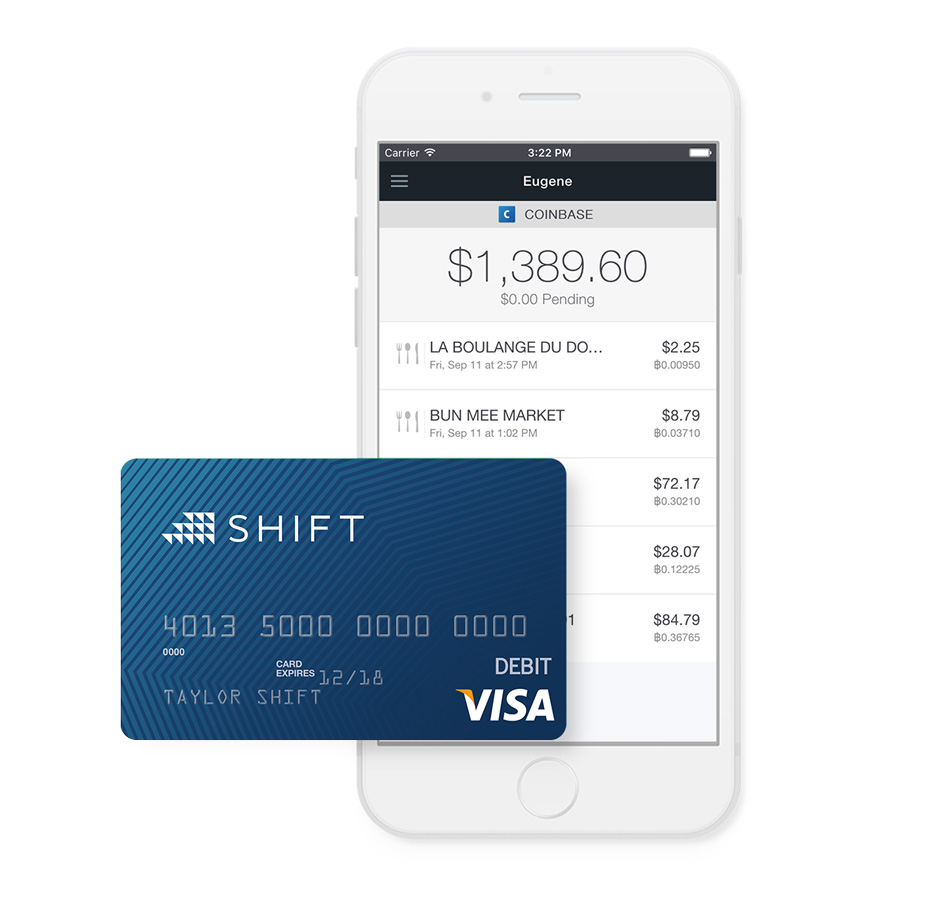 Bitcoin has been around for a while now. Launched worldwide in 2009, this form of digital money isn't controlled or issued by any bank or government and isn't pegged to the value of any other currency. Instead, it works as a decentralised virtual currency with an open network managed by its users. Fast, secure and reliable, Bitcoin is designed for the Internet age – allowing the transfer of any amount of money to anyone in the world, without needing a bank.
An increasing number of large online businesses now accept Bitcoin payments, including Dell, Expedia, Google, OkCupid, Paypal, Reddit and many others. It has drawn the support of some politicians, notably U.S. Presidential candidate Rand Paul, who accepts donations in Bitcoin.
Although growing in popularity, it's still difficult to make regular day-to-day purchases with Bitcoin in the USA, such as buying petrol from a station or groceries at a neighbourhood store, or a meal at a restaurant. That could be about to change, however, thanks to a new Bitcoin debit card. Known as the Shift Card, it can function like a normal VISA debit card – allowing users in 24 states across the USA to spend their virtual money both online and offline at over 38 million merchants around the world. It can also be used to withdraw cash from an ATM, with funds taken out of the person's online Bitcoin balance, not a bank account, although this requires a fee. An accompanying Shift mobile app enables you to check account balances and transaction details, or easily add and edit account information for quick selection at time of payment.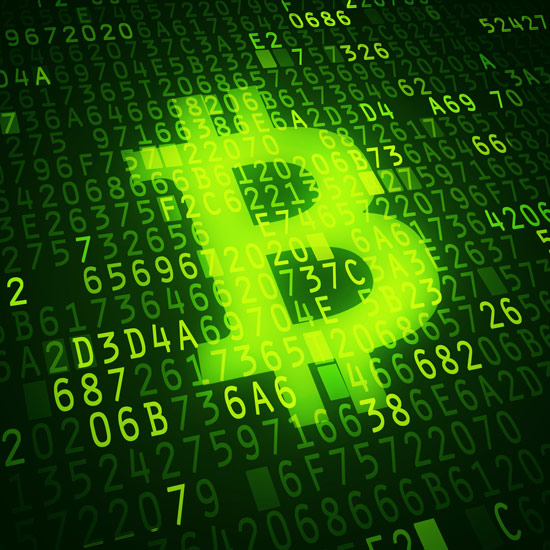 Shift Card has been developed by Coinbase, a Bitcoin wallet and exchange company founded in 2012 and headquartered in San Francisco. It operates exchanges between Bitcoin and fiat currencies in 32 countries, and Bitcoin transactions and storage in 190 countries worldwide. Coinbase and Shift are working through legal and regulatory issues to make the card available throughout all 50 states of the USA.
"At the end of the day, what we're trying to do is make Bitcoin easy to use," says Adam White, vice president at Coinbase. "We want to make it easy to buy and sell Bitcoin, and we want to make it easy to spend. A mainstream debit card based on Bitcoin is a key element."
"It's now possible to live on Bitcoin alone, through a combination of an employer paying the user in Bitcoin and the user spending Bitcoin for everyday items via their debit card," says White.
In a related story, UK-based Magister Advisors has predicted that Bitcoin will become the world's sixth largest reserve currency by 2030. According to their survey, banks and financial institutions are willing to spend around $1 billion on developing blockchain technology over the next two years.
"Blockchain technology will underpin a growing number of routine transactions globally as trust grows," said Jeremy Millar, a partner at Magister Advisors, in a statement released by the organisation. "Our interviews with 30 of the leading Bitcoin companies worldwide cement our view that the currency is gaining traction. Growing vendor acceptance and the adoption of Bitcoin in developing markets are creating a pincer movement that will lead to widespread business and consumer acceptance and adoption over time."
11th October 2015
Smartphone app fixes 10,000 problems in Detroit
A smartphone app launched in Detroit earlier this year has vastly improved the reporting and fixing of neighbourhood problems.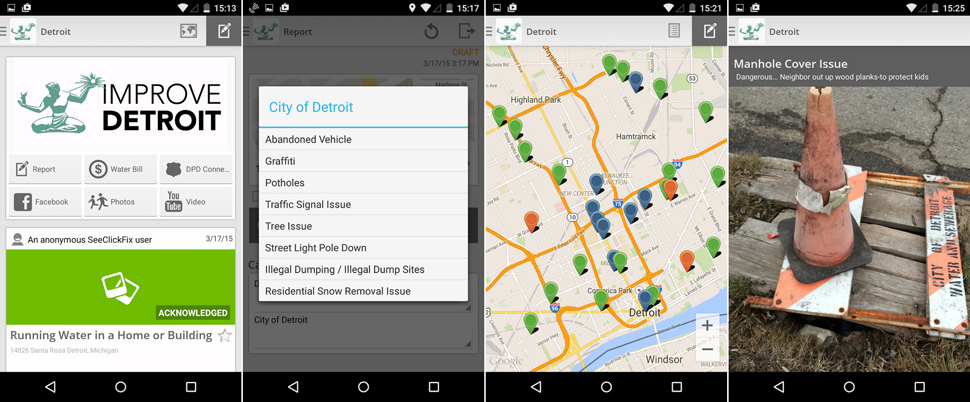 Six months ago this week, the city of Detroit launched a new smartphone app – Improve Detroit – which has been downloaded by over 6,500 residents. More than 10,000 complaints made via the app have been closed since April. The average time to close a case is nine days, a vast improvement from when problems often languished for years.
Residents have used the app to get:
• More than 3,000 illegal dumping sites cleaned up
• 2,092 potholes repaired
• 991 complaints resolved related to running water in an abandoned structure
• 565 abandoned vehicles removed
• 506 water main breaks taken care of
• 277 traffic signal issues fixed
"The Improve Detroit app has ushered in a new era of customer service and accountability in city government," Mayor Mike Duggan said. "It's never been easier for Detroiters to get their voices heard and their complaints taken care of."
Not only are problems getting resolved, but residents are raving about the app, which has a four star rating on the Google Play store.
"It saves time, it gets results, and I love how I can follow the progress being made on the complaint," comments Dan Wroblewski, who lives on Detroit's far west side and uses it to report issues while patrolling his neighbourhood.
The Improve Detroit app is just one of several the City of Detroit has made available as it works to bring its customer service into the digital age. Residents can also download the Detroit Police Connect app to get up-to-date information on DPD, contact police anonymously with tips to help keep their neighbourhood safe, find numbers for precincts, bureaus and other departments and more. Meanwhile, the DDOT Bus app provides riders with the real-time location, movement and arrival time of the next bus at their stop, saving them time and from having to wait in inclement weather unnecessarily. They can also plan their trip by seeing which routes and transfers to take.