30th May 2017
World's first autonomous and zero emissions container ship to launch by 2020
The vessel "YARA Birkeland" will be the world's first fully electric and autonomous container ship, with zero emissions. Operation is planned to start in Norway during the latter half of 2018, with fully autonomous journeys from 2020.
"YARA Birkeland" will be the world's most advanced container feeder ship – integrating sensor, control, communications and power into a fully autonomous and 100% electric system.
Named after the company YARA's founder – the scientist and innovator Kristian Birkeland – it will be the world's first fully electric container feeder, reducing NOx and CO2 emissions and improving road safety by removing the need for up to 40,000 truck journeys in populated urban areas.
YARA Birkeland will initially operate as a manned vessel, shifting to remote operations in 2019 and performing fully autonomous operations from 2020. This new zero-emission ship could be a game-changer for global maritime transport, helping to meet the UN sustainability goals for 2030 and beyond. Shipping is currently responsible for 2.5% of global human-made CO2 emissions, but this could rise to 17% by 2050 if no action is taken. There are now over 100,000 transport ships at sea, of which about 6,000 are large container ships.
"As a leading global fertiliser company with a mission to feed the world and protect the planet, investing in this zero emission vessel to transport our crop nutrition solutions fits our strategy well. We are proud to work with KONGSBERG to realise the world's first autonomous, all-electric vessel to enter commercial operation," says Svein Tore Holsether, President and CEO of YARA.
"Every day, more than 100 diesel truck journeys are needed to transport products from YARA's Porsgrunn plant to ports in Brevik and Larvik where we ship products to customers around the world. With this new autonomous battery-driven container vessel, we move transport from road to sea and thereby reduce noise and dust emissions, improve the safety of local roads, and reduce NOx and CO2 emissions," says Holsether.
KONGSBERG is responsible for development and delivery of all key enabling technologies on the YARA Birkeland, including the sensors and integration required for remote and autonomous operations, in addition to the electric drive, battery and propulsion control systems.
"By moving container transport from land to sea, YARA Birkeland is the start of a major contribution to fulfilling national and international environmental impact goals. The new concept is also a giant step forward towards increased seaborne transportation in general," says Geir Håøy, CEO of KONGSBERG.
As a leading global maritime technology company, KONGSBERG's integrated control and monitoring systems are already capable of facilitating remote and unmanned operations. YARA Birkeland will benefit from competence and new technologies developed across KONGSBERG. In addition to being autonomous and fully electric, it will also be ballast-free, to further reduce its impact on the marine environment. This lack of water discharge will help in preventing the spread of non-native, nuisance, or exotic species of plants, animals, viruses and bacteria, which can often cause extensive ecological and economic damage.
"Developing systems for autonomous operations is a major opening and natural step for KONGSBERG, considering our decades of expertise in the development and integration of advanced sensors, control and communication systems for all areas of ship operations," says Håøy. "YARA Birkeland will set the benchmark for the application of innovative maritime technology for more efficient and environmentally friendly shipping."
---
• Follow us on Twitter
• Follow us on Facebook
• Subscribe to us on YouTube
24th May 2017
Rapid greening of Antarctica due to climate change
Researchers have published evidence of a rapid greening in the Antarctic over the last 50 years. Mosses that once grew less than 1 mm a year are now found to be growing 3.2 mm a year on average, with up to a five-fold increase in overall mass accumulation.
Plant life on Antarctica is growing rapidly due to climate change, scientists have found.
Few plants live on the continent, but scientists studying moss have found a sharp increase in biological activity in the last 50 years. A team including scientists from the University of Exeter used moss bank cores – which are well preserved in Antarctica's cold conditions – from an area spanning about 400 miles.
They tested five cores from three sites and found major biological changes had occurred over the past 50 years right across the Antarctic Peninsula.
| | |
| --- | --- |
| | Moss bank sites and meteorological records on the Antarctic Peninsula. Black dots are new locations in this study; grey dot is previously published; white dots are meteorological records, with decadal temperature trends. |
"Temperature increases over roughly the past half century on the Antarctic Peninsula have had a dramatic effect on moss banks growing in the region," said Dr Matt Amesbury, of the University of Exeter. "If this continues, and with increasing amounts of ice-free land from continued glacier retreat, the Antarctic Peninsula will be a much greener place in the future."
Recent change on the Antarctic Peninsula has been well documented – such as higher temperatures, increased precipitation and stronger winds. Weather records mostly began in the 1950s, but biological records preserved in moss bank cores can offer a longer-term context about climate change. The scientists analysed data for the last 150 years, and found evidence of "changepoints" – points in time after which biological activity clearly increased – in the past half century. Mosses that once grew less than 1 mm a year now have growing rates of 3.2 mm a year, with up to a five-fold increase in overall mass accumulation.
"The sensitivity of moss growth to past temperature rises suggests that ecosystems will alter rapidly under future warming, leading to major changes in the biology and landscape of this iconic region," said Professor Dan Charman, who led the research project in Exeter. "In short, we could see Antarctic greening to parallel well-established observations in the Arctic.
"Although there was variability within our data, the consistency of what we found across different sites was striking," said Charman.
The research team, which included scientists from the University of Cambridge and British Antarctic Survey, say their data indicate that plants and soils will change substantially even with only modest further warming. The same group of researchers published a study focussing on one site in 2013, and the new research confirms that their earlier finding can be applied to a much larger region.
"This is another indicator that Antarctica is moving backwards in geologic time, which makes sense, considering atmospheric CO2 levels have already risen to levels that the planet hasn't seen since the Pliocene, three million years ago, when the Antarctic ice sheet was smaller, and sea levels were higher," said University of Massachusetts glaciologist Rob DeConto, who was not involved in the study, but reviewed it for the Washington Post.
"If greenhouse gas emissions continue unchecked, Antarctica will head even further back in geologic time. Perhaps the peninsula will even become forested again someday, like it was during the climates of the Cretaceous and Eocene, when the continent was ice free," DeConto added.
The paper appears in the journal Current Biology.
---
• Follow us on Twitter
• Follow us on Facebook
• Subscribe to us on YouTube
20th May 2017
Solar power is now cheaper than coal in India
The price of clean energy continues to plummet. In India, electricity from solar is now cheaper than electricity from coal.
At a recent auction held in Rajasthan, northern India, clean energy supplier Phelan Energy and Aaada Power offered to charge just 2.62 rupees per kilowatt-hour (kWh) of solar-generated electricity. That is well below a previous record low bid of 3.15 rupees per kWh, set last month, and far below the 4.34 rupees per kWh offered last year. For comparison, the average charged by India's largest coal firm is currently around 3.20 rupees per kWh.
In recent years, the writing has been on the wall for the coal industry. In May 2014, the Institute for Energy Economics and Financial Analysis (IEEFA) warned that international coal projects relying on imports to India – such as Australia's Galilee Basin – faced major financial risks. Meanwhile, a draft report was issued by India's electricity agency in December last year, predicting that the country was unlikely to need any new coal plants for at least the next decade besides those already in the pipeline. The 50 GW of coal projects being planned would be "largely stranded" under the forecast.
In related news, a 4,000 MW coal "ultra-mega power project" (UMPP) planned for Gujarat, India's westernmost state, has been scrapped this month: "Our focus is now on renewable energy," said energy minister Chimanbhai Sapariya. "The government will encourage solar power."
Like many countries around the world, the cumulative capacity of India's solar grid is following an exponential curve, as costs continue to plummet and technology improves – from 2.65 GW in May 2014, to 6.7 GW in March 2016 and 12.28 GW in April 2017. The Indian government believes that 57% of its electricity capacity will come from non-fossil fuels by 2027. The Paris climate accord target is 40% by 2030. In that same timeframe, it is also hoped that every new car will be an electric car.
In addition to its large-scale, grid-connected solar PV initiatives, India is developing off-grid solar power for local energy needs. The country has a poor rural electrification rate – in 2015, only 55% of all rural households had access to electricity. Solar products are increasingly helping to meet rural needs and reducing the demand for kerosene.
Last year, Prime Minister Modi laid the foundation stone for the headquarters of the International Solar Alliance (ISA) in Gurgaon, just outside New Delhi. This will focus on promoting and developing solar for countries between the Tropic of Cancer and Tropic of Capricorn, reducing the costs and increasing the deployment of these technologies to poor and remote regions. India is particularly well-placed for solar energy with its high solar irradiance.
Alan Fotheringham, a director from energy services company Wood Group, commenting on the auction bid in Rajasthan province, said that India was "demonstrating that when the conditions allow, it is possible to move very quickly to transition the energy mix."
"We have seen strong and steady growth of the solar energy market in India," he said, explaining that it has become "one of the largest and strongest markets. With a huge population and a huge demand for energy, growing investments and political willingness, all the ingredients are there for the transition to happen."
The picture is similar in China, where coal production has been in a downward spiral for several years now, with major efforts being undertaken to accelerate the switch to clean tech. Some Chinese provinces and cities are on a path to reach peak emissions as early as 2020.
Meanwhile, in the USA, President Trump is taking a wrecking ball to most of the progress achieved by his predecessor – gutting the EPA and its power to regulate the fossil fuel industry, scrapping fuel efficiency standards, and withdrawing protections for many areas of land, in order to ramp-up the use of coal, oil and gas. Currently, it is not yet known whether Trump will officially withdraw the USA from the Paris treaty, but he has repeatedly stated his objection to it, his intention to cancel all funding for climate-related efforts, and his denial of the basic science.
---
• Follow us on Twitter
• Follow us on Facebook
• Subscribe to us on YouTube
11th May 2017
Global warming: 1.5°C target may be smashed by 2026
A change to a positive phase of the Interdecadal Pacific Oscillation could see global warming accelerate rapidly in the next decade.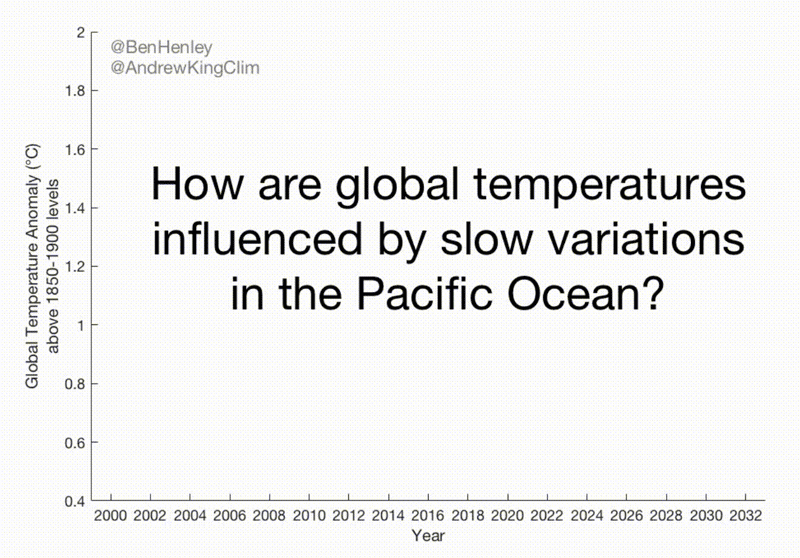 Global temperatures could break through the 1.5°C barrier negotiated at the Paris conference as early as 2026 if a slow-moving, natural climate driver known as the Interdecadal Pacific Oscillation (IPO) has, as suspected, moved into a positive phase.
New research published in Geophysical Research Letters by University of Melbourne scientists at the ARC Centre of Excellence for Climate System Science shows that a positive IPO would likely produce a sharp acceleration in global warming over the next decade.
Since 1999, the IPO has been in a negative phase, but consecutive record-breaking warm years in 2014, 2015 and 2016 have led climate researchers to suggest this may have changed. In the past, these positive phases have coincided with accelerated global warming.
"Even if the IPO remains in a negative phase, our research shows we will still likely see global temperatures break through the 1.5°C guardrail by 2031," said lead author Dr Ben Henley.
"If the world is to have any hope of meeting the Paris target, governments will need to pursue policies that not only reduce emissions, but remove carbon from the atmosphere."
"Should we overshoot the 1.5°C limit, we must still aim to bring global temperatures back down and stabilise them at that level or lower," adds Henley.
The IPO has a profound impact on our climate, because it is a powerful natural climate lever with a lot of momentum that changes very slowly over periods of 10 to 30 years. During its positive phase, the ocean temperatures in the tropical Pacific are unusually warm and those outside this region to the north and south are often unusually cool. When the IPO enters a negative phase, this situation is reversed.
In the past, we have seen positive IPOs from 1925-1946 and again from 1977-1998. These were both periods that saw rapid increases in global average temperatures. The world experienced the reverse — a prolonged negative phase — from 1947-1976, when global temperatures stalled.
A striking characteristic of the most recent 21st century negative phase of the IPO is that on this occasion, global average surface temperatures continued to rise, just at a slower rate.
"Although the Earth has continued to warm during the temporary slowdown since around 2000, the reduced rate of warming in that period may have lulled us into a false sense of security. The positive phase of the IPO will likely correct this slowdown. If so, we can expect an acceleration in global warming in the coming decades," Dr Henley said.
"Policy makers should be aware of just how quickly we are approaching 1.5°C. The task of reducing emissions is very urgent indeed."
---
• Follow us on Twitter
• Follow us on Facebook
• Subscribe to us on YouTube
6th May 2017
Fusion reactor achieves first plasma
A British company, Tokamak Energy, has achieved first plasma in the ST40, its latest prototype design for a fusion reactor. The machine is planned to reach 100 million degrees C in 2018, the temperature required for fusion.
A new prototype fusion reactor has been turned on for the first time and officially achieved first plasma. The reactor aims to produce a record-breaking plasma temperature of 100 million degrees C for a privately-funded venture. This is seven times hotter than the centre of the Sun and the temperature necessary for controlled fusion.
The tokamak reactor, called the 'ST40', was built by Tokamak Energy, one of the world's leading private fusion energy ventures. The Oxfordshire-based company grew out of the Culham Centre for Fusion Energy and was established in 2009 to design and develop small fusion reactors. Tokamak Energy's aim is to put fusion power into the grid by 2030.
With the ST40 up and running, the next steps are to complete the commissioning and installation of the full set of magnetic coils which are crucial to reaching temperatures required for fusion. This will allow the ST40 to produce a plasma temperature of 15 million degrees C – as hot as the Sun's core – in autumn 2017.
Following the 15 million degree milestone, the next goal is for the ST40 to produce plasma temperatures of 100 million degrees in 2018. This will be a record-breaking milestone, as the plasma will reach a temperature never before achieved in a privately owned and funded fusion reactor. 100 million degrees is an important threshold, as only at or above this temperature can the charged particles which naturally repel each other be forced together to induce a controlled fusion reaction. This will also prove the vital point that commercially viable fusion can be produced in compact spherical tokamaks.
Tokamak Energy's journey to generating fusion energy is moving at a rapid pace; the company has already reached the half-way point of its long-term plan to deliver fusion power. It is focused on working with a smaller reactor design – called a compact, spherical tokamak – that enables quicker development of devices, therefore speeding up the process towards achieving their ultimate targets: producing first electricity by 2025 and commercially viable fusion power by 2030. Tokamak Energy's research has also proven that this route to fusion power can be much faster than the development of conventional large-scale devices.
Dr David Kingham, CEO of Tokamak Energy, commented: "Today is an important day for fusion energy development in the UK, and the world. We are unveiling the first world-class controlled fusion device to have been designed, built and operated by a private venture. The ST40 is a machine that will show fusion temperatures – 100 million degrees – are possible in compact, cost-effective reactors. This will allow fusion power to be achieved in years, not decades."
"We will still need significant investment, many academic and industrial collaborations, dedicated and creative engineers and scientists, and an excellent supply chain. Our approach continues to be to break the journey down into a series of engineering challenges, raising additional investment on reaching each new milestone. We are already half-way to the goal of fusion energy; with hard work we will deliver fusion power at commercial scale by 2030."
---
• Follow us on Twitter
• Follow us on Facebook
• Subscribe to us on YouTube
4th May 2017
India will make every new car electric by 2030
India has set itself the goal of making every new car in the country electric by 2030, according to an energy minister.
"We are going to introduce electric vehicles in a very big way," explained Piyush Goyal at the Confederation of Indian Industry Annual Session 2017 in New Delhi. "We are going to make electric vehicles self-sufficient. The idea is that by 2030, not a single petrol or diesel car should be sold in the country."
India's electric car industry will need up to three years of government assistance, Mr Goyal believes, but production of the vehicles would be "driven by demand and not subsidy" after that. Improvements in technology, falling costs of batteries and wider availability of charging stations could achieve this.
"The cost of electric vehicles will start to pay for itself for consumers," he said. "We would love to see the electric vehicle industry run on its own."
India's goal may sound overly ambitious and unrealistic – but electric vehicle sales are growing exponentially worldwide, similar to the rapid trends in solar and wind power that are also being observed. Electric car ownership passed the 1 million mark in 2015. European countries have recently announced similar goals: the Netherlands and Norway, for instance, intend to ban all petrol and diesel cars by 2025.
Mr Goyal said the electric car scheme would first target "larger consumer centres, where pollution is at an all-time high", such as Delhi, which has concentrations of particulate matter 13 times the annual limit set by the World Health Organisation.
The latest available figures show that 2.3 million deaths occur in India each year due to air pollution – almost the same as deaths from tobacco use – with 3% of the country's Gross Domestic Product (GDP) being lost due to this problem, making it a public health and economic crisis. India recently overtook China in number of deaths due to outdoor air pollution.
---
• Follow us on Twitter
• Follow us on Facebook
26th April 2017
Wax moth larvae: a solution to plastic waste?
Wax moth larvae are reported to be able to biodegrade polyethylene, one of the toughest, most resilient, and most used plastics. The creatures may be a solution to the growing problem of plastic waste.
Generally speaking, plastic is incredibly resistant to breaking down. That's certainly true of the estimated 500 billion to 1 trillion polyethylene plastic bags that people use each and every year. But scientists reporting in the journal Current Biology this week may have found one potential solution to this growing problem. The key is a caterpillar commonly known as the wax worm.
"We have found that the larva of a common insect, Galleria mellonella, is able to biodegrade one of the toughest, most resilient, and most used plastics: polyethylene," says Federica Bertocchini, of the Institute of Biomedicine and Biotechnology of Cantabria in Spain. A previous study had shown that Plodia interpunctella wax worms, the larvae of dian mealmoths, can also digest plastic.
Bertocchini and her colleagues made the discovery by accident, after noticing that plastic bags containing wax worms quickly became riddled with holes. Subsequent research found that the worms can do damage to a plastic bag in less than an hour.
After 12 hours, all that munching of plastic leads to an obvious reduction in plastic mass. The researchers showed that the wax worms were not only ingesting the plastic, they were also chemically transforming the polyethylene into ethylene glycol. This is suspected to be the case in Plodia interpunctella as well.
Although wax worms don't normally eat plastic, the researchers suspect that this ability is a by-product of their natural habits. Wax moths lay their eggs inside beehives. The worms hatch and grow on beeswax, which is composed of a highly diverse mixture of lipid compounds. The researchers say the molecular details of wax biodegradation require further investigation, but it's likely that digesting beeswax and polyethylene involves breaking down similar types of chemical bonds.
"Wax is a polymer – a sort of 'natural plastic' – and has a chemical structure not dissimilar to polyethylene," explains Bertocchini.
As the molecular details of the process become known, the researchers say it could be used to devise a bio-technological solution to managing polyethylene waste. They will continue to explore the process in search of such a strategy.
"We are planning to implement this finding into a viable way to get rid of plastic waste, working towards a solution to save our oceans, rivers, and all the environment from the unavoidable consequences of plastic accumulation," Bertocchini says. "However," she adds, "we should not feel justified to dump polyethylene deliberately in our environment just because we now know how to bio-degrade it."
---
• Follow us on Twitter
• Follow us on Facebook
18th April 2017
Device pulls water from dry air, powered only by Sun
The University of California, Berkeley, has created a device that pulls water from dry air, powered only by the Sun. Even under conditions of relatively low (20-30%) humidity, it can produce 2.8 litres of water over a 12-hour period.
Imagine a future in which every home has an appliance that pulls all the water the household needs out of the air, even in dry or desert climates, using only the power of the Sun. That future may be just around the corner, with the demonstration of a water harvester that uses only ambient sunlight to pull litres of water out of the air each day in conditions as low as 20 percent humidity, a level common in arid areas.
The solar-powered harvester, reported in the journal Science, was constructed at the Massachusetts Institute of Technology using a special material called a metal-organic framework – or MOF – produced at the University of California, Berkeley.
"This is a major breakthrough in the long-standing challenge of harvesting water from the air at low humidity," said Omar Yaghi from UC Berkeley, one of two senior authors of the paper. "There is no other way to do that right now, except by using extra energy. Your electric dehumidifier at home 'produces' very expensive water."
The prototype, under conditions of 20-30 percent humidity, was able to pull 2.8 litres (3 quarts) of water from the air over a 12-hour period, using one kilogram (2.2 pounds) of MOF. Rooftop tests at MIT confirmed that the device works in real-world conditions.
"One vision for the future is to have water off-grid, where you have a device at home running on ambient solar for delivering water that satisfies the needs of a household," said Yaghi, who is the founding director of the Berkeley Global Science Institute, a co-director of the Kavli Energy NanoSciences Institute and the California Research Alliance by BASF. "To me, that will be made possible because of this experiment. I call it personalised water."
Yaghi worked with Evelyn Wang, a mechanical engineer at MIT, alongside students at the university. The system they designed consists of approximately two pounds of dust-sized MOF crystals compressed between a solar absorber and a condenser plate, inside a chamber open to the air. As ambient air diffuses through the porous MOF, water molecules preferentially attach to the interior surfaces. X-ray diffraction studies have shown that the water vapour molecules often gather in groups of eight to form cubes.
Sunlight entering through a window heats up the MOF and drives the bound water toward the condenser, which is at the temperature of the outside air. The vapour condenses as liquid water and drips into a collector.
"This work offers a new way to harvest water from air that does not require high relative humidity conditions and is much more energy efficient than other existing technologies," said Wang.
This proof of concept harvester leaves much room for improvement, Yaghi said. The current MOF can absorb only 20 percent of its weight in water, but other MOF materials could possibly absorb 40 percent or more. The material could also be tweaked to be more effective at higher or lower humidity.
"It's not just that we made a passive device that sits there collecting water; we have now laid both the experimental and theoretical foundations so that we can screen other MOFs, thousands of which could be made, to find even better materials," he said. "There is a lot of potential for scaling up the amount of water that is being harvested. It is just a matter of further engineering now."
Yaghi and his team are working to improve their MOFs, while Wang continues to improve the harvesting system to produce more water.
"To have water running all the time, you could design a system that absorbs the humidity during the night and evolves it during the day," he said. "Or design the solar collector to allow for this at a much faster rate, where more air is pushed in. We wanted to demonstrate that if you are cut off somewhere in the desert, you could survive because of this device. A person needs about a Coke can of water per day. That is something one could collect in less than an hour with this system."
---
• Follow us on Twitter
• Follow us on Facebook
11th April 2017
Two-thirds of Great Barrier Reef hit by back-to-back mass coral bleaching
Australia's Great Barrier Reef is reported to be experiencing a second consecutive mass coral bleaching event, affecting two-thirds of its area.
For the second time in just 12 months, scientists have recorded severe coral bleaching across huge tracts of the Great Barrier Reef, after completing aerial surveys along its entire length. In 2016, bleaching was most severe in the northern third of the Reef, while one year on, the middle third has experienced the most intense coral bleaching.
"The combined impact of this back-to-back bleaching stretches for 1,500 km (900 miles), leaving only the southern third unscathed," says Prof. Terry Hughes, Director of the ARC Centre of Excellence for Coral Reef Studies, who undertook the aerial surveys in both 2016 and 2017.
"The bleaching is caused by record-breaking temperatures driven by global warming. This year, 2017, we are seeing mass bleaching, even without the assistance of El Niño conditions."
The aerial surveys in 2017 covered more than 8,000 km (5,000 miles) and scored nearly 800 individual coral reefs closely matching the aerial surveys in 2016 that were carried out by the same two observers.
Dr. James Kerry, who also undertook the aerial surveys, explains further: "This is the fourth time the Great Barrier Reef has bleached severely – in 1998, 2002, 2016, and now in 2017. Bleached corals are not necessarily dead corals, but in the severe central region we anticipate high levels of coral loss."
"It takes at least a decade for a full recovery of even the fastest growing corals, so mass bleaching events 12 months apart offers zero prospect of recovery for reefs that were damaged in 2016."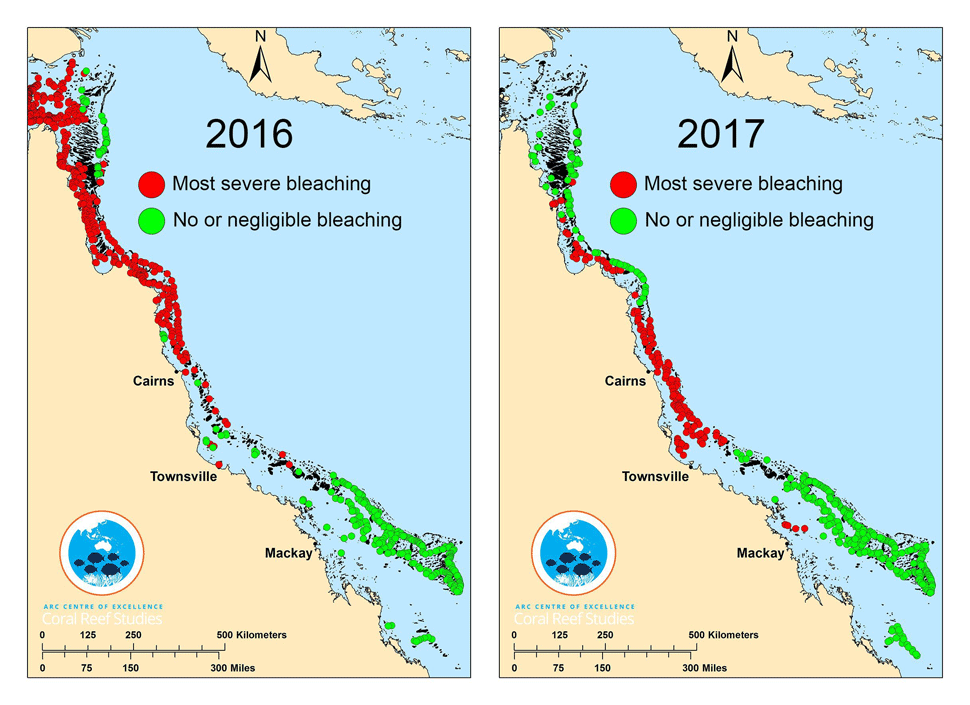 Coupled with the 2017 mass bleaching event, Tropical Cyclone Debbie struck a corridor of the Great Barrier Reef at the end of March. The intense, slow-moving system was likely to have caused varying levels of damage along a path up to 100 km wide. Any cooling effects related to the cyclone are likely to be negligible in relation to the damage it caused, which struck a section of the reef that had largely escaped the worst of the bleaching.
"Clearly the reef is struggling with multiple impacts," says Prof. Hughes. "Without a doubt the most pressing of these is global warming. As temperatures continue to rise, the corals will experience more and more of these events: 1°C of warming so far has already caused four events in the past 19 years."
"Ultimately, we need to cut carbon emissions, and the window to do so is rapidly closing."
---
• Follow us on Twitter
• Follow us on Facebook
5th April 2017
Atmosphere could resemble Triassic by 22nd century
If greenhouse gas emissions continue to rise, or if subsequent efforts to reverse climate change end in failure, the world's atmosphere could resemble that of the Triassic period by the 22nd century, according to a new study.
New research led by the University of Southampton suggests that, over the next 100 to 200 years, carbon dioxide concentrations in the Earth's atmosphere will head towards values not seen since the Triassic period, 200 million years ago. Furthermore, by the 23rd century, the climate could reach a warmth not seen in 420 million years.
The study, published in Nature Communications, compiled over 1200 estimates of ancient atmospheric carbon dioxide (CO2) concentrations to produce a continuous record dating back nearly half a billion years. It concludes that if humanity burns all available fossil fuels in the future, the levels of CO2 contained in the atmosphere may have no geologically-preserved equivalent during this 420 million year period.
The researchers examined published data on fossilised plants, the isotopic composition of carbon in soils and the oceans, and the boron isotopic composition of fossil shells. Gavin Foster, lead author and Professor of Isotope Geochemistry at the University of Southampton, explains: "We cannot directly measure CO2 concentrations from millions of years ago. Instead we rely on indirect 'proxies' in the rock record. In this study, we compiled all the available published data from several different types of proxy to produce a continuous record of ancient CO2 levels."
This wealth of data shows that CO2 concentrations have naturally fluctuated on multi-million year timescales over this period, from around 200-400 parts per million (ppm) during cold 'icehouse' periods, to up to 3000 ppm during intervening warm 'greenhouse' periods. Although evidence tells us our climate has fluctuated greatly in the past (with the Earth currently in a colder period), it also shows the current speed of climate change is highly unusual.
Carbon dioxide is a potent greenhouse gas and during the last 150 years, humanity's fossil fuel extraction has increased its atmospheric concentration from 280 ppm in the pre-industrialisation era to nearly 405 ppm today. However, it is not just CO2 that determines the climate of our planet; ultimately it is both the strength of the greenhouse effect and the amount of incoming sunlight that is important. Changes in either parameter are able to force climate change.
"Due to nuclear reactions in stars, like our Sun, over time they become brighter," adds co-author Dan Lunt, Professor of Climate Science at the University of Bristol. "This means that, although carbon dioxide concentrations were high hundreds of millions of years ago, the net warming effect of CO2 and sunlight was less. Our new CO2 compilation appears on average to have gradually declined over time by about 3-4 ppm per million years. This may not sound like much, but it is actually just about enough to cancel out the warming effect caused by the Sun brightening through time, so in the long-term it appears the net effect of both was pretty much constant on average."
This interplay between carbon dioxide and the Sun's brightness has fascinating implications for the history of life on Earth. Co-author Professor Dana Royer, from Wesleyan University in the US, explains: "Up until now it's been a bit of a puzzle as to why, despite the Sun's output having increased slowly over time, scant evidence exists for any similar long-term warming of the climate. Our finding of little change in the net climate forcing offers an explanation for why Earth's climate has remained relatively stable, and within the bounds suitable for life for all this time."
This long-term view also offers a valuable perspective on future climate change. It is well recognised that the climate today is changing at rates well above the geological norm. If humanity fails to tackle rising CO2 and burns all the readily available fossil fuel, then within the next two centuries, it will be at 2000 ppm – levels not seen since 200 million years ago.
Professor Foster adds: "However, because the Sun was dimmer back then, the net climate forcing 200 million years ago was lower than we would experience in such a high CO2 future. So, not only will the resultant climate change be faster than anything the Earth has seen for millions of years, the climate that will exist is likely to have no natural counterpart, as far as we can tell, in at least the last 420 million years."
---
• Follow us on Twitter
• Follow us on Facebook
4th April 2017
Graphene sieve turns seawater into drinking water
Researchers at the University of Manchester have demonstrated a graphene-based sieve able to filter seawater. This could lead to affordable desalination technologies.
In recent years, graphene-oxide membranes have attracted major attention as promising candidates for new filtration technologies. Now, the much sought-after breakthrough of making membranes capable of sieving common salts has been achieved. New research demonstrates the real-world potential of providing clean drinking water for millions of people who currently struggle to obtain adequate water resources. The findings, by scientists from the University of Manchester, were published yesterday in the journal Nature Nanotechnology.
Graphene-oxide membranes developed at the National Graphene Institute have already demonstrated the potential of filtering out small nanoparticles, organic molecules, and even large salts. Until now, however, they couldn't filter common salts, which require even smaller sieves. Previous research at the University of Manchester found that if immersed in water, graphene-oxide membranes become slightly swollen and smaller salts flow through the membrane along with water, but larger ions or molecules are blocked.
The team has now further developed these graphene membranes and found a way to prevent the swelling of the membrane when exposed to water. Pore size in the membrane can be precisely controlled, to filter common salts out of salty water and make it safe to drink.
As the effects of climate change continue to impact on water supplies, wealthy countries are also investing in desalination technologies. Following the recent disasters in California, major cities are looking increasingly to alternative water solutions.
When common salts are dissolved in water, they form a 'shell' of water molecules around the salt molecules. This allows the tiny capillaries of the graphene-oxide membranes to block salt from flowing along with the water. Water molecules are able to pass through the membrane barrier and flow anomalously fast, which is ideal for application of these membranes for desalination.
"To make it permeable, you need to drill small holes in the membrane. But if the hole size is larger than one nanometre, the salts go through that hole," said Rahul Nair, Professor of Materials Physics. "You have to make a membrane with a very uniform, less-than-one-nanometre hole size to make it useful for desalination. It is a really challenging job. When the capillary size is around one nanometre, which is very close to the size of the water molecule, those molecules form a nice interconnected arrangement, like a train."
"Realisation of scalable membranes with uniform pore size down to the atomic scale is a significant step forward and will open new possibilities for improving the efficiency of desalination technology," he continued. "This is the first clear-cut experiment in this regime. We also demonstrate that there are realistic possibilities to scale up the described approach and mass produce graphene-based membranes with required sieve sizes."
"The developed membranes are not only useful for desalination, but the atomic scale tunability of the pore size also opens new opportunity to fabricate membranes with on-demand filtration, capable of filtering out ions according to their sizes." said Jijo Abraham, co-author on the research paper.
By 2025, the UN expects that 14% of the world's population will encounter water scarcity. This new technology has the potential to revolutionise water filtration across the world, particularly in nations which cannot afford large-scale desalination technology. It is hoped that graphene membrane systems can be utilised on smaller scales – making them accessible to regions that do not have the financial infrastructure to fund large plants.
---
• Follow us on Twitter
• Follow us on Facebook