19th January 2017
World's first "floating city" moves a step forward
The world's first "floating city" has moved a step closer to reality after the French Polynesian government signed a historic agreement with the nonprofit Seasteading Institute.
The French Polynesian government has signed a historic agreement with nonprofit The Seasteading Institute to cooperate on creating a legal framework to allow for the development of the Floating Island Project. This legislation will give the Floating Island Project its own "special governing framework" creating an "innovative special economic zone."
The Seasteading Institute has announced the formation of a new company, Blue Frontiers, to construct the ocean-based city. The project will help to advance French Polynesia's "Blue Economy" initiative – providing an opportunity to adapt to rising sea levels, while creating a fresh space for pioneering social and technological innovation.
Jean Christophe Bouissou, Minister of Housing and the government's official spokesperson, arrived in San Francisco to sign the agreement on behalf of President Edouard Fritch in the company of Silicon Valley luminaries, members of the press, and supporters of The Seasteading Institute.
"The Memorandum of Understanding I'm sure will greatly help and facilitate our future cooperation on this innovative project," said Fritch, addressing the group from French Polynesia by video call.
"Our seasteading collaboration with French Polynesia was initiated by the Tahitians themselves and will bring jobs, economic growth, and environmental resiliency to the region," said Randolph Hencken, Executive Director of the Seasteading Institute. "Signing the MOU with French Polynesia is an important first step, and a huge milestone for seasteading."
In September, President Fritch invited an international delegation from The Seasteading Institute to examine several potential sites near the French Polynesian islands of Tahiti, Tupai, and Raiatea. The MOU obligates the Institute to conduct an economic analysis to demonstrate the economic benefits for French Polynesia – as well as an environmental assessment, to assure the health of the ocean and seabed. As soon as these studies are complete, French Polynesia will collaborate with The Seasteading Institute to develop a "special governing framework" to construct sustainable floating islands.
"The Seasteading Institute and the government of French Polynesia will draw from the best practices of more than 4000 existing Special Economic Zones around the world to create a 'Special Economic SeaZone,'" explained Hencken. "The SeaZone will combine the advantages of French Polynesia's geopolitical location with unique regulatory opportunities, specifically designed to attract investors."
Seasteading investors will self-fund the initial studies and the construction of the floating islands. The pilot project is expected to cost between US$10 million and US$50 million. Subsequent future versions will include self-sufficient food and water, healthcare, clean energy and other features. They will be interlocking like jigsaw puzzles to facilitate expansion. It is also hoped that protection from devastating storms could be offered by giving each city the ability to be disassembled into separate sections and temporarily moved elsewhere.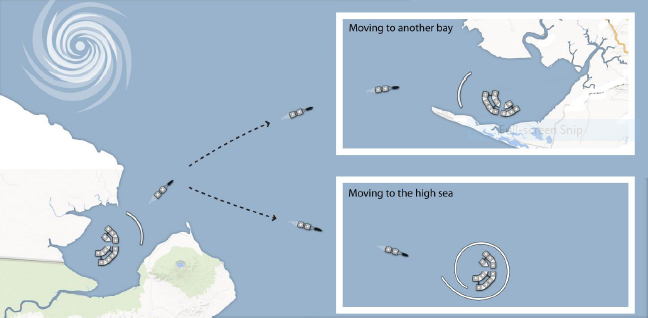 "After many long years of work by our staff and global network of advocates, I'm incredibly excited for the chance to work with French Polynesia, which as an archipelago is uniquely suited to seasteading," said Patri Friedman, Founder and Chairman of The Seasteading Institute's Board of Directors.
The former Minister of Tourism for French Polynesia, Marc Collins, is enthusiastic about the Institute's vision: "Polynesian culture has a long history of seafaring across the Pacific Ocean that will contribute to this ambitious project. More than most nations, our islands are impacted by rising sea levels, and resilient floating islands could be one tangible solution for us to maintain our populations anchored to their islands. For many Polynesians, leaving our islands is not an option."
If all goes according to plan, the first floating city will start construction off the island of Tahiti in the Pacific Ocean in 2019. The first residents will number only a few dozen, but there is potential for expanding this to many millions later in the century, as other nations realise the benefits. Each city will float just off-shore of a host country, but could have a substantial degree of political independence.
The Institute says: "Our in-property team is now actively engaged in diplomacy with host nations, making the case that hosting an autonomous seastead city in their territorial waters would generate substantial financial, social and environmental rewards for their citizens."
Peter Thiel, who co-founded The Seasteading Institute, said in 2008: "Decades from now, those searching back at the beginning of the century will realise that seasteading was an obvious step towards encouraging the improvement of far more efficient, practical public sector models about the globe. We are at a fascinating juncture: the nature of government is about to alter at an extremely fundamental level."
Below is a video of "Artisanopolis", one of the design concepts proposed in 2015 by CGI artists at Roark 3D (Gabriel Scheare, Luke and Lourdes Crowley, and Patrick White). The final plans will be unveiled later this year. You can follow the progress of the Floating Island Project at twitter.com/Seasteading
---
• Follow us on Twitter
• Follow us on Facebook
12th January 2017
Anglo-Indian firm launches groundbreaking new carbon capture and utilisation plant
An Anglo-Indian company has developed a way of making useful products from CO2 captured at just $30 per tonne. The project will allow over 60,000 tonnes of CO2 to be captured and re-used each year.
Anglo-Indian energy and chemical firm, Carbon Clean Solutions Limited (CCSL) – a leader in CO2 separation technology – has announced the launch of a new project that will see more than 60,000 tonnes of CO2 captured from a 10 megawatt coal-fired power station near Chennai, India. Post-start up, the power station is set to become a zero-emission plant.
This groundbreaking project, believed to be the first of its kind, is privately financed and will capture CO2 at just $30 per tonne – much lower than the $60-90 per tonne capture costs typically observed in the global power sector. The captured CO2 will then be used by an Indian firm, Tuticorin Alkali Chemicals & Fertilisers (TACFL), for production of soda ash – a base chemical with a wide range of uses including glass manufacture, sweeteners, detergents and paper products.
Chief Executive Officer at CCSL, Aniruddha Sharma, said: "This project is a game-changer. By capturing and crucially, re-using, CO2 at just $30 per/tonne, we believe that there is an opportunity to dramatically accelerate uptake of carbon capture and utilisation (CCU) technology, with its many benefits, around the world. This is a project that doesn't rely on government funding or subsidies – it just makes great business sense. We are delighted to be partnering with TACFL to make this project a reality."
This announcement follows the successful completion of CCSL's pilot testing programme at Technology Centre Mongstad, the world's largest and most advanced facility for testing and improving CO2 capture, in May 2016. The pilot yielded results showing that use of CCSL's solvent dramatically reduced emission levels and lowered corrosion, while improving system reliability.
---
• Follow us on Twitter
• Follow us on Facebook
30th December 2016
China promises to ban ivory trade by end of 2017
Conservationists are celebrating a major win today, following China's announcement to end its domestic ivory trade in 2017. China is currently responsible for about 70% of the global ivory market.
In the most important step yet to ending the global ivory trade, the Chinese government today announced a one year timeline for its promised ivory ban. According to the notice, China will begin phasing out registered legal ivory processors and traders by 31st March 2017 and shut down its commercial ivory trade completely by 31st December 2017.
"China has shown great leadership in the fight to save African elephants," said Elly Pepper, deputy director of wildlife trade for the Natural Resources Defence Council. "Setting such an aggressive timeline to close – once and for all – the largest domestic ivory market in the world is globally significant. It's a game changer and could be the pivotal turning point that brings elephants back from the brink of extinction. Now, other countries, including the UK, must follow China's lead and close their ivory markets."
Demand for elephant ivory has skyrocketed in recent years, leading to the poaching of over 35,000 elephants per year for their tusks. African savanna elephants have declined by 30 percent in the past seven years and if current poaching rates continue, African forest elephants could be extinct in less than a decade.
The international commercial trade in ivory has been banned under the Convention on International Trade in Endangered Species (CITES) since 1989. However, domestic markets have continued in various countries, creating a cover through which illegal ivory can be laundered. China has maintained a legal ivory market – by far the biggest in the world – with an estimated 70% of global trade ending up there. Demand is so high that ivory can reach $1,100 per kilogram.
Over the past two years, the Chinese government has taken major steps to end its domestic ivory market. In February 2015, China placed a one-year ban on imports of all carved ivory items. A month later, Chinese President Xi Jinping promised to end China's domestic ivory market – a commitment he reinforced in September 2015 when meeting with President Obama. In October 2015, China placed a one-year ban on imports of African elephant trophies. In March 2016, China extended its one year ban on imports of carved ivory items and elephant hunting trophies to 31st December 2019. Finally, at the June 2016 U.S.-China Strategic and Economic Dialogue (S&ED), China promised to deliver its timeline for a total ivory ban by the end of 2016, spurring today's announcement.
After the market closes, the Chinese Ministry of Culture will help transition ivory carvers and related employees to other livelihoods. The government will also strengthen the management of legally-possessed ivory products and ramp up enforcement and education to combat the illegal ivory trade.
"China's announcement is a game changer for elephant conservation," said Carter Roberts, president of the World Wildlife Fund. "The large-scale trade of ivory now faces its twilight years, and the future is brighter for wild elephants. With the US also ending its domestic ivory trade earlier this year, two of the largest ivory markets have taken action that will reverberate around the world."
---
• Follow us on Twitter
• Follow us on Facebook
26th December 2016
Reindeer populations in sharp decline
Reindeer are traditionally associated with the festive season, but these animals could be threatened with extinction in the future.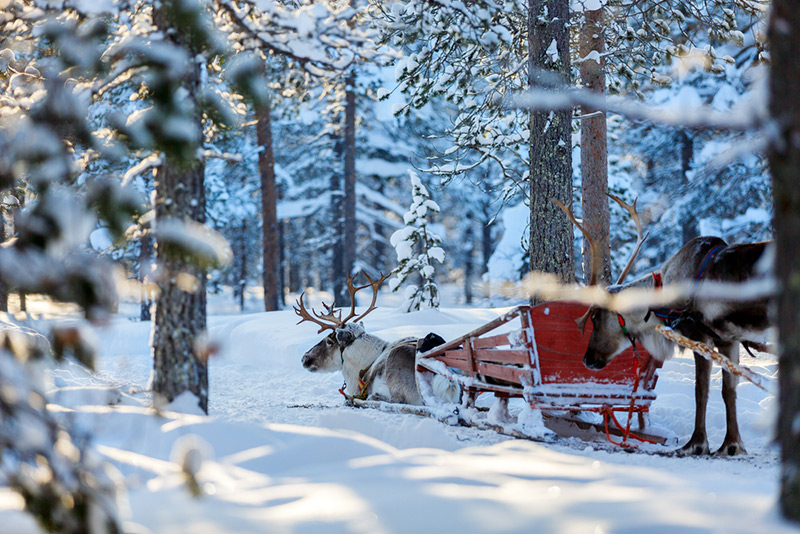 The world's biggest wild reindeer herd is reported to have declined by 40% since 2000, due to rising temperatures and human activity causing the animals to change their annual migration patterns. The herd, which lives on the Taymyr Peninsula in the far north of Russia, has been closely monitored for nearly 50 years by aerial surveys and, more recently, by satellite imagery. The herd's population peaked at around a million in 2000, but now stands at just 600,000. This new research was presented at the Fall Meeting of the American Geophysical Union (AGU).
"There is a substantial decline – and we are also seeing this with other wild reindeer declining rapidly in other parts of the world," said Andrey Petrov, who runs the Arctic Centre at the University of Northern Iowa, US. "Climate change is at least one of the variables," explained Petrov. "We know in the last two decades that we have had an increase in temperatures of about 1.5°C overall. And that definitely impacts migration patterns."
The animals are now shifting further north – as well as to higher altitudes – to find cooler ground and to avoid mosquitoes, which are booming due to warmer and wetter conditions. The expansion of industrial development in the region has also changed the animals' distribution. As a result, the herd is now forced to migrate for longer distances between summer and winter, which is difficult for newborn calves and has caused a rise in calf mortality. Climate change has also made rivers in the region grow larger and more dangerous for the animals to cross. Yet another factor is diminished food supplies in summer, especially as the reindeer move to higher elevations.
"Reindeer are tremendously important for biodiversity. They are part of the Arctic food chain and without them, other species would be in trouble," says Petrov. Furthermore, this isn't just about the animal food chain, as they are vital for human survival, too: "Thousands and thousands of people rely on wild reindeer; it is the basis of their subsistence economy. So it's about human sustainability too."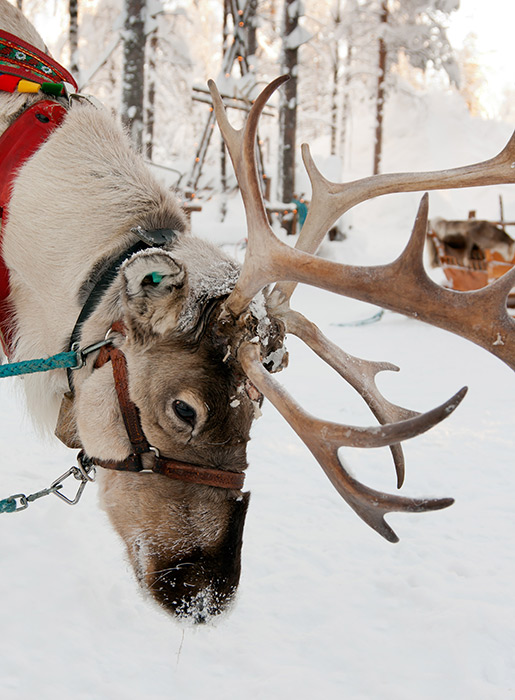 A separate study this month reveals that reindeer in Norway have got smaller and lighter, due to diminishing food supplies. Speaking at the annual meeting of the British Ecological Society, held in Liverpool, scientists revealed that during a period of just 16 years – with noticeable summer and winter warming in the Arctic – reindeer on Svalbard declined in weight by an average of 12 percent.
Ecologists from the James Hutton Institute, Norwegian Institute for Nature Research and the Norwegian University of Life Sciences have been catching, marking and measuring 10-month-old calves in the region every winter, returning each year to recapture them and track their size and weight as adults. Their survey shows that the reindeers' weight dropped from 55kg in 1994 to just 48kg for those born in 2010.
Once again, climate change is primarily responsible for the shrinking reindeer, according to Professor Steve Albon, who led the research. In Svalbard, snow covers the ground for eight months of the year, and low temperatures typically limit grass growth to June and July. But as summer temperatures in the region have increased by 1.5°C, pastures have become more productive, allowing female reindeer to gain more weight by the autumn and therefore conceive more calves, Albon explains. Warmer winters, however, mean more rain. The rain lands on snow, where it freezes solid, locking-out the reindeer from food beneath the snow. The result is that reindeer starve, aborting their calves or giving birth to much lighter young.
These changes could spell disaster for this iconic Christmas species, Albon warns: "The implications are that there may well be more smaller reindeer in the Arctic in the coming decades – but possibly a risk of catastrophic die-offs because of increased ice on the ground."
---
• Follow us on Twitter
• Follow us on Facebook
24th December 2016
The National Snow and Ice Data Centre (NSIDC) has announced record low sea ice extents for both the Arctic and Antarctic regions. There is "exceptionally low" sea ice cover for the globe as a whole.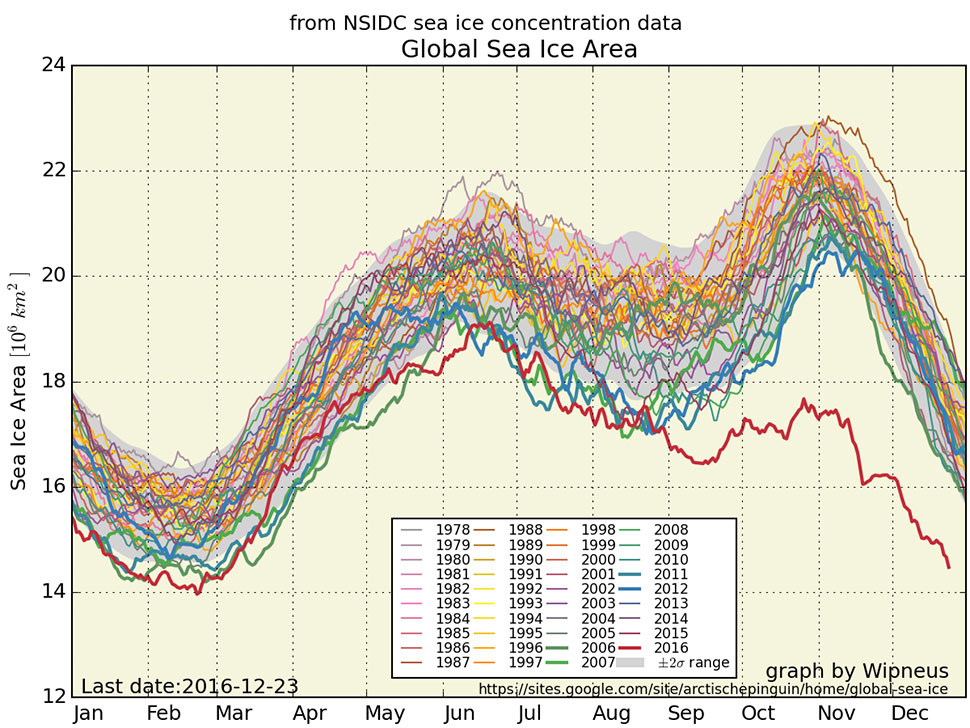 The graph above, based on the latest findings of the National Snow and Ice Data Centre (NSIDC), shows an alarming decline in global sea ice coverage for 2016; yet more evidence of a rapidly warming world.
The Arctic region set another record low extent last month, averaging 9.08 million sq km (3.51 million sq mi), which was 800,000 sq km (309,000 sq mi) below November 2006, the previous lowest November. Or put another way, it was roughly 1.95 million sq km (753,000 sq mi) below the 1981 to 2010 long-term average for November, equivalent to losing an area the size of Mexico. According to NSIDC, this was due to unusually high air temperatures, winds from the south and a warmer ocean. Some parts of the North Pole are now up to 20°C (36°F) above what they should be for this time of the year, underscoring the magnitude of heat increase.
Dr Friederike Otto, a senior researcher at Oxford's Environmental Change Institute, told BBC News that in pre-industrial times "a heatwave like this would have been extremely rare – we would expect it to occur about every 1,000 years." She added that scientists are "very confident" that the recent weather patterns were linked to anthropogenic climate change. "We have used several different climate modelling approaches and observations – and in all our methods, we find the same thing; we cannot model a heatwave like this without the anthropogenic signal."
A study published last month in the journal Science, by researchers including NSIDC's Julienne Stroeve, links Arctic sea ice loss to cumulative CO2 emissions in the atmosphere through a simple linear relationship. The paper examining this relationship is based on satellite and pre-satellite observations since 1953, and in climate models. The observed relationship is equivalent to a loss of 3 square metres (32 sq ft) for every ton of CO2 added to the atmosphere, compared to the average from all the climate models of 1.75 square metres (19 sq ft). This smaller value, or lower sensitivity, from the models is consistent with findings that the models tend to be generally conservative relative to observations in regard to how fast the Arctic has been losing ice cover.
As more and more white ice is lost, a feedback loop is created. Darker open waters mean a lower albedo (reflectivity). This in turn leads to increased solar heating in the Arctic Ocean and adjacent seas, which further accelerates melting and warming, and so on. If trends continue, the first ice-free summers in the Arctic will occur during the early 2020s, with year-round "blue ocean" events by 2040. This would be 60 years earlier than some previous climate models predicted and the first time in 100,000 years that the region has been ice-free, with major consequences for the Earth's climate systems.
The rapid changes in the Arctic are occurring in parallel with a similar decline in sea ice on the opposite side of the planet. For many years, a favourite argument for those denying the science of climate change has been that the Antarctic is gaining sea ice. However, this trend may be starting to reverse, as shown on the graph below. Sea ice coverage in the Antarctic reached its annual maximum extent on 31st August this year, much earlier than average, and has fallen rapidly since then. Last month, a new record low was set for November with 14.54 million sq km (5.61 million sq mi) – 1.0 million sq km (386,000 sq mi) below the previous record low extent in 1986 and 1.81 million sq km (699,000 sq mi) below the 1981 to 2010 average. The drop in average for November was more than twice as large as the previous record set in November 1986.
Antarctic ice extent last month was lower than average on both sides of the continent, particularly within the Indian Ocean and the western Ross Sea. Moreover, several very large polynyas (areas of open water within the ice pack) have opened in the eastern Weddell and along the Amundsen Sea and the Ross Sea coast. Air temperatures at the 925 mbar level were up to 4 degrees Celsius (7 degrees Fahrenheit) above average near the sea ice edge at the start of November, corresponding to the period of rapid sea ice decline.
Last month, a deep subsurface rift was reported to have appeared within the West Antarctic ice shelf, the first time such an event had been observed. Also of concern is the Larsen B ice shelf, which has already partially collapsed and is likely to undergo a final collapse before the end of this decade.
"There are some really crazy things going on," said Mark Serreze, director of NSIDC, in an interview with Reuters. He worries that "Antarctica is the sleeping elephant that is beginning to stir."
International efforts to address climate change have shown signs of progress during the last year or so. A global pact was agreed at the COP 21 summit – committing most nations to reducing carbon emissions for the first time (pending ratification) and calling for zero net greenhouse gas emissions to be reached in the second half of this century. Outgoing President Obama, in a joint agreement with Prime Minister of Canada Justin Trudeau, has this week enacted a permanent ban on Arctic oil and gas drilling. However, much of the hard work and progress achieved in recent years could now be threatened by incoming President Trump, who wants to make it a "priority" to slash environmental regulations, cancel all funding of UN climate change programs and to massively expand the production of coal, oil and gas in the United States.
---
• Follow us on Twitter
• Follow us on Facebook
17th December 2016
America's first offshore wind farm is operational
America's first commercial offshore wind farm has become operational at Block Island, in the Atlantic Ocean.
Energy firm, Deepwater Wind, this week announced that their Block Island Wind Farm project has completed its commissioning and testing phases and begun commercial operations, delivering electricity into the New England region's grid on a regular basis. Power produced from Block Island Wind Farm is now linked to the New England grid by National Grid's new sea2shore submarine transmission cable system.
"Rhode Island is proud to be home to the nation's first offshore wind farm – and I'm proud to be the only governor in America who can say we have steel in the water and blades spinning over the ocean," said Rhode Island Governor, Gina M. Raimondo. "As the Ocean State, we're motivated by our shared belief that we need to produce and consume cleaner, more sustainable energy and leave our kids a healthier planet – but also by this tremendous economic opportunity. With this project, we've put hundreds of our local workers to work at sea, and at our world-class ports, and are growing this innovative industry. I applaud Deepwater Wind for leading the way."
"America's first offshore wind farm was built thanks to the ingenuity, innovation, investment, and collaboration of many people working together," said U.S. Senator Jack Reed, co-sponsor of the Incentivizing Offshore Wind Power Act. "These five massive turbines spinning above the ocean are technological marvels and a tribute to the outstanding work of our labourers, trade unions, engineers, and clean energy technicians. I hope that in addition to providing clean, renewable energy, the offshore wind model we've put in place here can generate more wind projects and good-paying jobs."
"It's official: America's first offshore wind farm is powering homes and businesses with clean, reliable energy," said U.S. Senator Sheldon Whitehouse. "This is a historic milestone for reducing our nation's dependence on fossil fuels. Congratulations to all of the many partners whose years of diligent planning and outreach have put Rhode Island at the forefront of clean energy innovation and positioned our offshore wind industry for growth."
Technicians from GE Renewable Energy, which supplied the project's five wind turbines, put the wind farm through its paces during the four-month testing period. The project's crew transfer vessel, the Rhode Island-built Atlantic Pioneer, transported technicians to the wind farm around the clock.
This milestone concludes the successful two-year installation, completed both on-time and on-budget. Over 300 local workers helped develop, build and commission this historic project. Deepwater Wind utilised four separate Rhode Island port facilities – ProvPort, Quonset Point, Galilee and Block Island – for the staging, construction and commissioning.
Providing 30 megawatts of power to Block Island and Rhode Island, the project will generate enough clean, renewable energy for 17,000 homes. It will lower carbon dioxide emissions by 40,000 tons annually – or 800,000 tons over the next 20 years – equivalent to taking over 150,000 cars off the road. Block Island residents will save as much as 40% on their energy bills in the long term, based on independent reports.
Europe is currently the world leader in offshore wind power, employing 60,000 workers. The first offshore wind farm (Vindeby) was installed in Denmark in 1991 and today there are 2,500 spinning off the coast of various countries on the continent, with 12 gigawatts (GW) of capacity of which 3,755 MW came online during 2015 alone. Over 100 GW (100,000 MW) of new projects are under development or planned for the future in Europe. The European Wind Energy Association has set a target of 40 GW to be installed by 2020 and 150 GW by 2030.
But until now, commercial offshore wind power simply did not exist in the United States. The potential for growth is enormous, however, as can be seen on the map below, with abundant wind resources around the nation's coastline. Higher wind speeds are available offshore compared to on land, meaning offshore wind's contribution in terms of electricity is higher, and NIMBY opposition to construction is usually far weaker. If the trend in capacity develops in a manner similar to what has occurred in Europe, the U.S. industry is likely to see exponential growth in the years and decades ahead.
Deepwater Wind is now planning additional offshore wind projects for multiple East Coast markets located 15+ miles offshore, including New York, Massachusetts, Rhode Island, and New Jersey. These will create gigawatts of capacity when fully operational. Other companies will follow. Block Island represents a vital first step that may kick-start a whole new industry and could revolutionise U.S. energy in the future.
"This is just the first of many offshore wind projects that will put Americans to work up and down the coast for decades to come as we commit to a renewable energy future," said Michael Sabitoni, President of the Rhode Island Building and Construction Trades Council.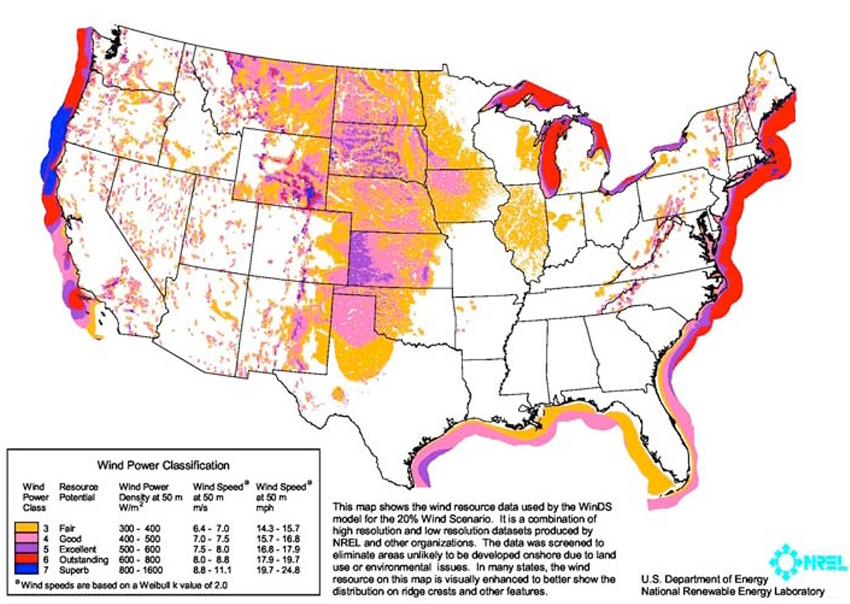 ---
• Follow us on Twitter
• Follow us on Facebook
9th December 2016
Giraffes threatened with extinction
The International Union for the Conservation of Nature (IUCN) has announced that giraffes are now listed as "vulnerable" after a huge population decline over the last 30 years.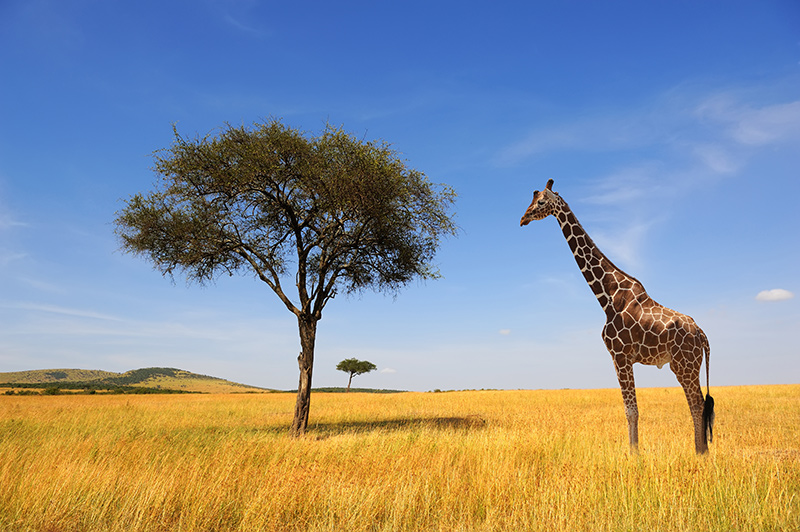 The iconic giraffe (Giraffa camelopardalis), one of the world's most recognisable animals and the tallest land mammal, is now threatened with extinction. The species, which is widespread across southern and eastern Africa, with smaller isolated subpopulations in west and central Africa, has moved from "Least Concern" to "Vulnerable" – due to a dramatic 38% decline from 157,000 individuals in 1985 to 97,000 in 2015.
The growing human population is having a negative impact on many giraffe subpopulations. Illegal hunting, habitat loss and changes through expanding agriculture and mining, increasing human-wildlife conflict, and civil unrest are all pushing the species towards extinction. Of the nine subspecies of giraffe, three have increasing populations and one is stable, but five have decreasing populations.
In September of this year, a genetic analysis showed that the genus giraffe, previously thought to contain one extant species, actually consists of four. For this update of the Redlist, however, the IUCN stuck with the traditional definition of one species with nine subspecies.
These animals are undergoing a "silent extinction", says Dr Julian Fennessy, who co-chairs the IUCN's giraffe specialist group. "If you go on a safari, giraffes are everywhere," he told BBC News. "While there has been great concern about elephants and rhinos, giraffes have gone under the radar but, unfortunately, their numbers have been plummeting – and this is something that we were a little shocked about, that they have declined by so much in so little time."
A resolution adopted at the IUCN World Conservation Congress in September called for action to reverse the decline of the giraffe.
"South Africa is a good example of how you can manage wildlife," says Chris Ransom from the Zoological Society of London. "There is a lot of moving of animals between different conservation areas; it is a very different scenario than in most of the rest of Africa."
"I think giraffes can survive, with the right conservation efforts, and we can ensure that the animals do live in the wild. There are a lot of cases of success in conservation. The giraffes could be one."
---
• Follow us on Twitter
• Follow us on Facebook
8th December 2016
Earth's 'technosphere' now weighs 30 trillion tons, research finds
Researchers have calculated the weight of Earth's technosphere as 30 trillion tons, a mass greater than 50 kilos for every square metre of the planet's surface.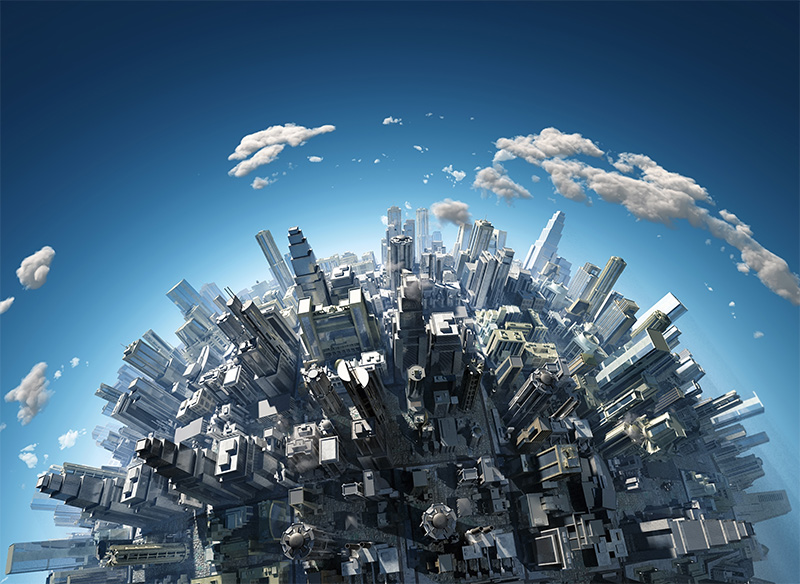 A team led by the University of Leicester has, for the first time, estimated the sheer size of the physical structure that forms our planet's "technosphere" – suggesting that its mass approximates to an enormous 30 trillion tons.
The technosphere is comprised of all the structures and objects that humans have created to keep them alive on the planet – from houses, factories and farms to computer systems, smartphones and CDs, to the waste in landfills and spoil heaps.
Professors Jan Zalasiewicz, Mark Williams and Colin Waters from the University of Leicester Department of Geology led an international team suggesting that the bulk of our planet's technosphere is staggering in scale, with a mass greater than 50 kilos for every square metre of Earth's surface. This is supporting a human biomass around five orders of magnitude smaller.
Professor Zalasiewicz explained: "The technosphere is the brainchild of USA scientist Peter Haff – also one of the co-authors of this paper. It is all of the structures that humans have constructed to keep them alive, in very large numbers now, on the planet: houses, factories, farms, mines, roads, airports and shipping ports, computer systems, together with its discarded waste.
"Humans and human organisations form part of it, too – although we are not always as much in control as we think we are, as the technosphere is a system, with its own dynamics and energy flows – and humans have to help keep it going to survive."
The Anthropocene – a proposed new geological epoch – highlights the impact humans have made and provides an understanding that we have greatly changed the Earth. In March 2015, a paper published in Nature suggested the year 1610 as the beginning of the Anthropocene or the "Age of Man", marking a fundamental change in the relationship between humans and the Earth system.
"The technosphere can be said to have budded off the biosphere and arguably is now at least partly parasitic on it," says Professor Williams. "At its current scale, the technosphere is a major new phenomenon of this planet, and one that is evolving extraordinarily rapidly. Compared with the biosphere, though, it is remarkably poor at recycling its own materials, as our burgeoning landfill sites show. This might be a barrier to its further success – or halt it altogether."
"There is more to the technosphere than just its mass," observes Professor Waters. "It has enabled the production of an enormous array of material objects, from simple tools and coins, to ballpoint pens, books and CDs, to the most sophisticated computers and smartphones. Many of these, if entombed in strata, can be preserved into the distant geological future as 'technofossils' that will help characterise and date the Anthropocene."
If technofossils were to be classified in the same way palaeontologists classify normal fossils – based on their shape, form and texture – the study suggests that the number of individual types of 'technofossil' now likely reaches a billion or more, far outnumbering the two million or so known biotic species that have been described and catalogued.
The research suggests that – like the Anthropocene – the technosphere is another measure of the extraordinary human-driven changes affecting Earth. Zalasiewicz adds: "The technosphere may be geologically young, but it is evolving with furious speed, and has already left a deep imprint on our planet."
The team's study is published by the journal The Anthropocene Review.
---
• Follow us on Twitter
• Follow us on Facebook
5th December 2016
Hydrogen-powered truck with 1,200 mile range to be launched by 2020
American hybrid truck design company, Nikola Motors, has unveiled a class 8 truck powered by a hydrogen fuel cell that will have an operational range of up to 1,200 miles (1,900 km) when launched by 2020.
Class 8 trucks are the largest trucks in the United States and the type most commonly used for long-haul routes, with 3.6 million delivering about 70% of the country's freight. They are the largest CO2 emitters and fuel users. The trucking industry, as a whole, consumed approximately 54.3 billion gallons of diesel fuel and gasoline in 2015.
However, in yet another boost for clean technology, Nikola Motor Company has unveiled a highly anticipated electric semi-truck – the Nikola One – at an event held in its Salt Lake City headquarters.
The Nikola One utilises a fully electric drivetrain, powered by high-density lithium batteries. Energy is supplied on-the-go by a hydrogen fuel cell providing a range of 800-1,200 miles, while delivering 2,000 ft. lbs. of torque and 1,000 horsepower – nearly double that of any semi-truck on the road. Never has a production model class 8 truck achieved best-in-class fuel efficiency while also dramatically improving performance over its diesel competition – all with zero emissions.
The Nikola One leasing program will include unlimited hydrogen fuel, warranty and scheduled maintenance during a 72-month term. The company has accepted reservations totalling nearly three billion dollars in future orders.
"Nikola will build a world-class advanced manufacturing facility which will create thousands of new jobs," said Nikola Founder and CEO Trevor Milton. Nikola is currently in discussions with several states to decide who to partner with in its effort to reduce America's dependence on fossil fuels, advance green energy and revolutionise the trucking industry. The company is developing multiple 100-megawatt solar farms to make hydrogen from electrolysis. The location of the manufacturing facility will be determined in the first half of 2017. During the event, plans were also revealed for a network of 364 hydrogen fuelling stations across the US and Canada. Nikola will begin construction of these in January 2018.
Each vehicle will include a smart dashboard to calculate the most cost-efficient route for drivers. Inside the spacious cab will be one or two full-size beds, a 40-inch curved 4K TV with Apple TV, Wi-Fi, and 4G LTE connectivity, and a refrigerator, freezer, and microwave. Several high definition cameras around the vehicle will provide backing and 360° views while driving, optimising visibility and safety.
Nikola announced Ryder System, Inc. as its exclusive nationwide distribution and maintenance provider. Ryder has a network of over 800 service locations in North America today.
"We are extremely excited to finally show off the Nikola One to the public for the first time," said Milton. "There are many out there that wondered if we would deliver, but today we proudly show off the most advanced semi-truck ever built. We couldn't be more thrilled to have one of the best brands in America, Ryder, as our trusted partner providing nationwide sales, service and warranty."
Commenting on the new strategic partnership, Ryder's President of Global Fleet Management Solutions, Dennis Cooke said, "We commend Nikola for its leadership in zero emission vehicles, and for its decision to partner with Ryder as their exclusive nationwide distribution and maintenance provider. This relationship is key to expanding our advanced vehicle technology portfolio of innovative solutions. Ryder continually monitors emerging fleet technologies and seeks to establish relationships with companies that are leading innovation within the commercial transportation industry."
---
• Follow us on Twitter
• Follow us on Facebook
1st December 2016
Great Barrier Reef suffers largest ever coral die-off
Higher water temperatures during 2016 caused the worst destruction of corals ever recorded on Australia's Great Barrier Reef, with 67% dying in the worst-hit northern section.
Scientists have confirmed the largest coral die-off ever recorded on Australia's Great Barrier Reef. The worst affected area, a 700 km swath of reefs in the northern region of the Great Barrier Reef, has lost an average of 67% of its shallow-water corals in the past 8-9 months. Further south, over the vast central and southern regions, the scientists were relieved to find a much lower death toll.
"Most of the losses in 2016 have occurred in the northern, most-pristine part of the Great Barrier Reef. This region escaped with minor damage in two earlier bleaching events in 1998 and 2002 – but this time around, it has been badly affected," says Professor Terry Hughes, Director of the Australian Research Council (ARC) Centre of Excellence for Coral Reef Studies, based at James Cook University, who undertook extensive aerial surveys at the height of the bleaching.
"The good news is the southern two-thirds of the Reef escaped with minor damage," says Professor Andrew Baird, also from the ARC Centre, who led teams of divers to re-survey the reefs in October and November. "On average, 6% of bleached corals died in the central region in 2016, and only 1% in the south. The corals have now regained their vibrant colour, and these reefs are in good condition."
Tourism on the Great Barrier Reef employs 70,000 people, and generates $5 billion in income each year.
"The patchiness of the bleaching means that we can still provide our customers with a world-class coral reef experience, by taking them to reefs that are still in top condition," says Craig Stephen, who manages one of the Great Barrier Reef's largest live-aboard tourist operations.
Another silver lining was revealed in the northern offshore corner of the Great Barrier Reef Marine Park, where the loss of coral was lower than the other northern reefs.
"We found a large corridor of reefs that escaped the most severe damage along the eastern edge of the continental shelf in the far north of the Great Barrier Reef," says Professor Hughes. "We suspect these reefs are partially protected from heat stress by upwelling of cooler water from the Coral Sea."
Scientists expect that the northern region will take at least 10-15 years to regain the lost corals, but they are concerned that a fourth bleaching event could happen sooner and interrupt the slow recovery.
---
• Follow us on Twitter
• Follow us on Facebook
30th November 2016
A significant collapse of the West Antarctic ice sheet "within our lifetimes"
A massive iceberg that splintered away from West Antarctica was caused by a deep subsurface rift opening within the ice shelf, the first time this has been observed, say researchers. They warn that a significant collapse of the ice sheet is possible "within our lifetimes", with major consequences for sea level rise.
A major glacier in Antarctica is breaking apart from the inside out – suggesting that the ocean is weakening ice on the edges. The Pine Island Glacier – part of the ice shelf that bounds the West Antarctic Ice Sheet – is one of two glaciers that researchers believe are most likely to undergo rapid retreat, bringing more ice from the interior of the ice sheet to the ocean, where its melting would flood coastlines around the world.
In 2015, a nearly 225 square mile (582 square kilometre) iceberg broke away from the glacier. However, it wasn't until researchers were testing some new image-processing software that they noticed something strange in satellite images taken before the event. In these images, they saw evidence that a rift formed at the very base of the ice shelf nearly 20 miles inland during 2013. Over the next two years, the rift propagated upward, until it broke through the ice surface and set the iceberg adrift over 12 days in late July and early August 2015.
"It's no longer a question of whether the West Antarctic Ice Sheet will melt, it's a question of when," said Ian Howat, an associate professor of earth sciences at Ohio State University. "This kind of rifting behaviour provides another mechanism for rapid retreat of these glaciers – adding to the probability that we may see significant collapse of West Antarctica in our lifetimes."
While this is the first time that researchers have witnessed a deep subsurface rift opening within Antarctic ice, they have seen similar breakups in the Greenland Ice Sheet – in spots where ocean water has seeped inland along the bedrock and begun to melt the ice from underneath. Howat said the satellite images provide the first strong evidence that these large Antarctic ice shelves respond to changes at their ocean edge in a similar way as observed in Greenland.
"Rifts usually form at the margins of an ice shelf, where the ice is thin and subject to shearing that rips it apart," he explained. "However, this latest event in the Pine Island Glacier was due to a rift that originated from the centre of the ice shelf and propagated out to the margins. This implies that something weakened the centre of the ice shelf, with the most likely explanation being a crevasse melted out at the bedrock level by a warming ocean."
Another clue: the rift opened in the bottom of a "valley" where the ice had thinned compared to the surrounding ice shelf. The valley is likely a sign of something researchers have long suspected: because the bottom of the West Antarctic Ice Sheet lies below sea level, ocean water can intrude far inland and remain unseen. New valleys forming on the surface would be one outward sign that ice was melting away far below.
The origin of the rift in the Pine Island Glacier would have gone unseen, too, except that the satellite images Howat and his team were analysing happened to be taken when the Sun was low in the sky. Long shadows cast across the ice drew their attention to the valley that had formed there.
"The really troubling thing is that there are many of these valleys further up-glacier," Howat said. "If they are actually sites of weakness that are prone to rifting, we could potentially see more accelerated ice loss in Antarctica."
More than half of the world's fresh water is frozen in Antarctica. The Pine Island Glacier and its nearby twin, the Thwaites Glacier, sit at the outer edge of one of the most active ice streams on the continent. Like corks in a bottle, they block the ice flow and keep nearly 10% of the West Antarctic Ice Sheet from draining into the sea.
Studies indicate that the West Antarctic Ice Sheet is particularly unstable, and could collapse within the next 100 years. This would lead to a sea level rise of nearly 3 metres (10 ft), engulfing major U.S. cities such as New York and Miami and displacing 150 million people living on coasts worldwide.
"We need to understand exactly how these valleys and rifts form, and what they mean for ice shelf stability," Howat said. "We're limited in what information we can get from space, so this will mean targeting air and field campaigns to collect more detailed observations. The U.S. and the U.K. are partnering on a large field science program targeted at that area of Antarctica, so this will provide another piece to the puzzle."
The study by Howat and colleagues – "Accelerated ice shelf rifting and retreat at Pine Island Glacier, West Antarctica" – is published this week in the journal Geophysical Research Letters.
---
• Follow us on Twitter
• Follow us on Facebook
25th November 2016
North America's largest tidal turbine array begins generating power
A massive new tidal turbine has been deployed on the coast of Nova Scotia, Canada, and is now connected to the electrical grid.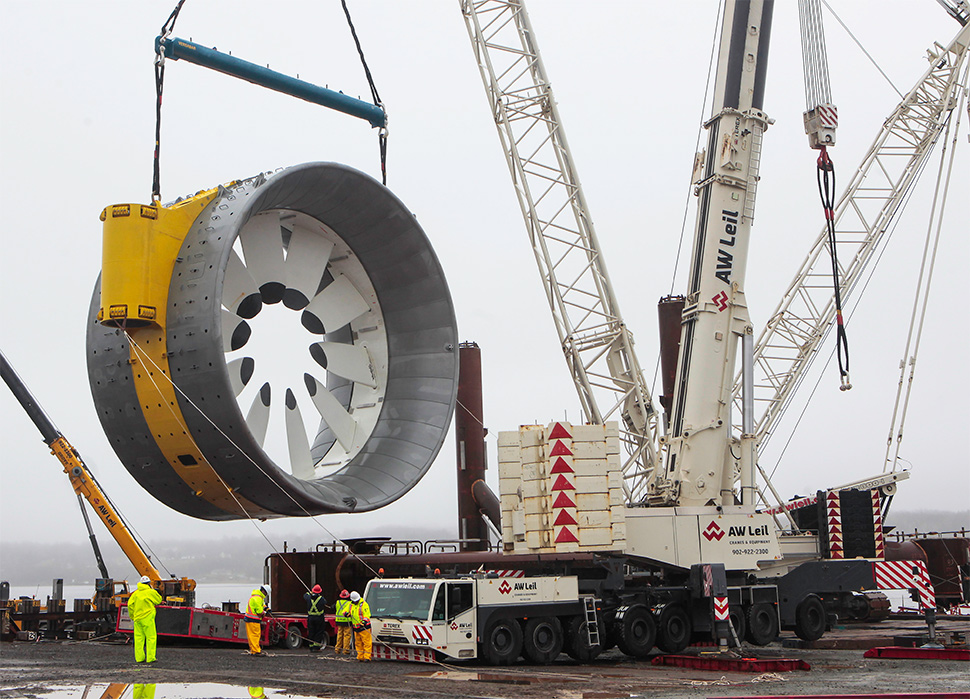 Cape Sharp Tidal, a joint venture between Emera and OpenHydro, is now lighting up homes in Nova Scotia, Canada, after being successfully connected to the grid. North America's largest tidal turbine array, this 2 megawatt (MW) machine weighs 1,000 tons and is the height of a five-storey building when fitted on its base. Following deployment in the Bay of Fundy, a marine operations team safely connected its subsea cable to an onshore substation and then thoroughly tested the entire system, including all monitors and communications links. More than 300 people have been employed on the project in areas such as fabrication, environmental monitoring, engineering, health and safety and marine services.
"This is a huge achievement for Cape Sharp Tidal, a company combining DCNS, OpenHydro and our partners Emera," said Thierry Kalanquin, Chairman of OpenHydro and Senior Vice President of Energy and Marine Infrastructure at DCNS. "Last week, the Open-Centre Turbine supported the most powerful tidal stream of the year without any stress to the system. The successful delivery of this turbine, the most powerful in North America, also represents a significant milestone for the global tidal industry."
The Cape Sharp Tidal project has a simple design with four key components: a horizontal axis rotor, a magnet generator, a hydrodynamic duct and a subsea gravity base foundation. The turbine base sits directly on the seabed floor, out of the way of ships, and without drilling. Nova Scotia's tides are some of the most powerful in the world. All operational surfaces are treated with anti-fouling protection, to minimise growth from algae and zooplankton which could affect the generator and drag co-efficients of the structure.
The machine will be joined by another turbine next year, the pair together producing 4MW from the strength of the tides. Each will displace the need to burn 1,000 tonnes of coal, and eliminate 3,000 tonnes of greenhouse gas (GHG) CO2 emissions. Subject to regulatory approval, the array will grow to an output of 16MW in 2017, 50MW in 2019, and up to 300MW of energy in the 2020s, generating power for nearly 75,000 customers.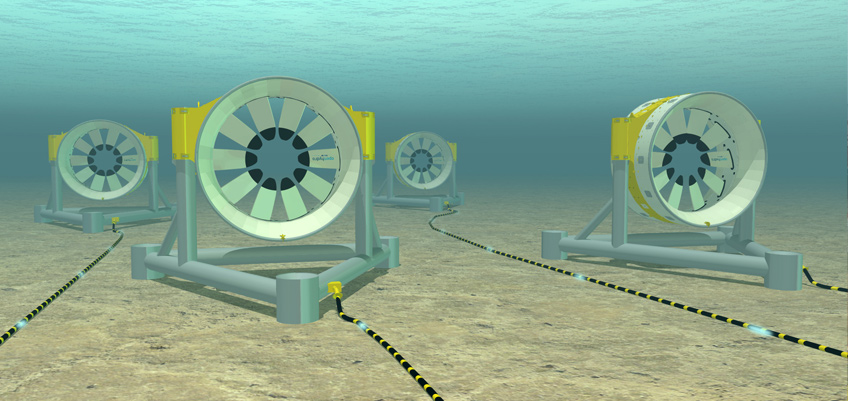 "Cape Sharp Tidal will be one of the largest generating, in-stream tidal energy arrays anywhere in the world," Kalanquin added. "The project is providing us with unique insights into what is required to build commercial-scale arrays. It will help us accelerate delivery of the pipeline of ocean energy projects we have secured across the globe and grow our position at the forefront of the tidal power industry."
Data is being collected from a number of monitoring devices mounted on the turbine to collect information on fish and mammal interactions with the structure. Monitoring reports will contribute to a growing international body of research. The turbine makes about six to eight rotations per minute – similar to walking speed – with fish and mammals able to swim through the 4.5-metre centre.
"We know from other turbine installations around the world that fish and marine mammals are not colliding with turbines," said Sarah Dawson, spokesperson for Cape Sharp Tidal. "With ten years of similar devices we've installed in Scotland, there hasn't been a single incident where any marine mammal, dolphin or whale, has collided."
Cape Sharp Tidal is an important part of Nova Scotia's energy future. By 2020, 40% of the region's energy must be generated from renewable sources. Clean and efficient tidal power can be a part of the solution, while also creating an entire new industry and jobs.
Seawater is 832 times denser than air, so a 5 knot ocean current has more kinetic energy than a 220 mph wind. Therefore, ocean currents have extremely high energy density and require smaller devices to harness than wind power. Since oceans cover 70% of Earth's surface, ocean energy (including wave power, tidal current power and ocean thermal energy conversion) is a vast untapped resource, estimated at 3,000 terawatt hours (TWh) per year. For comparison, this is greater than all of the nuclear power generation in the world (2,500 TWh during 2011).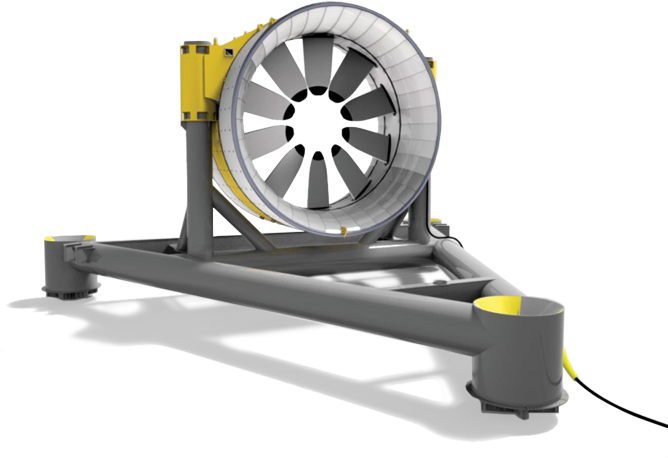 ---
• Follow us on Twitter
• Follow us on Facebook