4th May 2017
India will make every new car electric by 2030
India has set itself the goal of making every new car in the country electric by 2030, according to an energy minister.
"We are going to introduce electric vehicles in a very big way," explained Piyush Goyal at the Confederation of Indian Industry Annual Session 2017 in New Delhi. "We are going to make electric vehicles self-sufficient. The idea is that by 2030, not a single petrol or diesel car should be sold in the country."
India's electric car industry will need up to three years of government assistance, Mr Goyal believes, but production of the vehicles would be "driven by demand and not subsidy" after that. Improvements in technology, falling costs of batteries and wider availability of charging stations could achieve this.
"The cost of electric vehicles will start to pay for itself for consumers," he said. "We would love to see the electric vehicle industry run on its own."
India's goal may sound overly ambitious and unrealistic – but electric vehicle sales are growing exponentially worldwide, similar to the rapid trends in solar and wind power that are also being observed. Electric car ownership passed the 1 million mark in 2015. European countries have recently announced similar goals: the Netherlands and Norway, for instance, intend to ban all petrol and diesel cars by 2025.
Mr Goyal said the electric car scheme would first target "larger consumer centres, where pollution is at an all-time high", such as Delhi, which has concentrations of particulate matter 13 times the annual limit set by the World Health Organisation.
The latest available figures show that 2.3 million deaths occur in India each year due to air pollution – almost the same as deaths from tobacco use – with 3% of the country's Gross Domestic Product (GDP) being lost due to this problem, making it a public health and economic crisis. India recently overtook China in number of deaths due to outdoor air pollution.
---
• Follow us on Twitter
• Follow us on Facebook
25th April 2017
Asteroid mining is "more realistic than perceived"
Goldman Sachs has advised its clients that asteroid mining for platinum may be financially viable in the not-too-distant future, with potentially massive rewards.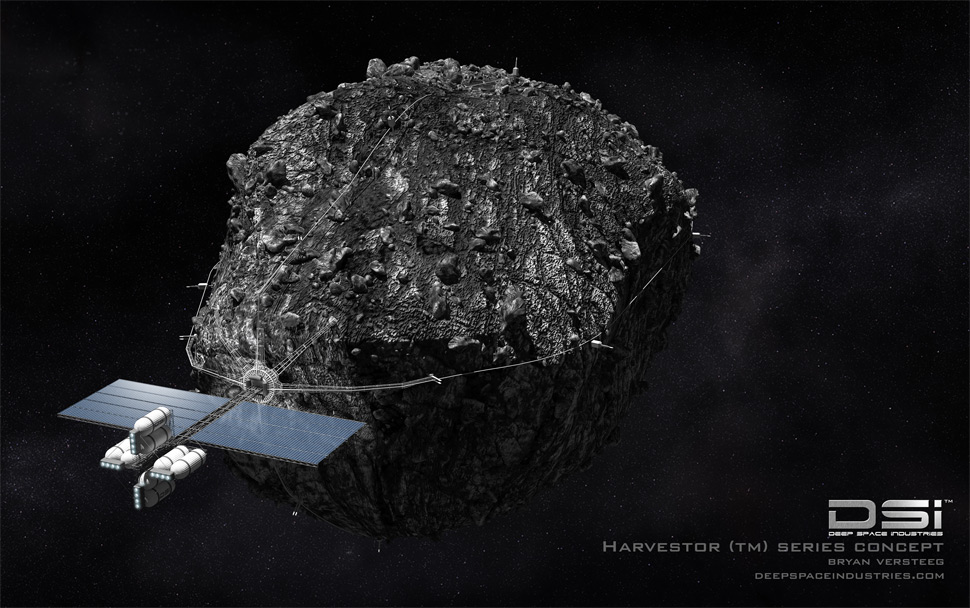 Mining for resources in space was once considered to be science fiction; the kind of venture that lay centuries away. In recent years, however, it has begun to be taken more seriously. Two companies – Planetary Resources and Deep Space Industries – have sprung up, with teams working to design and build spacecraft capable of locating, prospecting and eventually landing on near-Earth objects to extract materials.
Last year, the Luxembourg government partnered with Planetary Resources to develop the first commercial asteroid prospecting mission, which is now planned to take place by 2020. Meanwhile, in anticipation of this nascent industry, the U.S. government has introduced legislation to encourage the commercial exploration and recovery of materials from asteroids, recognising the right of citizens to own space resources they obtain as property.
Financial services giant, Goldman Sachs, has now acknowledged these emerging opportunities. In a 98-page report to their clients, Noah Poponak and his team of analysts write: "While the psychological barrier to mining asteroids is high, the actual financial and technological barriers are far lower. Prospecting probes can likely be built for tens of millions of dollars each and Caltech has suggested an asteroid-grabbing spacecraft could cost $2.6bn."
For comparison, the total cost for setting up a rare earth metal mine on the ground is typically around $1 billion. However, the cost of getting into orbit has fallen dramatically in recent years and is likely to continue falling in the near future, thanks to a new generation of reusable rockets from the likes of Elon Musk's SpaceX and Jeff Bezos's Blue Origin, as well as other companies focused on the "ultralight" class.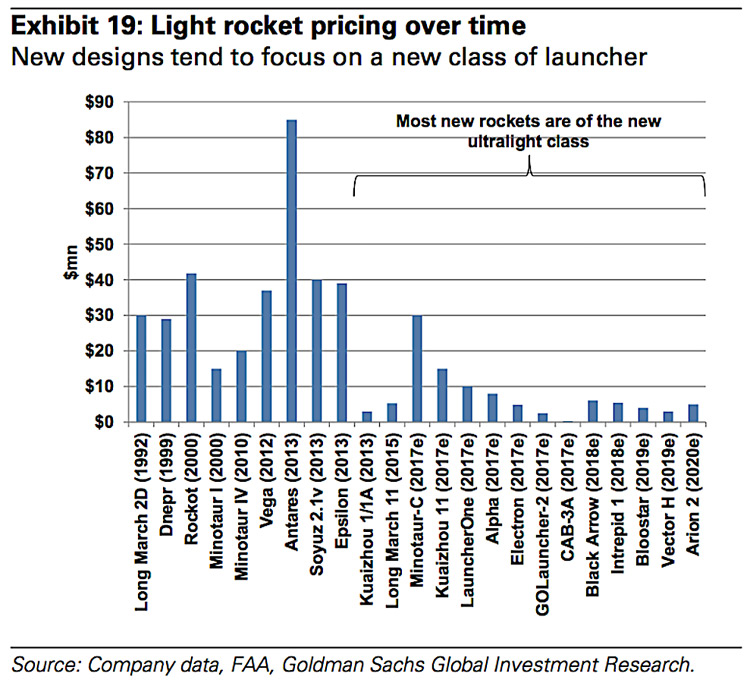 Longer term, the demand for precious metals is also likely to increase as these resources become ever scarcer here on Earth. Furthermore, the rewards for successfully extracting materials from asteroids will be colossal, providing a great incentive for venture capitalists.
"Space mining could be more realistic than perceived," the Goldman Sachs report continues. "Water and platinum group metals that are abundant on asteroids are highly disruptive from a technological and economic standpoint. Water is easily converted into rocket fuel, and can even be used unaltered as a propellant. Ultimately being able to stockpile the fuel in LEO [low earth orbit] would be a game changer for how we access space. And platinum is platinum. [...] A single asteroid the size of a football field could contain $25bn- $50bn worth of platinum."
Asteroid mining firms could even be victims of their own success, with previously rare commodities suddenly becoming abundant and cheap – similar to what happened with aluminium during the 19th century after the invention of electrolysis: "Successful asteroid mining would likely crater the global price of platinum, with a single 500-meter-wide asteroid containing nearly 175X the global output."
---
• Follow us on Twitter
• Follow us on Facebook
10th April 2017
Robotics breakthrough could lead to fully automated warehouses
RightHand Robotics, a startup company near Boston, has unveiled a new automated picking solution for warehouses that can recognise and retrieve individual items from boxes.
With an ongoing explosion in e-commerce – combined with a shrinking workforce – pressures have never been higher on warehouses to fulfil orders faster and more efficiently. To address these challenges, a new startup company has developed "RightPick", a combined hardware and software solution that handles the key task of picking individual items, or "piece-picking."
RightHand Robotics (RHR), the developers of RightPick, are based in Massachusetts, USA. The team was formed by a collaboration between researchers from Harvard's Biorobotics Lab, the Yale Grab Lab, and MIT, focused on groundbreaking research into grasping systems, intelligent hardware sensors, computer vision and applied machine learning.
Unlike traditional factory robots that can be complex to setup and with fixed uses, RHR create machines that are simple to integrate and highly flexible. The new system they have demonstrated in the video above can automate a task that robots have previously struggled to master: recognising and retrieving individual items from boxes; up to 600 per hour. This core competency represents a significant advance towards fully automated warehouses that could remove the need for humans. As e-commerce continues to grow, the trend is away from bulk or pallet-load handling, toward single SKUs and piecemeal items.
"The supply chain of the future is more about pieces than pallets," says Leif Jentoft, a co-founder of RHR. "RightHand can help material handling, third-party logistics and e-commerce warehouses lower costs by increasing automation."
RightPick is capable of handling thousands of different items, using a machine learning backend, coupled with a sensorised robot hand that works in concert with all industry-leading robotic arms. The time to value of RightPick can be demonstrated in a matter of hours, as it offers rapid setup, remote support, and easy integration. The machine is able to quickly demonstrate value in a wide variety of workflows – such as sorting batch-picked items, picking items from Automatic Storage and Retrieval Systems (ASRS), inducting items to a unit sorter, order quality assurance, and more. RHR also announced that it has raised $8 million in Series A funding from various companies and angel investors.
---
• Follow us on Twitter
• Follow us on Facebook
9th April 2017
Hyperloop track ready for first trial run
Hyperloop One, a transport company based in Los Angeles, California, is working to commercialise the Hyperloop concept, for moving passengers and/or cargo at airline speeds at a fraction of the cost of air travel. This week, the company announced that it has completed a tube installation at Las Vegas DevLoop, the world's first full-system test track.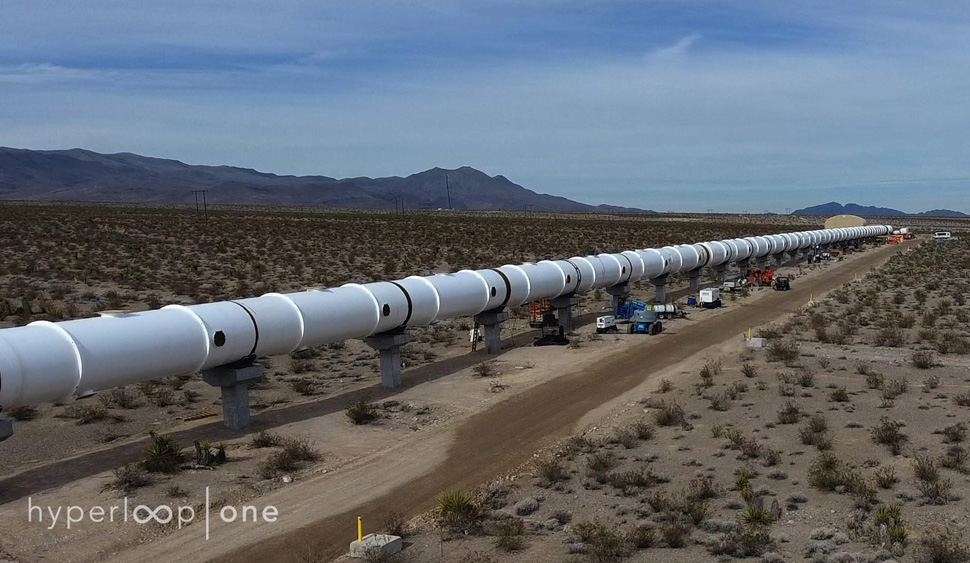 This week, executives from Hyperloop One joined experts and policymakers to reveal details of planned Hyperloop routes in the United States and to initiate a nationwide conversation about the future of American transportation.
Of more than 2,600 participants in the Hyperloop One Global Challenge, 11 teams presented routes, linking 35 cities and covering more than 2,800 miles. They join 24 other teams from around the globe, each vying to be among 12 finalists. Three eventual winners will work closely with Hyperloop One engineering and business teams to explore funding and development.
"Hyperloop One is the only company in the world building an operational commercial Hyperloop system," said Rob Lloyd, chief executive officer of Hyperloop One. "This disruptive technology – conceived, developed and built in the U.S. – will move passengers and cargo faster, cleaner and more efficiently. It will transform transportation as we know it and create a more connected world."
By year's end, the company will have a team of 500 engineers, fabricators, scientists and other employees devoted to bringing this revolutionary new technology to life. Hyperloop One, said Lloyd, can provide broad benefits across communities and markets, support sustainable manufacturing and supplier chains, ease the strain on existing infrastructure and improve the way millions live and work.
In the Hyperloop system, passengers and cargo are loaded into a pod and accelerated gradually, via electric propulsion through a low-pressure tube. The pod quickly lifts above the track using magnetic levitation and glides at airline speeds (620 mph, or 1,000 km/h) for long distances due to ultra-low aerodynamic drag. This week, the company finalised the tube installation of its 500m (1,640 ft) long "DevLoop", located in a desert outside Las Vegas; this facility serves as an outdoor lab for its proprietary levitation, propulsion, vacuum and control technologies.
"The U.S. has always been a global innovation vanguard – driving advancements in computing, communication and media to rail, automobiles and aeronautics," said Shervin Pishevar, executive chairman. "Now, with Hyperloop One, we are on the brink of the first great breakthrough in transportation technology of the 21st century, eliminating the barriers of time and distance and unlocking vast economic opportunities."
"Hyperloop One is the American Dream, and it's fast becoming an American reality," he added.
Proposed routes that would greatly reduce travel times across some of the country's most heavily trafficked regions include Los Angeles-San Diego, Miami-Orlando and Seattle-Portland. The longest distance proposal, Cheyenne-Houston, would run 1,152 miles across four states, reducing to 1 hour and 45 minutes a journey that currently takes 17 hours by car or truck. Hyperloop One's panel of experts includes Peter Diamandis, Executive Chairman of the XPRIZE Foundation. The full list of route proposals being considered is as follows (click to enlarge).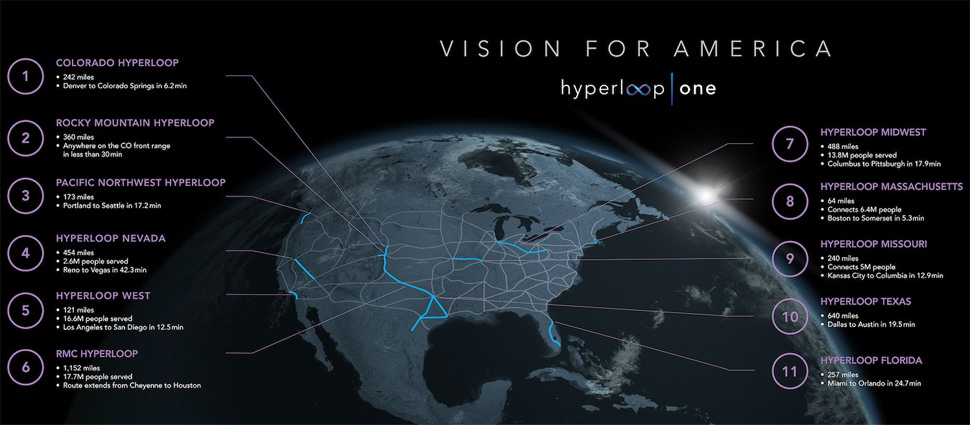 In addition to new details on the U.S. routes, the Washington, D.C. event featured a roundtable of speakers discussing the future of transportation.
"The U.S. is challenged to meet the growing demands on our transportation infrastructure, with congestion costing the economy more than $160 billion per year due to wasted time and fuel," said Tyler Duvall, a partner at McKinsey & Company. "However, new technologies are poised to drive efficiency, increase capacity, and help spur social and economic growth. To seize this opportunity, the approach to infrastructure planning must keep pace by integrating new technologies and taking long-term views of what mobility will look like in the future."
You can vote for your favourite Hyperloop route on Facebook at the following link: https://www.facebook.com/HyperloopOne/app/126231547426086/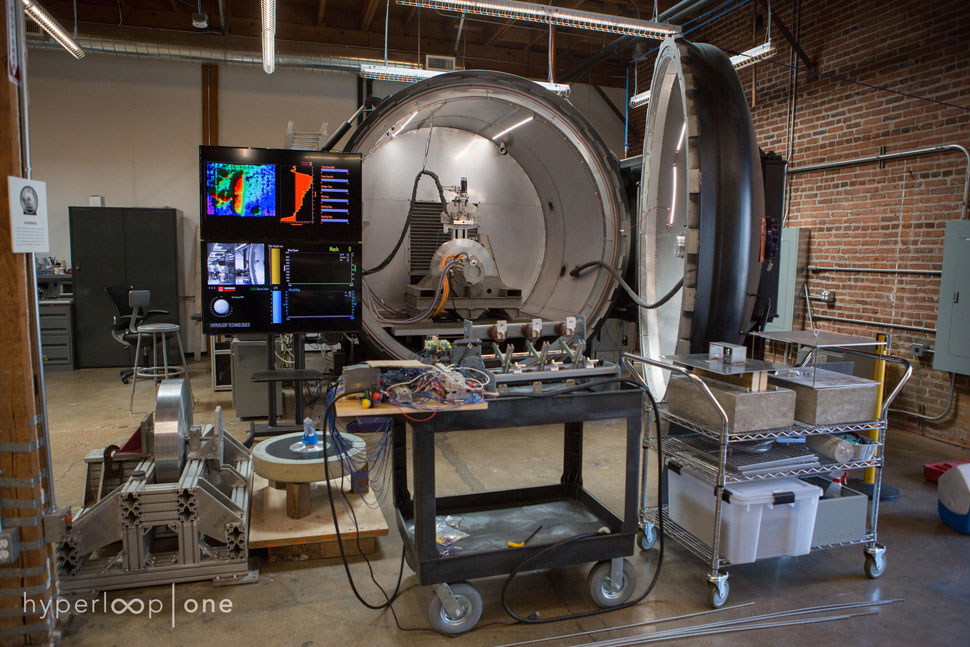 ---
• Follow us on Twitter
• Follow us on Facebook
6th April 2017
Law requires reshaping as AI and robotics alter employment, states new report
The present wave of automation – driven by rapid advances in artificial intelligence (AI) – is creating a gap between current legislation and the new laws necessary for an emerging workplace reality, states the International Bar Association (IBA).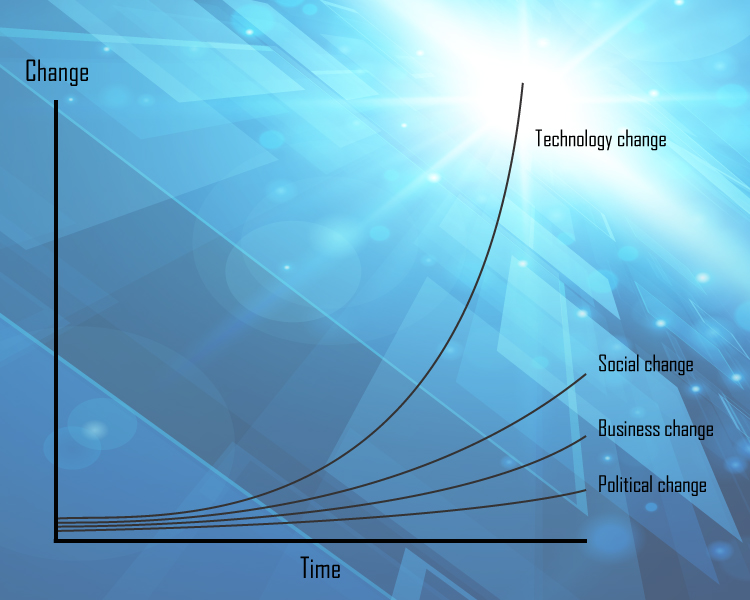 "Certainly, technological revolution is not new, but in past times it has been gradual. What is new about the present revolution is the alacrity with which change is occurring, and the broadness of impact being brought about by AI and robotics," says Gerlind Wisskirchen, Vice Chair for Multinationals in the IBA's Global Employment Institute (GEI) and coordinator of a major report, Artificial Intelligence and Robotics and Their Impact on the Workplace. "Jobs at all levels in society presently undertaken by humans are at risk of being reassigned to robots or AI, and the legislation once in place to protect the rights of human workers may be no longer fit for purpose, in some cases."
The IBA, established in 1947, is the world's leading organisation of international legal practitioners, bar associations and law societies. Through its global membership of individual lawyers, law firms, bar associations and law societies, it influences the development of international law reform and shapes the future of the legal profession throughout the world.
"The AI phenomenon is on an exponential curve, while legislation is doing its best on an incremental basis," adds Wisskirchen. "New labour and employment legislation is urgently needed to keep pace with increased automation."
The comprehensive, 120-page report focuses on potential future trends of AI, and the likely impact intelligent systems will have on: the labour market, the structures of companies, employees' working time, remuneration and the working environment. In addition to illustrating the thread and importance of law in relation to these areas, the GEI assesses the law at different points in the automation cycle – from the developmental stage, when the computerisation of an industry begins, to what workers may experience as AI becomes more prevalent, through to issues of responsibility when things go wrong. These components are not examined in isolation, but in the context of economics, business and social environments.
In the example of the automotive industry, the report identifies competitive disadvantage between Europe and the United States in the developmental stage of autonomous driving. Germany and the US are recognised as the market leaders in this area. However, in contrast to the US, European laws prevent autonomous driving on public roads, though there are some exceptions for research vehicles. US companies are not faced with the same restrictions; they are therefore able to develop at a faster pace and as a result are likely to bring products to market sooner than their European competitors. Europe's restrictive older regulations impede technical progress of autonomous driving for companies operating within its borders, potentially placing them at a disadvantage in the marketplace.
Since motor vehicles will be driven by fully automated systems in the future, it is conceivable that jobs such as truck, taxi, or forklift drivers will be eliminated in the long run. The report states there is a 90% likelihood of this happening, with developers of connected trucks stating: "technical changes that will take place in the next 10 years will be more dramatic than the technical advancements over the last 50 or 60 years". The report points to cost savings of nearly 30% as logistics become cheaper, more reliable and more flexible. At the fully automated stage, costs will be further reduced as the requirement for rest breaks is eliminated, illness or inebriation is no longer a risk factor, and accidents are minimised.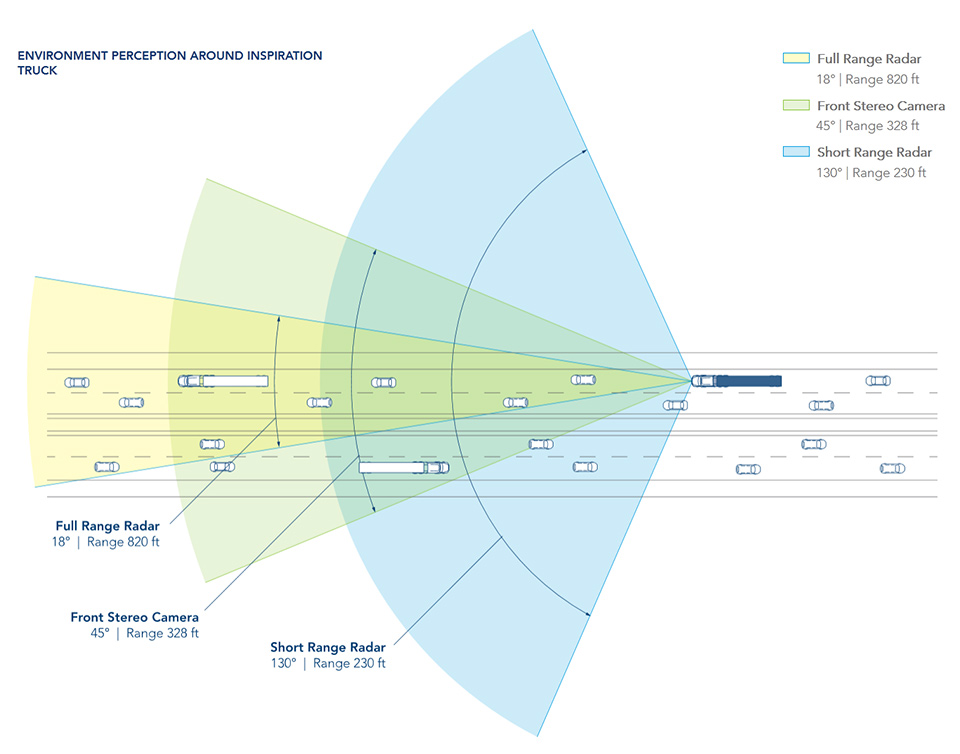 Nevertheless, the report examines the issue of liability when failure does occur, concluding that: "The liability issues may become an insurmountable obstacle to the introduction of fully automated driving." Currently, driver responsibility is assumed in most cases, with the manufacturer liable only for product defects, and vehicle owners subject to special owner's liability, particularly in European countries. However, if a vehicle is fully automated, with a human driver no longer actively steering, the question arises as to whether damage can still be attributed to the driver or the owner of the car, or whether only the manufacturer of the system can be held liable.
The report's authors examine whether rules applicable to other automated areas, such as aviation, can be applied, but reason that: "it is not possible to apply the liability rules from other automated areas to automated driving", and that international liability standards with clear rules are needed.
Pascale Lagesse, Co-Chair of the IBA GEI, commented: "Without a doubt – AI, robotics and increased automation will bring about changes in society at every level, in every sector and in every nation. This fourth industrial revolution will concurrently destroy and create jobs and paradoxically benefit and impair workers in ways that are not entirely clear, or not yet imagined. What is evident, however, is that a monumental paradigm shift is occurring and that concurrent legal uncertainties need to be addressed within labour and employment laws geared to the technological developments."
She added: "Greater governmental collaboration across borders may be necessary if commerce is to thrive. States as lawmakers will have to be bold in decision, determining what jobs should be performed exclusively by humans, for example: caring for babies; perhaps introducing human quotas in different sectors; taxing companies where machines are used; and maybe introducing a 'made by humans' label for consumer choice. Our new report posits these ideas and more, and could not be more timely."
---
• Follow us on Twitter
• Follow us on Facebook
14th March 2017
Renewables are now Australia's cheapest energy option
A major new report claims that renewable energy is now Australia's cheapest energy option, even when the cost of storage to make the intermittent power sources reliable is added.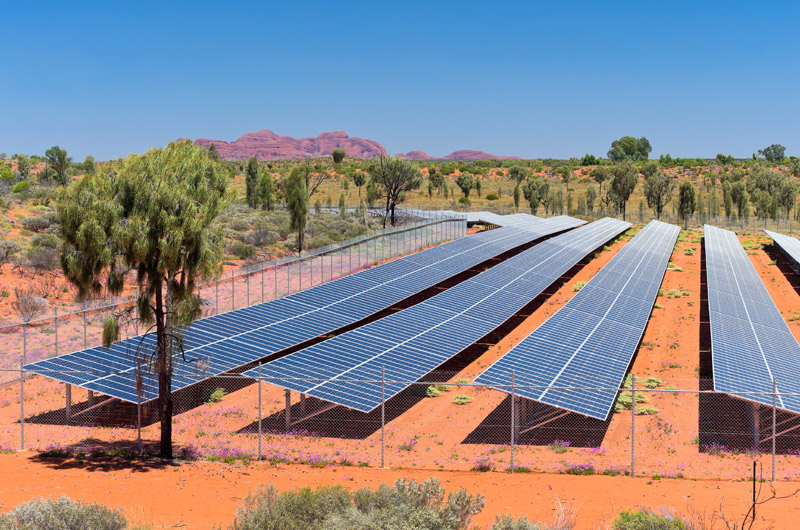 A major new study into the cost of emissions reductions and energy storage in the Australian power sector indicates that the rising price of gas, coupled with the falling cost of energy storage, has now made renewable energy the cheapest source of "reliable" generation in Australia – surpassing gas as the 'least cost' source of energy supply – even if the Sun is not shining and the wind not blowing.
The study also shows that "clean coal" technologies such as Carbon Capture and Storage (CCS) will not be commercially mature before 2030 – and will therefore not help Australia to meet its 2030 emissions reduction target under the Paris Agreement.
The study, by energy and carbon advisory firm RepuTex, is expected to re-shape thinking on the role of renewable energy in providing affordable, clean, and reliable energy as Australia seeks to meet its 2030 emissions reduction target – referred to as the "energy trilemma".
RepuTex analysis, supported by extensive consultation with over 45 electricity generators, industrial and commercial consumers and investors, identifies emissions reduction activities in the power sector – such as retrofitting existing coal-fired plants, developing new wind, solar, gas and "clean coal" generation – with analysis mapping the size and cost of abatement through to 2030.
Their analysis also calculates the "full cost" for renewables to supply "reliable" power – including the cost of batteries, pumped hydro, or thermal storage – to determine which technologies can supply electricity at least cost, while improving security.
According to RepuTex, advancements in the cost of energy storage technology, coupled with significant rises in the domestic gas price, have now made wind and solar – with storage – competitive with gas in providing system reliability in the form of instantaneous peaking or load-following generation.
This means new renewable facilities, with storage, are the least cost source of firm power, and able to provide energy supply even if the Sun is not shining, or the wind not blowing.
"Traditionally, gas-fired generators have been the least cost technology that could provide energy security, such as load-following and peaking services," explained Bret Harper, head of research at RepuTex. "However, the rising price of gas has increased the levelised cost of any new gas build in Australia. At the same time, the decline in capital costs for new wind and solar projects, and improvements in storage performance, have seen renewable project costs fall. When we consider the 'full cost' of renewables to supply dispatchable power – including storage costs to ensure supply even when the wind is not blowing or the Sun not shining – we find that renewables have overtaken gas as the least cost source of new firm supply," he said.
The analysis is significant for the federal debate on energy security, with findings indicating that load-following wind and solar may now be able to strengthen the grid – overcoming intermittency concerns – while strengthening the claims of state governments in South Australia, Queensland and Victoria as they seek to cash in on new renewable investment.
"As older coal and gas-fired generation leave the market, new dispatchable renewables will be able to provide energy during daily peaks, adjust as demand changes throughout the day, or provide reserve peaking generation capacity to alleviate critical situations such as those in South Australia and New South Wales," said Harper. "Moreover, they can now provide that service at 'least cost', surpassing gas. Our view is that this will create a decreasing need for baseload-only facilities, with potential for states to rely on new storage technologies to provide affordable, clean, and secure energy, while improving system reliability."
Notably, the study also shows that "clean coal" technologies such as Carbon Capture and Storage (CCS) will not be commercially mature before 2030 – and will therefore not help Australia to meet its 2030 emissions reduction target under the Paris Agreement.
Findings indicate that four groups of measures have potential to deliver the vast majority of the power sector's emissions reductions by 2030, including distributed generation, the closure of emissions intensive generators, improving the greenhouse gas intensity of existing fossil fuel plants, and investing in renewables and energy storage.
However, while analysis shows there are many opportunities for emissions reductions in the sector, "clean coal" technology is not among the cheapest.
"While clean coal is promoted as a critical emissions reduction technology, findings indicate that cost will be a major barrier to the implementation of a commercial scale project in Australia," said Mr Harper. "We see costs for CCS coming down as low as $100/MWh around 2030, at which point a large-scale project may be feasible if there is any appetite for a baseload-only generator. On that timeline, we assume CCS will play little role to meet Australia's 2030 emissions reduction target."
"Moreover, with a premium placed on flexible generation that can ramp up or down, we see baseload-only generation as being too inflexible to compete in Australia's future electricity system. That is not good news for coal generation, irrespective of how clean it is," said Mr Harper.
The study is expected to provide a new reference point for the cost of emissions reductions, and energy storage technologies, as policymakers seek to solve the "energy trilemma" of providing affordable and reliable energy supply, while meeting Australia's 2030 emissions target. RepuTex notes that a clear market signal is needed to guide investment toward a long-term target well beyond 2030, to better match the investment timeframes of the sector.
"To determine a cost-effective pathway, Australia needs to define its long-term target to better match investment decisions that have lifetimes of 20 to 40 years" said Mr Harper. "Are we aiming for a 26 per cent target by 2030, or 100 per cent clean energy by 2050? Each of those targets have different least-cost pathways, but the same investment timeframe. Identifying a long-term target, with a clear signal on the rate and pace of change, will therefore help to guide the correct investment in the sector."
---
• Follow us on Twitter
• Follow us on Facebook
17th February 2017
U.S. solar installations grew by 95% in 2016
Annual solar PV installations in the U.S. nearly doubled last year – growing from 7,492 megawatts to 14,626 megawatts.
This new record-breaking figure is revealed by GTM Research and the Solar Energy Industries Association (SEIA) in advance of their upcoming U.S. Solar Market Insight report, due for release on 9th March.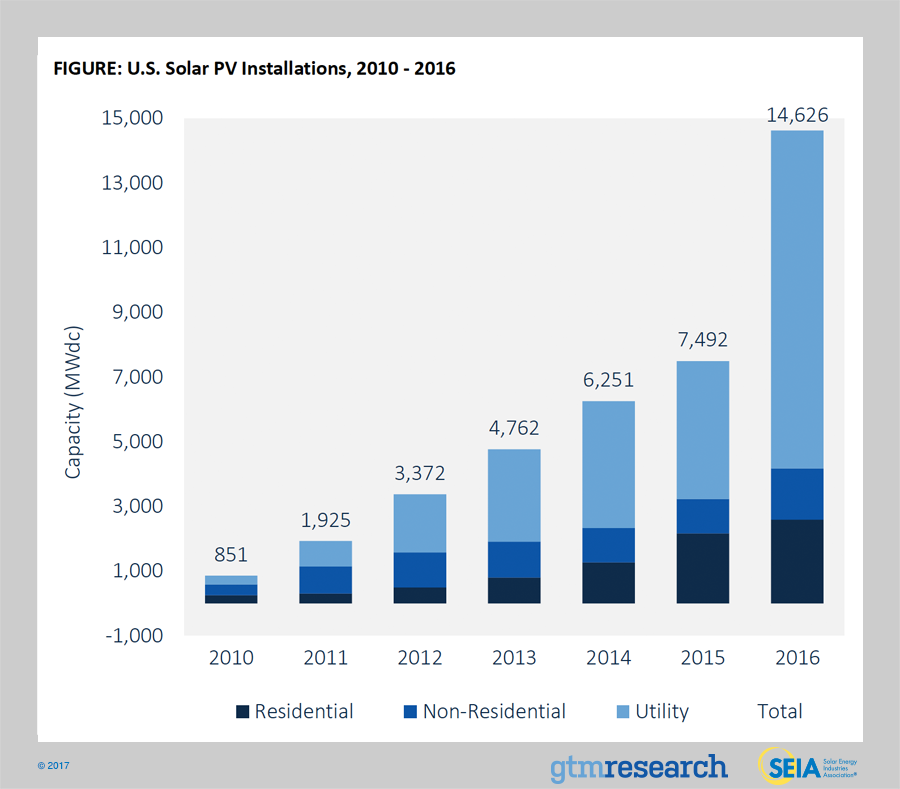 In addition, solar power set another record by achieving the greatest share of capacity additions for the first time ever in the U.S. It accounted for 39% of new installations among all energy types in 2016, ahead of natural gas (29%) and wind (26%). As shown on the graph below, this is almost a ten-fold improvement on its 2010 share of 4%.
"What these numbers tell you is that the solar industry is a force to be reckoned with," said Abigail Hopper, SEIA's president. "Solar's economically winning hand is generating strong growth across all market segments nationwide, leading to more than 260,000 Americans now employed in solar."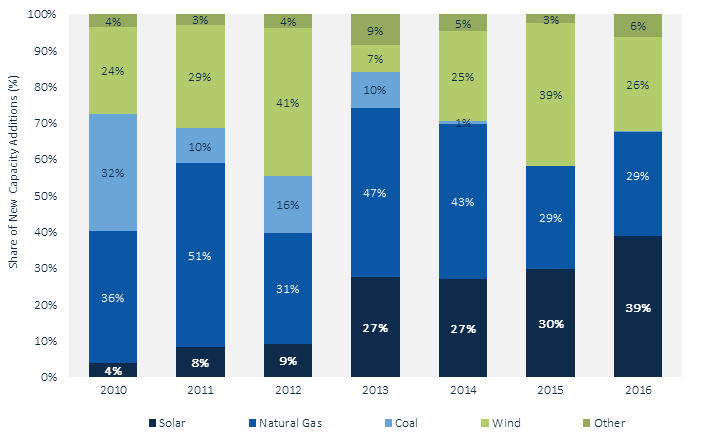 "In a banner year for U.S. solar, a record 22 states each added more than 100 megawatts," said Cory Honeyman, GTM Research's associate director of U.S. solar. "While U.S. solar grew across all segments, what stands out is the double-digit-gigawatt boom in utility-scale solar, primarily due to solar's cost-competitiveness with natural gas alternatives."
The U.S. now has more than 1.3 million solar PV installations, with a cumulative capacity of over 40 gigawatts.
---
• Follow us on Twitter
• Follow us on Facebook
9th February 2017
World economy predicted to double in size by 2042
A new report by PricewaterhouseCoopers (PwC) forecasts the global economic changes between now and 2050.
The long-term power shift away from the established advanced economies is set to continue over the period to 2050, as emerging market countries boost their share of world GDP in future decades, despite recent mixed performance in some of these economies.
This is one of the key findings from the latest report by PwC economists, The long view: how will the global economic order change by 2050? This presents forecasts of GDP growth up to 2050 for 32 of the largest economies in the world, which together account for 85% of global GDP. The projections are based on an update of a detailed, long-term, global growth model, first developed by PwC in 2006.
PwC predicts that the world economy will double in size by 2042, growing at an average real rate of 2.5% annually from 2017 to 2050. This growth will be driven largely by emerging market and developing countries, with the E7 economies of Brazil, China, India, Indonesia, Mexico, Russia and Turkey growing at an annual average rate of 3.5% over the next 33 years, compared to only 1.6% for the advanced G7 nations of Canada, France, Germany, Italy, Japan, the UK and the US.
As shown in Figure 1, the E7 could comprise almost 50% of world GDP by 2050, while the G7's share declines to only just over 20%.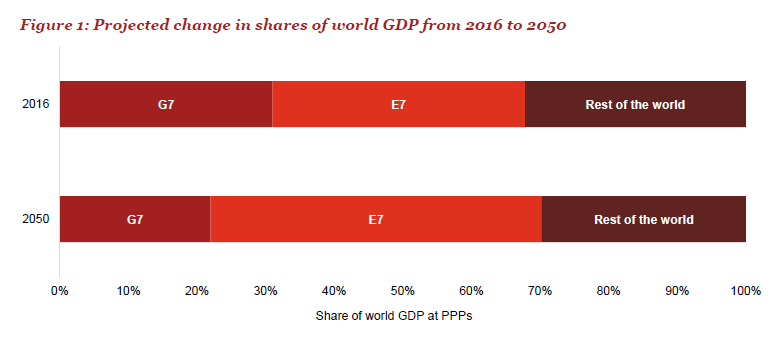 When looking at GDP measured at market exchange rates (MER), there is not quite such a radical shift in global economic power. But China still emerges as the largest economy in the world before 2030 and India is still clearly the third largest in the world by 2050.
But the spotlight will certainly be on the newer emerging markets as they take centre stage. By 2050, Indonesia and Mexico are projected to be larger than Japan, Germany, the UK or France, while Turkey could overtake Italy. In terms of growth, Vietnam, India and Bangladesh could be the fastest growing economies over the period to 2050, averaging growth of around 5% per year.
Nigeria has the potential to move eight places up the GDP rankings to 14th by 2050, but it will only realise this potential if it can diversify its economy away from oil and strengthen its institutions and infrastructure.
Colombia and Poland also exhibit great potential, and are projected to be the fastest growing large economies in their respective regions, Latin America and the EU (though Turkey is projected to grow faster if we consider a wider definition of Europe).
"Growth in many emerging economies will be supported by relatively fast-growing populations, boosting domestic demand and the size of the workforce," comments John Hawksworth, PwC Chief Economist and co-author of the report. "This will need, however, to be complemented with investments in education and improvement in macroeconomic fundamentals to ensure there are sufficient jobs for the growing number of young people in these countries."
One piece of good news for today's advanced economies is that they will continue to enjoy higher average incomes. With the possible exception of Italy, all of the G7 continue to sit above the E7 in the rankings of GDP per capita in 2050. Emerging markets will close this gap gradually over time, but full convergence of income levels across the world is likely to take until well beyond 2050.
China achieves a middling average income level by 2050, while India remains in the lower half of the income range given its starting point, despite relative high projected growth over time. This illustrates that while strong population growth can be a key driver of total GDP growth, it will take much longer to eliminate differences in average income levels.
"Average income gaps between countries will reduce over time, but this process will still be far from complete by 2050," explains Hawksworth. "In 2016, US GDP per capita was almost four times that of China's and almost nine times that of India's. By 2050, these gaps are projected to narrow so that average US income levels may be around double China's and around three times India's – but it is also possible that income inequality within countries will continue to rise, driven in particular by technological change that favours higher skilled workers and the owners of capital."
PwC expects global economic growth to average 3.5% per annum over the years to 2020, slowing to around 2.7% in the 2020s, 2.5% in the 2030s, and 2.4% in the 2040s. This will occur as many advanced economies (and eventually also some emerging markets like China) experience a marked decline in their working-age populations. At the same time, emerging market growth rates will moderate as these economies mature and the scope for rapid catch-up growth declines. These effects are projected to outweigh the impact of emerging economies having a progressively higher weight in world GDP, which would otherwise tend to boost average global growth.
To realise their potential, emerging economies must undertake sustained and effective investment in education, infrastructure and technology. The fall in oil prices from mid-2014 to early 2016 highlighted the importance of more diversified emerging economies for long-term sustainable growth. Underlying all of this is the need to develop the political, economic, legal and social institutions within emerging economies to generate incentives for innovation and entrepreneurship, creating secure and stable economies in which to do business.
Hawksworth continues: "Policymakers across the world face a number of challenges if they are to achieve sustainable long-term economic growth of the kind we project in this report. Structural developments – such as aging populations and climate change – require forward-thinking policy which equips the workforce to continue to make societal contributions later on in life and promotes low carbon technologies.
"Falling global trade growth, rising income inequality within many countries and increasing global geopolitical uncertainties are intensifying the need to create diversified economies which create opportunities for everyone in a broad variety of industries."
Emerging market development will create many opportunities for business. These will arise as these economies progress into new industries, open up to world markets and as their relatively youthful populations get richer. They will become more desirable places to work and live, attracting new investment and talent.
Emerging economies are rapidly evolving and often relatively volatile, however, so companies will need operating strategies that have the right mix of flexibility and patience to succeed in these markets. Case studies in the PwC report illustrate how businesses should be prepared to adjust their brand and market positions to suit differing and often more nuanced local preferences. An in-depth understanding of the local market and consumers will be crucial, which will often involve working with local partners.
John Hawksworth concludes: "Businesses need to be patient enough to ride out the short-term economic and political storms that will inevitably occur from time to time in these emerging markets as they move towards maturity. But the numbers in our report make clear that failure to engage with these emerging markets means missing out on the bulk of the economic growth we expect to see in the world economy between now and 2050."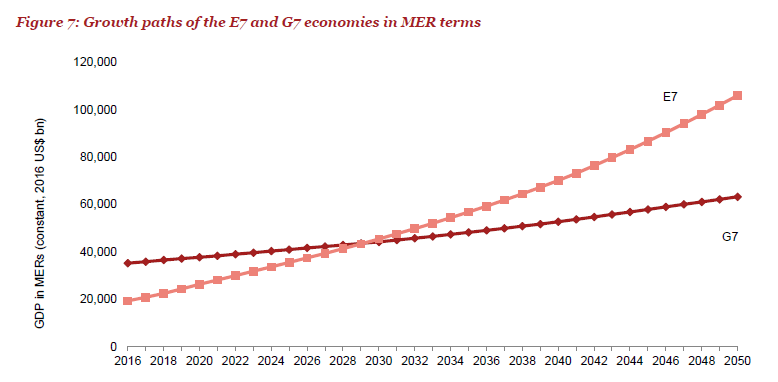 ---
• Follow us on Twitter
• Follow us on Facebook
31st January 2017
Cafe X Technologies launches robotic cafe
Cafe X Technologies, a new startup based in San Francisco, yesterday opened its first robotic cafe in the U.S. By combining machine learning and robotics, it aims to eliminate the variabilities that bog down today's coffee experience.
Cafe X Technologies, in partnership with WMF (a leading international maker of coffee machines), has developed a fully automated robotic cafe that integrates hardware and software to blend the functionality of baristas with specialty coffee preparation methods. Cafe X sets itself apart by removing the on-site wait time, the potential for preparation error, and other unexpected variability – which it claims will set a new standard for automation technology and the specialty coffee service industry.
"I've long been a big coffee consumer and there's never a guaranteed seamless experience," says founder and CEO, 23-year-old Henry Hu. "In today's world, you have two options for getting a cup of coffee: you're either in and out with something subpar or you're waiting in a 15-minute line for a great cappuccino. I started Cafe X to eliminate that inherent compromise and give people access to a tasty cup of coffee consistently and conveniently."
Customers can order customised espresso-based beverages on the spot at the ordering kiosk, or they can download the Cafe X app onto their mobile device to order in advance. Once the beverage is ready, they use touch screens on the cafe to type in a 4-digit order number which is either sent via text message or displayed on the Cafe X mobile app for iOS and Android. The Mitsubishi robot arm will then identify the customer's drink from the waiting stations and deliver it to them within seconds.
The machine is very fast – capable of preparing up to 120 drinks per hour, depending on the complexity of the orders. Customers can choose the brand of beans and customise the amount of milk and flavours used.
"This won't replace baristas, or the coffee shop experience that so many people have come to love – we don't aim to do that," says Hu. "What we're offering is the best possible experience for people who are looking for consistent specialty coffee to-go."
Cafe X has formed unique partnerships with local roasters to source specific premium ingredients and create unique drinks which are programed into the automated coffee systems. The menu prices start at $2.25 for an 8 oz cup and will vary depending on the customer's coffee bean selection which includes single origin options.
"There's an entire segment of the consumer population that's not buying coffee because it doesn't fit into their present moment," says John Laird, CEO of AKA Roasters. "We're truly excited to partner with the Cafe X team to expand to those customers we might not otherwise reach."
This machine has been installed at San Francisco's Metreon shopping centre. Hu is now in talks with a number of San Francisco-based tech companies to install Cafe X kiosks in their offices.
---
• Follow us on Twitter
• Follow us on Facebook
26th January 2017
Doomsday Clock moves closer to midnight
The Bulletin of the Atomic Scientists has moved the hands of the iconic "Doomsday Clock" forwards by 30 seconds.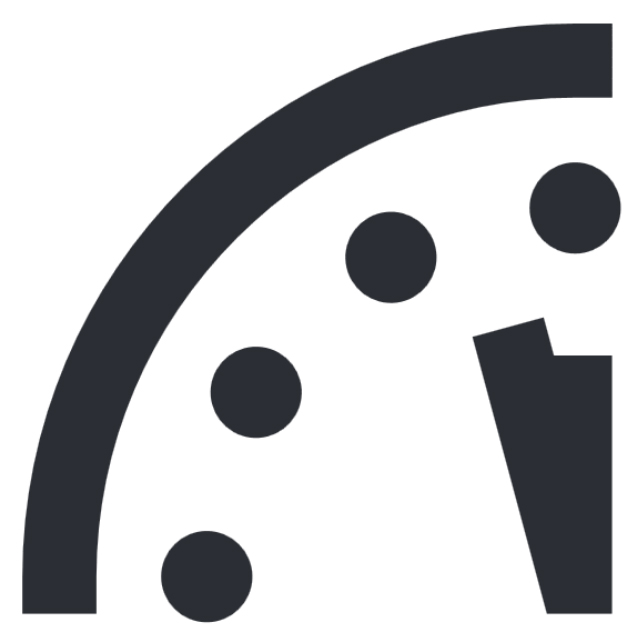 The Doomsday Clock is now at two and a half minutes to midnight, having previously been at three minutes to midnight. Normally when changes occur, the hands are moved forwards or backwards in increments of a minute. But today, for the first time in the 70-year history of the clock, the Bulletin of the Atomic Scientists' Science and Security Board has moved the hands 30 seconds closer to midnight. In another first, the Board has decided to act, in part, based on the words of a single person: Donald Trump, the new President of the United States.
The decision to move the hands of the clock is made in consultation with the Bulletin's Board of Sponsors, which include 15 Nobel Laureates. The Science and Security Board's full statement about the Clock is available online.
In January 2016, the Doomsday Clock's minute hand did not change, remaining at three minutes before midnight. The Clock was changed in 2015 from five to three minutes to midnight, the closest it had been since the arms race of the 1980s.
In a statement today, the Bulletin's Science and Security Board notes: "Over the course of 2016, the global security landscape darkened as the international community failed to come effectively to grips with humanity's most pressing existential threats — nuclear weapons and climate change... This already-threatening world situation was the backdrop for a rise in strident nationalism worldwide in 2016, including in a US presidential campaign during which the eventual victor, Donald Trump, made disturbing comments about the use and proliferation of nuclear weapons and expressed disbelief in the overwhelming scientific consensus on climate change. The board's decision to move the clock less than a full minute — something it has never before done — reflects a simple reality: As this statement is issued, Donald Trump has been the US president only a matter of days..."
The statement continues: "Just the same, words matter, and President Trump has had plenty to say over the last year. Both his statements and his actions as President-elect have broken with historical precedent in unsettling ways. He has made ill-considered comments about expanding the US nuclear arsenal. He has shown a troubling propensity to discount or outright reject expert advice related to international security, including the conclusions of intelligence experts. And his nominees to head the Energy Department, and the Environmental Protection Agency dispute the basics of climate science. In short, even though he has just now taken office, the president's intemperate statements, lack of openness to expert advice, and questionable cabinet nominations have already made a bad international security situation worse."
In addition to addressing the statements made by President Trump, the Board also expressed concern about the greater global context of nuclear and climate issues: "The United States and Russia—which together possess more than 90 percent of the world's nuclear weapons—remained at odds in a variety of theatres, from Syria to Ukraine to the borders of NATO; both countries continued wide-ranging modernisations of their nuclear forces, and serious arms control negotiations were nowhere to be seen. North Korea conducted its fourth and fifth underground nuclear tests and gave every indication it would continue to develop nuclear weapons delivery capabilities. Threats of nuclear warfare hung in the background as Pakistan and India faced each other warily across the Line of Control in Kashmir after militants attacked two Indian army bases."
In surveying the status of climate matters, the Board concluded: "The climate change outlook was somewhat less dismal (in 2016) —but only somewhat. In the wake of the landmark Paris climate accord, the nations of the world have taken some actions to combat climate change, and global carbon dioxide emissions were essentially flat in 2016, compared to the previous year. Still, they have not yet started to decrease; the world continues to warm. Keeping future temperatures at less-than-catastrophic levels requires reductions in greenhouse gas emissions far beyond those agreed to in Paris—yet little appetite for additional cuts was in evidence at the November climate conference in Marrakech."
Rachel Bronson, executive director and publisher, Bulletin of the Atomic Scientists, said: "As we marked the 70th anniversary of the Doomsday Clock, this year's Clock deliberations felt more urgent than usual. In addition to the existential threats posed by nuclear weapons and climate change, new global realities emerged, as trusted sources of information came under attack, fake news was on the rise, and words were used by a President-elect of the United States in cavalier and often reckless ways to address the twin threats of nuclear weapons and climate change."
Lawrence Krauss, the Bulletin Board of Sponsors chair, said: "Wise men and women have said that public policy is never made in the absence of politics. But in this unusual political year, we offer a corollary: Good policy takes account of politics, but is never made in the absence of expertise. Facts are indeed stubborn things, and they must be taken into account if the future of humanity is to be preserved, long term. Nuclear weapons and climate change are precisely the sort of complex existential threats that cannot be properly managed without access to and reliance on expert knowledge. In 2016, world leaders not only failed to deal adequately with those threats; they actually increased the risk of nuclear war and unchecked climate change through a variety of provocative statements and actions, including careless rhetoric about the use of nuclear weapons and the wanton defiance of scientific evidence. To step further back from the brink will require leaders of vision and restraint. President Trump and President Putin can choose to act together as statesmen, or as petulant children, risking our future. We call upon all people to speak out and send a loud message to your leaders so that they do not needlessly threaten your future, and the future of your children."
Retired Rear Admiral David Titley, Bulletin Science and Security Board, said: "Climate change should not be a partisan issue. The well-established physics of Earth's carbon cycle is neither liberal nor conservative in character. The planet will continue to warm to ultimately dangerous levels so long as carbon dioxide continues to be pumped into the atmosphere— irrespective of political leadership. The current political situation in the United States is of particular concern. The Trump administration needs to state clearly and unequivocally that it accepts climate change, caused by human activity, as reality. No problem can be solved unless its existence is first recognised. There are no 'alternative facts' here."
---
• Follow us on Twitter
• Follow us on Facebook
16th January 2017
Eight people own same wealth as half the world
A pre-Davos report from Oxfam shows that the gap between the world's richest and poorest is even greater than feared.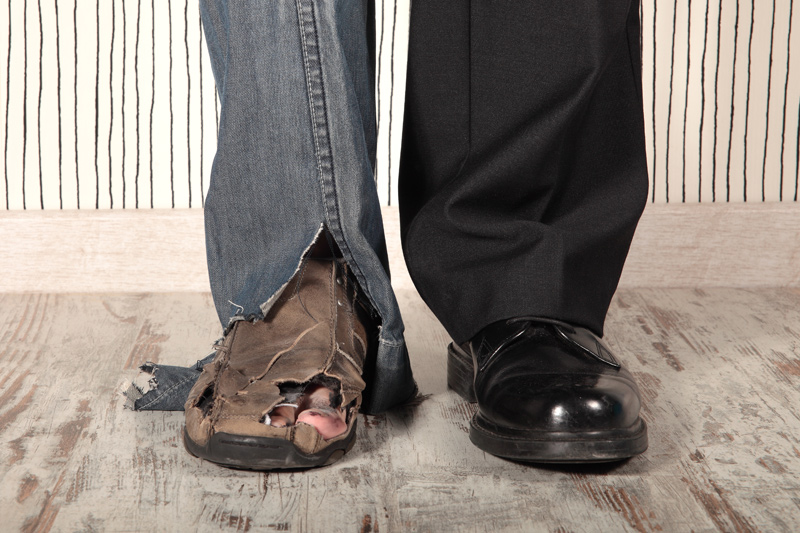 Eight billionaires own the same wealth as the 3.6 billion people who form the poorest half of the world's population, reveals an Oxfam report published today as global political and business elites gather in Davos for their annual meeting.
An Economy for the 99 Percent shows that the gap between rich and poor is far greater than had been feared. New and better data on the distribution of global wealth – particularly in India and China – indicates that the poorest half of the world has even less wealth than previously thought. If this data had been available last year it would have shown that nine billionaires then owned the same wealth as the planet's poorest half, rather than 62 as Oxfam calculated at the time.
Oxfam's new report shows that in 2015 the richest one percent retained their share of global wealth and still own more than the other 99 percent combined. This concentration of wealth at the top is holding back the fight to end global poverty.
The report describes how the inequality crisis is being fuelled by companies whose business models are increasingly focused on delivering ever-higher returns to wealthy owners and top executives. Companies are structured to dodge taxes, drive down workers' wages and squeeze producers instead of fairly contributing to an economy that benefits everyone. The key theme of this year's World Economic Forum is responsive and responsible leadership.
Oxfam is calling for a fundamental change in the way we manage our economies so that they work for everyone, not just a privileged few. The report is published amid increasing concerns about the economic status quo, with the Bank of England's Chief Economist warning recently that a 'rebirth of economics' is needed to replace out-dated models.
Mark Goldring, Oxfam GB Chief Executive, said: "This year's snapshot of inequality is clearer, more accurate and more shocking than ever before. It is beyond grotesque that a group of men who could fit in a single golf buggy own more than the poorest half of humanity.
"While one in nine people on the planet will go to bed hungry tonight, a small handful of billionaires have so much wealth they would need several lifetimes to spend it. The fact that a super-rich elite are able to prosper at the expense of the rest of us at home and overseas shows how warped our economy has become.
"Inequality is not only keeping millions of people trapped in poverty, it is fracturing our societies and poisoning our politics. It's just not right that top executives take home massive bonuses while workers' wages are stagnating, or that multinationals and millionaires dodge taxes while public services are being cut."
While the number of people living in extreme poverty has decreased in recent decades, 700 million more people could have escaped poverty if action had been taken to reduce the gap between rich and poor. Experts including the World Bank and the International Monetary Fund warn that further progress is under threat because of inequality.
Oxfam's report describes how life for the world's poorest people remains brutally hard. Between 1988 and 2011 the incomes of the poorest 10 percent increased by just $65, while the incomes of the richest 1 percent grew by $11,800 – 182 times as much. On current trends, the world's first trillionaire is likely to emerge by 2039.
The poorest are the biggest losers of our distorted global economy, especially women who tend to labour in the worst-paid jobs and take on the lion's share of unpaid care work. On current trends, it will take 170 years for women to be paid the same as men.
Economic inequality has shot up the global political agenda in recent years, with President Obama and the IMF among those who have cited Oxfam's work on the issue. Inequality and a feeling among many people of being excluded from the benefits of global growth have also been cited as driving political upheaval from Brexit to the elections of Rodrigo Duterte and Donald Trump in the Philippines and US.
Oxfam is calling for a more "human" economy where markets – a vital engine for prosperity – are better managed in order to ensure no one is left out or denied basic rights such as decent work, healthcare and education.
Key features of this fairer economy would include:
• improved cooperation between governments to prevent tax dodging that costs poor countries at least $100 billion every year;
• Government action to encourage companies to act for the benefit of their workforces and wider society as well as their executives and shareholders;
• taxes on wealth to generate funds for healthcare, education and job creation;
• action to tackle the barriers that hold back women including lack of education opportunities and the burden of unpaid care work.
Oxfam is calling on business leaders to play their part in creating a more human economy by committing to pay both a living wage and their fair share of tax. The report highlights progressive business practices such as Spanish multinational Mondragon – owned by its 74,000-strong workforce – which structures pay to ensure the highest-paid employee earns no more than nine times the lowest.
In the UK, out-of-control pay ratios means that the average pay of FTSE100 chief executives is 129 times that of the average employee – and equivalent to the earnings of 10,000 people working in garment factories in Bangladesh.
Investors' share of UK corporate profits has soared to 70 percent from 10 percent in the 1970s, meaning that less is being re-invested in workers and the long-term health of the business. Meanwhile, pension funds' holdings of UK shares have plummeted from 30 percent 30 years ago to just three percent today.
Goldring added: "Extreme inequality isn't inevitable – with the right policies, world leaders can rebalance our broken economies so they work for all of us and bring the end of poverty closer. We need a new common-sense approach that ensures a fair deal for workers and producers; requires those who can afford it to pay their fair share of tax; and ensures that women get a fair chance to realise their potential."
"Oxfam welcomes the Prime Minister's pledge to tackle inequality in the UK – we'd like to see her make a similar commitment on the global stage. Standing up to powerful interests and corporate bad behaviour won't be easy, but is vital if we're to ensure a better future for people at home and around the world."
---
• Follow us on Twitter
• Follow us on Facebook
12th January 2017
Anglo-Indian firm launches groundbreaking new carbon capture and utilisation plant
An Anglo-Indian company has developed a way of making useful products from CO2 captured at just $30 per tonne. The project will allow over 60,000 tonnes of CO2 to be captured and re-used each year.
Anglo-Indian energy and chemical firm, Carbon Clean Solutions Limited (CCSL) – a leader in CO2 separation technology – has announced the launch of a new project that will see more than 60,000 tonnes of CO2 captured from a 10 megawatt coal-fired power station near Chennai, India. Post-start up, the power station is set to become a zero-emission plant.
This groundbreaking project, believed to be the first of its kind, is privately financed and will capture CO2 at just $30 per tonne – much lower than the $60-90 per tonne capture costs typically observed in the global power sector. The captured CO2 will then be used by an Indian firm, Tuticorin Alkali Chemicals & Fertilisers (TACFL), for production of soda ash – a base chemical with a wide range of uses including glass manufacture, sweeteners, detergents and paper products.
Chief Executive Officer at CCSL, Aniruddha Sharma, said: "This project is a game-changer. By capturing and crucially, re-using, CO2 at just $30 per/tonne, we believe that there is an opportunity to dramatically accelerate uptake of carbon capture and utilisation (CCU) technology, with its many benefits, around the world. This is a project that doesn't rely on government funding or subsidies – it just makes great business sense. We are delighted to be partnering with TACFL to make this project a reality."
This announcement follows the successful completion of CCSL's pilot testing programme at Technology Centre Mongstad, the world's largest and most advanced facility for testing and improving CO2 capture, in May 2016. The pilot yielded results showing that use of CCSL's solvent dramatically reduced emission levels and lowered corrosion, while improving system reliability.
---
• Follow us on Twitter
• Follow us on Facebook
30th December 2016
China promises to ban ivory trade by end of 2017
Conservationists are celebrating a major win today, following China's announcement to end its domestic ivory trade in 2017. China is currently responsible for about 70% of the global ivory market.
In the most important step yet to ending the global ivory trade, the Chinese government today announced a one year timeline for its promised ivory ban. According to the notice, China will begin phasing out registered legal ivory processors and traders by 31st March 2017 and shut down its commercial ivory trade completely by 31st December 2017.
"China has shown great leadership in the fight to save African elephants," said Elly Pepper, deputy director of wildlife trade for the Natural Resources Defence Council. "Setting such an aggressive timeline to close – once and for all – the largest domestic ivory market in the world is globally significant. It's a game changer and could be the pivotal turning point that brings elephants back from the brink of extinction. Now, other countries, including the UK, must follow China's lead and close their ivory markets."
Demand for elephant ivory has skyrocketed in recent years, leading to the poaching of over 35,000 elephants per year for their tusks. African savanna elephants have declined by 30 percent in the past seven years and if current poaching rates continue, African forest elephants could be extinct in less than a decade.
The international commercial trade in ivory has been banned under the Convention on International Trade in Endangered Species (CITES) since 1989. However, domestic markets have continued in various countries, creating a cover through which illegal ivory can be laundered. China has maintained a legal ivory market – by far the biggest in the world – with an estimated 70% of global trade ending up there. Demand is so high that ivory can reach $1,100 per kilogram.
Over the past two years, the Chinese government has taken major steps to end its domestic ivory market. In February 2015, China placed a one-year ban on imports of all carved ivory items. A month later, Chinese President Xi Jinping promised to end China's domestic ivory market – a commitment he reinforced in September 2015 when meeting with President Obama. In October 2015, China placed a one-year ban on imports of African elephant trophies. In March 2016, China extended its one year ban on imports of carved ivory items and elephant hunting trophies to 31st December 2019. Finally, at the June 2016 U.S.-China Strategic and Economic Dialogue (S&ED), China promised to deliver its timeline for a total ivory ban by the end of 2016, spurring today's announcement.
After the market closes, the Chinese Ministry of Culture will help transition ivory carvers and related employees to other livelihoods. The government will also strengthen the management of legally-possessed ivory products and ramp up enforcement and education to combat the illegal ivory trade.
"China's announcement is a game changer for elephant conservation," said Carter Roberts, president of the World Wildlife Fund. "The large-scale trade of ivory now faces its twilight years, and the future is brighter for wild elephants. With the US also ending its domestic ivory trade earlier this year, two of the largest ivory markets have taken action that will reverberate around the world."
---
• Follow us on Twitter
• Follow us on Facebook
30th December 2016
Wave of economic, social and technological change will reshape Britain in the 2020s
The Institute for Public Policy Research (IPPR) has published a landmark report analysing the factors shaping Britain up to 2030.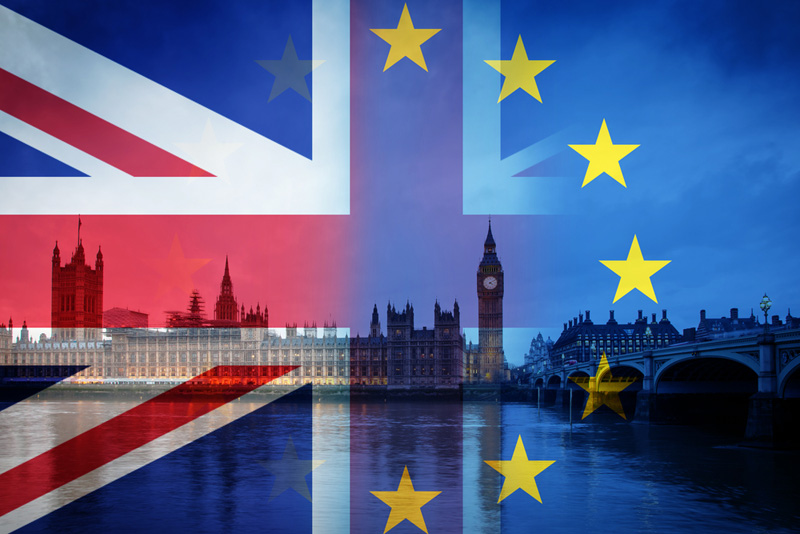 A leading think tank, the IPPR, published a report yesterday analysing the factors shaping Britain up to 2030. The forthcoming Brexit negotiations will fire the starting gun on the next decade – so understanding these future changes will be key for negotiations. The IPRR sets out the choices that must be made now to ensure a fairer and more equal society in the long term. The report highlights a number of key facts that will alter the way British people live during the 2020s:
• As the population grows, the UK is set to age sharply and become increasingly diverse. The 65+ age group will grow by 33% by 2030. The over 85s population will nearly double. The non-white percentage of the population is expected to rise from 14% in 2011, to 21% by 2030 and one-third by 2050.
• The global economy and the institutions that govern it will come under intense pressure as the Global South rises in economic and political importance. Half of all large companies will be based in emerging markets;
• Due to demographic trends, a structural deficit is likely to re-emerge by the mid-2020s. The adult social care funding gap is expected to hit £13 billion – 62% of the expected budget – in 2030/31;
• Up to two-thirds of current jobs – 15 million – are at risk of automation. Two million jobs in retail will disappear and 600,000 in manufacturing. These rapid advances in technology have the potential to create a new era of widespread abundance, or a second machine age that radically concentrates economic power;
• Britain is home to the richest region in Northern Europe. But it also contains nine of the ten poorest regions. This stark wealth divide is likely to become even more noticeable, as the income of high-income households is forecast to rise 11 times faster than low income households. Living standards will rise slowly for middle- and low-income households, with real disposable income forecast to grow by just 9% for the former and 2% for the latter by 2030.
• Climate change, biodiversity degradation, and resource depletion mean that society and the economy will increasingly run up against the limits of the physical capacity of the Earth's natural systems.

Mathew Lawrence, IPPR research fellow and the report's author, claims that Britain's current economic model will need major reforms to challenge the existing status quo. Continuing with the same old policies of the past will deliver weak and unstable growth, widening inequality, and stagnant living standards for many. The nation's political and economic system will struggle to build a more democratic, healthy society in the decades ahead, even as Brexit accelerates the country towards a radically different institutional landscape.
"By 2030, the effects of Brexit combined with a wave of economic, social and technological change will reshape the UK in often quite radical ways," says Lawrence. "In the face of this, a politics of nostalgia, institutional conservatism and a rear guard defence of the institutions of 20th century social democracy will be inadequate. For progressives, such a strategy will not be robust enough to mitigate against growing insecurity, ambitious enough to reform Britain's economic model, nor sufficiently innovative to deliver deeper social and political transformation. They would be left defending sandcastles against the tide of history.
"Britain's progressives should be ambitious – seeking to shape the direction of technological and social change. We must build a 'high energy' democracy that accelerates meaningful democratic experimentation at a national, city and local level, and also in the marketplace by increasing everyone's say over corporate governance, ownership and power."
The report is keen to highlight the importance of emerging technologies, which are often overlooked by policymakers. Artificial intelligence, for example, will have a major impact by 2030, Lawrence claims. Mental and physical augmentation technologies could see the beginnings of a species divergence, with humans able to bioengineer different physical and mental capabilities. The 'Internet of Things' could potentially add up to £246 billion ($303 billion) in real terms to the UK economy by 2030. Many other future developments and trends are described in the report.
In the longer term, Lawrence concludes, "as machine learning and computing power divorces intelligence from consciousness, as improving health technologies allow for biological enhancements and species divergence, and as the final frontier is conquered by space travel, technological and social transformation will increasingly change what it means to be human."
The report, Future proof: Britain in the 2020s, is available to download at the following link:
http://www.ippr.org/files/publications/pdf/future-proof_Dec2016.pdf
---
• Follow us on Twitter
• Follow us on Facebook
17th December 2016
America's first offshore wind farm is operational
America's first commercial offshore wind farm has become operational at Block Island, in the Atlantic Ocean.
Energy firm, Deepwater Wind, this week announced that their Block Island Wind Farm project has completed its commissioning and testing phases and begun commercial operations, delivering electricity into the New England region's grid on a regular basis. Power produced from Block Island Wind Farm is now linked to the New England grid by National Grid's new sea2shore submarine transmission cable system.
"Rhode Island is proud to be home to the nation's first offshore wind farm – and I'm proud to be the only governor in America who can say we have steel in the water and blades spinning over the ocean," said Rhode Island Governor, Gina M. Raimondo. "As the Ocean State, we're motivated by our shared belief that we need to produce and consume cleaner, more sustainable energy and leave our kids a healthier planet – but also by this tremendous economic opportunity. With this project, we've put hundreds of our local workers to work at sea, and at our world-class ports, and are growing this innovative industry. I applaud Deepwater Wind for leading the way."
"America's first offshore wind farm was built thanks to the ingenuity, innovation, investment, and collaboration of many people working together," said U.S. Senator Jack Reed, co-sponsor of the Incentivizing Offshore Wind Power Act. "These five massive turbines spinning above the ocean are technological marvels and a tribute to the outstanding work of our labourers, trade unions, engineers, and clean energy technicians. I hope that in addition to providing clean, renewable energy, the offshore wind model we've put in place here can generate more wind projects and good-paying jobs."
"It's official: America's first offshore wind farm is powering homes and businesses with clean, reliable energy," said U.S. Senator Sheldon Whitehouse. "This is a historic milestone for reducing our nation's dependence on fossil fuels. Congratulations to all of the many partners whose years of diligent planning and outreach have put Rhode Island at the forefront of clean energy innovation and positioned our offshore wind industry for growth."
Technicians from GE Renewable Energy, which supplied the project's five wind turbines, put the wind farm through its paces during the four-month testing period. The project's crew transfer vessel, the Rhode Island-built Atlantic Pioneer, transported technicians to the wind farm around the clock.
This milestone concludes the successful two-year installation, completed both on-time and on-budget. Over 300 local workers helped develop, build and commission this historic project. Deepwater Wind utilised four separate Rhode Island port facilities – ProvPort, Quonset Point, Galilee and Block Island – for the staging, construction and commissioning.
Providing 30 megawatts of power to Block Island and Rhode Island, the project will generate enough clean, renewable energy for 17,000 homes. It will lower carbon dioxide emissions by 40,000 tons annually – or 800,000 tons over the next 20 years – equivalent to taking over 150,000 cars off the road. Block Island residents will save as much as 40% on their energy bills in the long term, based on independent reports.
Europe is currently the world leader in offshore wind power, employing 60,000 workers. The first offshore wind farm (Vindeby) was installed in Denmark in 1991 and today there are 2,500 spinning off the coast of various countries on the continent, with 12 gigawatts (GW) of capacity of which 3,755 MW came online during 2015 alone. Over 100 GW (100,000 MW) of new projects are under development or planned for the future in Europe. The European Wind Energy Association has set a target of 40 GW to be installed by 2020 and 150 GW by 2030.
But until now, commercial offshore wind power simply did not exist in the United States. The potential for growth is enormous, however, as can be seen on the map below, with abundant wind resources around the nation's coastline. Higher wind speeds are available offshore compared to on land, meaning offshore wind's contribution in terms of electricity is higher, and NIMBY opposition to construction is usually far weaker. If the trend in capacity develops in a manner similar to what has occurred in Europe, the U.S. industry is likely to see exponential growth in the years and decades ahead.
Deepwater Wind is now planning additional offshore wind projects for multiple East Coast markets located 15+ miles offshore, including New York, Massachusetts, Rhode Island, and New Jersey. These will create gigawatts of capacity when fully operational. Other companies will follow. Block Island represents a vital first step that may kick-start a whole new industry and could revolutionise U.S. energy in the future.
"This is just the first of many offshore wind projects that will put Americans to work up and down the coast for decades to come as we commit to a renewable energy future," said Michael Sabitoni, President of the Rhode Island Building and Construction Trades Council.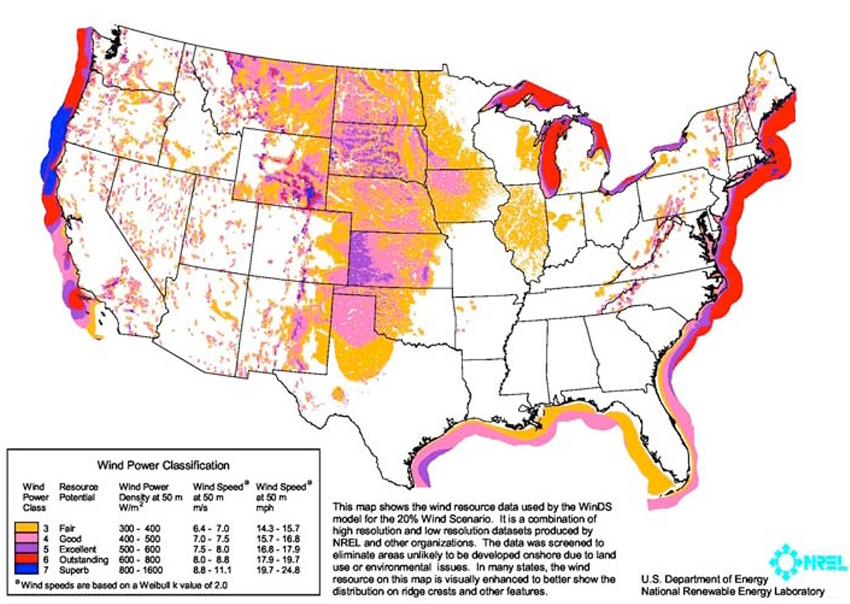 ---
• Follow us on Twitter
• Follow us on Facebook