10th August 2016
First commercial asteroid mining mission set to begin before 2020
Asteroid mining company Deep Space Industries (DSI) has announced the first commercial mission to a near-Earth asteroid, with launch planned by the end of the decade.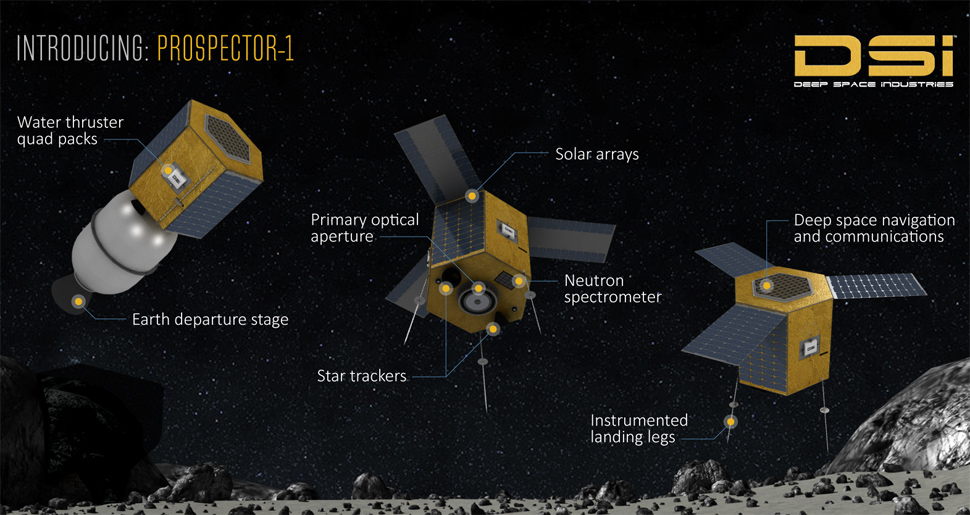 Deep Space Industries has announced its plans to fly the world's first commercial interplanetary mining mission. A spacecraft known as "Prospector-1" will fly to and rendezvous with a near-Earth asteroid, investigate the object and determine its value as a source of space resources. This mission will be an important step in the company's longer term plans to harvest and supply in-space resources to support the growing space economy.
"Deep Space Industries has worked diligently to get to this point, and now we can say with confidence that we have the right technology, the right team and the right plan to execute this historic mission," said Rick Tumlinson, chairman of the board and co-founder of Deep Space Industries. "Building on our Prospector-X mission, Prospector-1 will be the next step on our way to harvesting asteroid resources."
DSI and its partner, the government of Luxembourg, recently announced plans to build and fly Prospector-X, an experimental mission to low-Earth orbit that will test key technologies needed for low-cost exploration spacecraft. This precursor mission is scheduled to launch in 2017. Then, before the end of this decade, Prospector-1 will travel beyond Earth's orbit to begin the first space mining exploration mission.
"DSI's Prospector missions will usher in a new era of low cost space exploration" said Grant Bonin, chief engineer. "DSI is developing Prospector-1 both for its own asteroid mining ambitions, as well as to bring an extremely low-cost, yet high-performance exploration capability to the market. We hope to enable both existing and new public and private organisations to explore the inner Solar System using this affordable platform."
Prospector-1 is a small spacecraft (50 kg when fuelled) that strikes the ideal balance between cost and performance. In addition to radiation-tolerant payloads and avionics, all DSI spacecraft use the "Comet water propulsion system", which expels superheated water vapour to generate thrust. Water will be the first asteroid mining product, so the ability to use water as propellant will provide future DSI spacecraft with the ability to refuel in space.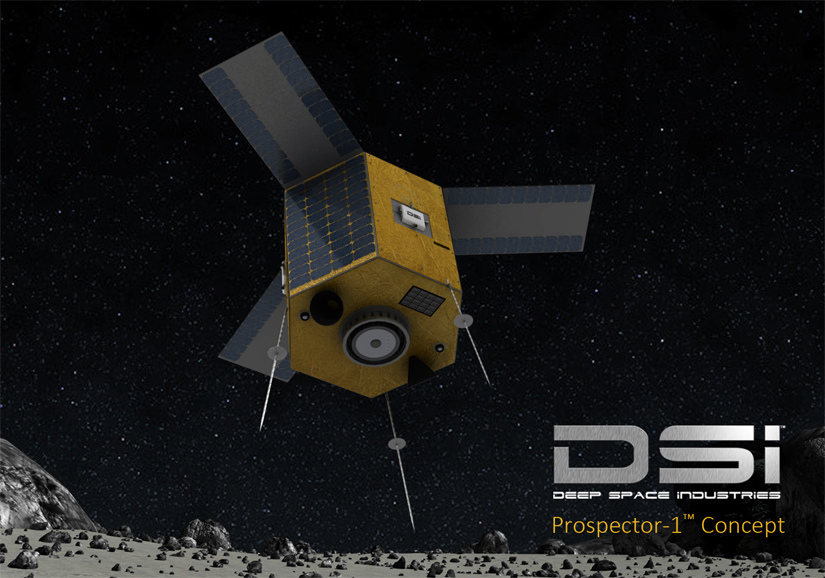 "During the next decade, we will begin the harvest of space resources from asteroids," said Daniel Faber, CEO at Deep Space Industries. "We are changing the paradigm of business operations in space – from one where our customers carry everything with them, to one in which the supplies they need are waiting for them when they get there."
The destination asteroid will be chosen from a group of top candidates chosen by a world renowned team of asteroid experts at Deep Space Industries. When it arrives at the target, the Prospector-1 spacecraft will map the surface and subsurface of the asteroid, taking visual and infrared imagery and mapping the overall water content, down to approximately metre-level depth. When this initial science campaign is complete, Prospector-1 will use its water thrusters to attempt a touchdown on the asteroid, measuring the target's geophysical and geotechnical characteristics.
"The ability to locate, travel to, and analyse potentially rich supplies of space resources is critical to our plans," continued Faber. "This means not just looking at the target, but actually making contact."
Along with customer missions already in progress – such as the cluster of small satellites being built by DSI for HawkEye 360 – the Prospector missions will demonstrate the company's simple, low-cost, but high-performance approach to space exploration. The Prospector platform will soon be available to government and commercial explorers interested in developing sophisticated, yet low-cost missions of their own.
"Prospector-1 is not only the first commercial interplanetary mission, it is also an important milestone in our quest to open the frontier," said Tumlinson. "By learning to 'live off the land' in space, Deep Space Industries is ushering in a new era of unlimited economic expansion."
---
• Follow us on Twitter
• Follow us on Facebook
6th August 2016
Megadam in the heart of Amazon is cancelled
The Brazilian government has announced that São Luiz do Tapajós (SLT), a giant dam planned in the Amazon, has been cancelled. This follows major environmental issues and a campaign supported by over 1.2 million people.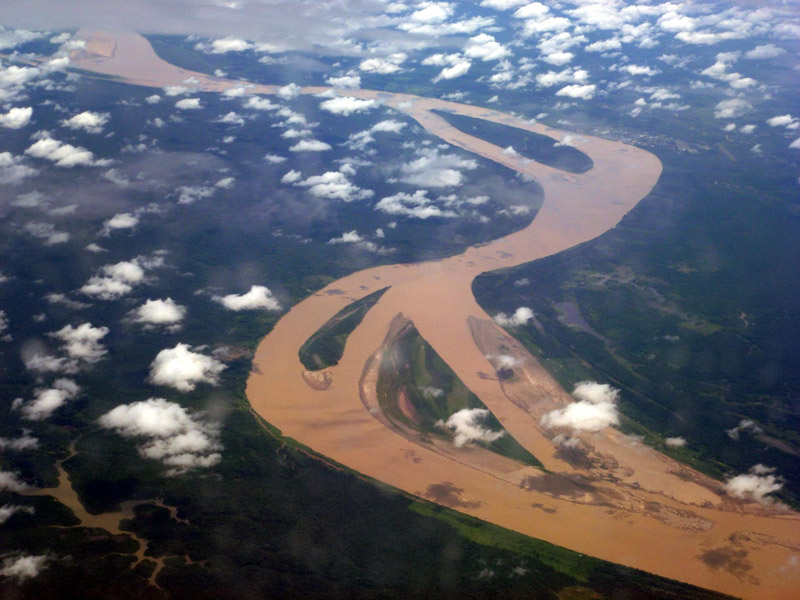 On Thursday this week, Brazil's environment agency, the IBAMA, announced that the licensing process to build the São Luiz do Tapajós (SLT), a giant dam planned for one of the last major free-flowing rivers in the Amazon rainforest, has been cancelled. Without this license, the approval process for the megadam cannot move forward.
Indigenous tribes and conservation groups have applauded the decision – claiming that if allowed to continue, the dam would have caused irreversible damage to the environment and the Munduruku people's way of life.
"We Munduruku people are very happy with the news. This is very important for us. Now we will continue to fight against other dams in our river," said Arnaldo Kabá Munduruku, General Chief Munduruku.
"Now that the license has been cancelled, the Brazilian Ministry of Justice must recognise its obligation and move swiftly to officially demarcate the Sawré Muybu territory," said Danicley Aguiar, Greenpeace Brazil campaigner.
During the last few months, more than 1.2 million people around the world have joined the Munduruku in saying no to the SLT dam and pressuring multinational companies like Siemens to distance themselves from the project.
"This is a great victory for the Munduruku indigenous people who live in the Tapajós region and whose traditions and rights were deeply threatened by the dam and for everyone who cares about the Amazon forest and support the Munduruku globally," said Aguiar.
Other Brazilian agencies – the National Indigenous Foundation (FUNAI) and federal public prosecutors in the state of Pará – had recommended that the IBAMA cancel the license because the project would displace the Munduruku, making it unconstitutional. Under Brazil's constitution, indigenous people cannot be forced off their lands except in case of war or epidemics. The IBAMA also noted that state-run Eletrobrás – Latin America's largest power utility and the company behind the 30 billion reais ($9.40 billion) project – had failed to consider the impact on aquifers, deforestation and biodiversity.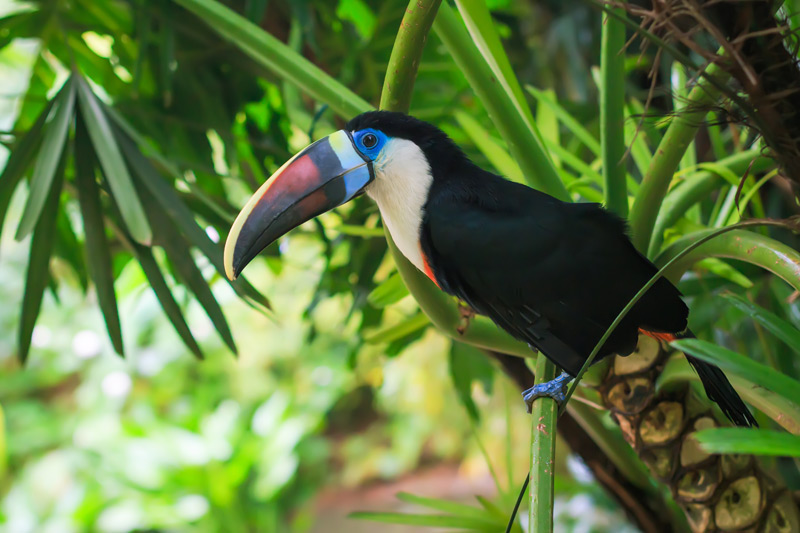 With 8,000 megawatts (MW) of power-generating capacity when fully operational, the SLT would be the second largest dam project in the country and the sixth largest globally. About 376 sq km (145 sq mi) of Munduruku homeland occupied by nearly 12,000 people would be flooded. Sawré Muybu in the Tapajós region, where the Munduruku have lived for centuries, is now in the process of being officially recognised as Indigenous land.
In addition to the SLT, there are 42 other hydropower projects planned in the Tapajós basin and hundreds more earmarked in the Amazon, part of an aggressive economic model that fails to consider the importance of protecting the rainforest and its inhabitants. Previous dams built in the Amazon had significant negative impacts on communities, the environment and have been mired in corruption scandals.
It is possible for a license to be requested for the SLT again. However, the cost of redoing the environmental impact studies, combined with the current recession in Brazil make this unlikely. Greenpeace is calling on the Brazilian government to complete the Munduruku territorial demarcation immediately, urging the nation to focus on truly sustainable ways of producing energy, such as wind and solar. Brazil currently gets about three-quarters of its power from hydroelectric sources.
"Today's decision is a major victory for the Munduruku, their allies and the rule of law in Brazil – sending a shot across the bow of the dam industry juggernaut in the Amazon," said Brent Millikan, Amazon program director at the U.S. non-profit, International Rivers.
---
• Follow us on Twitter
• Follow us on Facebook
5th August 2016
Google and GSK invest £540M to create bioelectronic medicines
Google's Verily (formerly Google Life Sciences) has announced a partnership with British pharmaceutical giant, GlaxoSmithKline (GSK), to form Galvani Bioelectronics – a new company focused on the research, development and commercialisation of bioelectronic medicines.
Verily (owned by Google's parent company, Alphabet) has announced an agreement with GSK to form Galvani Bioelectronics to accelerate the research, development and commercialisation of bioelectronic medicines. GSK will hold a 55% interest in the new jointly owned company and Verily will hold 45%.
Galvani Bioelectronics will be headquartered in the UK, with the parent companies contributing existing intellectual property rights and up to £540 million of investment over seven years, subject to successful completion of various discovery and development milestones.
Bioelectronic medicine is a relatively new scientific field that aims to tackle a wide range of chronic diseases using miniaturised, implantable devices that can modify electrical signals that pass along nerves in the body, including irregular or altered impulses that occur in many illnesses. GSK has been active in this field since 2012 and believes certain chronic conditions such as arthritis, diabetes and asthma could potentially be treated using these devices.
The agreement to establish Galvani Bioelectronics represents an important next step in GSK's bioelectronics research. It will combine GSK's world class drug discovery and development expertise, and deep understanding of disease biology, with Verily's world-leading technical expertise in the miniaturisation of low power electronics, device development, data analytics and software for clinical applications. The initial work will centre on establishing clinical proofs of principle in metabolic, inflammatory and endocrine disorders, including type 2 diabetes, where substantial evidence already exists in animal models; and developing the associated miniaturised, precision devices.
Moncef Slaoui, GSK's Chairman of Global Vaccines, who was instrumental in establishing GSK's investments in the field of bioelectronics, will chair the board of the new company: "Many of the processes of the human body are controlled by electrical signals firing between the nervous system and the body's organs, which become distorted in many chronic diseases," he said. "Bioelectronic medicine's vision is to employ the latest advances in biology and technology to interpret this electrical conversation and to correct the irregular patterns found in disease states, using miniaturised devices attached to individual nerves. If successful, this approach offers the potential for a new therapeutic modality alongside traditional medicines and vaccines.
"This agreement with Verily to establish Galvani Bioelectronics signals a crucial step forward in GSK's bioelectronics journey, bringing together health and tech to realise a shared vision of miniaturised, precision electrical therapies. Together, we can rapidly accelerate the pace of progress in this exciting field, to develop innovative medicines that truly speak the electrical language of the body."
Brian Otis, Verily's Chief Technology Officer, said: "This is an ambitious collaboration, allowing GSK and Verily to combine forces and have a huge impact on an emerging field. Bioelectronic medicine is a new area of therapeutic exploration, and we know that success will require the confluence of deep disease biology expertise and new highly miniaturised technologies.
"This partnership provides an opportunity to further Verily's mission by deploying our focused expertise in low power, miniaturised therapeutics and our data analytics engine to potentially address many disease areas with greater precision with the goal of improving outcomes."
Since 2012, a dedicated team of scientists at GSK has been researching the potential of bioelectronic medicines. In that time, the company has established a leadership position in the field, creating a global network of around 50 research collaborations and investing $50 million in a dedicated bioelectronics venture capital fund. Through these collaborations and investments, GSK has seen encouraging proof of principles in animal models in a range of diseases. GSK believes the first bioelectronic medicines could be ready for approval within the next decade.
---
• Follow us on Twitter
• Follow us on Facebook
14th July 2016
Global airline fleet to double by 2035
Boeing has predicted a demand for 39,620 new airplanes over the next 20 years, an increase of 4.1 percent over their previous forecast.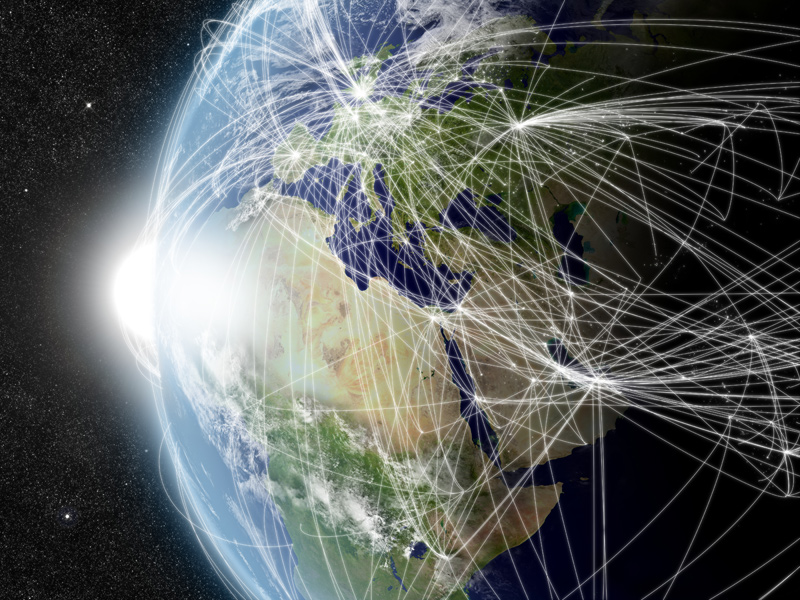 In its latest market outlook, aircraft manufacturer Boeing has predicted that the number of commercial planes in service globally will increase by 39,620 during the next 20 years. When accounting for the number of retired planes, this means an increase from 22,510 today to 45,240 by 2035, more than doubling the worldwide fleet. The total value of those new airplanes is estimated at $5.9 trillion.
"Despite recent events that have impacted the financial markets, the aviation sector will continue to see long-term growth with the commercial fleet doubling in size," said Randy Tinseth, vice president of Marketing, Boeing Commercial Airplanes. "We expect to see passenger traffic grow 4.8 percent a year over the next two decades."
The single-aisle market will be especially strong, with low-cost carriers and the emerging markets driving growth. 28,140 new airplanes will be needed in this segment.
"There's no question the heart of the single-aisle market is around the new Boeing MAX 8 and the current 737-800," Tinseth added. "Airplanes that size already account for 76 percent of the global single-aisle backlog, and our products have the clear advantage in that space."
On the widebody side, about 9,100 airplanes are in the forecast, with a large wave of potential replacement demand in the 2021-2028 time frame. Boeing has forecast a continued shift from very large airplanes to small and medium widebodies such as the 787, 777 and 777X. The Asia market, including China, will continue to lead the way in total airplane deliveries.
---
• Follow us on Twitter
• Follow us on Facebook
7th July 2016
African Union to launch new "single African passport"
The African Union (AU) is introducing a common passport that will allow visa-free access to all 54 member states.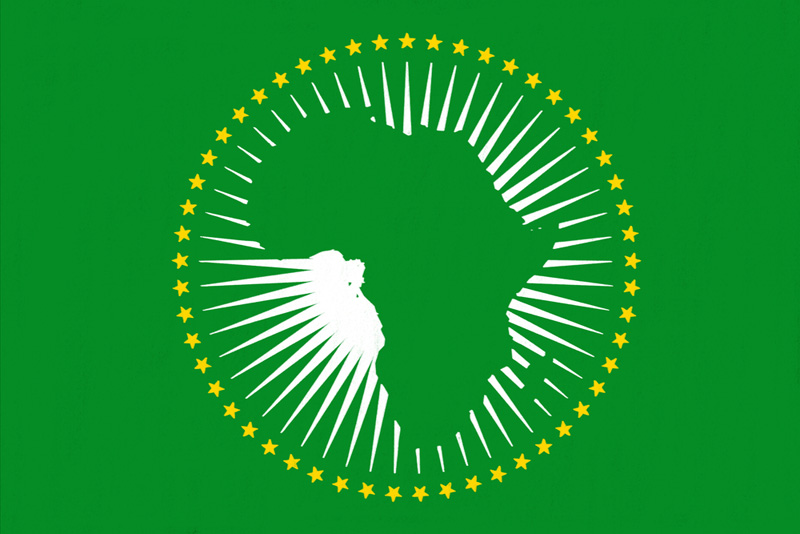 While the shock result of Britain's referendum may threaten the already fragile European Union, other regions of the world are seeing closer integration. Russia, for example, recently helped to establish the Eurasian Union – a political and economic union consisting of Russia, Belarus, Kazakhstan, Armenia and Kyrgyzstan. Meanwhile, the East Asian Community (EAC) is a proposed trading bloc for the East Asian and Southeast Asian countries, which may arise out of either ASEAN Plus Three or the East Asia Summit (EAS). On the other side of the planet, the Union of South American Nations was established in 2008 and consists of 12 member countries.
Now, the African Union (AU), formed in 2002 as a continental union of 54 nations in Africa, has taken its latest step towards closer integration by announcing a new electronic passport (e-Passport). This will be launched at the next AU Summit taking place in Kigali, Rwanda from 10th-18th July 2016. This flagship project, first agreed upon in 2014, will be a major part of Agenda 2063 – a strategic framework for transforming the continent over the next 50 years. The AU passport has the specific aim of enabling the free movement of people, ideas, goods, services and capital, fostering intra-Africa trade and socio-economic development.
Aspirations 2 and 7 of Agenda 2063, respectively, envision a future Africa that is "integrated" and "united", with a single African passport seen as an important milestone towards achieving that goal. Common passports have already been adopted across a number of smaller regions, such as the Economic Community of West African States (ECOWAS). The proposed AU passport would be an electronic document permitting continent-wide travel, without the requirement for a visa – except for Morocco (the only non-AU nation in Africa) and several island territories held by Spain, France, Portugal and the UK. The first AU passports will be issued to AU heads of state, government ministers and representatives of AU member states later this month. They will be rolled out to all AU citizens by 2018.
Some believe this two-year schedule is overly optimistic, however. AU Director for Political Affairs, Dr. Khabele Matlosa, acknowledges the target of providing all citizens with the passports by 2018 is ambitious and that full coverage "may not be achieved until several years later". David Zounmenou, senior research fellow at the Institute for Security Studies in Pretoria, South Africa, shares his view: "Not all countries have the same level of technology needed for the biometric system and to register their citizens," he says. "The timeframe is too short – 2020 would be a fine effort."
Deeper integration – such as the formation of a single, pan-African common market – presents enormous political and logistical challenges, but is expected to follow in the decades ahead. On current trends, the World Bank estimates that most African nations will achieve "middle income" status (defined as at least US$1,000 per person per year) by 2025. The gross domestic product (GDP) of the continent, today standing at $2.4 trillion, will see a 12-fold increase by 2050, mushrooming to $29 trillion, larger than the combined GDP of the US and the Eurozone in 2012.
---
• Follow us on Twitter
• Follow us on Facebook
19th June 2016
The world has become less peaceful in 2016
The world has become less peaceful this year – reinforcing an underlying, decade-long deterioration in world peacefulness, driven primarily by increased terrorism and higher levels of political instability.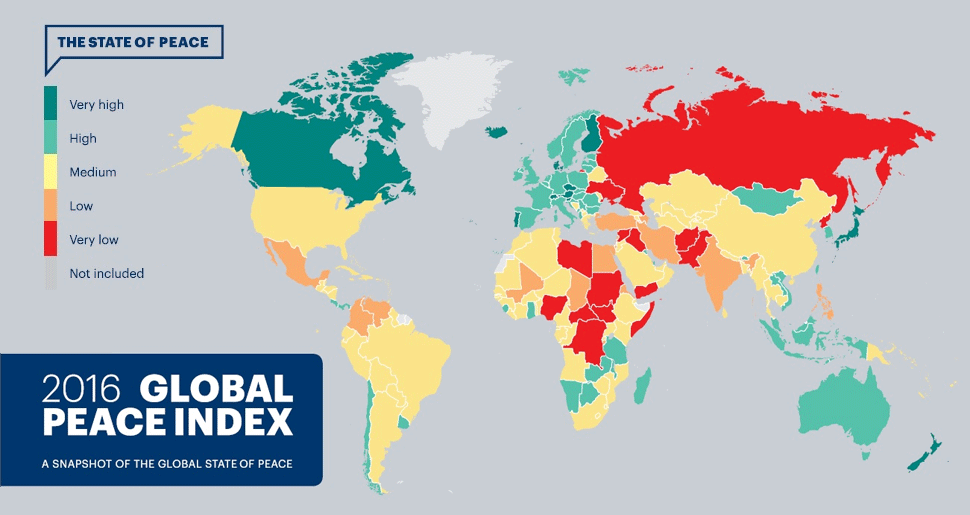 The tenth edition of the Global Peace Index, published this month, highlights a stark and growing inequality in global levels of peacefulness as the gap between the most and least peaceful countries continues to widen. The study, by international think-tank the Institute for Economics and Peace (IEP), finds that, while 81 countries improved, the deterioration in another 79 outweighed these gains, meaning that overall peace declined at a faster rate than in the previous year. Despite this, some of the most peaceful countries are now recording historically high levels of peace.
The score for the Middle East and Africa (MENA) – the least peaceful region in the world last year – dropped further, as regional conflicts intensified, dragging down global peacefulness. So intense is the current concentration of violence and conflict in MENA that, when considered separately, the rest of the world's average peace levels improved. Three of the five biggest declines in peace occurred in the region including Yemen, Libya and Bahrain.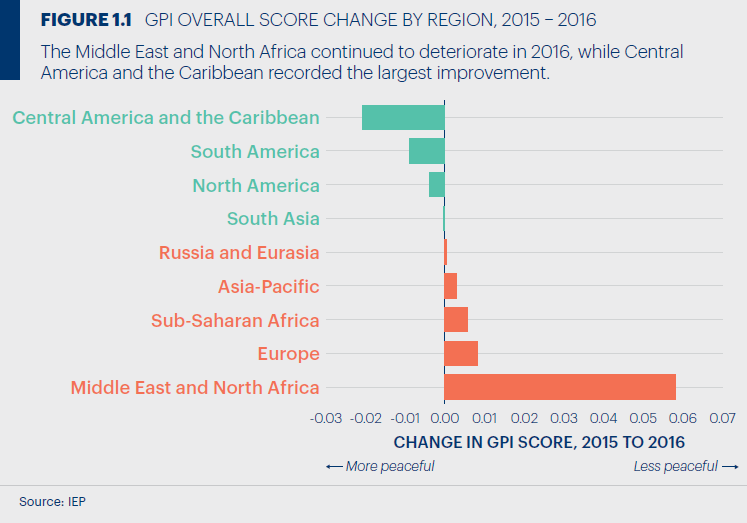 Steve Killelea, Founder and Executive Chairman of the IEP, commented: "As internal conflicts in MENA become more entrenched, external parties are increasingly becoming more involved and the potential for indirect or 'war by proxy' between nation states is rising. This was already evident in Syria with the conflict between the Assad regime and multiple non-state actors, and is now spilling into countries such as Yemen. There is a broader proxy conflict between Saudi Arabia and Iran, and more recently both US and Russia have increased their level of involvement."
The global deterioration of peace in 2015 was driven by increased terrorism and higher levels of political instability. While the majority of terrorist activity is highly concentrated in five countries – Syria, Iraq, Nigeria, Afghanistan and Pakistan – the breadth of terrorism is spreading, with just 23% of countries in the Index not experiencing a terrorist incident. Europe, although still the most peaceful region, saw its average score deteriorate in this year's report, following terrorist attacks in Paris and Brussels. Deaths from terrorism in Europe have more than doubled over the last five years.
The number of refugees and displaced persons has risen dramatically over the last decade, doubling to approximately 60 million people between 2007 and 2016, nearly 1% of the world's population. There are now nine countries with over 10% of their population displaced in some form; 20% of Somalia and South Sudan's population respectively, and over 60% of Syria's.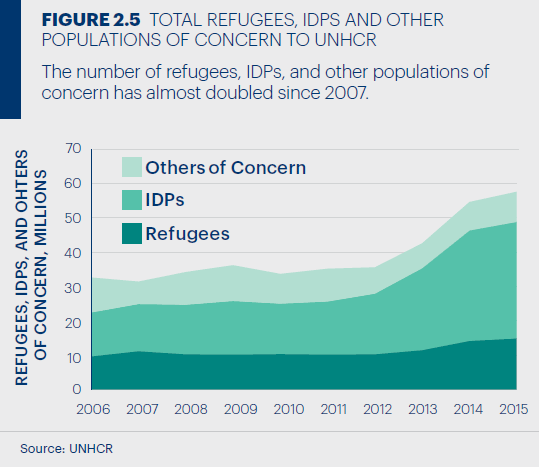 While the global economic impact of violence dropped by 2% compared to last year's report, it was still a staggering $13.6 trillion in 2015 – equivalent to 11 times the size of global foreign direct investment (FDI), or about 700 times the annual budget of NASA. This represents 13.3% of world GDP, or $1,876 per person. Over the last ten years, the cumulative total impact of violence was $137 trillion; greater than global GDP in 2015.
Steve Killelea remarked, "The increasing internationalisation of internal conflicts has coincided with UN peacekeeping funds reaching record highs in 2016 – it was the largest improved indicator in this year's report, with more deployed peacekeepers and more countries being up-to-date with their UN peacekeeping dues. However, peacebuilding and peacekeeping spending remains proportionately small compared to the economic impact of violence, representing just 2% of global losses from armed conflict. Addressing the global disparity in peace and achieving an overall 10% decrease in the economic impact of violence would produce a peace dividend of $1.36 trillion. This is approximately equivalent to the size of world food exports."
Of particular concern is Yemen. Its long-standing political crisis exploded into outright civil war in early 2015. This country has witnessed a major decline in the level of peace, as shown in the diagram below – driven by the rising casualty rate, a large increase in the number of refugees and internally displaced people, and higher levels of terrorist attacks by both al-Qaeda and ISIL. Adding to Yemen's troubles is an emerging water crisis that is likely to worsen from 2017-2025.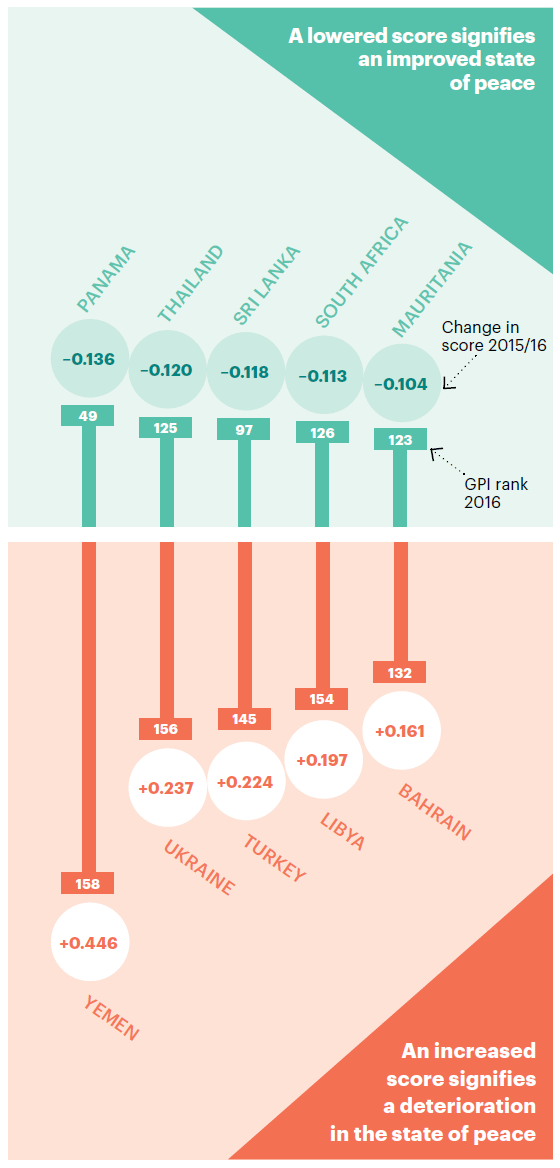 The report also provides an audit of available data to measure Goal 16 of the Sustainable Development Goals for 2030 (successor to the Millennium Development Goals of 2015). This new goal – formally agreed last year by UN member states – recognises the critical importance of peace, justice and strong institutions for advancing global development. It finds that, while there is some existing data to track progress and hold member states accountable to meeting their targets, serious investment will be needed to measure the goals.
The report concludes with new research into resilience and what the IEP identifies as "Positive Peace" – the attitudes, institutions and structures which can best achieve and sustain global peace. Among those listed are: a well-functioning government with low levels of corruption, good relations with neighbouring countries, the free flow of information, an equitable distribution of resources, investment in education, gender equality and worker's rights.
---
• Follow us on Twitter
• Follow us on Facebook
1st June 2016
World's longest and deepest rail tunnel officially opens in Switzerland
After nearly 20 years of construction work, the Gotthard Base Tunnel was officially opened today.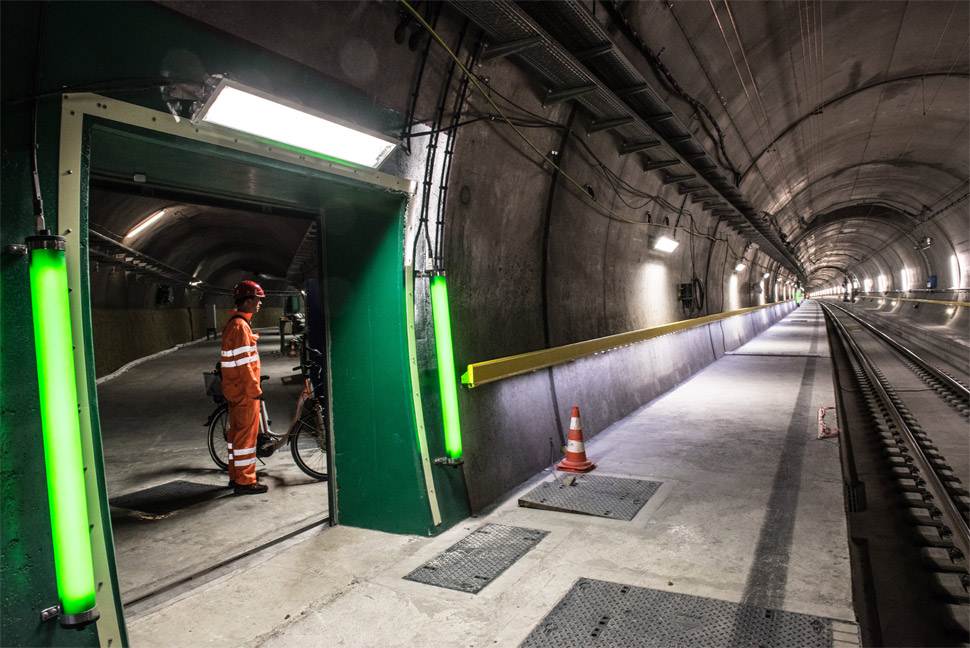 With a route length of 57 km (35 miles) and a total of 152 km (94 miles) of tunnels, shafts and passages, the Gotthard Base Tunnel (GBT) becomes the world's longest rail tunnel. It is also the deepest, reaching as far down as 2500m (8,200 ft) below the Alps mountain range.
This remarkable feat of engineering is designed to provide a high-speed rail link from Rotterdam in the Netherlands to Genoa in Italy. The tunnel will slash the 3.5-hour travel time from Zürich to Milan by an hour, while the journey from Zürich to Lugano is reduced by 45 minutes. Trains will operate as fast as 250 km/h (155 mph) along the new route.
The GBT is part of the AlpTransit project, which also includes the shorter Ceneri Base Tunnel, scheduled to open in December 2020. After 64 percent of Swiss voters accepted the proposals in a 1992 referendum, construction began in 1996. The total projected cost was around 9.8 billion Swiss francs (€8.85 billion or US$10.3 billion), but the final cost exceeded $12 billion.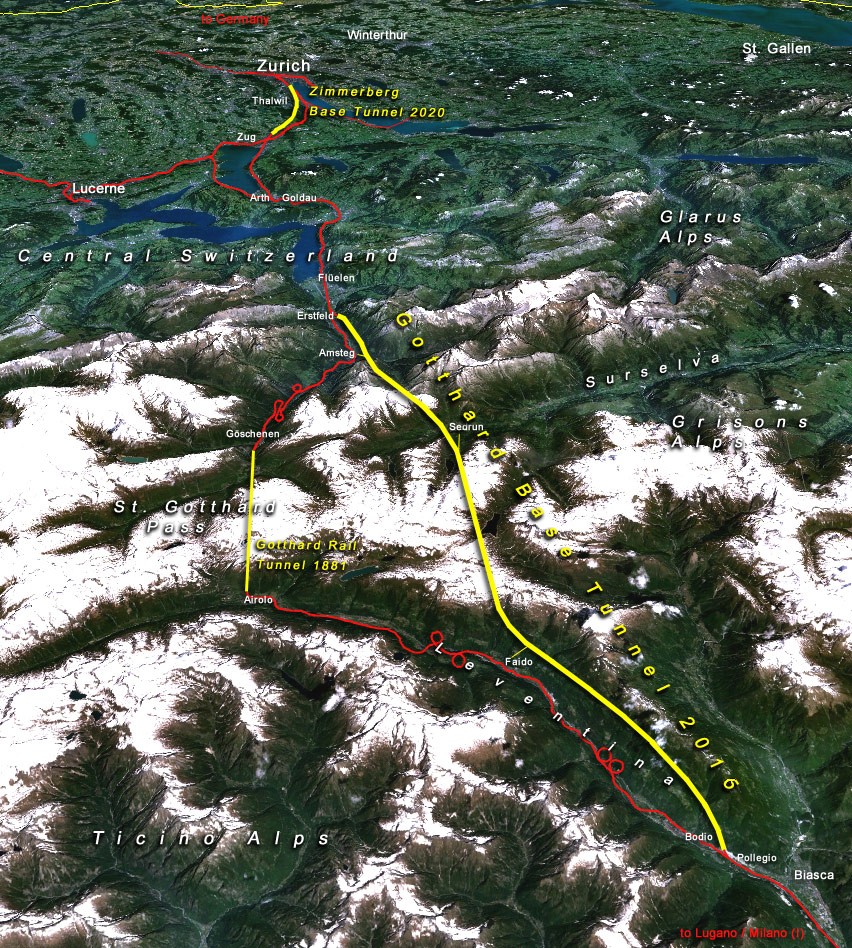 During the construction of the Gotthard Base Tunnel, workers had to bore through a wide variety of different rock strata, from hard granite to crumbly sedimentary rock. Tunnel boring machines carried out 80 per cent of the work in the main tunnels, while conventional blasting methods were used for the other 20 per cent. A total of 28.2 million tonnes of excavated material was removed – equivalent to six Egyptian pyramids. To save time and money, teams worked in different sections of tunnel at the same time, via access galleries and shafts. Temperatures inside reached as high as 50°C (122°F).
The tunnel will be hugely important to Europe's economy. More than 20 million people are located in the catchment area between southern Germany and northern Italy. As many as 260 freight trains and 65 passenger trains will pass through every day. Thanks to a flat and relatively straight route, connections will be faster and more punctual. The speed, capacity and reliability of freight traffic will increase, making it more competitive. In addition to boosting the trade route between northern and southern Europe, it will also shift alpine traffic from road to rail, cutting CO2 emissions and helping to protect the surrounding ecosystem.
The leaders of France, Germany, Italy and Switzerland attended a grand opening ceremony today. In a speech at the northern entrance to the tunnel, the Swiss President Johann Schneider-Ammann said it was a "giant step for Switzerland, but equally for our neighbours and the rest of the continent."
The GBT is unlikely to hold the record for very long, however. China is planning to build an even longer tunnel underneath the Bohai Strait, forming a vital high-speed route between the north and south of the country. This will measure 76 miles (122 km), over twice as long as the Gotthard Base Tunnel.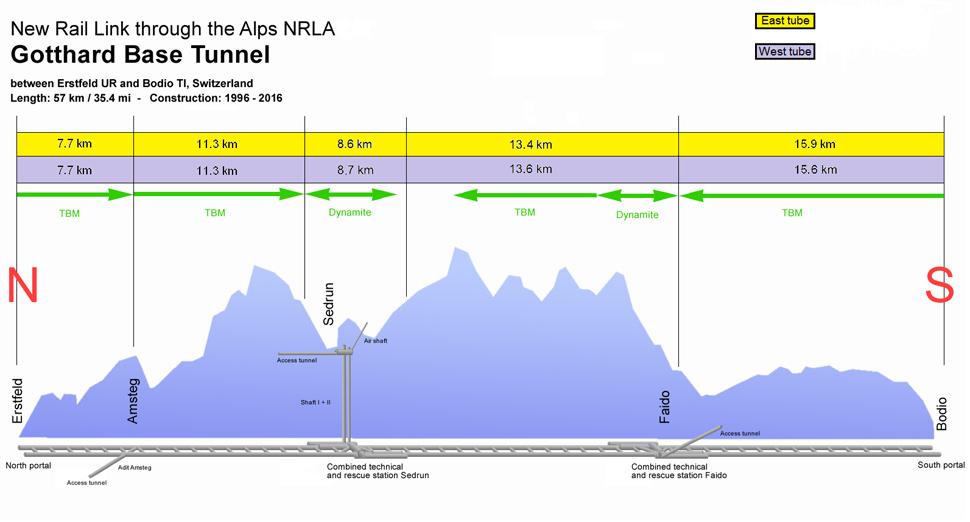 ---
• Follow us on Twitter
• Follow us on Facebook
30th May 2016
MasterCard unveils the first commerce application for humanoid robot Pepper
Customers at Pizza Hut restaurants in Asia will soon get the chance to have their order taken by a robot.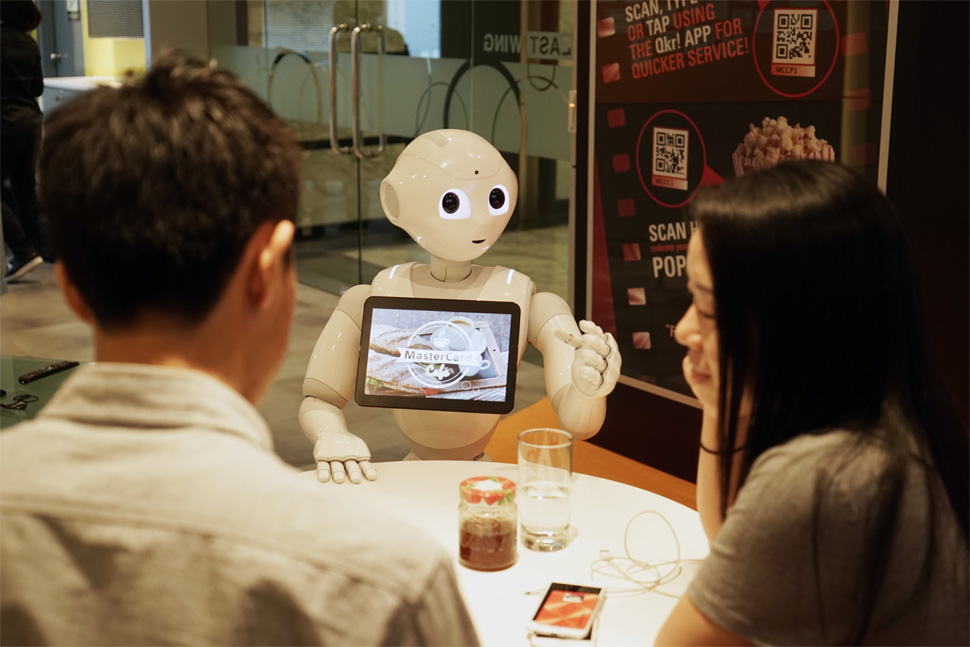 MasterCard has unveiled the first commerce application for SoftBank Robotics' humanoid robot Pepper. The application will be powered by MasterPass, the global digital payment service from MasterCard that connects consumers with merchants, enabling them to make fast, simple, and secure digital payments across channels and devices. Pizza Hut Restaurants Asia P/L will be the inaugural launch partner working together with MasterCard to create innovative customer engagement with Pepper.
A major first step in bringing conversational commerce experiences to merchants and consumers, this new app will extend the robot's ability to integrate customer service, access to information and sales into a seamless and consistent user experience. Pizza Hut Asia will be piloting the Pepper robot for order-taking and personalised engagement in its stores by the end of 2016.
"Consumers have come to expect personalised service, customised offers, and simple and seamless processes both in-store and online," said Tobias Puehse, Vice President for Innovation Management, Digital Payments & Labs at MasterCard. "The app's goal is to provide consumers with a more memorable and personalised shopping experience beyond today's self-serve machines and kiosks, by combining Pepper's intelligence with a secure digital payment experience via MasterPass."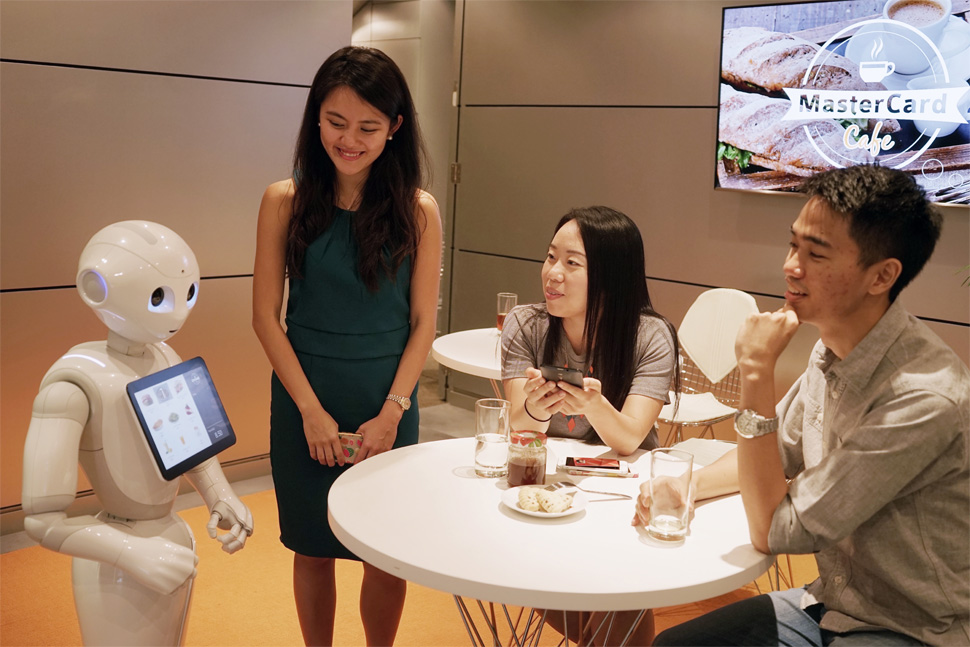 The robot will be installed in "between six and ten stores in Asia this year," said John Sheldon, Global SVP, Innovation Management, MasterCard Labs. Pepper can speak 19 languages and will "add more intelligence to kiosk ordering. Pepper guides you through the process of placing the order and can answer nutritional questions and communicate any specials."
A customer will be able to initiate an engagement by simply greeting Pepper and pairing their MasterPass account by either tapping the Pepper icon within the wallet or by scanning a QR code on the tablet that the robot holds. After pairing with MasterPass, Pepper can assist cardholders by providing personalised recommendations and offers, additional information on products, or assistance in checking out and paying for items. Pepper will initiate, approve and complete a transaction by connecting to MasterPass via a Wi-Fi connection and the entire transaction happens within the wallet.
Pepper has a number of human-like features. The robots "are intentionally designed to convey emotion," using sensors and cameras "to interpret the emotional state of the person they are interacting with and the cameras that it's using are evaluating the behaviour." For example, if the customer is excited and animated, so, too, would be Pepper. If the customer's movements are more muted, "then it would instead respond with a lot calmer and smaller gestures, so as to put that person at ease." If the customer gives his or her permission, the robot can remember their order history and ask if they want the same food or drink this time.
"We are excited to welcome Pepper to the Pizza Hut family," said Vipul Chawla, Managing Director of Pizza Hut Restaurants Asia. "Core to our digital transformation journey is the ability to make it easier for customers to engage, connect and transact with Pizza Hut. With an order-and-payment-enabled Pepper, customers can now come to expect personalised ordering, reduce wait time for carryout, and have a fun, frictionless user experience."
---
• Follow us on Twitter
• Follow us on Facebook
27th May 2016
Donald Trump vows to end climate change funding
At the Williston Basin Petroleum Conference on Thursday, Republican presidential nominee Donald Trump promised to end climate change funding and to greatly expand U.S. fossil fuel production.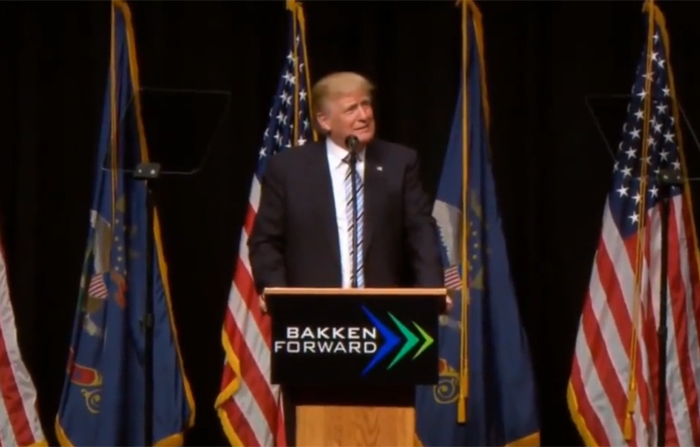 After clinching the GOP nomination for President, Donald Trump outlined his energy and environmental policies yesterday to thousands at the Williston Basin Petroleum Conference in Bismarck, North Dakota. During his speech, for which he received many standing ovations, Mr. Trump emphasised the need for an "America First" agenda.
"We're going to rescind all the job-destroying Obama Executive Actions including the Climate Action Plan and the Waters of the United States Rule," Trump said to applause from the audience.
"We're gonna save the coal industry," he said. "And other industries threatened by Clinton's extremist agenda. And it is indeed an extremist agenda. Perhaps even worse than Obama. I'm going to ask trans-Canada to renew its permit application for the Keystone Pipeline."
In December 2015, a global climate change pact was agreed at the UN COP21 summit. This represented a consensus of the 196 parties attending and included measures to reduce the global temperature rise from 4.5°C to 3.5°C by 2100. While far from adequate, it was the biggest milestone to date in terms of halting climate change, with nations around the world promising to curtail their greenhouse gas emissions and pursuing efforts to limit the rise to 2.0°C or below.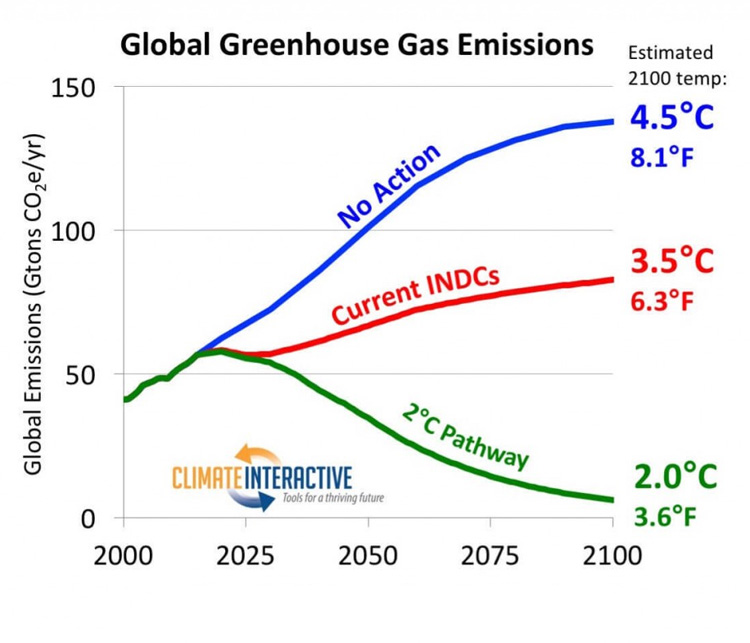 The United States pledged emission cuts of nearly 30% by 2025 (relative to 2005 levels) and claimed it was on track for an 80% cut by 2050. One of the main ways in which this goal would be achieved was through stricter regulations on power plants – the single largest source of emissions – to be introduced by the Obama administration.
In addition to boosting renewables, lowering their costs, and increasing the energy efficiency of homes and workplaces, the plan would also create tens of thousands of new jobs, improve air and water quality, prevent 3,600 premature deaths, prevent 90,000 asthma attacks in children and prevent 300,000 missed workdays and schooldays. Consumers would save an estimated $155 billion from 2020-2030.
However, in his speech yesterday, Trump made it clear that he would "cancel the Paris climate agreement" and "stop all payments of the United States tax dollars to UN global warming programs." He also criticised the Endangered Species Act for being used to limit oil and gas operations and promised to "revoke policies that impose unwarranted restrictions on new drilling."
Interestingly, Trump recently applied for permission to erect coastal defences at his seaside golf resort in County Clare, Ireland. A permit application for the wall specifically refers to erosion caused by rising sea levels and extreme weather as a result of global warming. This is despite him calling it "pseudoscience," "bullshit" and "a total hoax."
Real Clear Politics' national polling shows that Donald Trump and Hillary Clinton are now almost level, following a sharp decline in the latter's popularity over the last two months. Their average scores now stand at roughly 43% each. The full speech at the Williston Basin Petroleum Conference is available on YouTube.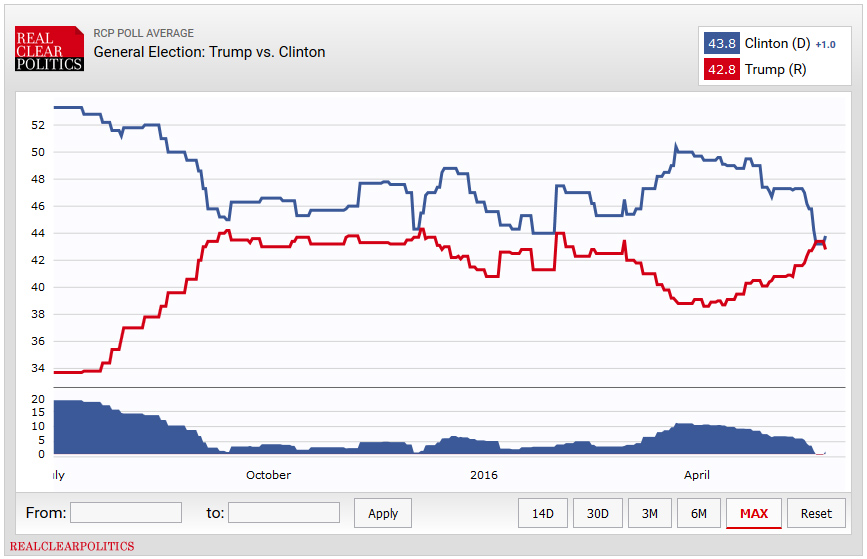 ---
• Follow us on Twitter
• Follow us on Facebook
19th May 2016
Superbugs could kill 10 million people a year by 2050
A major new report warns that antibiotic resistance will kill someone every three seconds by 2050, unless the world acts now.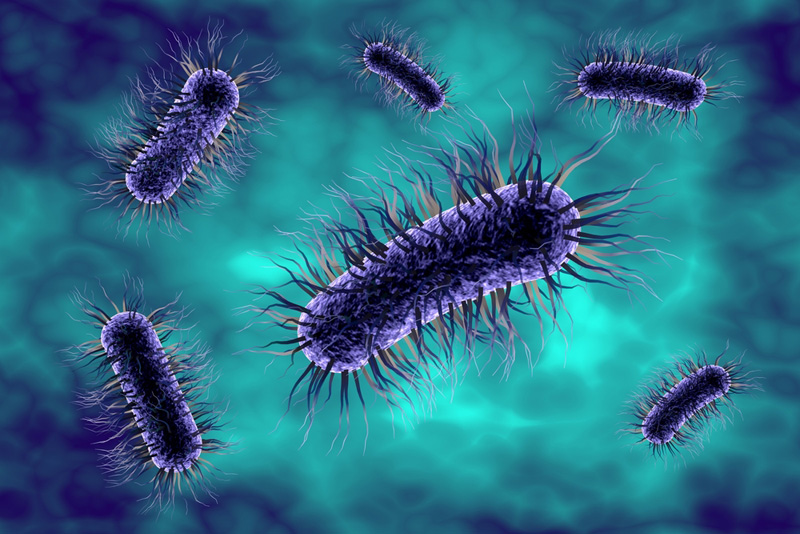 In July 2014, an international commission to investigate antimicrobial resistance (AMR) was established by UK Prime Minister David Cameron, in order to avoid the world being "cast back into the dark ages of medicine". Building on eight interim papers, a final report has been published today, headed by Lord Jim O'Neill. This global review on AMR sets out its final recommendations, providing a comprehensive action plan to combat drug-resistant infections and defeat the rising threat of superbugs – something that could kill 10 million people a year by 2050, the equivalent of 1 person every 3 seconds, and more than cancer kills today.
The report explains why AMR is such a massive problem and that it must be tackled. With each passing year it gets worse. Antimicrobial drugs are becoming less effective and the world is not developing enough new ones to keep up. Unless action is taken now, the cumulative economic cost by 2050 could be $100 trillion.
The report highlights 10 areas where the world needs to take action to tackle AMR. Many of these measures focus on how we can reduce the unnecessary use of antimicrobials, slowing the rate at which resistance increases and making our current drugs last longer. Others look at how to increase the supply of new drugs because, even if we reduce unnecessary use, our arsenal to defeat superbugs is running out and needs replenishing. All 10 areas are important, but four are particularly important and are outlined in more detail here:
• A global public awareness campaign to educate all of us about the problem of drug resistance. This must be an urgent priority and the Review urges international campaign developers, industry experts, and non-governmental organisations to consider how they could help to support such a campaign. This should begin this summer to really make progress, and could be launched formally by heads of state at the UN General Assembly in September.
• The supply of new antibiotics needs to be improved so they can replace existing ones as they become ineffective. A truly new class of antibiotic has not been seen for decades, because the lack of incentives for investment has led to reduced R&D, and many of the 'low hanging fruit' in terms of development have already been picked. We need a group of countries such as the G20 to reward new antibiotics after they are approved for use. These market entry rewards, of around one billion USD each, would be given to developers of successful new drugs, subject to certain conditions that ensure they are not 'over-marketed' but are available to patients who need them wherever they live.
• We need to use antibiotics more selectively through the use of rapid diagnostics, to reduce unnecessary use, which speeds the incidence and spread of drug resistance. To do this, we need a step change in the technology available. Doctors in most countries around the world still prescribe important medicines like antibiotics based only on their immediate assessment of a patient's symptoms, just like when antibiotics first entered common use in the 1950s. Governments of the richest countries should mandate that, by 2020, all antibiotic prescriptions will need to be informed by up to date surveillance and a rapid diagnostic test, wherever one exists.
• We must reduce the global unnecessary use of antibiotics in agriculture. In the US, for example, of the antibiotics defined as medically important for humans by the US Food and Drug Administration (FDA), over 70 percent (by weight) are sold for use in animals. A number of other countries are also likely to use more antibiotics in agriculture than in humans, but many do not even hold or publish the information. Firstly, surveillance needs to be improved in many parts of the world, so we know the extent of antibiotic use in agriculture. Targets must then be set by individual countries for this use, enabling governments to have the flexibility to decide how they will reach lower levels. Alongside this, we need to make far quicker progress on banning or restricting antibiotics that are vital for human health from being used in animals.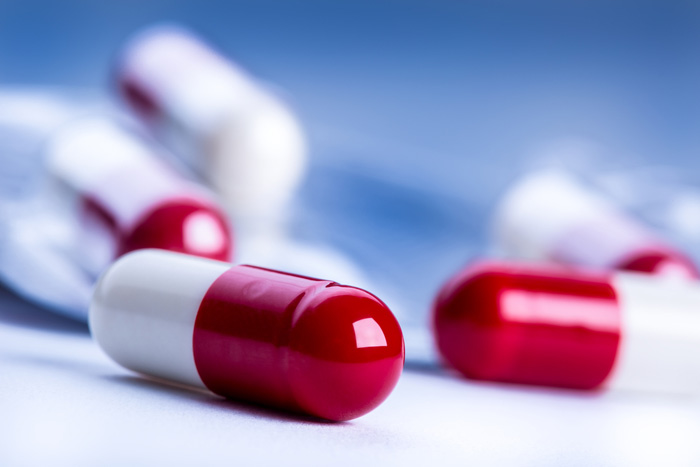 The report then discusses how these solutions would be paid for. The costs of action are dwarfed by the costs of inaction: the proposals made by the Review on AMR would cost up to $40 billion USD over 10 years. However, the cost of antimicrobial resistance between now and 2050 could be as much as $100 trillion USD. The economic case for action is clear, as well as the tragic human consequences of inaction. The solutions could be paid for by one or more of the following:
a) Allocating a very small percentage of G20 countries' existing healthcare spending to tackling AMR
b) Reallocating a fraction of global funding from international institutions to AMR
c) Apply an antibiotic investment charge to pharmaceutical companies who do not invest in research for AMR
d) Implementing a tax on antibiotics
e) Introducing transferrable 'vouchers' to reward new antibiotics
International collaboration – via the World Health Assembly, G7, G20 and United Nations – is needed to deliver these policy proposals and turn discussions on AMR into real action. This needs to build on promising steps made by governments, and by industry recently affirming its commitment to tackle AMR with a landmark declaration at Davos. Here, over 85 companies, including vaccine developers, large pharmaceutical companies, diagnostic developers and biotechs, committed to further action to reduce drug resistance, increase research and improve access. With this momentum, and with 700,000 people already dying each year from antimicrobial resistance, 2016 is a crucial year.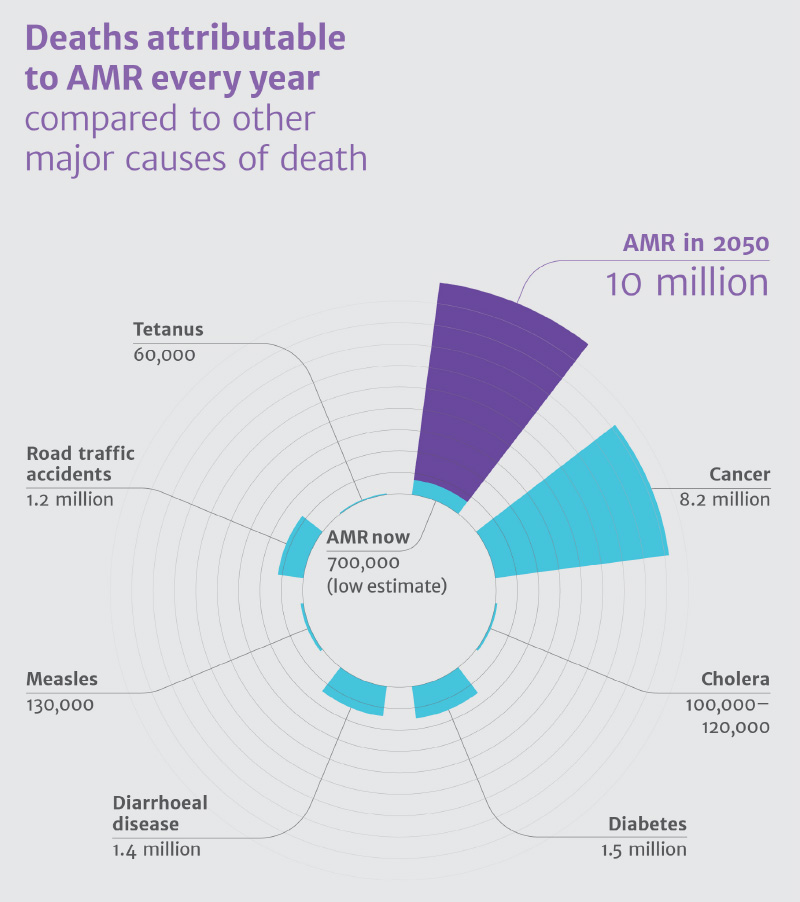 Lord Jim O'Neill, Chairman of the Review on AMR: "My Review not only makes it clear how big a threat AMR is to the world, with a potential 10 million people dying each year by 2050, but also now sets out a workable blueprint for bold, global action to tackle this challenge. The actions that I'm setting out today are ambitious in their scope – but this is a problem which it is well within our grasp to solve if we take action now. I call on the governments of the G7, G20 and the UN to take real action in 2016 on the ten proposals made by my Review, to avoid the terrible human and economic costs of resistance that the world would otherwise face."
George Osborne, the UK's Chancellor of the Exchequer, said: "Lord O'Neill's Review provides a stark warning that unless we take global action, antimicrobial resistance will become a greater threat to mankind than cancer currently is. It is not just a threat to health, but also to the world economy. Apart from the moral case for action of the sort Lord O'Neill proposes, the economic cost of failing to act is too great to contemplate. So I am calling on other finance ministries to come together this year and, working with industry leaders and medical experts, agree a common approach. I also want to thank Lord O'Neill for his tireless work on this subject. He has helped to propel it to the top of the global agenda, for which he deserves great credit."
"The invention of antibiotics in the mid-twentieth century was one of the greatest medical breakthroughs of the modern era," said Lelio Marmora, Executive Director of global health charity UNITAID. "Future generations will judge us harshly if we fail to halt and reverse the spread of antimicrobial resistance. I therefore wholeheartedly applaud the Review's proposals to incentivise the introduction of new drugs to replace ones that are failing as a result of mounting resistance."
Dr Margaret Chan, Director-General of the World Health Organisation, said: "WHO warmly welcomes this thorough and compelling review so brilliantly overseen by Lord O'Neill. Its 10-point platform for responding to antimicrobial resistance takes forward many issues raised in the WHO Global Action Plan on Antimicrobial Resistance. Importantly, the review tackles the burning need to find incentives that can get new products into the pipeline. If not, the scenario it paints for 2050 will surely jolt the last remaining sceptics into action."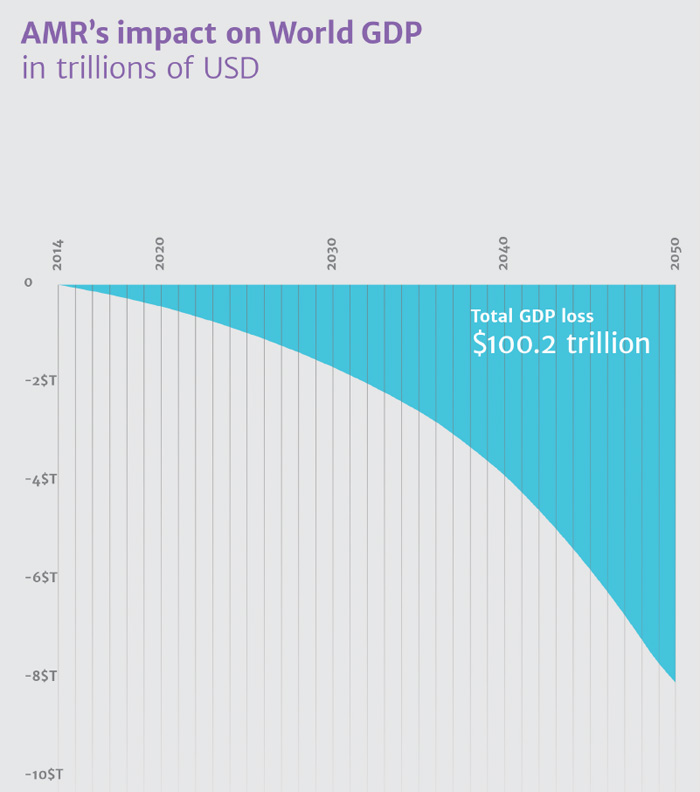 ---
• Follow us on Twitter
• Follow us on Facebook
17th May 2016
More than a billion people exposed to coastal flooding by 2060
To mark the start of Christian Aid Week, a new report launched by the charity highlights the cities most at risk from future coastal flooding.
Christian Aid's report – Act Now Or Pay Later: Protecting a billion people in climate-threatened coastal cities – shows that more than a billion people will be exposed to coastal flooding by 2060, through a combination of sea level rise, storm surges and extreme weather. Published yesterday, the report reveals that people living in three of the biggest carbon polluting countries will be most at risk: China, India and the USA.
According to projections for the year 2070 – based on the latest IPCC reports – India's Kolkata and Mumbai top the list of cities whose populations are most exposed to coastal flooding, with 14 million and 11.4 million respectively. The first seven cities on the list are from Asia, followed by Miami in 8th.
Miami is also forecast to suffer the brunt of the financial losses from coastal flooding by 2070, topping a separate list with an eye-watering $3.5 trillion of threatened assets. The USA is likely to pay a hefty price for its carbon footprint – among the world's highest when measured on a per capita basis – as New York also comes in third place with $2.1 trillion. China's Guangzhou splits the two American cities with exposed assets of $3.4 trillion.
In total, of the top 20 most financially vulnerable cities, half are from either of these two countries: four from the USA, six from China.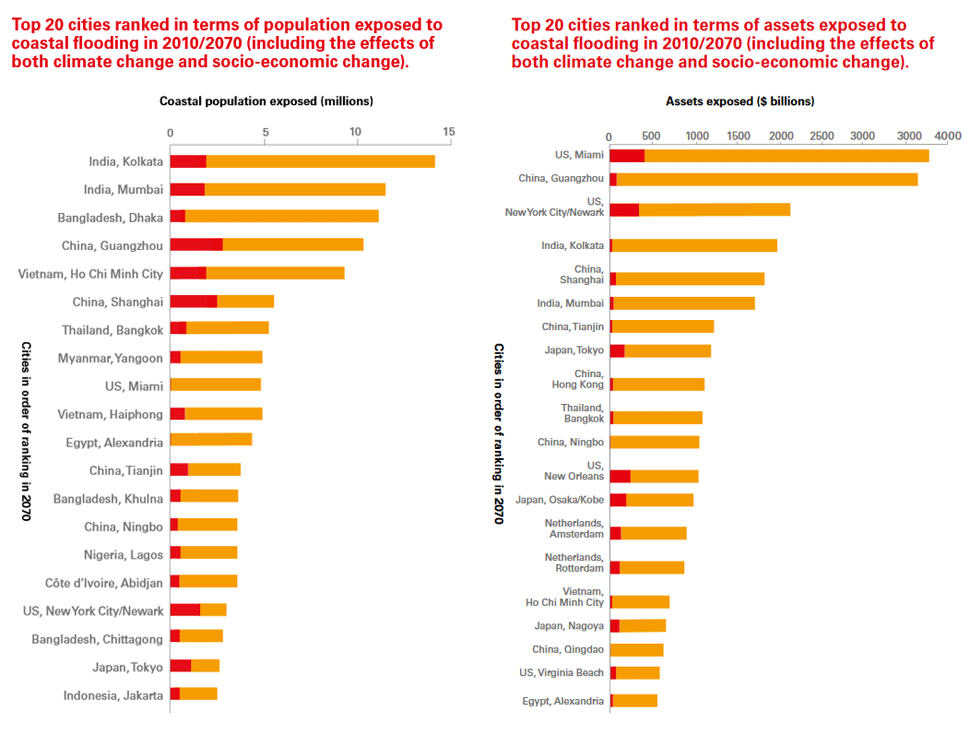 Report author Dr Alison Doig, Christian Aid's Principal Climate Change Advisor, said the figures should be a wakeup call ahead of next week's World Humanitarian Summit in Istanbul (23rd-24th May).
"We are facing a head on collision between the growth of coastal urban areas and climate change which makes coastal flooding more likely," she said. "This perfect storm is likely to bring about a heavy human and financial toll, unless we do something about it.
"Cruelly, it will be the poor that will suffer the most. Although the financial cost to cities in rich countries will be crippling, wealthier people will at least have options to relocate and receive insurance protection.
"Evidence shows that from New Orleans to Dhaka, it is the poorest who are most vulnerable, because they have the worst infrastructure and no social or financial safety nets to help them recover."
Dr Doig added: "There is a chance this horrifying vision of the future can be avoided. It is striking that the cities facing the most severe impacts are in countries with high contributions of carbon emissions. The first thing we can do is speed up the global transition away from dirty fossil fuels to the clean, renewably energy of the future. We can also do more to prepare for such occurrences. For every $1 spent on reducing the risk of disasters, we save around $7 later. Such investment is a no brainer."
Ahead of next week's World Humanitarian Summit, UN General Secretary Ban Ki-moon has called for the percentage of global aid spent on disaster risk reduction to be doubled to 1%. This would bring the figure to $1 billion. Christian Aid is calling for a rise to 5%.
Dr Doig added: "This billion dollars would go some way to help protect people in these cities now, alleviating the threat for the billion vulnerable people at risk from coastal flooding by 2060."
In another ranking, the report lists which nations will have the most people living in exposed coastlines by 2060. China tops the list, followed by India and Bangladesh. The UK comes in 22nd.
"In the UK, we've experienced in recent years the winter flooding that has left large parts of the country deluged," Dr Doig continued. "But these figures show that it's not just more rainfall we need to be wary of. The people living along our coastlines will become vulnerable to rising tides unless we do something about climate change."
The report goes on to examine how men and women are affected differently by climate-related disasters, with women on the whole suffering more acutely. It also shows examples of where Christian Aid is offering practical assistance to help the most vulnerable deal with the climate impacts they are already facing.
Bangladesh is among the most vulnerable countries to climate change and is ranked 142nd out of 187 nations on the UN's Human Development Index. However, donations to Christian Aid are helping lift people away from the floodwaters. One example is Feroza Begum and her family, whose home was flooded multiple times and at one point was underwater for 18 days. Thanks to help from Christian Aid partner organisation GUK, their home and surrounding land was raised onto a sturdy plinth.
Feroza was also given livestock and climate-resistant seeds to diversify her income and become more resilient. "Because of this plinth, I feel better," she told Christian Aid. "Now I have been able to make a small plantation and grow some vegetables. I am doing much better and feel much safer."
Christian Aid's report was published on the same day that NASA confirmed April 2016 was the hottest April on record, beating the previous record set in 2010 by 0.24°C, the largest margin ever. It is likely that 2016 will be the hottest year on record globally.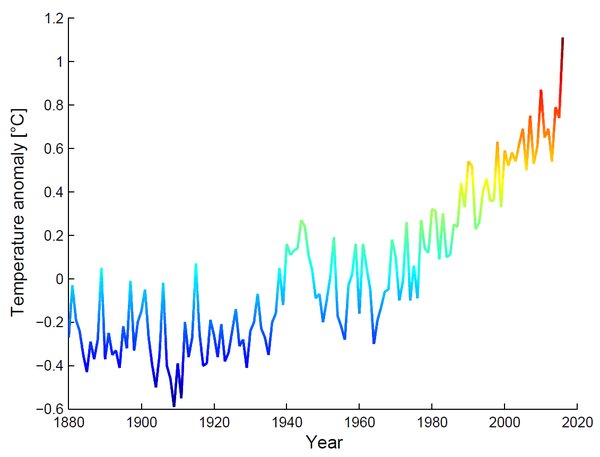 ---
• Follow us on Twitter
• Follow us on Facebook