17th November 2017
Boston Dynamics reveals new Atlas robot
Boston Dynamics has revealed an upgraded version of its Atlas robot. This new and improved machine is able to jump and perform backflips.
---
• Follow us on Twitter
• Follow us on Facebook
• Subscribe to us on YouTube
5th October 2017
Honda reveals prototype disaster response robot
Japanese conglomerate Honda has unveiled the E2-DR, a prototype humanoid robot that could help to save lives in disaster zones.
The robot was presented at the 30th International Conference On Intelligent Robots and Systems (IROS) held in Vancouver, Canada, and is described in a paper entitled "Development of Experimental Legged Robot for Inspection and Disaster Response in Plants".
The E2-DR is designed to be stronger, more robust and more nimble than Honda's earlier creation, the famous ASIMO. It has 33 degrees of freedom – including eight per arm, six per leg, two for its torso (180° rotatable), and one for its hands and head. It stands 1.68 m (5' 6") tall, weighs 85 kg (187 lb) and includes a 1000-Wh lithium-ion battery for 90 minutes of operating time.
The robot's head features two rotating Hokuyo laser rangefinders, a monocular camera with a synchronised LED flash, an SR4000 time of flight camera, and a stereo camera coupled to an infrared light projector. There are also cameras and a 3D sensor on each of its hands. Its thin shape allows the robot to squeeze through gaps of just 25 cm (9.8"), which could be vitally important in emergency situations. It is also waterproof and dustproof.
While still at the prototype stage, the E2-DR already has a number of impressive abilities, as the video below shows.
---
• Follow us on Twitter
• Follow us on Facebook
• Subscribe to us on YouTube
25th September 2017
Artificial intelligence for human age-reversal
Molecular researchers from the University of Copenhagen have joined forces with an artificial intelligence company to fight premature aging.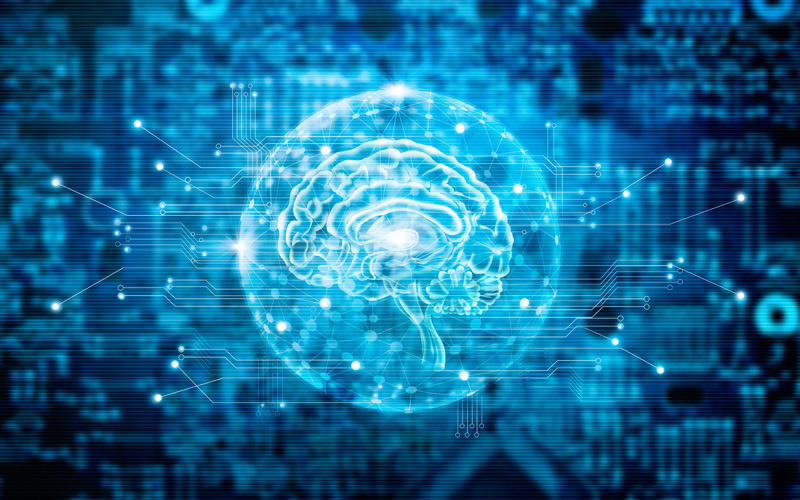 The Centre for Healthy Aging at the University of Copenhagen has announced a research collaboration with a company specialising in artificial intelligence (AI) to develop solutions for preventing early aging. The aim of this partnership is to develop medicines to prevent and cure a broad range of diseases associated with aging.
Alzheimer's, Parkinson's and cardiovascular diseases are strongly associated with aging and share many characteristics on the molecular level. Experts in the genetics of aging at the Department of Cellular and Molecular Medicine partnered with the Baltimore-based company, Insilico Medicine, specializing in AI to find molecules that can be developed into drugs to cure and prevent these diseases. The objective of this collaboration is to increase "health span" for everyone on the planet.
"Many of the diseases of aging are associated with the failure of the DNA repair mechanisms," says assistant professor Morten Scheibye-Knudsen, Centre for Healthy Aging. "The aging processes accelerate as the DNA repair mechanisms lose function. Our collaboration with Insilico Medicine will allow us to find the molecules that repair DNA and prevent accelerated aging."
Insilico Medicine is developing the advanced AI algorithms to study aging processes and discover potential new medical interventions. Many of the molecules being studied could induce the expression of certain genes involved in the endogenous repair processes to slow down and perhaps even reverse age-related diseases. By applying a specific branch of artificial intelligence called Deep Learning (DL) on multi-modal data, the company aims to discover the precise molecules that can stimulate the repair of DNA.
"Deep learning systems are outperforming human abilities in many tasks including image recognition and autonomous driving," said Alex Zhavoronkov, PhD, founder and CEO of Insilico Medicine, Inc. "But one area, where AI will have the most impact is drug discovery and we are deeply honoured to be able to partner with professor Scheibye-Knudsen's group at the University of Copenhagen, which is one of the most advanced in the world. I hope that together we will be able to find new molecules to extend healthy longevity and make humans more resistant to the various stress factors."
At the advanced laboratories in Copenhagen, the research teams will test the molecules identified using the Deep Learning methods to select the most effective ones for joint development into novel medicines.
"We hope that cooperation can lead to the development of new drugs that can prevent early aging, thus ensuring increased health spans for everyone," says Morten Scheibye-Knudsen. "If we can find molecules that repair our DNA, it is not inconceivable that we can increase the upper limit to how old we may be."
---
• Follow us on Twitter
• Follow us on Facebook
• Subscribe to us on YouTube
21st August 2017
Automation in China is growing exponentially
China is breaking historic records in automation. The International Federation of Robotics (IFR) predicts an annual sales increase for industrial robots of up to 20% until 2020.
China's annual sales volume has now reached the highest level ever recorded for a single country: last year, sales surged by 27% to reach 85,000 units. At the same time, Chinese robot manufacturers are expanding the market share in their home country. This data is published by the International Federation of Robotics (IFR) ahead of its World Robotics Report 2017, to be released on 27th September.
"China is by far the biggest robot market in the world regarding annual sales and regarding the operational stock," says Joe Gemma, IFR President.
The main drivers of growth are the electrical and electronics industry. Sales increased by 75% last year to almost 30,000 units. About one third of the robots were produced by Chinese robot suppliers, who more than doubled sales, by almost 120%. All international robot suppliers also increased sales considerably to the electrical and electronics industry (+59%). This remarkable demand is expected to continue into the future.
The automotive industry lost its pole position to the electrical and electronics industry, but is still a powerful driver for industrial robot sales. China has become both the world's largest car market and the world's largest production site for cars, including electric cars, with much growth potential. Sales to China made up 25% of the global supply of industrial robots to the automotive industry in 2016. Between 2011 and 2016, a total of 108,000 units were installed, representing an average increase of 18% per year. The market share of Chinese robot suppliers in the automotive industry is still on a rather low level but has increased from 10 to 13%.
China's government wants to transform the nation from a manufacturing giant into a world manufacturing power according to their 10-year national plan "Made in China 2025". This strategy includes strengthening Chinese robot suppliers and further increasing their market share both in China and abroad. China intends to forge ahead and enter the world's top 10 most highly automated countries by 2020. By then, its "robot density" is targeted to grow to 150 units – this being the number of industrial robots per 10,000 employees. Today, South Korea is the leader in robot density, with 531 robot units, compared to the USA with 176 and Germany with 301.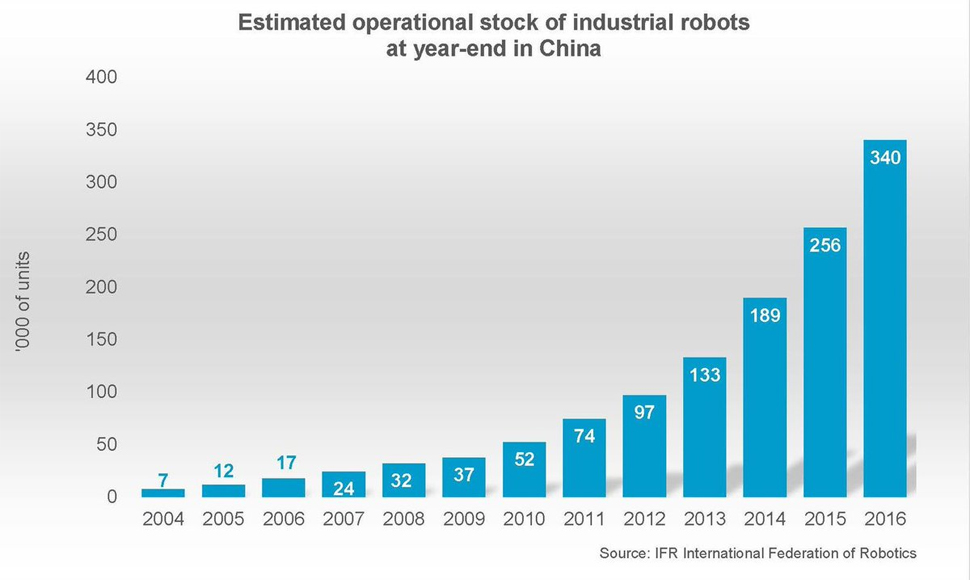 ---
• Follow us on Twitter
• Follow us on Facebook
• Subscribe to us on YouTube
20th August 2017
Elon Musk and over 100 experts call for outright ban on killer robots
Leaders of top robotics and AI companies have called on the UN to enact a worldwide ban on killer robots.
The letter, whose signatories hail from 26 countries and include Tesla's Elon Musk, reads as follows:
An Open Letter to the United Nations Convention on Certain Conventional Weapons

As companies building the technologies in Artificial Intelligence and Robotics that may be repurposed to develop autonomous weapons, we feel especially responsible in raising this alarm. We warmly welcome the decision of the UN's Conference of the Convention on Certain Conventional Weapons (CCW) to establish a Group of Governmental Experts (GGE) on Lethal Autonomous Weapon Systems. Many of our researchers and engineers are eager to offer technical advice to your deliberations.

We commend the appointment of Ambassador Amandeep Singh Gill of India as chair of the GGE. We entreat the High Contracting Parties participating in the GGE to work hard at finding means to prevent an arms race in these weapons, to protect civilians from their misuse, and to avoid the destabilizing effects of these technologies. We regret that the GGE's first meeting, which was due to start today (August 21, 2017), has been cancelled due to a small number of states failing to pay their financial contributions to the UN. We urge the High Contracting Parties therefore to double their efforts at the first meeting of the GGE now planned for November.

Lethal autonomous weapons threaten to become the third revolution in warfare. Once developed, they will permit armed conflict to be fought at a scale greater than ever, and at timescales faster than humans can comprehend. These can be weapons of terror, weapons that despots and terrorists use against innocent populations, and weapons hacked to behave in undesirable ways. We do not have long to act. Once this Pandora's box is opened, it will be hard to close. We therefore implore the High Contracting Parties to find a way to protect us all from these dangers.
A key organiser of the letter, Toby Walsh, Scientia Professor of Artificial Intelligence at the University of New South Wales in Sydney, said: "Nearly every technology can be used for good and bad, and artificial intelligence is no different. It can help tackle many of the pressing problems facing society today: inequality and poverty, the challenges posed by climate change and the ongoing global financial crisis. However, the same technology can also be used in autonomous weapons to industrialise war. We need to make decisions today choosing which of these futures we want. I strongly support the call by many humanitarian and other organisations for a UN ban on such weapons, similar to bans on chemical and other weapons."
Ryan Gariepy, founder of Clearpath Robotics, commented: "The number of prominent companies and individuals who have signed this letter reinforces our warning that this is not a hypothetical scenario, but a very real, very pressing concern which needs immediate action. Unlike other potential manifestations of AI, which still remain in the realm of science fiction, autonomous weapons systems are on the cusp of development right now and have a very real potential to cause significant harm to innocent people along with global instability."
Stuart Russell, founder and Vice-President of Bayesian Logic, said: "Unless people want to see new weapons of mass destruction – in the form of vast swarms of lethal microdrones – spreading around the world, it's imperative to step up and support the United Nations' efforts to create a treaty banning lethal autonomous weapons. This is vital for national and international security."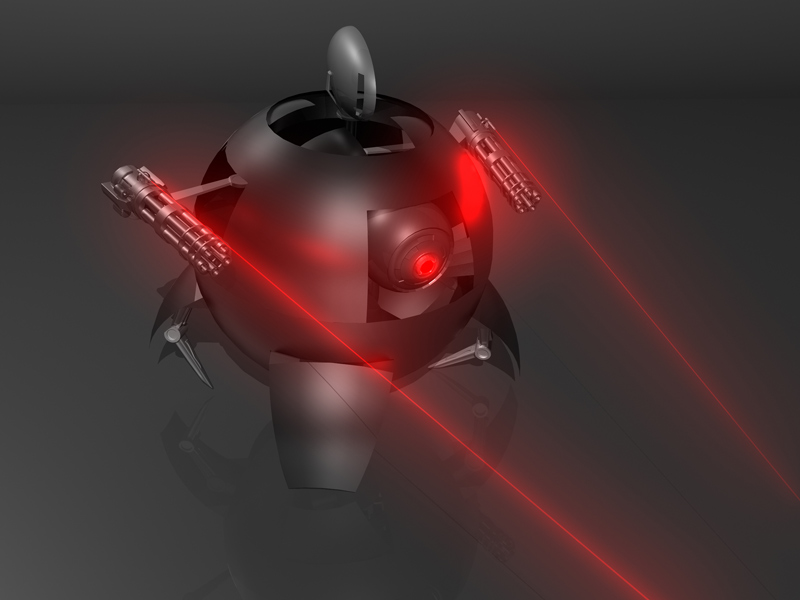 ---
• Follow us on Twitter
• Follow us on Facebook
• Subscribe to us on YouTube
12th August 2017
AI defeats world's best players in competitive eSports
A major breakthrough in artificial intelligence has been announced, with a computer beating the world's best players at competitive eSports for the first time.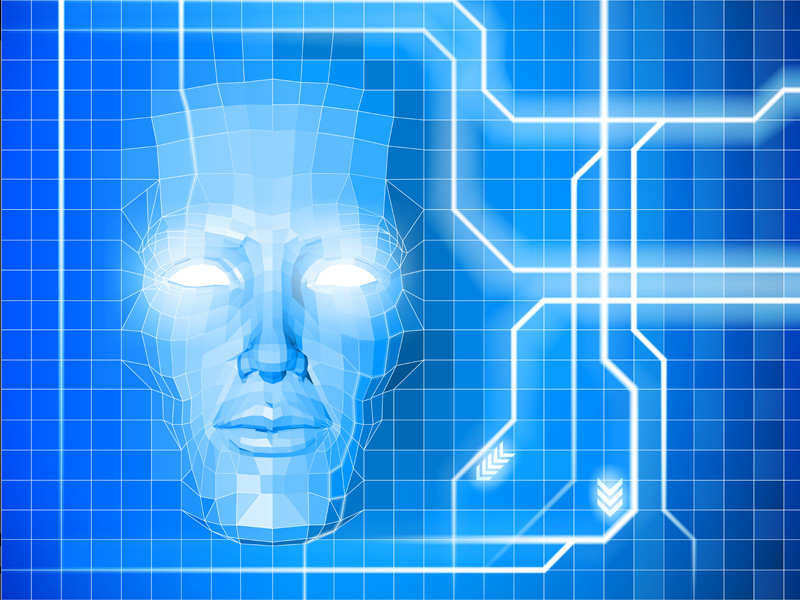 OpenAI is a non-profit research company established in 2015 whose founders include Elon Musk. They report that, for the first time, a computer program has beaten the world's best human players at competitive eSports – in this case, the game Defence of the Ancients 2 (aka Dota 2).
Earlier this year, Google's AlphaGo defeated the world's number one player at Go, a board game similar to chess but with far more complexity. Dota 2, however, is orders of magnitude more complex than even Go. This multiplayer battle arena pits two teams of five against each other, with each team occupying and defending their own separate base on a map. Each of the ten players independently controls a powerful character, known as a "hero", who all have unique abilities and styles of play. There are 113 to choose from. During a match, a player and their team collects experience points and items for their heroes in order to fight the opposing team's heroes and other defences. A team wins by being the first to destroy a large structure in the enemy base called the "Ancient".
This week, at the annual tournament hosted in Seattle, OpenAI has been demonstrating its bot, which mastered the game from scratch by self-play and does not use imitation learning or tree search. According to Greg Brockman, the company's Chief Technology Officer, self-playing is a more effective way for AI to learn complex tasks – as opposed to fighting much weaker enemies, or overwhelmingly strong ones. By playing against a copy of itself, the bot always has a worthy opponent and therefore remembers more useful information. After many thousands of practice runs, it gradually learned which moves worked best and which to avoid. It developed a number of behaviours that are demonstrated in the video below.
Whereas chess uses an 8 x 8 board, and the game Go has a 19 x 19 board (with each cell being either blank or occupied), Dota 2 is vastly more complex with a gaming "board" of 15,000 x 15,000 units, a lot of hidden information, and many more variables with every action. The OpenAI bot was able to handle this level of detail, however.
In a series of 1v1 matches, it went up against the top human champions in the world, beating them all. This included SumaiL (world's best 1v1 player) and Arteezy (top overall player in the world), as well as 27-year-old Danil "Dendi" Ishutin. At times, the movements of the bot were eerily human-like, with Dendi saying it "feels a little like [a] human, but a little like something else."
Elon Musk today praised OpenAI on Twitter. He has previously warned that AI represents a "fundamental risk to the existence of civilisation" and hopes the organisation will foster the creation of safer, more benevolent forms of machine intelligence.
OpenAI is now developing its bot further, and hopes it can take part in a proper five-on-five match next year, as opposed to just 1v1. The company will also explore using its neural network for other games.
---
• Follow us on Twitter
• Follow us on Facebook
• Subscribe to us on YouTube
13th June 2017
Future milestones in AI predicted by experts
A large survey of experts in artificial intelligence suggests there is a 50% chance of AI outperforming humans in all tasks within 45 years and of automating all human jobs in 120 years.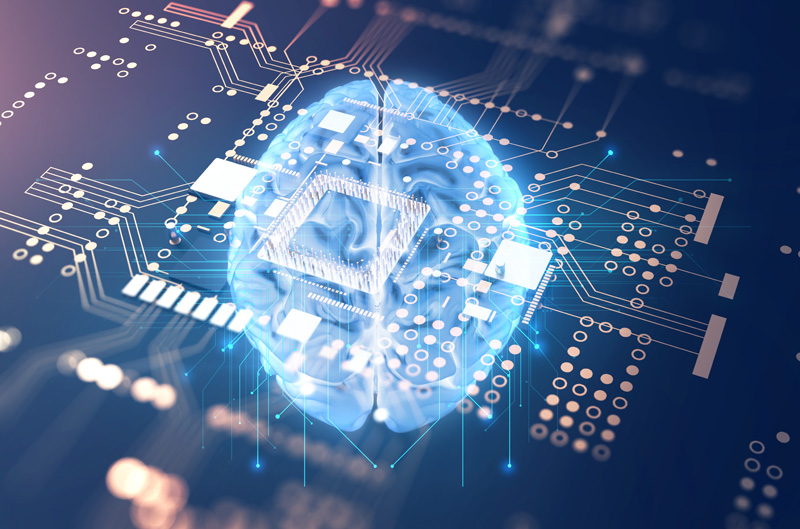 A team from the University of Oxford and Yale University has published a new survey that reveals experts' opinions on the likely timing of future milestones in artificial intelligence (AI). For this paper, they wrote to all researchers who had published at the 2015 NIPS and ICML conferences (two of the premier venues for peer-reviewed research in machine learning). Of the 1,634 authors contacted, a total of 352 (21%) responded.
Questions given to participants concerned the timing of specific AI capabilities (e.g. folding laundry, language translation), superiority at specific occupations (e.g. truck driver, surgeon), superiority over humans at all tasks, and the social impacts of advanced AI.
According to this survey, experts believe that AI will outperform humans in many activities in the near future, such as translating languages (by 2024), writing a high-school essay (by 2026), driving a truck (by 2027), working in retail (by 2031), writing a bestselling book (by 2049), and working as a surgeon (by 2053). Researchers believe there is a 50% chance of AI outperforming humans in all tasks within 45 years (shown in the graph below), and of automating all human jobs within 120 years.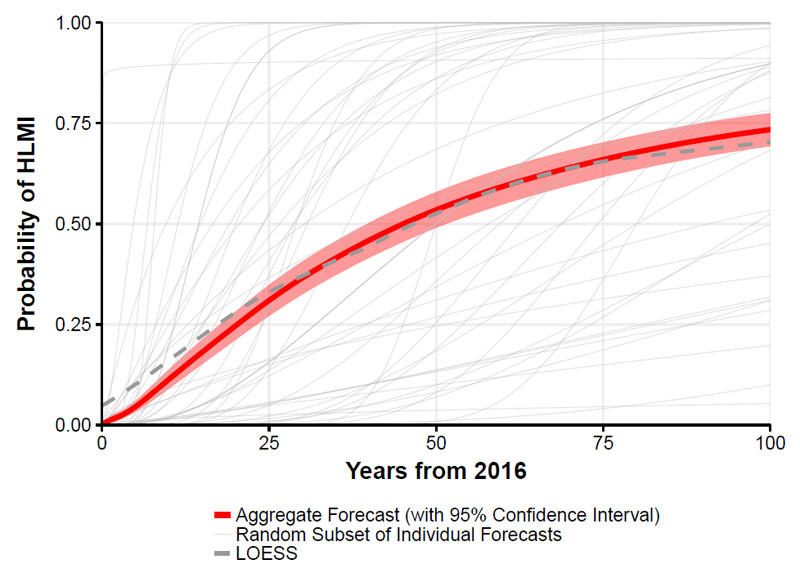 Interestingly, Asian respondents predict these dates much sooner than North Americans. There was no correlation between the seniority of a researcher and the predictions they made. A majority of researchers believe the field of machine learning has accelerated in recent years, with 67% saying progress was faster in the second half of their career.
While there is much hype and fear about the danger of robots, depicted in movies such as Terminator, the researchers take a more optimistic view about the longer-term future of AI. The majority believe it will benefit humanity, with only a 5% chance of being "extremely bad" (i.e. causing human extinction).
"These results will inform discussion amongst researchers and policymakers about anticipating and managing trends in AI," the survey team concludes.
Most of the questions focus on the cognitive aspects of intelligence that fit well-defined tasks. "But parts of intelligence – such as emotional intelligence – go beyond cognition," says Georgios Yannakakis, an Associate Professor at the Institute of Digital Games, University of Malta. "It would be interesting to ask when AI will surpass humans at being art or movie critics."
The full survey results can be downloaded as a PDF at arXiv.org.
---
• Follow us on Twitter
• Follow us on Facebook
• Subscribe to us on YouTube
30th May 2017
World's first autonomous and zero emissions container ship to launch by 2020
The vessel "YARA Birkeland" will be the world's first fully electric and autonomous container ship, with zero emissions. Operation is planned to start in Norway during the latter half of 2018, with fully autonomous journeys from 2020.
"YARA Birkeland" will be the world's most advanced container feeder ship – integrating sensor, control, communications and power into a fully autonomous and 100% electric system.
Named after the company YARA's founder – the scientist and innovator Kristian Birkeland – it will be the world's first fully electric container feeder, reducing NOx and CO2 emissions and improving road safety by removing the need for up to 40,000 truck journeys in populated urban areas.
YARA Birkeland will initially operate as a manned vessel, shifting to remote operations in 2019 and performing fully autonomous operations from 2020. This new zero-emission ship could be a game-changer for global maritime transport, helping to meet the UN sustainability goals for 2030 and beyond. Shipping is currently responsible for 2.5% of global human-made CO2 emissions, but this could rise to 17% by 2050 if no action is taken. There are now over 100,000 transport ships at sea, of which about 6,000 are large container ships.
"As a leading global fertiliser company with a mission to feed the world and protect the planet, investing in this zero emission vessel to transport our crop nutrition solutions fits our strategy well. We are proud to work with KONGSBERG to realise the world's first autonomous, all-electric vessel to enter commercial operation," says Svein Tore Holsether, President and CEO of YARA.
"Every day, more than 100 diesel truck journeys are needed to transport products from YARA's Porsgrunn plant to ports in Brevik and Larvik where we ship products to customers around the world. With this new autonomous battery-driven container vessel, we move transport from road to sea and thereby reduce noise and dust emissions, improve the safety of local roads, and reduce NOx and CO2 emissions," says Holsether.
KONGSBERG is responsible for development and delivery of all key enabling technologies on the YARA Birkeland, including the sensors and integration required for remote and autonomous operations, in addition to the electric drive, battery and propulsion control systems.
"By moving container transport from land to sea, YARA Birkeland is the start of a major contribution to fulfilling national and international environmental impact goals. The new concept is also a giant step forward towards increased seaborne transportation in general," says Geir Håøy, CEO of KONGSBERG.
As a leading global maritime technology company, KONGSBERG's integrated control and monitoring systems are already capable of facilitating remote and unmanned operations. YARA Birkeland will benefit from competence and new technologies developed across KONGSBERG. In addition to being autonomous and fully electric, it will also be ballast-free, to further reduce its impact on the marine environment. This lack of water discharge will help in preventing the spread of non-native, nuisance, or exotic species of plants, animals, viruses and bacteria, which can often cause extensive ecological and economic damage.
"Developing systems for autonomous operations is a major opening and natural step for KONGSBERG, considering our decades of expertise in the development and integration of advanced sensors, control and communication systems for all areas of ship operations," says Håøy. "YARA Birkeland will set the benchmark for the application of innovative maritime technology for more efficient and environmentally friendly shipping."
---
• Follow us on Twitter
• Follow us on Facebook
• Subscribe to us on YouTube
28th May 2017
Google AI beats top human player at Go game
At the Future of Go Summit in China, Google's DeepMind AlphaGo AI program has beaten the world's number one Go player, Ke Jie.

Yet another milestone in the rapidly advancing field of artificial intelligence was achieved this week, as a software program designed to play Go was able to defeat the reigning world champion. Computer scientists and futurists had predicted that AI would need at least another two decades before it could master the game.
Despite its relatively simple rules, Go is extremely complex – even more so than chess – and has more possible combinations of moves than the total number of atoms in the visible universe. Compared to chess, Go has both a larger board with more scope for play and longer games, and, on average, many more alternatives to consider per move.
AlphaGo was developed by DeepMind, a London-based software company acquired by Google for more than $500m in 2014. In October 2015, it became the first computer program to beat a human professional Go player without handicaps on a full-sized 19×19 board. In March 2016, it beat the legendary Lee Sedol in four of five games, the first time a computer program has beaten a 9-dan professional without handicaps. In December 2016, it was chosen by the prestigious journal Science as one of the Breakthrough of the Year runners-up. And now, it has beaten Ke Jie, who has continuously held the world No. 1 ranking for two years, winning three of three games against him. The final match, which lasted for 209 moves, is pictured above.
"I'm very sorry I lost," said the 19-year-old, during a post-match press conference in Wuzhen, Zhejiang province. "I wish I could have done better."
AlphaGo's algorithm uses a Monte Carlo tree search to decide its moves based on knowledge previously "learned" by machine learning; specifically by an artificial neural network (a deep learning method) by extensive training, both from human and computer play.
DeepMind founder, Demis Hassabis, said Ke Jie had played "perfectly" and "pushed AlphaGo right to the limit." The company says the eventual plan is to deploy its artificial intelligence "in areas of medicine and science." They plan to publish an academic paper later this year that will detail the extensive set of improvements made to the algorithms' efficiency and potential to be generalised across a broader set of problems.
---
• Follow us on Twitter
• Follow us on Facebook
• Subscribe to us on YouTube
8th May 2017
Nearly half of jobs in Scotland at risk of automation by 2030
Urgent reform is needed to deal with the rapid rise of automation, a leading Scottish think-tank has said.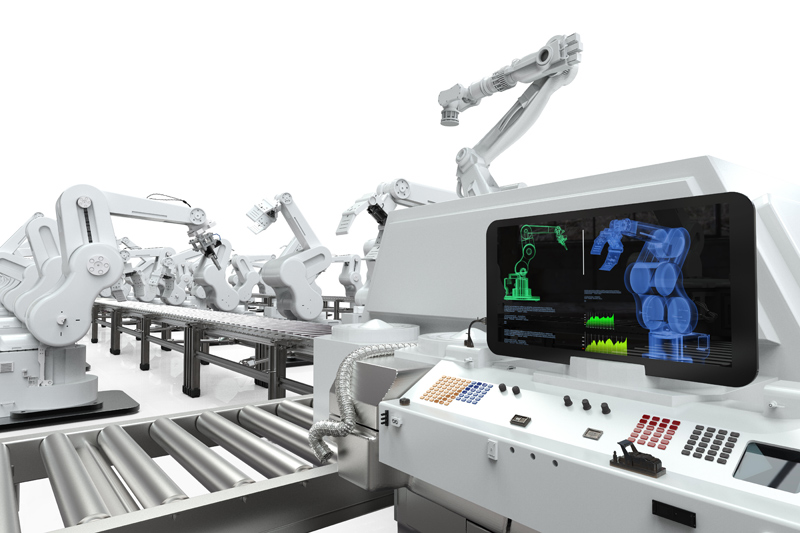 Urgent reform is needed to deal with the rapid rise of automation, which threatens nearly half of Scottish jobs by 2030, a leading think-tank has said. The stark warning comes in a new report published by the Institute for Public Policy Research (IPPR) in Scotland, a leading progressive think tank, and supported by the JPMorgan Chase Foundation.
The report, Scotland's Skills 2030, outlines the need to reskill Scotland's workforce for the world of work in the coming decades. With greater numbers of workers working for longer, due to demographic change, and in multiple jobs, multiple careers and for multiple employers, due to technological change, Scotland will need to retrofit the workforce with the skills required to compete in the future.
There are 2.5m working age adults today (78%) that have left compulsory education, that will still be of the working age by 2030, the study notes – adding they are likely to experience significant changes to the economy over this time, and will need support to learn new skills, retrain and upskill.
Meanwhile, just under half (46.1%) of jobs in Scotland, about 1.2m jobs, are at "high risk" of automation over the next couple of decades. The sectors most likely to be affected are transport, manufacturing and retail, the report states. This brings the need for a skills system that is able to work with people in jobs, throughout their careers, rather than solely at the start or before their careers have begun, the researchers warn.
Scotland has a clear gap in training and learning for people who have already started their careers, with a greater focus on younger people, and full-time provision in recent years. Employers are not plugging this gap, and too often pursue a low-skill business model. IPPR Scotland is calling for a new mid-career learning route, called the Open Institute of Technology, to sit alongside apprenticeships and further education, to help train the current workforce to be ready for the future challenges Scotland's economy faces, the report concludes.
Russell Gunson, Director of IPPR Scotland, said: "There are more than 2.5 million people already in the workforce today that will still be working by 2030. There are also 1.2m jobs in Scotland at risk of automation over the same time. Scotland urgently needs to design a skills system better able to work with people already into their careers to help them to retrain, reskill and respond to world of work of 2030.
"Scotland has a really strong record on skills in many ways, and in this report we find that Scotland is the highest skilled nation in the UK. However, our system has a clear gap in that we don't have enough provision for people who have already started their careers, and employers are not investing to fill this gap. To respond to the huge changes facing Scotland around demographic, technological and climate change – and of course Brexit – we're going to have to focus on retrofitting the current workforce to provide them with the skills they need, to deliver the inclusive economic growth we wish to see.
"Our report makes a number of recommendations to help Scotland plot a path through these challenges, to reform the skills system in Scotland, to help to secure an economy that delivers fairness and reduces inequality. Without reform of the skills system we could see changes to the economy harm whole sections of population, and whole communities, leaving many behind."
---
• Follow us on Twitter
• Follow us on Facebook
• Subscribe to us on YouTube
3rd May 2017
Robot can perform surgeries in one fiftieth of the time
The University of Utah has revealed a new robotic drill system for greatly speeding up surgical procedures. One type of complex cranial surgery could be done in a fiftieth of the normal time, decreasing from two hours to just two and a half minutes.
A computer-driven automated drill, similar to those used to machine auto parts, could play a pivotal role in future surgical procedures. The new machine can make one type of complex cranial surgery 50 times faster than standard procedures, decreasing from two hours to two and a half minutes. Researchers at the University of Utah developed a drill that produces fast, clean and safe cuts – reducing the time the wound is open and the patient is anesthetised, thereby decreasing the incidence of infection, human error, and surgical cost. The findings are reported in Neurosurgical Focus.
To perform complex surgeries – especially cranial surgeries – surgeons typically use hand drills to make intricate openings, adding hours to a procedure: "It was like doing archaeology," said William Couldwell, study author and neurosurgeon at the University of Utah Health. "We had to slowly take away the bone to avoid sensitive structures."
Couldwell saw a need for a device that could alleviate this burden and make the process more efficient: "We knew the technology was already available in the machine world, but no one ever applied it to medical applications."
"My expertise is dealing with the removal of metal quickly, so a neurosurgical drill was a new concept for me," explained A. K. Balaji, associate professor in mechanical engineering. "I was interested in developing a low-cost drill that could do a lot of the grunt work to reduce surgeon fatigue."
The team developed the drill from scratch, as well as new software to calculate the safest cutting path. First, the patient is imaged using CT scans to gather bone data and identify the exact location of sensitive structures, such as nerves, veins and arteries that must be avoided. Surgeons then use this information to program a cutting path for the drill: "The software lets the surgeon choose the optimum path from point A to point B, like Google Maps," says Balaji. In addition, the surgeon can program safety barriers along the cutting path within 1 mm of sensitive structures. "Think of the barriers like a construction zone," says Balaji. "You slow down to navigate it safety."
The translabyrinthine surgery is performed thousands of times a year to expose slow-growing, benign tumours that can form at auditory nerves. This cut must avoid several sensitive features, including facial nerves and the venous sinus, a large vein that drains blood from the brain. Risks of this surgery include loss of facial movement. The system developed at Utah has an automatic emergency shut-off switch. During surgery, facial nerves are monitored for any signs of irritation: "If the drill gets too close to the facial nerve and irritation is monitored, the drill automatically turns off," says Couldwell.
The new drill could reduce the duration of this complex procedure from two hours for hand-drilling by an experienced surgeon to two and a half minutes. The shorter surgery is expected to lower the chance of infection and improve post-operative recovery. It also has potential to substantially reduce the cost of surgery, because it shaves hours from operating room time.
The team has now demonstrated the safety and speed of the drill by performing this complex cut – but Couldwell stresses that it can be applied to many other procedures: "This drill can be used for a variety of surgeries, like machining the perfect receptacle opening in the bone for a hip implant," he said.
The varied application of the drill highlights another factor that drew Balaji to the project: "I was motivated by the fact that this technology could democratise health care by levelling the playing field so more people can receive quality care," he said. The team is now examining opportunities to commercialise the drill to ensure that it is more widely available for other surgical procedures.
---
• Follow us on Twitter
• Follow us on Facebook