4th February 2016
Asteroid mining initiative announced by Luxembourg
The Luxembourg government yesterday announced a series of measures to position the country as a European hub in the exploration and use of space resources. Amongst the key steps undertaken will be the development of a legal and regulatory framework that provides certainty about the future ownership of minerals extracted from Near Earth Objects (NEO's), such as asteroids.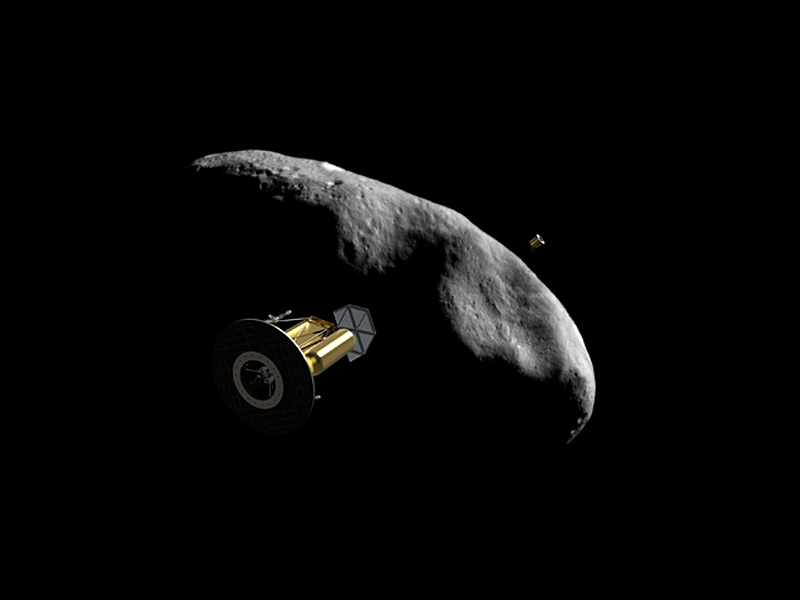 Luxembourg has become the first European country to announce its intention to establish a formal legal framework ensuring that private operators working in outer space can be confident about their rights to the resources they extract, i.e. rare minerals from asteroids. This legal framework will be designed in full consideration of international law. Luxembourg is eager to engage with other countries on this matter within a multilateral framework. Luxembourg will also invest in relevant R&D projects and consider direct capital investment in companies active in this field.
This initiative will nurture an exciting and entirely new space industry – offering unprecedented access to vast metal and mineral resources, for use in Earth orbit and beyond, stimulating economic growth and encouraging new horizons in space exploration.
Luxembourg already has a strong track record in related sectors, with satellite operator SES, established in Luxembourg 30 years ago and now a major global player in its field. The budget allocated to the space resources initiative will be part of the national space budget and will be defined in terms of Luxembourg's contribution to the next European Space Agency (ESA) multiannual budget, to be decided in December 2016.
Luxembourg's Deputy Prime Minister and Minister of the Economy, Étienne Schneider, commented: "Our aim is to open access to a wealth of previously unexplored mineral resources on lifeless rocks hurling through space, without damaging natural habitats. We will support the long-term economic development of new, innovative activities in the space and satellite industries as a key high-tech sector for Luxembourg. At first, our aim is to carry out research in this area, which at a later stage can lead to more concrete activities in space."
Former ESA boss, Jean-Jacques Dordain, will be an adviser. In a press conference, he said that asteroid mining was no longer science fiction; the basic technologies of landing and returning materials from space had essentially been proven: "Things are moving in the United States and it was high time there was an initiative in Europe, and I am glad the first initiative is coming from Luxembourg," he said. "It will give no excuse for European investors to go to California."
Yves Elsen, Chairperson of the Luxembourg Space Cluster stated: "Over the past three decades, Luxembourg has built up extensive know-how in world-class space related activities. Luxembourg can write history once again by further sustaining the attractiveness of the country for a host of next generation space activities."
Simon P. Worden, Chairman of the Breakthrough Prize Foundation said: "Humanity is on the verge of expansion into the solar system – and then beyond. Using the resources we find there is essential – not only for our expansion into space, but also to ensure continued prosperity here on Earth."
Chris Lewicki, President and CEO of Planetary Resources, commented: "We commend the Government of Luxembourg in leading the world by establishing this new resource industry, thereby enabling the economic development of near-Earth asteroid resources. Planetary Resources looks forward to working with Luxembourg."
Rick Tumlinson, Co-founder and Chair of the Board of Deep Space Industries, stated: "By opening up the resources of space, Luxembourg will help take the pressure off the Earth."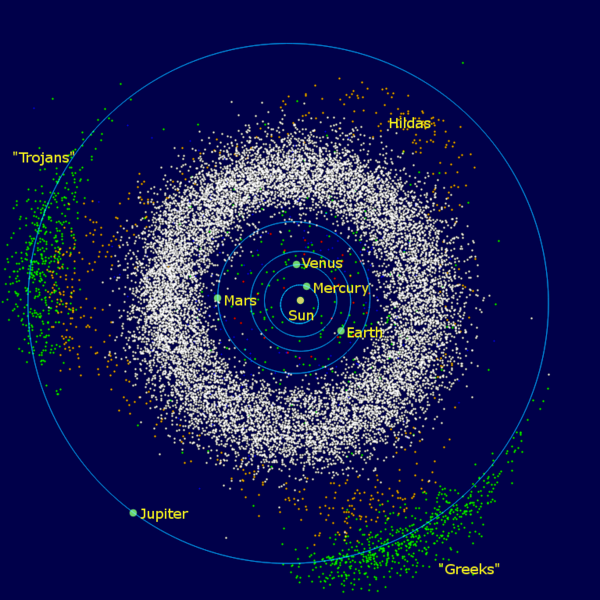 2nd February 2016
Graphene shown to safely interface with neurons in the brain
Researchers in Europe have demonstrated that graphene can be successfully interfaced with neurons, while maintaining the integrity of these vital nerve cells. It is believed this could lead to greatly improved brain implants.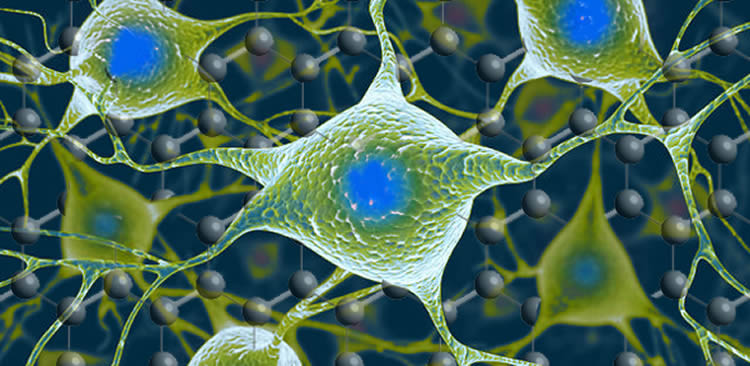 A new study published in the journal ACS Nano demonstrates how it is possible to interface graphene with neurons, whilst maintaining the integrity of these vital nerve cells. The research was part of the EU's Graphene Flagship – a €1 billion project that aims to bring graphene from laboratories into commercial applications within 10 years. The study involved a collaboration between nanotechnologists, chemists, biophysicists and neurobiologists from the University of Trieste in Italy, the University Castilla-La Mancha in Spain and the Cambridge Graphene Centre in the UK.
Prof. Laura Ballerini, lead neuroscientist in the study: "For the first time, we interfaced graphene to neurons directly, without any peptide coating used in the past to favour neuronal adhesion. We then tested the ability of neurons to generate electrical signals known to represent brain activities and found that the neurons retained unaltered their neuronal signalling properties. This is the first functional study of neuronal synaptic activity using uncoated, graphene-based materials."
Using electron microscopy and immuno-fluorescence in rat brain cell cultures, the researchers observed that the neurons interfaced well with the untreated graphene electrodes – remaining healthy, transmitting normal electric impulses and, importantly, showing no adverse glial reaction which can lead to damaging scar tissue. This is therefore the first step towards using pristine, graphene-based material for a neuro-interface.
Graphene-based electrodes implanted in the brain could restore sensory functions for amputees or paralysed patients, or treat individuals with motor disorders such as epilepsy or Parkinson's disease. Further into the future, perhaps they could be used to enhance or upgrade the abilities of normal, healthy people too, bringing the age of transhumanism closer to reality.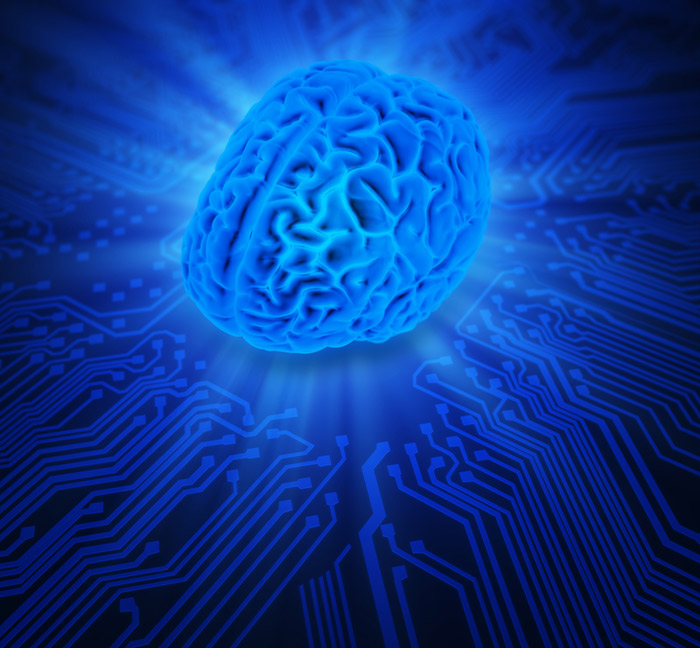 Too often, the modern electrodes used for neuro-interfaces (based on tungsten or silicon) suffer partial or complete loss of signal over time. This is often caused by scar tissue formation during the electrode insertion and by its rigid nature preventing the electrode from moving with the natural movements of the brain. Graphene, by contrast, appears to be a highly promising material to solve these problems. It has excellent conductivity, flexibility, biocompatibility and stability within the body.
"Hopefully this will pave the way for better deep brain implants to both harness and control the brain, with higher sensitivity and fewer unwanted side effects," said Ballerini.
"These initial results show how we are just at the tip of the iceberg when it comes to the potential of graphene and related materials in bio-applications and medicine," said Professor Andrea Ferrari, Director of the Cambridge Graphene Centre. "The expertise developed at the Cambridge Graphene Centre allows us to produce large quantities of pristine material in solution, and this study proves the compatibility of our process with neuro-interfaces."
30th January 2016
Giant cloud heading for Milky Way originated from within our galaxy
New observations of Smith's Cloud, which is predicted to collide and merge with our galaxy in 27 million AD, reveal that it originated from within the Milky Way. Like a boomerang effect, it now appears to be heading back to its galactic home.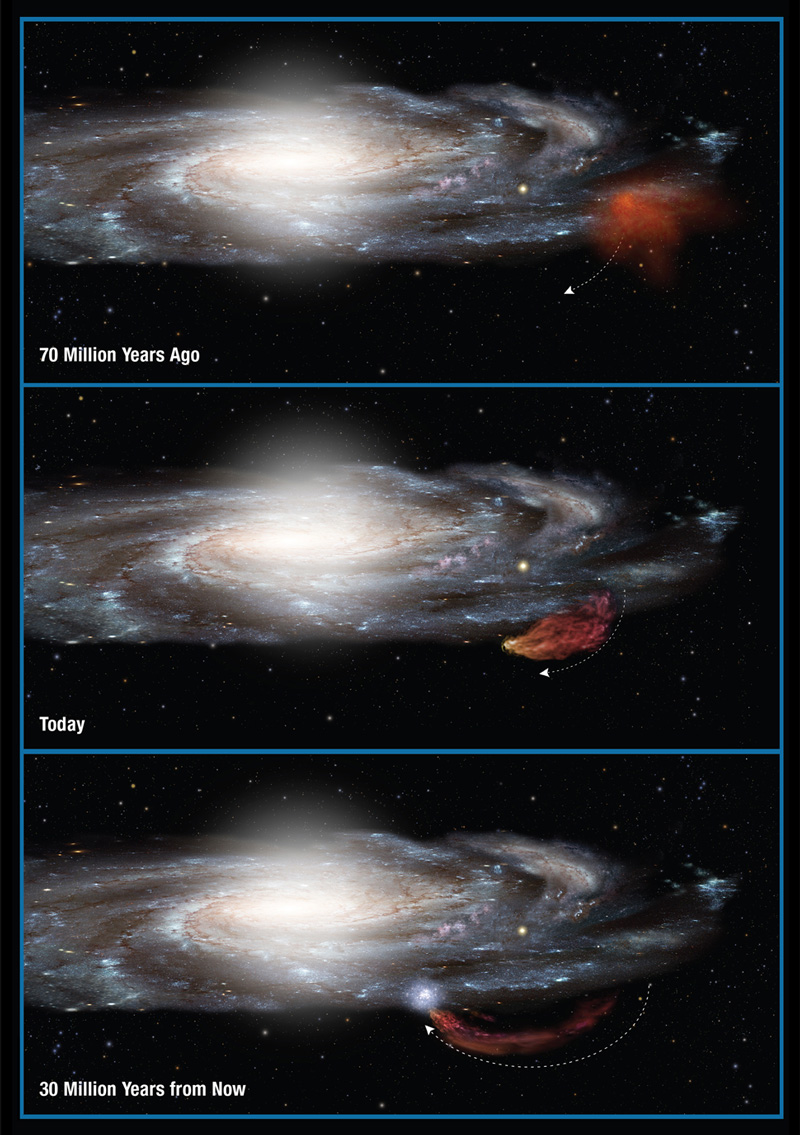 Smith's Cloud – a vast cloud of hydrogen gas that is speeding towards the Milky Way – did not originate from intergalactic space, but was actually launched out of our own galaxy around 70 million years ago. That's according to a new study by astronomers at the Space Telescope Science Institute in Baltimore, Maryland, who used the Hubble Space Telescope to determine its location and trajectory with more precision.
It was previously believed that Smith's Cloud, which is 11,000 light years in length, crossed the immense void of intergalactic space on its long journey and was possibly a failed, starless dwarf galaxy. For either of these speculations to be true, it would need to contain mostly hydrogen and helium gas – not the heavier elements made by stars.
These new observations, however, looked at ultraviolet light from the bright cores of three distant galaxies, using Hubble's Cosmic Origins Spectrograph to see how this light was filtered through the cloud. The data revealed its chemical composition for the first time, confirming it to be as sulphur-rich as the Milky Way's outer disk.
"By measuring sulphur, you can learn how enriched in sulphur atoms the cloud is compared to the Sun," explained team leader Andrew Fox. Sulphur is a good gauge of how many heavier elements reside in the cloud.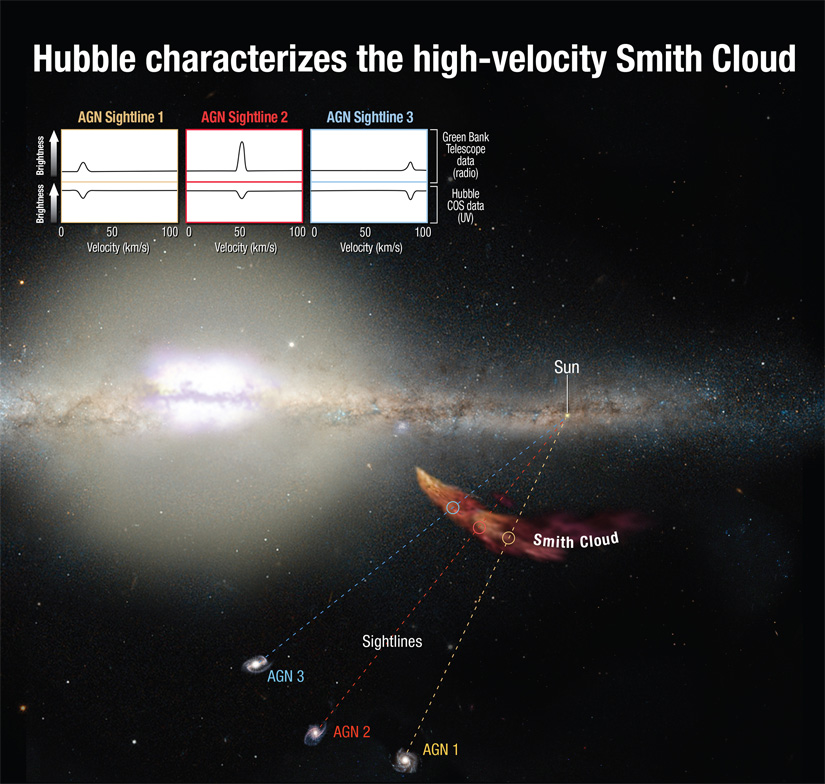 This means that the Smith Cloud was enriched by material from stars, which could not happen if it were pristine hydrogen from outside the galaxy, or if it were the remnant of a failed galaxy devoid of stars. Instead, the cloud appears to have been ejected from within the Milky Way and is now returning back towards the galactic plane in a kind of boomerang effect.
"The cloud is an example of how the galaxy is changing with time," said Fox. "It's telling us that the Milky Way is a bubbling, very active place, where gas can be thrown out of one part of the disk and then return back down into another."
"Our galaxy is recycling its gas through clouds, the Smith Cloud being one example, and will form stars in different places than before. Hubble's measurements of the Smith Cloud are helping us to visualise how active the disks of galaxies are."
While this settles the mystery of the Smith Cloud's origin, it raises new questions: How did the cloud get to where it is now? What calamitous event could have catapulted it from the Milky Way, and how did it remain intact? Could it be a region of dark matter – an invisible form of matter – that passed through the disk and captured Milky Way gas? Answers to these questions may be found in future research.
Smith Cloud's is moving at nearly 200 miles per second (or about 700,000 mph) and is predicted to collide into the Perseus Arm by 27 million AD. This will trigger an intense burst of star formation where it hits, giving birth to as many as two million additional new stars. Fox and his team have published their study in the Astrophysical Journal Letters. The entry on our timeline has been updated to reflect their new findings.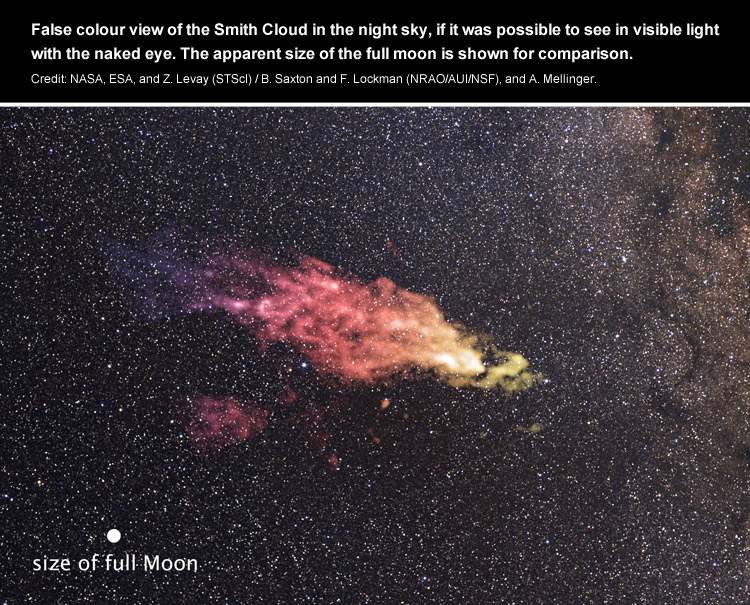 29th January 2016
New research challenges long-held views on time evolution
Research into the nature of time by Griffith University's Centre for Quantum Dynamics shows how an asymmetry for time reversal might be responsible for making the universe move forwards in time.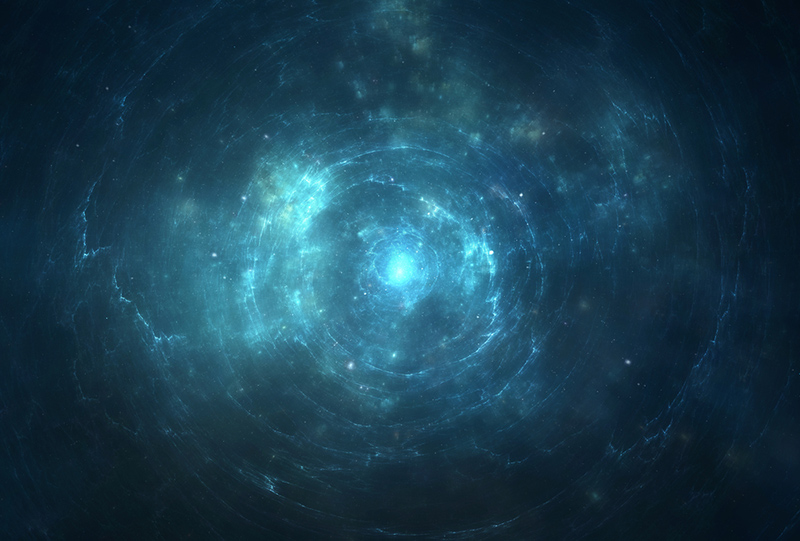 New research from Griffith University's Centre for Quantum Dynamics is broadening perspectives on time and space. In a study published by the journal Proceedings of the Royal Society A, Associate Professor Joan Vaccaro challenges the long-held assumption that time evolution – the incessant unfolding of the universe over time – is an elemental part of Nature. In the paper, titled Quantum asymmetry between time and space, she suggests there may be a deeper origin due to a difference between the two directions of time: to the future and to the past.
"If you want to know where the universe came from and where it's going, you need to know about time," she says. "Experiments on subatomic particles over the past 50 years ago show that Nature doesn't treat both directions of time equally.
"In particular, subatomic particles called K and B mesons behave slightly differently, depending on the direction of time. When this subtle behaviour is included in a model of the universe, what we see is the universe changing from being fixed at one moment in time to continuously evolving.
"In other words, the subtle behaviour appears to be responsible for making the universe move forwards in time. Understanding how time evolution comes about in this way opens up a whole new view on the fundamental nature of time itself. It may even help us to better understand bizarre ideas such as travelling back in time."
According to her research, an asymmetry exists between time and space in the sense that physical systems inevitably evolve over time, whereas there is no corresponding ubiquitous translation over space. This asymmetry, long presumed to be elemental, is represented by equations of motion and conservation laws that operate differently over time and space.
However, Associate Professor Vaccaro used a "sum-over-paths formalism" to demonstrate the possibility of a time and space symmetry, meaning the conventional view of time evolution would need to be revisited.
"In the connection between time and space, space is easier to understand because it's simply there. But time is forever forcing us towards the future," says Vaccaro. "Yet while we are indeed moving forward in time, there is also always some movement backwards – a kind of jiggling effect – and it is this movement I want to measure using these K and B mesons."
Associate Professor Vaccaro says the research provides a solution to the origin of dynamics, an issue that has long perplexed science.
29th January 2016
Pen-sized microscope identifies cancer cells
Researchers at the University of Washington have developed a new handheld, pen-sized microscope that could identify cancer cells in doctor's offices and operating rooms.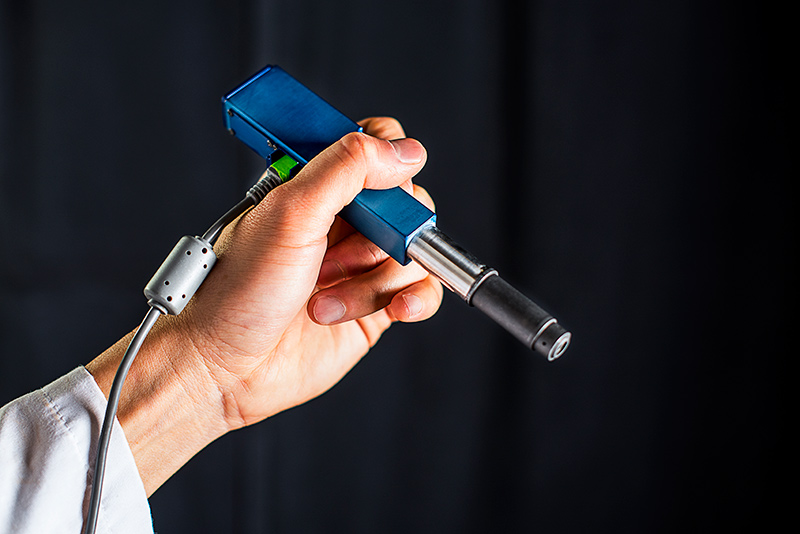 Surgeons removing a malignant brain tumour don't want to leave cancerous material behind. But they're also trying to protect healthy brain matter and minimise neurological harm. Once they open up a patient's skull, there's no time to send tissue samples to a pathology lab – where they are typically frozen, sliced, stained, mounted on slides and investigated under a bulky microscope – to clearly distinguish between cancerous and normal brain cells.
But a handheld, miniature microscope being developed by University of Washington (UW) engineers could allow surgeons to "see" at a cellular level in the operating room and determine precisely where to stop cutting. This technology, made in collaboration with Memorial Sloan Kettering Cancer Centre, Stanford University and the Barrow Neurological Institute, is outlined in the February 2016 issue of Biomedical Optics Express.
"Surgeons don't have a very good way of knowing when they're done cutting out a tumour," said Jonathan Liu, senior author on the paper and a UW assistant professor of mechanical engineering. "They're using their sense of sight, sense of touch, pre-operative images of the brain – and oftentimes it's pretty subjective. Being able to zoom and see at the cellular level during the surgery would really help them to accurately differentiate between tumour and normal tissues and improve patient outcomes."
Similarly, dentists who find a suspicious-looking lesion in a patient's mouth will often have to cut it out and send it to a lab to be biopsied for oral cancer, a process that subjects patients to an invasive procedure and overburdens pathology labs. A miniature microscope with high enough resolution to see changes at a cellular level could be used in dental or dermatological clinics to assess which lesions or moles are normal and which need to be biopsied.
| | |
| --- | --- |
| | Real-time microscope images (bottom) illuminate similar details in mouse tissues as the images (top) produced during an expensive, multi-day process at a clinical pathology lab. Credit: University of Washington |
"The microscope technologies that have been developed over the last couple of decades are expensive and still pretty large," said Milind Rajadhyaksha, at the Memorial Sloan Kettering Cancer Centre in NYC, co-author on the study. "So there's a need for creating much more miniaturised microscopes."
The new microscope revealed by UW is able to combine technologies in a compact and novel way, generating high-quality images at faster speeds than existing bulkier devices. It uses "dual-axis confocal microscopy" to illuminate and more clearly see through opaque tissue, capturing details up to half a millimetre beneath the tissue surface, where some types of cancerous cells originate. In the video below, for example, the team produced images of fluorescent blood vessels in a mouse ear. In their paper, they demonstrate how their invention has sufficient resolution to see subcellular details.
"For brain tumour surgery, there are often cells left behind that are invisible to the neurosurgeon. This device will really be the first to let you identify these cells during the operation and determine exactly how much further you can reduce this residual," said project collaborator Nader Sanai, a professor of neurosurgery at the Barrow Neurological Institute in Phoenix. "That's not possible to do today."
Human clinical trials are expected to start in 2017 and the team hopes it can be introduced into surgeries by 2018-2020.
28th January 2016
Doomsday Clock stays at three minutes to midnight
The Bulletin of the Atomic Scientists Science and Security Board has announced that their closely monitored "Doomsday Clock" will remain at three minutes to midnight.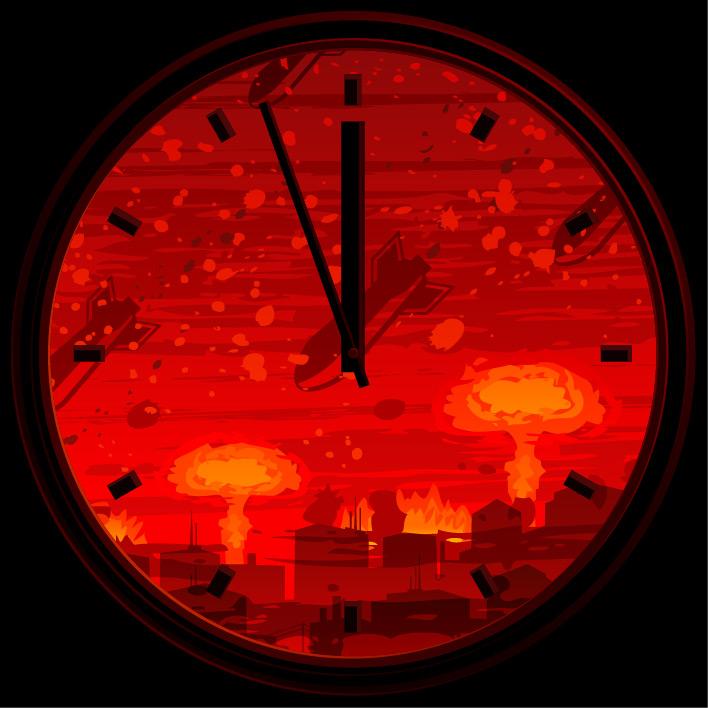 The Doomsday Clock is a symbolic clock face, representing a countdown to possible global catastrophe (e.g. nuclear war or climate change). It has been maintained since 1947 by the Science and Security Board of the Bulletin of the Atomic Scientists, which includes 18 Nobel Laureates. The closer they set the Clock to midnight, the closer the scientists believe the world is to global disaster.
The position of the Clock hands in the past has ranged from two minutes to midnight in 1953 (after the U.S. began testing hydrogen bombs, which was followed by Soviet tests shortly after), to 17 minutes to midnight in 1991 (when the Cold War ended and deep cuts were made to nuclear arsenals).
Last year, the Clock hands were moved from five to three minutes to midnight, with the Bulletin stating: "Unchecked climate change, global nuclear weapons modernisations, and outsized nuclear weapons arsenals pose extraordinary and undeniable threats to the continued existence of humanity, and world leaders have failed to act with the speed or on the scale required to protect citizens from potential catastrophe. These failures of political leadership endanger every person on Earth."
This week, it was announced that the Doomsday Clock will remain at three minutes to midnight, since recent progress in the Iran nuclear agreement and the Paris climate accord "constitute only small bright spots in a darker world situation full of potential for catastrophe."

The statement accompanying the Doomsday Clock decision opens with the following words: "Three minutes (to midnight) is too close. Far too close. We, the members of the Science and Security Board of the Bulletin of the Atomic Scientists, want to be clear about our decision not to move the hands of the Doomsday Clock in 2016: That decision is not good news, but an expression of dismay that world leaders continue to fail to focus their efforts and the world's attention on reducing the extreme danger posed by nuclear weapons and climate change. When we call these dangers existential, that is exactly what we mean: They threaten the very existence of civilization and therefore should be the first order of business for leaders who care about their constituents and their countries."
While recognising the important progress of the Iran nuclear deal and the Paris climate accord, the Bulletin cautions that these positive steps have been offset in large part by foreboding developments: "Even as the Iran agreement was hammered out, tensions between the United States and Russia rose to levels reminiscent of the worst periods of the Cold War. Conflict in Ukraine and Syria continued, accompanied by dangerous bluster and brinkmanship, with Turkey, a NATO member, shooting down a Russian warplane involved in Syria, the director of a state-run Russian news agency making statements about turning the United States to radioactive ash, and NATO and Russia repositioning military assets and conducting significant exercises with them. Washington and Moscow continue to adhere to most existing nuclear arms control agreements, but the United States, Russia, and other nuclear weapons countries are engaged in programs to modernise their nuclear arsenals, suggesting that they plan to keep and maintain the readiness of their nuclear weapons for decades, at least — despite their pledges, codified in the Nuclear Non-Proliferation Treaty, to pursue nuclear disarmament."
On the climate front, the Bulletin statement points out: "Promising though it may be, the Paris climate agreement came toward the end of Earth's warmest year on record, with the increase in global temperature over pre-industrial levels surpassing one degree Celsius."
Other more positive climate developments cited in the statement include the Papal encyclical related to climate change, the movement among investors toward divestment of fossil fuels, new advances in sustainable energy systems, more climate-friendly governments in Canada and Australia. However, the statement cautions that even these developments must be seen "against the steady backtracking of the United Kingdom's present government on climate policies and the continued intransigence of the Republican Party in the U.S., which stands alone in the world in failing to acknowledge even that human-caused climate change is a problem."
The Bulletin also reflects concerns about "the nuclear power vacuum" around the globe: "The international community has not developed coordinated plans to meet cost, safety, radioactive waste management, and proliferation challenges that large-scale nuclear expansion poses ... Because of such problems, in the United States and in other countries, nuclear power's attractiveness as an alternative to fossil fuels has decreased, despite the clear need for carbon-emissions-free energy in the age of climate change."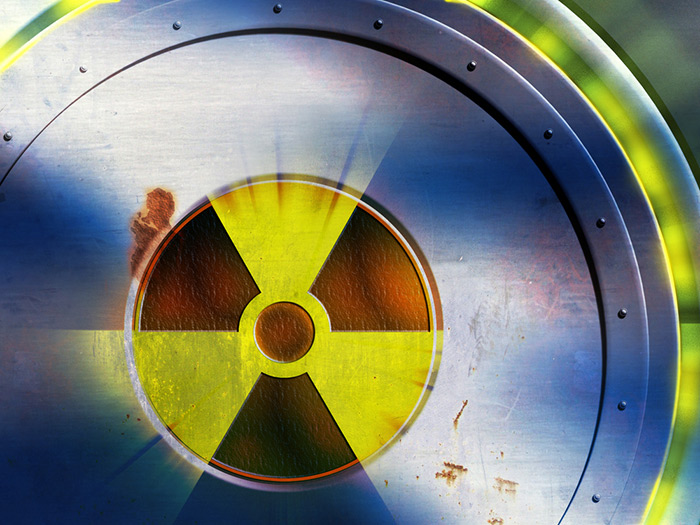 Rachel Bronson, executive director of the Bulletin, comments: "Last year, the Bulletin's Science and Security Board moved the Doomsday Clock forward to three minutes to midnight, noting: 'The probability of global catastrophe is very high, and the actions needed to reduce the risks of disaster must be taken very soon.' That probability has not been reduced. The Clock ticks. Global danger looms. Wise leaders should act — immediately."
Lawrence Krauss, chair of the Bulletin's Board of Sponsors: "Developments have been mixed since we moved the clock forward a year ago. In spite of some positive news, the major challenges the Bulletin laid out for governments then have not been addressed, even as the overall global challenges we need to face become more urgent. The clock reflects our estimate that the world is as close to the brink as it was in 1983 when US-Russian tensions were at their iciest in decades."
Sharon Squassoni, Bulletin Science and Security Board member, and a director of the Proliferation Prevention Program at the Centre for Strategic & International Studies (CSIS) in Washington, DC, said: "North Korea's recent nuclear test illustrates the very real danger of life in a proliferated world. Nuclear proliferation isn't a potential threat — we still have few controls over the kinds of capabilities that Iran succeeded in acquiring. In addition, regional tensions and conflict increase the risk of theft or use of these weapons."
Sivan Kartha, Bulletin Science and Security Board member, senior scientist and climate change expert, states: "The voluntary pledges made in Paris to limit greenhouse gas emissions are insufficient to the task of averting drastic climate change. These incremental steps must somehow evolve into the fundamental change in world energy systems needed if climate change is to ultimately be arrested."
So, what steps need to be taken?
The Bulletin statement accompanying the Doomsday Clock announcement identifies the following as the most urgently needed:
• Dramatically reduce proposed spending on nuclear weapons modernisation programs.
• Re-energise the disarmament process, with a focus on results.
• Engage North Korea to reduce nuclear risks.
• Follow up on the Paris accord with actions to sharply reduce greenhouse gas emissions and fulfil the global agreement to keep warming below 2°C.
• Deal now with the commercial nuclear waste problem.
• Create institutions specifically assigned to explore and address potentially catastrophic misuses of new technologies.
23rd January 2016
Strong evidence of a ninth planet in our Solar System
Astronomers at the California Institute of Technology have found the strongest evidence yet that a ninth planet – or "Planet X" – is present in our Solar System, orbiting the Sun every 20,000 years.
Researchers at the California Institute of Technology (Caltech) have found evidence of a giant planet tracing a highly elongated orbit in the far distant reaches of our Solar System. The object, which has been nicknamed "Planet Nine", has a mass about 10 times that of Earth and orbits about 20 times farther from the Sun on average than does Neptune (which orbits the Sun at an average distance of 2.8 billion miles). With a semi-major axis of 300,000 light seconds, or about 0.01 light years, it would take this new planet an estimated 20,000 years to make just one full orbit around the Sun.
The researchers, Konstantin Batygin and Mike Brown, discovered the planet's existence through mathematical modelling and computer simulations but have not yet observed the object directly.
"This would be a real ninth planet," says Brown. "There have only been two true planets discovered since ancient times, and this would be a third. It's a pretty substantial chunk of our Solar System that's still out there to be found, which is pretty exciting."
Brown notes that Planet Nine, at 5,000 times the mass of Pluto, is sufficiently large that there should be no debate about whether it is a true planet. Unlike the class of smaller objects now known as dwarf planets, it gravitationally dominates its neighbourhood. In fact, it dominates a region larger than any of the other known planets, a fact that Brown says makes it "the most planet-y of the planets in the whole Solar System."
Batygin and Brown describe their work in the current issue of the Astronomical Journal and show how Planet Nine helps explain a number of mysterious features of the Kuiper Belt. The orbital correlations of six distant trans-Neptunian objects, pictured below, were key to their model. After they plotted the orbits of these and various other objects, they matched their simulations perfectly: "When we found that, my jaw sort of hit the floor," says Brown.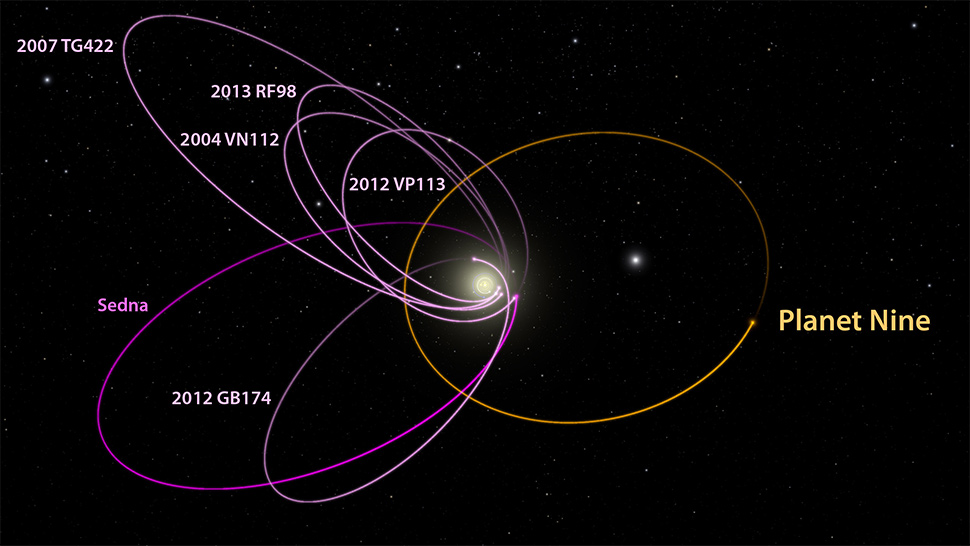 Batygin, an assistant professor of planetary science, comments: "Although we were initially quite sceptical that this planet could exist, as we continued to investigate its orbit – and what it would mean for the outer Solar System – we became increasingly convinced it is out there. For the first time in over 150 years, there is solid evidence that the Solar System's planetary census is incomplete."
In a couple of ways, this ninth planet – which seems like an oddball to us – would actually make our Solar System more similar to systems that astronomers are finding around other stars. Firstly, most of the planets around other Sun-like stars have no single orbital range – that is, some orbit at extremely close range to their host stars, while others follow exceptionally distant orbits. Secondly, the most common planets around other stars vary between one and 10 Earth-masses.
"One of the most startling discoveries about other planetary systems has been that the most common type of planet out there has a mass between that of Earth and that of Neptune," explains Batygin. "Until now, we have thought that the Solar System was lacking in this most common type of planet. Maybe we're more normal after all."
The team continue to refine their simulations and learn more about the planet's orbit and its gravitational influence on the Solar System. They believe their study will trigger a worldwide hunt by astronomers – both amateur and professional – to obtain the first direct visual images of Planet Nine. A new generation of observatories such as the James Webb Telescope may do just that. It might also be spotted in old images captured by previous surveys. Given its high mass, it is possible that various moons are there too.
"I would love to find it," says Brown. "But I'd also be perfectly happy if someone else found it. That is why we're publishing this paper. We hope that other people are going to get inspired and start searching."
Brown, well known for the significant role he played in the demotion of Pluto from a planet to a dwarf planet adds, "All those people who are mad that Pluto is no longer a planet can be thrilled to know that there is a real planet out there still to be found. Now we can go and find this planet and make the Solar System have nine planets once again."
22nd January 2016
Brain implant will connect a million neurons with superfast bandwidth
A neural interface being created by the United States military aims to greatly improve the resolution and connection speed between biological and non-biological matter.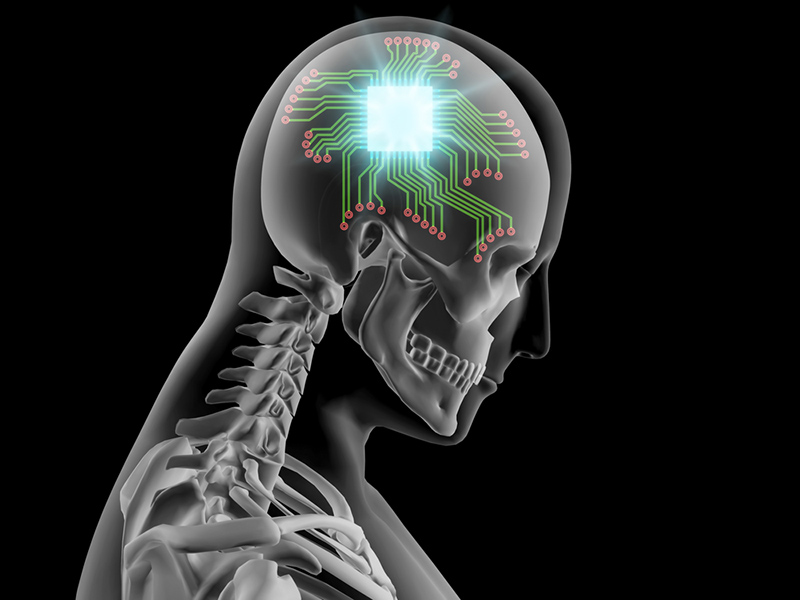 The Defence Advanced Research Projects Agency (DARPA) – a branch of the U.S. military – has announced a new research and development program known as Neural Engineering System Design (NESD). This aims to create a fully implantable neural interface able to provide unprecedented signal resolution and data-transfer bandwidth between the human brain and the digital world.
The interface would serve as a translator, converting between the electrochemical language used by neurons in the brain and the ones and zeros that constitute the language of information technology. A communications link would be achieved in a biocompatible device no larger than a cubic centimetre. This could lead to breakthrough treatments for a number of brain-related illnesses, as well as providing new insights into possible future upgrades for aspiring transhumanists.
"Today's best brain-computer interface systems are like two supercomputers trying to talk to each other using an old 300-baud modem," says Phillip Alvelda, program manager. "Imagine what will become possible when we upgrade our tools to really open the channel between the human brain and modern electronics."
Among NESD's potential applications are devices that could help restore sight or hearing, by feeding digital auditory or visual information into the brain at a resolution and experiential quality far higher than is possible with current technology.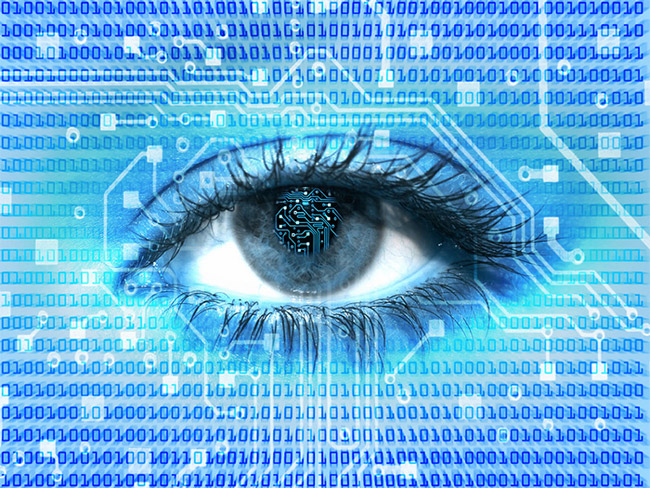 Neural interfaces currently approved for human use squeeze a tremendous amount of information through just 100 channels, with each channel aggregating signals from tens of thousands of neurons at a time. The result is noisy and imprecise. In contrast, the NESD program aims to develop systems that communicate clearly and individually with any of up to one million neurons in a given region of the brain.
To achieve these ambitious goals and ensure the technology is practical outside of a research setting, DARPA will integrate and work in parallel with numerous areas of science and technology – including neuroscience, synthetic biology, low-power electronics, photonics, medical device packaging and manufacturing, systems engineering, and clinical testing. In addition to the program's hardware challenges, NESD researchers will be required to develop advanced mathematical and neuro-computation techniques, to transcode high-definition sensory information between electronic and cortical neuron representations and then compress and represent the data with minimal loss.
The NESD program aims to recruit a diverse roster of leading industry stakeholders willing to offer state-of-the-art prototyping, manufacturing services and intellectual property. In later phases of the program, these partners could help transition the resulting technologies into commercial applications. DARPA will invest up to $60 million in the NESD program between now and 2020.
21st January 2016
Nanoparticles kill 90% of antibiotic-resistant bacteria
Light-activated nanoparticles able to kill over 90% of antibiotic-resistant bacteria have been demonstrated at the University of Colorado.
Antibiotic-resistant bacteria such as Salmonella, E. Coli and Staphylococcus infect some two million people and kill 23,000 in the U.S. each year. Efforts to defeat these so-called "superbugs" have consistently fallen short, due to the bacteria's ability to adapt rapidly and develop immunity to common antibiotics such as penicillin. In 2014, the World Health Organisation declared this a "major global threat" and warned that the world is heading for a post-antibiotic era, in which even common infections and minor injuries which have been treatable for decades can once again kill.
In this ever-escalating evolutionary battle with drug-resistant bacteria, we may soon have an advantage, however, thanks to adaptive, light-activated nanotherapy developed by scientists at the University of Colorado Boulder. Their latest research suggests that the solution to this big global problem might be to think small – very small.
In findings published by the journal Nature Materials, researchers at the Department of Chemical and Biological Engineering and the BioFrontiers Institute describe new light-activated nanoparticles known as "quantum dots." These dots, which are 20,000 times smaller than a human hair and resemble the tiny semiconductors used in consumer electronics, successfully killed 92% of drug-resistant bacterial cells in a lab-grown culture.
"By shrinking these semiconductors down to the nanoscale, we're able to create highly specific interactions within the cellular environment that only target the infection," said Prashant Nagpal, senior author of the study.
Previous research has shown that metal nanoparticles – created from silver and gold, among various other metals – can be effective at combating antibiotic resistant infections, but can indiscriminately damage surrounding cells as well. Quantum dots, however, can be tailored to particular infections thanks to their light-activated properties. The dots remain inactive when in darkness, but can be "activated" on command by exposing them to light, allowing researchers to modify the wavelength in order to alter and kill the infected cells.
"While we can always count on these superbugs to adapt and fight the therapy, we can quickly tailor these quantum dots to come up with a new therapy and therefore fight back faster in this evolutionary race," said Nagpal.
The specificity of this innovation may help reduce or eliminate the potential side effects of other treatment methods, as well as provide a path forward for future development and clinical trials.
"Antibiotics are not just a baseline treatment for bacterial infections, but HIV and cancer as well," said Anushree Chatterjee, an assistant professor in the Department of Chemical and Biological Engineering at CU-Boulder and a senior author of the study. "Failure to develop effective treatments for drug-resistant strains is not an option, and that's what this technology moves closer to solving."
Nagpal and Chatterjee are co-founders of PRAAN Biosciences, a Colorado-based startup that can sequence genetic profiles using just a single molecule – technology that may aid in the diagnosis and treatment of superbug strains. The authors have filed a patent on their new quantum dot technology.
21st January 2016
Tiny electronic implants that monitor brain injury, then melt away
Researchers have developed a new class of small, thin electronic sensors that monitor temperature and pressure within the skull – crucial health parameters after a brain injury or surgery – then melt away when no longer needed. This eliminates the need for additional surgery to remove the monitors and reduces the risk of infection and haemorrhage.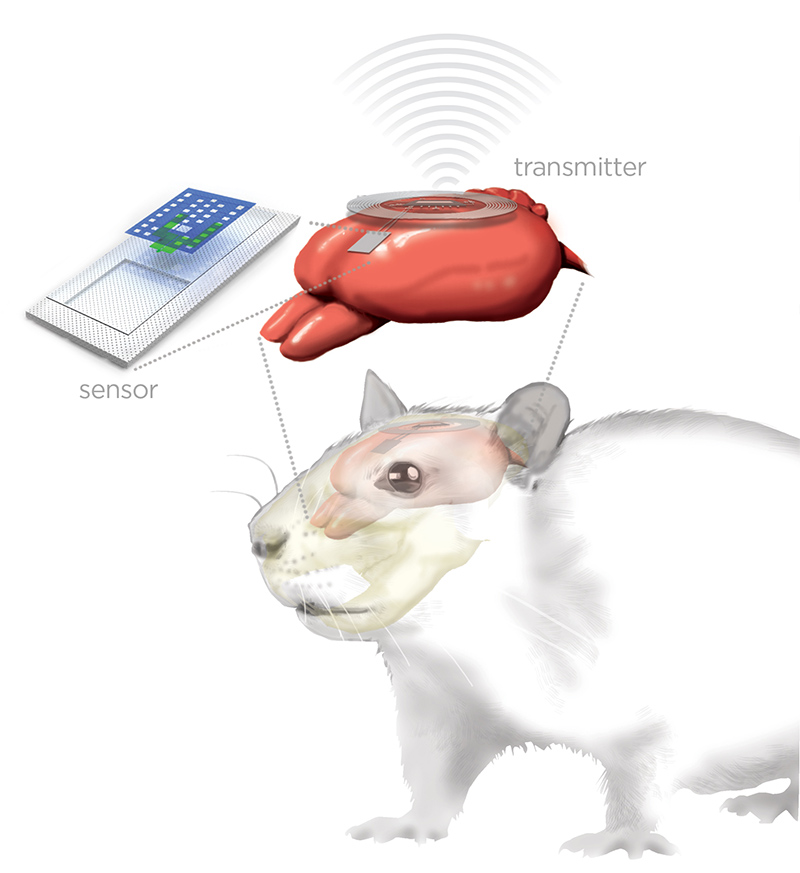 Similar sensors can be adapted for postoperative monitoring in other body systems as well, the researchers say. Led by John A. Rogers, a professor of materials science and engineering at the University of Illinois at Urbana-Champaign, and Wilson Ray, a professor of neurological surgery at the Washington University School of Medicine in St. Louis, the researchers have published their work in the journal Nature.
"This is a new class of electronic biomedical implants," said Professor Rogers. "These kinds of systems have potential across a range of clinical practices, where therapeutic or monitoring devices are implanted or ingested, perform a sophisticated function, and then resorb harmlessly into the body after their function is no longer necessary."
After a traumatic brain injury or brain surgery, it is crucial to monitor the patient for swelling and pressure on the brain. Current monitoring technology is bulky and invasive, Rogers said, and the wires restrict the patent's movement and hamper physical therapy as they recover. Because they require continuous, hard-wired access into the head, such implants also carry the risk of allergic reactions, infection and haemorrhage, and could even exacerbate the inflammation they are meant to monitor.
"If you simply could throw out all the conventional hardware and replace it with very tiny, fully implantable sensors capable of the same function, constructed out of bioresorbable materials in a way that also eliminates or greatly miniaturises the wires, then you could remove a lot of the risk and achieve better patient outcomes," Rogers said. "We were able to demonstrate all of these key features in animal models, with a measurement precision that's just as good as that of conventional devices."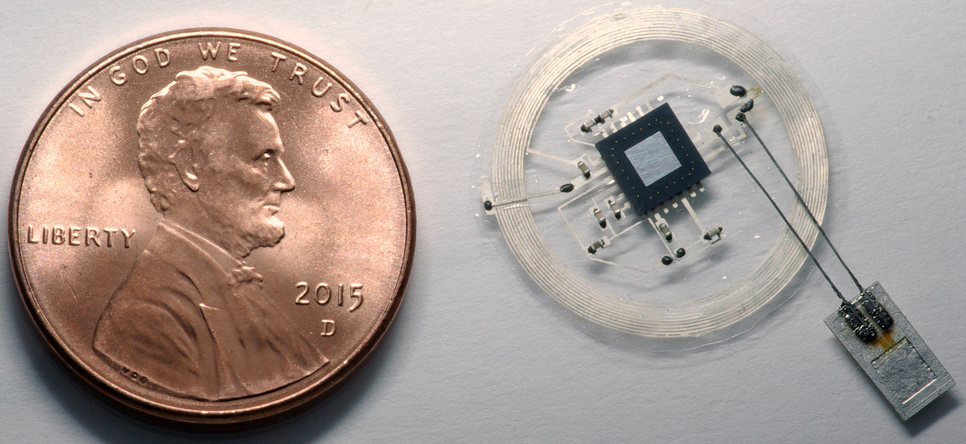 The new devices incorporate dissolvable silicon technology developed by Rogers' group. The sensors, smaller than a grain of rice, are built on extremely thin sheets of silicon – which are naturally biodegradable – that are configured to function normally for a few weeks, then dissolve away, completely and harmlessly in the body's own fluids.
Rogers' group teamed with Illinois materials science and engineering professor Paul V. Braun to make the silicon platforms sensitive to clinically relevant pressure levels in the intracranial fluid surrounding the brain. They also added a tiny temperature sensor and connected it to a wireless transmitter roughly the size of a postage stamp, implanted under the skin but on top of the skull.
A downloadable image gallery is available.
The Illinois group worked with clinical experts in traumatic brain injury at Washington University to implant the sensors in rats, testing for performance and biocompatibility. They found that the temperature and pressure readings from the dissolvable sensors matched the conventional monitoring devices for accuracy.
"The ultimate strategy is to have a device that you can place in the brain – or in other organs in the body – that is entirely implanted, intimately connected with the organ you want to monitor and can transmit signals wirelessly to provide information on the health of that organ, allowing doctors to intervene if necessary to prevent bigger problems," said Rory Murphy, a neurosurgeon at Washington University and co-author of the paper. "After the critical period that you actually want to monitor, it will dissolve away and disappear."
The researchers are moving toward human trials for this technology, as well as extending its functionality for other biomedical applications.
"We have established a range of device variations, materials and measurement capabilities for sensing in other clinical contexts," Rogers said. "In the near future, we believe that it will be possible to embed therapeutic function – such as electrical stimulation or drug delivery – into the same systems while retaining the essential bioresorbable character."
18th January 2016
62 people own same as half the world
Runaway inequality has created a world where 62 people own as much as the poorest half of the global population, according to an Oxfam report published today ahead of the annual gathering of the world's financial and political elites in Davos. This number has fallen dramatically from 388 as recently as 2010 and 80 last year.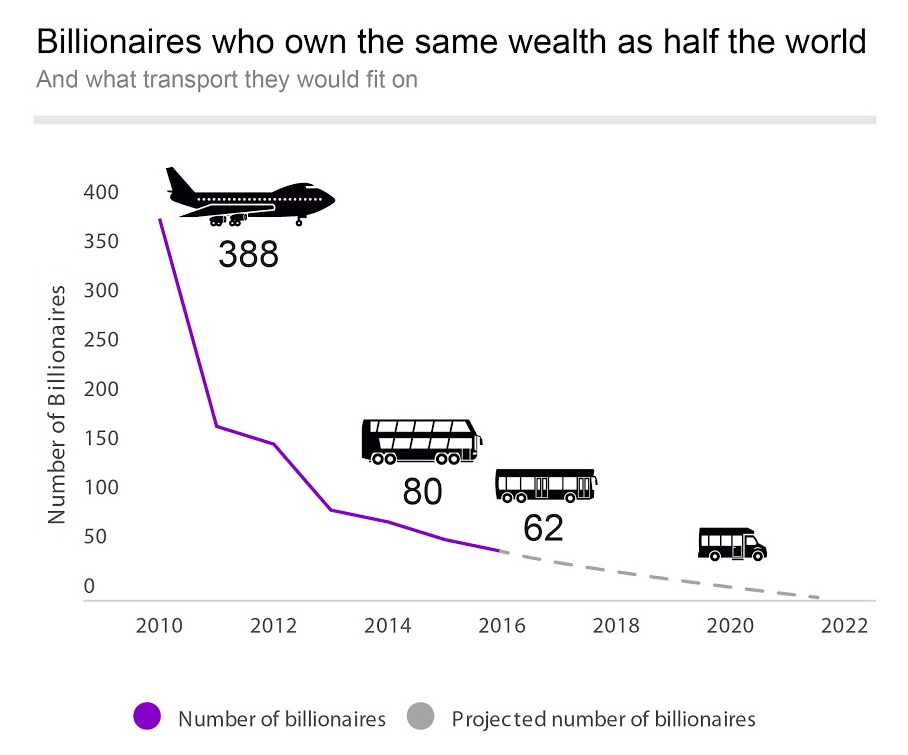 Oxfam's new report, An Economy for the 1%, shows that the wealth of the poorest half of the global population – 3.6 billion people – has fallen by a trillion dollars since 2010. This 41 per cent drop has occurred despite the world's population increasing by around 400 million people during that period. Meanwhile, the wealth of the richest 62 has increased by more than half a trillion dollars to $1.76tr. Just nine of the "62" are women.
Although world leaders have increasingly talked about the need to tackle inequality, the gap between the richest and the rest has widened dramatically in the past 12 months. Oxfam's prediction – made ahead of last year's Davos – that the 1% would soon own more than the rest of us by 2016, actually came true in 2015, earlier than expected.
Oxfam is calling for urgent action to tackle the inequality crisis and reverse the dramatic fall in wealth of the poorest half of the world. It is urging world leaders to adopt a three-pronged approach – cracking down on tax dodging; increased investment in public services; and action to boost the income of the lowest paid. As a main priority, it is calling for an end to the era of tax havens, which has seen increasing use of offshore centres by rich individuals and companies to avoid paying their fair share to society. This has denied governments valuable resources needed to tackle poverty and inequality.
It is three years since British PM David Cameron told Davos he would lead a global effort against aggressive avoidance in the UK and in poor countries. However, promised measures to increase transparency in British Overseas Territories and Crown Dependencies, such as the Cayman Islands and the British Virgin Islands, have not yet been implemented.
Mark Goldring, Oxfam Chief Executive, said: "It is simply unacceptable that the poorest half of the world population owns no more than a small group of the global super-rich – so few, you could fit them all on a single coach. World leaders' concern about the escalating inequality crisis has so far not translated into concrete action to ensure that those at the bottom get their fair share of economic growth. In a world where one in nine people go to bed hungry every night, we cannot afford to carry on giving the richest an ever bigger slice of the cake.
"We need to end the era of tax havens which has allowed rich individuals and multinational companies to avoid their responsibilities to society by hiding ever increasing amounts of money offshore. Tackling the veil of secrecy surrounding the network of tax havens would be a big step towards ending extreme inequality."
Globally, it is estimated that super-rich individuals have stashed a total of $7.6tr in offshore accounts. If tax were paid on the income that this wealth generates, an extra $190bn would be available to governments every year.
As much as 30 per cent of all African financial wealth is estimated to be held offshore, costing an estimated $14bn in lost tax revenue every year. This is enough to pay healthcare for mothers and children that could save four million children's lives a year and employ enough teachers to get every African child into school.
Allowing governments to collect the taxes they are owed from companies and rich individuals will be vital if world leaders are to meet the new UN Sustainable Development Goals (successor to the Millennium Development Goals), agreed last year, which aim to eliminate extreme poverty by 2030.
Although the number of people living in extreme poverty halved between 1990 and 2010, the average annual income of the poorest 10 per cent has risen by less than $3 a year in the past quarter of a century. That equates to an increase in daily income of less than a single cent a year. Had inequality within countries not grown between 1990 and 2010, an extra 200 million people would have escaped poverty.
One of the other key trends behind rising inequality, seen in Oxfam's report, is the falling share of national income going to workers in almost all developed and most developing countries and a widening gap between pay at the top and bottom of the income scale. This particularly affects women, who make up the majority of low paid workers around the world.
By contrast, the already wealthy have benefited from a rate of return on capital via interest payments, dividends, etc. that has been consistently higher than the rate of economic growth. This advantage has been compounded by the use of tax havens, which are perhaps the most glaring example set out in the report of how the rules of the economic game have been rigged in a manner that has supercharged the ability of the rich and powerful to entrench their wealth.
Action to recover the missing billions lost to tax havens needs to be accompanied by a commitment on the part of governments to invest in healthcare, schools and other vital public services that make such a big difference to the lives of the poorest people. Governments should also ensure that work delivers an acceptable standard of living for those at the bottom, by moving minimum wage rates towards a living wage and tackling the pay gap between men and women.
"Ending extreme poverty requires world leaders to tackle the growing gap between the richest and the rest, which has trapped hundreds of millions of people in a life of poverty, hunger and sickness," Goldring added. "It is no longer good enough for the richest to pretend that their wealth benefits the rest of us when the facts show that the recent explosion in the wealth of the super-rich has come at the expense of the poorest."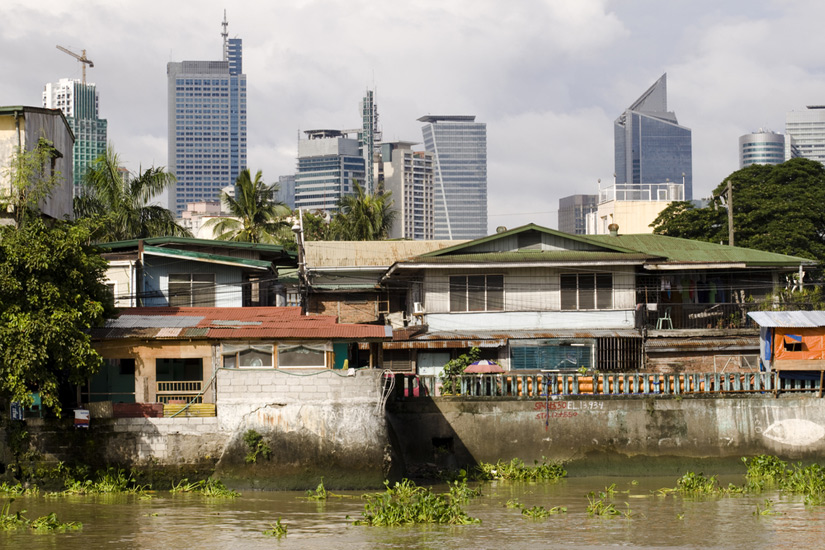 18th January 2016
Next ice age delayed by 100,000 years
Man-made carbon emissions have delayed the next ice age by as much as 100,000 years, according to researchers at the Potsdam Institute for Climate Impact Research.
Humanity has become a geological force that is able to suppress the beginning of the next ice age, according to a new study published in Nature. Scientists at the Potsdam Institute for Climate Impact Research in Germany found the relation of insolation (solar radiation hitting the Earth's surface) and CO2 concentration in the atmosphere are the key criterion to explain the last eight glacial cycles in Earth's history. At the same time, their results show that even moderate human interference with the planet's natural carbon balance might postpone the next glacial inception by 100,000 years.
Even without man-made climate change, the current geological cycle (known as the Holocene) suggests that the earliest the next ice age could be expected to arrive is 50,000 years from now. However, the addition of man-made CO2 from human activity since the Industrial Revolution is already sufficient to postpone the next ice age by a further 50,000 years, while future anthropogenic emissions in the coming decades may increase that by yet another 50,000 years.
"The bottom line is that we're basically skipping a whole glacial cycle, which is unprecedented," says lead author Andrey Ganopolski. "It's mind-boggling that humankind is able to interfere with a mechanism that shaped the world as we know it."
For the first time, says Ganopolski, scientists can explain the onset of the past eight ice ages by quantifying several key factors that preceded the formation of each glacial cycle: "Our results indicate a unique functional relationship between the summer insolation and atmospheric CO2 for the beginning of a large-scale ice-sheet growth which does not only explain the past, but also enables us to anticipate future periods when glacial inception might occur again."
Using an elaborate Earth system model – simulating atmosphere, ocean, ice sheets and global carbon cycle at the same time – the scientists analysed the effects of further human-made CO2-emissions on the ice volume in the Northern Hemisphere.
"Due to the extremely long life-time of anthropogenic CO2 in the atmosphere, past and future emissions have a significant impact on the timing of the next glacial inception," says co-author Ricarda Winkelmann. "Our analysis shows that even small additional carbon emissions will most likely affect the evolution of the Northern Hemisphere ice sheets over tens of thousands of years, and moderate future anthropogenic CO2-emissions of 1000 to 1500 Gigatons of Carbon are bound to postpone the next ice age by at least 100,000 years."
The search for what drives each glacial cycle remains one of the most fascinating questions of Earth system analysis, and especially paleoclimatology – the study of climate changes throughout the entire history of our planet. Usually, the beginning of a new ice age is marked by periods of very low solar radiation in summer, like current times. However, at present there is no evidence for a new ice age emerging: "This is the motivation for our study. Unravelling the mystery of the mechanisms driving past glacial cycles also facilitates our ability to predict the next glacial inception," Winkelmann says.
"Like no other force on the planet, ice ages have shaped the global environment and thereby determined the development of human civilisation. For instance, we owe our fertile soil to the last ice age that also carved out today's landscapes, leaving glaciers and rivers behind, forming fjords, moraines and lakes. However, today it is humankind with its emissions from burning fossil fuels that determines the future development of the planet," co-author and PIK-Director Hans Joachim Schellnhuber says. "This illustrates very clearly that we have long entered a new era, and that in the Anthropocene humanity itself has become a geological force. In fact, an epoch could be ushered in which might be dubbed the Deglacial."
16th January 2016
U.S. government pledges $4bn for self-driving vehicles
The U.S. government this week revealed plans for a 10-year, nearly $4 billion investment to accelerate the development and adoption of safe vehicle automation, through real-world pilot projects.
In his final State of the Union address, President Obama signalled his intent to invest in a 21st century transportation system. U.S. Transportation Secretary Anthony Foxx this week revealed part of the president's proposal: a 10-year, nearly $4 billion investment to accelerate the development and adoption of safe vehicle automation, through real-world pilot projects.
Secretary Foxx also announced the removal of potential roadblocks to the integration of innovative, transformational automotive technology that can significantly improve safety, mobility, and sustainability. Foxx made the announcement at the North American International Auto Show (NAIAS) in Detroit, where he was joined by leaders in technology, executives of traditional auto manufacturers, and newcomers to the industry.
"We are on the cusp of a new era in automotive technology with enormous potential to save lives, reduce greenhouse gas emissions, and transform mobility for the American people," said Foxx. "Today's actions and those we will pursue in the coming months will provide the foundation and the path forward for manufacturers, state officials, and consumers to use new technologies and achieve their full safety potential."
The President's 2017 budget proposal would provide nearly $4 billion over 10 years for pilot programs to test connected vehicle systems in designated corridors throughout the country, and work with industry leaders to ensure a common, multistate framework, for connected and autonomous vehicles.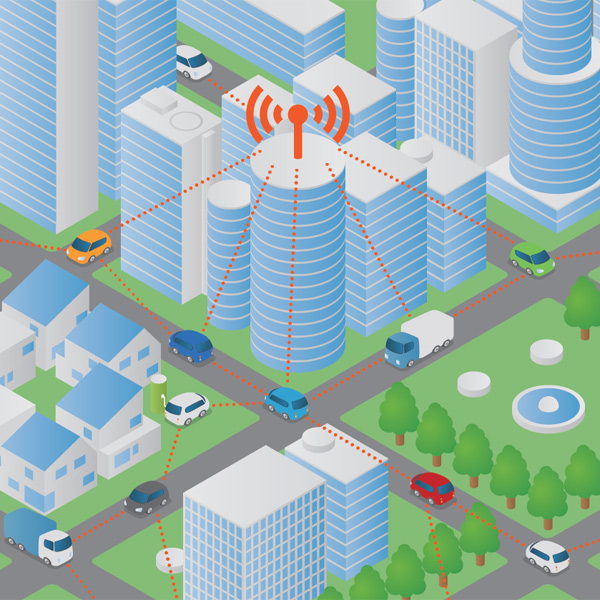 Secretary Foxx has also confirmed an update for the National Highway Traffic Safety Administration's (NHTSA) 2013 preliminary policy statement on autonomous vehicle technology. This new guidance reflects the reality that the widespread deployment of fully autonomous vehicles is now feasible.
Administrator Mark Rosekind said: "The NHTSA is using all of its available tools to accelerate the deployment of technologies that can eliminate 94% of fatal crashes involving human error. We will work with state partners toward creating a consistent national policy on these innovations, provide options now and into the future for manufacturers seeking to deploy autonomous vehicles, and keep our safety mission paramount at every stage."
Under Foxx's leadership, the Department of Transportation has been working to transform government for the 21st century, by harnessing technology and innovation that will improve people's lives. In 2015, he refocused the national dialogue about the future of America's transport system by releasing Beyond Traffic – a report examining the challenges facing the country's infrastructure between now and 2045. The draft framework has already influenced decisions by elected officials, planners, and stakeholders nationwide. He also launched the Smart City Challenge, a national competition to implement bold, data-driven ideas that make transportation safer, easier, and more reliable in cities. He also worked to accelerate the Department's efforts to incorporate vehicle-to-vehicle (V2V) communication technology into new vehicles.
Numerous forecasts by technology analysts point to a future dominated by intelligent, self-driving vehicles and smarter road systems. These new measures announced by the U.S. government will help to bring that futuristic vision closer to reality.
12th January 2016
World's first virtual reality rollercoaster
In a groundbreaking move that could revolutionise the world of theme parks, the UK's Alton Towers Resort announces today it is launching a rollercoaster entirely dedicated to virtual reality.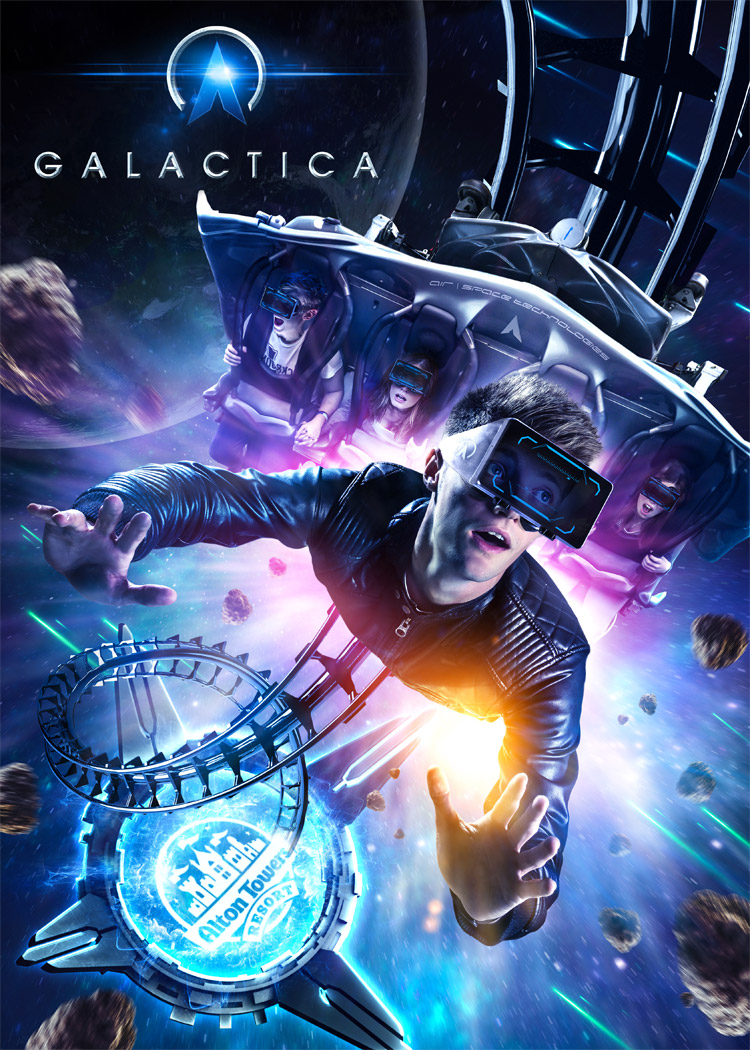 Set to open in April, Galactica is the world's first rollercoaster entirely customised for the full virtual reality experience, transforming riders into astronauts and plunging them into outer space with a G force of 3.5, which is more powerful than the 3G of a real rocket launch.
The exhilarating new ride will combine the physical exertion and adrenaline rush of Alton Towers' iconic flying rollercoaster, with the breathtaking sensation of travelling through space. Cutting edge technology launches riders into a different world, complete with virtual space suits, stunning visuals and an exciting adventure. The visuals have been perfectly synchronised to the thrilling twists, turns and loops of the rollercoaster to recreate the sensation of hurtling through space. Visitors will ride in a prone position along the 840-metre long (2,760 ft) track, to recreate the feeling of flying.
Galactica's epic space theme is set to be hugely popular following Tim Peake's maiden voyage into space in December 2015. Stunning, high-quality visuals deliver an immersive experience that its designers claim is breathtakingly realistic. Each rider wears a modified Samsung Gear VR headset. Through this, an on-board artificial intelligence guides them from the launch pad up into space – flying and looping beyond the stars, banking through wormholes and speeding across distant galaxies, revealing the wonders of the cosmos in stunning clarity.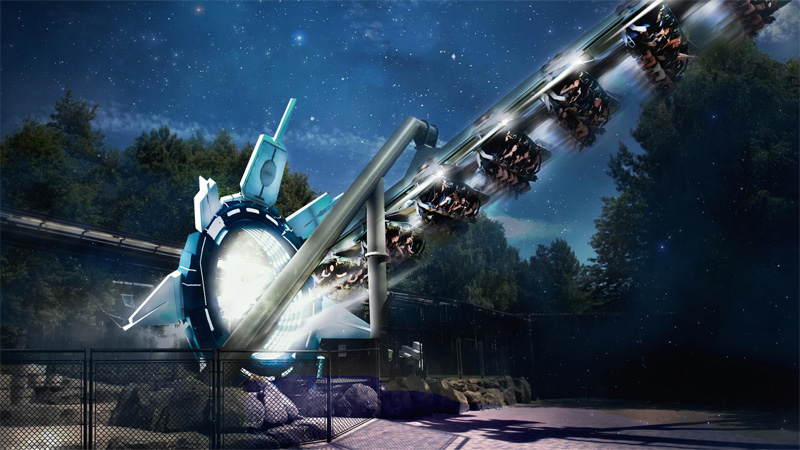 Commenting on the new attraction, Marketing Director Gill Riley says: "Galactica uses groundbreaking technology to give riders a breathtaking and completely unique rollercoaster experience. Tim Peake captured the imagination of millions of Brits last year when he set off on his mission to the International Space Station – and now our visitors can become astronauts too.
"There is nowhere else in the world that people can experience the feeling of a flying rollercoaster combined with soaring through the universe. For two minutes, our guests will be transported into space and we believe Galactica showcases the future for theme parks around the world – it's a complete game changer!"
1st January 2016
New social and telepresence robots developed in Singapore
Two new humanoid robots have been demonstrated by researchers at Nanyang Technological University (NTU) in Singapore.
Say hello to Nadine – a "receptionist" at Nanyang Technological University in Singapore. She is friendly, and will greet you back. Next time you meet her, she will remember your name and your previous conversation with her. She looks almost like a human being, with soft skin and flowing brunette hair. She smiles when greeting you, looks at you in the eye when talking, and can also shake hands with you. Unlike most conventional robots, Nadine has her own personality, mood and emotions. She can be happy or sad, depending on the conversation. She also has a good memory, can visually recognise the people she has met and remember what the person had said before.
Nadine is the latest social robot developed by scientists at NTU. The doppelganger of its creator, Prof Nadia Thalmann, Nadine is powered by intelligent software similar to Apple's Siri and Microsoft's Cortana. In the future, robots like Nadine could be used as personal assistants in the office, or used as social companions for the young and the elderly at home.
A humanoid robot like Nadine is just one of the interfaces where NTU's technology can be applied. It can also be made virtual and appear on a TV or computer screen, and become a low-cost virtual social companion. With further progress in robotics driven by technological improvements in silicon chips, sensors and computation, physical social robots like Nadine are poised to become more visible in offices and homes in the coming decades.
A second robot – known as EDGAR – was also demonstrated at NTU's new media showcase. EDGAR is available in two different configurations as shown in the videos below. The first allows him to autonomously deliver speeches and read from a script. With an integrated webcam, he automatically tracks the people he meets to engage them in conversation, giving informative or witty replies to questions. This makes him ideal for use at public venues like tourist attractions and shopping centres, where he can offer practical information to visitors.
The other configuration allows EDGAR to become a tele-presence robot, optimised to replicate the movements of a human user. By standing in front of a specialised webcam, the user can control EDGAR remotely from anywhere in the world. Their face and expressions are projected onto the robot's face in real time, while the robot mimics the person's upper body movements, which include two highly articulated arms.
Led by Prof Gerald Seet, from the School of Mechanical and Aerospace Engineering, this robot is the result of three years of research and development: "EDGAR is a real demonstration of how telepresence and social robots can be used for business and education," explains Seet. "Telepresence provides an additional dimension to mobility. The user may project his or her physical presence at one or more locations simultaneously, meaning that geography is no longer an obstacle.
"In future, a renowned educator giving lectures or classes to large groups of people in different locations at the same time could become commonplace. Or you could attend classes or business meetings all over the world using robot proxies – saving time and travel costs."
Given that some companies have expressed interest in the robot technologies, the next step for these NTU scientists is to look at how they can partner with industry to bring them to the market.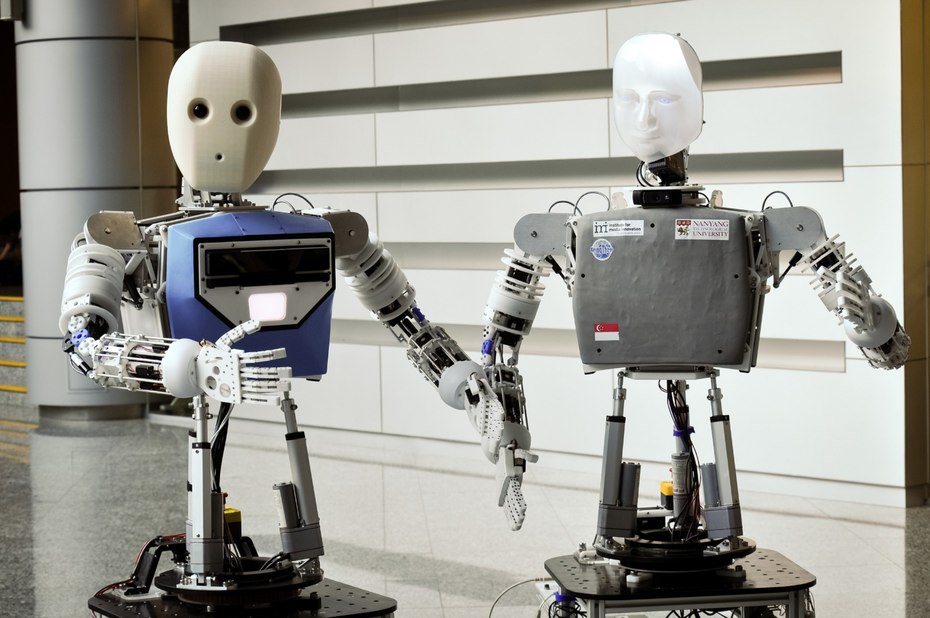 The Nadine and EDGAR robots are among NTU's many exciting innovations that companies can leverage for commercialisation, Professor Thalmann says: "Robotics technologies have advanced significantly over the past few decades and are already being used in manufacturing and logistics. As countries worldwide face challenges of an aging population, social robots can be one solution to address the shrinking workforce, become personal companions for children and the elderly at home, and even serve as a platform for healthcare services in future."
"Over the past four years, our team at NTU have been fostering cross-disciplinary research in social robotics technologies – involving engineering, computer science, linguistics, psychology and other fields – to transform a virtual human, from within a computer, into a physical being that is able to observe and interact with other humans.
"This is somewhat like a real companion that is always with you – and conscious of what is happening. So in future, these socially intelligent robots could be like C-3PO, the iconic golden droid from Star Wars, with knowledge of language and etiquette."