3rd March 2015
200GB microSD card announced by SanDisk
SanDisk has announced the first 200GB capacity microSD card, a 56% increase on its previous record of 128GB just a year earlier.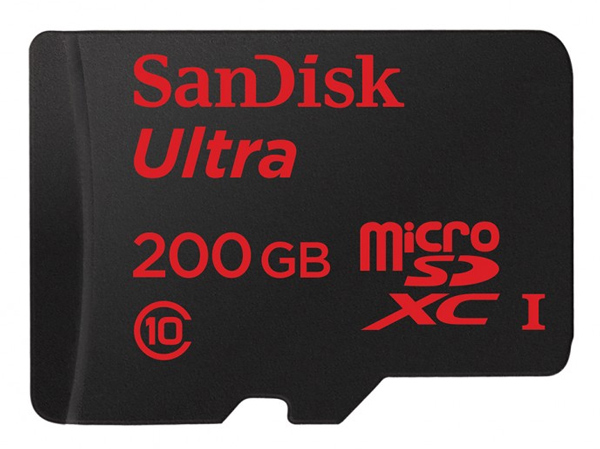 SanDisk Corporation has introduced the 200GB SanDisk Ultra® microSDXC™ UHS-I card, Premium Edition – the world's highest capacity microSD card for use in mobile devices. Just one year after its record-breaking 128GB microSD card, the company has increased storage capacity by 56% within the same fingernail-sized form factor. Blazingly fast transfer speeds of 90MB/s enable consumers to move up to 1,200 photos per minute.
"Mobile devices are completely changing the game," said Christopher Chute, Vice President, Worldwide Digital Imaging Practice, IDC. "Seven out of 10 images captured by consumers are now from smartphones and tablets. Consumers view mobile-first devices as their primary means for image capture and sharing – and by 2019, smartphones and tablets will account for nine out of 10 images captured. As the needs of mobile users continue to change, SanDisk is on the forefront of delivering solutions for these demands as is clearly illustrated through their growing portfolio of innovative products, including the new 200GB SanDisk Ultra microSDXC card."
SanDisk achieved this capacity breakthrough by leveraging the proprietary technology developed last year for the 128GB version and creating a new design and production process that allows for more bits per die. Digital storage is a very good example of an exponential technology. On current trends, microSD cards with terabyte (1000GB) capacities are likely to be achieved within the next several years.
The 200GB SanDisk Ultra microSDXC UHS-I card, Premium Edition, features a ten-year limited warranty and will be available worldwide in Q2 2015 at a suggested retail price of $399.99.
2nd March 2015
"The Vive" – new VR headset being developed by HTC and Valve
Smartphone giant HTC, in partnership with gaming company Valve, has announced plans to bring mass-market virtual reality a step closer.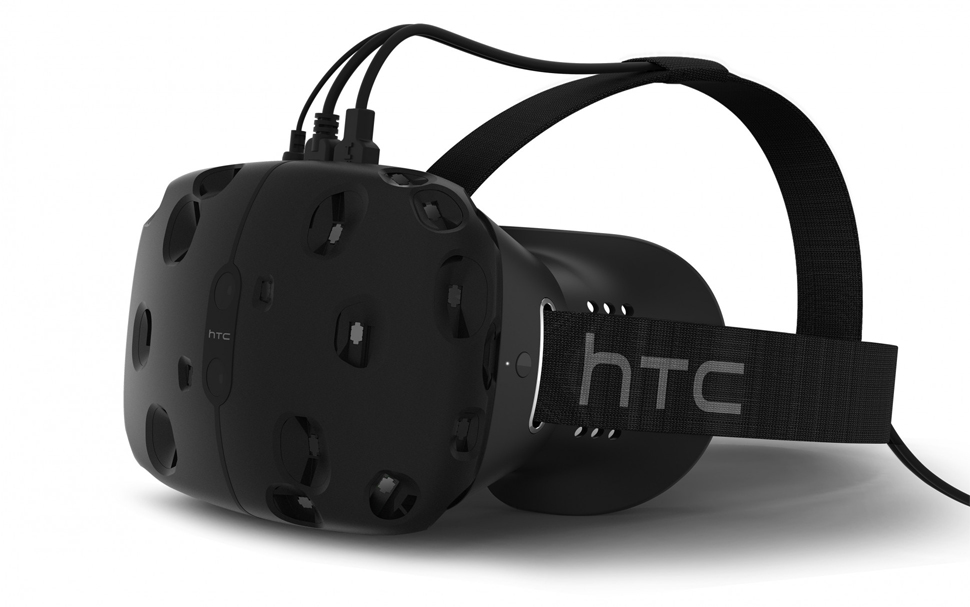 Through a strategic partnership with Valve, HTC hopes to transform the way in which consumers interact with technology and the world around them with the debut of HTC Vive. The Developer Edition will be launched this Spring, with a consumer edition available by the end of 2015. The Vive will combine Valve's Steam VR tracking and input technologies with HTC's design and engineering talent. If successful, it could set a new gold standard for an industry that has, until now, struggled to move beyond the concept stage.
Cher Wang, Chairwoman of HTC: "It's rare that a company has an opportunity to forever transform the ways in which people interact with the world and communicate with each other, but that is exactly what we plan to do with Valve."
"We achieved this once before with our development of smartphone technology," says Peter Chou, CEO of HTC. "And through our partnership with Valve, we'll now be doing this for a second time with VR technology of which consumers could only previously dream."
There are several competing VR headsets now being developed including the Oculus Rift, Samsung Gear VR and Sony's Project Morpheus. HTC claims its Vive product will offer "the most immersive experience of any VR package" – a Full Room Scale 360° Solution with tracked controllers, letting you get up, walk around and explore your virtual space, inspect objects from every angle and truly interact with your surroundings. Setting a new benchmark for performance and speed, Vive will feature 1200 x 1080 pixel resolution displays refreshing at 90 frames per second, "eliminating jitter" and achieving "photorealistic imagery." More than 70 sensors are built into the device including a gyrosensor, accelerometer, and laser position sensor that will track users' head movements as precisely as one-tenth of a degree.
"We believe that virtual reality will totally transform the way that we interact with the world," said Chou at a press event in Barcelona. "Virtual reality will become a mainstream technology for the rest of the world."
While gaming has been a major focus of virtual reality, there are many other applications for the Vive, according to HTC. Just some of the potential experiences include travel, attending real-time concerts, meeting friends, shopping, learning history, exploring the universe, or even reliving memories.
"Vive creates an exciting opportunity for all developers and content creators, to help us bring virtual reality into the mainstream with an end-to-end solution that completely redefines how we entertain ourselves, communicate with each other, learn and, eventually, how we become more productive," Cher Wang concluded. "HTC Vive is real, it's here and it'll be ready to go before the start of 2016."
22nd February 2015
Care-O-bot 4: universal helper for everyday situations
Built by researchers in Germany, the latest generation of "Care-O-bot" is both cheaper and more versatile than its predecessors, offering a wide range of applications.
In recent years, there has been significant progress in robotics – both in terms of technological development, and the number of these machines appearing in homes and workplaces. Just some examples include OSHbot (an automated retail assistant), RP-VITA (a telemedicine robot for hospitals), A.L.O. (a robotic butler, or "Botlr") and the latest model of ASIMO (arguably the most famous robot in the world). As they become cheaper, more versatile and ever more widespread, robots can fulfil an increasingly diverse range of activities. Within the next few decades, it is likely that they will become an everyday common sight in countries around the world.
The Fraunhofer Institute in Germany has been developing service robots since the 1990s. One of their projects is the "Care-O-bot" – a two-armed, omnidirectional machine with autonomous navigation, object recognition and grasping abilities. It has gone through various design revisions since 1998 and the 4th generation has now been announced. Care-O-bot 4 is a major improvement on its predecessors. Described as "a universal helper for everyday scenarios", it is modular and can be adapted to a multitude of different scenarios at a cost that makes it commercially viable; from airports to apartments, care homes, DIY stores, hospitals, hotels, museums, restaurants, security applications and warehouses.
"The fourth generation of the Care-O-bot is not only more agile, modular and charming than its predecessors, but it also stands out through the use of cost-reducing construction principles," explains Dr Ulrich Reiser, Project and Group Leader at Fraunhofer IPA.
Andreas Haug, co-Founder and Managing Director of Phoenix Design, who partnered with Fraunhofer: "Care-O-bot 4 is a successful symbiosis of design and engineering, as well as functionality and emotion, which quickly encourages user interaction."
All images credit: Fraunhofer IPA
Large parts of Care-O-bot 4's internal construction are made with folding sheet metal, which is economical to produce in small quantities. Its design is streamlined with a "head" section and two arms, meaning its form resembles a human being. However, the developers did not want its appearance to be over-human, as this would "encourage false expectations with regard to its capabilities", says Dr. Reiser. It is just the robot's "internal values" that are human: it always maintains a respectful distance, shows what it has understood and what it intends to do, while also being able to make simple gestures and reflect emotions. As with its previous versions, social role models were used as a guiding vision in developing the design and functionality. While the concept for the Care-O-bot 3 was a more reserved, cautious butler, its successor is more friendly and dynamic.
Care-O-bot 4 also features a greater range of movements. Spherical joints around discreet pivot points on its neck and hips allow it to bend forward without losing its balance. Developers took inspiration from human anatomy, creating a moving part which shifts backwards when the robot bends over, ensuring balance is maintained when carrying a load in outstretched arms. It can make 360° rotations of its head and torso. An innovative one-finger hand with integrated sensors was developed in collaboration with manufacturing company Schunk.
Managing partner Henrik Schunk comments: "The Care-O-bot 4 represents a significant milestone in the mobile service robot industry, on account of its high degree of standardisation."
The Fraunhofer Institute was determined to ensure that Care-O-bot 4 is simple to use. The head is fitted with an easily accessible touchscreen and there is a microphone for speech recognition, along with cameras for personal and gesture recognition. Care-O-bot 4's spherical joints allow it to intuitively inform users what it is planning to do and what it has understood, including gestures such as nodding and shaking the head. A circle of LEDs on its torso and a laser pointer in the hand serve as information exchange points.
Care-O-bot 4 provides open software interfaces that make it easily expandable for developers. Ulrich Reiser is keen for as many scientists as possible to use the system developed in Stuttgart in order to steadily advance its possible areas of application: "The objective is to steadily grow the developer community that was established already around Care-O-bot 3," he explains. Numerous research institutions and universities around the world have already worked with Care-O-bot 3 and the new version 4 should follow suit.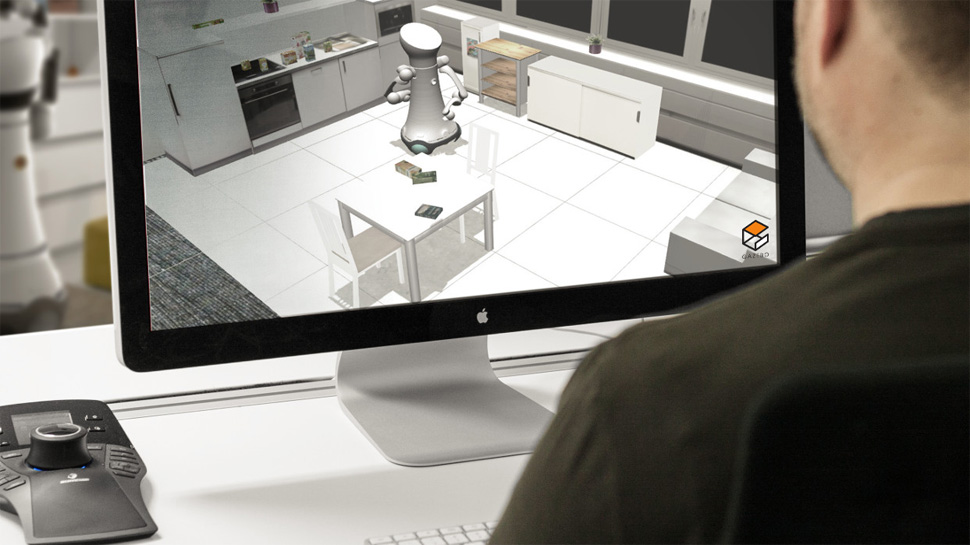 17th February 2015
Mars One selects final 100 astronaut candidates
Mars One, an ambitious project to colonise Mars, has announced its latest stage of development.
Mars One – the Dutch non-profit organisation aiming to land humans on Mars – has announced its final 100 candidates. The 50 men and 50 women were chosen from 202,586 applicants in countries around the world: 39 from the Americas, 31 from Europe, 16 from Asia, 7 from Africa and 7 from Oceania.
"The large cut in candidates is an important step towards finding out who has the right stuff to go to Mars," says Bas Lansdorp, Co-founder & CEO of Mars One. "These aspiring Martians provide the world with a glimpse into who the modern day explorers will be."
These people were selected from a pool of 660 candidates, after having personal online interviews with Norbert Kraft, Chief Medical Officer. During the interview process, each candidate was given the chance to demonstrate their understanding of the risks involved, show their team spirit and their motivation to be part of this life-changing expedition.
"We were impressed with how many strong candidates participated in the interview round, which made it a very difficult selection," said Dr. Kraft.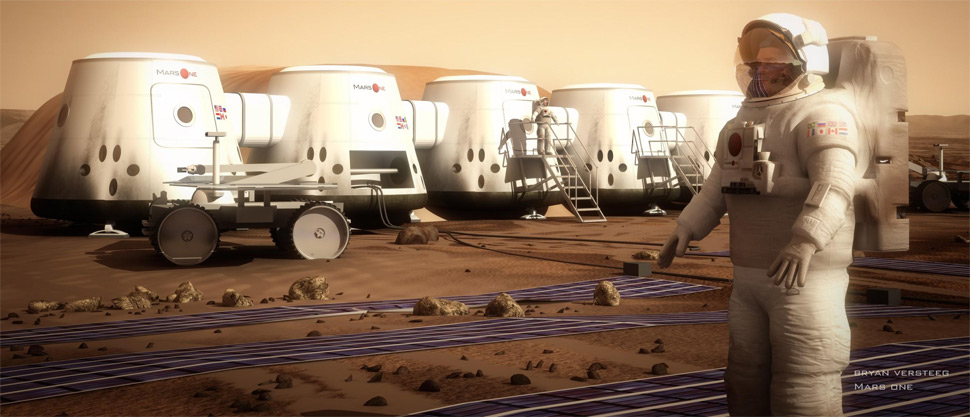 The next rounds will focus on composing teams that can endure all the hardships of a permanent settlement on Mars. The candidates will receive their first shot at training in a mock-up of the Mars Outpost on Earth and will demonstrate their suitability to perform well in a team.
"Being one of the best individual candidates does not automatically make you the greatest team player, so I look forward to seeing how the candidates progress and work together in the upcoming challenges." said Dr. Kraft.
These 100 candidates will eventually be whittled down to 24 – making up six crews of four. If all goes according to plan, robotic missions will first deliver habitat modules and cargo to the surface. Manned missions will then be conducted every two years from 2024, establishing a permanent presence on the Red Planet. Every step of the crew's journey will be documented for a reality TV program.
The mission has attracted criticism however, given the extreme risks involved, while many doubt it is even financially possible. A technical feasibility study by MIT found that, should the first explorers succeed in landing, using current technology they would likely survive just 68 days.
14th February 2015
Megatons of plastic waste are entering the oceans each year
Between 4.8 and 12.7 million metric tons of plastic entered the Earth's oceans in 2010 from people living within 50 km (31 mi) of a coastline, according to the results of a new study. Unless action is taken to improve recycling and waste disposal, the world faces an environmental crisis in the decades ahead.
A new study published yesterday in the journal Science provides another stark reminder of the impact that humans and their global civilisation are having on the world's oceans. Researchers from the University of Georgia looked at data from 192 countries with a coastline (i.e. not land-locked). They found that during 2010, these nations produced a total of 2.5 billion tons of waste. Of that, slightly over 10% or about 275 million metric tons was plastic. It is estimated that between 4.8 and 12.7 million metric tons — 1.7% to 4.6% — of plastic found its way into the oceans from two billion people within 50 km (31 mi) of a coast.
Using eight million metric tons for a midpoint, "is the equivalent to finding five grocery bags full of plastic on every foot of coastline," says Jenna Jambeck, assistant professor of environmental engineering and the paper's lead author.
"For the first time, we're estimating the amount of plastic that enters the oceans in a given year," said co-author Kara Lavender Law, research professor at the Massachusetts-based Sea Education Association. "Nobody has had a good sense of the size of that problem until now."
If trends continue, Jambeck forecasts that the cumulative impact on the oceans will reach 155 million metric tons by 2025 – a year that is also predicted to see a crisis in landfill and urban waste, as well. This problem is likely to become even worse in the century ahead, based on World Bank calculations. On a business-as-usual scenario, the world is not predicted to achieve "peak waste" until at least 2100. These materials could remain in the biosphere until the year 2600 AD.
The plastic entering our oceans includes not only bags, bottles, six-pack rings and other packaging – but also microplastics, which are easy to swallow and therefore pose a danger to marine life of all sizes, from barnacles to whales. In addition, plastic pollution can serve as a carrier of invasive species and diseases, threatening native ecosystems. This ongoing disruption will contribute to many extinctions in the years and decades ahead.
Up to 245,000 tons of plastic may be floating at the surface, according to Jambeck and her team – a figure that corroborates a similar study published in December 2014 that put the number at 269,000 tons, comprising a minimum of 5.2 trillion particles. Of particular concern is the North Pacific, where a swirling gyre of debris known as the Great Pacific garbage patch has accumulated, mostly consisting of plastic. Including four smaller gyres in other parts of the world, there is thought to be six times more plastic than zooplankton by dry weight.
These impacts are not limited to wildlife, but affect human society as well. Plastics and their accompanying toxic chemicals in the food chain are known to contribute to cancer, malformation and impaired reproductive ability. Fishing vessels and other boats are damaged by marine debris, while beaches require cleaning up. In total, plastic pollution causes over $13 billion in damages worldwide each year.
The main culprits in this global problem are the emerging nations in Asia and Africa, which have rapidly growing economies, but have yet to implement sufficient regulations and waste management systems. By far the largest share of plastic waste originates from China, which contributes 3.5 million metric tons annually – compared to just 0.1 million for the US. After China, the next largest contributors are Indonesia (1.29m), the Philippines (0.75m), Vietnam (0.73) and Sri Lanka (0.64m).
Plastic pollution in the ocean was first reported by the scientific literature in the early 1970s. In the 40 years since, there were no rigorous estimates of the amount and origin of plastic debris making its way into the marine environment, until Jambeck's current study. Part of the issue is that plastic is a relatively new problem coupled with a relatively new solution. Plastic first appeared on the consumer market in the 1930s and '40s. Waste management didn't start developing its current infrastructure in the US, Europe and parts of Asia until the mid-1970s.
"It is incredible how far we have come in environmental engineering, advancing recycling and waste management systems to protect human health and the environment, in a relatively short amount of time," says Jambeck. "However – these protections are unfortunately not available equally throughout the world."
One possible solution is the Ocean Cleanup Array designed by 21-year-old Boyan Slat. This concept would use a network of floating booms connected to processing stations that funnel plastic towards a central platform (attached to the booms) where a robotic system could sort plastic from plankton and store it for recycling. Following a year of research involving 100 volunteers and professionals, Slat's team announced the successful outcome of their feasibility study in June 2014. This is definitely a project to keep a close eye on.
12th February 2015
UK will begin testing driverless car technology on public roads
The United Kingdom has joined a growing number of countries planning to allow driverless cars on roads. Yesterday, the government announced a review into highway regulations and maintenance checks in preparation for testing the new technology.
A major review has confirmed the UK is uniquely positioned to develop driverless car technology. Up to now, the scope for testing driverless cars had been limited, but yesterday the industry was given the green light for testing on public roads. The UK's regulatory environment now sets it apart as a premium location for developing the new technology, with tremendous potential for reducing accidents and making traffic flow more smoothly.
"Driverless cars are the future," said Transport Minister Claire Perry. "I want Britain to be at the forefront of this exciting new development, to embrace a technology that could transform our roads and open up a brand new route for global investment. These are still early days, but today is an important step. The trials present a fantastic opportunity for this country to take a lead internationally in the development of this new technology."
Business Secretary, Vince Cable: "The UK is at the cutting edge of automotive technology – from the all-electric cars built in Sunderland, to the formula 1 expertise in the Midlands. It's important for jobs, growth and society that we keep at the forefront of innovation, that's why I launched a competition to research and develop driverless cars. The projects we are now funding in Greenwich, Bristol, Milton Keynes and Coventry will help to ensure we are world-leaders in this field and able to benefit from what is expected to be a £900 billion industry by 2025.
"The government's industrial strategy is backing the automotive sector as it goes from strength to strength. We are giving business the confidence to invest over the long term and developing cutting-edge technology that will create high skilled jobs."
To mark the launch of the review, Vince Cable joined Claire Perry in Greenwich, home to one of the projects benefiting from £19 million of government funding for driverless car trials. They witnessed the first official testing of the fully autonomous Meridian shuttle in Greenwich and unveiled a prototype of a driverless pod that will be tested in public areas in Milton Keynes. They were also shown other autonomous vehicles involved in the trials, including a BAE wildcat vehicle that is the result of years of advanced research and development by BAE systems and will be tested in Bristol.
The Department for Transport review, conducted over the past 6 months, considered the best and safest ways to trial automated vehicles where an individual is ready to take control of the car if necessary. It also looked further ahead to the implications of testing fully automated vehicles. The review provides legal clarity to encourage UK and international industry to invest in this technology and encourages the largest global businesses to come to the UK to develop and test new models.
The next step is for the government to introduce a code of practice to provide industry with the framework they need to trial cars in real-life scenarios, and to create more sophisticated versions of the models that already exist. This code of practice is scheduled for publication in spring 2015, with the first driverless cars supported by the prize fund expected to be tested on roads by the summer.
8th February 2015
China will have the most robots in the world by 2017
China is driving explosive growth in the robotics industry that is likely to continue for many years to come, according to a new report.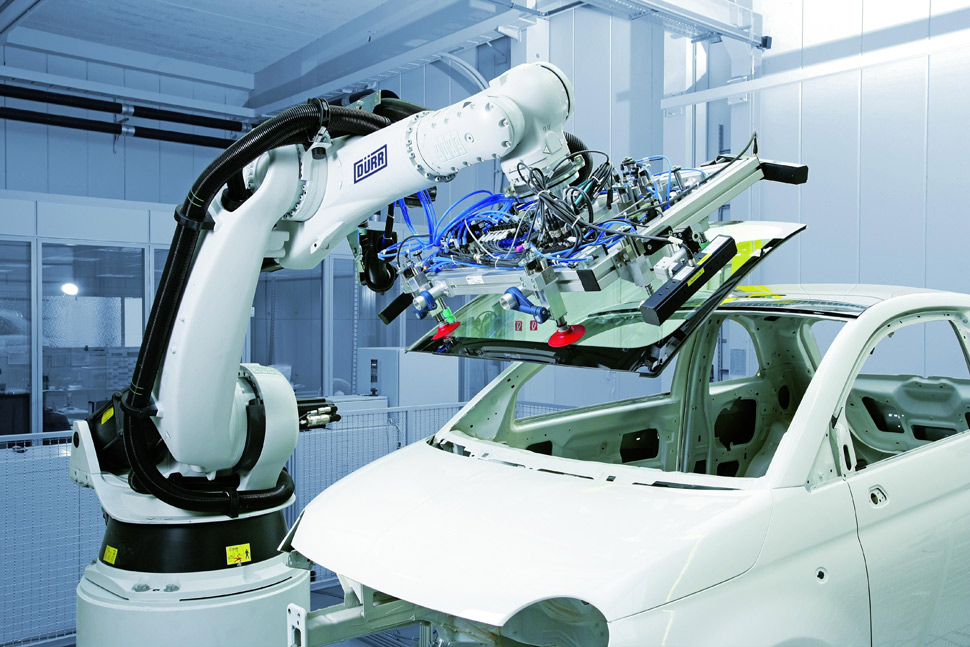 By 2017, more industrial robots will be operating in China's production plants than in the European Union or North America. Operating unit numbers there are forecast to more than double, from 182,000 to almost 428,000. For comparison, North America had 237,000 at the end of 2014, a number that will increase to about 291,000. That's according to the International Federation of Robotics (IFR) in their latest World Robot Statistics.
China is already the world's largest market for industrial robots when measured by annual sales, with 50,000 units shipped in 2014 – compared to 46,000 for the whole of Europe and 31,500 for North America. With vast numbers of robots being added to its factories each year, it will soon catch up in terms of operational stock numbers too.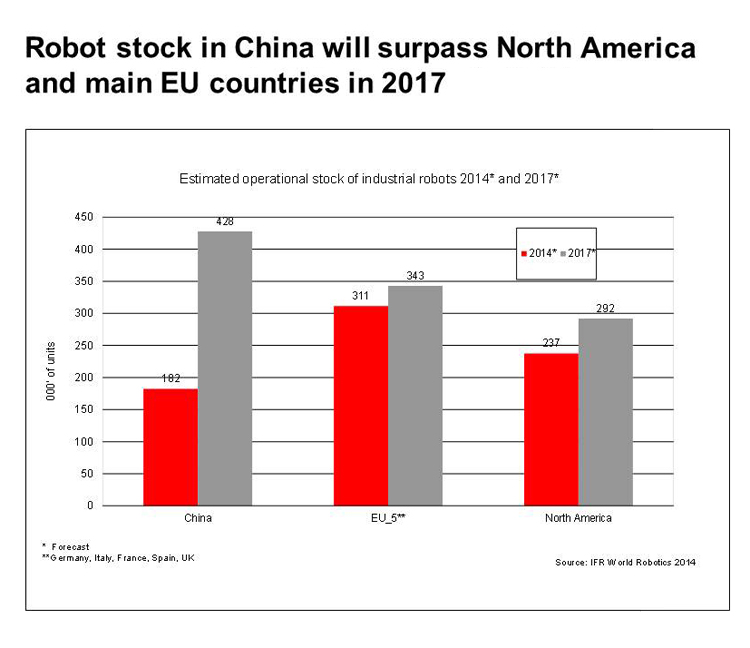 Given China's still very low robotic density, alongside its very high human population, the market's future growth potential is enormous. The nation currently has only 30 industrial robots per 10,000 employees in manufacturing industries. For comparison, Germany's robotic density is ten times greater and in Japan the figure is 11 times greater. In North America, robotic density is five times higher than in China, where the majority of industrial robots are used for handling operations and for welding. The automotive industry is by far the largest sector to use robotics (approx. 40%).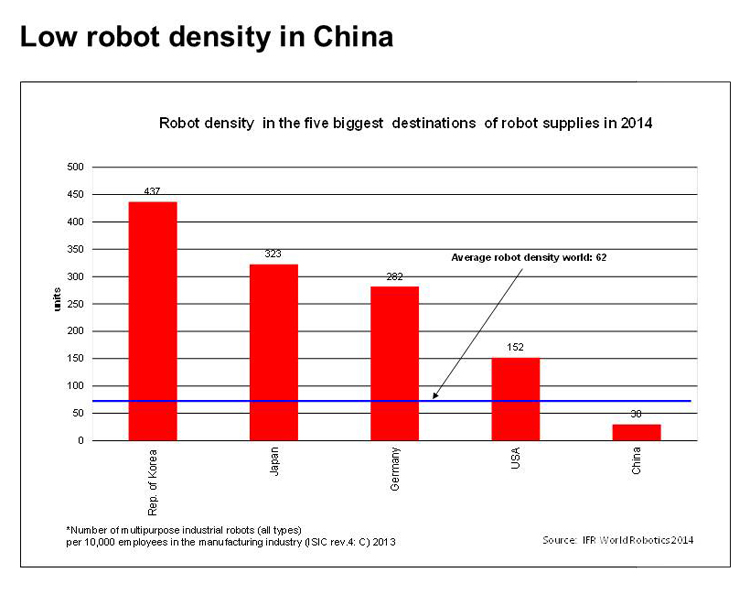 "The automation of China's production plants has just started", says Per Vegard Nerseth, Managing Director of ABB Robotics. "As the first foreign robot manufacturer to arrive here, we have observed the market and developments for years now. We have witnessed swift, almost explosive growth over the last two or three years, surpassing even our expectations."
The Chinese government is simultaneously pushing forward with robotic research, partnering with leading foreign robotic manufacturers.
"Companies are forced to invest ever more in robots to be more productive and raise quality," says Gudrun Litzenberger, general secretary of the Frankfurt-based IFR.
6th February 2015
Scientists reprogram plants for drought tolerance
Plant biologists report that drought tolerance in plants can be improved by engineering them to activate water-conserving processes in response to an agrochemical already in use – an approach that could be broadly applied to other parts of the same drought-response pathway and a range of other agrochemicals.
Crops and other plants are constantly faced with adverse environmental conditions, such as rising temperatures (2014 was the warmest year on record) and lessening fresh water supplies, which lower yields and cost farmers billions of dollars annually.
Drought is a major environmental factor affecting plant growth and development. When plants encounter drought, they produce a stress hormone, abscisic acid (ABA), which inhibits plant growth and reduces water consumption. Specifically, the hormone turns on a receptor (special protein) in plants when it binds to the receptor like a hand fitting into a glove, resulting in beneficial changes – such as the closing of guard cells on leaves, called stomata, to reduce water loss – that help the plants survive.
While it is true that crops could be sprayed with ABA to assist their survival during drought, ABA is costly to make, rapidly inactivated inside plant cells and light-sensitive, and has therefore failed to find much direct use in agriculture. Several research groups are working to develop synthetic ABA mimics to modulate drought tolerance – but once discovered, these mimics are expected to face lengthy and costly development processes.
The agrochemical mandipropamid, however, is already widely used in agricultural production to control late blight of fruit and vegetable crops. Could drought-threatened crops be engineered to respond to mandipropamid as if it were ABA, and thus enhance their survival during drought?
Yes, according to a team of scientists, led by Sean Cutler at the University of California, Riverside.
The researchers worked with Arabidopsis, a model plant used widely in plant biology labs, and the tomato plant. In the lab, they used synthetic biological methods to develop a new version of these plants' abscisic acid receptors, engineered to be activated by mandipropamid instead of ABA. The researchers showed that when the reprogrammed plants were sprayed with mandipropamid, the plants effectively survived drought conditions by turning on the abscisic acid pathway, which closed the stomata on their leaves to prevent water loss.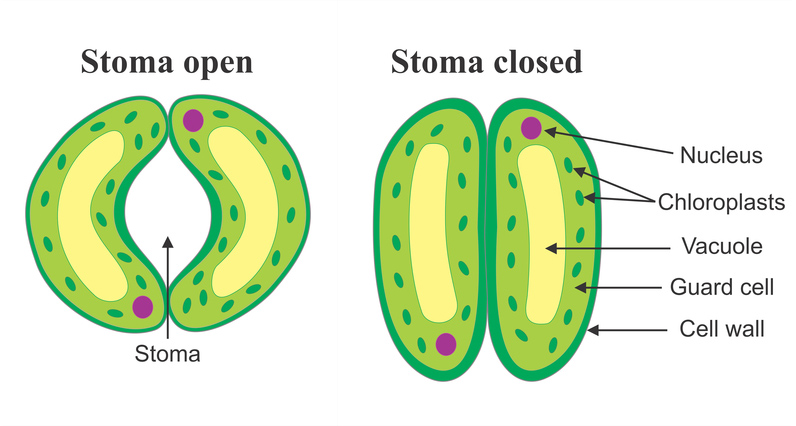 This finding illustrates the power of synthetic biological approaches for manipulating crops and opens new doors for crop improvement that could benefit a growing world population.
"We successfully repurposed an agrochemical for a new application by genetically engineering a plant receptor – something that has not been done before," says Cutler, an associate professor of botany and plant sciences. "We anticipate that this strategy of reprogramming plant responses using synthetic biology will allow other agrochemicals to control other useful traits – such as disease resistance or growth rates, for example."
Cutler explained that discovering a new chemical and then having it evaluated and approved for use is an extremely involved and expensive process that can take many years.
"We have, in effect, circumvented this hurdle using synthetic biology – in essence, we took something that already works in the real world and reprogrammed the plant so that the chemical could control water use," he said.
The study results appear this week in the journal Nature.
4th February 2015
One in two people in the UK will get cancer,
experts forecast
New research has predicted one in two people in the UK will develop cancer at some point in their lives – according to the most accurate forecast to date from Queen Mary University of London and Cancer Research UK.
With today marking World Cancer Day, a new study published in the British Journal of Cancer highlights the urgent need to bolster public health and cancer services, to cope with a growing and ageing population and the looming demands for better diagnostics, treatments, and earlier diagnosis. Prevention must also play an important role in the concerted effort required to reduce the impact of the disease in coming decades.
The UK's cancer survival has doubled over the last 40 years and around half of patients now survive the disease for more than 10 years. But, as more people benefit from improved healthcare and longer life expectancy, the number of cancer cases is expected to rise. This new research estimating the lifetime risk finds that, from now on, one in two people will be diagnosed with the disease.
This new estimate replaces the previous figure, calculated using a different method, which predicted that more than one in three people would develop cancer at some point in their lives. Age is the biggest risk factor for most cancers, and the increase in lifetime risk is primarily because more people are surviving into old age, when cancer is more common.
Professor Peter Sasieni, who led the study at Queen Mary University of London, comments: "Cancer is primarily a disease of old age, with more than 60% of all cases diagnosed in people aged over 65. If people live long enough then most will get cancer at some point. But there's a lot we can do to make it less likely – like giving up smoking, being more active, drinking less alcohol and maintaining a healthy weight. If we want to reduce the risk of developing the disease we must redouble our efforts and take action now to better prevent the disease for future generations."
Harpal Kumar, Cancer Research UK's chief executive, says: "We're living longer and that means we're more likely to develop a range of age-related health issues. We need to plan ahead to make sure the NHS is fit to cope. If the NHS doesn't act and invest now, we will face a crisis in the future – with outcomes from cancer going backwards. But NHS investment isn't the only answer. We need a concerted approach and a broader sense of how we can save lives and money by preventing more cancers. Growing older is the biggest risk factor for most cancers – and it's something we can't avoid. But more than four in ten cancers diagnosed each year in the UK could be prevented by changes in lifestyle – that's something we can all aim for personally so we can stack the odds in our favour."
Dr Emma King, Cancer Research UK head and neck surgeon: "We're seeing more patients than ever before and the numbers are increasing year on year. But the resources for treating these people have stayed the same. If we're going to give them the best possible chance of beating the disease then we'll need greater investment and support now and in the future. Preventing more cancers and diagnosing the disease as early as possible, when treatment is more likely to be effective, could have a significant impact on survival. We also need the infrastructure to better tailor treatments to patients based on the molecular makeup underpinning their individual cancers."
In a separate study, University College London has predicted that on current trends, by 2050, cancer will rarely kill anyone under the age of 80, due to ongoing advances in preventing and treating the disease. At present, a low dose of aspirin taken daily may be the single most effective action to protect against cancer for those aged between 50 and 65, according to UCL.
3rd February 2015
Mining the Moon is becoming a serious prospect
Once confined to the realm of science fiction, the idea of mining the Moon for resources could soon become a reality.
With an estimated 1.6 billion tonnes of water ice at its poles and an abundance of rare-earth elements hidden below its surface, the Moon is rich ground for mining.
In this month's issue of Physics World, science writer Richard Corfield explains how private firms and space agencies are dreaming of tapping into these lucrative resources and turning the Moon's grey, barren landscape into a money-making conveyer belt.
Since NASA disbanded its manned Apollo missions to the Moon over 40 years ago, unmanned spaceflight has made giant strides and has identified a bountiful supply of water ice at the north and south poles of the Moon.
"It is this, more than anything else," Cornfield writes, "that has kindled interest in mining the Moon – for where there is ice, there is fuel."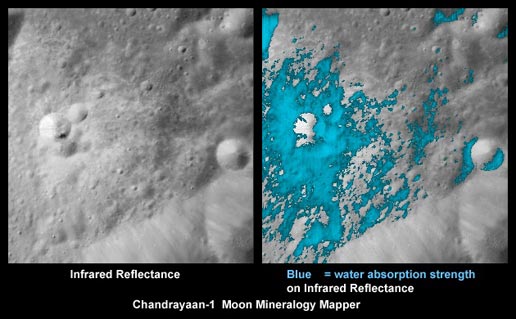 Texas-based Shackleton Energy Company (SEC) plans to mine the vast reserves of water ice and convert it into rocket propellant in the form of hydrogen and oxygen, which would then be sold to space partners in low Earth orbit.
As the company's chief executive officer, Dale Tietz, explains, the plan is to build a "gas station in space" in which rocket propellant will be sold at prices significantly lower than the cost of sending fuel from Earth.
SEC plans to extract the water ice by sending humans and robots to mine the lunar poles, and then use some of the converted products to power mining hoppers, lunar rovers and life support for its own activities.
Moon Express, another privately funded lunar-resources company, is also interested in using water ice as fuel - but in a different form. It plans to fuel its operations and spacecraft using "high-test peroxide" (HTP), which has a long and illustrious history as a propellant.
As for mining the rare-earth elements on the Moon, China is making the most noticeable headway. The Jade Rabbit lander successfully touched down on the Moon in December 2013 and the Chinese space agency has publicly suggested establishing a "base on the Moon as we did in the South Pole and the North Pole".
With a near-monopoly on the dwindling terrestrial rare-earth elements, which are vital for everything from mobile phones to computers and car batteries, it is no surprise that China may want to cast its net wider.
"All interested parties agree that the Moon – one step from Earth – is the essential first toehold for humankind's diaspora to the stars," Corfield concludes.
1st February 2015
U.S. Navy announces progress with railgun technology
The Electromagnetic Railgun – a weapon that will play a major role in the future of the U.S. Navy – will be shown to the public for the first time on 4th-5th February at a technology expo in Washington DC, the Office of Naval Research (ONR) has announced.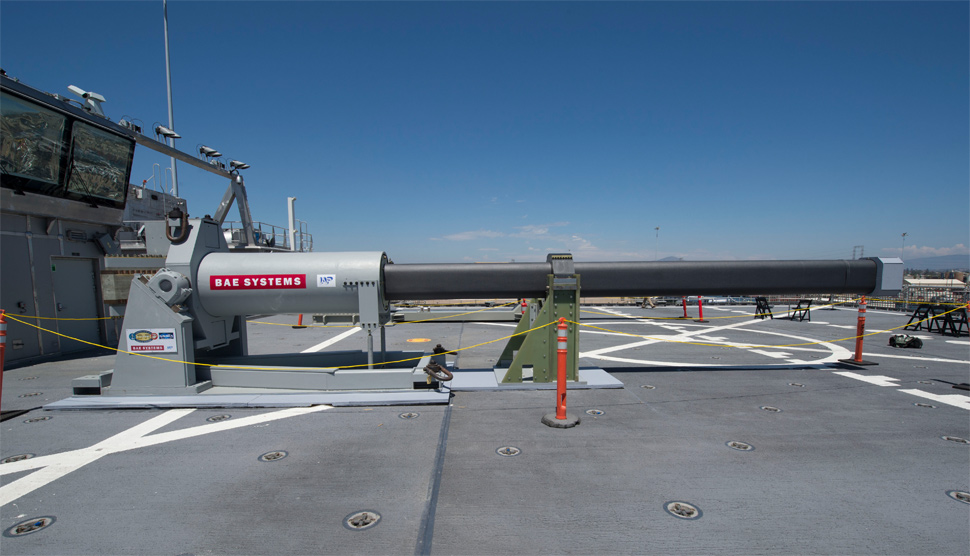 The EM Railgun is a long-range weapon that fires projectiles using electricity instead of chemical propellants. Magnetic fields created by high electrical currents accelerate a sliding metal conductor, or armature, between two rails to launch projectiles at 4,500 mph – nearly six times the speed of sound. Unlike traditional artillery that destroy targets using explosive materials, the railgun inflicts damage by the extreme speed of impact. The kinetic energy of the warhead also eliminates the hazards of storing high explosives in the ship and leaving unexploded ordnance on the battlefield. Its pinpoint accuracy and phenomenal range (over 100 miles) will be a "game-changing and disruptive technology" according to the U.S. Navy. Each 18-inch projectile will cost about $25,000, compared to $500,000 to $1.5 million for conventional missiles.
A prototype program was started in 2005 and demonstrated proof-of-concept at 32 megajoules of energy. Phase II, which began in 2012, has been focussed on rep-rate fire capability and thermal management techniques required for sustained use. This program continues to make progress and is now scheduled for at-sea testing aboard a Joint High Speed Vessel – USNS Millinocket – in 2016. When perfected, it is hoped that the final version of the railgun will achieve 64 megajoules of energy, with an even longer range.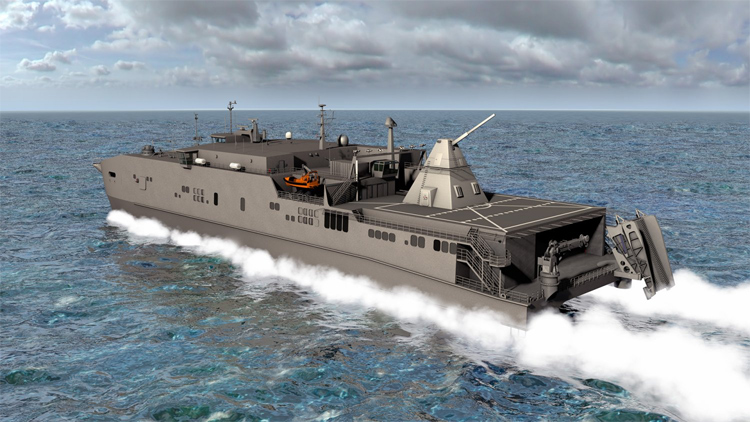 Experts from the ONR, Naval Sea Systems Command and BAE Systems will showcase the railgun to the public, for the first time, on 4th-5th February at the Naval Future Force S&T EXPO, the Navy's premier event to share information, discuss research opportunities and build science and technology partnerships between the Navy and Marine Corps, industry and academia.
"This year's Expo will showcase the naval portfolio of innovative breakthrough technologies that are shaping our warfighting tactics today and changing the way our Sailors and Marines will operate in the future," says Rear Admiral, Mat Winter. "The Electromagnetic Railgun is among several disruptive capabilities that the Naval Research Enterprise is championing to ensure a dominant, capable and relevant naval force for the future."
"The Electromagnetic Railgun brings significant technological advances to our Sailors and Marines," says Roger Ellis, program manager at ONR. "As the system moves forward along its planned schedule from the laboratory launcher, we've achieved breakthroughs in compact power and gun design, and will test the next phase of prototype at both sea- and land-based sites in 2016 and 2017."
The video below is of some earlier testing conducted in 2012. Further advances in reducing the mass, size and cost of the required power supplies could lead to railguns becoming practical and used routinely on U.S. Navy ships by 2025.