11th December 2013
Powerful new greenhouse gas discovered
A newly-discovered greenhouse gas, perfluorotributylamine, has over 7,000 times the heat-trapping ability of CO2 over a 100-year period.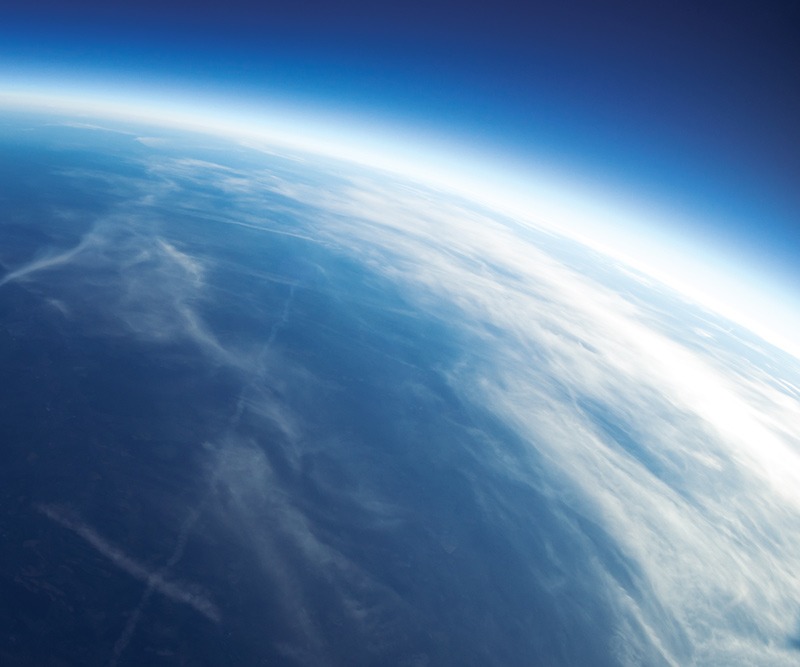 Scientists from the University of Toronto have discovered a novel chemical lurking in the atmosphere that appears to be a long-lived greenhouse gas (LLGHG). The chemical – perfluorotributylamine (PFTBA) – is among the most radiatively efficient chemicals found to date.
Radiative efficiency describes how effectively a molecule can affect climate. This value is then multiplied by its atmospheric concentration to determine the total climate impact.
PFTBA has been in use since the mid-20th century for various applications in electrical equipment and is currently used in thermally and chemically stable liquids marketed for use in electronic testing and as heat transfer agents. It does not occur naturally; that is, it is produced by humans. There are no known processes that would destroy or remove PFTBA in the lower atmosphere so it has a very long lifetime, possibly up to 500 years, and is destroyed in the upper atmosphere.
"Global warming potential is a metric used to compare the cumulative effects of different greenhouse gases on climate over a specified time period," said Cora Young who was part of the research team, along with Angela Hong and their supervisor, Scott Mabury. Time is incorporated in the global warming potential metric as different compounds stay in the atmosphere for different lengths of time, which determines how long-lasting the climate impacts are.
Carbon dioxide (CO2) is used as the baseline for comparison, since it is the most important greenhouse gas responsible for human-induced climate change. "PFTBA is extremely long-lived in the atmosphere and has very high radiative efficiency; the result of this is a very high global warming potential. Calculated over a 100-year timeframe, a single molecule of PFTBA has the equivalent climate impact as 7,100 molecules of CO2," said Hong. "There are no policies that control its production, use, or emission. It is not being regulated by any type of climate policy."
Dr Drew Shindell, a climatologist at NASA: "This is a warning to us that this gas could have a very, very large impact on climate change – if there were a lot of it. Since there is not a lot of it now, we don't have to worry about it at present, but we have to make sure it doesn't grow and become a very large contributor to global warming."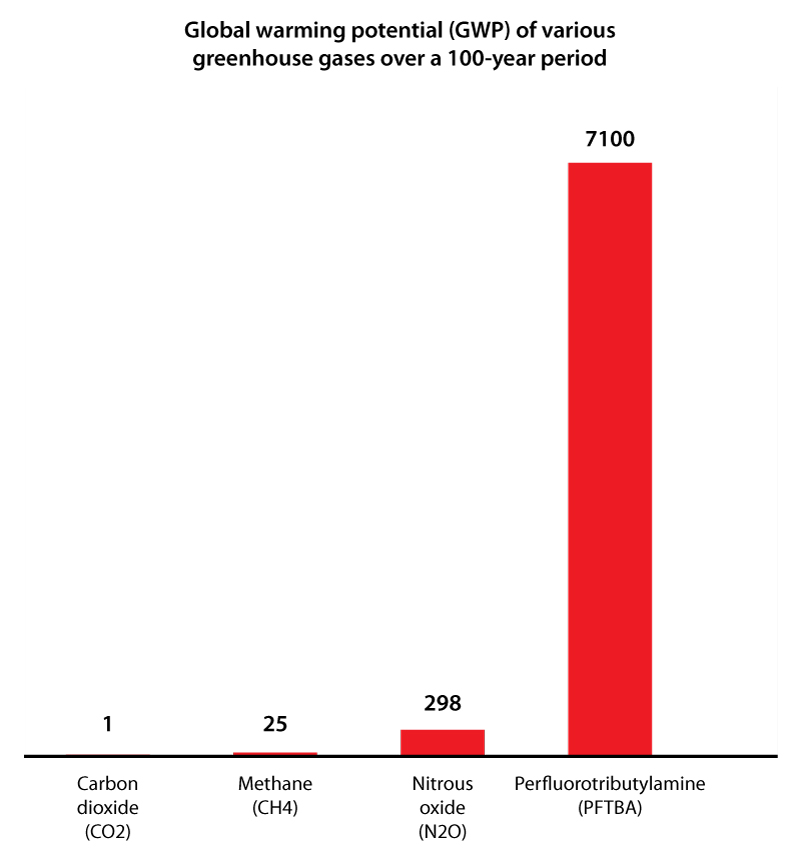 11th December 2013
Crime-predicting robot to patrol streets from 2015
Knightscope, a Silicon Valley-based robotics company, is developing the K5 Autonomous Data Machine. This 5-foot-tall mobile robot is equipped with night-time video cameras, thermal imaging, license plate recognition skills, radar, audio and other sensors – in combination with behavioural analysis software – which it can use to predict crimes. The model seen in this video is only a prototype, but the full version being launched in 2015 will have facial recognition software and the ability to detect chemical or biological weapons along with airborne pathogens. Later models will include the ability to traverse curbs and other terrain. Clients will be able to rent these machines for $6.25/hour, or $1,000/month, which is competitive with low-wage human security guards. For more info, see the company's website at knightscope.com.
10th December 2013
Giant telescope being developed by DARPA
By using lightweight "membrane optics" instead of traditional glass, a new generation of space telescopes could be deployed that reach sizes of 20 metres (68 foot) or larger.
As the need for higher-resolution orbital imagery expands, glass mirrors are fast approaching the point where they will be too large, heavy and costly for even the largest of today's rockets to carry to orbit. DARPA's Membrane Optical Imager for Real-Time Exploitation (MOIRE) program seeks to address these challenges by developing technologies that would make orbital telescopes much lighter, more transportable and more cost-effective. Currently in its second and final phase, the program recently successfully demonstrated a ground-based prototype that incorporated several critical technologies, including new lightweight polymer membrane optics to replace glass mirrors.
Instead of reflecting light with mirrors or refracting it with lenses, MOIRE's membrane optics diffract light. Roughly the thickness of household plastic wrap, each membrane serves as a Fresnel lens — it is etched with circular concentric grooves like microscopically thin tree rings, decreasing from hundreds of microns at the centre, down to only 4 microns at the outside edge. The diffractive pattern focuses light on a sensor that the satellite translates into an image.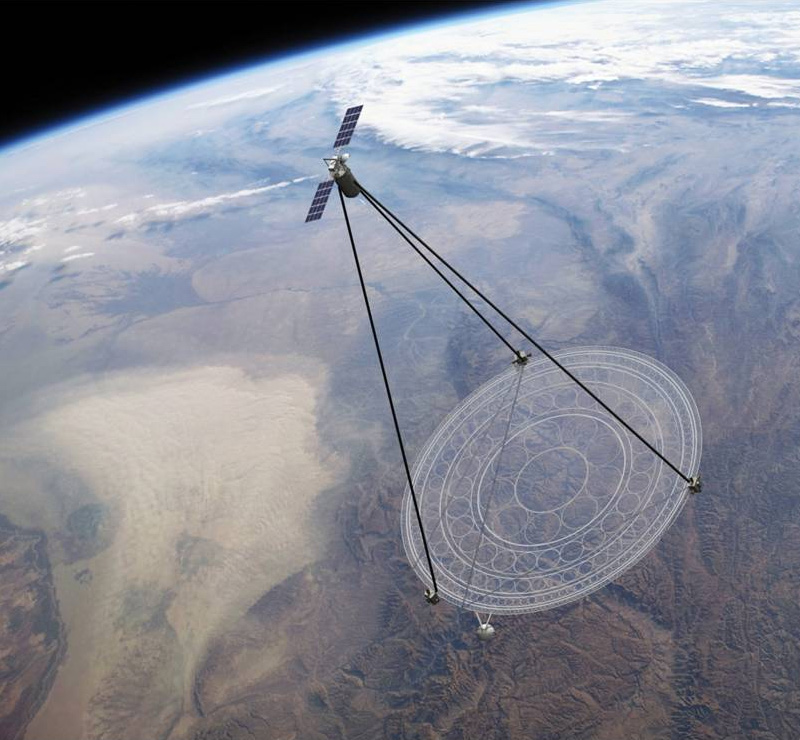 MOIRE technology houses the membranes in thin metal "petals" that would launch in a tightly-packed configuration roughly 20 feet in diameter. Upon reaching its destination orbit, a satellite would then unfold the petals to create the full-size, multi-lens optics. The envisioned diameter of 68 feet (about 20 metres) would be the largest telescope optics ever made — dwarfing the glass mirrors contained in the world's most famous telescopes. This behemoth would be even larger than the 16-metre ATLAST observatory planned for 2025.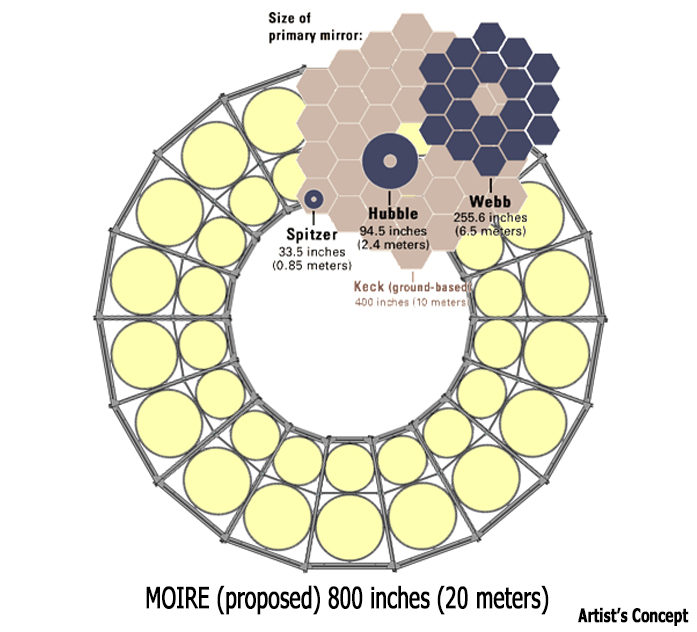 Looking down from geostationary orbit, it is believed a satellite using MOIRE optics could see approximately 40 percent of the Earth's surface at once. It could focus on a 10 km-by-10 km region at 1-metre resolution and provide real-time video of this entire area at one frame per second. In its ground-based tests, MOIRE has achieved a technological first for membrane optics by nearly doubling their efficiency, from 30 percent to 55 percent.
Lt. Col. Larry Gunn, DARPA program manager: "Membrane optics could enable us to fit much larger, higher-resolution telescopes in smaller and lighter packages. In that respect, we're 'breaking the glass ceiling' that traditional materials impose on optics design. We're hoping our research could also help greatly reduce overall costs and enable more timely deployment using smaller, less expensive launch vehicles."
7th December 2013
Regions identified where centuries of industrial CO2 could be stored
Researchers at the University of Southampton have identified regions beneath the oceans where igneous rocks of the upper ocean crust could safely store huge volumes of carbon dioxide.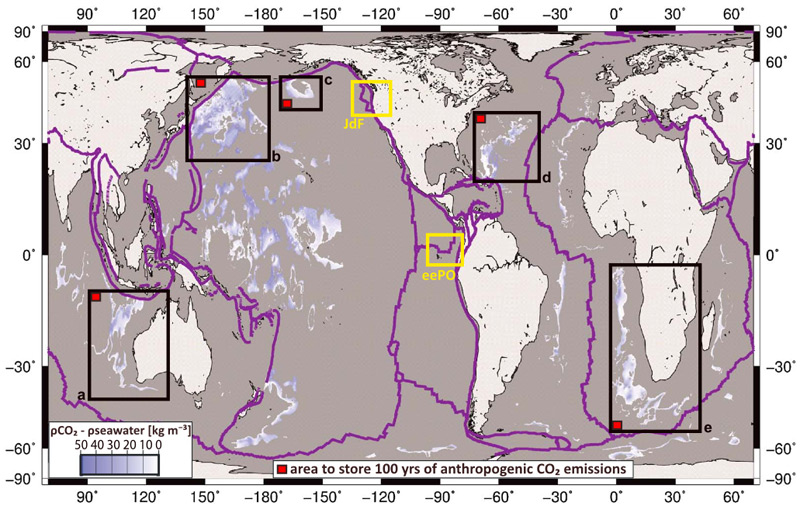 The burning of fossil fuels such as coal, oil, and natural gas has led to dramatically increased levels of CO2 in our planet's atmosphere. These industrial emissions reached 36 billion tonnes annually in 2013 – over 100 times greater than natural CO2 output from all of the world's volcanoes, according to the US Geological Survey. The overwhelming majority of climate scientists agree this is causing climate change and ocean acidification. Although technologies are now being developed to capture CO2 from power stations and other sources, this will only avoid further warming if that CO2 is then safely locked away from the atmosphere for centuries.
Chiara Marieni, PhD, from the National Oceanography Centre in Southampton, investigated the physical properties of CO2 to develop global maps of the ocean floor and estimate where CO2 can be safely stored.
At high pressures and low temperatures, like those in deep oceans, CO2 occurs as a liquid that is denser than seawater. Estimating temperatures in the upper ocean crust, Chiara and her colleagues identified regions where it may be possible to stably store large volumes of CO2 in the basalts. These fractured rocks have high proportions of open space and over time may also react with the CO2 so it becomes locked into solid calcium carbonate – permanently preventing its release back into the oceans or atmosphere. As a precaution, Chiara refined her locations to areas that have the additional protection of thick blankets of impermeable sediments to prevent gas escape.
The team identified five potential regions in off-shore Australia, Japan, Siberia, South Africa and Bermuda, ranging in size from ½ million square kilometres to almost four million square kilometres.
"We found regions that have the potential to store decades to hundreds of years of industrial carbon dioxide emissions," said Chiara, "although the largest regions are far off-shore. However, further work is needed in these regions to accurately measure local sediment conditions and sample the basalt beneath before this potential can be confirmed."
Her work, published this week in Geophysical Research Letters, shows that previous studies, which concentrated on the effects of pressure to liquefy CO2 – but ignored temperature – pointed to the wrong locations, where high temperatures mean the CO2 will have a low density, and thus be more likely to escape.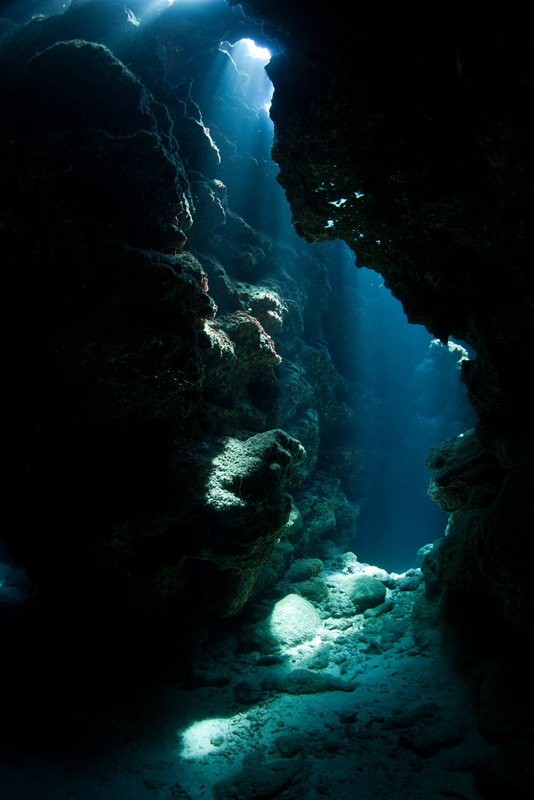 7th December 2013
Ultra-thin 'electronic skin' provides diagnosis and therapy
Researchers have developed a futuristic new medical device, resembling an electronic tattoo, which provides continuous patient monitoring and treatment.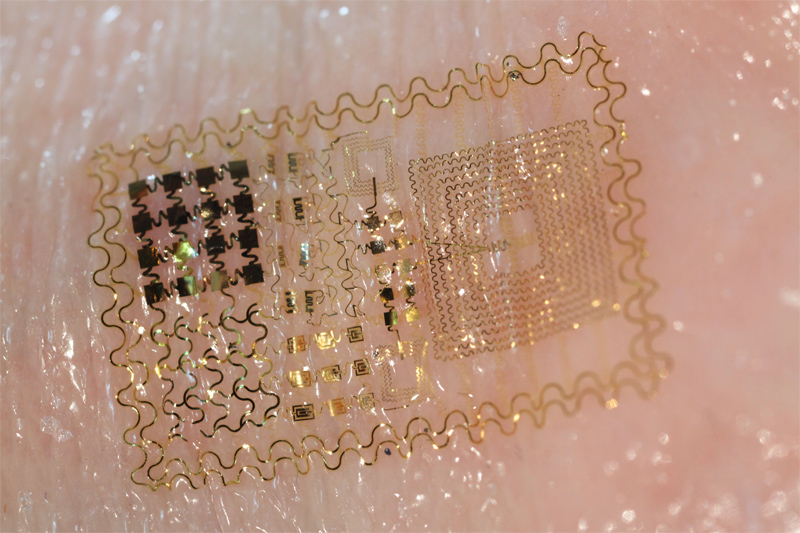 An international team from the University of Illinois at Urbana/Champaign and the National Institute of Biomedical Imaging and Bioengineering (NIBIB) has created this form of "electronic skin". The device, measuring just 1 x 2 cm (0.39 x 0.78"), adheres like a sticking plaster and is highly flexible, conforming to contours and remaining in place even when skin is stretched or pinched. It provides non-invasive measurements of blood flow and temperature from any part of the body, with minimal patient discomfort, while delivering therapeutic functions.
The array features a combination of miniature power coils, transistors, sensors and heating elements. It was measured alongside an infrared camera to compare their abilities in detecting local variations of skin temperature and blood flow. These tests used a range of mental and physical stimuli to trigger readings. The results were virtually identical using the two methods, meaning the electronic skin matches the "gold standard" of infrared technology. Another test, using pulses of heat from the array, demonstrated its success in accurately measuring skin perspiration and overall hydration.
Future versions will incorporate a wireless power coil and antenna for remote data transfer. New sensors could eventually be developed that reveal blood cell counts, the precise levels of a circulating medication, or the activity of metabolites (such as alcohols, antioxidants, nucleotides, organic and amino acids, sugars and vitamins). The heating elements could deliver heat therapy to specific regions – increasing blood flow in the affected area for accelerated healing, pain relief, decreased joint stiffness, muscle spasm relief, or reduced inflammation. It could even incorporate actuators that deliver an electrical charge, or nanoparticles.
Such diagnostic and therapeutic functions could be performed while patients go about their daily business, with data relayed via cellphone to a doctor or AI program. Looking further into the future, these devices might be incorporated into clothing and shoes. Perhaps eventually, later this century, they will be sufficiently compact and distributed that almost every part of the human body could be treated and monitored in real-time. With a comprehensive merging of the organic and inorganic, the age of transhumanism would truly be upon us.
5th December 2013
Water found on multiple exoplanets
The Hubble Space Telescope has found evidence of water in the atmospheres of five distant exoplanets orbiting stars beyond our Solar System.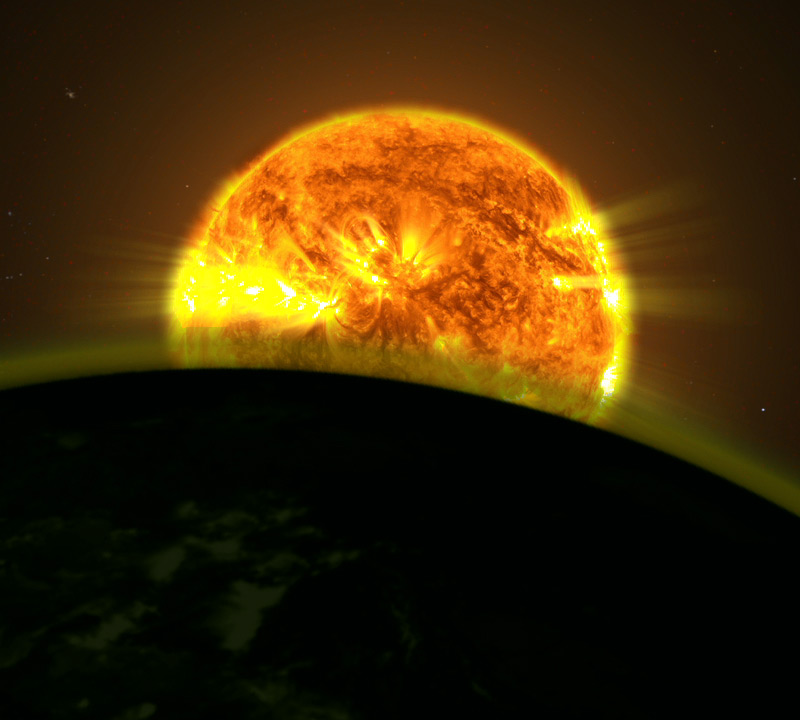 Using the Hubble Space Telescope, two teams of scientists have detected faint signatures of water in the atmospheres of five distant exoplanets. Atmospheric water on exoplanets has been reported previously – but this new study is the first to conclusively measure the profiles and intensities of these signatures on multiple worlds.
The five planets – WASP-17b, HD209458b, WASP-12b, WASP-19b and XO-1b – orbit stars ranging in distance from 154 to 1,000 light years from Earth. The strengths of their water signatures varied. WASP-17b, a planet with an especially puffed-up atmosphere, and HD209458b had the strongest signals. The signatures for the other three planets, WASP-12b, WASP-19b and XO-1b, are also consistent with water.
"We're very confident that we see a water signature for multiple planets," said Avi Mandell, planetary scientist at NASA's Goddard Space Flight Center, and lead author of an Astrophysical Journal paper describing the findings. "This work really opens the door for comparing how much water is present in atmospheres on different kinds of exoplanets – for example, hotter versus cooler ones."
The studies were part of a census of exoplanet atmospheres led by Prof. L. Drake Deming at the University of Maryland. Hubble's Wide Field Camera 3 was used to determine light absorption through the planets' atmospheres. The observations were made in a range of infrared wavelengths where a water signature, if present, would appear. The teams compared shapes and intensity of the absorption profiles, and the consistency of signatures gave them confidence they saw water.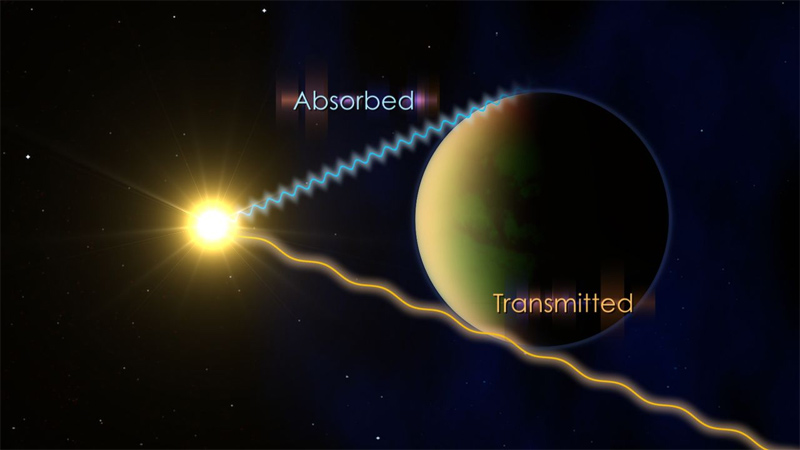 "To actually detect the atmosphere of an exoplanet is extraordinarily difficult. But we were able to pull out a very clear signal, and it is water," said Deming, whose team employed a new technique with longer exposure times, which increased the sensitivity of their measurements.
The water signals were all less pronounced than expected, and the scientists suspect this is because a layer of haze or dust blankets each of the five planets. This haze can reduce the intensity of all signals from the atmosphere in the same way fog can make colours in a photograph appear muted. At the same time, haze alters the profiles of water signals and other important molecules in a distinctive way.
The five planets are "hot Jupiters" – massive worlds that orbit close to their host stars. The researchers were initially surprised that all five appeared to be hazy. But Deming and Mandell noted that other researchers are finding evidence of haze around exoplanets.
"These studies, combined with other Hubble observations, are showing us that there are a surprisingly large number of systems for which the signal of water is either attenuated or completely absent," said Heather Knutson of the California Institute of Technology, a co-author on Deming's paper. "This suggests that cloudy or hazy atmospheres may in fact be rather common for hot Jupiters."
Hubble's high-performance Wide Field Camera 3 is one of only a few capable of analysing the atmospheres of exoplanets many trillions of miles away. These exceptionally challenging studies can be done only if the planets are spotted while they are passing in front of their stars. Researchers can identify the gases in a planet's atmosphere by determining which wavelengths of the star's light are transmitted and which are partially absorbed.
As detection methods improve, astronomers will be able to search the atmospheres of Earth-sized planets. Some of the missions being planned in the future include the CHEOPS satellite (2017), James Webb Telescope (2018), the European Extremely Large Telescope (2022) and the Advanced Technology Large-Aperture Space Telescope (2025-2035).
5th December 2013
Brain connectivity study finds striking differences between men and women
A study of nearly 1,000 brain scans has revealed striking differences between men and women.
A new brain connectivity study from Penn Medicine published in the Proceedings of the National Academy of Sciences has found striking differences in the neural wiring of men and women that's lending credence to some commonly-held beliefs about their behaviour.
In one of the largest studies ever to look at the "connectomes" of both sexes, Ragini Verma and colleagues found greater neural connectivity from front to back and within one hemisphere in males – suggesting their brains are structured to facilitate connectivity between perception and coordinated action. By contrast, in females, the wiring goes between the left and right hemispheres, suggesting that they facilitate communication between the analytical and intuition.
"These maps show us a stark difference – and complementarity – in the architecture of the human brain that helps provide a potential neural basis as to why men excel at certain tasks, and women at others," said Verma.
For instance, on average, men are more likely better at learning and performing a single task at hand, like cycling or navigating directions – whereas women have superior memory and social cognition skills, making them more equipped for multitasking and creating solutions that work for a group. They have a mentalistic approach, so to speak.
Past studies have shown sex differences in the brain, but the neural wiring connecting regions across the whole brain that have been tied to such cognitive skills has never been fully shown in a large population.
This new study looked at differences in brain connectivity during the course of development in 949 people (521 females and 428 males) aged 8 to 22 years, using diffusion tensor imaging (DTI). DTI is a water-based imaging technique that can trace and highlight the fibre pathways connecting different regions of the brain, laying the foundation for a structural connectome or network of the whole brain.
This sample of youths was studied as part of the Philadelphia Neurodevelopmental Cohort – a National Institute of Mental Health-funded collaboration between the University of Pennsylvania Brain Behaviour Laboratory and the Centre for Applied Genomics at the Children's Hospital of Philadelphia.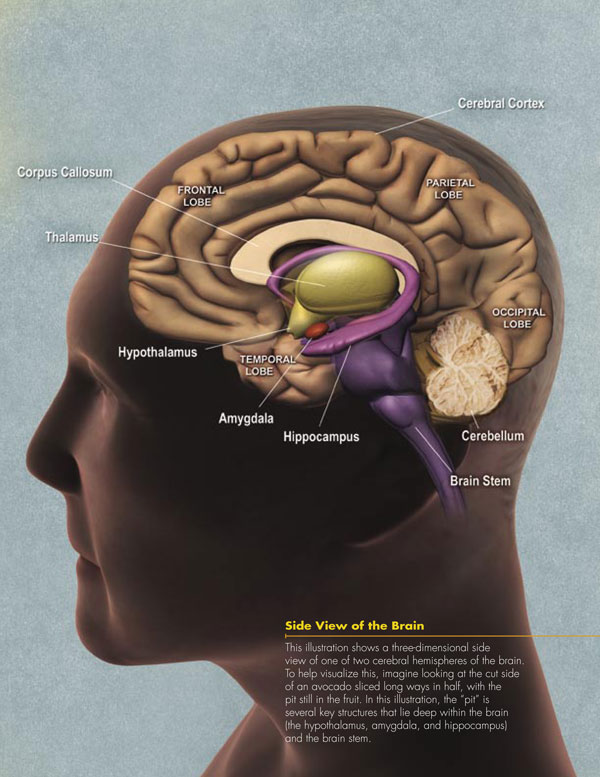 The brain is a roadmap of neural pathways linking many networks that help us process information and react accordingly, with behaviour controlled by several of these sub-networks working in conjunction.
In the study, the researchers found that females displayed greater connectivity in the supratentorial region, which contains the cerebrum, the largest part of the brain, between the left and right hemispheres. Males, on the other hand, displayed greater connectivity within each hemisphere.
By contrast, the opposite prevailed in the cerebellum, the part of the brain that plays a major role in motor control, where males displayed greater inter-hemispheric connectivity and females displayed greater intra-hemispheric connectivity.
These connections likely give men an efficient system for coordinated action, where the cerebellum and cortex participate in bridging between perceptual experiences in the back of the brain, and action, in the front of the brain, according to the authors. The female connections likely facilitate integration of the analytic and sequential processing modes of the left hemisphere with the spatial, intuitive information processing modes of the right side.
The authors observed only a few gender differences in the connectivity in children younger than 13 years, but the differences were more pronounced in adolescents aged 14 to 17 years and young adults older than 17.
The findings were also consistent with a Penn behaviour study, of which this imaging study was a subset of, that demonstrated pronounced sexual differences. Females outperformed males on attention, word and face memory, and social cognition tests. Males performed better on spatial processing and sensorimotor speed. Those differences were most pronounced in the 12 to 14 age range.
"It's quite striking how complementary the brains of women and men really are," said Dr. Ruben Gur. "Detailed connectome maps of the brain will not only help us better understand the differences between how men and women think, but it will also give us more insight into the roots of neuropsychiatric disorders, which are often sex-related."
Next steps are to quantify how an individual's neural connections are different from the population; identify which neural connections are gender-specific and common in both; and to see if findings from functional magnetic resonance imaging (fMRI) studies fall in line with the connectome data.
3rd December 2013
Underwater kites: a new generation of tidal power
A new tidal energy device can operate cost-effectively in deep waters with low-velocity currents. A full-scale demonstration of this innovative technology is now planned for 2015.
Founded in 2007, Minesto is a marine energy company based in Sweden and Ireland. Their patented technology aims to provide green electricity production from tidal and ocean currents. Known as "Deep Green", it is based on a system of underwater kites, consisting of a wing and turbine, attached by a tether to a fixed point on the ocean bed. As water flows over the hydrodynamic wing, a lift force is generated which allows the device to move smoothly through the water and for the turbine to rotate – hence generating electricity.
The wing is designed to create high loads, requiring a stiff structure and light weight with sufficient fatigue and material properties and has to include watertight compartments ensuring a lifetime of 20 years. It contains a buoyancy system, batteries and pressure sensors.
The tether is mainly a force-bearing element designed to take the high loads created by the wing, but will also accommodate power cables from the generator and signal cable to the control system.
Minesto claims that Deep Green is the only marine power plant in the world that will operate cost-effectively in areas with low-velocity currents – as opposed to other technologies, which are restricted to tidal "hot spot" locations. Since it can operate economically in deep waters at velocities below 2.5 m/s, the number of potentially suitable sites is huge.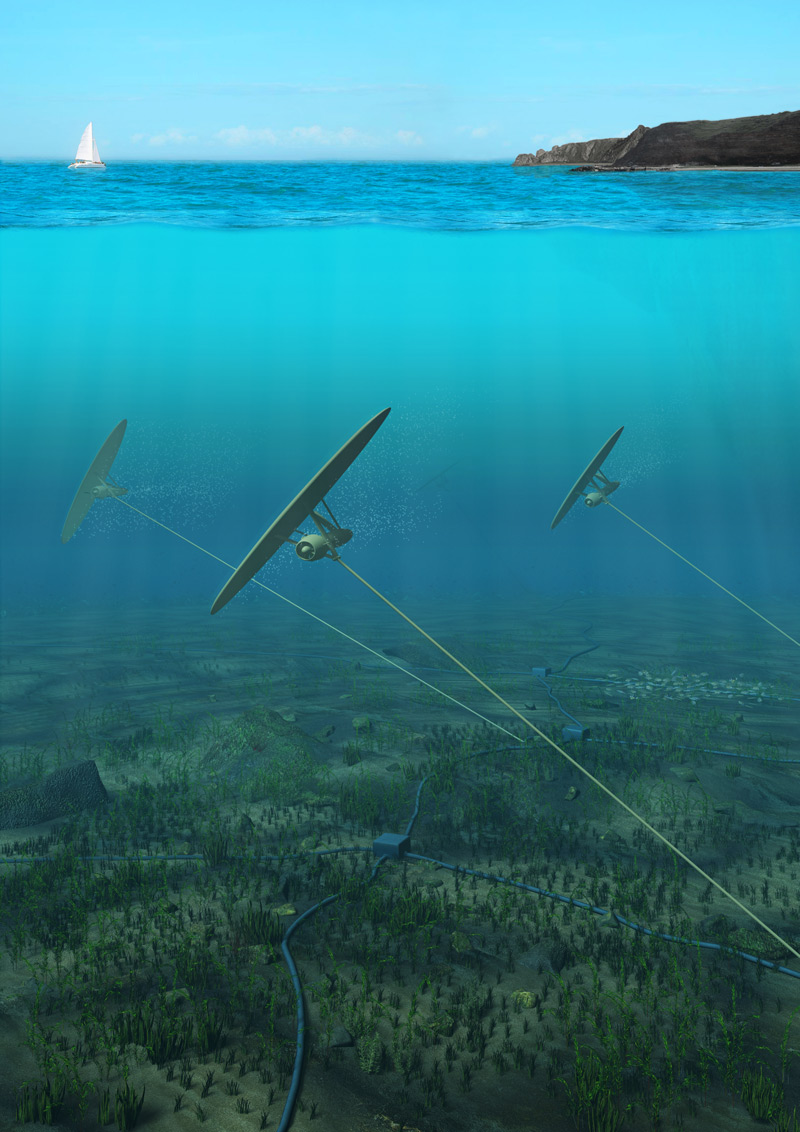 Other advantages of Deep Green include:
– A robust anchorage system, since no tower is needed
– Low maintenance cost, since only attachment and detachment has to be done offshore
– Minimal visual and environmental impact; Deep Green is always at 20 metres or more below the water surface
– Predictability. Tidal currents are extremely regular
– Small and low weight, less than 7 tons per unit, 500kW
– Gearless turbine-generator system
Vinnova, the Swedish Innovation Agency, yesterday awarded Minesto a grant for a pre-study of its planned ocean trials. Miniature versions of Deep Green have already undergone trials in scale 1:4 at Strangford Lough, Northern Ireland, and the next step is to develop a full-size prototype and test it in the ocean. The project funded by Vinnova will enable Minesto to assess the feasibility and budget in preparation for these full-scale trials in 2015.
Anders Jansson, CEO and Co-Founder: "Ocean currents are the hidden treasure of renewable energy sources. With their almost continuous water flows they carry large amounts of renewable energy over the globe, and with a high load factor compared to weather-dependent sources like wind or solar power. This resource is predictable and feasible for providing base grid power, and has minimal environmental impact."
"The challenge has been that the currents are too slow and the sites are too deep for most available marine power plants. Deep Green solves that problem. Minesto's technology will contribute to making countries like the USA, Japan and Taiwan carbon neutral and independent energy producers, instead of hugely dependent on fossil-based and imported energy."
"Just to take one example: Taiwan claims that 50 per cent of their energy can be supplied from the ocean currents along the coast if they just find a viable technology, and we believe that Deep Green is that technology. Today Taiwan depends on 98 per cent imported energy, which is a threat to the country's economy."

2nd December 2013
Researchers discover new treatment for osteoporosis
University of Sydney researchers have discovered a promising new treatment for osteoporosis, which is easily delivered in water soluble form.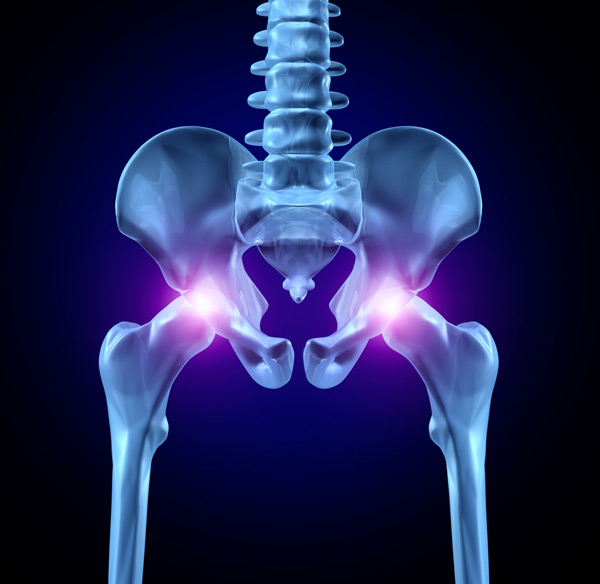 After more than four years of investigation, researchers from the Aging Bone Research Program (Sydney Medical School's Nepean campus), say the treatment has shown very promising results in animal experiments. The compound is called picolinic acid, a product derived of the essential amino acid tryptophan.
Lead researcher Professor Gustavo Duque: "This is a major step in the development of a completely new type of medication for osteoporosis. Instead of stopping bone destruction, our compound instead stimulates bone formation."
"The product is easily dissolved in water, has a higher level of absorption and did not induce any side effects in the treated mice. When this medication was administered in the water of normal and menopausal mice, picolinic acid strongly and safely increased bone mass in normal mice and rescued bone from menopause-associated osteoporosis."
Professor Duque said the team had patented the compound and will expand their trials to humans in the near future in a bid to address the increasing numbers of people developing the condition.
"Osteoporosis affects an estimated 300 million people worldwide. One in three women over 50 will experience osteoporotic fractures, as will one in five men. Despite the current treatments available, by 2050, the worldwide incidence of hip fracture in men is projected to increase by 310 percent and 240 percent in women.
"This increase is explained by the low rate of diagnosis and treatment for osteoporosis, as well as some concerns about the potential side effects of the current treatments. There are also close similarities between the majority of the osteoporosis medications in terms of their anti-fracture effect and mechanism of action."
According to Professor Duque, there is a reduction in bone formation as part of the aging process that predisposes people to osteoporosis: "In this case, we are targeting the real problem by stimulating the bone forming cells to work and produce more bone, thus increasing bone mass and hopefully preventing new fractures."
2nd December 2013
"Amazon Prime Air" will use drones for 30 minute delivery
Online retailer Amazon has revealed a new rapid delivery method that will use unmanned aerial vehicles to send packages to customers within 30 minutes. Assuming the Federal Aviation Administration (FAA) approves it, this futuristic service – "Amazon Prime Air" – could be introduced by 2015. Read more at the company's press release.