30th August 2015
A year-long experiment to simulate a Mars colony has begun in a remote part of Hawaii.
Hawaii Space Exploration Analog and Simulation (HI-SEAS) is a collaboration between the University of Hawaii and NASA. The experiment, which began on Friday 28th August, is located in an isolated position on the slopes of the Mauna Loa volcano on the island of Hawaii. This area has Mars-like features and an elevation of 2,500m (8,200ft) above sea level. Six people will spend 365 days inside a small dome, only 36ft (11m) in diameter and 20ft (6m) tall, eating a diet that consists of traditional space food (such as freeze-dried items). They will only be allowed to venture outside if they wear a spacesuit and will be monitored using cameras, body movement trackers, electronic surveys and other methods. The team comprises three men and three women – a French astrobiologist, German physicist and four Americans including an architect, journalist, pilot and soil scientist.
HI-SEAS is funded by the NASA Human Research Program. Its purpose is to determine what is required to keep a space crew happy and healthy during an extended mission to Mars and while living on the surface of Mars. Research into food, crew dynamics, behaviours, roles, performance and other aspects of space flight and a mission on Mars itself are the primary focus. The HI-SEAS team will also conduct a variety of other science research as part of their daily activities.
NASA has a long-term goal of sending humans to Mars, with the 2030s being the most likely timeframe in which this happens. Billionaire entrepreneur Elon Musk also wants to establish permanent settlements on the Red Planet. There have been three previous HI-SEAS experiments. This fourth test will be the longest so far (the last one ended after eight months) and will offer an interesting glimpse into the possible future of human space exploration.
"The longer each mission becomes, the better we can understand the risks of space travel," says Kim Binsted, principal investigator and University of Hawaii professor from the Department of Information and Computer Sciences. "We hope that this mission will build on our current understanding of the social and psychological factors involved in long duration space exploration and give NASA solid data on how best to select and support a flight crew that will work cohesively as a team while in space."
Below is a recent interview with Sheyna Gifford, who will serve as the Health Science Officer and Habitat Journalist. For more information, visit the official website at hi-seas.org. You can also follow their progress at LiveFromMars.life and on Twitter @ HI_SEAS.
30th August 2015
Interstellar seeds could create oases of life
Astrophysicists have shown that if life can travel between the stars (a process called panspermia), it would spread in a characteristic pattern that we could potentially identify.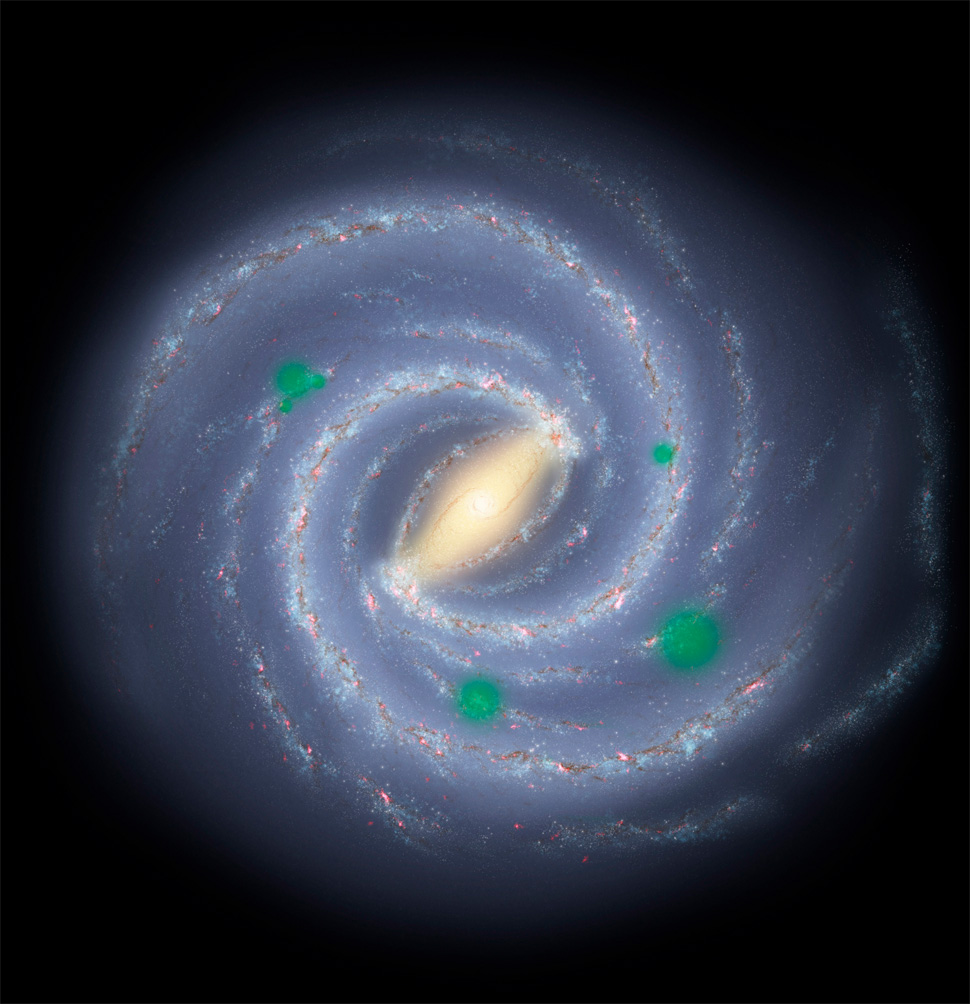 We only have one example of a planet with life: Earth. But within the next generation, it should become possible to detect signs of life on planets orbiting distant stars. If we find alien life, new questions will arise. For example, did that life arise spontaneously? Or could it have spread from elsewhere? If life crossed the vast gulf of interstellar space long ago, how would we tell?
New research by Harvard astrophysicists shows that if life can travel between the stars (a process called panspermia), it would spread in a characteristic pattern that we could potentially identify.
"In our theory, clusters of life form, grow, and overlap like bubbles in a pot of boiling water," says lead author Henry Lin of the Harvard-Smithsonian Centre for Astrophysics (CfA).
There are two basic ways for life to spread beyond its host star. The first would be via natural processes such as gravitational slingshotting of asteroids or comets. The second would be for intelligent life to deliberately travel outward. The paper does not deal with how panspermia occurs. It simply asks: if it does occur, could we detect it? In principle, the answer is yes.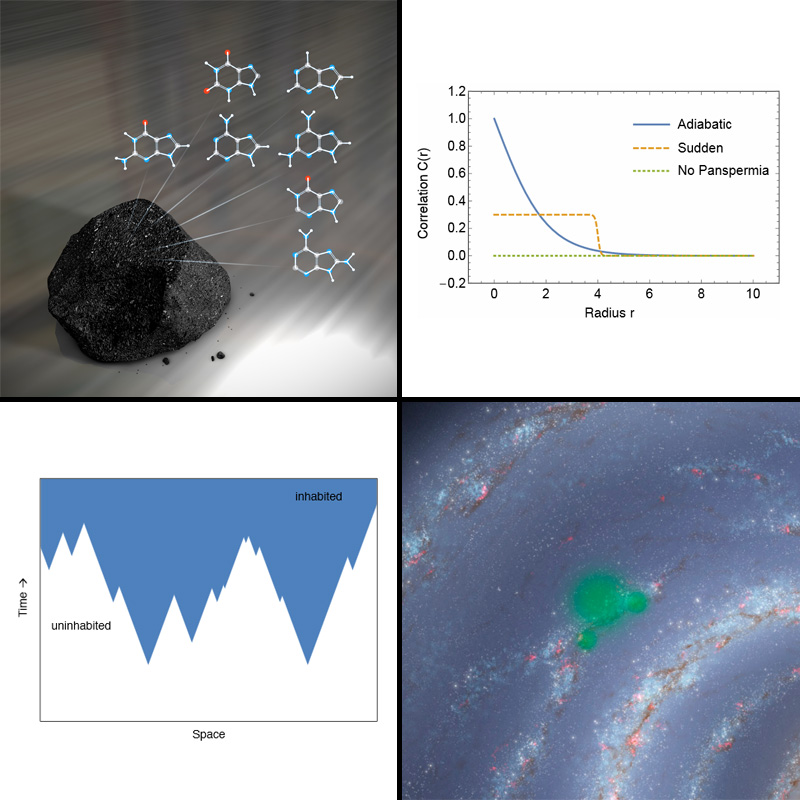 Their model assumes that seeds from one living planet spread outward in all directions. If a seed reaches a habitable planet orbiting a neighbouring star, it can take root. Over time, the result of this process would be a series of life-bearing oases dotting the galactic landscape.
"Life could spread from host star to host star in a pattern similar to the outbreak of an epidemic. In a sense, the Milky Way galaxy would become infected with pockets of life," explains CfA co-author Avi Loeb.
If we detect signs of life in the atmospheres of alien worlds, the next step will be to look for a pattern. For example, in an ideal case where the Earth is on the edge of a "bubble" of life, all the nearby life-hosting worlds we find will be in one half of the sky, while the other half will be barren. Lin and Loeb caution that a pattern will only be discernible if life spreads somewhat rapidly. Since stars in the Milky Way drift relative to each other, stars that are neighbours now won't be neighbours in a few million years. In other words, stellar drift would smear out the bubbles.
This research has been accepted for publication in The Astrophysical Journal Letters.
29th August 2015
U.S. physicists have achieved a breakthrough in fusion power by containing superheated hydrogen plasma for five milliseconds, far longer than any other effort before.
California-based Tri Alpha Energy reportedly held gas in a steady state at 10,000,000°C – only stopping when they ran out of fuel. Particle physicist and adviser to the secretive company, Burton Richter of Stanford University, comments: "They've succeeded finally in achieving a lifetime limited only by the power available to the system."
"Until you learn to control and tame [the hot gas], it's never going to work. In that regard, it's a big deal. They seem to have found a way to tame it," says Jaeyoung Park, head of rival fusion startup Energy/Matter Conversion Corporation in San Diego. "The next question is how well can you confine [heat in the gas]. I give them the benefit of the doubt. I want to watch them for the next 2 or 3 years."
Tri Alpha Energy's reactor is based on field-reversed configuration (FRC). This was first observed in the laboratory in the late 1950s. For decades, research on FRC was limited to plasma lasting for a maximum of only 0.3 milliseconds. In recent experiments, Tri Alpha Energy achieved a huge increase of up to two milliseconds. During their latest attempts, reported this week in the journal Science, angled beams at higher energies of 10 megawatts maintained stability for even longer – five milliseconds without decaying.
The company's goal is to scale their technique up to longer times and higher temperatures (3 billion degrees Celsius), such that atomic nuclei will collide with enough force to fuse and release energy. Tri Alpha Energy intends to dismantle their current machine and build a more powerful version in 2016. Houyang Guo, Chief Experimental Strategist, during a recent physics seminar at the University of Wisconsin–Madison, revealed that confinement times of 100 milliseconds to one second might be possible in the near future. Ultimately, fusion reactors could supply humanity with a practically limitless supply of clean energy.
29th August 2015
Scientists find possible "off switch" for cancer
A new way of "switching off" cancer cell growth, based on adhesion proteins, is reported by the Mayo Clinic.
Researchers at the Mayo Clinic in Florida have discovered a way to potentially reprogram cancer cells back to normal cells. This finding, published in the journal Nature Cell Biology, represents "an unexpected new biology that provides the code, the software for turning off cancer," says the study's senior investigator, Panos Anastasiadis, Ph.D., chair of the Department of Cancer Biology. His team experimented with human cells in the laboratory that were affected with breast, lung and bladder cancer.
Normal cells are prevented from uncontrolled growth by adhesion proteins – a special "glue" that keeps cells together. The Mayo team discovered that this glue – which consists primarily of E-cadherin and p120 catenin – is controlled by biological microprocessors known as microRNAs that in turn use another protein called PLEKHA7 for regulation. In other words: when normal cells come into contact with each other, genes that promote cell growth are suppressed by this specific subset of microRNAs. Cancer cells, on the other hand, were shown to be missing PLEKHA7. Restoring either its level or increasing the level of microRNAs within these cells turned them back into a benign state.
"We believe that loss of the apical PLEKHA7-microprocessor complex is an early and somewhat universal event in cancer," says Dr. Anastasiadis. "In the vast majority of human tumour samples we examined, this apical structure is absent, although E-cadherin and p120 are still present. This produces the equivalent of a speeding car that has a lot of gas (the bad p120) and no brakes (the PLEKHA7-microprocessor complex).
"By administering the affected microRNAs in cancer cells to restore their normal levels, we should be able to re-establish the brakes and restore normal cell function," he adds. "Initial experiments in some aggressive types of cancer are indeed very promising."
| | |
| --- | --- |
| | Lead authors Panos Anastasiadis, Ph.D., and Antonis Kourtidis, Ph.D. |
"The study brings together two so-far unrelated research fields – cell-to-cell adhesion and miRNA biology – to resolve a long-standing problem about the role of adhesion proteins in cell behaviour that was baffling scientists," says Antonis Kourtidis, Ph.D., an associate of Dr. Anastasiadis. "Most significantly, it uncovers a new strategy for cancer therapy."
"When this apical adhesion complex was disrupted after loss of PLEKHA7, this set of microRNAs was misregulated – and the E-cadherin and p120 switched sides to become oncogenic," he adds.
The team is now working on better options for delivering the molecules. In the future, an injection could be developed that sends the microRNA directly into cells or tumours, without the need for harsh chemotherapy or additional surgery methods. Experts not involved in the research note its importance, but appear sceptical about its possible effectiveness in treatments.
"This important study solves a long-standing biological mystery – but we mustn't get ahead of ourselves," said Henry Scowcroft, the senior science information manager at Cancer Research UK. "There's a long way to go before we know whether these findings, in cells grown in a laboratory, will help treat people with cancer. But it's a significant step forward in understanding how certain cells in our body know when to grow, and when to stop. Understanding these key concepts is crucial to help continue the encouraging progress against cancer we've seen in recent years."
"I think in reality, it is unlikely that you could reverse tumours by reversing just one mechanism, but it's a very interesting finding," concluded Dr. Chris Bakal from the Institute for Cancer Research in London.
27th August 2015
Studies highlight deforestation risk in the 21st century and beyond
Two separate studies highlight the need for major policy changes to protect the world's forests over the next century and beyond.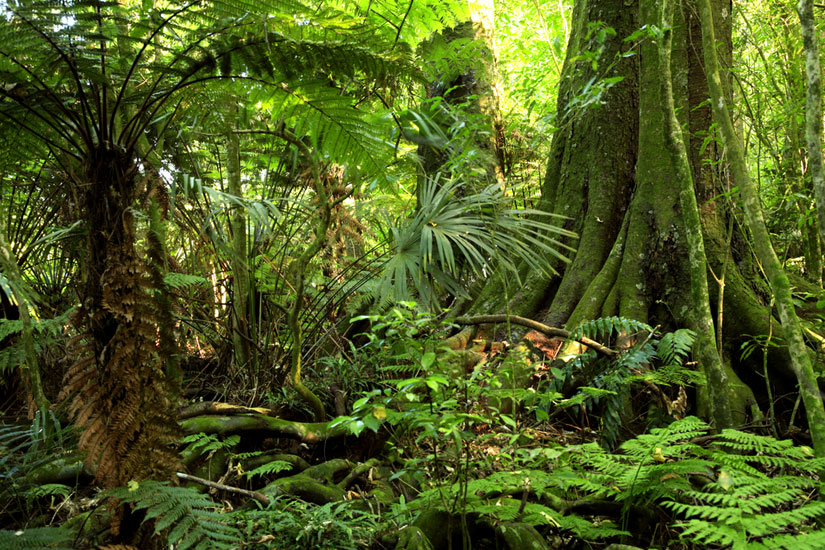 Forests cover an area of four billion hectares (15 million square miles) or about 30 percent of the world's land area. They are the dominant terrestrial ecosystem of Earth, accounting for 75% of the biosphere's gross primary productivity and containing 80% of the world's plant biomass. Forests provide crucial "ecosystem services" that benefit humanity in various ways. These include the sequestering of carbon from the atmosphere, regulation of the water cycle, soil formation, nutrient recycling, biodiversity and gene pool conservation. They also serve an aesthetic function by offering scenic and landscape beauty. The mere presence of trees has been shown to improve both physical and mental health for people living near them, particularly in urban areas.
Unfortunately, the world is losing forests at an alarming rate. As of today, more than three-quarters of the remaining tropical forests have now been degraded by human actions and this figure is likely to increase in the future. Research led by University College London (UCL) and published in the journal Science identifies a new and more dangerous phase of deforestation that is rapidly emerging.
According to the researchers, the first phase occurred when our ancestors moved into tropical forests, as hunter-gatherers. This was followed by a second phase around 6,000 years ago, with the emergence of tropical agriculture. Throughout this time, the overall health of forests was maintained. Today, however, we live in a third phase – characterised by much greater impacts, with distant decision-makers directing how land is used, including permanent intensive agriculture, often for soybeans or palm oil, frontier industrial logging for timber export, cross-continental species invasions, and the early impacts of climate change. The UCL researchers term this phase the era of "Global Integration", affecting even the most remote areas.
Lead author, tropical forest expert Dr Simon Lewis, comments as follows: "Earth has lost 100 million hectares of tropical forest over the last 30 years, mostly to agricultural developments. Few people think about how intertwined with tropical forests we all are. Many foodstuffs include palm oil which comes from once pristine Asian tropical forest, while remaining intact forests are buffering the rate of climate change by absorbing about a billion tonnes of carbon each year."
Current trends look set to intensify without major policy changes, as global food demand is projected to double, over 25 million kilometres of road are predicted to be built by 2050, and climate change intensifies, creating a new phase of human dominance of tropical forests. Having driven the world's highest deforestation rates in South East Asia, the palm oil industry is now gearing up to repeat this process across Africa.
Dr Lewis adds: "I fear a global simplification of the world's most complex forests. Deforestation, logging and road building all create fragmented patches of forest. However, as the climate rapidly changes, the plants and animals living in the rainforest will need to move to continue to live within their ecological tolerances. How will they move? This is a recipe for the mass extinction of tropical forest species this century."
"What is needed are unbroken areas of forest that link today's core tropical regions with forest areas about 4 degrees cooler – so as temperatures rise and rainfall patterns change, species have a better chance of surviving rapid 21st century climate change. We need to bring conservation in line with the reality of climate change," says Lewis.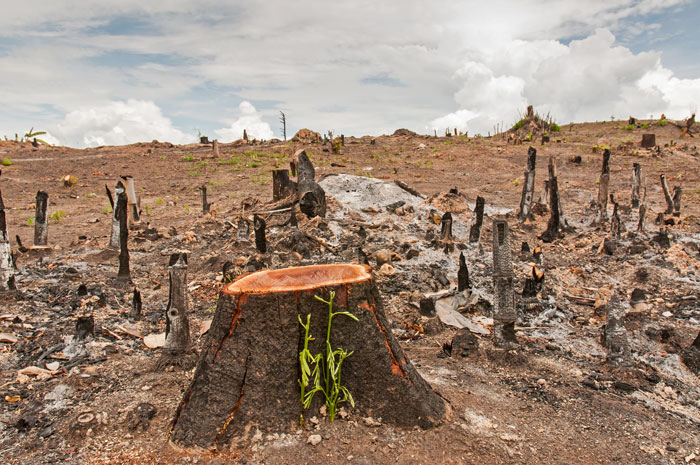 In a separate paper, released by the Centre for Global Development (CGD) this week, researchers conclude that tropical forests will disappear faster than previously thought. Using the most sophisticated satellite imagery available from over 100 countries, CGD environmental economist Jonah Busch and research associate Jens Engelmann have projected a pattern of deforestation that will climb steadily through the 2020s and 2030s before accelerating around 2040.
On a business-as-usual scenario, they find:
• By 2050, an area of tropical forest the size of India will have been cleared – 289 million hectares, or roughly one-third the size of the U.S.

• By 2050, deforestation will have burned through one-sixth of our remaining "carbon budget" – the amount of emissions we have left in order to keep the average global temperature rise below 2° Celsius.
Longer term, the outlook is even worse. If humanity continues its pattern of endless consumption, their research indicates that less than one-fifth of Asia and Latin America's forest cover may remain by 2200.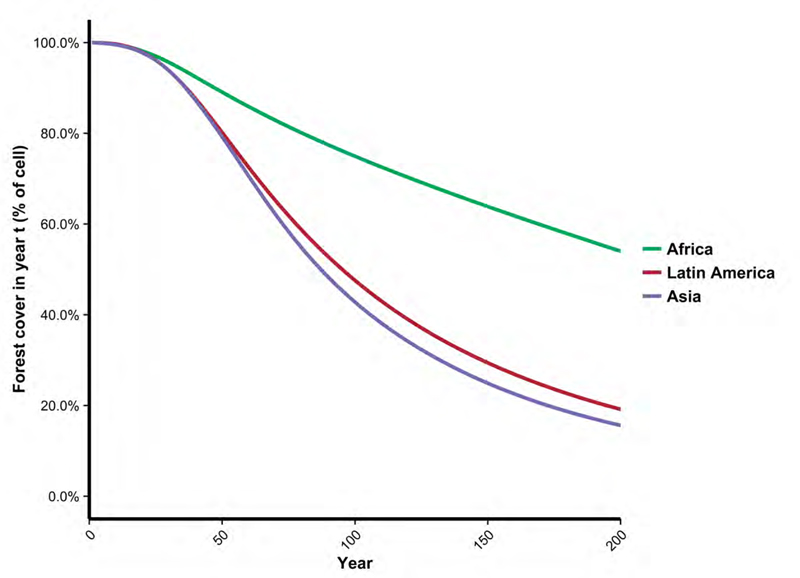 In their report, Busch and Engelmann list three possible solutions that could reverse this trend. The first is an international payment system from rich countries to poor tropical countries, to keep forests standing. This is already beginning to happen – last year, Norway agreed a deal with Liberia and promised to pay the small African nation $150m (£91.4m) in development aid, to stop deforestation by 2020.
The second is for developing countries to introduce carbon pricing. With a charge of $20-per-ton of carbon dioxide on deforestation, emissions would drop by more than 20 percent by 2020; a $50-per-ton price would cut emissions nearly in half by 2050.
Their third solution is restrictive policies on deforestation. If developing countries introduce tighter regulation on deforestation, combined with better satellite monitoring and law enforcement, this would have a drastic impact.
"Conserving tropical forests is a bargain," explains Busch. "Reducing emissions from tropical deforestation costs about a fifth as much as reducing emissions in the European Union."
"The Paris climate agreement needs to provide funding and other resources to stop tropical deforestation," says Engelmann. "A climate agreement without robust action on forests will simply not be enough."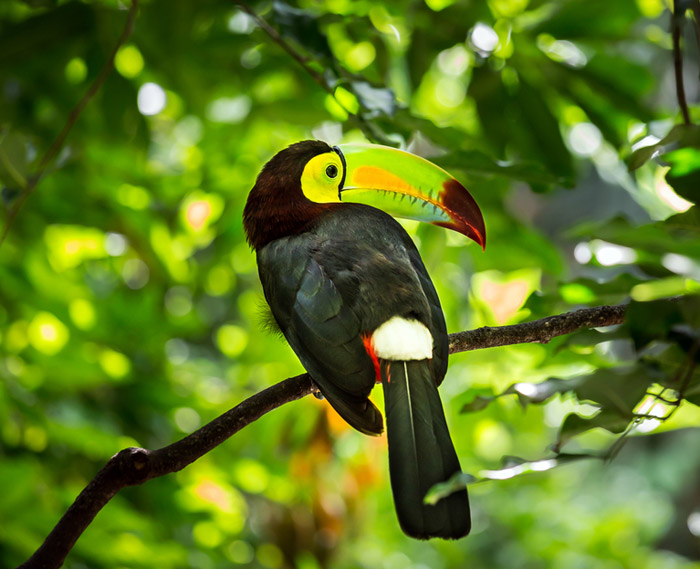 The other paper, by UCL, suggests giving forest dwellers formal collective legal rights over their land, which previous studies have shown is one of the best ways of preserving forests. A study of 292 protected areas in Amazonia showed that indigenous reserves were the most effective at avoiding deforestation in high pressure areas. Ensuring that local people are given collective long-term rights over their lands would mean that benefits flowing from forest lands accrue to the local people. This can provide the beginnings of "development without destruction" programs, tackling poverty while maintaining forest cover. This, the authors have argued, provides human rights and conservation win-wins.
Dr Lewis adds: "With long-term certainty of tenure people can plan, maintaining forests while investing in improving agricultural productivity without expanding into forested lands. Forest dwellers won't be perfect managers of forests – but they won't look for a quick profit and then move on, as big businesses often do."
"The Paris climate change talks in December are doubly important for forests and forest communities. The levels of emission cuts will be a critical factor in determining how many tropical forest plants and animals go extinct over the coming decades and centuries. The agreements on reducing deforestation, including durable finance, will be pivotal. The final test will be whether some funds for adaptation will include land-use planning to retain forest connectivity as the climate rapidly changes."
A new satellite – the BIOMASS Earth Observation mission – will help to improve the global monitoring of forest cover when launched in 2019. This will feature a radar powerful enough to sense both the height and wood content of individual trees. In the Amazon rainforest alone, there are an estimated 390 billion individual trees.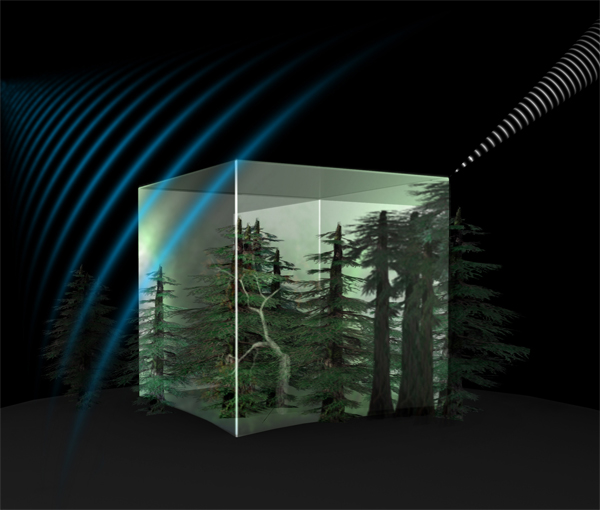 23rd August 2015
Sumatran rhino declared extinct in Malaysia
The Sumatran rhinoceros has been declared extinct in the wild in Malaysia – leaving only nine in captivity and 100 or fewer individuals in neighbouring Indonesia.
Leading scientists and experts in the field of rhino conservation have stated in a new paper that it is safe to consider the Sumatran rhinoceros extinct in the wild in Malaysia. The survival of this species now depends on the 100 remaining individuals in the wild in neighbouring Indonesia and the nine rhinos held in captivity.
Despite intensive survey efforts, there have been no signs of the wild Sumatran rhinoceros (Dicerorhinus sumatrensis) in Malaysia since 2007, apart from two females that were captured for breeding purposes in 2011 and 2014. Scientists now consider the species extinct in the wild in Malaysia. The experts urge conservation efforts in Indonesia to pick up the pace.
The conclusions are published online in Oryx, the International Journal of Conservation, led by the Centre for Macroecology, Evolution and Climate at the University of Copenhagen. Partners include WWF, the International Rhino Foundation, and the International Union for Conservation of Nature (IUCN), which maintains the global Red List of Threatened Species.
| | |
| --- | --- |
| | Only four Sumatran rhinos have been born in captivity so far. Three in the U.S. and one in the Sumatran Rhino Sanctuary in Indonesia, where this footage is from. Filmed by Rasmus Gren Havmøller. |
"It is vital for the survival of the species that all remaining Sumatran rhinos are viewed as a metapopulation – meaning that all are managed in a single program across national and international borders, in order to maximise overall birth rate. This includes the individuals currently held in captivity", says lead author and PhD student Rasmus Gren Havmøller from the Centre for Macroecology, Evolution and Climate.
The experts point to the creation of intensive management zones as a solution; areas with increased protection against poaching, where individual rhinos can be relocated to, in order to increase the number of potential and suitable mating partners.
As illustrated in the map below, the Sumatran rhino was once common in this part of the world – historically ranging across most of South-east Asia. Today, it is found only in a few small pockets of land. Here, less than 100 individuals are thought to live in three separate populations, one of which has seen a critical decline in distribution range of 70% over the last decade. This trend echoes how the population dropped from around 500 to extinction between 1980 and 2005 in Sumatra's largest protected area, the enormous 13,800 km2 Kerinci Seblat National Park.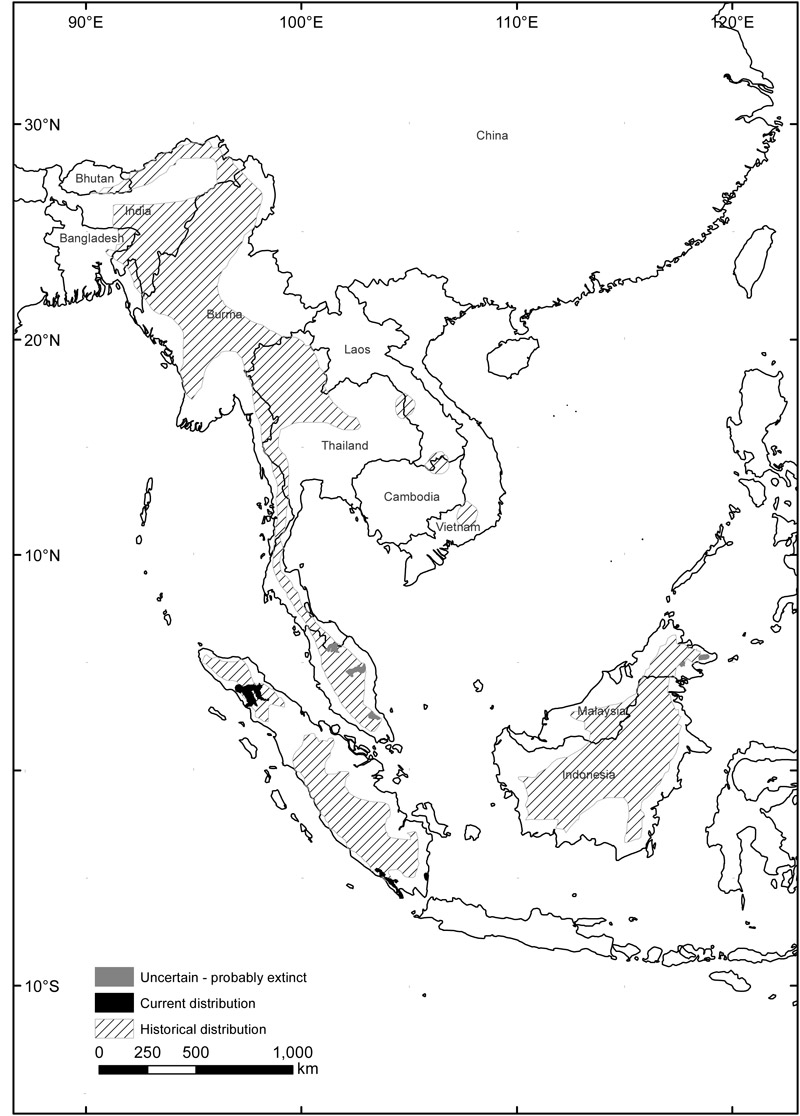 Apart from the wild populations, nine Sumatran rhinos are in captivity – one in Cincinnati Zoo in the U.S. (soon to be moved to Indonesia), three held at facilities in Sabah, Malaysia for attempts to produce embryos by in vitro fertilisation, and five in the Sumatran Rhino Sanctuary in Sumatra, Indonesia.
"The tiger in India was saved from extinction due to the direct intervention of Mrs. Gandhi, the then prime minister, who set up Project Tiger. A similar high level intervention by President Joko Widodo of Indonesia could help pull the Sumatran rhinos back from the brink", says Christy Williams, co-author.
Widodo Ramono, co-author and Director of the Rhino Foundation of Indonesia (YABI) elaborates: "Serious effort by the government of Indonesia should be put to strengthen rhino protection by creating Intensive Protection Zone (IPZ), intensive survey of the current known habitats, habitat management, captive breeding, and mobilising national resources and support from related local governments and other stakeholders."
The conservation strategy so far has included the ongoing development of Rhino Protection Units at sites with remaining viable breeding populations. While this has been achieved, the authors highlight a need for strengthening the units against poaching efforts, especially in northern Sumatra. With a high demand for rhino horns in the black markets of Asia, poaching continues to be a major threat to the species.
Finally, captive breeding was identified as a key action back in 2013 at the Sumatran Rhino Crisis Summit in Singapore, and agreed upon that same year by the Indonesian government, in the Bandar Lampung Declaration. However, the necessary reproductive technology may still take years to develop, during which time we may lose the Sumatran rhino in the wild, the authors conclude.
18th August 2015
Butterfly wings offer clues to vastly improved
solar power
By studying the structure and temperature of butterfly wings, researchers have observed physical properties that could hugely improve the efficiency of solar energy.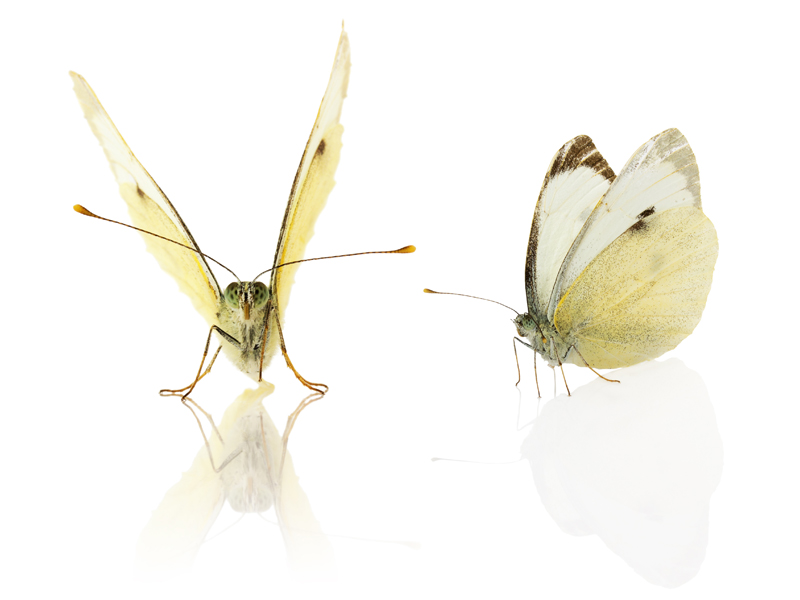 The humble butterfly may hold the key to unlocking new techniques to make solar energy far cheaper and more efficient, pioneering new research has shown. Experts from the University of Exeter have studied new methods for generating photovoltaic (PV) energy – or ways to convert sunlight into power. They showed that by mimicking the v-shaped posture adopted by Cabbage White butterflies to heat up their flight muscles before take-off, the amount of energy produced by solar panels could increase by almost 50 per cent. Crucially, by replicating this 'wing-like' structure, the power-to-weight ratio of the overall solar energy structure is increased 17-fold, making it vastly more efficient.
Professor Tapas Mallick, lead author of the research said: "Biomimicry in engineering is not new. However, this truly multidisciplinary research shows pathways to develop low cost solar power that have not been done before."
Cabbage White butterflies are known to take flight before other butterflies on cloudy days – which limit how quickly the insects can use the energy from the Sun to heat their flight muscles. This ability is thought to be due to the v-shaped posturing, known as reflectance basking, they adopt on such days to maximise the concentration of solar energy onto their thorax, which allows for flight. Furthermore, specific sub-structures of the butterflies' wings allow the light from the Sun to be reflected most efficiently, ensuring the flight muscles are warmed to an optimal temperature as quickly as possible.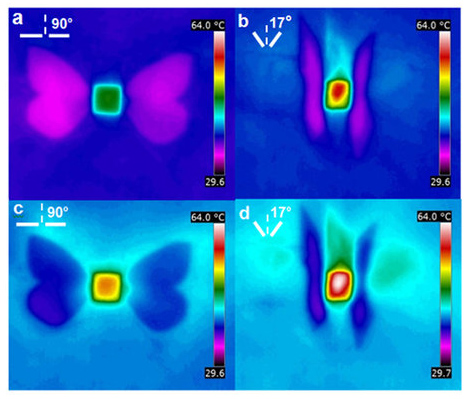 The scientists therefore investigated how to replicate the wings to develop a new, lightweight reflective material that could be used in solar energy production. They found that the optimal angle by which the butterfly should hold its wings to increase temperature to its body was around 17°, which increased the temperature by 7.3°C compared to when held flat. They also showed that by replicating the simple mono-layer of scale cells found in the butterfly wings in solar energy producers, this could vastly improve the power-to-weight rations of future solar concentrators, making them significantly lighter and so more efficient.
Professor Richard ffrench-Constant, who conducts world-leading research into butterfly mimicry at the University of Exeter, said: "This proves that the lowly Cabbage White is not just a pest of your cabbages, but actually an insect that is an expert at harvesting solar energy."
The paper – White butterflies as solar photovoltaic concentrators – was published in the journal Scientific Reports and is available online.
17th August 2015
Single gene alteration boosts intelligence in mice and reduces anxiety
Genetically engineered "brainy" mice with better resilience to fear and anxiety could raise hopes of better treatments for cognitive disorders in the future.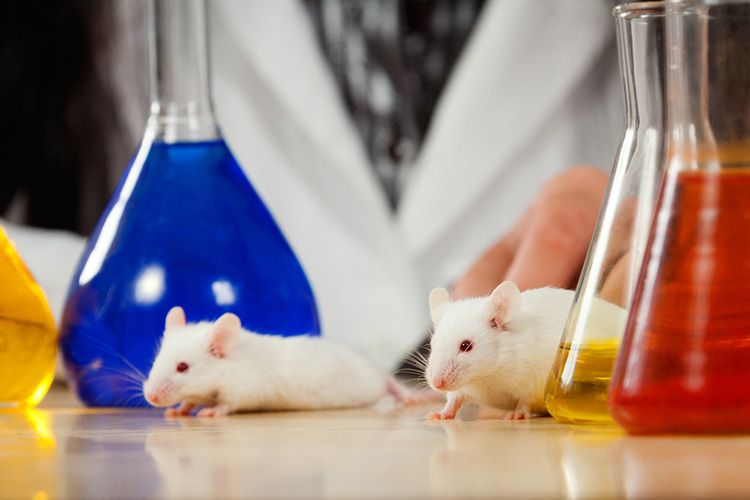 Researchers have created unusually intelligent mice by altering a single gene. As a result, the mice were also less likely to feel anxiety or fear. The study, led by the University of Leeds and Mount Sinai Hospital in Toronto, was published on Friday in the journal Neuropsychopharmacology. It sheds light on the molecular underpinnings of learning and memory and could form the basis for research into new treatments for age-related cognitive decline, cognitive disorders such as Alzheimer's disease and schizophrenia, and other conditions.
The researchers altered a gene in mice to inhibit the activity of an enzyme called phosphodiesterase-4B (PDE4B), which is present in many organs of the vertebrate body, including the brain. In behavioural tests, the PDE4B-inhibited mice showed enhanced cognitive abilities. They tended to learn faster, remember events longer and solve complex exercises better than ordinary mice. For example, the "brainy mice" showed a better ability to recognise another mouse they had been introduced to the day before. They were also quicker at learning the location of a hidden escape platform in a test called the Morris water maze. However, the PDE4B-inhibited mice also showed less recall of a fearful event after several days than ordinary mice.
The published findings are limited to mice and have not been tested in humans, but PDE4B is present in humans. The diminished memory of fear among mice with inhibited PDE4B could be of interest to researchers looking for treatments for pathological fear, typified by Post-Traumatic Stress Disorder (PTSD). The PDE4B-inhibited mice also showed less anxiety. They spent more time in open, brightly-lit spaces than ordinary mice, which preferred dark, enclosed spaces. Ordinary mice are naturally very fearful of cats, but the PDE4B-inhibited mice showed a decreased fear response to cat urine, suggesting that one effect of inhibiting PDE4B could be an increase in risk-taking behaviour. So, while the PDE4B-inhibited mice excelled at solving complex exercises, their low levels of anxiety could be counterproductive for a wild mouse.
Dr Steve Clapcote from the University of Leeds' School of Biomedical Sciences, who led the study: "Cognitive impairments are currently poorly treated – so I'm excited that our work using mice has identified phosphodiesterase-4B as a promising target for potential new treatments."
The researchers are now working on developing drugs that will specifically inhibit PDE4B. These drugs will be tested in animals to see whether any would be suitable for clinical trials in humans.
Dr Alexander McGirr, a psychiatrist in training at the University of British Columbia, who co-led the study, said: "In the future, medicines targeting PDE4B may potentially improve the lives of individuals with neurocognitive disorders and life-impairing anxiety, and they may have a time-limited role after traumatic events."
17th August 2015
Spicy foods may be linked to increased longevity
Spicy foods may be linked to increased longevity, according to a study published in the British Medical Journal (BMJ).
Eating spicy food more frequently as part of a daily diet is associated with a lower risk of death, suggests a new study published in the BMJ this week. The association was also found for deaths from certain conditions such as cancer, and ischaemic heart and respiratory diseases.
This is an observational study so no definitive conclusions can be drawn about cause and effect, but the authors call for more research that may "lead to updated dietary recommendations and development of functional foods."
Previous research has suggested that beneficial effects of spices and their bioactive ingredient, capsaicin, include anti-obesity, antioxidant, anti-inflammation and anticancer properties. So an international team led by researchers at the Chinese Academy of Medical Sciences examined the association between consumption of spicy foods as part of a daily diet and the total risk and causes of death.
The researchers undertook a prospective study of 487,375 participants, aged 30-79 years, from the China Kadoorie Biobank. Participants were enrolled between 2004-2008 and followed up for morbidities and mortality. All participants completed a questionnaire about their general health, physical measurements, and consumption of spicy foods, and red meat, vegetables and alcohol. Participants with a history of cancer, heart disease, and stroke were excluded from the study, and factors such as age, marital status, level of education, and physical activity were accounted for.
During a median follow-up of 7.2 years, there were 20,224 deaths. Compared with participants who ate spicy foods less than once a week, those who consumed spicy foods 1 or 2 days a week were at a 10% reduced risk of death (hazard ratios for death was 0.90). And those who ate spicy foods 3 to 5 and 6 or 7 days a week were at a 14% reduced risk of death (hazard ratios for death 0.86, and 0.86 respectively).
In other words, participants who ate spicy foods almost every day had a relative 14% lower risk of death compared to those who consumed spicy foods less than once a week. The association was similar in both men and women, and was stronger in those who did not consume alcohol. Frequent consumption of spicy foods was also linked to a lower risk of death from cancer, and ischaemic heart and respiratory system diseases, and this was more evident in women than men.
Fresh and dried chilli peppers were the most commonly used spices in those who reported eating spicy foods weekly, and further analysis showed those who consumed fresh chilli tended to have a lower risk of death from cancer, ischaemic heart disease, and diabetes. Some of the bioactive ingredients are likely to drive this association, the authors explain, adding that fresh chilli is richer in capsaicin, vitamin C, and other nutrients. But they caution against linking any of these with lowering the risk of death.
Should people eat spicy food to improve health? In an accompanying editorial, Nita Forouhi from the University of Cambridge says it is too early to tell, and calls for more research to test whether these associations are the direct result of spicy food intake or whether this is a marker for other dietary or lifestyle factors.
14th August 2015
By measuring the energy output from a large portion of the Universe with greater precision than ever before, astronomers have determined that the Universe is gradually fading across all wavelengths. In effect, the Universe is slowly dying.
An international team of astronomers studying more than 200 000 galaxies has measured the energy generated within a large portion of space more precisely than ever before. This represents the most comprehensive assessment of the energy output of the nearby Universe. They confirm that the energy produced in a section of the Universe today is only about half what it was two billion years ago and find that this fading is occurring across all wavelengths from the ultraviolet to the far infrared. The Universe is slowly dying.
The study involves many of the world's most powerful telescopes, including the European Southern Observatory's VISTA and VST survey telescopes at the Paranal Observatory in Chile. Supporting observations were made by two orbiting space telescopes operated by NASA (GALEX and WISE) and another belonging to the European Space Agency (Herschel). The research is part of the Galaxy And Mass Assembly (GAMA) project, the largest multi-wavelength survey ever put together.
"We used as many space and ground-based telescopes as we could get our hands on to measure the energy output of over 200 000 galaxies across as broad a wavelength range as possible," says Simon Driver, who heads the large GAMA team.
The survey data, released to astronomers this week, includes measurements of the energy output of each galaxy at 21 wavelengths, from the ultraviolet to the far infrared. This dataset will help scientists to better understand how different types of galaxies form and evolve.
All of the energy in the Universe was created in the Big Bang, with some portion locked up as mass. Stars shine by converting mass back into energy as described by Einstein's famous equation E=mc2. The GAMA study sets out to map and model all of the energy generated within a large volume of space today and at different times in the past.
"While most of the energy sloshing around in the Universe arose in the aftermath of the Big Bang, additional energy is constantly being generated by stars as they fuse elements like hydrogen and helium together," says Driver. "This new energy is either absorbed by dust as it travels through the host galaxy or escapes into intergalactic space and travels until it hits something – such as another star, a planet, or, very occasionally, a telescope mirror."
The fact that the Universe is slowly fading has been known since the late 1990s, but this work shows that it is happening across all wavelengths from the ultraviolet to the infrared, representing the most comprehensive assessment of the energy output of the nearby Universe.
"The Universe will decline from here on in, sliding gently into old age. The Universe has basically sat down on the sofa, pulled up a blanket and is about to nod off for an eternal doze," concludes Driver.
The team of researchers hope to expand their work to map energy production over the entire history of the Universe – using a swathe of new facilities, including the world's largest radio telescope, the Square Kilometre Array, which is due to become operational in 2024.
The team presented their findings at the International Astronomical Union XXIX General Assembly in Honolulu, Hawaii, on Monday 10th August.
13th August 2015
Today, 13th August, is Earth Overshoot Day – the point at which our planet's ecological budget has been exhausted for the year. From now until the end of 2015, we are operating in "ecological overdraft".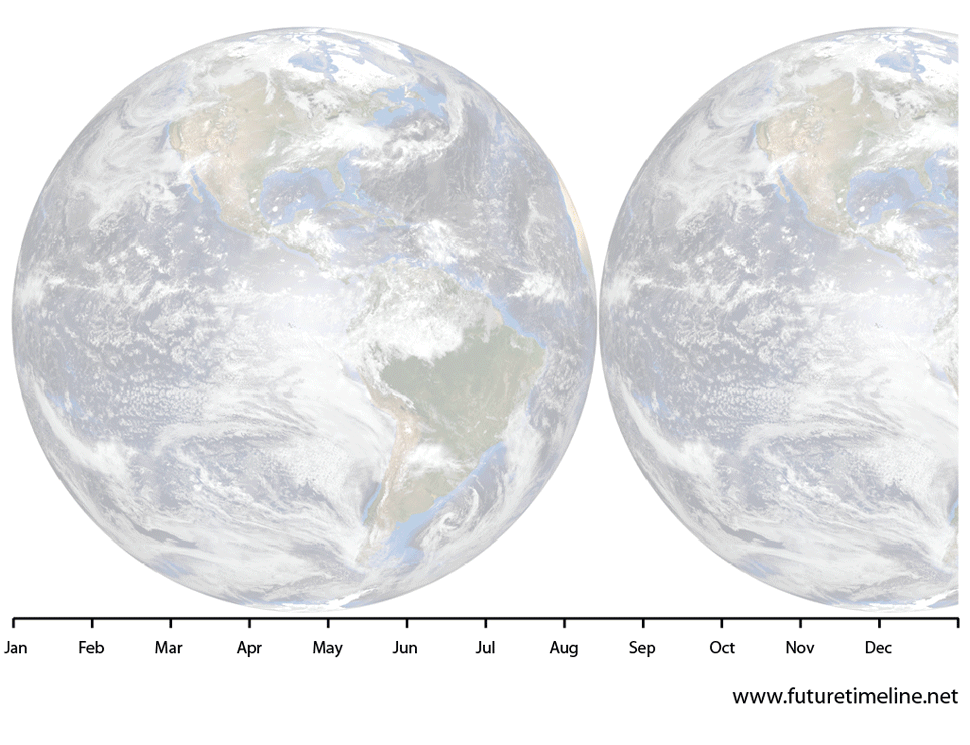 In less than eight months, humanity has used up nature's budget for the entire year, with carbon sequestration making up more than half of the demand on nature, according to data from Global Footprint Network, a sustainability think tank with offices in North America, Europe and Asia.
Global Footprint Network tracks humanity's demand on the planet (Ecological Footprint) against nature's ability to provide for this demand (biocapacity). Earth Overshoot Day marks the date when humanity's annual demand on nature exceeds what Earth can regenerate in that year. Earth Overshoot Day has been gradually shifting forward over the years – from early October in 2000, to 13th August in 2015. Last year, it occurred on 19th August.
The costs of this ecological overspending are becoming more evident by the day, in the form of deforestation, drought, fresh-water scarcity, soil erosion, biodiversity loss and the buildup of carbon dioxide in the atmosphere. The latter will significantly amplify the former, if current climate models are correct. Consequently, government decision-makers who factor these growing constraints in their policy making will stand a significantly better chance to set their nation's long-term economic performance on a favourable track.
"Humanity's carbon footprint alone more than doubled since the early 1970s, which is when the world went into ecological overshoot. It remains the fastest growing component of the widening gap between the Ecological Footprint and the planet's biocapacity," says Mathis Wackernagel, president of Global Footprint Network and the co-creator of the Ecological Footprint resource accounting metric. "The global agreement to phase out fossil fuels that is being discussed around the world ahead of the Climate Summit in Paris would significantly help curb the Ecological Footprint's consistent growth and eventually shrink the Footprint."
The carbon footprint is inextricably linked to the other components of the Ecological Footprint — cropland, grazing land, forests and productive land built over with buildings and roads. All these demands compete for space. As more is being demanded for food and timber products, fewer productive areas are available to absorb carbon from fossil fuel. This means carbon emissions accumulate in the atmosphere rather than being fully absorbed.
The climate agreement expected at the United Nations Conference of Parties (COP) 21 this December will focus on maintaining global warming within the 2°C range over pre-Industrial Revolution levels. This shared goal will require nations to implement policies to completely phase out fossil fuels by 2070, per the recommendations of the U.N.'s International Panel on Climate Change (IPCC), directly impacting the Ecological Footprints of nations.
Assuming that global carbon emissions are reduced by at least 30 percent below today's levels by 2030, in keeping with the IPCC's suggested scenario, Earth Overshoot Day could be moved back on the calendar to 16th September 2030 (assuming the rest of the Footprint would continue to expand at the current rate), according to Global Footprint Network.
This is not impossible. In fact, Denmark has cut its emissions over the last two decades at this rate: Since the 1990s, it has reduced its carbon emissions by 33%. Had the world done the same (while not changing the rest of the Footprint), Earth Overshoot Day would be on 3rd October this year.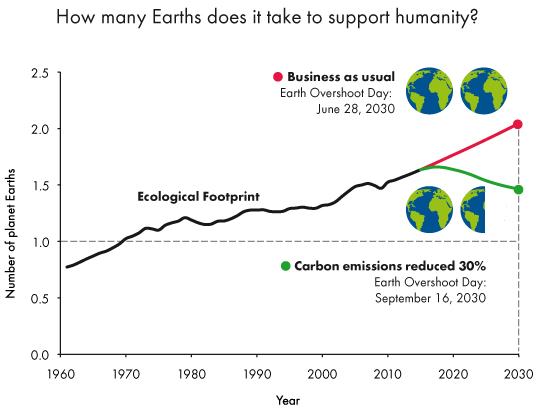 This is not to say that Denmark has already reached a sustainable Ecological Footprint. Humanity would require the resources of nearly three planets if everyone lived like the Danes, which would move Earth Overshoot Day to 8th May. By contrast, business as usual would mean using the resources equivalent to two planets by 2030, with Earth Overshoot Day moving up on the calendar to the end of June.
This projection assumes that biocapacity, population growth and consumption trends remain on their current trajectories. However, it is not clear whether a sustained level of overuse is possible without significantly damaging long-term biocapacity, with consequent impacts on consumption and population growth.
"We are encouraged by the recent developments on the front line of renewable energy, which have been accelerating worldwide, and by the increasing awareness of the finance industry that a low-carbon economy is the way of the future," says Wackernagel. "Going forward, we cannot stress enough the vital importance of reducing the carbon footprint, as nations are slated to commit to in Paris. It is not just good for the world, but increasingly becoming an economic necessity for each nation. We all know that the climate depends on it, but that is not the full story: Sustainability requires that everyone live well, within the means of one planet. This can only be achieved by keeping our Ecological Footprint within our planet's resource budget."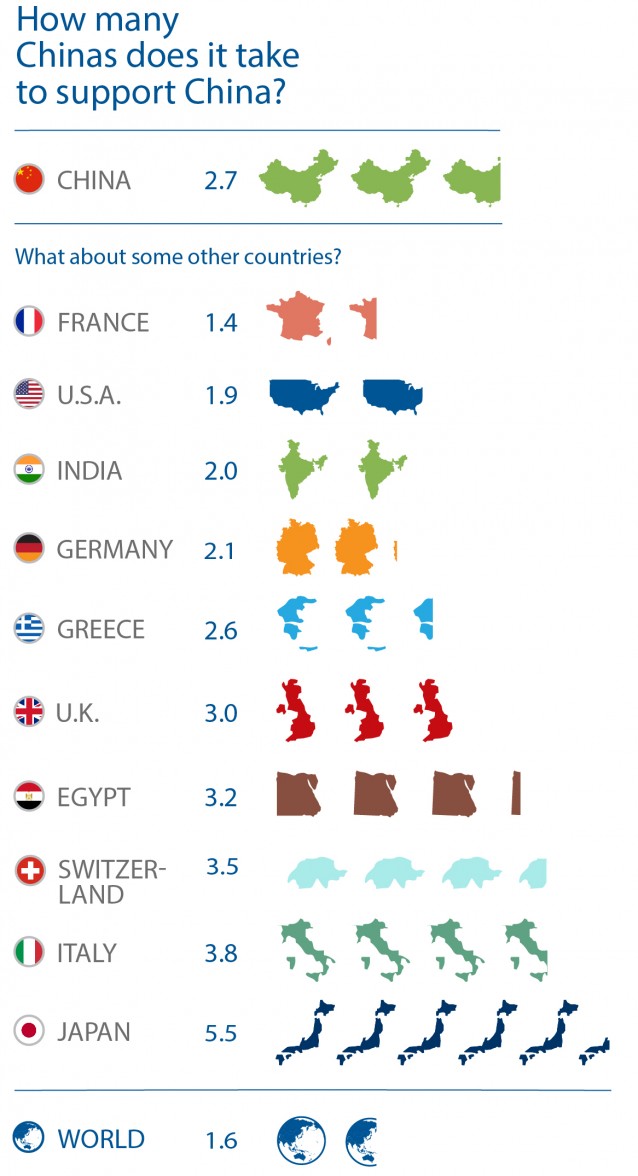 11th August 2015
Glacier loss "unprecedented" worldwide
A new comprehensive analysis of global glacier changes in the Journal of Glaciology concludes that melting rates are "unprecedented" and occurring faster than ever.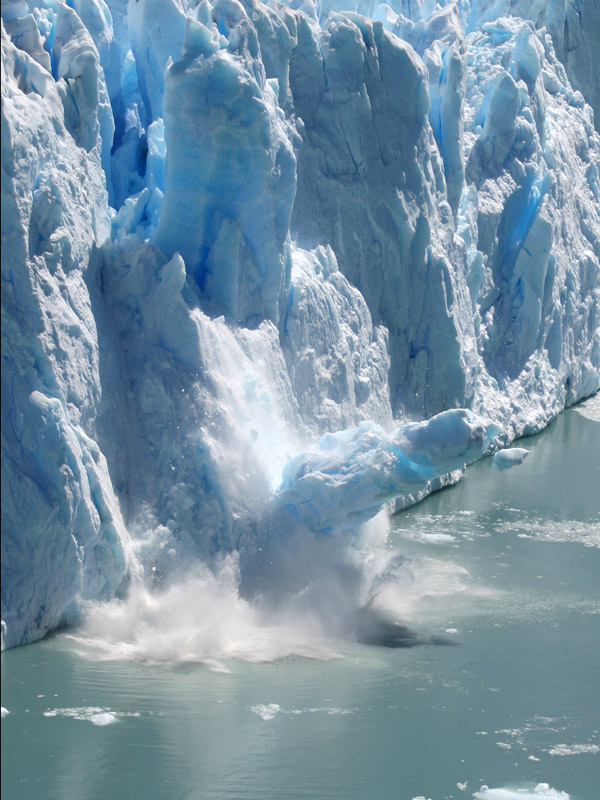 Glacier decline in the first decade of the 21st century has reached a historical record since the onset of direct observations. Glacier melt is a global phenomenon and will continue even without further climate change. That's according to the latest study by the World Glacier Monitoring Service under the lead of the University of Zurich, Switzerland.
The World Glacier Monitoring Service, domiciled at the University of Zurich, has compiled worldwide data on glacier changes for more than 120 years. Together with its National Correspondents in more than 30 countries, the international service just published a new comprehensive analysis of global glacier changes in the Journal of Glaciology. In this study, observations of the first decade of the 21st century (2001-2010) were compared to all available earlier data from in-situ, air-borne and satellite-borne observations, as well as reconstructions from pictorial and written sources.
"The observed glaciers currently lose between half a metre and one metre of ice thickness every year – this is two to three times more than the corresponding average of the 20th century", explains Michael Zemp, lead author of the study. "Exact measurements of this ice loss are reported from a few hundred glaciers only. However, these results are qualitatively confirmed from field and satellite-based observations for tens of thousands of glaciers around the world."
| | |
| --- | --- |
| | A huge glacier calving event featured in the documentary Chasing Ice. |
According to the international author team, the current rate of glacier melt is without precedence at global scale, at least for the time period observed and probably also for recorded history, as indicated also in reconstructions from written and illustrated documents. In addition, the study shows that the long-term retreat of glacier tongues is a global phenomenon. Intermittent re‐advance periods at regional and decadal scales are normally restricted to a subsample of glaciers and have not come close to achieving the Little Ice Age maximum positions reached between the 16th and 19th century. As such, glacier tongues in Norway have retreated by some kilometres from the maximum extents in the 19th century. The intermittent re-advances of the 1990s were restricted to glaciers in the coastal area and to a few hundred metres.
In addition, the study indicates that the intense ice loss of the past two decades has resulted in a strong imbalance of glaciers in many regions throughout the world. "These glaciers will suffer further ice loss – even if climate remains stable", warns Michael Zemp.
In the coming decades, the loss of glaciers worldwide could have profound implications for many countries that rely on them for water. This is likely to be a particular problem in southeast Asia. For example, another recent study suggests that the glacier volume of the Mount Everest region will fall below 50% of its 2015 level by the middle of this century.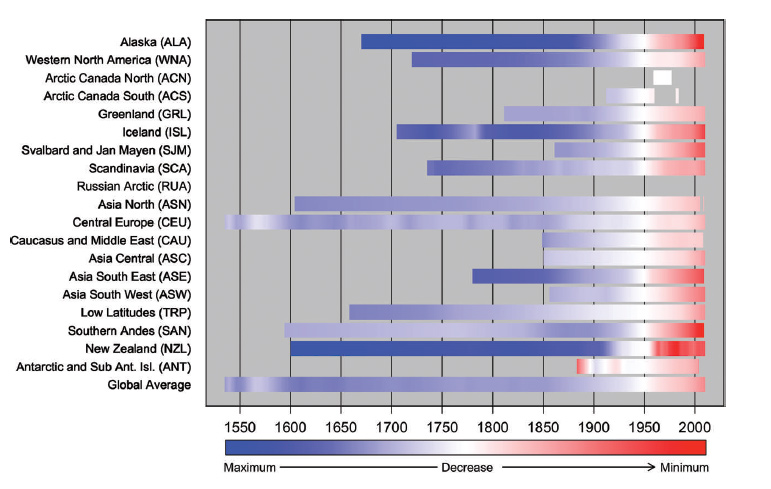 10th August 2015
First autonomous vessel to cross the ocean
Plans have been unveiled for "Mayflower Autonomous Research Ship" (MARS), the world's first full-sized, fully autonomous unmanned ship to cross the Atlantic Ocean.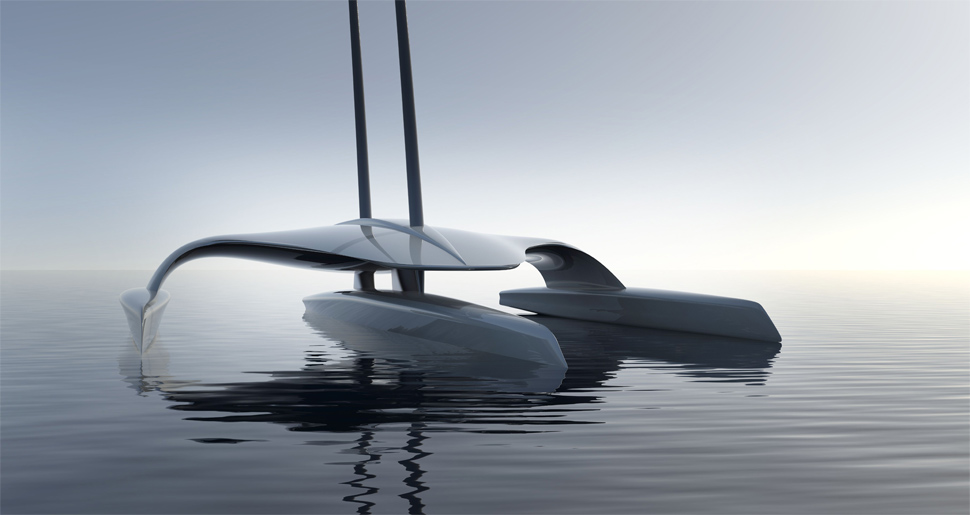 A pioneering project has been launched to design, build and sail the world's first full-sized, fully autonomous unmanned ship across the Atlantic Ocean. The Mayflower Autonomous Research Ship, codenamed MARS, will be powered by state-of-the-art renewable energy technology, and will carry a variety of drones through which it will conduct experiments during the crossing.
MARS is being developed by a partnership of Plymouth University, autonomous craft specialists MSubs, and award-winning yacht designers Shuttleworth Design, and is expected to take two-and-a-half years to build. Following a year-long testing phase, the planned voyage in 2020 will also mark the 400th anniversary of the original Mayflower sailings from Plymouth to the North American continent.
Professor Kevin Jones, Executive Dean of the Faculty of Science and Engineering at the University: "MARS has the potential to be a genuine world-first, and will operate as a research platform, conducting numerous scientific experiments during the course of its voyage. And it will be a test bed for new navigation software and alternative forms of power, incorporating huge advancements in solar, wave and sail technology. As the eyes of the world follow its progress, it will provide a live educational resource to students – a chance to watch, and maybe participate in history in the making."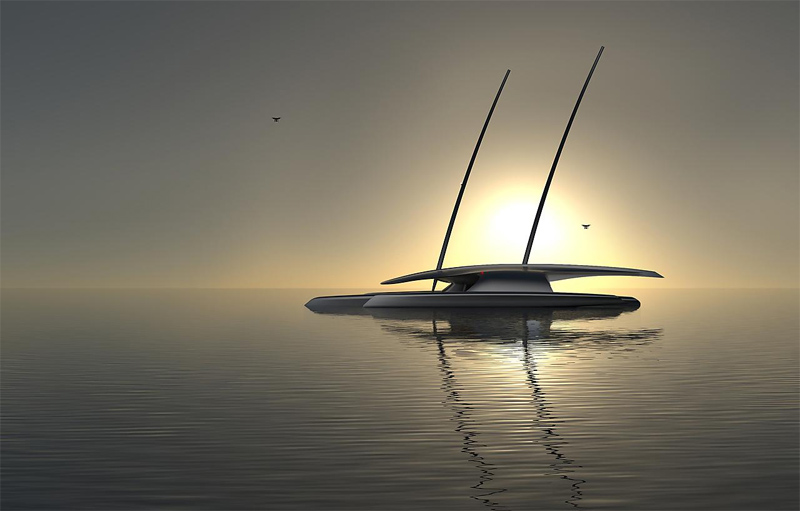 Plymouth-based firm MSubs will be leading on the construction, using their expertise in building autonomous marine vessels for a variety of global customers. Managing Director Brett Phaneuf said the project would confront current regulations governing autonomous craft at sea, and confirmed that conversations had already been initiated with bodies such as the Maritime and Coastguard Agency and DNV GL, the international certification and classification society.
"While advances in technology have propelled land and air-based transport to new levels of intelligent autonomy, it has been a different story on the sea," Brett said. "The civilian maritime world has, as yet, been unable to harness the autonomous drone technology that has been used so effectively in situations considered unsuitable for humans. It begs the question, if we can put a rover on Mars and have it autonomously conduct research, why can't we sail an unmanned vessel across the Atlantic Ocean and, ultimately, around the globe? That's something we are hoping to answer with MARS."
The concepts are being worked on by Isle of Wight-based Shuttleworth Design, and they will be preparing scale models for testing in the University's Marine Building. Many of the features of the trimaran are yet to be finalised, but it is expected to take advantage of advancements in solar panel technology to provide the energy required for its propulsion.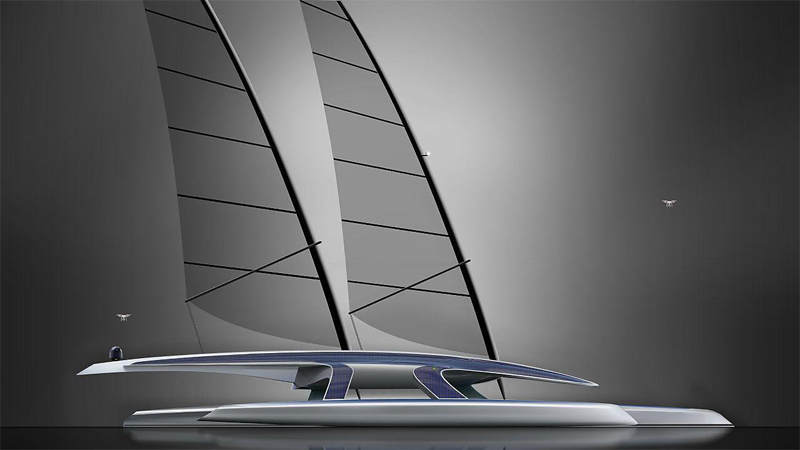 Orion Shuttleworth comments: "We want the vessel to really capture the imagination. It's of a scale unmatched by anything in the civilian world."
The multi-million pound project is part of the University's 'Shape the Future' fundraising Campaign, recently launched at the House of Lords. Initial funding has been provided by the University, MSubs, and the ProMare Foundation, and corporate and private sponsorship will be sought for ongoing support. MARS will also create a large number of student internship opportunities for the University.
Christian Burden, Director of Development at the University: "MARS represents the very essence of the fundraising campaign we have recently launched at the University – not only does it reflect the values and characteristics of the University, but it is also a game changing project in every sense, one that will transform lives and have an enormous impact on the maritime and marine industries. MARS will be a multi-million pound project, providing benefit and value to many of our local partners who will be involved in building the ship. With the initial design phase underway, we are now seeking additional external sponsorship and philanthropy to help make this project become a reality – it's a once in a lifetime opportunity to be involved in a project like this, so we look forward to working with future supporters and partners."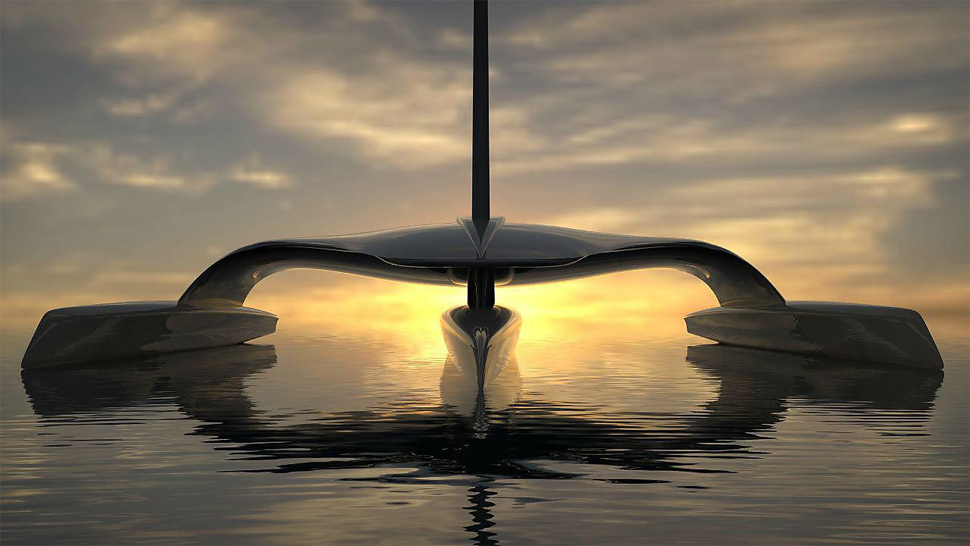 7th August 2015
Lexus completes testing of hoverboard
Luxury vehicle maker Lexus has released a video showing off a real-life, working hoverboard.
The hoverboard seen here was first revealed in a teaser trailer back in June. Lexus claims it has now completed a testing phase, which took place in Cubelles, Barcelona, following 18 months of development. The device is based on quantum levitation – it uses a combination of superconductors and magnets in the ground to stay afloat. The superconductors are cooled to a chilly –197°C (–322°F) via liquid nitrogen stored in two "cryostat" reservoirs. The specially constructed hoverpark features 200 metres of magnetic track, which was transported from a facility in Dresden, Germany.
Mark Templin, Executive Vice President at Lexus International, comments in a press release: "Embarking on this project, we set out to push the boundaries of technology, design and innovation to make the impossible possible. With this project we call 'SLIDE', we collaborated with partners who share our passion for creating enjoyment out of motion. Even through combining our technology and expertise, we discovered making a hoverboard isn't an easy process. We've experienced the highs and lows and have overcome a few challenges, but through mutual determination we have created a demonstration of our philosophy in design and technology to create Amazing in Motion."
Pro skateboarder and hoverboard test rider Ross McGouran: "I've spent 20 years skateboarding, but without friction it feels like I've had to learn a whole new skill, particularly in the stance and balance in order to ride the hoverboard. It's a whole new experience."
Lexus isn't the only company to be working on a hoverboard. Last year, California-based Arx Pax announced plans for "Hendo Hoverboards" to be launched on 21st October 2015 – the same date as the setting for Back to the Future II, in which the futuristic boards appear.
7th August 2015
Millennium Project releases "2015–16 State of the Future" report
The Millennium Project's newly-released "2015-16 State of the Future" confirms that the world is winning more than losing, but where it is losing is very serious.
The "2015-16 State of the Future" report just released by The Millennium Project gives trends on 28 indicators of progress and regress; new insights into 15 Global Challenges; impacts of artificial intelligence, synthetic biology, nanotechnology and other advanced technologies on employment over the next 35 years; and how economic change is inevitable by 2050.
"This 'World Report Card' may have more data, information, intelligence, and wisdom about the future of the world than has ever been assembled in one report," says Jerome Glenn, CEO of The Millennium Project and lead author of the report. "It should be read in pieces and kept on your desk as a reference."
This is the 18th global assessment of the foreseeable future. It distils much of the leading research from UN organisations, national governments, think tanks, and insights from thought leaders around the world. This 300-page report includes over 50 charts and graphs. "It is what the educated world citizen should know," says Elizabeth Florescu, Director of Research for The Millennium Project and co-author of the report. Each "State of the Future" since 1997 builds on the last one, creating an accumulative and unique assessment of the future of the world.
Some of the key findings include:
The concept of work will change over the next generation or two; but global thought leaders are divided about the best policies to make a smooth transition.


By 2050, new systems for food, water, energy, education, health, economics, and global governance will be needed to prevent massive and complex human and environmental disasters.


Environmental security should be the focus of joint goals to build strategic trust between the US and China.


The 2015 State of the Future Index shows slow but steady improvement in general human welfare over the past 20 years and next 10 years — but at the expense of the environment and with worsening intrastate violence, terrorism, corruption, organised crime, and economic inequality.


The future can be much better than most pessimists understand, but it could also be far worse than most optimists are willing to explore.


Humanity has the resources to address its global challenges, but it is not clear that an integrated set of global and local strategies will be implemented together timely enough and on the scale necessary to build a better future.
"It is time for intolerance of irrelevant speeches and non-actions by leaders. The stakes are too high to tolerate business as usual," declares Glenn.
A 14-page executive summary is freely available to download.
The Millennium Project is a global participatory think tank, connecting 56 Nodes around the world that identify important long-range challenges and strategies, and initiate and conduct foresight studies, workshops, symposiums, and advanced training. Its mission is to improve thinking about the future and make it available through a variety of media for feedback, to accumulate wisdom about the future for better decisions today. In addition to the annual "State of the Future" reports, it produces the "Futures Research Methodology" series, the Global Futures Intelligence System (GFIS), and special studies. Over 4,500 futurists, scholars, business planners, and policy makers who work for international organisations, governments, corporations, NGOs, and universities have participated in The Millennium Project's research, since its inception, in 1992. The Millennium Project was selected among the top ten think tanks in the world for new ideas and paradigms by the 2013 and 2014 University of Pennsylvania's GoTo Think Tank Index, and as a 2012 Computerworld Honors Laureate for its contributions to collective intelligence systems.
5th August 2015
An interview with aging and longevity expert Aubrey de Grey
Aubrey de Grey is Chief Science Officer of the SENS Research Foundation, which is working to find a solution to aging. He believes that the first humans who will live to be 1,000 years old could already be alive today. Yesterday, he appeared on a Reddit AMA (Ask Me Anything) session to answer questions posed by futurology enthusiasts. Some of the responses are reproduced below.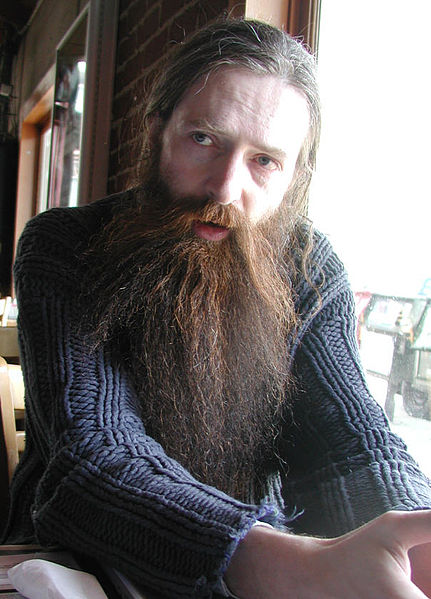 Reddit: I'm curious about how the advent of CRISPR affects the development of SENS therapies?
Aubrey de Grey: It's huge. It will be central to the delivery of the many SENS components that involve somatic gene therapy.
Reddit: Does it speed up the development timeline at all?
Aubrey de Grey: A lot, yes.
Reddit: Are you familiar with the current and/or potential scalability of CRISPR, i.e. it's one thing to edit a single cell in vitro, and a whole other to be able to reprogram every cellular gene expression of Huntington's disease in vivo? I'm really curious where we are on that scale because of the massive ramifications this technology has and it looks like a lot of progress is being made on the error rate.
Aubrey de Grey: It's going extremely well. Fidelity is key – i.e., minimising off-target modifications – and as you say, progress is rapid.
Reddit: What is the likelihood that someone who is 40 today will have their life significantly extended to the point of practical immortality? 30? 20? 10?
Is it a slow, but rapidly rising collusion of things that are going to cause this, or is it something that is going to kind of snap into effect one day?
Will the technology be accessible to everyone, or will it be reserved for the rich?
What are your thoughts on cryonics?
What is your personal preferred method of achieving practical immortality? Nanotechnology? Cyborgs? Something else?
Aubrey de Grey: I'd put it at 60, 70, 80, 90% respectively.
Kind of snap, in that we will reach longevity escape velocity.
For everyone, absolutely for certain.
Cryonics (not cryogenics) is a totally reasonable and valid research area and I am signed up with Alcor.
Anything that works! – but I expect SENS to get there first.
Reddit: Is it fair for me to be telling my friends and others I tell about this stuff, that considering the $25 a month I donate to SENS and the many dozens of people I have educated about SENS and curing aging in general, many quite successfully educated, that I may have personally saved the lives of 100,000 people at this point?
Along that line is this something it would be good for you and your people to really emphasize during talks? To tell people that they can feel good about themselves for going out and advocating and donating even a meagre amount of money because doing so means they are very truthfully saving the lives of tens or hundreds of thousands of people?
Aubrey de Grey: This is by far the best question yet on this AMA. Thank you!
First: I think you can say something like that (depending on how long it's been that you've been sending us $25). I believe that $1B right now would hasten the achievement of LEV by about 10 years; you can do the rest of the maths, but it comes out to about $2 per life – and of course "saving" means a great deal more in terms of extra years than it does for other ways of saving lives, so arguably it's more like a few cents per life.
And yes, I think I should emphasise this more. I probably will.
Reddit: On the topic of money, why do you think so much of the super rich, do so little with their hordes of money, when they could put it towards research of various types, including longevity? That's one thing I have trouble understanding it, my brain defaults towards conspiracy theory type theories. E.g. they are hoarding the money to keep others poorer, to keep themselves more powerful.
Aubrey de Grey: The super-rich are just as afraid of getting their hopes up as anyone else.
Reddit: What do you think of the efforts like Human Longevity Inc. that seem to be focused on DNA/genetic markers of aging, rather than the damage focus of SENS? Is their work helpful do you think?
Aubrey de Grey: It's definitely helpful in the short term, as a way to optimise what we can already do. It has very little longer-term relevance, because once SENS works, it will work the same for everyone.
Reddit: I watched a video from you back in 2013 where you commented on the announcement from Larry Page about Calico. You mentioned that Calico – if they're focused on early stage research – might highly benefit the battle against aging. What is your comment regarding Calico's research now that a couple of years have passed? More/less excited about their potential?
Aubrey de Grey: Cautious. They are structured perfectly: they are doing a bunch of highly lucrative irrelevant short-term stuff that lets them get on with unlucrative critical long-term stuff without distraction. But the latter may be getting too curiosity-driven and insufficiently translational. We'll see.
Reddit: Care to elaborate? "Highly lucrative irrelevant stuff" seems contradictory, likewise "unlucrative critical stuff" :)
Aubrey de Grey:
"Highly lucrative irrelevant stuff" = drugs for specific diseases of aging
"Unlucrative critical stuff" = work leading to actual LEV
Reddit: How difficult would it be maintaining/repairing the brain itself? While we can reasonably access almost every other part of the body, the brain always seems like this elusive bastion that we can't quite reach into for one reason or another.
Aubrey de Grey: With SENS, there's not so much difference between the brain and the rest of the body. It's the same seven types of damage.
Reddit: There has been a lot of noise lately about alternative models for mitochondrial aging and therapies for them. Do you still stand for the hypotheses your book defended, or has SENS changed the way it views mitochondrial aging?
Aubrey de Grey: No change.
Reddit: How much of SENS research involves experimentation on animals, if any? If this does happen, is the sacrifice of animal lives necessary to achieve the foundation's goals, or does it just make things easier or faster? Are there pathways to achieving LEV that don't involve experimentation on animals?
Aubrey de Grey: Quite a bit involves animals, like all biomedical research, but you jump too quickly to the word "sacrifice". How is it a sacrifice if we do things to animals that let them stay healthy longer?
Reddit: Do you think the regulatory pipeline for new therapies in the US and/or EU is adequate? What changes would you make to speed up/slow down/otherwise streamline the process from discovery research to clinical implementation and commercialization?
Aubrey de Grey: There's a lot happening to streamline it. The editorial in the next issue of Rejuvenation Research will discuss the 21st Century Cures Act from our angle. Bottom line: things are improving.
Reddit: Back in the days, what motivated you to decide to cure aging? Like, what was your motivation in the first place?
Aubrey de Grey: The correct question is, what the hell is wrong with everyone else that stops them from being motivated to cure aging? It's responsible for the overwhelming majority of global suffering. WTF?
Reddit: Any tips on not being afraid of death? Even though I'm at the moment 21 years old and my odds of reaching longevity escape velocity are decent, sometimes thinking about not-existing keeps me awake at night. The anti-aging research is kinda the only reason I'm not struggling with it so much anymore, but I don't think that's the correct way of coping with it.
Aubrey de Grey: I hear you. I have a close friend who is so scared of this that she is clinically depressed, and she's only 22. Actually I think getting involved in the anti-aging crusade is indeed the best way.
Reddit: I'm wondering how much time you spend thinking about what a post-death future would look like – is the day-to-day life of an immortal something you spend much time considering, or are you exclusively focused on making it happen at this point? Are there any people you'd recommend who are seriously considering the question?
If you have spent time considering it, what do you think are some major problems an immortal society would face that people DON'T typically talk about? (Rather than normal fears of overpopulation, lack of resources, etc.)
Aubrey de Grey: See the paper from Denver arising from work we funded:
http://www.sciencedirect.com/science/article/pii/S0040162515001985
The abstract sounds a bit pessimistic but only as a wake-up call.
Reddit: What do you think about the singularity in general? I think that if we achieved a singularity, it could help us achieve negligible senescence and potentially even immortality in a significantly shorter timeframe, and of course also all other technological wonders that it could bring.
Aubrey de Grey: Some people are working on AI for just that reason. I think we'll reach the Methuselarity first, but I could be wrong.
4th August 2015
New memory technology is 1,000 times faster
Intel and Micron have unveiled "3D XPoint" – a new memory technology that is 1,000 times faster than NAND and 10 times denser than conventional DRAM.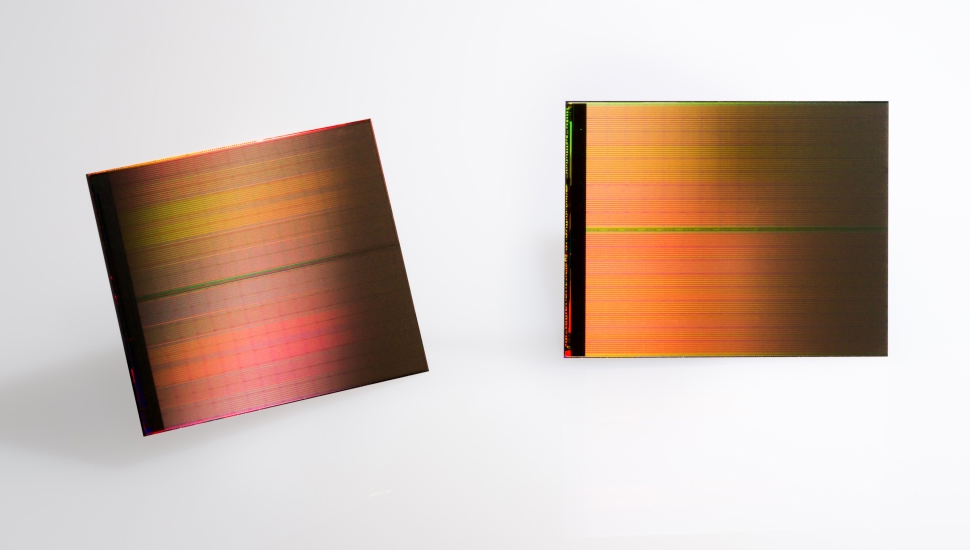 Intel Corporation and Micron Technology, Inc. have unveiled 3D XPoint technology, a non-volatile memory that has the potential to revolutionise any device, application or service that benefits from fast access to large sets of data. Now in production, 3D XPoint technology is a major breakthrough in memory process technology and the first new memory category since the introduction of NAND flash in 1989.
The explosion of connected devices and digital services is generating massive amounts of new data. To make this data useful, it must be stored and analysed very quickly, creating challenges for service providers and system builders who must balance cost, power and performance trade-offs when they design memory and storage solutions. 3D XPoint technology combines the performance, density, power, non-volatility and cost advantages of all available memory technologies on the market today. This technology is up to 1,000 times faster, with up to 1,000 times greater endurance than NAND, and is 10 times denser than conventional memory.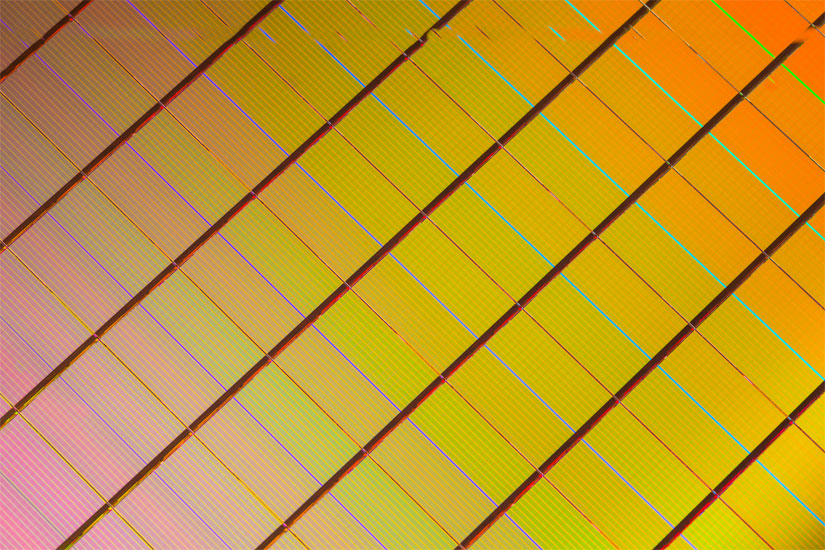 "For decades, the industry has searched for ways to reduce the lag time between the processor and data to allow much faster analysis," says Rob Crooke, senior vice president and general manager of Intel's Non-Volatile Memory Solutions Group. "This new class of non-volatile memory achieves this goal and brings game-changing performance to memory and storage solutions."
"One of the most significant hurdles in modern computing is the time it takes the processor to reach data on long-term storage," says Mark Adams, president of Micron. "This new class of non-volatile memory is a revolutionary technology that allows for quick access to enormous data sets and enables entirely new applications."
As the digital world balloons exponentially – from 4.4 zettabytes of data created in 2013, to an expected 44 zettabytes by 2020 – 3D XPoint technology can turn this immense amount of data into valuable information in nanoseconds. For example, retailers may use 3D XPoint technology to more quickly identify fraud detection patterns in financial transactions; healthcare researchers could process and analyse much larger data sets in real time, accelerating complex tasks such as genetic analysis and disease tracking.
The performance benefits of 3D XPoint technology could also enhance the PC experience, allowing consumers to enjoy faster interactive social media and collaboration as well as more immersive gaming experiences. The non-volatile nature of this technology also makes it a great choice for a variety of low-latency storage applications, since data is not erased when the device is powered off.
Following more than a decade of research and development, 3D XPoint technology was built from the ground up to address the need for non-volatile, high-performance, high-endurance and high-capacity storage and memory at an affordable cost. It ushers in a new class of non-volatile memory that significantly reduces latencies, allowing much more data to be stored close to the processor and accessed at speeds previously impossible for non-volatile storage.
The innovative, transistor-less cross point architecture creates a three-dimensional checkerboard where memory cells sit at the intersection of word lines and bit lines, allowing the cells to be addressed individually. As a result, data can be written and read in small sizes, leading to faster and more efficient read/write processes.
3D XPoint technology will sample later this year with select customers, and Intel and Micron are developing individual products based on the technology.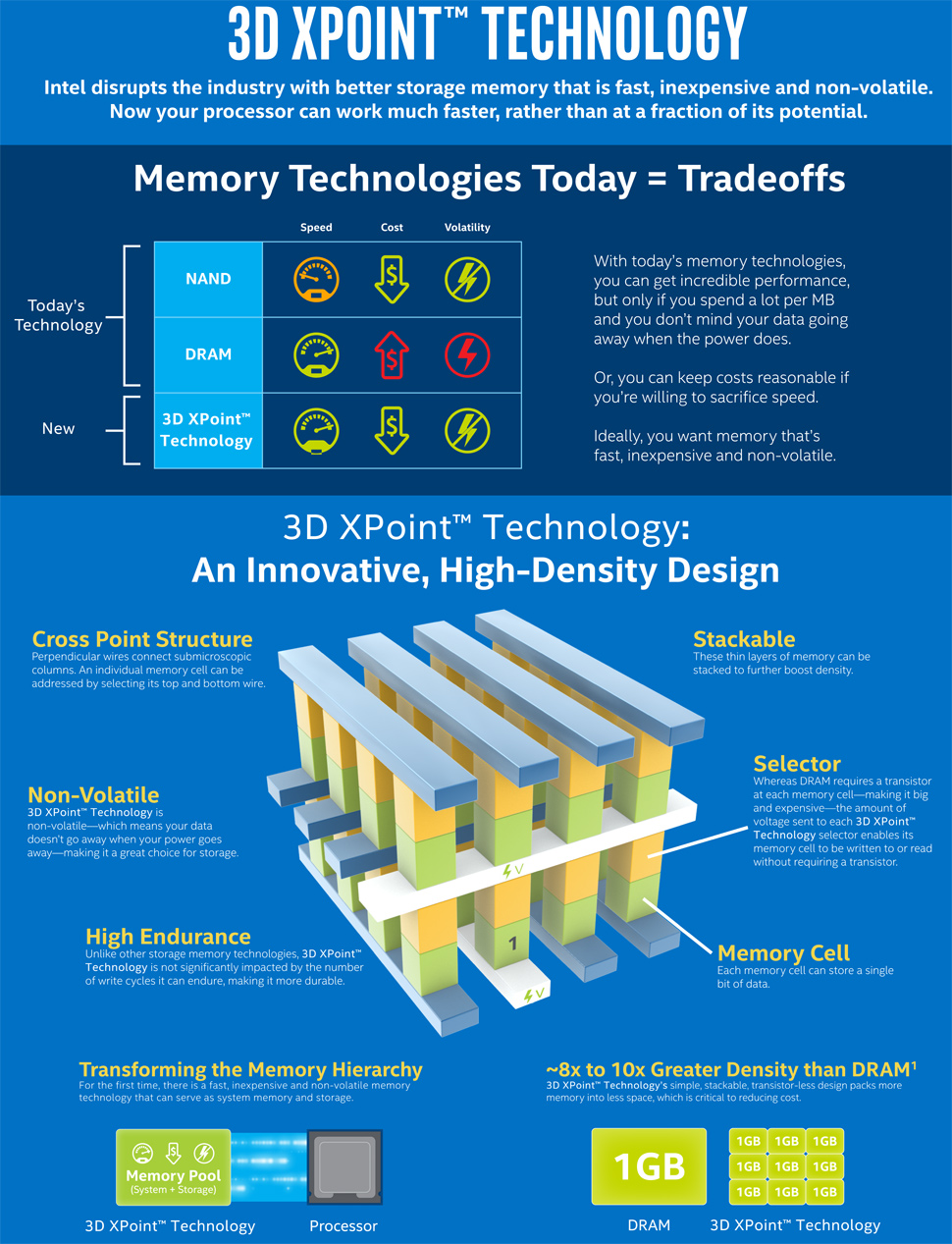 3rd August 2015
Ebola vaccine is 100% successful
An Ebola vaccine has shown 100% success in an initial trial, the World Health Organisation reports.
Results from an interim analysis of the Guinea Phase III efficacy vaccine trial show that VSV-EBOV (Merck, Sharp & Dohme) is highly effective against Ebola. The independent body of international experts – the Data and Safety Monitoring Board – that conducted the review, advised that the trial should continue. Preliminary results from analyses of these interim data are published in British journal The Lancet.
"This is an extremely promising development," said Dr Margaret Chan, Director-General of the World Health Organisation (WHO). "The credit goes to the Guinean Government, the people living in the communities and our partners in this project. An effective vaccine will be another very important tool for both current and future Ebola outbreaks."
While the vaccine up to now shows 100% efficacy in individuals, more conclusive evidence is needed on its capacity to protect populations through what is called "herd immunity". To that end, the Guinean national regulatory authority and ethics review committee have approved continuation of the trial.
"This is Guinea's gift to West Africa and the world," said Dr Sakoba Keita, Guinea's national coordinator for the Ebola response. "The thousands of volunteers from Conakry and other areas of Lower Guinea, but also the many Guinean doctors, data managers and community mobilisers have contributed to finding a line of defence against a terrible disease."
"The 'ring' vaccination method adopted for the vaccine trial is based on the smallpox eradication strategy," said John-Arne Røttingen, Director of the Division of Infectious Disease Control at the Norwegian Institute of Public Health and Chair of the Study Steering Group. "The premise is that by vaccinating all people who have come into contact with an infected person you create a protective 'ring' and stop the virus from spreading further. This strategy has helped us to follow the dispersed epidemic in Guinea, and will provide a way to continue this as a public health intervention in trial mode."
The vaccination trial began in late March and ended in late July 2015. The study compared two groups – given a single dose either immediately or delayed for 21 days. In the 90 clusters who received either immediate vaccination (48; 4123 adults vaccinated) or delayed vaccination (42; 3528 adults vaccinated on day 21), a single intramuscular injection of VSV-ZEBOV gave complete (100%) protection against Ebola 10 days after randomisation.
"Before the trial started, in most clusters there had been a series of Ebola cases over the weeks prior to randomisation. However, since the trial started, we have seen no new cases in vaccinated volunteers within 10 days of vaccination, regardless of whether vaccination was immediate or delayed," explains co-author Dr Marie Paule Kieny, from the World Health Organisation (WHO) in Geneva, Switzerland.
"This is a remarkable result which shows the power of equitable international partnerships and flexibility," said Jeremy Farrar, Director of the UK's Wellcome Trust, one of the funders of the trial. "This partnership also shows that such critical work is possible in the midst of a terrible epidemic. It should change how the world responds to such emerging infectious disease threats. We, and all our partners, remain fully committed to giving the world a safe and effective vaccine."
"Ebola has claimed thousands of lives and devastated communities across West Africa," said UK international development secretary, Justine Greening. "The results of these UK-backed vaccine trials are hugely promising and represent a significant breakthrough in our battle against this deadly disease. The vaccine offers hope for a future where we never have to face an Ebola epidemic like this again."
"This record-breaking work marks a turning point in the history of health R&D," said Assistant Director-General Marie-Paule Kieny, who leads the Ebola Research and Development effort at WHO. "We now know that the urgency of saving lives can accelerate R&D. We will harness this positive experience to develop a global R&D preparedness framework so that if another major disease outbreak ever happens again, for any disease, the world can act quickly and efficiently to develop and use medical tools and prevent a large-scale tragedy."
The trial design was developed by a group of experts from Canada, France, Guinea, Norway, Switzerland, the UK, USA, and WHO. The group included Professor Donald A. Henderson of John Hopkins University, who led the WHO smallpox eradication effort by using the ring vaccination strategy.
3rd August 2015
New technique for nanoscale images of the brain
A new technique for obtaining nanoscale images of the brain at higher resolution than ever before is announced by Boston scientists.
A new imaging tool developed by Boston scientists could do for the brain what the Hubble Space Telescope did for astronomy. In the first demonstration of how the technology works, published in the journal Cell, the researchers look inside the brain of an adult mouse at a scale previously unachievable, generating images at 3 nanometre (nm) pixel resolution. The inventors' long-term goal is to make the resource available to the scientific community in the form of a national brain observatory.
"I'm a strong believer in bottom up-science, which is a way of saying that I would prefer to generate a hypothesis from the data and test it," says senior study author Jeff Lichtman, of Harvard University. "For people who are imagers, being able to see all of these details is wonderful and we're getting an opportunity to peer into something that has remained somewhat intractable for so long. It's about time we did this, and it is what people should be doing about things we don't understand."
The researchers have begun the process of mining their imaging data by looking first at an area of the brain that receives sensory information from mouse whiskers, which help the animals orient themselves and are even more sensitive than human fingertips. The scientists used a program called VAST, developed by co-author Daniel Berger of Harvard and the Massachusetts Institute of Technology, to assign different colours and piece apart each individual "object" (e.g., neuron, glial cell, blood vessel cell, etc.).
"The complexity of the brain is much more than what we had ever imagined," says study first author Narayanan "Bobby" Kasthuri, of the Boston University School of Medicine. "We had this clean idea of how there's a really nice order to how neurons connect with each other, but if you actually look at the material it's not like that. The connections are so messy that it's hard to imagine a plan to it, but we checked and there's clearly a pattern that cannot be explained by randomness."
The researchers see great potential in the tool's ability to answer questions about what a neurological disorder actually looks like in the brain, as well as what makes the human brain different from other animals and different between individuals. Who we become is very much a product of the connections our neurons make in response to various life experiences. To be able to compare the physical neuron-to-neuron connections in an infant, a mathematical genius, and someone with schizophrenia would be a leap in our understanding of how our brains shape who we are (or vice versa).
The cost and data storage demands for this type of research are still high, but the researchers expect expenses to drop over time (as has been the case with genome sequencing). To facilitate data sharing, the scientists are now partnering with Argonne National Laboratory with the hopes of creating a national brain laboratory that neuroscientists around the world can access within the next few years.
"It's bittersweet that there are many scientists who think this is a total waste of time as well as a big investment in money and effort that could be better spent answering questions that are more proximal," Lichtman says. "As long as data is showing you things that are unexpected, then you're definitely doing the right thing. And we are certainly far from being out of the surprise element. There's never a time when we look at this data that we don't see something that we've never seen before."