26th April 2016
New dwarf galaxy found orbiting the Milky Way
Astronomers at the University of Cambridge have announced the discovery of "Crater 2" – a new member of the Local Group.
A never-before-seen galaxy has been spotted orbiting the Milky Way. With a diameter of around 7,000 light years, it becomes the fourth largest known satellite of the Milky Way, surpassed only by the Large Magellanic Cloud, Small Magellanic Cloud and the Sagittarius Dwarf. Known as "Crater 2", it was discovered by the University of Cambridge's Institute of Astronomy.
Crater 2 is extremely faint compared to other members of the Local Group. Its diffuseness allowed it to remain hidden, but it was identified in recent data from the VST ATLAS survey. A computer algorithm processed images taken by the Very Large Telescope in Chile, pinpointing regions that might have unusual clustering of stars. This revealed an entire new satellite galaxy, located 380,000 light years away.
"This is indeed a very rare discovery. A galaxy like Crater 2 is a sort of invisible object," says Dr. Vasily Belokurov. "We have found many similar objects in the last 10 years, but never such a large beast. It is orders of magnitude less luminous compared to most objects of similar size. It is extremely diffuse. We believe it was born that fluffy. But why, we do not yet know."

If the brightness of Crater 2 were increased by 1,000 times, its angular diameter would be twice that of the full Moon, as shown in the illustration below. This suggests there might be other dark neighbours lurking nearby. Indeed, Dr. Belokurov and his team are now using their technique to hunt for additional objects that might have been missed. It is hoped these discoveries could lead to a better understanding of the origin and evolution of our own galaxy, the Milky Way.
"In the last two years alone, the number of known Milky Way satellite galaxies has doubled, largely thanks to the Dark Energy Camera on the Blanco 4m telescope in Chile," Dr. Evan Kirby, assistant professor at Caltech, who was not involved in the research, told the Huffington Post. "These galaxies are intense concentrations of dark matter," he added. "If there's a place in the universe where we can look to learn about dark matter, it's dwarf galaxies. How is it distributed? What is it made of? Future observations, especially spectroscopy, will help answer those questions."
Crater 2 seems to be aligned in 3-D with the globular cluster Crater, the pair of dwarfs Leo IV and Leo V and the classical dwarf Leo II. The researchers argue that such arrangement "is probably not accidental and, in fact, can be viewed as evidence for the accretion of the Crater-Leo group." Their study is published in Monthly Notices of the Royal Astronomical Society.
---
• Follow us on Twitter
• Follow us on Facebook
22nd April 2016
Ultra-long carbyne stronger than graphene is synthesised for the first time
An international team of scientists reports synthesising ultra-long carbyne inside double-walled nanotubes. This exotic form of carbon is even stronger than graphene.
European researchers have successfully stabilised chains of more than 6,400 carbon atoms, using double-walled nanotubes. In a study, published by the journal Nature Materials, they demonstrate a new route for the production of carbyne – infinitely long carbon chains whose mechanical properties surpass those of diamond and graphene. Their method involved using double-walled carbon nanotubes, as shown in these illustrations, to protect the carbon chain from extreme instability in ambient conditions.
Elemental carbon appears in many different forms, some of which are very well-known and have been thoroughly studied: diamond, graphite, graphene, fullerenes, nanotubes and carbyne. Within this "carbon family", carbyne (a truly one-dimensional carbon structure) is the only one that has not been synthesised until now, despite having been studied for more than 50 years. Chemists across the world had been trying to synthesise increasingly longer carbyne chains by using stabilising agents, but the longest chain obtained so far (achieved in 2010) was only 44 carbon atoms.
Now, a research group at the University of Vienna, led by Prof Thomas Pichler, has presented a new, simple means for stabilising these carbon chains with a record-breaking length of more than 6,400 carbon atoms. The previous record has therefore been broken by two orders of magnitude. To do this, they used the confined space inside a double-walled carbon nanotube as a "nano-reactor" to make the ultra-long carbon chains grow, while providing the chains great stability. This could be tremendously important for future applications.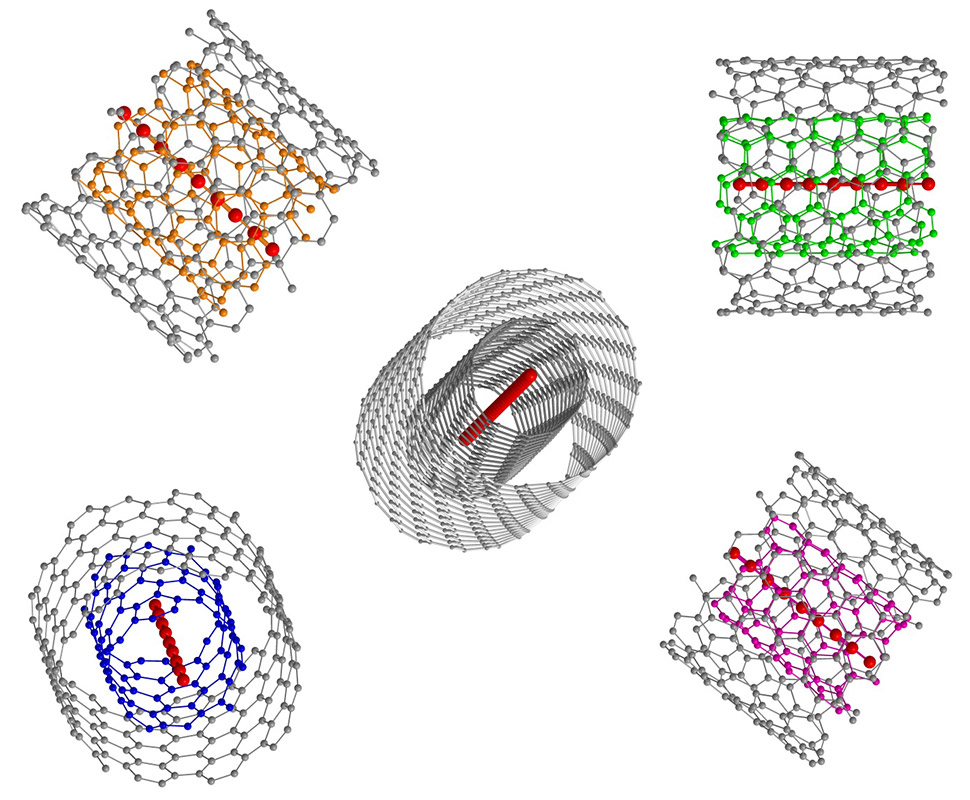 The researchers unambiguously confirmed the existence of these chains by means of structural and optical probes. This direct experimental proof can be seen as a promising step towards obtaining perfectly linear carbon chains, the researchers' final objective. Theoretical studies have shown that after having linear chains grow inside a carbon nanotube, the hybrid system could have a metallic nature – making it possible to control electronic properties. In other words, this new system is not only interesting from a chemical point of view, it could also be very important in the field of nano devices.
According to theoretical models, carbyne has mechanical properties unmatched by any known material. It has twice the tensile stiffness of graphene and nearly three times that of diamond. Furthermore, its electronic properties point towards new nano-electronic applications, such as the development of new magnetic semiconductors, high power density batteries, or in quantum spin transport electronics (spintronics). However, the researchers point out that to achieve this would require extracting these ultra-long, linear carbon chains from the double-walled nanotube containing them and stabilising them in a liquid environment.
---
• Follow us on Twitter
• Follow us on Facebook
21st April 2016
Fossil fuels could be phased out worldwide in a decade
The worldwide reliance on burning fossil fuels to create energy could be phased out in a decade, according to an article published by a major energy think tank.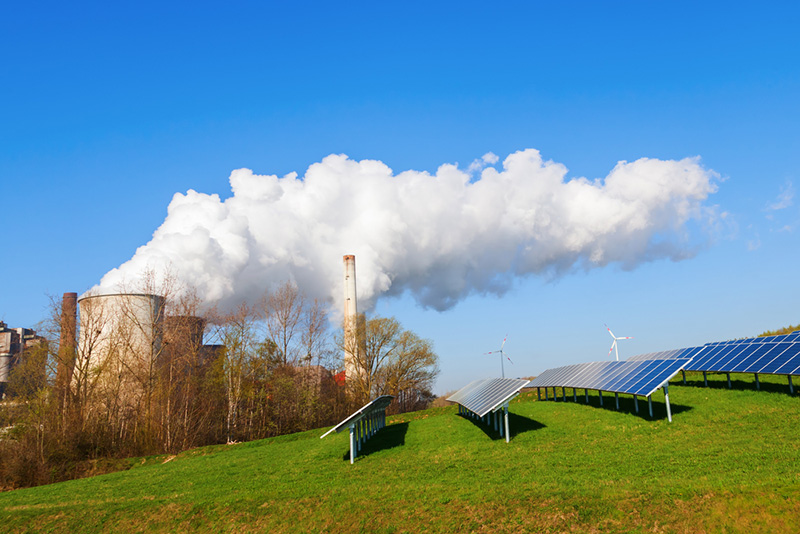 Professor Benjamin Sovacool, from the University of Sussex in the United Kingdom, believes that the next great energy revolution could take place in a fraction of the time of major changes in the past. But it would take a collaborative, interdisciplinary, multi-scalar effort to get there, he warns. And that effort must learn from the trials and tribulations from previous energy systems and technology transitions.
In a paper published by the peer-reviewed journal Energy Research & Social Science, he analyses energy transitions throughout history and argues that only looking at the past can often paint an overly bleak and unnecessary picture. Moving from wood to coal in Europe, for example, took between 96 and 160 years, whereas electricity took 47 to 69 years to enter into mainstream use.
But this time, the future could be different, he says – the scarcity of fossil fuel resources, the threat of climate change and vastly improved technological learning and innovation could greatly accelerate a global shift to a cleaner energy future.
The study highlights numerous examples of speedier transitions that are often overlooked by analysts. For example, Ontario completed a shift away from coal between 2003 and 2014; a major household energy programme in Indonesia took just three years to move two-thirds of the population from kerosene stoves to LPG stoves; and France's nuclear power programme saw supply rocket from four per cent of the electricity supply market in 1970 to 40 per cent in 1982. Each of these cases has in common strong government intervention along with shifts in consumer behaviour, often driven by incentives and pressure from stakeholders.
"The mainstream view of energy transitions as long, protracted affairs, often taking decades or centuries to occur, is not always supported by evidence," says Professor Sovacool. "Moving to a new, cleaner energy system would require significant shifts in technology, political regulations, tariffs and pricing regimes, and the behaviour of users and adopters.
"Left to evolve by itself – as it has largely been in the past – this can indeed take many decades. A lot of stars have to align all at once. But we have learnt a sufficient amount from previous transitions that I believe future transformations can happen much more rapidly."
To summarise, while the study suggests that the historical record can be instructive in shaping our understanding of macro and micro energy transitions, it need not be predictive.
While his forecast may seem outlandish and overly optimistic, there are signs that he might be correct. The worldwide installed capacities of solar and wind power, for example, continue to grow exponentially as costs plummet and efficiencies improve. Likewise, the number of electric cars in the world is rising exponentially and passed the one million mark in 2015. In Europe, the Netherlands is proposing a ban on all gas and diesel car sales by 2025, while UK firm Ecotricity is looking at "green gas", a carbon-neutral alternative to fracking. Meanwhile in the United States, Elon Musk last year unveiled a new battery system – the Powerwall – that could revolutionise clean energy storage for homes and businesses.
---
• Follow us on Twitter
• Follow us on Facebook
21st April 2016
NASA seeks proposals for deep space habitation prototypes
NASA is inviting proposals for the development of prototype space habitats that will give astronauts a place to call home during long-duration missions supporting the agency's Journey to Mars program.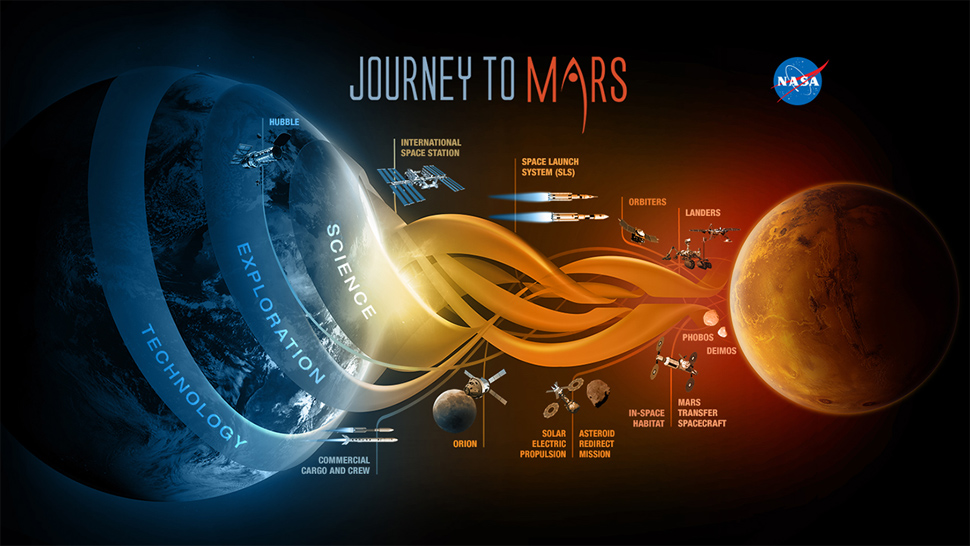 NASA's solicitation – Next Space Technologies for Exploration Partnerships-2 (NextSTEP-2) – is a follow-on to the NextSTEP Broad Agency Announcement (BAA) released in October 2014, requesting proposals for concept studies and technology development projects in the areas of human habitation, advanced propulsion and small satellites.
NASA's Orion crew spacecraft and Space Launch System are the agency's first major components for establishing a human presence in deep space. With these transportation systems progressing toward their maiden flight in 2018, the agency is now looking toward investments in deep space habitation, the next major component of human space exploration beyond low-Earth orbit.
NextSTEP is a public-private partnership model that seeks commercial development of deep space exploration capabilities to support more extensive human spaceflight missions in the proving ground of space around the Moon, known as cislunar space, and to enable transit to Mars. This partnership model enables NASA to obtain innovative concepts and support private industry commercialisation plans for low-Earth orbit.
"NASA is increasingly embracing public-private partnerships to expand capabilities and opportunities in space," said Jason Crusan, director of NASA's Advanced Exploration Systems (AES) division. "Our NextSTEP partners commit their own corporate resources toward the development – making them a true partner in the spaceflight economy."
Under Appendix A of the NextSTEP-2 Ominbus BAA, the agency is providing the opportunity for additional contractors to join those already under contract through the previous NextSTEP BAA. Proposals will include plans for an evolvable approach to long-duration deep space habitation and the development of full-size, ground prototype habitat units, no later than 2018.
There will be a chance to ask questions about this program during an industry forum on 25th April 2016. Eligible applicants from U.S. companies, universities and non-profit organisations must submit proposals electronically by 15th June 2016.
---
• Follow us on Twitter
• Follow us on Facebook
16th April 2016
Artificial intelligence finds cancer cells more efficiently
By using a laser at nanosecond speeds, in combination with deep learning algorithms, a new microscope detects cancer cells more efficiently than standard methods.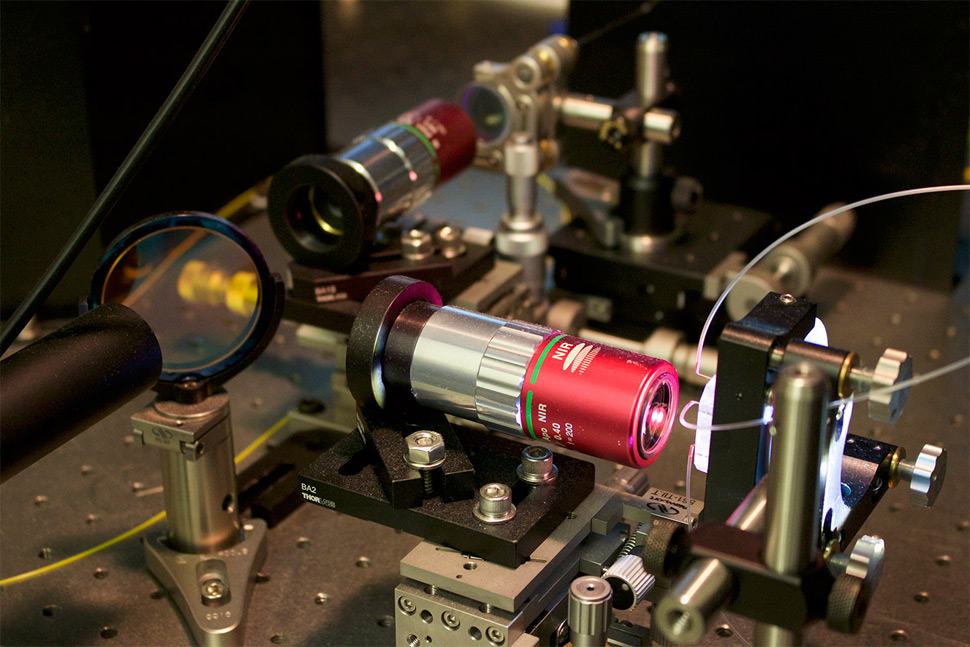 Scientists at the University of California, Los Angeles (UCLA) have developed a new technique for identifying cancer cells in blood samples, faster and more accurately than current standard methods.
One common approach to testing for cancer involves doctors adding biochemicals to blood samples. These biochemicals attach biological "labels" to cancer cells, which enable instruments to detect and identify them. However, the biochemicals can damage cells and render the samples unusable for future analyses. Other techniques are available that don't use labelling, but these can be inaccurate, because they only identify cancer cells based on a single physical characteristic.
The new technique, demonstrated by the California NanoSystems Institute at UCLA, images cells without destroying them. Not only that, but it can identify up to 16 physical characteristics – including size, granularity and biomass – instead of just one. It combines two components that were invented at UCLA: a photonic time stretch microscope, for rapidly imaging cells in blood samples, and a deep learning program that identifies cancer cells with over 95 percent accuracy.
The "photonic time stretch" was invented by Professor Barham Jalali, who holds a patent for this technology, and its use in microscopes is just one of many possible applications. It works by taking pictures of flowing blood cells using laser bursts in the way that a camera uses a flash. This process happens so quickly – in nanoseconds, or billionths of a second – that the images would be too weak to be detected and too fast to be digitised by normal instrumentation. The new microscope overcomes those challenges using specially designed optics that boost the clarity of the images and simultaneously slow them enough to be detected and digitised at a rate of 36 million images per second. It then uses deep learning to distinguish the cancer cells from healthy white blood cells. Deep learning is a form of artificial intelligence that uses complex algorithms to extract meaning from data, with the goal of achieving accurate decision making.
"Each frame is slowed down in time and optically amplified so it can be digitised," explains Ata Mahjoubfar, a UCLA postdoctoral fellow. "This lets us perform fast cell imaging that the artificial intelligence component can distinguish."
Normally, taking pictures in such minuscule periods of time would require intense illumination, which could destroy live cells. The UCLA method eliminates that problem too: "The photonic time stretch technique allows us to identify rogue cells in a short time with low-level illumination," said Claire Lifan Chen, a UCLA doctoral student.
In their paper – published in the journal Nature Scientific Reports – the researchers write that their system could lead to data-driven diagnoses by the cells' physical characteristics, which could allow quicker and earlier diagnoses of cancer, for example, and a better understanding of the tumour-specific gene expression in cells, leading to new treatments for disease.
---
• Follow us on Twitter
• Follow us on Facebook
16th April 2016
High-speed probes could travel to Alpha Centauri within 20 years
A group of scientists has announced "Breakthrough Starshot" – a program to develop a fleet of nanocraft probes able to reach the nearest star within 20 years and return images to Earth.
Science philanthropist Yuri Milner has announced a space research and engineering program called "Breakthrough Starshot". This aims to demonstrate a proof of concept for using light beams to push "nanocraft" probes to 20 percent of light speed. A possible fly-by mission could reach Alpha Centauri within 20 years of being launched, beaming back images and data four years after that.
Pete Worden – the former director of NASA's AMES Research Center – will lead the program, with advice being provided from a committee of world-class scientists and engineers. The board will consist of Stephen Hawking, Yuri Milner, and Mark Zuckerberg.
The Alpha Centauri star system is 25 trillion miles (4.37 light years) away. With today's fastest spacecraft, it would take about 30,000 years to get there. Breakthrough Starshot would aim to develop solar sails pushed by light beams, allowing tiny probes to fly over 1,000 times faster – taking advantage of exponential advances in certain areas of technology since the beginning of the 21st century.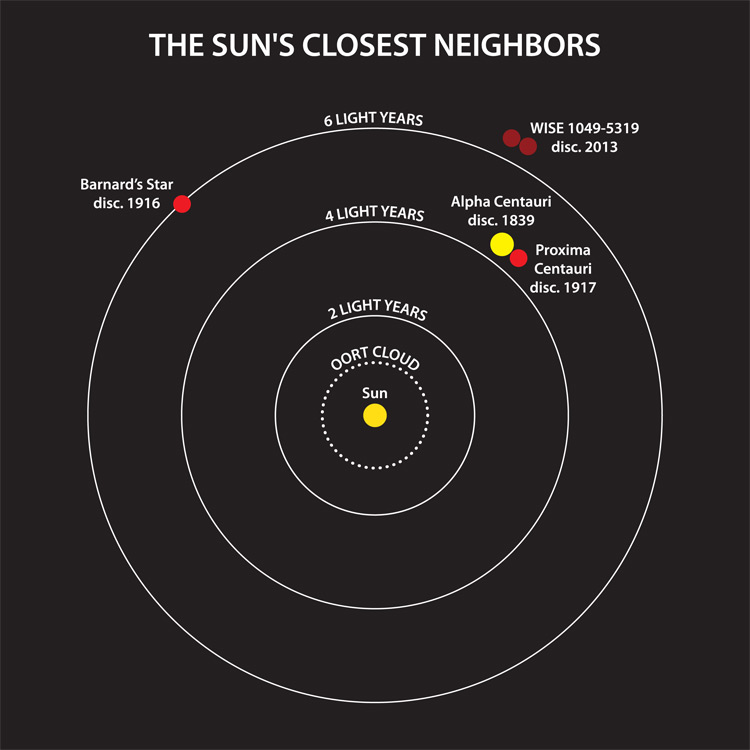 "If we are to survive as a species, we must ultimately spread out to the stars," Professor Hawking said in a BBC interview. "Astronomers believe that there is a reasonable chance of an Earth-like planet orbiting one of the stars [in] the Alpha Centauri system. But we will know more in the next two decades from ground-based and space-based telescopes. Technological developments in the last two decades and the future make it possible in principle within a generation."
If an Earth-size planet is lurking in the Alpha Centauri system, Breakthrough Starshot will try to aim its probes within 1 Astronomical Unit (150 million kilometres or 93 million miles) of it. From this distance, its cameras could potentially capture an image of high enough quality to resolve surface features. The spacecraft fleet would consist of 1,000 probes, and each craft, called a "StarChip", would be a very small, centimetre-sized device weighing only several grams. They would be propelled by arrays of ground-based lasers of up to 100 gigawatts. Each tiny spacecraft would transmit data back to Earth using a compact on-board laser communications system.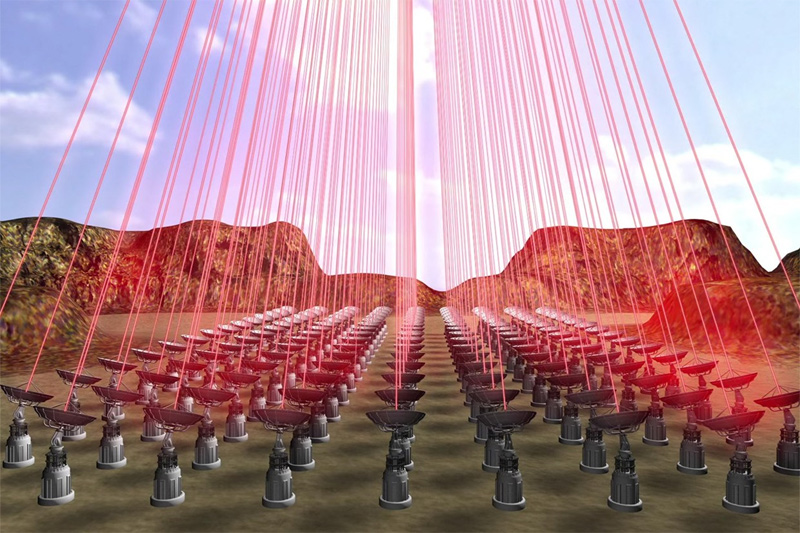 Each probe would comprise two main parts:
StarChip: Moore's law has allowed a dramatic reduction in the size of microelectronic components. This creates the possibility of a gram-scale wafer, cameras, photon thrusters, power supply, navigation and communication equipment, constituting a fully functional space probe.
Lightsail: Advances in nanotechnology are producing thinner and lighter metamaterials, promising to enable the fabrication of metre-scale sails no more than a few hundred atoms thick. These could be folded prior to launch, then unfurled once in orbit.
The rising power and falling cost of lasers, consistent with Moore's law, will lead to significant advances in light beaming technology in the coming years. Breakthrough Starshot aims to leverage this trend, bringing economies of scale to the astronomical scale. A StarChip could be mass-produced at the cost of an iPhone and be sent on missions in large numbers to provide redundancy and coverage. The light beamer would be modular and scalable. Once it is assembled and the technology matures, the cost of each launch is expected to fall to a few hundred thousand dollars.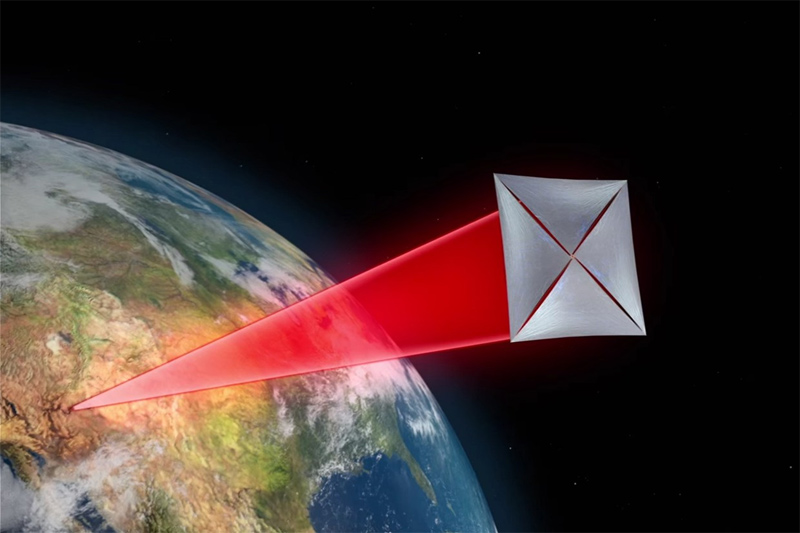 The research and engineering phase is expected to last about two decades. Following that, development of the ultimate mission to Alpha Centauri would require a budget comparable to the largest current scientific experiments, and would involve:
• Building a ground-based, kilometre-scale light beamer at high altitude in dry conditions
• Generating and storing a few gigawatt hours of energy per launch
• Launching a "mothership" carrying thousands of nanocrafts to a high-altitude orbit
• Taking advantage of adaptive optics technology in real time, to compensate for atmospheric effects
• Focusing the light beam on the lightsail to accelerate individual nanocrafts to the target speed within minutes
• Accounting for interstellar dust collisions en route to the target
• Capturing images of a planet, and other scientific data, and transmitting them back to Earth using a compact on-board laser communications system
• Using the same light beamer that launched the nanocrafts to receive data from them four years later.
These and other system requirements represent significant engineering challenges. However, the key elements of the proposed system design are based on technology either already available or likely to be attainable in the near future under reasonable assumptions. As with previous major projects – such as the International Space Station (ISS) and Large Hadron Collider – global co-operation and support would be needed.
As the technology required for interstellar travel matures, additional opportunities could emerge, including the following:
• Contribution to Solar System exploration
• Using the light beamer as a kilometre-scale telescope for astronomical observations
• Detection of Earth-crossing asteroids at large distances.
Astronomers believe there is a reasonable chance of an Earth-like planet existing in the habitable zones of Alpha Centauri's three-star system. A number of scientific instruments – both ground-based and space-based – are being developed and enhanced, which will soon identify and characterise planets around the nearest stars. A separate initiative will support some of these projects.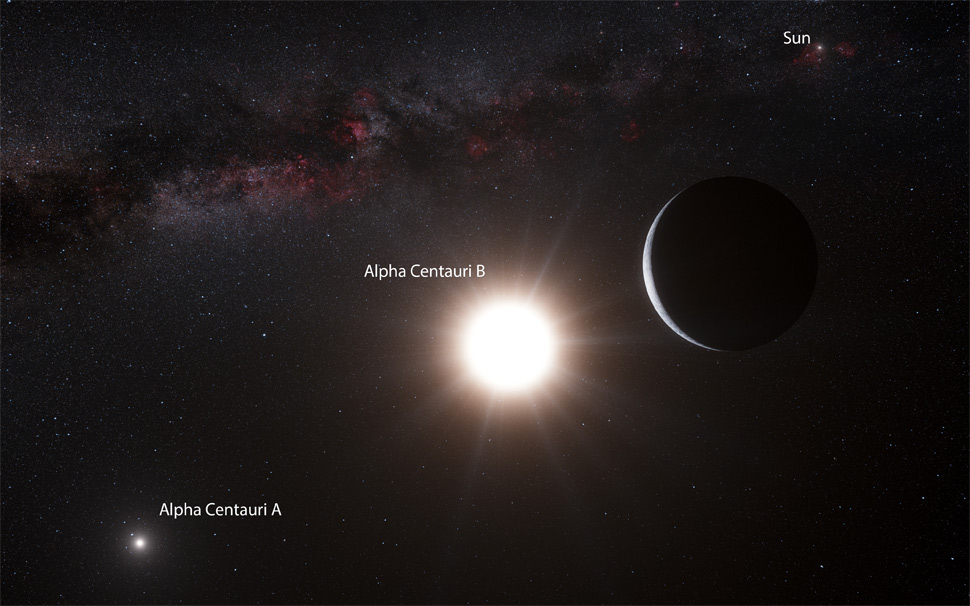 Breakthrough Starshot is a long-term project that could run until the 2050s or later. It aims to foster an open and collaborative environment that is:
• Based entirely on research that is in the public domain
• Committed to publishing new results
• Dedicated to full transparency and open access
• Open to experts in all relevant fields, as well as the public, to contribute ideas.
During its announcement, Milner's team outlined the biggest challenges facing the mission. These include: developing a two megapixel camera able to be miniaturised to the sub-gram scale; a tiny plutonium-238 or Americanium-241 battery; a thin and strong lightsail able to survive extreme acceleration; and a laser array with sufficient focus to bypass atmospheric turbulence.
It is hoped that a large swarm of 1,000 spacecraft will have "safety in numbers" and will compensate for any losses caused by interstellar dust collisions en route to their target. The team estimates that each square centimetre of frontal cross-section will impact at high speed with about a thousand particles of 0.1 microns or larger. New materials will be needed for the sails and other components to withstand these bombardments, in addition to coping with decades of cold vacuum.
As well as these technical hurdles, Breakthrough Starshot will need substantial amounts of funding – between $5 and $10 billion. Milner himself has donated $100 million for the initial research. If successful, the first craft could launch about 20 years from now.
"The human story is one of great leaps," said Milner in the press conference. "Today, we are preparing for the next great leap... to the stars."
"We take inspiration from Vostok, Voyager, Apollo and the other great missions," said Pete Worden. "It's time to open the era of interstellar flight."
"Earth is a wonderful place, but it might not last forever," said Professor Hawking. "Sooner or later, we must look to the stars. Breakthrough Starshot is a very exciting first step on that journey."
---
• Follow us on Twitter
• Follow us on Facebook
13th April 2016
Dubai to build tallest tower by 2020
A futuristic new tower in Dubai will surpass the height of the current world record holder – the Burj Khalifa – and utilise the most advanced technology, engineering and materials available.
Emaar Properties has announced a "glittering new icon" that will redefine Dubai's skyline when completed in time for the 2020 World Expo. The tower is set to rise in the heart of Dubai Creek Harbour, to the east of the city's current tallest skyscraper and world record holder, the Burj Khalifa. The exact height of this proposed megaproject remains a secret and will be revealed at a later date, but its developers claim it will be the tallest in the city. It is, however, likely to be surpassed in height by the Jeddah Tower, currently under construction in Saudi Arabia and planned to reach 1,008 m (3,307 ft).
The unnamed building, currently known as simply "The Tower", will serve as the vibrant core of Dubai Creek Harbour – a 6 sq km world-class masterplannned development twice the size of Downtown Dubai and located 10 minutes from Dubai International Airport. The waterfront development is centred off Dubai Creek, the cradle of history and culture for this region, and in close proximity to Ras Al Khor National Wildlife Sanctuary, protected by UNESCO and home to nearly 70 species of water birds.
Mohamed Alabbar, Chairman of Emaar Properties, said: "The Tower in Dubai Creek Harbour is our tribute to the positivity, energy and optimism that Dubai and the UAE celebrate, led by a leadership committed to all-round progress. A shining beacon of hope for the world, celebrating diversity and human achievements, this new iconic landmark further highlights the country's ambition and futuristic vision and enhances our nation's pride. It will be the destination for the world to visit, enjoy and celebrate life, as Dubai prepares to host the Expo 2020."
He added: "The design by Santiago Calatrava, chosen after a competitive pitch from the world's top architects, was a perfect fit to our requirement for a landmark that defined our urban core for Dubai Creek Harbour. It integrates not just design excellence but also strong environmental and smart-tech considerations. With The Tower, we are delivering a compelling destination that will add long-term economic value to Dubai and the UAE. It will also position Dubai Creek Harbour as one of the most desired residential, leisure and touristic attractions, providing visitors and residents with a modern, luxurious and sustainable environment in which to live, work, learn and entertain."
"From the beginning, my team and I have tried to put the best of ourselves into this project, since it is very special and is a great honour to participate," said architect Santiago Calatrava Valls. "The collaboration with such a prestigious firm as Emaar Properties makes it even more exciting and demanding. The design has clear reference to the classic art from the past and the culture of the place while serving as a great technological achievement. In my whole career, I have perceived technology as a vehicle to beauty and to art. This project envisages an artistic achievement in itself, inspired by the idea of welcoming people, not only from Dubai and the UAE, but from the entire world. It is a symbol of an abiding belief in progress."
Calatrava's previous works include the World Trade Centre Transportation Hub in New York, Calgary Peace Bridge, Olympic Sports Complex in Athens and the Turning Torso Tower in Malmö that was recently awarded the Ten Year Award from the Council on Tall Buildings & Urban Habitat (CTBUH).
The Tower will feature green technology and sustainability measures that serve as industry benchmarks. An environment-friendly tram service will be integrated for effortless access, while on-foot visitors will have a multitude of access points onto the plaza. A number of green corridors are envisaged for pedestrian access and effortless connectivity with Dubai Creek Harbour.
The crowning glory of the $1 billion tower will be a "Pinnacle Room" with 360 degree views of the city and beyond. Observation garden decks will recreate the splendour of the "Hanging Gardens of Babylon" – one of the Seven Wonders of the Ancient World. In addition, fully glazed rotating balconies will extend outward and move around the external facade.
The Tower will serve mainly as an architectural structure, as opposed to a fully occupied working building – but will include about 20 upper floors used for a hotel, restaurants and function rooms, as well as the interior garden space and observation decks. The surrounding Dubai Creek Harbour project – being developed in a joint venture with Dubai Properties – will feature a 4.5km boardwalk, retail, nine lifestyle districts, 22 hotels, a yacht club, a marina and harbour.
In addition to hosting the World Expo, the UAE plans to launch the first Arabian mission to Mars the following year, which coincides with the 50th anniversary of the country's formation. To diversify its economy away from reliance on hydrocarbon exports, several billion dollars are being invested in the space sector and the creation of a regional hub for satellite construction. It is clear that the UAE has big ambitions for the future.
---
• Follow us on Twitter
• Follow us on Facebook
11th April 2016
The first high-res 3D images of DNA segments
First-of-their-kind images by researchers at Berkeley Lab could aid in the use of DNA to build nanoscale devices.
An international team working at the Department of Energy's Lawrence Berkeley National Laboratory (Berkeley Lab) has captured the first high-resolution 3-D images from individual double-helix DNA segments, attached at either end of gold nanoparticles. The images detail the flexible structure of the DNA segments, which appear as nanoscale "jump ropes".
This unique imaging capability, pioneered by Berkeley Lab scientists, could aid in the use of DNA segments as building blocks for molecular devices that function as nanoscale drug-delivery systems, markers for biological research, and components for computer memory and electronic devices. It could also lead to images of disease-relevant proteins that have proven elusive for other imaging techniques, and of the assembly process that forms DNA from separate, individual strands.
The shapes of the coiled DNA strands, which were sandwiched between polygon-shaped gold nanoparticles, were reconstructed in 3-D using a cutting-edge electron microscope technique called individual-particle electron tomography (IPET). This was combined with a protein-staining process and sophisticated software that provided structural details down to a scale of just 2 nanometres (nm), or about two billionths of a metre.
"We had no idea about what the double-strand DNA would look like between the nanogold particles," said Gang Ren, a Berkeley Lab scientist who led the research. "This is the first time for directly visualising an individual double-strand DNA segment in 3-D."
While the 3-D reconstructions show the basic nanoscale structure of the samples, Ren said the next step will be to improve the resolution to the sub-nanometre scale: "Even in this current state, we begin to see 3-D structures at 1- to 2-nanometre resolution," he said. "Through better instrumentation and improved computational algorithms, it would be promising to push the resolution to that visualising a single DNA helix within an individual protein."
The technique, he said, has already excited interest among some prominent pharmaceutical companies and nanotechnology researchers, and his science team already has dozens of related research projects being planned. In future studies, they could attempt to improve the imaging resolution for complex structures that incorporate more DNA segments as a sort of "DNA origami," Ren said. Researchers hope to build and better characterise nanoscale molecular devices using DNA segments that can, for example, store and deliver drugs to targeted areas in the body.
"DNA is easy to program, synthesise and replicate, so it can be used as a special material to quickly self-assemble into nanostructures and to guide the operation of molecular-scale devices," he said. "Our current study is just a proof of concept for imaging these kinds of molecular devices' structures."
His team's work is published in the journal Nature Communications.
---
• Follow us on Twitter
• Follow us on Facebook
10th April 2016
New search for signals from 20,000 star systems begins
The SETI Institute has inaugurated a greatly expanded hunt for deliberately produced radio signals that would indicate the presence of extraterrestrial intelligence. Over the next two years, it will scrutinise the vicinities of 20,000 red dwarf stars.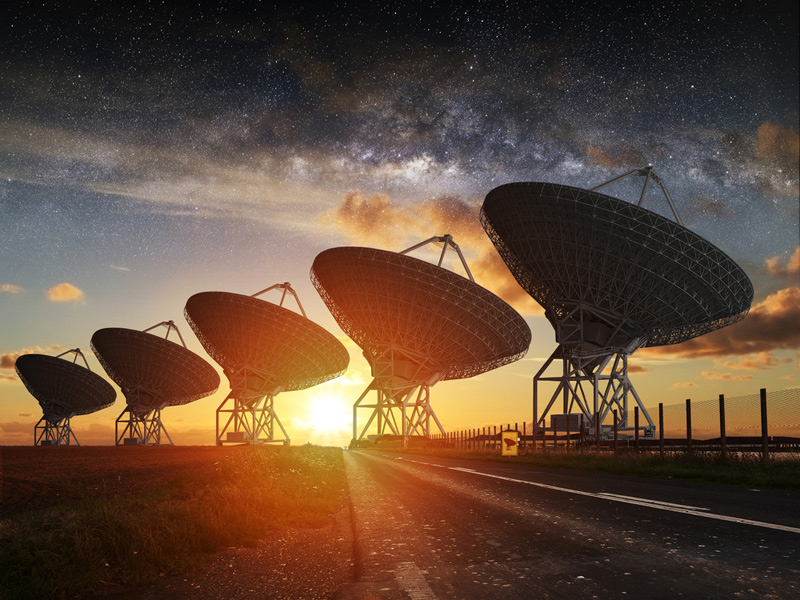 "Red dwarfs – the dim bulbs of the cosmos – have received scant attention by SETI scientists in the past," says Institute engineer Jon Richards. "That's because researchers made the seemingly reasonable assumption that other intelligent species would be on planets orbiting stars similar to the Sun."
This conservative assessment was bolstered by the argument that few planets were likely to be found in the habitable zone of a red dwarf star, simply because that zone is far narrower than for brighter stars like our Sun. Additionally, any worlds that were in this zone would be orbiting so close to their suns that they would quickly become tidally locked – with one hemisphere perpetually facing the star. It was assumed that this would produce a planet that was intolerably hot on one side, and brutally cold on the other, ruling it out as an abode for life.
However, more recent research has indicated that, if these worlds have oceans and atmospheres, heat would be transported from the lit side to the dark, and a significant fraction of the planet would be habitable. In addition, exoplanet data have suggested that somewhere between one sixth and one half of red dwarf stars have planets in their habitable zones, a percentage comparable to, and possibly greater than, that of Sun-like stars.
"Significantly, three-fourths of all stars are red dwarfs," explains SETI astronomer Seth Shostak. "That means that if you observe a finite set of them – say the nearest twenty thousand – then on average they will be at only half the distance of the nearest twenty thousand Sun-like stars."
Closer stars mean that any signals would be stronger. Also, red dwarfs burn for a period of time that's greater than the current age of the universe: every red dwarf ever born is still shining today. They are, on average, billions of years older than Sun-like stars.
"This may be one instance in which older is better," Shostak says. "Older solar systems have had more time to produce intelligent species."
The search is being conducted on the SETI Institute's Allen Telescope Array, located in the Cascade Mountains of northern California. This grouping of 42 antennas can observe three stars simultaneously.
"We'll scrutinise targeted systems over several frequency bands, between 1 and 10 GHz," says Institute scientist Gerry Harp. "Roughly half of those bands will be at so-called 'magic frequencies' – places on the radio dial that are directly related to basic mathematical constants. It's reasonable to speculate that extraterrestrials trying to attract attention might generate signals at such special frequencies."
The new red dwarf survey is planned to take two years. Targets are being chosen from a list of about 70,000 red dwarfs compiled by Boston University astronomer Andrew West. The search will also incorporate relevant new data generated by NASA's Transiting Exoplanet Survey Satellite (TESS). Due for launch in August 2017, TESS will examine nearby stars, including red dwarfs, for planets.
---
• Follow us on Twitter
• Follow us on Facebook
10th April 2016
Self-driving trucks complete journey across Europe
Fleets of self-driving trucks this week completed the European Truck Platooning Challenge.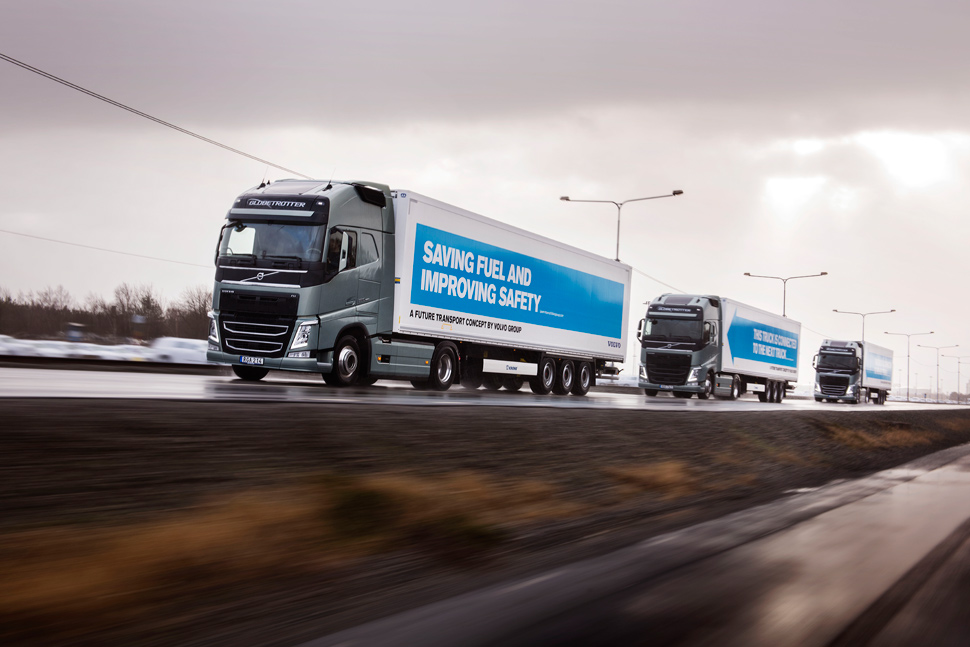 As part of the world's first cross-border initiative with smart trucks, six "platoons" of semi-automated trucks have completed their journeys from various cities across Europe, reaching their final destination at the Port of Rotterdam on 6th April.
They were participating in the European Truck Platooning Challenge organised by the Dutch government as part of its EU Presidency. The European Automobile Manufacturers' Association (ACEA) and commercial vehicle members – including Daimler, Scania and Volvo – are active partners of the initiative with each supplying a platoon. One set of trucks made by Scania travelled over 2,000 km and crossed four borders. Daimler made headlines in 2014 when the company demonstrated the world's first autonomous truck in Magdeburg, Germany, and in 2015 its Freightliner Inspiration Trucks gained a licence for road use in Nevada.
Truck platooning – which has the potential to make transport cleaner, safer and more efficient – is the linking of two or three trucks in a convoy. These vehicles follow each other at a fixed, close distance, by using connectivity technology and automated driving support systems.
Using this technique cuts fuel use by 15%, prevents human error from causing accidents, and reduces congestion, according to research firm TNO. Expenses can be lowered significantly.
Two trucks doing 100,000 miles annually can save €6,000 ($6,840) on fuel by platooning, compared to driving on cruise control. Safety is greatly improved by using technology such as Volvo's emergency braking system and Daimler's Highway Pilot Connect – systems with braking reaction times of under 0.1 seconds, compared to 1.4 seconds for a human driver. A Wi-Fi connection between the trucks ensures synchronised braking and can prevent sudden jolt/shock effects.
When operating in platoon mode, a convoy of three semi-autonomous trucks can travel much closer together – requiring only 80 metres of road space, from end to end. For comparison, if they were driven by humans, they would need to fill 185 metres of road. Congestion on roads will therefore be greatly reduced if more and more self-driving vehicles are deployed in the future, while pollution can also be lowered.
Melanie Schulz, Dutch minister for Infrastructure and the Environment who spearheaded this initiative, commented: "The results of this first ever major try-out in Europe are promising. The hands-on experience gained here will be very useful in the informal European transport council on 14th April in Amsterdam. It will certainly help my colleagues and I discuss the adjustments needed to make self-driving transport a reality."
There are still a number of barriers standing in the way of truck platooning across Europe. These barriers are not of a technical nature as platooning technology exists already; rather they are caused by differences in legislation between the EU member states: "Harmonisation is needed if we want a wide-scale introduction of platooning," stated Harrie Schippers, President of DAF Trucks.
Sufficient demand is also crucial, to ensure the right level of market uptake. Following the Truck Platooning Challenge, there have been encouraging expressions of interest from the business community and the transport sector, including Unilever and major Dutch supermarkets. The testing phase is the most important next step. More and more national governments are offering industry the opportunity to test their latest vehicles and technologies, thereby also supporting efforts to increase public awareness, understanding and acceptance. However, this is also vital on a pan-European scale.
"It is precisely for this reason that we believe that the European Truck Platooning Challenge has been a huge success: it has fostered much-needed cooperation between all relevant stakeholders right across the EU, facilitating cross-border driving and encouraging compatibility on legal and technical issues," said Schippers. "We look forward to harvesting the learnings from this initiative so that, together, we can make truck platoons a common sight on Europe's roads in the future."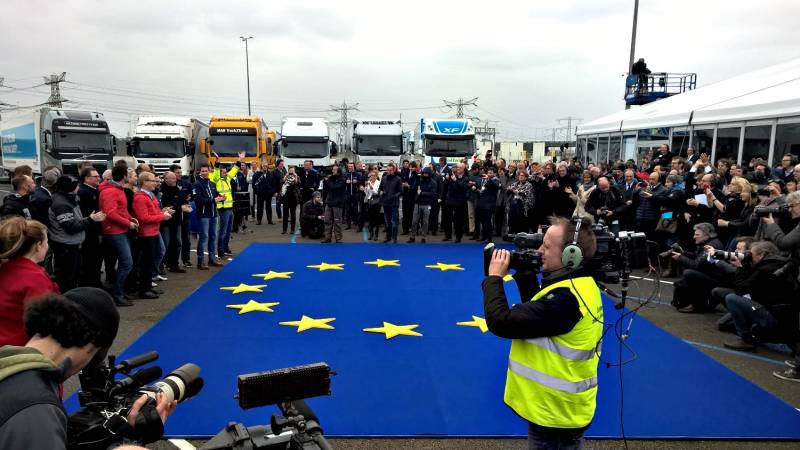 ---
• Follow us on Twitter
• Follow us on Facebook
9th April 2016
SpaceX lands Falcon 9 rocket on a floating drone ship
In a historic achievement, private U.S. aerospace company SpaceX has successfully landed a Falcon 9 rocket – part of the CRS-8 mission – on a floating drone ship for the first time. This follows their earlier milestone in December 2015 when a similar attempt resulted in a landing on solid ground.
CRS-8 is a cargo resupply mission to the International Space Station. It was the tenth flight for SpaceX's uncrewed Dragon cargo spacecraft and the eighth operational mission contracted to NASA under a Commercial Resupply Services contract, which followed the retirement of the Space Shuttle fleet back in 2011. Several previous attempts to land at sea have all resulted in failure. On this occasion, however, the first stage successfully landed on the floating platform named Of Course I Still Love You, 300 km from the Florida coastline, as seen in this video.
Propellant costs for a rocket are much lower than the costs of hardware. The ability to re-use rockets – instead of them being discarded and burning up on reentry – could therefore slash the cost of spaceflight. An ocean landing requires less fuel than a ground landing, due to flight paths being more direct and less curved, which provides yet another efficiency improvement and makes this latest achievement even more notable.
---
• Follow us on Twitter
• Follow us on Facebook