30th May 2015
Cheetah robot can jump over obstacles
Engineers at the Massachusetts Institute of Technology (MIT) have developed a new version of the Cheetah robot, which is able to leap over obstacles while running at high speed. The eerily lifelike machine uses a laser distance sensor and real-time algorithms to perceive its environment. In this demonstration video, it is shown hurdling objects up to 40cm (16") in height, and performing multiple jumps without a safety harness.
"A running jump is a truly dynamic behaviour," says Sangbae Kim, assistant professor of mechanical engineering, in a press release. "You have to manage balance and energy, and be able to handle impact after landing. Our robot is specifically designed for those highly dynamic behaviours."
In the future, this robot – and others like it – may serve important functions in the military. They could scout ahead of soldiers to provide real-time information on the battlefield, for example, or relieve troops of the burden of carrying ammunition, food, medical supplies, batteries and other equipment. These machines could also be useful in search and rescue operations, able to access difficult or remote terrain that would defeat other types of vehicle.
29th May 2015
Ford releases electric vehicle technology patents
In June 2014, Tesla released its patents in an effort to accelerate the development of electric vehicles (EVs). Following Tesla's lead, Ford has now taken similar action by opening its portfolio of EV technology patents to competitors. Last year, Ford filed more than 400 patent applications for EV technology amounting to over 20% of the company's 2,000 total applications.
"Innovation is our goal," says Kevin Layden, the director of Ford Electrification Programs. "The way to provide the best technology is through constant development and progress. By sharing our research with other companies, we will accelerate the growth of electrified vehicle technology and deliver even better products to customers."
Ford Motor Company is a leader in this area – offering six hybrid or fully electrified vehicles including Ford Focus Electric, Ford Fusion Hybrid, Ford Fusion Energi plug-in hybrid, Ford C-MAX Hybrid, Ford C-MAX Energi plug-in hybrid (including a solar-powered concept) and Lincoln MKZ Hybrid. In total, Ford has more than 650 electrified vehicle patents and 1,000 pending applications on electrified vehicle technologies.

Ford's innovations have resulted in acclaimed electrified vehicles on the road today, but the company believes sharing its patented technologies will promote faster development of future inventions as all automakers look toward greater opportunities.
"As an industry, we need to collaborate while we continue to challenge each other," says Layden. "By sharing ideas, companies can solve bigger challenges and help improve the industry."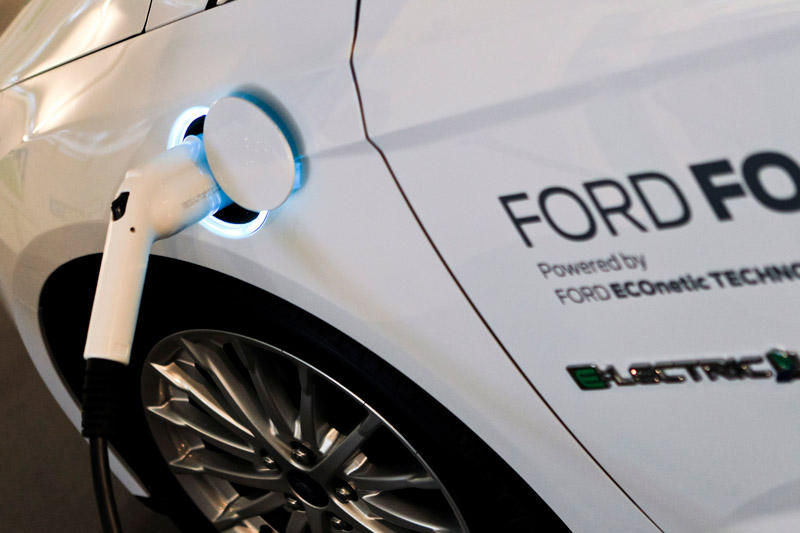 As part of Ford's increased focus on new and innovative technologies, the automaker is set to hire an additional 200 electrified vehicle engineers this year as the team moves into a newly dedicated facility – Ford Engineering Laboratories – home to Henry Ford's first labs in Dearborn.
Some of Ford's electrified vehicle patents available for competitors include:
• Method and Apparatus for Battery Charge Balancing, patent No. US5764027: This patent covers passive cell balancing: discharging a cell through a resistor to lower the state of charge to match other cells. This innovation extends battery run time and overall life. This is the first invention to enable battery balancing at any time, instead of only while charging, and it enables the use of lithium-ion batteries in electrified vehicles. It was invented long before lithium-ion battery-powered vehicles became commonplace – truly ahead of its time.
• Temperature Dependent Regenerative Brake System for Electric Vehicle, patent No. US6275763: This works to maximise the amount of energy recaptured in a hybrid vehicle through regenerative braking. By improving the interplay between normal friction brakes and regenerative braking during stopping at certain air temperatures, a driver is able to recapture more energy than previously possible, helping the motorist drive farther on a charge.
• Driving Behaviour Feedback Interface, patent No. US8880290: This patent provides a system and method for monitoring driver inputs such as braking and accelerating, and vehicle parameters including energy consumption to assess driving behaviour. The feedback can be used to coach future driving behaviour that may translate into better long-term driving habits and improve fuel economy. This technology has also enabled drivers of non-electrified vehicles, such as a Ford Focus, to develop better driving habits.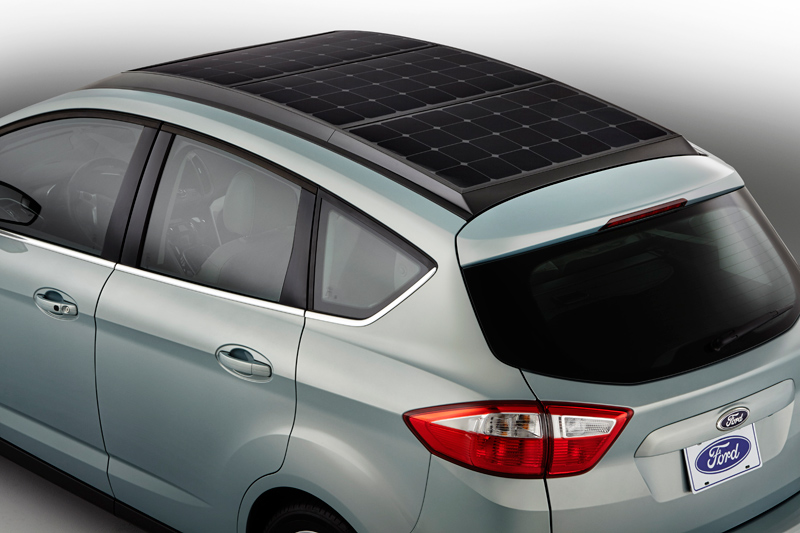 28th May 2015
Robot masters new skills through trial and error
Researchers have developed algorithms that enable robots to learn motor tasks through trial and error using a process that more closely approximates the way humans learn, marking a significant milestone in the field of artificial intelligence.
| | |
| --- | --- |
| | UC Berkeley researchers (from left to right) Chelsea Finn, Pieter Abbeel, BRETT, Trevor Darrell and Sergey Levine (Photo courtesy of UC Berkeley Robot Learning Lab). |
Researchers at the University of California, Berkeley, have demonstrated a new type of reinforcement learning for robots. This allows a machine to complete various tasks without pre-programmed details about its surroundings – such as putting a clothes hanger on a rack, assembling a toy plane, screwing a cap on a water bottle, and more.
"What we're reporting on here is a new approach to empowering a robot to learn," said Professor Pieter Abbeel, Department of Electrical Engineering and Computer Sciences. "The key is that when a robot is faced with something new, we won't have to reprogram it. The exact same software, which encodes how the robot can learn, was used to allow the robot to learn all the different tasks we gave it."
The latest developments are presented today, Thursday 28th May, at the International Conference on Robotics and Automation in Seattle. The work is part of a new People and Robots Initiative at UC's Centre for Information Technology Research in the Interest of Society (CITRIS). The new multi-campus, multidisciplinary research initiative seeks to keep the dizzying advances in artificial intelligence, robotics and automation aligned to human needs.
"Most robotic applications are in controlled environments, where objects are in predictable positions," says UC Berkeley faculty member Trevor Darrell, who is leading the project with Abbeel. "The challenge of putting robots into real-life settings, like homes or offices, is that those environments are constantly changing. The robot must be able to perceive and adapt to its surroundings."
Conventional, but impractical, approaches to helping a robot make its way through a 3D world include pre-programming it to handle the vast range of possible scenarios or creating simulated environments within which the robot operates. Instead, the researchers turned to a new branch of AI known as deep learning. This is loosely inspired by the neural circuitry of the human brain when it perceives and interacts with the world.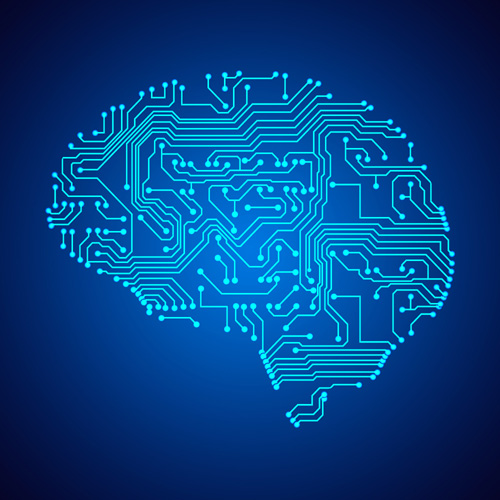 "For all our versatility, humans are not born with a repertoire of behaviours that can be deployed like a Swiss army knife, and we do not need to be programmed," explains postdoctoral researcher Sergey Levine, a member of the research team. "Instead, we learn new skills over the course of our life from experience and from other humans. This learning process is so deeply rooted in our nervous system, that we cannot even communicate to another person precisely how the resulting skill should be executed. We can at best hope to offer pointers and guidance as they learn it on their own."
In the world of artificial intelligence, deep learning programs create "neural nets" in which layers of artificial neurons process overlapping raw sensory data, whether it be sound waves or image pixels. This helps the robot recognise patterns and categories among the data it is receiving. People who use Siri on their iPhones, Google's speech-to-text program, or Google Street View might already have benefited from the significant advances deep learning has provided in speech and vision recognition. Applying deep reinforcement learning to motor tasks has been far more challenging, however, since the task goes beyond the passive recognition of images and sounds.
"Moving about in an unstructured 3D environment is a whole different ballgame," says Ph.D. student Chelsea Finn, another team member. "There are no labelled directions, no examples of how to solve the problem in advance. There are no examples of the correct solution like one would have in speech and vision recognition programs."
In their experiments, the researchers worked with a Willow Garage Personal Robot 2 (PR2), which they nicknamed BRETT, or Berkeley Robot for the Elimination of Tedious Tasks. They presented BRETT with a series of motor tasks, such as placing blocks into matching openings or stacking Lego blocks. The algorithm controlling BRETT's learning included a "reward" function that provided a score based on how well the robot was doing with the task.
BRETT takes in the scene including the position of its own arms and hands, as viewed by the camera. The algorithm provides real-time feedback via the score based on the robot's movements. Movements that bring the robot closer to completing the task will score higher than those that don't. The score feeds back through the neural net, so the robot can "learn" which movements are better for the task at hand. This end-to-end training process underlies the robot's ability to learn on its own. As the PR2 moves its joints and manipulates objects, the algorithm calculates good values for the 92,000 parameters of the neural net it needs to learn.
When given the relevant coordinates for the beginning and end of the task, the PR2 can master a typical assignment in about 10 minutes. When the robot is not given the location for the objects in the scene and needs to learn vision and control together, the learning process takes about three hours.
Abbeel says the field will likely see big improvements as the ability to process vast amounts of data increases: "With more data, you can start learning more complex things. We still have a long way to go before our robots can learn to clean a house or sort laundry, but our initial results indicate that these kinds of deep learning techniques can have a transformative effect in terms of enabling robots to learn complex tasks entirely from scratch. In the next five to 10 years, we may see significant advances in robot learning capabilities through this line of work."
24th May 2015
Ireland votes to legalise gay marriage
Ireland has become the first country in the world to use a constitutional referendum for the legalisation of same-sex marriage.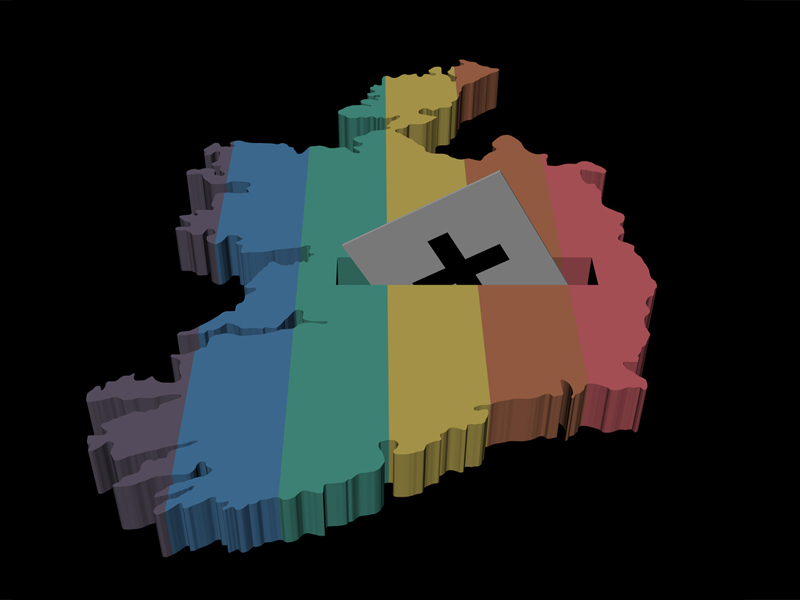 On Friday 22nd May, the Irish people voted in a historic referendum – the 34th Amendment of the Constitution (Marriage Equality) Bill 2015. This was a proposed amendment to the constitution of Ireland to mandate provision for gay and lesbian marriage. The result, announced yesterday, was a decisive victory for the "Yes" campaign, with 62% of the electorate in favour and 38% against. Voter turnout was 62%.
Prior to this week's vote, same-sex marriage had already become legal in neighbouring England, Wales and Scotland during 2013-14. Northern Ireland's Executive does not intend to introduce such legislation for Northern Ireland despite repeated votes on the issue, but in the world at large, acceptance of same-sex marriage is a rapidly emerging social trend. As we become ever more connected and globalised, attitudes are changing; openness and tolerance are increasing. In America, the U.S. Supreme Court is expected to make a nationwide, federal ruling on the issue in the next several weeks. Looking ahead to the longer term, FutureTimeline.net predicts over half the world's countries will allow same-sex marriage by 2045, while the vast majority will have decriminalised homosexuality.
Irish Prime Minister Enda Kenny, speaking at a press conference, commented: "Today Ireland made history. With today's Yes vote we have disclosed who we are – a generous, compassionate, bold and joyful people. Yes to inclusion. Yes to generosity. Yes to love, and yes to equal marriage. I know that for tens of thousands of couples and their families, the past 24 hours were almost like a vigil at the end of a long journey. Would their fragile and deeply personal hopes be realised? Would a majority of people, in this our Republic, stand with them and stand up for them so that they can live in our shelter and not in our shadow? That having come out to us we could now come out for them – and do it with a single word, a solitary syllable – Yes – marked with an X. Today they have their answer. The people have answered the call of families and friends, of neighbours and new acquaintances."
Deputy Prime Minister Joan Burton also commented: "Together, the people of Ireland have struck a massive blow against discrimination as we extend the right of marriage to all our citizens. We've done something incredible and proven that a compassionate, well-informed electorate can and will extend civil rights when asked in a popular ballot. Now I hope that spirit, that torch, is carried abroad. We're the latest country to pass marriage equality into law – but we will certainly not be the last."
British Prime Minister David Cameron, in a Downing Street press release, commented: "My heartfelt congratulations to the people of Ireland, who have voted today to introduce same-sex marriage. Just over a year ago, we introduced same-sex civil marriage and sent out a clear message – you are equal whether you are straight or gay."
21st May 2015
Brain plasticity restored in older mice
Scientists have reactivated neuroplasticity in older mice, restoring their brains to a more youthful state. In the future, this treatment could be replicated in human patients.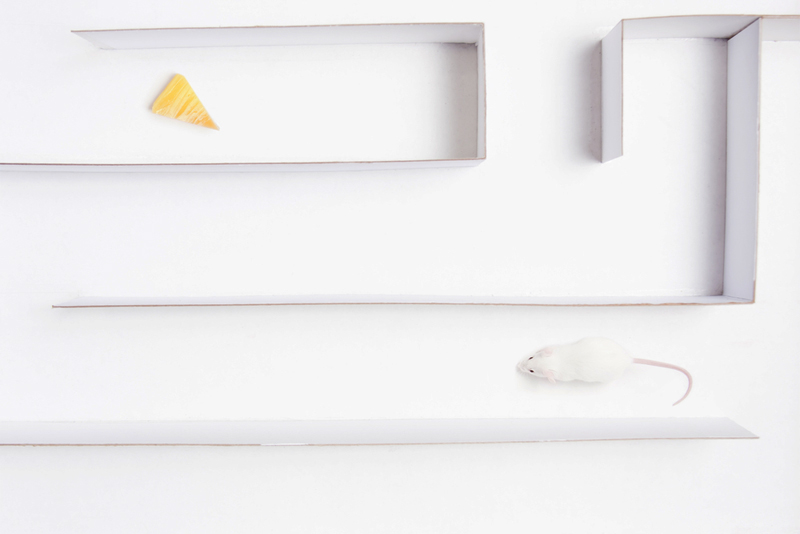 In the adult brain, connections are difficult to change – while in children, novel experiences rapidly mould new connections during critical periods of their brain development.
At the University of California, Irvine, neurobiologist Sunil Gandhi and colleagues wanted to know whether the flexibility of the juvenile brain could be restored to the adult brain. Apparently, it can: they've successfully re-created a critical juvenile period in the brains of adult mice. In other words, the researchers have reactivated "brain plasticity" – the rapid and robust changes in neural pathways and synapses as a result of learning and experience. Their breakthrough could lead to new treatments for developmental brain disorders such as autism and schizophrenia.
The scientists achieved this by transplanting a certain type of embryonic neuron into the brains of adult mice. The transplanted neurons express GABA – a chief inhibitory neurotransmitter that aids in motor control, vision and other cortical functions. Just as older muscles lose youthful flexibility, older brains lose plasticity. But in the Gandhi study, the transplanted GABA neurons created a new period of heightened plasticity that allowed for vigorous rewiring of the adult brain. In a sense, old brain processes became young again.
In early life, normal visual experience is crucial to properly wire connections in the visual system. Impaired vision during this time leads to a long-lasting visual deficit known as amblyopia. In an attempt to restore normal sight, the researchers transplanted GABA neurons into the visual cortex of adult amblyopic mice.
"Several weeks after transplantation, when the donor animal's visual system would be going through its critical period, the amblyopic mice started to see with normal visual acuity," said Melissa Davis, a postdoctoral fellow and lead author of the study.
These results raise hopes that GABA neuron transplantation might have future clinical applications. This line of research is also likely to shed light on the basic brain mechanisms that create critical periods.
"These experiments make clear that developmental mechanisms located within these GABA cells control the timing of the critical period," said Gandhi.
He added that the findings point to the use of GABA cell transplantation to enhance retraining of the adult brain after injury. Furthermore, this work sparks new questions as to how these transplanted GABA neurons reactivate plasticity – the answers to which might lead to therapies for currently incurable brain disorders.
20th May 2015
A breakthrough in large-scale graphene fabrication
One of the barriers to using graphene at a commercial scale could be overcome using a new method demonstrated by researchers at the Department of Energy's Oak Ridge National Laboratory (ORNL).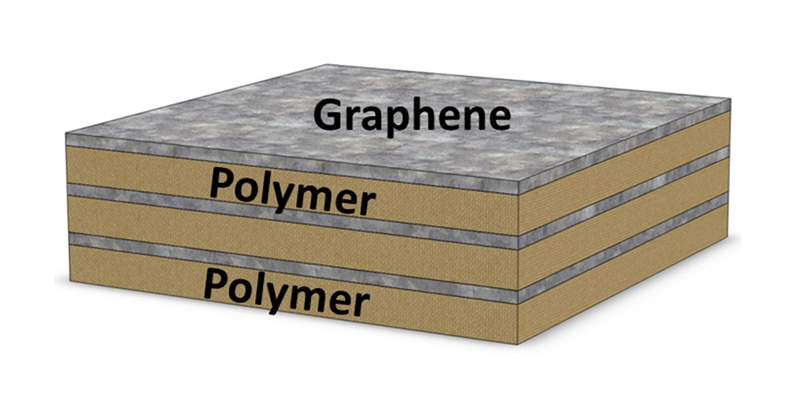 Graphene – a material stronger and stiffer than carbon fibre – has enormous commercial potential, but has been impractical to employ on a large scale, with researchers limited to using only small flakes of it. Now, using chemical vapour deposition, a team at the ORNL has fabricated polymer composites that contain 2-inch-by-2-inch sheets of the one-atom thick, hexagonally arranged carbon atoms.
The findings, reported in the journal Applied Materials & Interfaces, could help usher in a new era of flexible electronics and change the way this reinforcing material is viewed and ultimately used.
"Before our work, superb mechanical properties of graphene were shown at a micro scale," said Ivan Vlassiouk, who led the research. "We have extended this to a larger scale, which considerably extends the potential applications and market for graphene."
While most approaches for polymer nanocomposition construction employ tiny flakes of graphene or other carbon nanomaterials that are difficult to disperse in the polymer, the team used larger sheets of graphene. This eliminates the flake dispersion and agglomeration problems, allowing the material to better conduct electricity with less actual graphene in the polymer.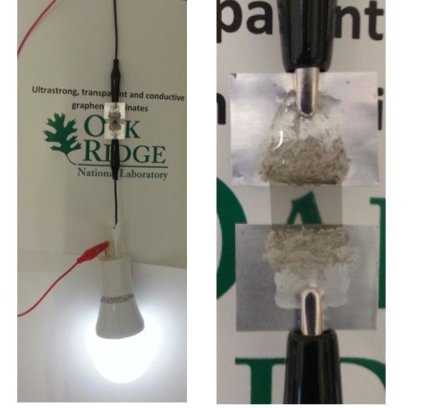 "In our case, we were able to use chemical vapour deposition to make a nanocomposite laminate that is electrically conductive – with graphene loading that is fifty times less compared to current state-of-the-art samples," said Vlassiouk. This is a key to making the material competitive on the market.
If Vlassiouk and his team can reduce the cost and demonstrate scalability, researchers envision graphene being used in aerospace (structural monitoring, flame-retardants, anti-icing, conductive), the automotive sector (catalysts, wear-resistant coatings), structural applications (self-cleaning coatings, temperature control materials), electronics (displays, printed electronics, thermal management), energy (photovoltaics, filtration, energy storage) and manufacturing (catalysts, barrier coatings, filtration).
17th May 2015
UAE mission to Mars planned for 2021
The United Arab Emirates (UAE) has reaffirmed its commitment to sending a probe to Mars in 2021. More details have emerged of the planned mission, which is timed to coincide with the 50th anniversary of the UAE's formation. In this new video, from the Mohammed Bin Rashid Space Centre (MBRSC), scientists explain how the 1,500 kilogram Hope (or "al-Amal" in Arabic) spacecraft will study the Martian atmosphere and climate.
If successful, not only will it become the first Arabian mission to Mars, it will also create the first planet-wide picture of how the Martian atmosphere changes throughout the day and between seasons. This could improve our understanding of how aerosols, ozone, water ice, water vapour and other physical processes affect us here on Earth, while also being useful in planning future manned colonies. The resulting data will be shared freely with over 200 institutions worldwide. More information is available on the MBRSC website, which includes an image gallery.
14th May 2015
"Substantial" El Niño predicted for 2015
The Australian Government's Bureau of Meteorology has confirmed that the tropical Pacific is in the early stages of an El Niño that is likely to persist in the coming months.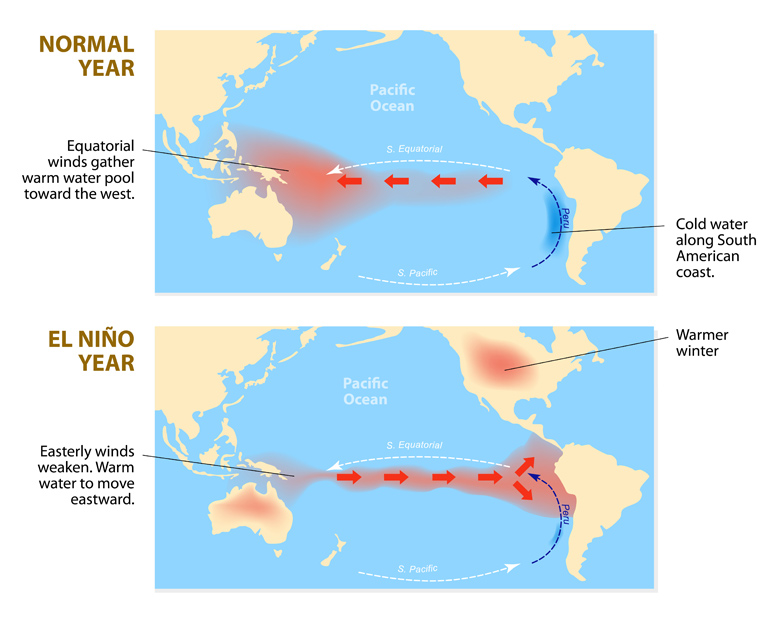 The tropical Pacific is now in the early stages of an El Niño. Based upon the model outlooks and current observations, the Bureau's ENSO Tracker has been raised to El Niño status.
El Niño–Southern Oscillation (ENSO) indicators have shown a steady trend towards El Niño levels since the start of the year. Sea surface temperatures in the tropical Pacific Ocean have exceeded El Niño thresholds for the past month, supported by warmer-than-average waters below the surface. Trade winds have remained consistently weaker than average since the start of the year, cloudiness at the Date Line has increased and the Southern Oscillation Index (SOI) has remained negative for several months. These indicators suggest the tropical Pacific Ocean and atmosphere have started to couple and reinforce each other, indicating El Niño is likely to persist in the coming months. Pacific Ocean temperatures are likely to remain above El Niño thresholds through the coming southern winter and at least into spring.
"This is a proper El Niño effect – not a weak one," David Jones, manager of climate monitoring and prediction, told reporters. "You know, there's always a little bit of doubt when it comes to intensity forecasts, but across the models as a whole we'd suggest that this will be quite a substantial El Niño event."
The last El Niño was observed during 2009–10. A very strong El Niño has not occurred since 1997–98. It was during 1998 that global average temperatures spiked to an unprecedented high. Since then, average temperatures have continued to rise, with 2014 being the hottest year on record even in the absence of significant El Niño conditions. According to Jones, this means there is a "significant probability" that 2015 will top 2014 as the hottest year globally. Seven of the ten warmest years occurred during El Niño years.
"The most obvious thing we know is that El Niño events tend to lead to drier winter and spring periods [in Australia]," Jones explained. "There is an increased risk of drought, which obviously isn't good for people already in drought. Australian temperatures are already warming – and El Niño tends to give those temperatures a boost – so we'd expect winter, spring and even early summer to have well above average daytime temperatures."
Australia is among the regions most dramatically affected by the recurring weather phenomenon, but its effects are felt around the world. South America is hit by heavy rains and floods, while the USA experiences warmer winters. In Africa and parts of Asia, scorching temperatures can lead to rises in the price of commodities such as rice, corn and palm oil. Additional health and social impacts include the increased spread of diseases, especially those which are transmitted by mosquitoes. In Europe, the snowy UK winter of 2009–10 was thought to be an effect of El Niño.
In general, developing countries dependent upon agriculture and fishing, particularly those bordering the Pacific Ocean, are likely to be worst affected. Research by Columbia University suggests that ENSO may have had a role in 21% of all civil conflicts since 1950, with the risk of annual civil conflict doubling from 3% to 6% in countries affected by ENSO during El Niño years, relative to La Niña years.
During the last several decades, the frequency and intensity of El Niño events has increased. This is most likely linked to global warming and the increasing level of greenhouse gases in the atmosphere – although a longer period of observation is needed to confirm this. Scientists have theorised that permanent El Niño conditions may emerge when global average temperatures increase by 3°C (5.4°F).
10th May 2015
3-D technology detects 40 percent more breast cancers than mammography
A new 3-D technology known as tomosynthesis has been shown to detect 40 percent more breast cancers than mammography, while also lowering the radiation dose.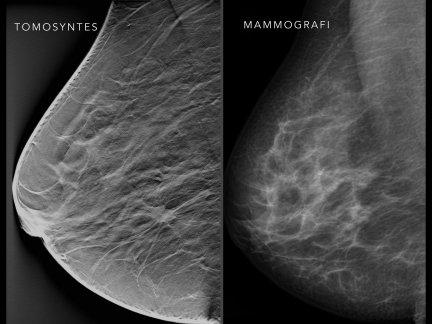 Breast cancer is the most common type of cancer in women worldwide. More than 1.7 million cases were diagnosed in 2012, with half a million deaths in the same year. Tomosynthesis detects 40% more breast cancers than traditional mammography does, according to a major screening study from Lund University, Sweden. This is the first large-scale study to compare the screening method with regular mammograms. The new 3-D X-ray technique is also more comfortable for women, as breast compression is halved. A total of 7,500 women aged 40–74 took part in the first half of the study, which formed the basis for the findings.
"We see a change as inevitable. Breast tomosynthesis will be introduced, it is just a question of when and on what scale," explains Sophia Zackrisson and Kristina Lång, radiologists at Skåne University Hospital in Malmö and researchers at Lund University.
Breast tomosynthesis works on the same principle as tomography. This means that X-ray images of the breast are acquired from different angles, which can then show multiple thin layers of the breast. This is compared with a traditional mammography, where all the breast tissue is reproduced in a single 2-D image, which can hinder the early detection of tumours.
The new technique also reduces discomfort and pain, because the breast does not have to be compressed as firmly as in the current examination technique. This could lead to higher levels of participation in future screening programmes. Among the other advantages are lower radiation doses than in traditional mammography, and the ready availability of the equipment on the market, which would facilitate a transition.
However, there are a few challenges remaining before the method can be introduced on a large scale. As with other screening methods, there is a risk of overdiagnosis (in mammography screening, the figure is 10–20 per cent). The researchers do not know what that number is for tomosynthesis, and further studies are needed to investigate the rate of overdiagnosis with tomosynthesis.
The study found that there was an increase in the recall rate, meaning more healthy women with benign lesions were recalled for further testing. This is a major drawback in screening, says Kristina Lång, as it can cause unnecessary psychological stress.
The ongoing research will also look at costs. Breast tomosynthesis is a somewhat more expensive technique.
"We see five to ten years from now as a possible timeframe for the large-scale introduction of the technique. There is also an aspiration for more personalised screening, and breast tomosynthesis could therefore be one of several methods used", concludes Sophia Zackrisson.
8th May 2015
Monthly average CO2 is at 400ppm and rising
Atmospheric CO2 remained above 400 parts per million (ppm) through March 2015, the first time it has been at this level for an entire month, according to the National Oceanic and Atmospheric Administration (NOAA). The current concentration of greenhouse gases is the highest it has been for millions of years.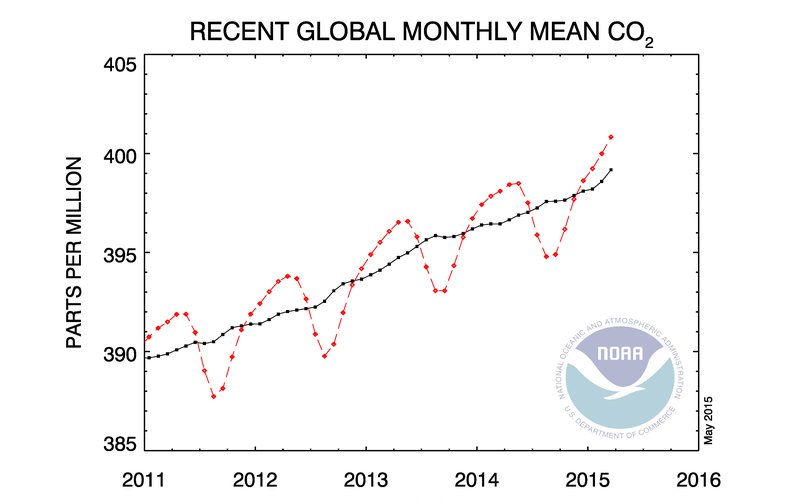 "It was only a matter of time that we would average 400 parts per million globally," says Pieter Tans, lead scientist of NOAA's Global Greenhouse Gas Reference Network. "We first reported 400 ppm when all of our Arctic sites reached that value in the spring of 2012. In 2013, the record at NOAA's Mauna Loa Observatory first crossed the 400 ppm threshold. Reaching 400 parts per million as a global average is a significant milestone.
"This marks the fact that humans burning fossil fuels have caused global carbon dioxide concentrations to rise more than 120 parts per million since pre-industrial times," he adds. "Half of that rise has occurred since 1980."
NOAA bases the global CO2 concentration on air samples taken from 40 sites around the world. NOAA and partner scientists collect air samples in flasks while standing on cargo ship decks, on the shores of remote islands, and other isolated locations. It takes some time after each month's end to compute this global average because samples are shipped for analysis at NOAA's Earth System Research Laboratory in Boulder, Colorado.
"We choose to sample at these sites because the atmosphere itself serves to average out gas concentrations that are being affected by human and natural forces. At these remote sites, we get a better global average," said Ed Dlugokencky, the NOAA scientist who manages the global network.
| | |
| --- | --- |
| | Patricio Eladio Rojas Ledezma, a meteorologist, collects air samples on Easter Island, Chile. |
The last time atmospheric levels of carbon dioxide were at 400ppm was during the mid-Pliocene, over 3 million years ago. Back then, our ancestors had brains about as big as those of modern chimps. They had only recently developed stone tools and were roaming the savannahs of Africa while being hunted by sabre-toothed cats. Average global temperatures in the mid-Pliocene were up to 3°C hotter than today, exceeding 10°C in the polar regions, with sea levels around 25m (82ft) higher. Many species of plants and animals were living several hundred kilometres further north of where their nearest relatives exist today.
On a geological timescale, the present rate of change in atmospheric CO2 level is unprecedented. During the ancient past, a rise of 10ppm might have taken 1,000 years or more. Today, human activity is adding that much every five years, as we overwhelm nature's ability to absorb it. On current trends, the world is on track for a doubling of greenhouse gas levels in the second half of this century – potentially causing 4 to 6°C of warming. This would lead to a radically altered planet with grave consequences for humanity.
Dr. James Butler, director of NOAA's Global Monitoring Division, explains that reversing the global CO2 level would be difficult because of its long lifetime: "Elimination of about 80 percent of fossil fuel emissions would essentially stop the rise in carbon dioxide in the atmosphere – but concentrations of carbon dioxide would not start decreasing until even further reductions are made and then it would only do so slowly."
7th May 2015
The first licenced autonomous driving truck in the US
Vehicle manufacturer Daimler this week announced that its Freightliner Inspiration Truck has become the world's first autonomous truck to be granted a licence for road use in the State of Nevada.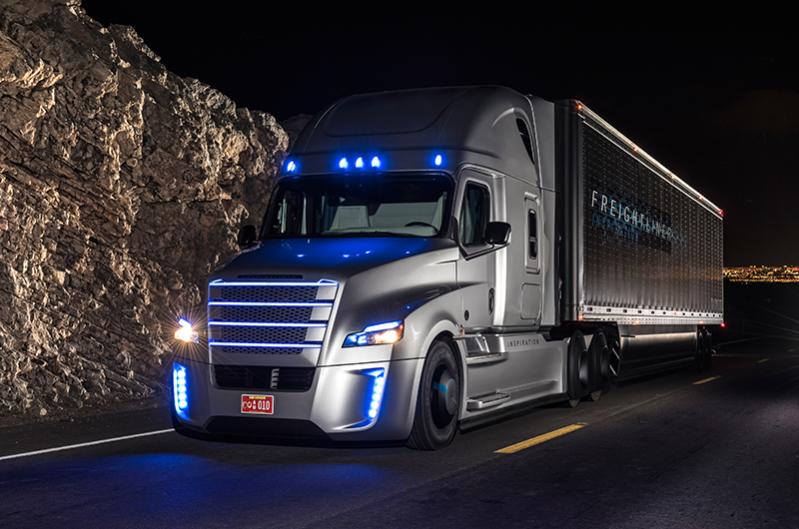 In July last year, Daimler provided the world's first demonstration of an autonomous truck in action, when the Mercedes-Benz Future Truck 2025 drove along a cordoned-off section of the A14 autobahn near Magdeburg, Germany. Engineers then transferred the system to the US brand Freightliner and created the Inspiration Truck – modified for use on American highways. The result: the State of Nevada has certified no less than two Freightliner Inspiration Trucks for regular operations on public roads. Governor Brian Sandoval handed over the official Nevada licence plates during a ceremony at the Las Vegas Motor Speed.
This futuristic vehicle is based on the existing Freightliner Cascadia model, but has the addition of "Highway Pilot" technology. The latter combines a sophisticated stereo camera and radar technology with systems providing lane stability, collision avoidance, speed control, braking, steering and an advanced dash display, allowing for safe autonomous operation on public highways. These components were extensively tested. As part of the truck's so-called Marathon Run, it covered over 10,000 miles (16,000 km) on a test circuit in Papenburg, Germany.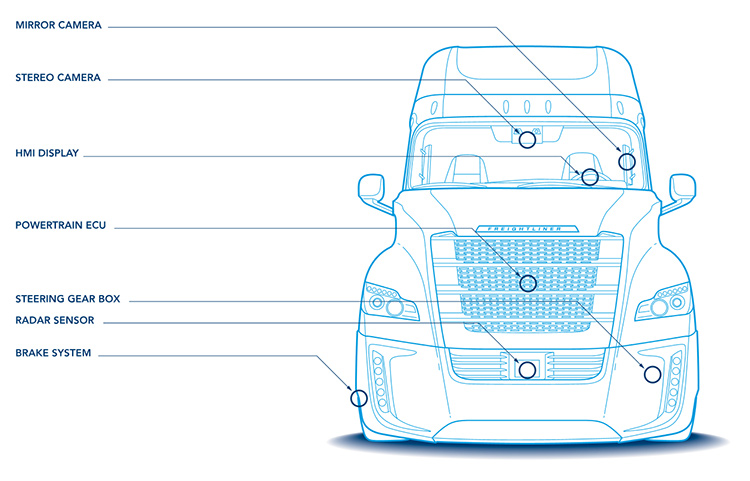 The radar unit in the front bumper scans the road ahead at both long and short range. The long-range radar, with a range of 820 feet and scanning an 18° segment, looks far and narrow to see vehicles ahead. The short-range radar, with a range of 230 feet and scanning a 130° segment, looks wider to see vehicles that might cut in front of the truck.
There is also a medium-range stereo camera, which is located behind the windscreen. The range of this camera is 328 feet, and it scans an area measuring 45° horizontal by 27° vertical. This camera is able to recognise lane markings and communicates to the Highway Pilot steering gear for autonomous lane guidance.
In addition, tiny cameras are located on the exterior of the truck. These reduce blind spots and are capable of replacing exterior mirrors, while creating a slight boost in fuel efficiency (1.5 percent).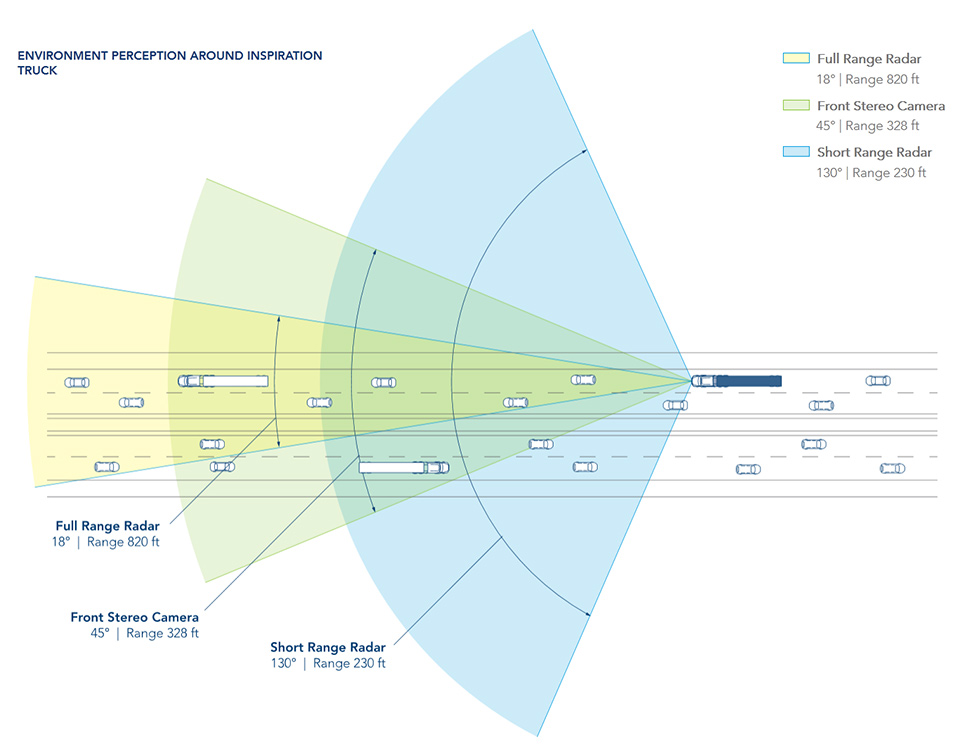 The vehicle operates safely under a wide range of conditions – it will automatically comply with posted speed limits, regulate the distance from the vehicle ahead and use the stop-and-go function during rush hour. The driver can deactivate the Highway Pilot manually and is able to override the system at any time. If the vehicle is no longer able to process crucial aspects of its environment, e.g. due to road construction or bad weather, the driver is prompted to retake control.
A large, state-of-the-art dash interface, combined with video displays from the various cameras, is designed to offer a great driver experience and to vastly improve the way data from the truck's performance is communicated to the driver. Highway Pilot informs the driver visually on its current status and also accepts commands from the driver.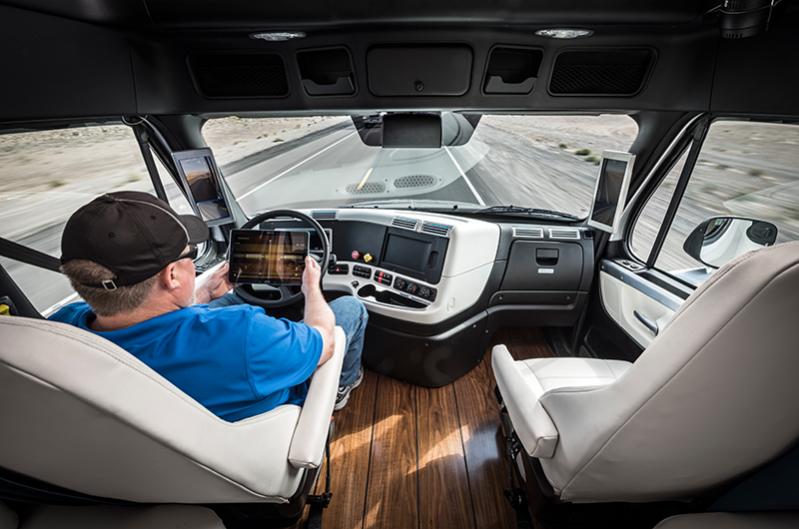 According to U.S. government data, 90 percent of truck crashes involve human error – much of that due to fatigue. Wolfgang Bernhard, a member of the Board of Management at Daimler, commented: "An autonomous system never gets tired, never gets distracted. It is always on 100 percent."
For now, the Inspiration Trucks will be limited to Nevada, one of the lowest density states in the country, but other states are likely to create similar regulations in the future, with California and Michigan expected to follow soon: "Ultimately, this has to be federally regulated to have a consistent basis across the country," says Martin Daum, president and CEO of Daimler Trucks North America.
The Inspiration Truck is only semi-autonomous, as it requires a human behind the wheel, who can take over in case of an emergency. The technology is advancing rapidly, however. Daimler and other manufacturers, including Nissan and Tesla, are planning to introduce fully autonomous vehicles (with no human driver on board) during the early 2020s. Worldwide, freight traffic shipped by road is predicted to triple by 2050, with self-driving vehicles expected to play an ever-increasing role in transportation.
Eventually, these autonomous vehicles will be intelligently connected – to their environment and other road users – to such an extent that they will be able to avoid areas with heavy traffic and contribute to reducing traffic jams. Traffic of the future will flow more smoothly and be far more predictable. Traffic systems will be more flexible and the infrastructure will be utilised better. Transport firms will operate more profitably, with fuel savings alongside lower maintenance costs as a result of less wear on the vehicle components, due to a more constant flow of traffic. Most importantly of all, road safety will be hugely improved – with many thousands of deaths prevented each year.
5th May 2015
'Centimetre accurate' GPS system could transform virtual reality and mobile devices
Researchers at the University of Texas at Austin have developed a centimetre-accurate GPS-based positioning system that could revolutionise geolocation on virtual reality headsets, cellphones and other technologies – making global positioning and orientation far more precise than what is currently available on a mobile device.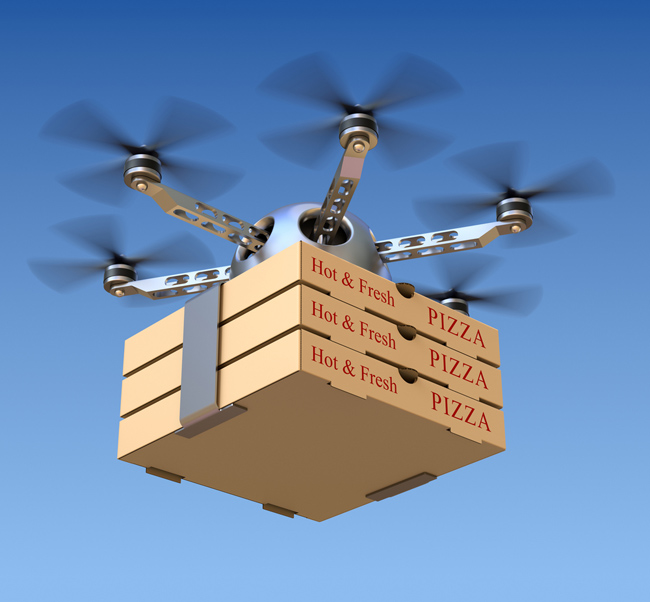 The researchers' new system could allow unmanned aerial vehicles to deliver packages to a specific spot on a consumer's back porch, improve collision avoidance technologies on cars and allow virtual reality (VR) headsets to be used outdoors. This ultra-accurate GPS, coupled with a smartphone camera, could be used to quickly build a globally referenced 3-D map of one's surroundings that would greatly expand the radius of a VR game. Currently, VR does not use GPS, which limits its use to indoors and usually a two- to three-foot radius.
"Imagine games where, rather than sit in front of a monitor and play, you are in your backyard actually running around with other players," said Todd Humphreys, lead researcher and assistant professor in the Department of Aerospace Engineering and Engineering Mechanics. "To be able to do this type of outdoor, multiplayer virtual reality game, you need highly accurate position and orientation that is tied to a global reference frame."
Humphreys and his team in the Radionavigation Lab have designed a low-cost system that reduces location errors from the size of a large car to the size of a nickel – a more than 100 times increase in accuracy. Humphreys collaborated on the new technology with Professor Robert W. Heath from the Department of Electrical and Computer Engineering, along with graduate students.
Centimetre-accurate positioning systems are already used in geology, surveying and mapping – but the survey-grade antennas these systems employ are too large and costly for use in mobile devices. This breakthrough by Humphreys and his team is a powerful and sensitive software-defined GPS receiver that can extract centimetre accuracies from the inexpensive antennas found in mobile devices. Such precise measurements were not previously possible. The researchers anticipate that their software's ability to leverage low-cost antennas will reduce the overall cost of centimetre accuracy and make it economically feasible for mobile devices.
Humphreys and his team have spent six years building a specialised receiver, called GRID, to extract so-called carrier phase measurements from low-cost antennas. GRID currently operates outside the phone, but it will eventually run on the phone's internal processor. To further develop this technology, they recently co-founded a startup, called Radiosense. Humphreys and his team are working with Samsung to develop a snap-on accessory that will tell smartphones, tablets and virtual reality headsets their precise position and orientation.
The researchers designed their system to deliver precise position and orientation information – how one's head rotates or tilts – to less than one degree of measurement accuracy. This level of accuracy could enhance VR environments that are based on real-world settings, as well as improve other applications including visualisation and 3-D mapping. Additionally, it could make a significant difference in people's daily lives, including transportation, where centimetre-accurate GPS could allow better vehicle-to-vehicle communication technology.
"If your car knows in real time the precise position and velocity of an approaching car that is blocked from view by other traffic, your car can plan ahead to avoid a collision," Humphreys said.
1st May 2015
Revolutionary new energy storage system announced by Tesla
Tesla has revealed a new battery technology for homes and businesses, which provides a way to store energy from localised renewables and can function as a backup system during power outages.
A major barrier to the widespread adoption of clean energy has been the intermittent nature of wind and solar. The Sun doesn't always shine, and the wind doesn't always blow – making it difficult or impossible to harness these resources on a 24-hour basis.
Elon Musk, CEO of electric vehicle firm Tesla Motors, yesterday unveiled a revolutionary new technology that can solve these issues. The Powerwall, pictured above, is a rechargeable lithium-ion battery product, intended primarily for home use. It stores electricity generated from rooftop solar panels, which can then be used for domestic consumption, load shifting, or backup power.
With a constant supply of renewable energy at a local scale, the Powerwall offers complete independence from the utility grid, meaning that customers no longer have to worry about expensive bills incurred during peak hours. If a utility company experiences a major outage, the Powerwall can serve as the home power supply instead, which is especially useful in areas prone to storms or unreliable grids. It also recharges electric vehicles more cheaply during night hours while surplus power can be flowed back to the grid when needed.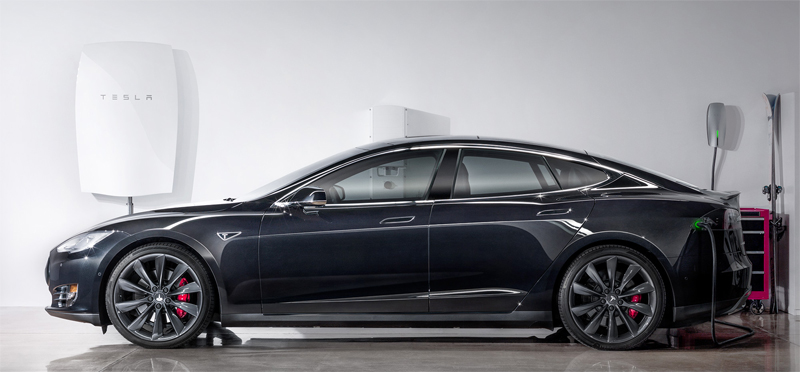 Tesla claims the Powerwall is fully automated, simple to install, and requires no maintenance. It is being marketed in two models: 10 kWh weekly cycle ($3,500) and 7 kWh daily cycle ($3,000) versions. Multiple batteries can be installed together for homes with greater energy needs; up to 90 kWh total for the 10 kWh battery and 63 kWh total for the 7 kWh battery. Both are rated for indoor and outdoor installation, and guaranteed for ten years.
The Powerwall begins shipping this summer. It will be sold to companies including SolarCity, which is running a pilot project in 500 California houses, using 10-kWh battery packs. Tesla is bullish about the prospects for batteries, electric vehicles and clean energy. The company is building a "gigafactory" to develop and expand these technologies at a large scale, with more factories to come in the future.
While the current price of the Powerwall may seem a little on the high side, analysts forecast a substantial decline in battery costs over the next decade and beyond, with a similar fall in solar panel costs. When combined with smart grids, the proliferation of this technology seems inevitable. As predicted on our future timeline, it is likely that home energy storage systems will be commonplace by 2030.
A much larger version of the Powerpack – described as an "infinitely scalable system" – will be made available for businesses and industrial applications. This will come in 100 kWh battery blocks, which can scale from 500 kWH, up to 1 GWh and even higher: "Our goal here is to change the way the world uses energy at an extreme scale," says Musk. You can watch his full keynote presentation (which was powered by solar energy) in the video below.